Beautiful nursery wall decor designs on sale now !
Posted by Mat Chiappini - Aspect Wall Art on 6th Sep 2019
There are lots of ways to decorate possibly the most special room within your home, whether it be wallpaper, framed artwork or bunting. These are all great ideas indeed, but often people don't realise just how cute and beautiful wall stickers can look too. There are a wide number of custom and personalised options available which makes it simple to choose exactly the size, colours and designs that are perfect for you and your home.
We have chosen a selection of our favourite nursery stickers which are currently on offer ( prices correct as at September 6th 2019 ) To see more great baby room designs feel free to come and check out our full range of nursery wall stickers. Although there are great savings to be had, you can still always expect great customer service and top quality easy to apply products from Aspect Wall Art everyday....
Top Tip: When you have applied the vinyl to the wall always leave at least 10 mins before removing the application tape layer. This will give the vinyl more time to adhere to the surface making the removal of the application tape much easier and trouble free ;0)
Our beautiful Moonlit fairy wall sticker is available in 2 sizes and 21 colour options. Small £11.99 / Large £15.99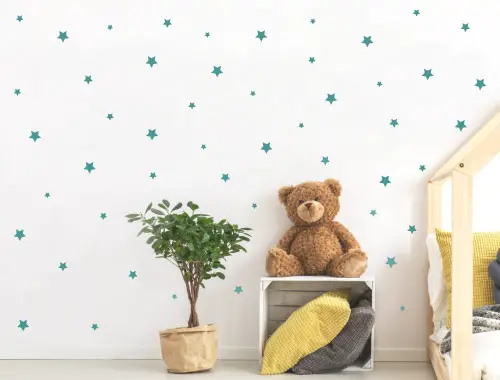 These simple but effective Wall sticker stars are currently only £7.99 !

This Girls name wall sticker with butterfly motif is a perfect personal touch to any bedroom or nursery decor and is only £11.99 !
Our personalised Name wall stickers are available in 4 sizes and 21 colours and sale prices start from £7.99
This super cute I love you to the moon and back wall art sticker is available in 2 sizes and 21 colour options. Small £11.99 / Large £18.99
At 102.7cm x 59cm our beautiful Dream big little one wall decal will make a beautiful statement above any cot and is available in 21 colours to match or compliment any decor. Now only £18.99 !
This large childrens Nursery woodland wall sticker is available in 21 beautiful colours and is on offer for only £27.99
Perfectly personalised your babies room decor with this cute name cloud wall art decal. Small £12.99 / Large £17.99. Choose from 21 colours and 2 sizes.
This nursery rhyme twinkle twinkle little star wall decal quote would enhance any nursery with ease and simplicity. Available in two sizes and 21 colours. Small £18.99 / Large £22.99
We have many more designs to view on our nursery wall art page and even more great offers for you too ! But even if you can't find the perfect sticker feel free to reach out to us and we will be happy to discus any custom ideas you may have and make them a reality ;0)