---
Why Use Skirting Boards?
A skirting board is an essential part of any rooms interior design, but it is sometimes challenging to choose the right fit for your needs or room style. They provide aesthetic value, a neat finish to any flooring edge and also help to protect walls from damage and scuffing.
Skirting boards are also useful for hiding electrical wiring and cover imperfections which can occur during the construction process.
Skirting can be made from a variety of materials, including wood, MDF, plastic, and even metal and are an important but often overlooked element in many peoples homes.
The design and style of your room is a key determining factor as to the skirting board that you require, hence the need to look for ones which work with the rooms theme and blend with, or complement your colour scheme.
Below are some key things to bear in mind when deciding on a skirting board:
---
---
Material Options Available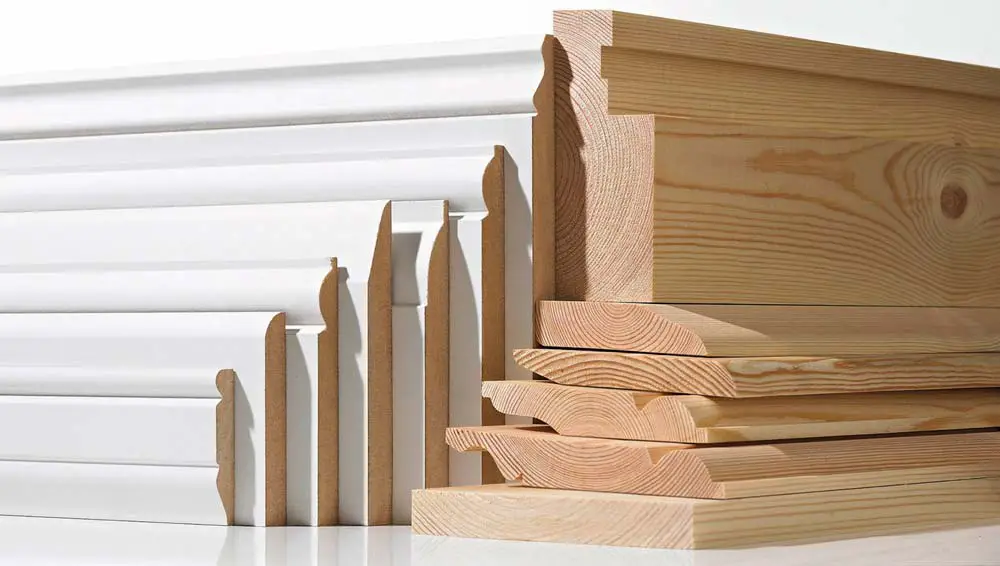 Image credit: selfbuild.co.uk
Wood and MDF are the most common materials used for most skirting boards. They are strong and durable, and can easily be painted or stained to match the decor of any room within your home.
When deciding on a material, you need to remember that the board is placed directly onto the ground, so it is prone to getting damp or being attacked by insects. It is therefore important to ensure the product you choose is treated appropriately.
If you are planning on staying in the property for many years and don't want to be changing the boards within a few years of them being fitted, we would certainly advise going for a more durable option.
Advice is always available from local specialist skirting board suppliers, so don't be afraid to consult an expert to help you choose.
---
---
Medium Density Fibreboard (MDF)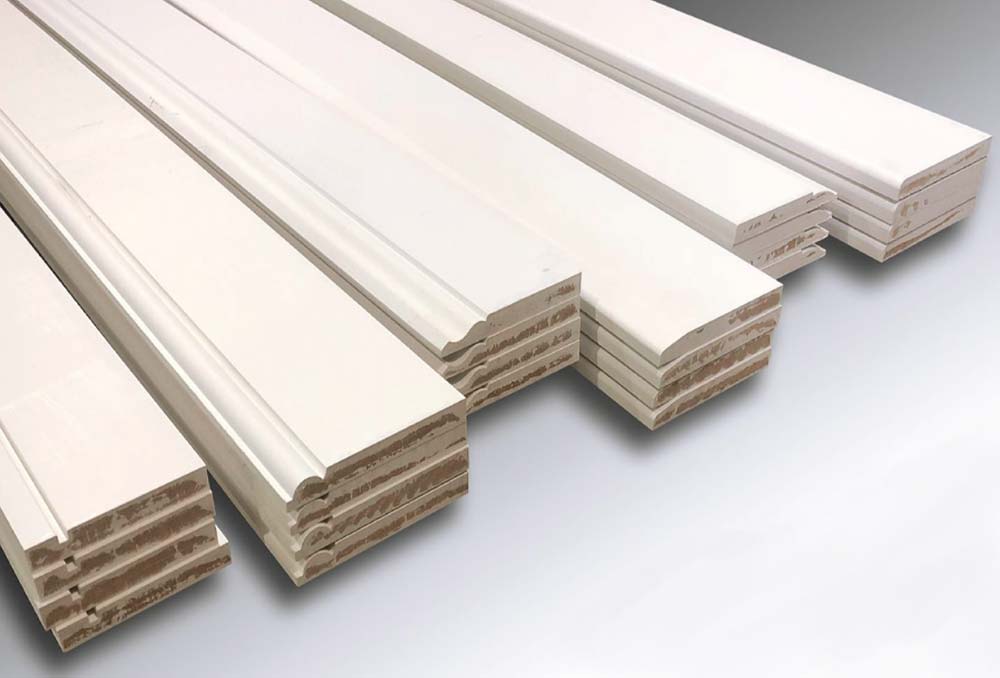 Image credit: parkerbs.com
You can find MDF skirting board at a relatively inexpensive price in most hardware stores. MDF boards are a popular choice because of their durability and the fact that they don't swell or warp easily. Due to this, they are a great option for bathrooms, kitchens and other areas that may suffer from a little moisture.
---
---
Softwood skirting boards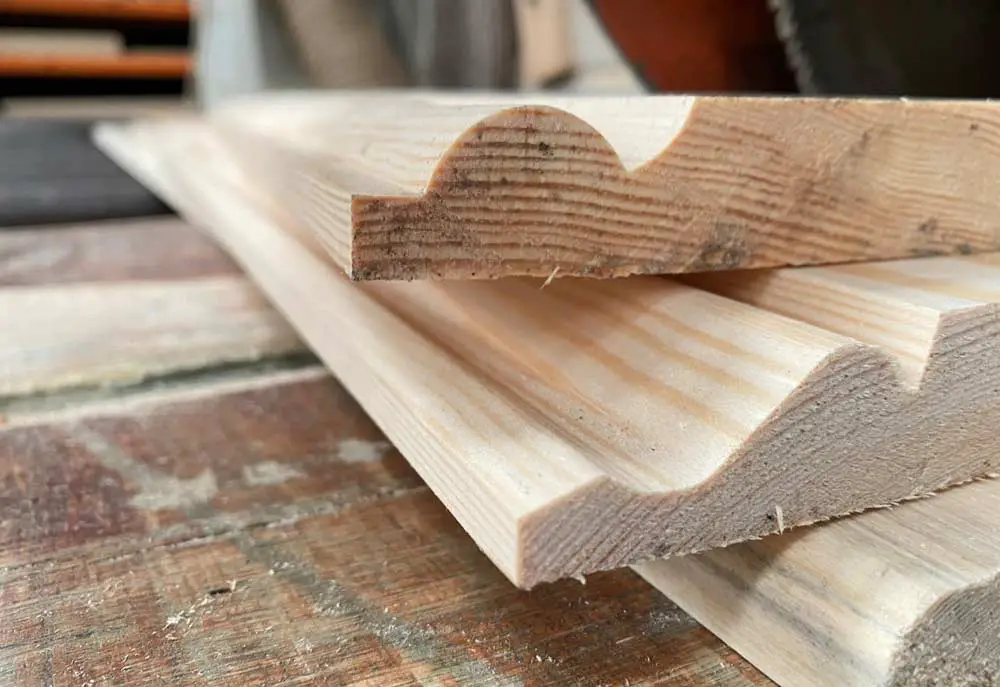 Image credit: marslandtimber.co.uk
Softwood is another popular choice of skirting board material, especially for contemporary homes, due to its easy installation, flexibility, the variety of heights and profiles available and how easy it is to sand and shape. Additionally, you can varnish, stain and paint softwood skirting boards for both a period or more modern finish.
A downside to softwood, as it is a natural material, is that it will have cracks, knots and other deformities that you will need to contend with whilst fitting.
---
---
Hardwood Skirting Boards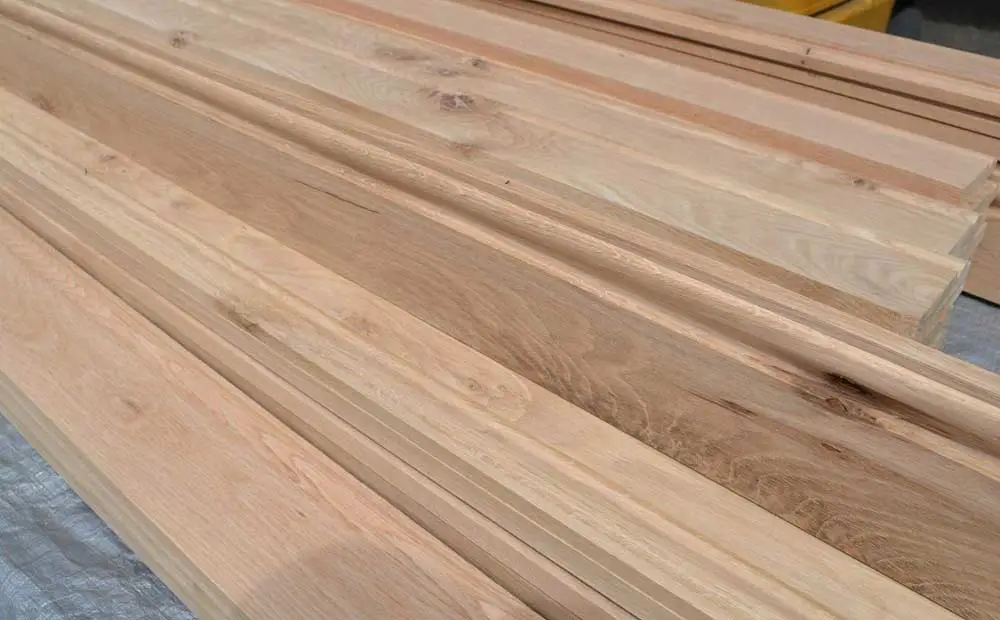 Image credit: ebay.co.uk
As the name suggests, hardwood skirting boards are very hard wearing and can withstand more damage from unforeseen accidents or knocks from furniture etc.
However, due to its rigidness, it is slightly trickier to fit than softwood and MDF alternatives. Maybe one for the professionals to fit for you?
---
---
Plastic Skirting Boards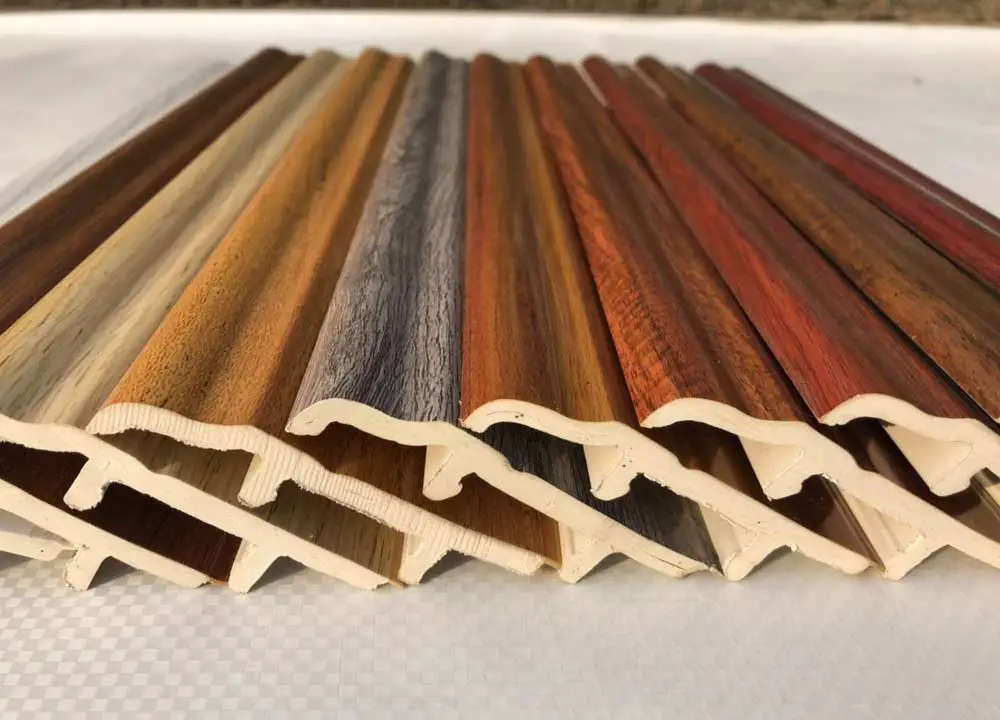 Image credit: madeinchina.com
Plastic skirting boards are a cheaper alternative to wood or MDF, but are not as tough and can be more easily damaged and cracked.
UPVC skirting boards are the most convenient, no-hassle, no-maintenance, simple-fit option available today. Unlike wood or MDF, it doesn't require any sanding, painting, or mitring. It is also fast and simple to install and easy to customise, making retrofitting quick and efficient.
It is available in many woodgrain, white and coloured options, or can be custom sprayed should you require a specific colour or shade to match your decor.
---
---
Metal Skirting Boards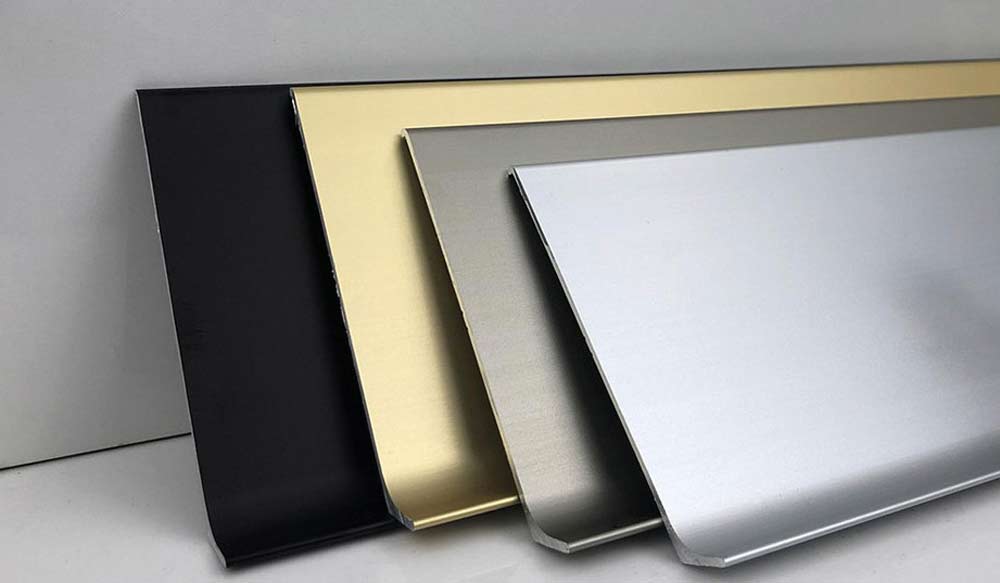 Image credit: mebel-alu.com
Metal skirting boards are the most expensive option we have discussed, but are also the most durable. These create a very modern and stylish look, making them the perfect choice for a modern industrial or minimalist look.
---
---
Different Styles of Skirting Boards
There is a variety of skirting board profiles to choose from, to add the perfect finishing touch to your room. Some of the most popular skirting designs include, but are not limited to:
Bullnose Skirting Board Profile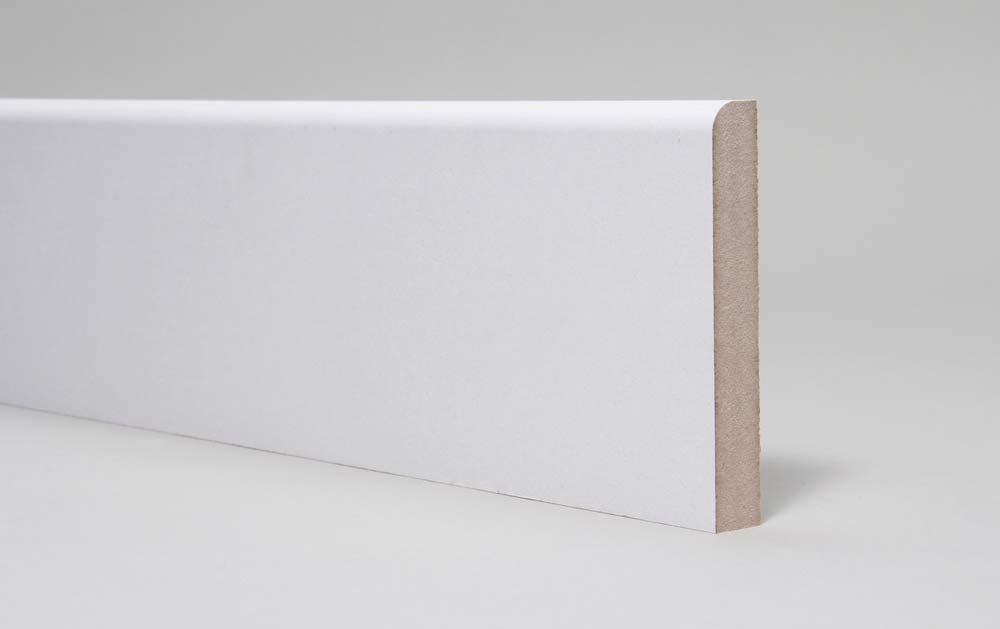 Image credit: unique-wholesale.co.uk
Bullnose skirting, commonly referred to as pencil round skirting, is the perfect fit for contemporary interiors and provides an simple elegant design that creates a clean modern finish.
The bullnose profile is a classic and timeless style that gets its name from the rounded top edge. Due to its simple shape it is easy to clean and is super safe for pets and over active children alike, due to its lack of sharp edges.
Bullnose skirting board is also easy to clean and paint as there aren't many tiny crevices or corners for dust and dirt to build up on.
---
---
Ogee Skirting Board Profile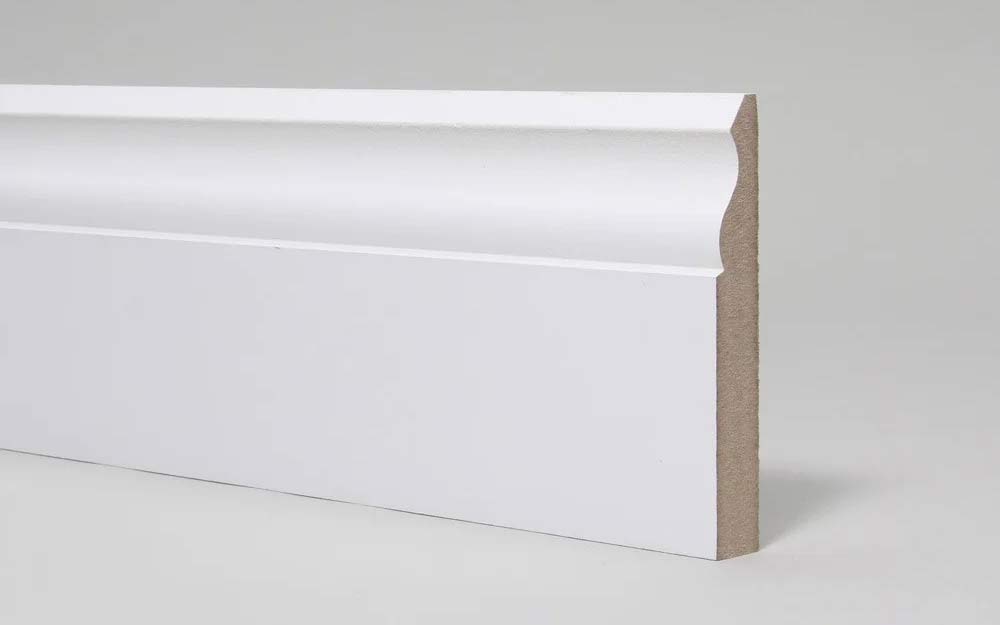 Image credit: beesleyandfildes.co.uk
Although a traditional style of profile, Ogee skirting boards can be used in both traditional and modern homes, making this a particularly versatile option for homeowners and builders alike. Probably why it is so popular and widely used in the United Kingdom.
The main feature of the Ogee design is its angled top edge and ornate sweeping curved profile.
---
---
Square Edge Skirting Board Profile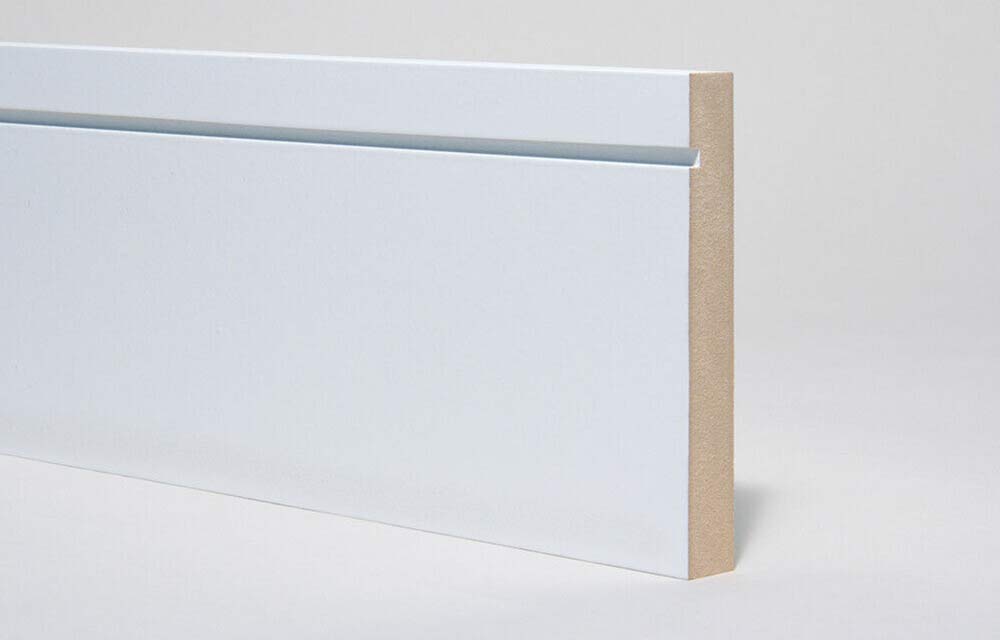 Image credit: unique-wholesale.co.uk
The square edge profile has, as the name suggests, a square top and edge and can also be grooved. It is a plain and simple design that would fit into any modern design of home and has the benefit of being super easy to fit.
It is also another of our options that is easy to maintain and clean due to its simple and unfussy shape.
---
---
Torus Skirting Board Profile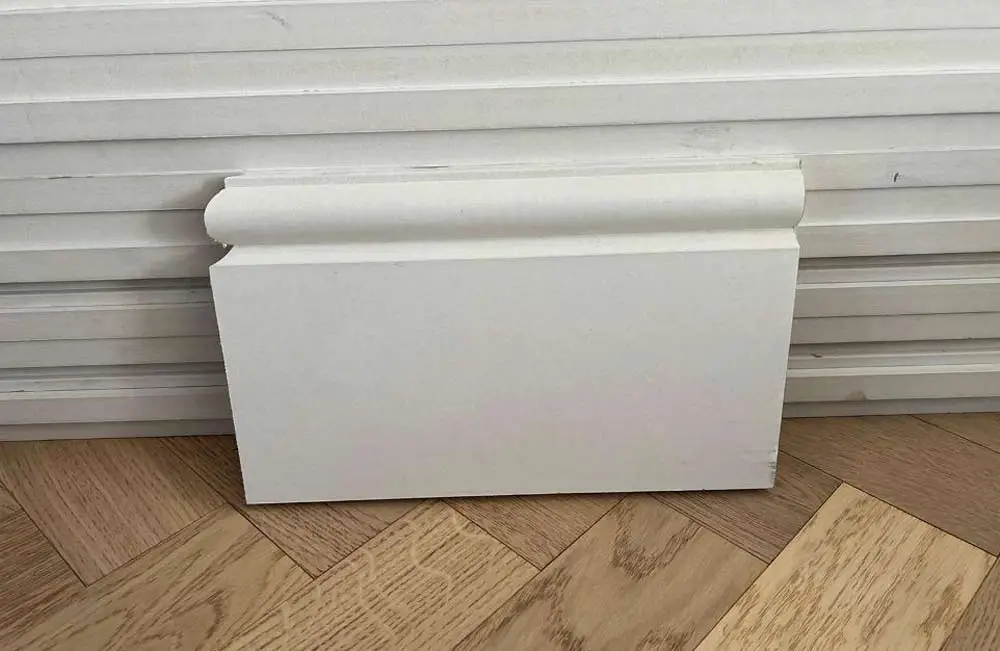 Image credit: gumtree.com
A traditional design, the Torus skirting board profile is commonly used in period homes. This is why this profile type is often used in renovation projects.
The Torus profile is inspired by classical architecture and features a prominent convex, semi-circular arch.
---
---
Lambs Tongue Skirting Board Profile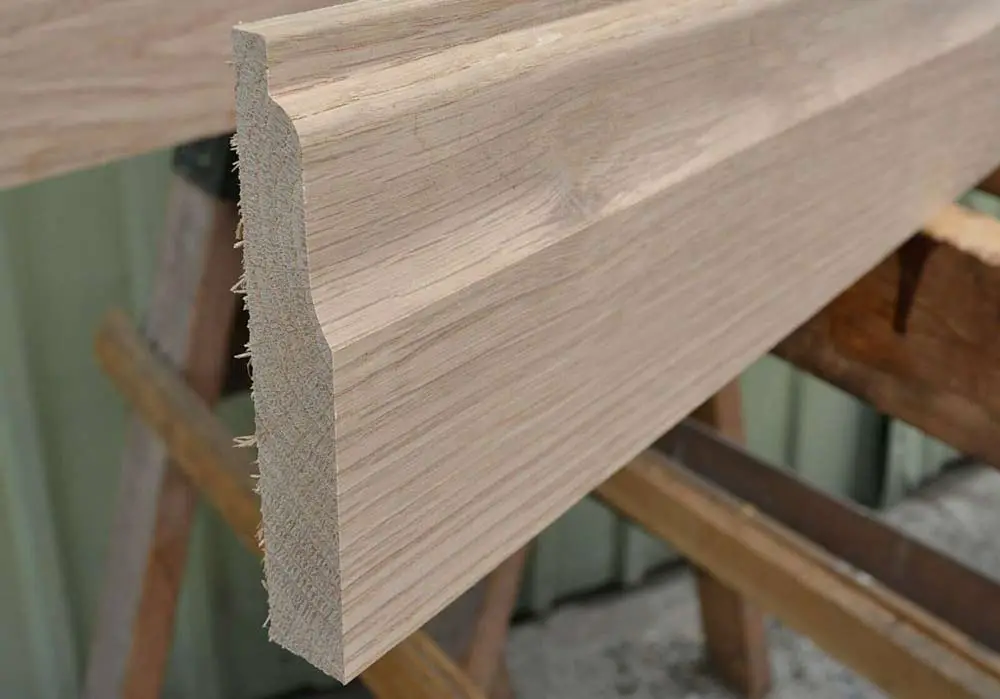 Image credit: hardwoodjoblots.co.uk
The Lambs Tongue skirting board profile is a classic, stylish and elegant design that gets its name from its delicate rounded shape.
This profile shape is particularly used in Victorian style properties, but could be just as suited to a more modern look.
---
---
Art Deco Skirting Board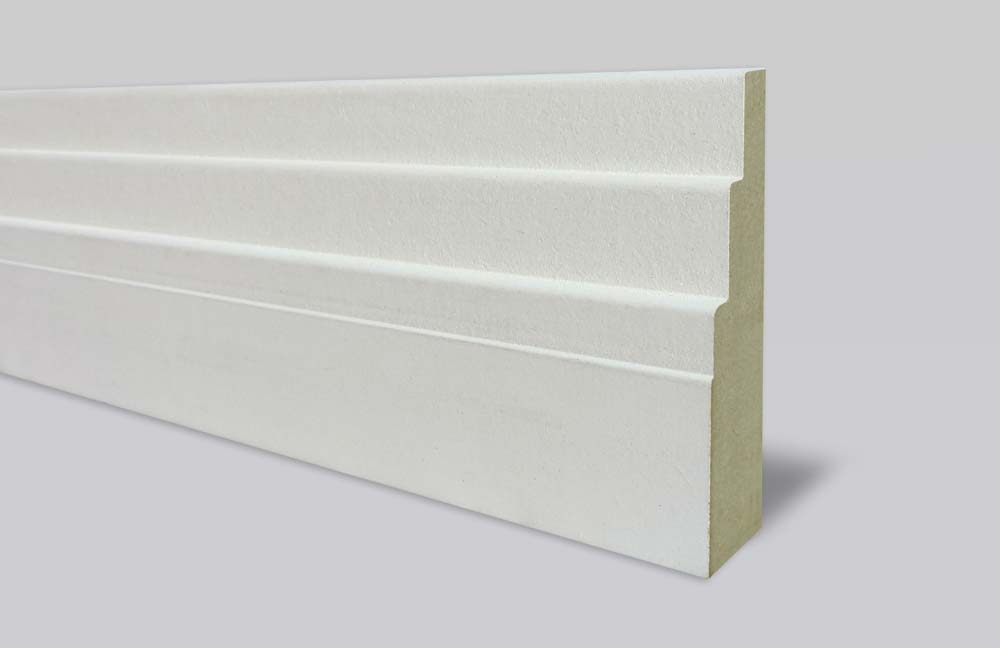 Image credit: theskirtingboardshop.co.uk
Art Deco is a very distinct design style started back in the 1920s and is know for its rectangular and diamond geometric shapes.
As you would expect, the Art Deco skirting board profile uses these design elements for its inspiration.
---
---
Chamfered and Rounded Skirting Boards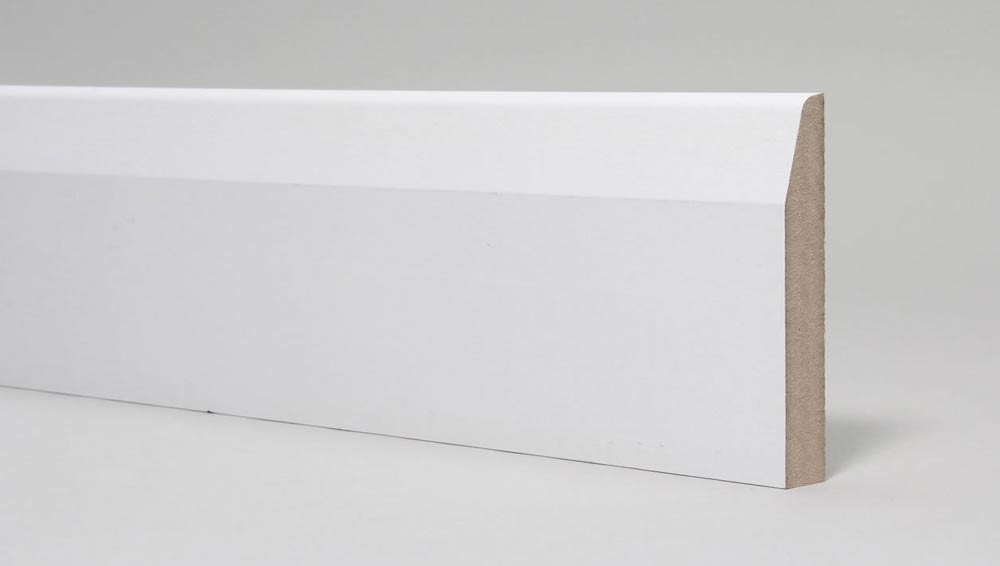 Image credit: go-banana.com
The chamfered and rounded skirting board profile is similar in simplicity and shape to that of the bullnose profile mentioned previously, but with a more straight-edged design.
The main element of these profiles is the sloping edge, soft chamfer and rounded top. Its simplistic shape and pattern make it an obvious choice for any type of interior finish.
Consider Sizing
The skirting board you buy needs to serve its intended purpose. Remember that the board not only needs to protect your walls and paint finish, but also fit in with the style and age of your property.
When deciding on the height of your skirting boards bear in mind the height of the ceilings. For higher ceilings you should opt for taller skirting boards to make the most of the rooms dimensions. Adversely, if you have lower ceilings, avoid tall skirting boards as they will have the opposite effect and visually shorten your room.
In some cases though there is an argument for using tall skirting boards in a small modern room, as it can give the illusion of making it look bigger than it is.
Price Considerations
Skirting boards vary greatly in quality and design depending on the cost. We suggest before going all-in and ordering a bulk batch of skirting, figure out your budget and choose a product that gives you the best quality within it.
Most importantly, shop around. You will most likely find the same product from various different suppliers, but the prices can vary greatly.
---
---
Skirting Board Colour Ideas and Inspiration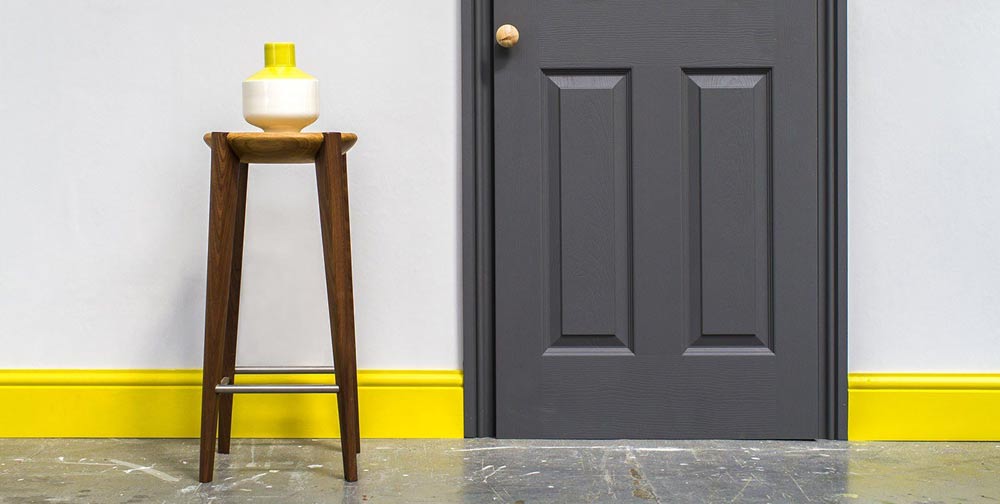 Image credit: Pinterest.co.uk
Your rooms colour theme needs to guide the choice of skirting board finish that you decide upon. You do not want your colour choice to negatively impact the overall rooms theme, which will create disharmony in the final look.
You will ultimately have to decide whether you want neutral colours, or something more vibrant that is going to compliment or contrast with the walls and other decor. Do you go for white to make the walls pop, or paint your skirting boards the same colour as the walls?
If your house is rented, it is advisable to use neutral colours for the woodwork, such as opting for white skirting boards (unless you have prior agreement from the landlord) so as not to invalidate any contracts and run the risk of losing any deposits further down the line.
You can visit home improvement range at mdfskirtingworld.co.uk to learn more about the different skirting boards currently available.
Pink and Proud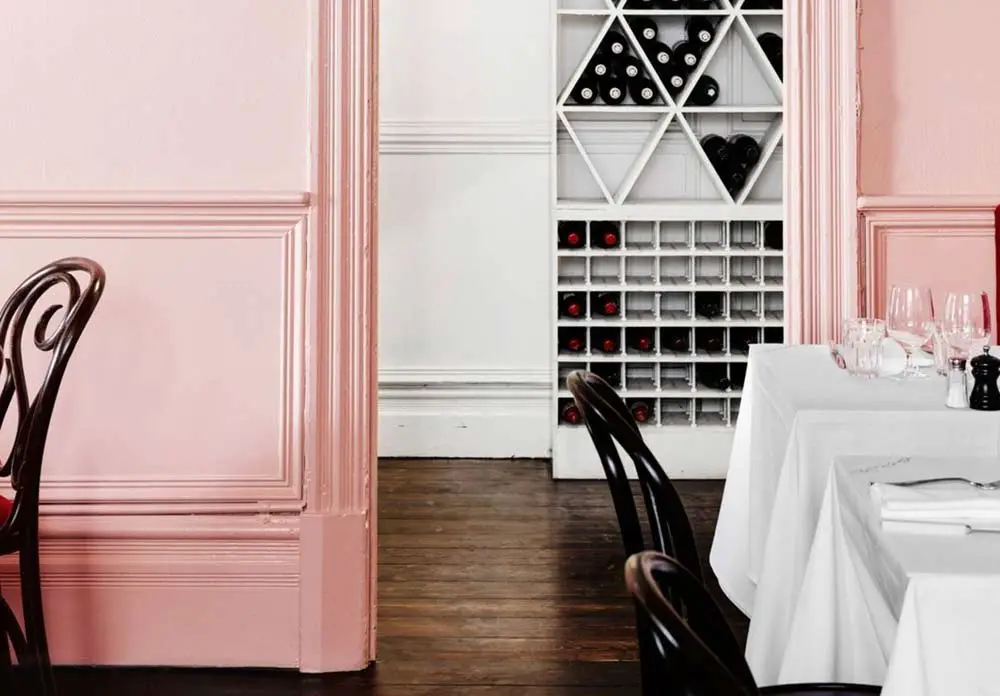 Image credit: curiouserandcuriouser.co.uk
If you are going to go all out on painting the walls a baby pink, you may as well paint skirting boards and architraves the same colour ! In this restaurant setting it really works and adds an impact that you just wouldn't get if they were white.
Nature Inspired Elegance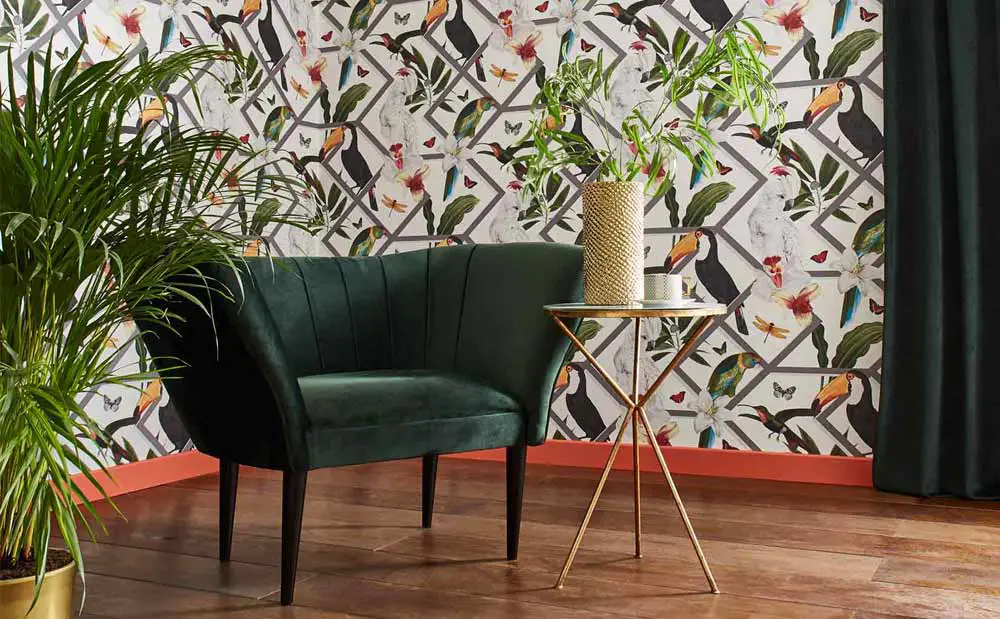 Image credit: grahambrown.com
Choosing a bold colour, like the red skirting in this living room is a real interior design statement. The colour has been picked to not only match the reds in the pelican wall paper, but also to compliment the greens in the wallpaper, curtains and chair.
The Blue Room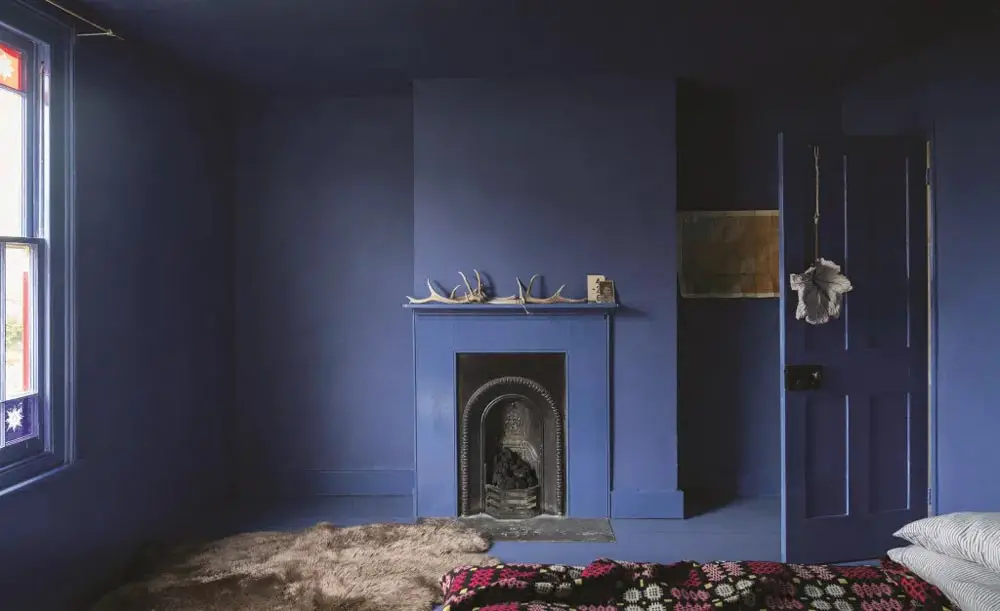 Image credit: freshdesignblog.com
By painting the room all one colour, in this case blue, including the wooden skirting, walls, doors and even ceiling, it creates a warm and cosy space and gives the impression of having taller ceilings than it actually has.
Modern Country Kitchen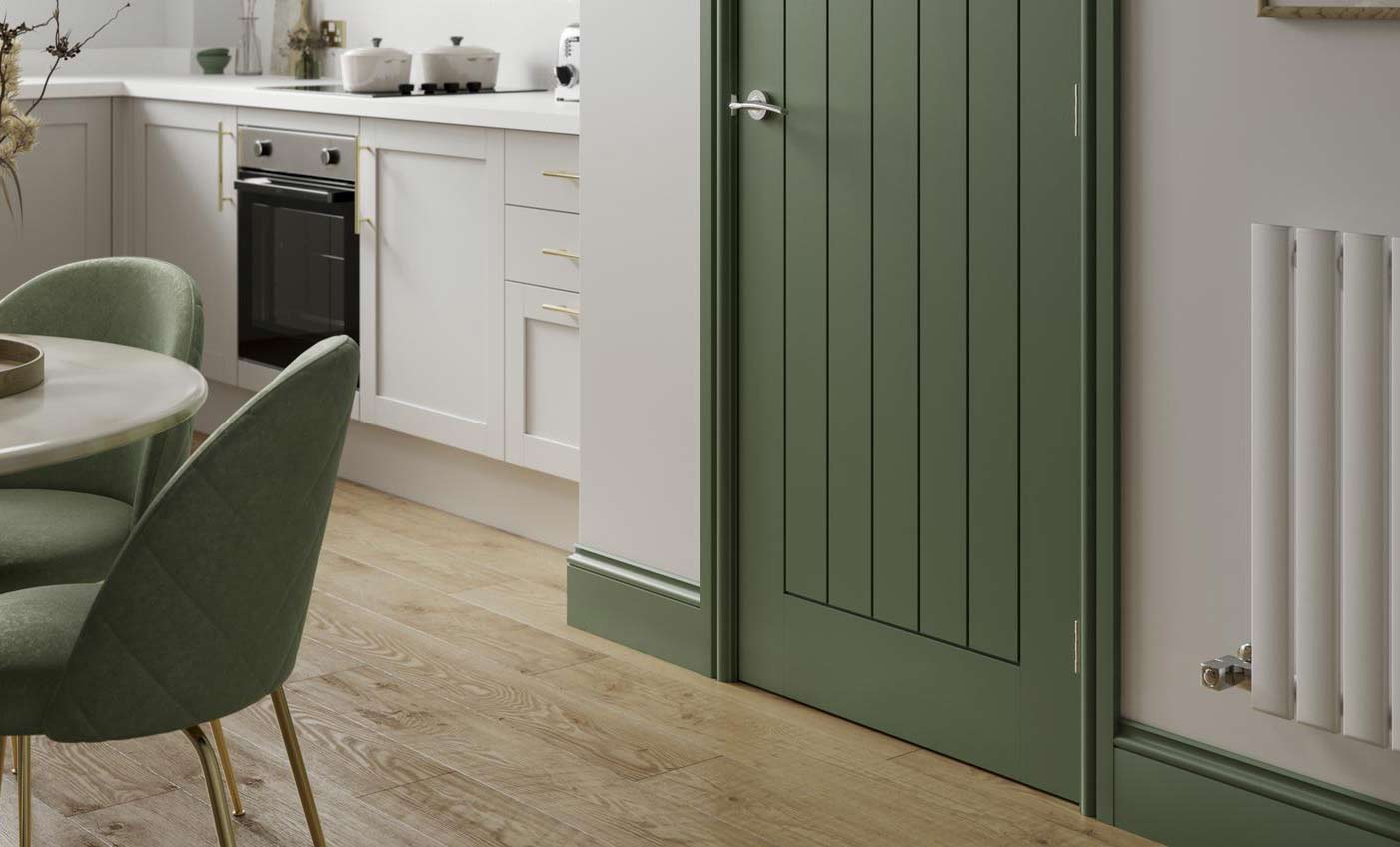 Image credit: howdens.com
The owners of this beautiful kitchen have literally flipped the rule book on its head, by using a soft off white on the walls and a bold olive green for the door, skirting boards and architrave. This has been tied in perfectly with the dining table chairs and creates a stunning coherent design.
Modern and Sleek Art Deco Styling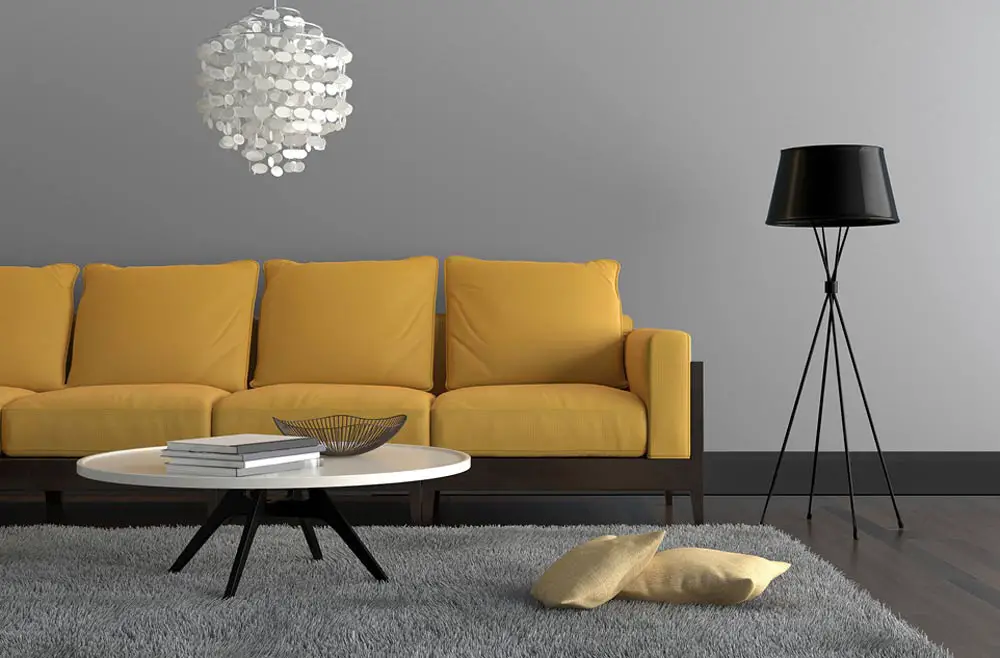 Image credit: eurocell.co.uk
A sleek and modern take on an Art Deco theme, with the glamorous sparkly light fixture, deep brown flooring and black accents, all set against the contrasting mustard yellow sofa. Adding the black skirting board is the perfect finishing touch that ties the theme together effortlessly.
Conclusion
Every skirting board comes with its own features, benefits and price point. So once you have decided on the profile style, height and material that suits your decor and budget, it would be advantageous to compare what is available in different retail stores before choosing the best offer available.
Next decide whether it is a job that you yourself can complete, or maybe a family member can do on your behalf. If neither are an option, then a professional fitter will be required. Make sure this is figured into the overall budget before commencing any work.
If you are planning to attempt the job yourself and are a novice, here is a great step by step how to fit skirting boards guide.