---
Living room rugs are an excellent way to add colour, texture, and pattern to a living room, but the choice available can also be a bit overwhelming, making it difficult to choose. Nonetheless, with a little careful planning, you can find a rug that will perfectly complement your existing decor.
Here are a few rug ideas for living room and top tips to show you how to choose a rug your for living room.
Think About the Shape of Your Room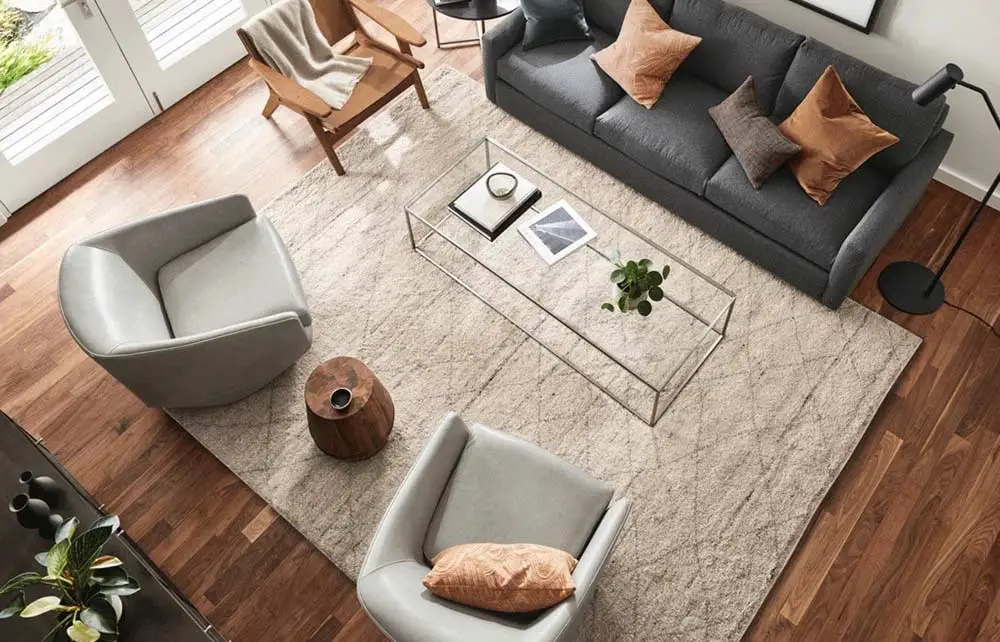 Image credit: tlcinteriors.com.au
When it comes to living room rug ideas and choosing a rug to match your decor, the shape is a pivotal consideration.
The right area rug can tie a room together and make it feel complete. The wrong one can be a major eyesore. Keep the overall shape of the room, the furniture, and the style in mind to direct you in choosing the right one.
There are a few other things to keep in mind when choosing the ideal living room rug shape for your floor space. First, consider the overall shape of the room. A rectangular rug will work best if it's a long and narrow space, for example, whereas a round or square rug will be a better fit if the room is square.
---
---
Next, think about the furniture in the living room. If you have a lot of small pieces, a smaller rug will work better. If you have furniture that occupies a larger amount of space, like a couch or dining table, you'll need a larger living room rug to balance it out.
Finally, take the overall style of the living room into account. A traditional living room rug shape like a rectangle or oval will be a good choice if it's a more formal living space. You can choose a unique shape if the room is more casual.
No matter what shape you choose, ensure it's the right size for the space. A rug that's too small will get lost in the room, and one that's too big will overpower it. When in doubt, err on the side of a larger area rug. You can always trim it down if it's too big.
---
---
Consider the Size of Your Room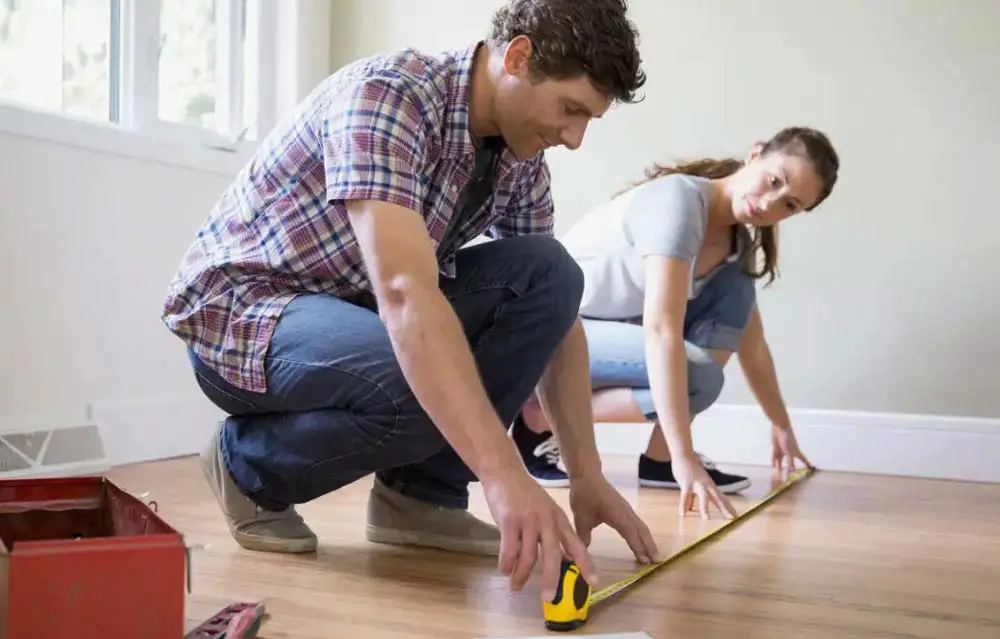 Image credit: bankrate.com
Taking the correct measurements is one of the most significant first steps in picking a living room rug and the size of both together is very important for several reasons:
Rug sizes can vary so much one one to another, so first you want to make sure the rug size is proportionate to the living room, especially if you have a narrow or long room.
A small living room rug in a large room can look lost and out of place, while a larger rug in a small space can look overwhelming and can make the room feel cramped and awkward.
You want to make sure the rug is the correct size to accommodate the furniture in the room. You don't want the rug to be so small that it looks lost against the furniture, or so big that the furniture looks dwarfed by a large area rug.
---
---
Living room rugs were never designed to go from wall to another wall, but if it is too small, it will not make as much of a visual impact. A rug should be at the very bottom of all the layers of decoration and therefore needs to ground the space. By extending the rug under some of the furniture elements of the room, it will help to define the space and anchor the pieces of furniture involved.
When in doubt, go for the largest rug that will fit the space. If funds allow, you can also have a custom rug made specifically to fit your needs.
Be Mindful of Foot Traffic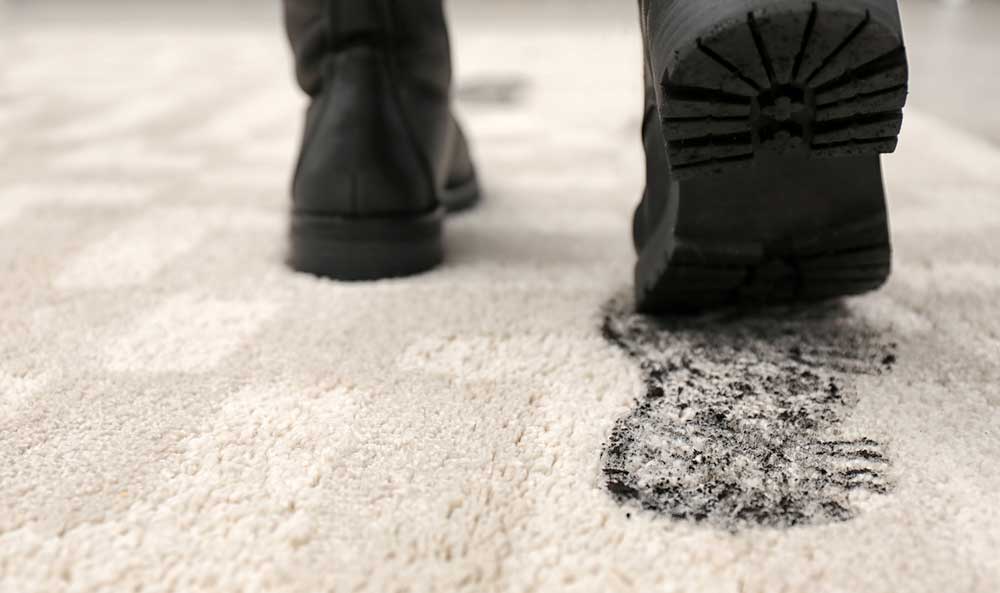 Image credit: auburncarpet.com
Ideally for high foot traffic areas you want to go with a rug made from Jute, polypropylene or any other low pile rugs. These are going to be far more hard wearing or easier to clean, depending on which you choose.
If the footfall is going to be low, or you want more of a soft luxury feel on foot, go with a high pile rug, like shag or natural wool. Just bear in mind that these will likely get dirty and lose their volume if foot traffic is high.
---
---
Choose a Colour That Complements Your Decor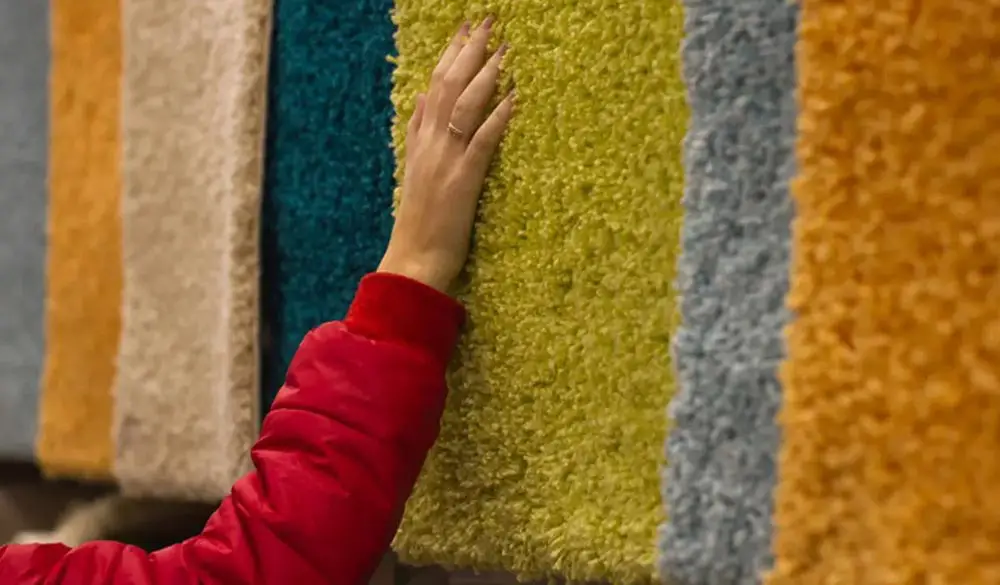 Image credit: mid-day.com
Choosing the right living room rug can make a big difference in your space's overall look because it forms an important part of any home décor.
You don't want the rug to clash with the rest of the living room, but you also don't necessarily want to be boring and stick with a plain rug that doesn't show off your personality or taste. So choosing a colour that works well with the other elements in the space is important.
The colour or colours of your living room rug will set the tone for the rest of your room. If you want a bold and vibrant look, choose a rug with bright colours, but make sure that it will work in harmony with the other colours surrounding it. Most importantly you do not want them to clash.
For a more subdued and relaxing feel to your living space, go with a neutral rug in earth tones or soft pastels.
---
---
Consider the Style of Your Home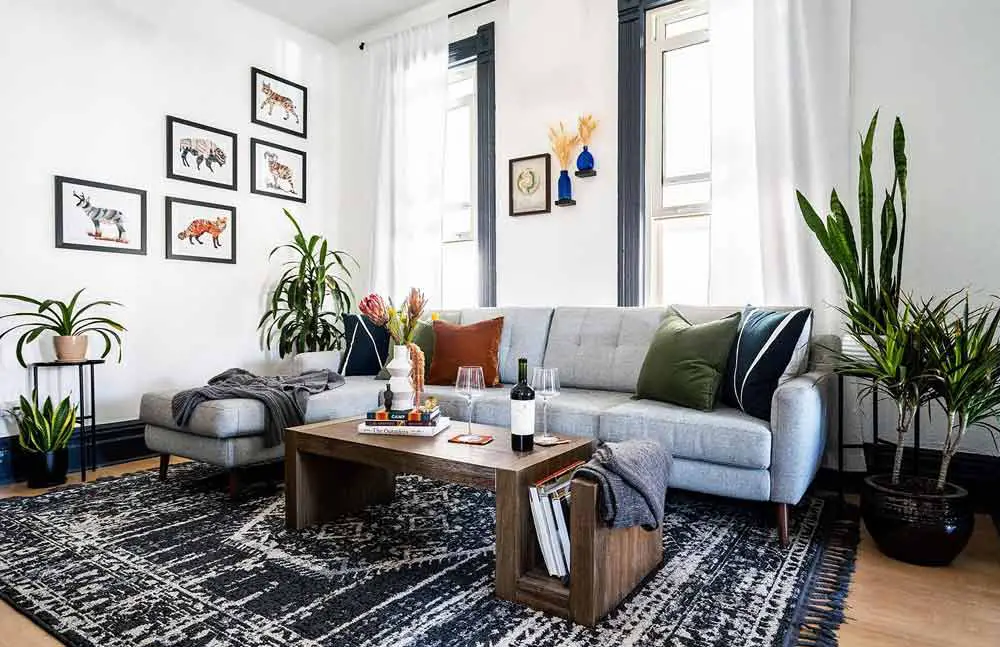 Image credit: havenly.com
Area rugs can make or break a living rooms design. The wrong living room rug can clash with your furniture and make the space feel disjointed. The right rug, however, can tie a room together and make it feel polished and well thought out.
When choosing one, it's crucial to consider the style of your living room. A bohemian room, for example, would benefit from a relaxed, natural-fibre rug, whereas a more formal area would do better with a wool or silk rug with a classic traditional pattern.
---
---
A contemporary living room space might be the perfect place to experiment with a bold, graphic print and more wacky designs. This would work especially well against hardwood floors, breaking up the vast areas of wood.
If you have a more traditional home of course, you'll want to choose a rug that has a traditional design style and is more suited to its period.
Rugs can really come in handy when you are trying to change the look and feel of your living room. The resources found on Rug Source recommend looking into the various rug categories and designs available (i.e., modern, hand-knotted, Turkish).
Regardless of your homes style, there's sure to be a rug that will complement your living room perfectly.
---
---
Think about the Rug Material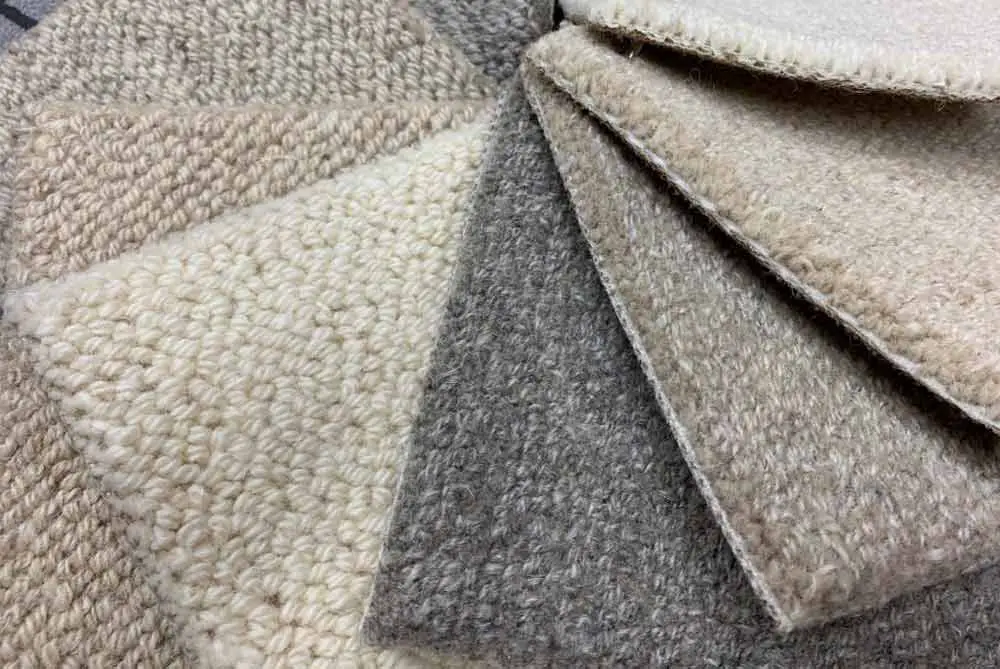 Image credit: floorfactors.com
When choosing a rug to match your living room decor and work within the theme of the room, the material is an important consideration.
For example, a wool rug might be a good choice for a living room, but probably not be the best choice for a bathroom.
Some materials are simply better suited to certain rooms, such as the ones described below.
---
---
Wool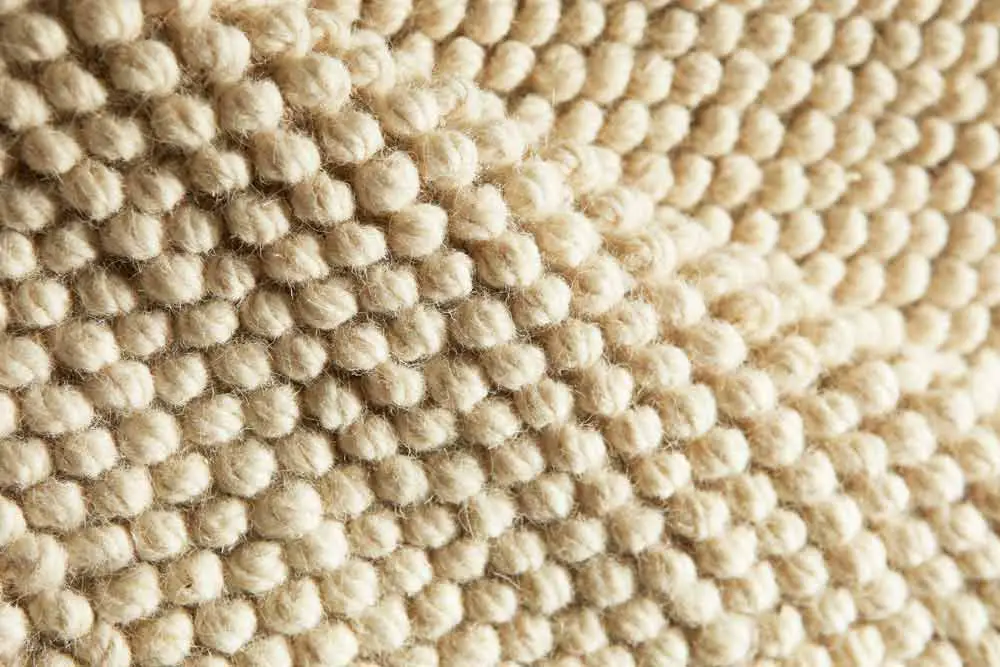 Image credit: zara.com
Wool rugs are a classic choice for any living rooms, and they're especially well-suited for high-traffic areas like entryways and living rooms. Wool is naturally stain-resistant and durable, and it's easy to clean.
If you have pets or kids, a wool rug is a good choice because it can handle a lot of wear and tear. And if you have allergies, wool is a hypoallergenic material that won't aggravate your symptoms.
Cotton
Cotton rugs are another popular option, and they offer a similar level of durability and easy care. It is also hypoallergenic and stain-resistant. If you are looking forward to having a custom rug made, choose cotton as your base material. It's perfect for intricate designs and details.
---
---
Polypropylene
Polypropylene rugs are a good choice for areas where you need a rug that can stand up to heavy foot traffic and spills. You may not have heard of Polypropylene before, it is a synthetic fibre resistant to mould, mildew, and water damage. It's also a very affordable option to consider.
However, because it is combustible and will not self-extinguish, we do not recommended that you place a rug made of this material too near an open fire.
Jute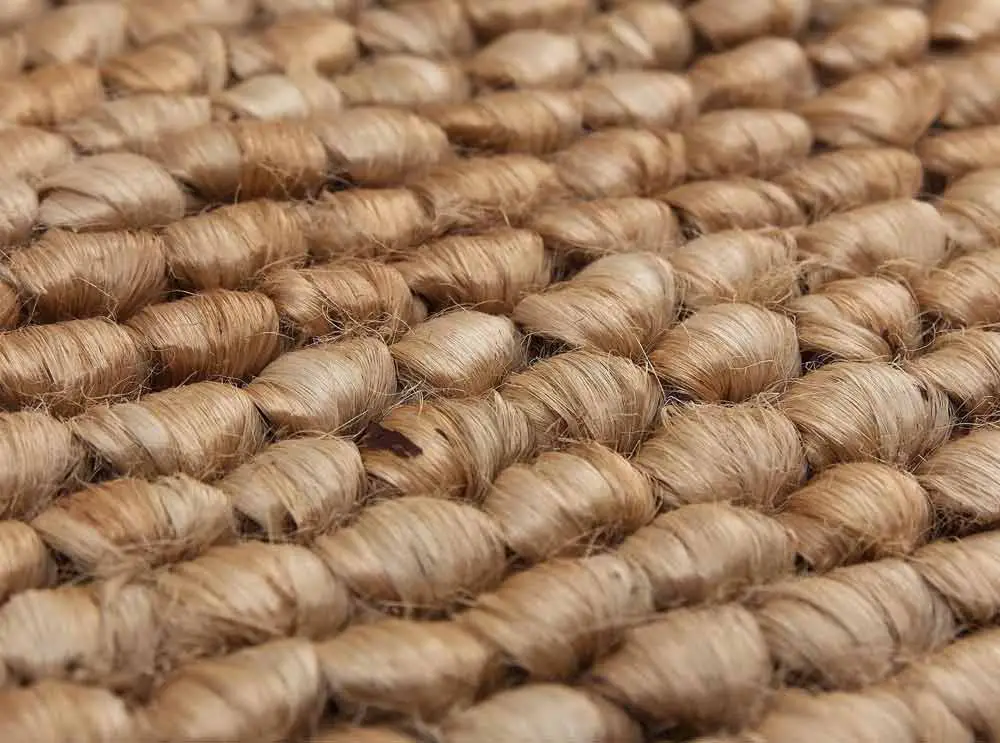 Image credit: urbanara.co.uk
Jute rugs are made from natural fibre and have a casual, earthy look. Jute is a durable material, but it's not as resistant to spills and stains as wool or polypropylene.
When choosing a living room rug, it's essential to consider the material as well as the colour or pattern. A rug can make a big difference in the look and feel of a room, but only if it's made from a hard wearing and durable material that can withstand heavy foot traffic and spills.
---
---
Consider the Texture and Pattern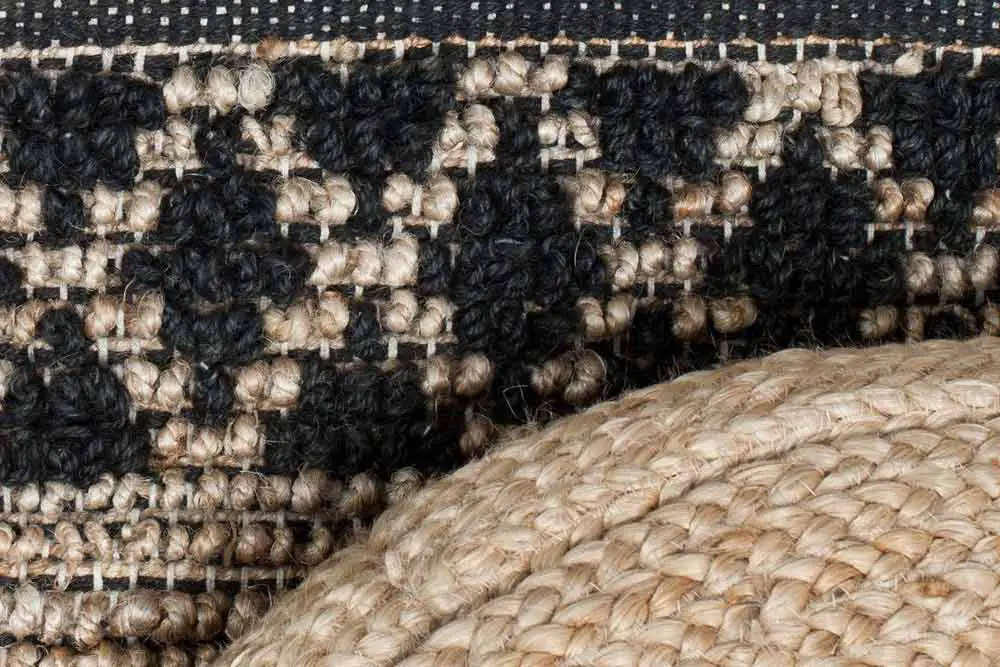 Image credit: nkuku.com
There is without doubt more to choosing the perfect living room rug than just picking a colour and size. You also need to think about the texture and pattern that would suit your space and needs the best.
The right texture can add cosiness to a room, while the wrong one can make it feel cold and unwelcoming.
Pattern is another important consideration. A busy patterned rug print might be perfect for a playroom, nursery or kids bedroom, but it may be too overwhelming for an adult bedroom or bathroom.
---
---
Since any living room rug can come in a huge variety of patterns and designs, it's best to do plenty of research before choosing one. While some rugs have designs in the form of floral or geometric patterns, others may have detailed pictures of historical monuments and buildings weaved into the carpet itself, which can add interest to you space.
Texture and pattern are just as important as colour when it comes to choosing a rug for your living room, as they all work hand in hand to create the final look and feel.
Utilise a Rug Pad
If you have not heard of a rug pad before, it basically lays flat between the rug itself and the floor to prevent the rug from sliding and moving about. If this happens it can be really frustrating and cause the rug to look unsightly when it starts to ruck.
There are also cushioned rug pads available to enhance the comfort under foot, akin to underlay under a carpet.
---
---
Consider the Price
It's all well and good coming up with numerous living room rug ideas for you to choose from, but you'll want to find a rug that fits within your budget.
Rugs can range widely in price from being very affordable to very expensive, so it's crucial to set a budget before you start shopping. But as with many things, when it comes to choosing a rug, the price is not as important as the quality.
You want to ensure that the rug is made of high-quality materials so that it will last for many years.
Living room rugs are usually a feature of a home that's intended to last a very long time, so consider that before you buy a cheap one just to save a few pennies. The money you spend today will save you from having to spend again in the future.
Summary
I hope that this living room rug ideas article has helped you along your journey to find a rug that suits your living room decor and space, and if you follow the tips given I'm sure you will succeed.
If in doubt, take a swatch of fabric or a paint swatch from your living room when you go rug shopping. This will help you narrow down your choices and make sure the rug works in the space.
Just as importantly, take the time to think about what you want your rug to achieve, how you want it to feel and what look will bring a smile to your face. You will then have no problem finding a rug that will align perfectly with your living room decor.
F