Adding art to your home is one of the simplest and most effective ways to make it more beautiful and inviting. Not only that, but studies have shown that adding art to your home can also have many other benefits. For starters, it makes your home feel more comfortable and inviting, which can lead to improved mood and increased productivity. And if you are an artistic type, it can encourage you to express yourself creatively and boost your confidence and self-esteem.
However, not everyone has access to expensive art pieces, or even the know-how required to hang them correctly. Thankfully, there are plenty of creative ideas that can help you add art to your home without breaking the bank or spending a fortune on framing and installation.
Disclaimer: As an Amazon and Wayfair associate, we do receive a small commission from qualifying purchases made via links within this article.
Here are some creative ideas for how you can bring art into your home:
Add a Statement Piece of Furniture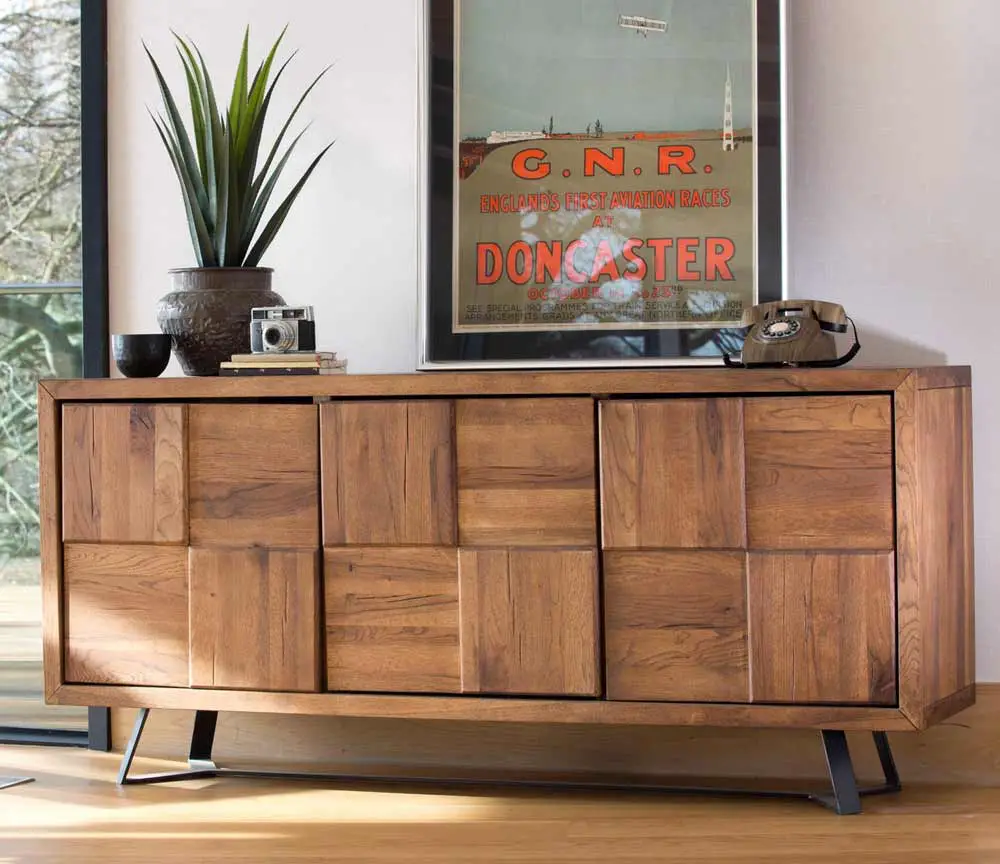 Image credit: reynoldsfurniture.co.uk
If you're looking for a bold and eye-catching way to add art to your home, consider investing in a statement piece of furniture. This could be anything from an armchair with an intricate pattern or a coffee table with an abstract design - the possibilities are endless. Statement pieces like these can instantly transform any room and make it look more luxurious and inviting. Plus, they are often just as practical as they are aesthetically pleasing, so you get double the benefit.
When adding a statement piece to your home, make sure that it fits in with the rest of the decor. A bright, bold piece might look great in a modern-style living room, but would be out of place in a more traditional one. So take some time to consider what kind of style you want and find something that complements it perfectly.
Paint a Mural on Your Wall
Image credit: joannaperrymurals.co.uk
If you're looking for a way to make a big impact on your walls, consider painting a mural. Murals can be any size or shape, and they can be painted on any surface - including walls, ceilings, floors, and even furniture. They can be as simple or as complex as you want them to be, and they can be in any style - from realism to abstract.
If you're not sure how to go about painting a mural, there are plenty of tutorials online that can help you get started. You can also find plenty of inspiration online or in art books. Just make sure that you take the time to plan out your mural before starting to paint - this will help ensure that the finished product looks exactly the way you want it to. Alternatively, you can also hire an artist to paint the mural for you. This can be a great option if you don't have the time or skill to do it yourself, but still want something unique and special.
Create Shadow Boxes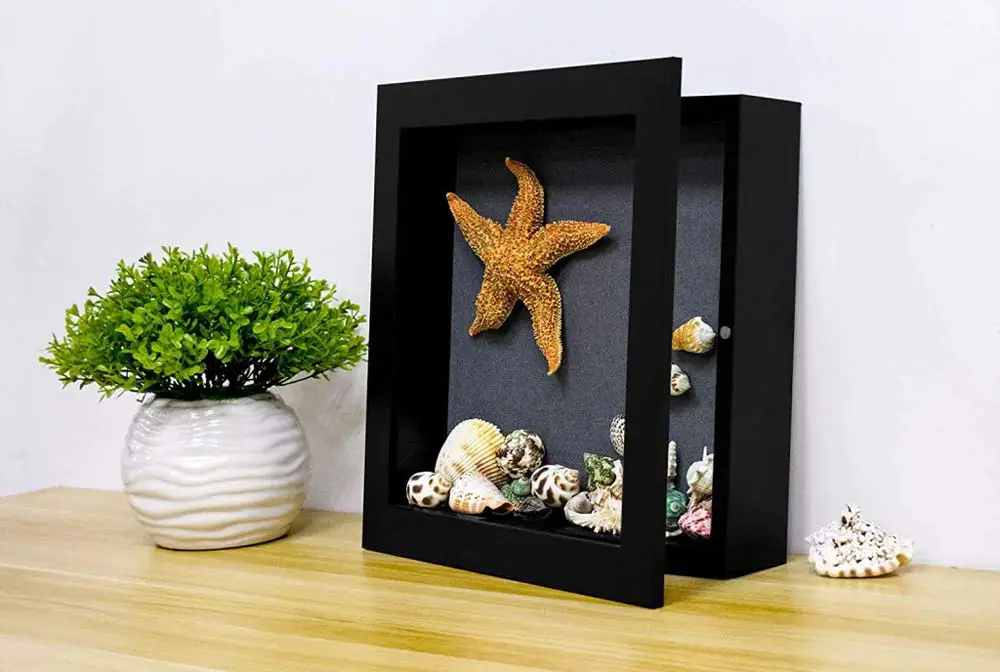 Image credit: rollingstone.com
Shadow boxes are a great way to display a variety of art pieces, from paintings and photos to memorabilia and antiques. You can also use shadow boxes to help create a theme or narrative within your home - for example, displaying artifacts from around the world in one box, or using multiple boxes to tell a story about your family's history.
Creating your shadow boxes is surprisingly easy. All you need is some wood or plastic frames, glass panes, glue, paint, and any other supplies you need depending on what type of items you want to display. Once everything is put together, just add whatever decorations you like - pictures, sequins, glitter, etc., and voila. You have an instant work of art that's sure to become a conversation starter.
Repurpose Old Furniture
Image credit: pinterest.com
If you have any old furniture pieces lying around, you can use them to create a unique and eye-catching art installation. For example, an old dresser can be used as the backdrop for an art gallery; or you could hang old chairs from the ceiling and use them as display cases. You can also repurpose old furniture into functional items - like turning a bookshelf into a wine rack or transforming an armoire into a bar cabinet.
Whatever project you decide on, make sure that it is something that truly speaks to your sense of style and reflects your aesthetic. That way, not only will you have created something beautiful for your home - but it will also be unique and one-of-a-kind and you can be sure everyone will be impressed when they see it.
Hang Tapestries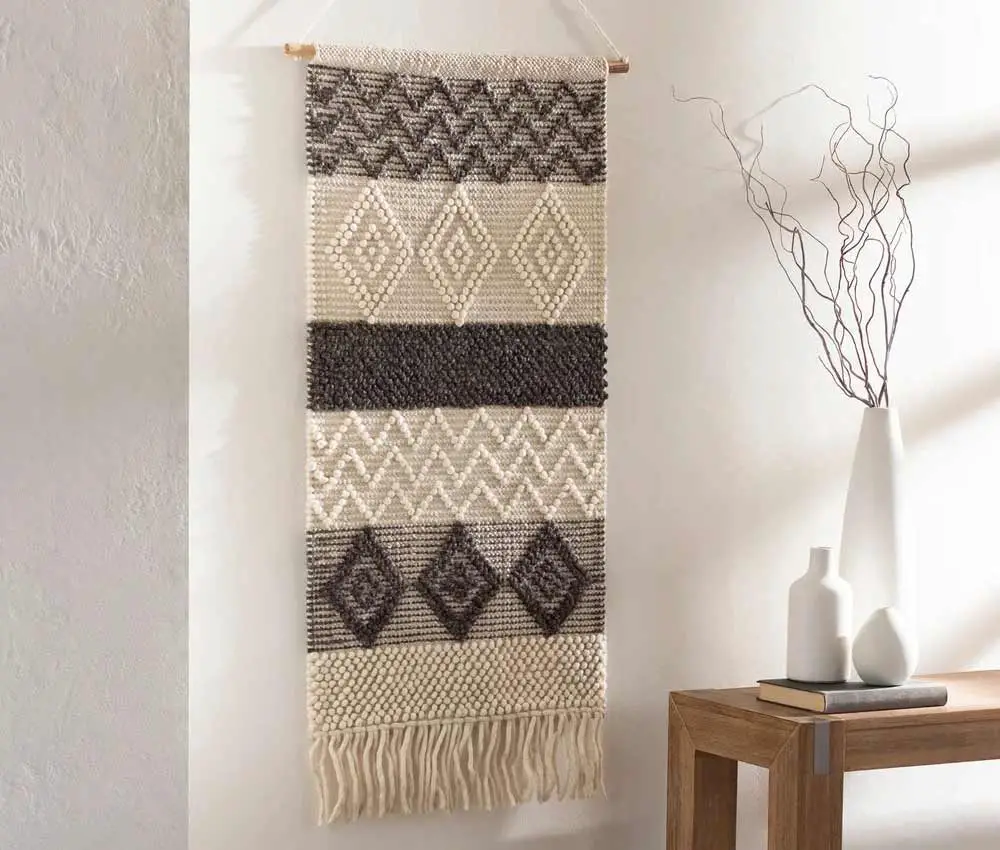 Image credit: overstock.com
Tapestries are a great way to add art to your home without taking up too much space. They also have the added benefit of being easy to hang - all you need is some thread and a few hooks, and you can display them anywhere. There are plenty of different styles available, so make sure to find one that fits your aesthetic. Whether it's an ornate traditional design or something more modern and abstract, you'll be sure to find something that will look amazing in your home.
Hanging tapestries can also help create the feeling of having a gallery in your own home - just group several on one wall for an eye-catching effect. And if you're feeling creative, why not try making your tapestry with fabric, yarn, and other materials? It's an easy way to add a personal touch to your home.
Put Up Wall Art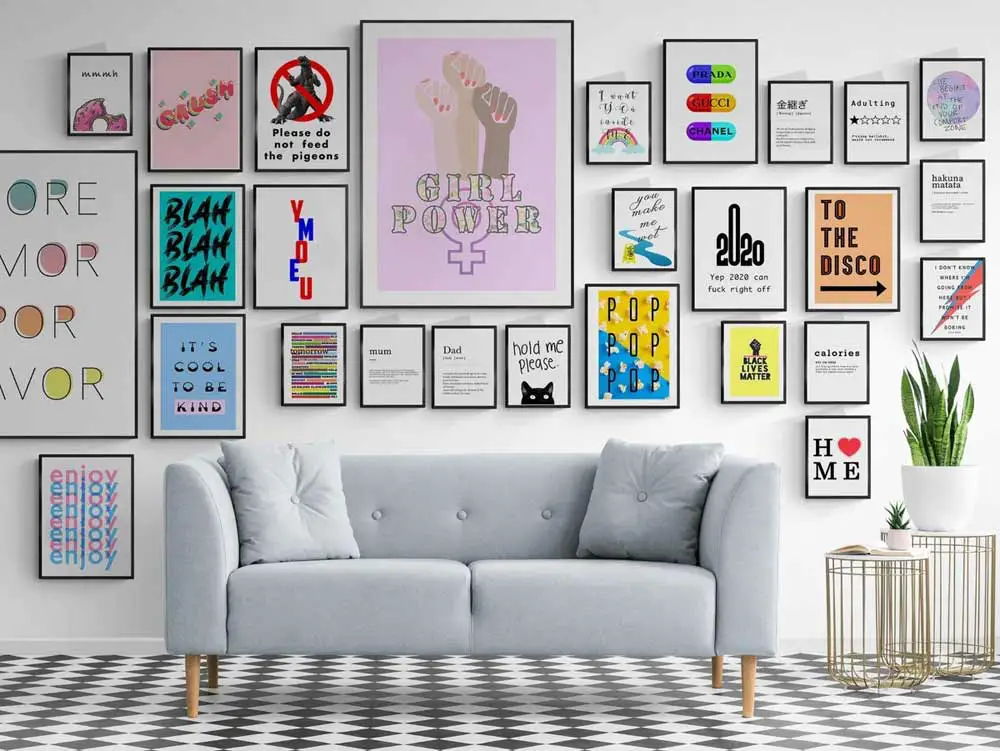 Image credit: 98types.co.uk
No art-inspired home is complete without some wall art. Whether you go for a large canvas painting or multiple smaller pieces, it's always nice to have something visual to look at. There are so many options available - you can buy custom prints, commission an artist to paint something special, or even make your artwork with paints and supplies from the craft store.
Once your wall art is hung up, you can also get creative and use frames and other decorative items to add more interest. Try hanging several identical frames side by side with the same print inside them, or using an interesting shelf set up to show off multiple pieces of art in one place. With a bit of imagination, you can create an eye-catching display that looks like it came right out of a gallery.
Incorporate Natural Elements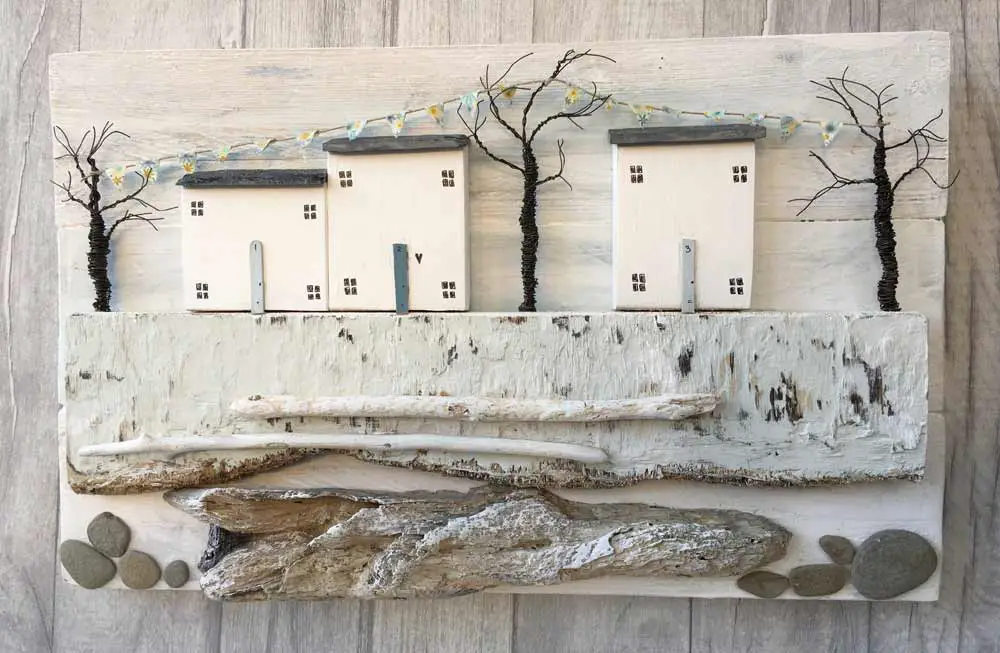 Image credit: coast-gifts.com
Natural elements can be a great way to add art and texture to your home. Try incorporating items such as driftwood or branches, stones or shells, dried flowers, feathers - anything you can find outside. These natural pieces will look beautiful in any room and instantly bring a sense of warmth and cosiness. Plus, they're also very easy to style - just arrange them in interesting ways on shelves or mantels for an organic-looking display.
Adding these natural elements will create an outdoor feel that is perfect for creating an atmosphere of peace and relaxation at home. So take some time to explore your local area (or even the beach if you live near one) and start collecting all sorts of interesting finds that you can use to decorate your home. You'll be surprised at how much impact these small details can have.
Create a Gallery Wall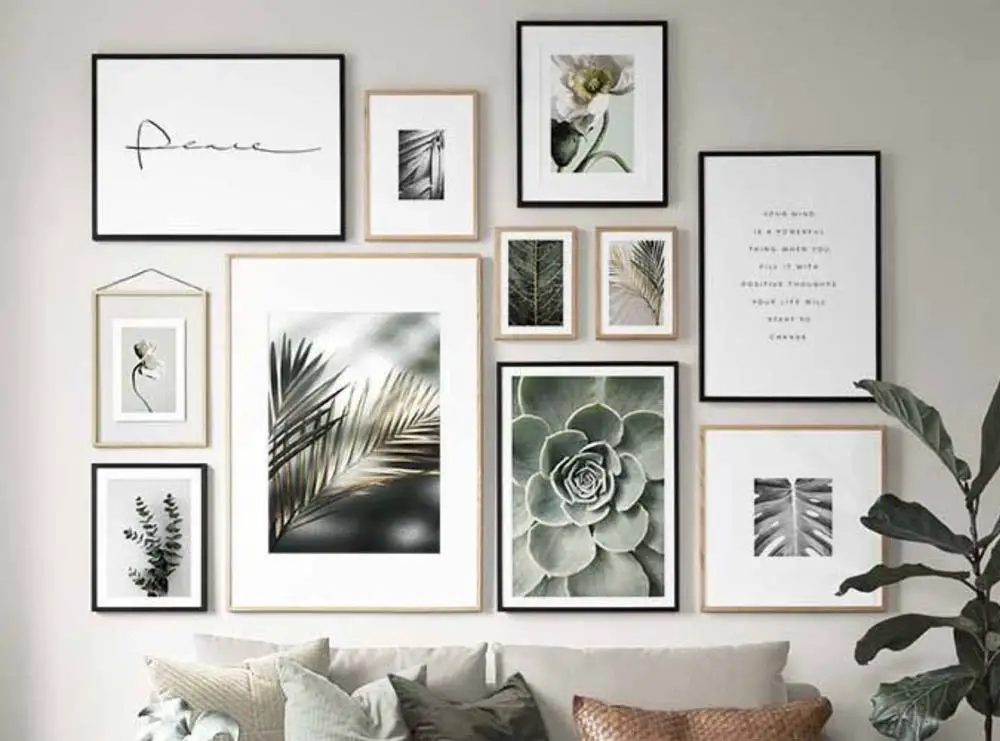 Image credit: pinterest.com
Gallery walls are one of the best ways to add art and personality to your home. They consist of several pieces arranged together in an aesthetically pleasing way - usually on one wall of a room. The artwork can be anything you like - prints, photographs, paintings, or even 3-dimensional items such as sculptures and model ships.
Creating a gallery wall is also incredibly versatile - it's easy to switch out any individual piece for something else if you want to change up the look. Plus, there are plenty of templates available online that can help you plan out where each item should go (and make sure everything is perfectly spaced). So have fun experimenting with different combinations until you find the perfect design for your home.
Decorate With Mirrors
Image credit: pinterest.com
Mirrors can do so much more than just reflect light into a room - they can also be used as art. Try finding a large, statement-making mirror to hang over your mantel or above a console table. Not only will it make the space instantly brighter and more inviting, but it will also draw the eye to any artwork or other decor you have nearby.
You could even go for something more unique - there are lots of interesting shapes and sizes out there, from small round ones to big sunburst designs. Whichever one you choose, it's sure to add an extra touch of style and personality to your home. So get creative and find the perfect mirror for your needs - it could be the next big thing in your interior design.
Place Architectural Elements Around the Room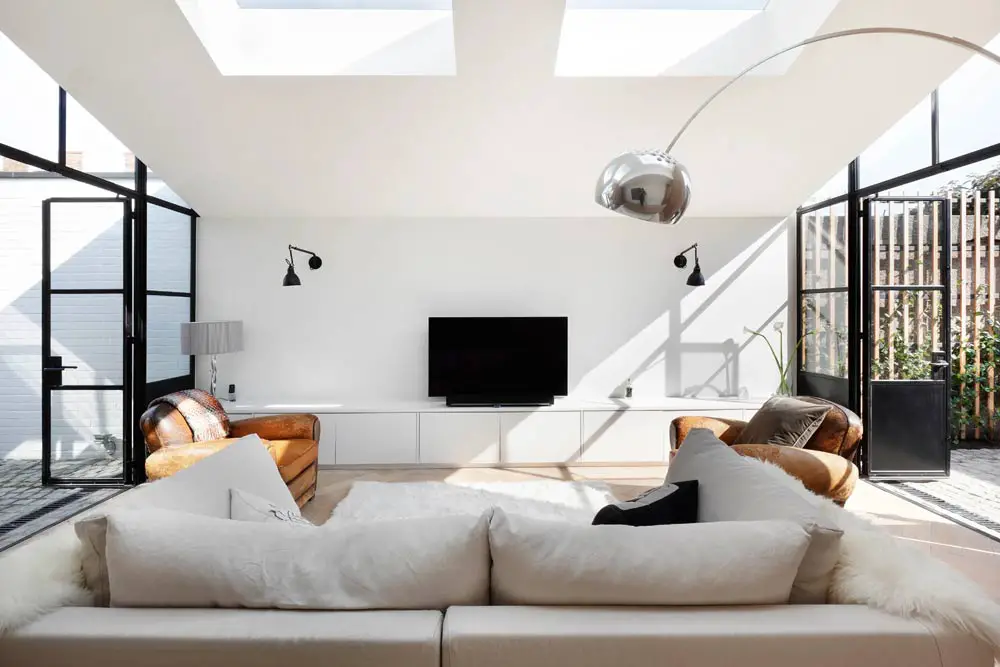 Image credit: divisare.com
If you want to bring a sense of sophistication and luxury to your home, why not consider adding some architectural elements? Whether it's a grand chandelier or an ornate mantelpiece, these pieces can instantly elevate any room with their beauty and craftsmanship. They also serve as great conversation starters - everyone will be curious about where you found them.
You don't have to limit yourself to just one or two pieces either - try grouping several items for maximum impact. This could include classical sculptures on plinths in each corner of the room, or antique vases placed elegantly on your coffee table. Just make sure to take into account the overall design of the room before you start adding these pieces, so everything flows nicely and looks cohesive in the end.
Hanging Plants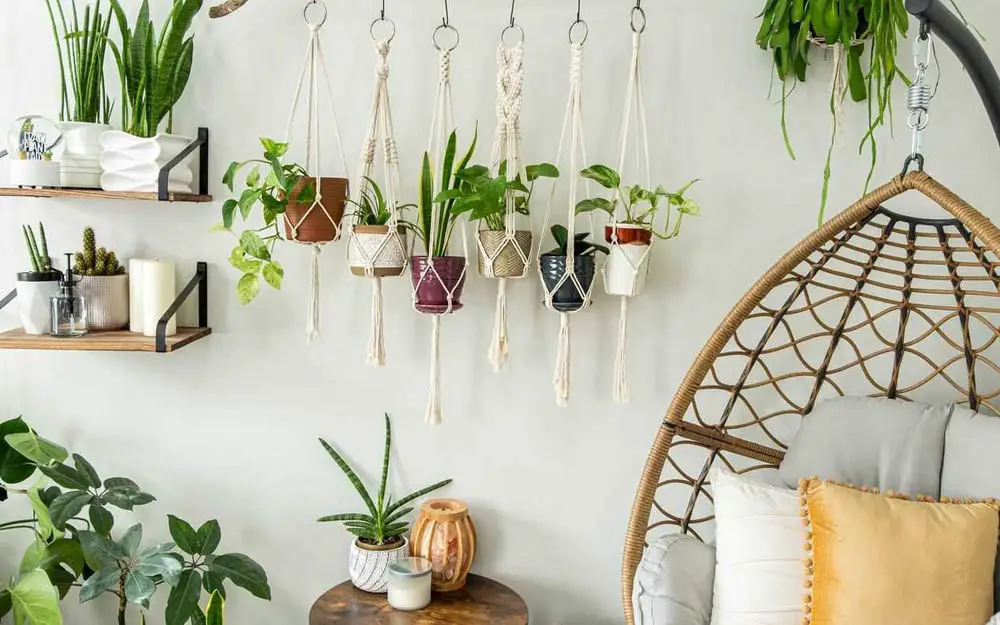 Image credit: gettotext.com
Bringing the outdoors inside is an excellent way to bring a feeling of vitality and energy into your home. By incorporating plants in creative ways, you can have a living garden that will add freshness, life, and beauty to any room in your house.
Hanging plants are a great way to do this without having to take up too much floor space. Look for small potted plants or trailing vines that can hang from window sills or ceiling hooks. And if you don't have a lot of natural light in your home, there are plenty of low-light varieties out there that will still thrive indoors. Just make sure they get enough water and nutrients to stay healthy - then watch as they liven up your space with their lush foliage.
Summary
No matter what type of art or design you choose for your home, make sure that it brings you joy every time you look at it. After all, that's the whole point of decorating - creating a space that reflects who you are and makes you feel happy. So go ahead and explore the wonderful world of home art - let your creativity run wild and discover all the possibilities available to you.