Personal space is at a premium in many homes, so finding the right medium-sized or compact dressing table ideas is a must for anyone looking to add a beauty area in which to apply makeup, style hair or try on jewellery.
Along with the obvious practical benefits of having a vanity mirror, dressing tables serve as useful storage for beauty products and other important items.
To help you find the perfect dressing table for your bedroom, I have hand-picked some highly rated, beautiful, and luxurious dressing tables to help with your search.
Disclaimer: As an Amazon and Wayfair associate, we do receive a small commission from qualifying purchases made via links within this article.

1. Rustic Dressing Table with a Modern Twist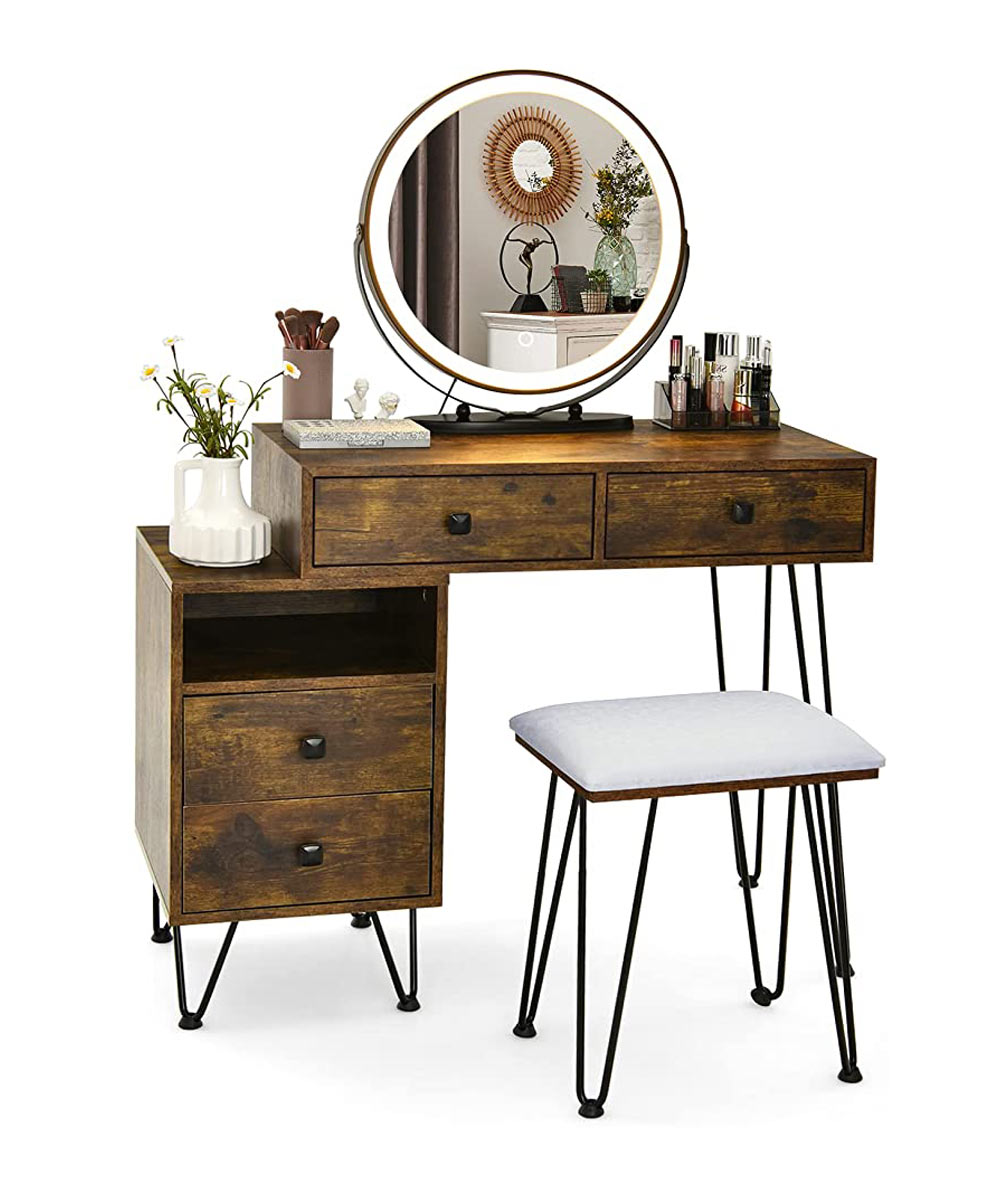 The quirky off-centre design of this dark wood rustic dressing table will look stunning in any bedroom or dressing room setting. The 3 colour LED mirror and long metal legs add a unique modern twist to an otherwise industrial style.
With plenty of drawer space and storage for a jewellery box or hair equipment, there is everything you need for the perfect rustic dresser.
Why I chose this rustic dressing table...
Stylish modern rustic industrial design.
Stool and dressing table mirror are both supplied.
Plenty of storage space for makeup and hair tools.
Rotatable 3-colour LED lighted mirror.
Easy to clean smooth and waterproof surface.
Cabinet can be assembled on the left or right.
Main Table Dimensions: 80cm W x 40cm D x 76cm H
Cabinet Dimensions: 36cm W x 40cm D x 61cm H
Stool Dimensions: 40cm W x 30cm D x 45cm H
2. Minimalist Compact Dressing Table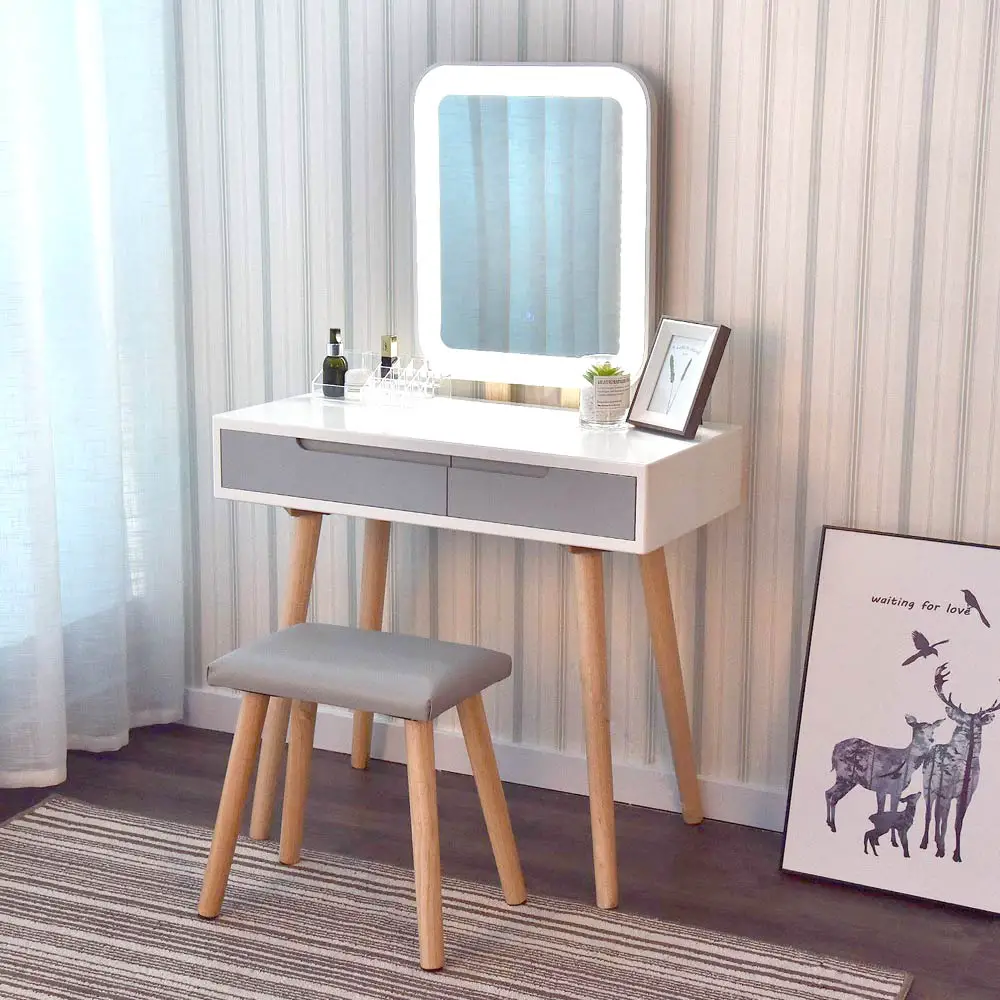 This stylish white, grey and natural wood dressing table, at only 80cm wide, is a great option for fitting into any narrow space such as an alcove. The handless drawers and cylindrical, angled wooden legs serve to keep the design ultra-sleek and modern.
This small dressing table is the perfect neutral-coloured design and will fit into most decor schemes.
Why I picked this compact dressing table...
Beautiful modern grey and white design.
LED mirror light has 3 mode brightness adjustments.
Stool and Mirror are both supplied with the dressing table.
Free makeup organiser with purchase.
Table Dimensions: 80cm W x 40cm D x 79cm H
Stool Dimensions: 38cm W x 25cm D x 42cm H
3. Hollywood Vanity Desk with Lights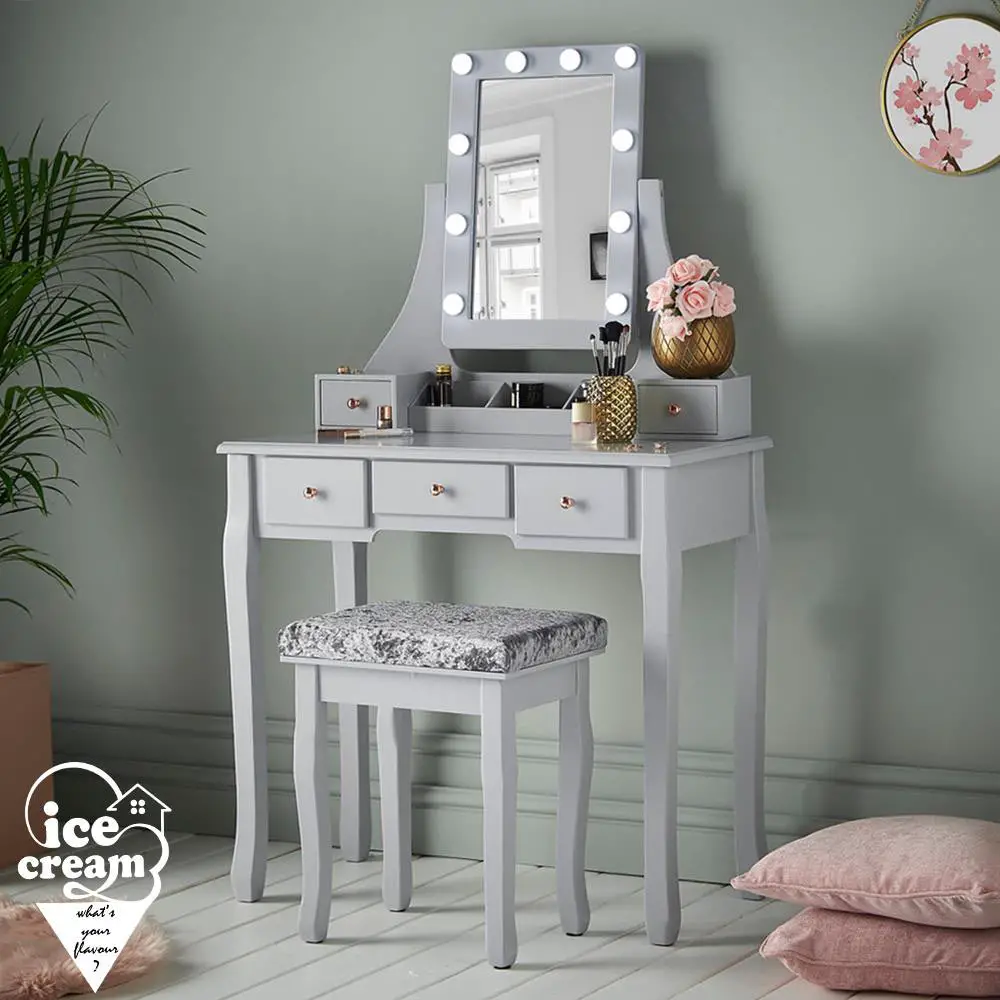 Everyone needs a bit of Hollywood glamour in their lives, and this stunning grey dressing table with an LED Hollywood-style mirror will provide this for your home.
This is one of my particular favourite dressing table ideas from the curated list.
Why I selected this glamourous design...
A great-looking piece of furniture.
LED bulbs can be dimmed for the perfect lighting.
No batteries are required as lights plug into an electrical socket.
Dimensions: 80cm W x 40cm D x 136cm H.
Stool size: 40cm W x 30cm D x 50cm H, Mirror size: 25cm W x 40cm H.
4. Elegant Vanity Table with Drawers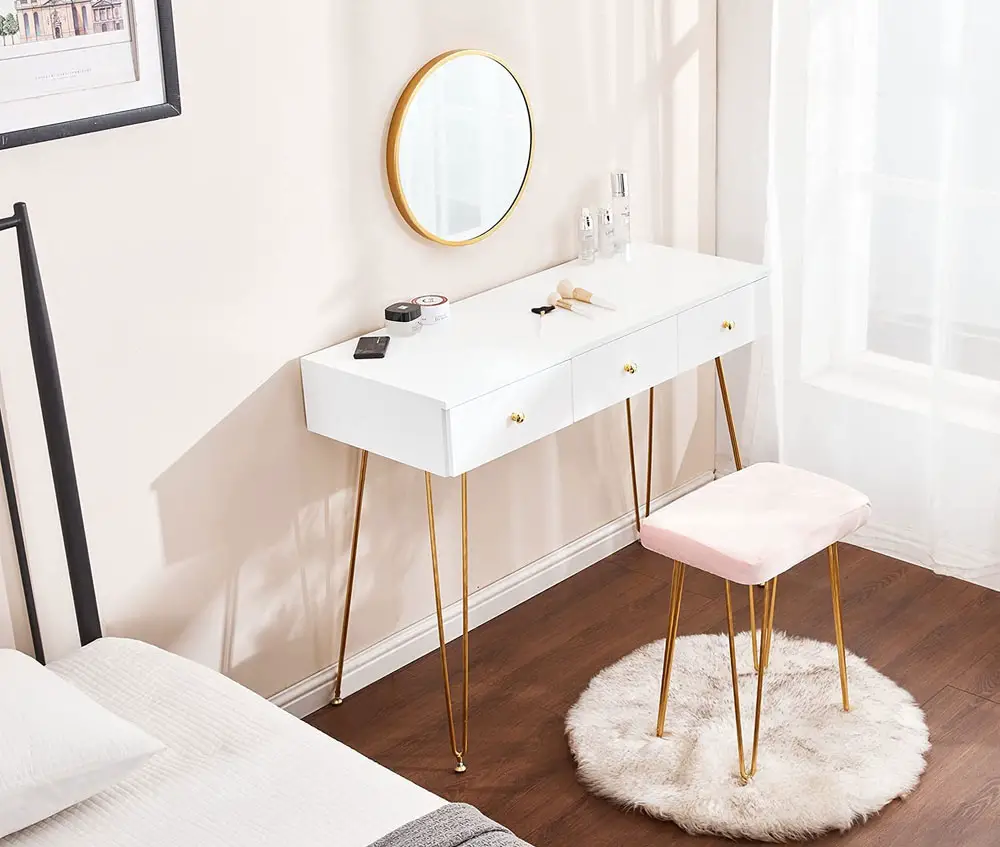 This elegant make-up station dresser is a real showpiece that will adorn any bedroom with style. With its thin metal legs, matching stool and soft pink seat cover, It will effortlessly add a stunning design element to your home. A simple, sleek and stylish design for any dressing area.
Why I chose this elegant piece...
Trendy modern design.
Mirror can be set to perfect height as it is wall mounted.
Easy to clean surface.
Velvet stool cover complements the unit perfectly
Dimensions for 2 drawers: 80cm W x 40cm D x 79cm H
Dimensions for 3 drawers: 100cm W x 40cm D x 79cm H
Desktop to floor 77.5cm, Mirror 50cm Diameter
5. Rustic Industrial-Style Dressing Table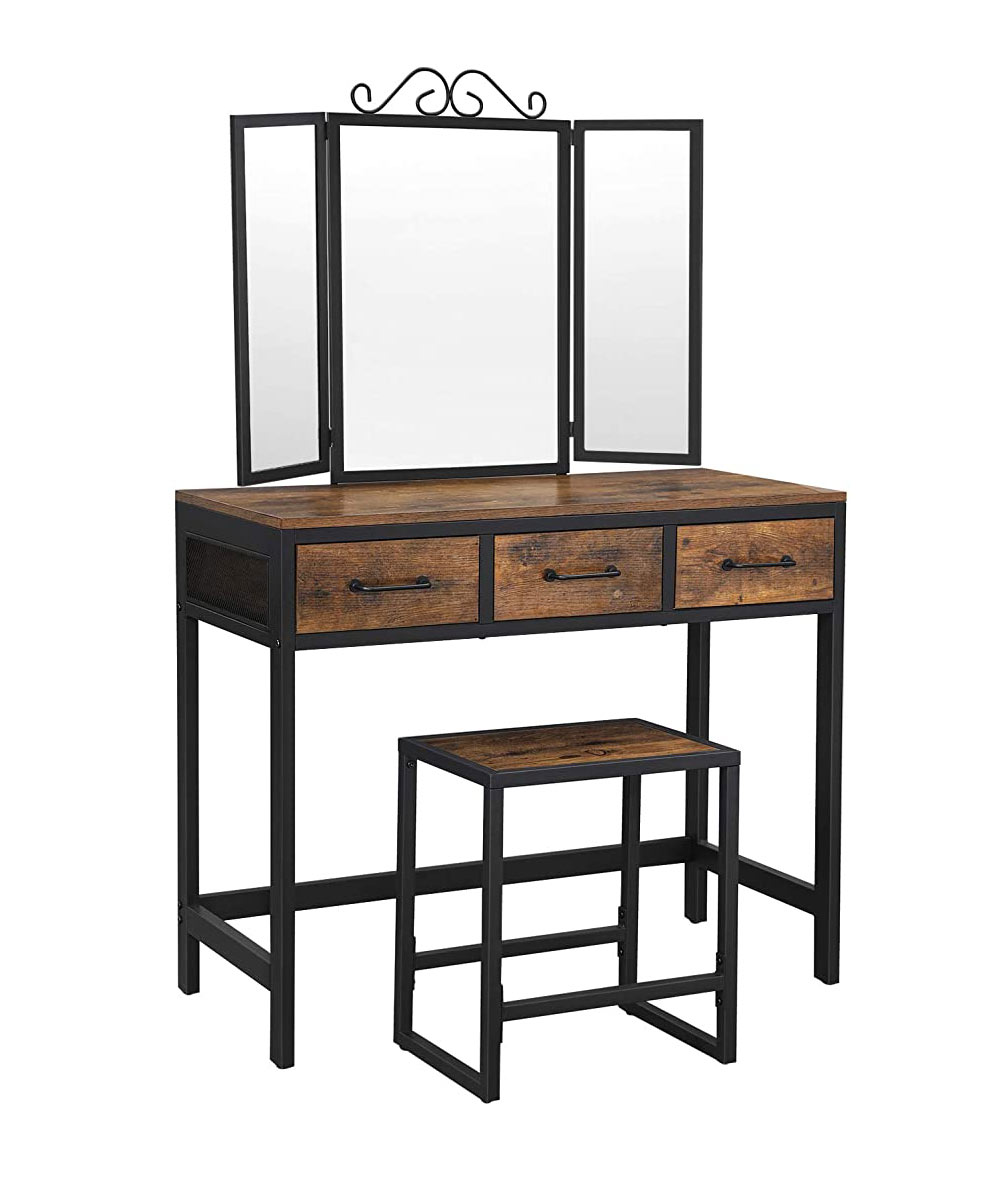 This dark wood rustic industrial-style dressing table is perfect if you are looking for a piece of bedroom furniture that is a little bit different and unique. The tri-fold mirror is perfect for seeing multiple angles at once, while the sturdy metal frame is built to last. A stunning dark wood vanity table that is a perfect fit for any industrial-style bedroom.
Why I picked this industrial dressing table...
It has a stylish industrial design.
Stool and dressing table mirror are both supplied.
3 generous drawers for good drawer space.
Table Dimensions: 90cm W x 40cm D x 137.5cm H
Stool Dimensions: 38cm W x 28cm D x 43cm H
6. Chic Modern Dressing Table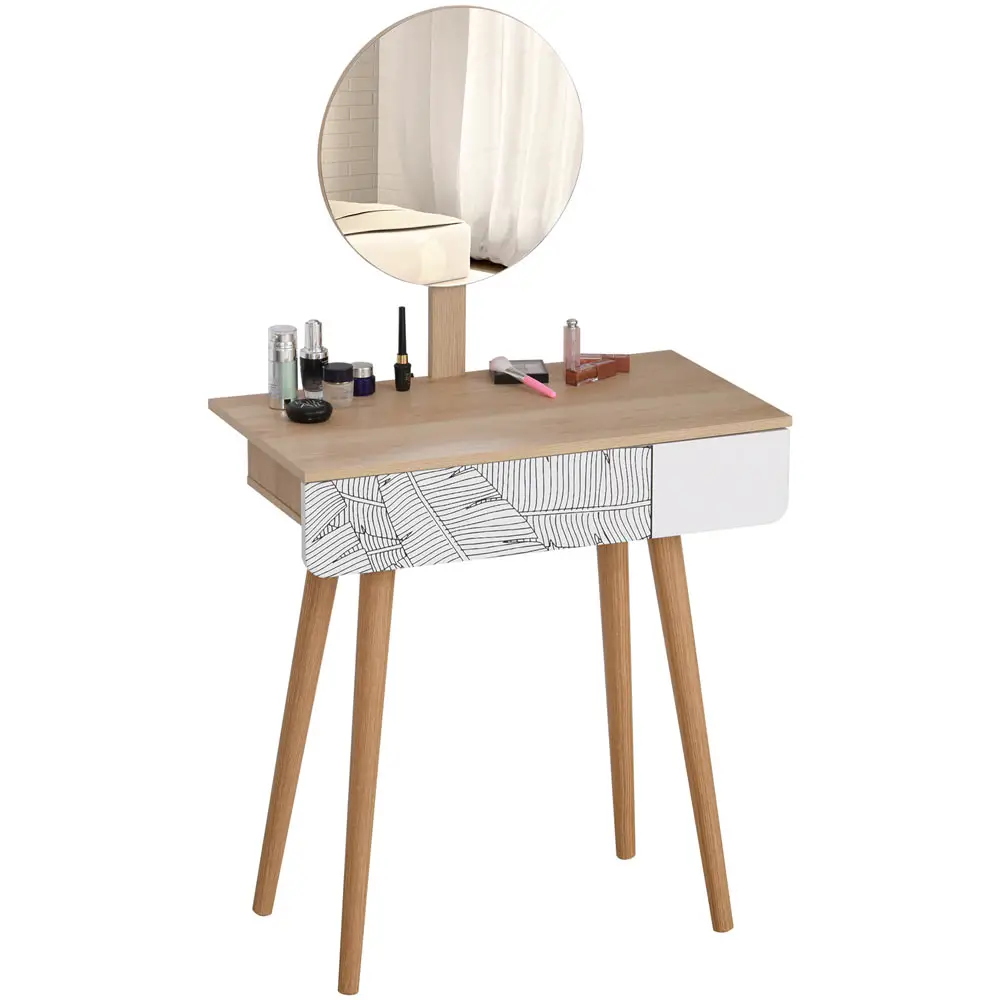 This slimline dressing table is a beautiful piece of modern furniture in its own right and would be a great addition to any modern or contemporary bedroom decor. It is also the perfect size for the smallest of rooms, whilst still having just enough storage space for your beauty essentials.
Why I selected this chic modern dressing table...
Adjustable mirror height.
Striking modern design.
Perfect for smaller spaces.
Low price point compared to other options.
Dimensions: 70cm W x 39cm D x 119-128cm H (mirror: 39cm).
7. Elegant Art Deco Luxury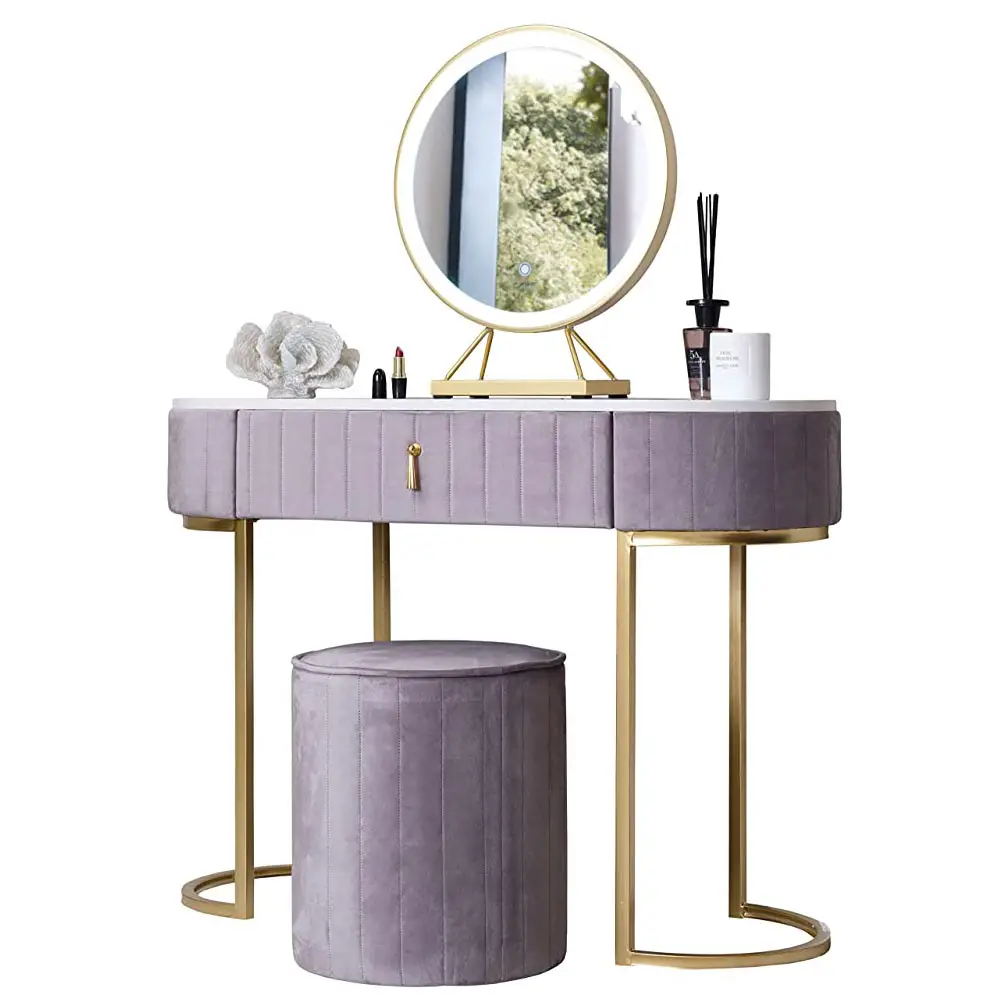 This beautiful Art Deco-inspired curved edge dressing table is the ultimate luxurious statement piece for your bedroom, with its soft velvet covering and white marble effect table-top.
Giving this make-up station the wow factor are the gold accents on the legs, round mirror and tassel handle. All of these elements tie this stunning design together perfectly for a glamorous look and feel.
Why I chose this glamourous dressing table...
Glamorous and distinctive design adds character.
Stool, mirror and desk are all included in the price.
Dimmable LED lighting on the mirror for a good light effect.
Dimensions of the vanity table: 100cm W x 40cm D x 77cm H (without mirror).
Mirror size: 45cm W x 54.5cm H.
8. Solidly Traditional Dressing Table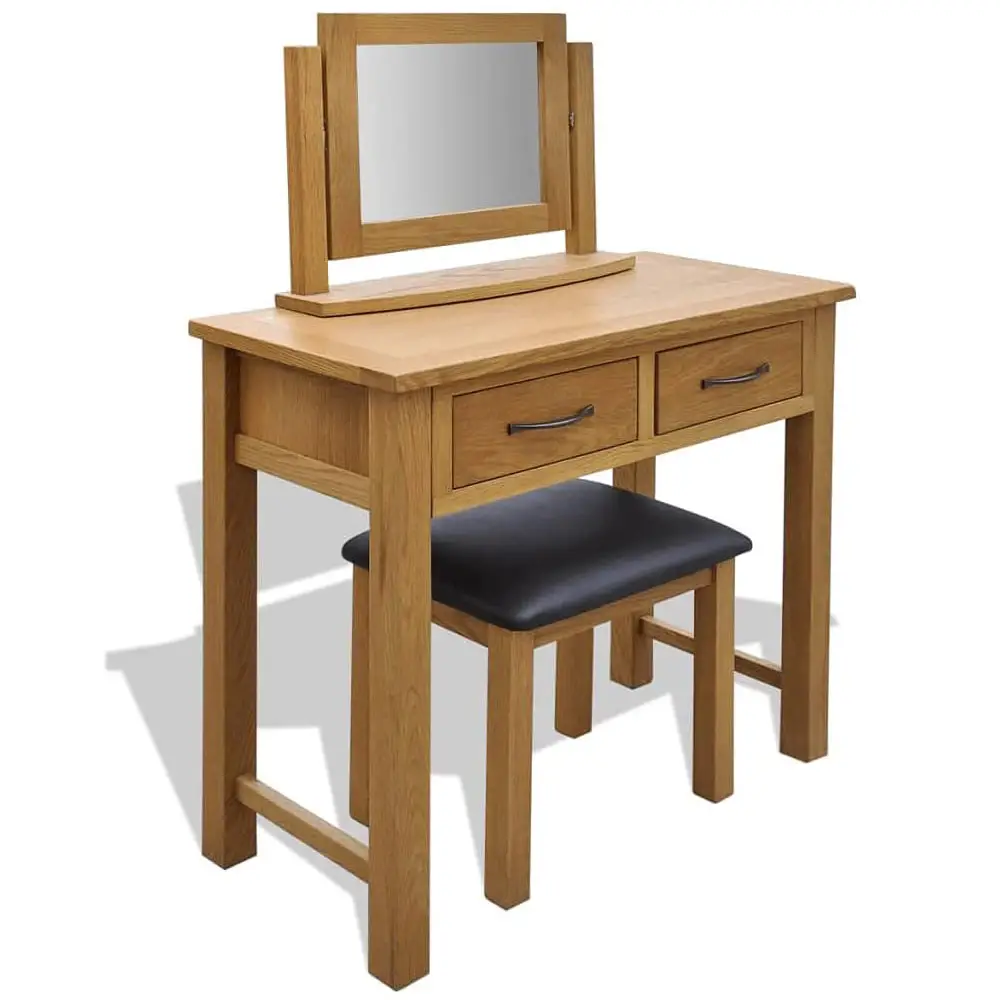 This beautiful Oak dressing table will stand bold and proud in any bedroom or dressing room setting. This is a sturdy and solid choice for any modern or traditional style home.
Why I picked this oak dressing table...
Solid design that will fit in most styles of homes.
Sturdy unit that will last for years.
Convenient removable mirror.
Plenty of storage to save surface space.
Dimensions of dressing table: 86cm W x 40cm D x 80cm H.
Mirror size: 59cm W x 14cm D x 45cm H.
9. Deco Bedroom Vanity Unit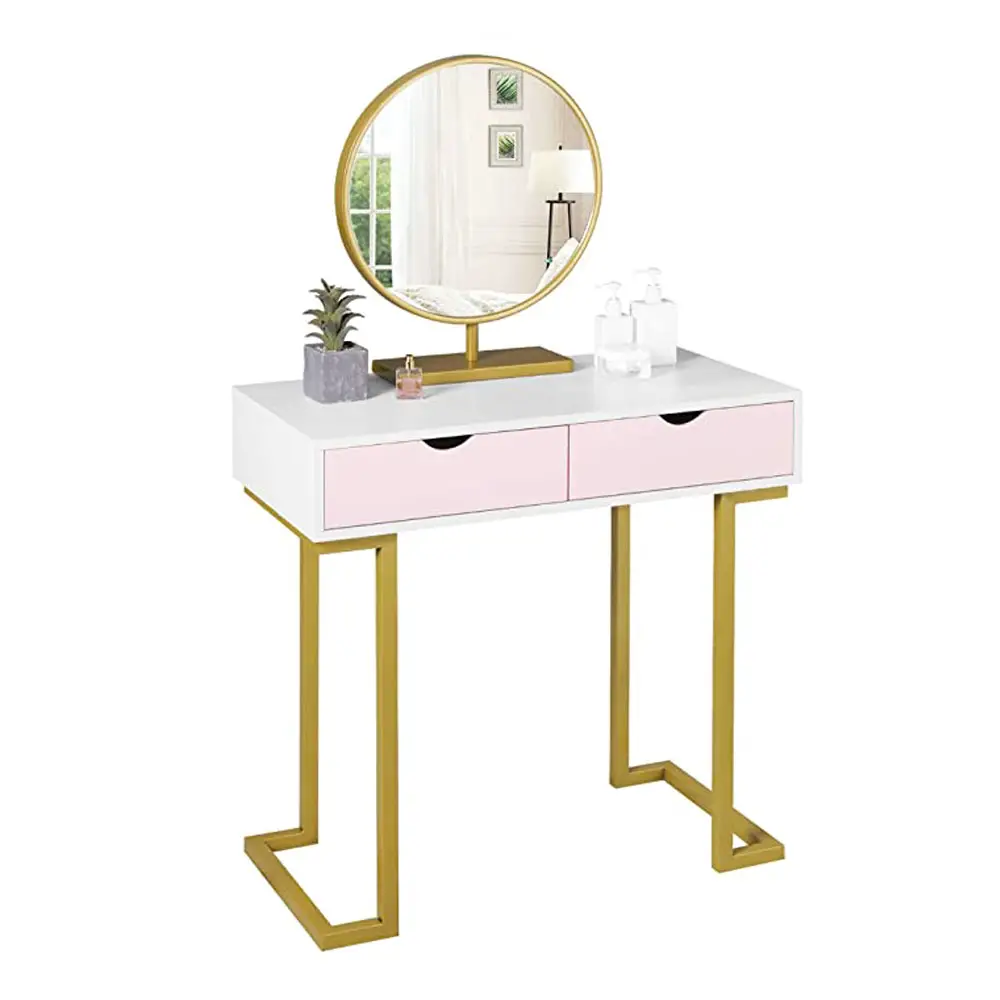 This cute make-up vanity table harmoniously combines timeless white with delicate pink, with elegant golden legs and a unique deco-inspired design. This piece of bedroom furniture will add a touch of femininity to any room and dressing area.
For extra flexibility, It can also be transformed into a computer desk for studying or working.
Why I selected this Deco bedroom vanity unit...
Stylish modern rustic industrial design.
The mirror can be removed to use the table as a computer desk, work or study station.
Two large drawers for ample storage space.
High quality metal frame which is robust and stable.
Main Table Dimensions: 80cm W x 40cm D x 77.5cm
Mirror Diameter: 45cm
10. Pink Little Girls Cute Dressing Table
This super cute pink dressing table is a great way for any little girl to emulate her mummy applying makeup or doing her hair!
It is accompanied by a pretty heart-shaped mirror and a colour-matching stool, covered with a beautiful silver floral material.
Why I chose this cute dressing table...
Every little girl loves pink!
Beautiful heart mirror with carved decoration.
Comes with a pretty stool with a contrasting cover.
Would make a perfect birthday or Christmas present
Dimensions: 50cm W x 30cm D x 104.7 H (desktop to floor: 62cm)
11. 1920's Art Deco Opulence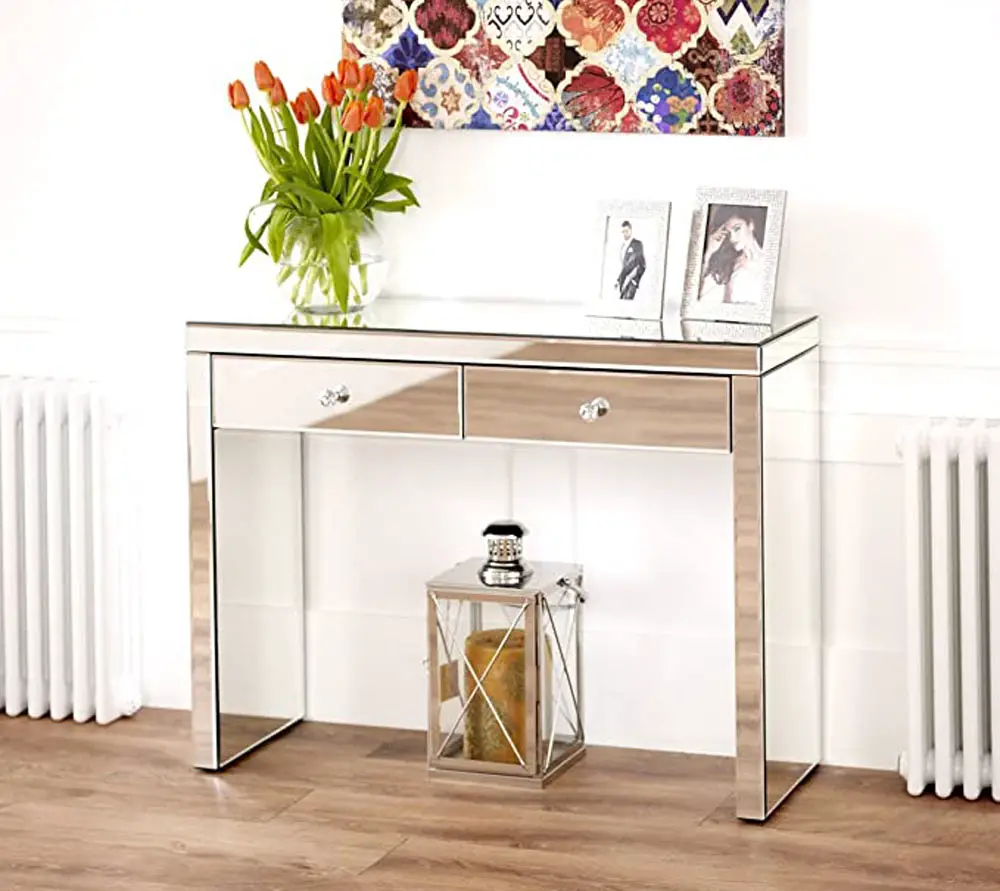 As you will see by visiting any show home, mirrored furniture is still very much in vogue. Although more expensive than other dressing tables in the list, they are just as much of an investment for the long term as they are a practical piece of furniture.
Simply add a hanging mirror on the wall to finish this dresser off in style.
Why I picked this mirrored dressing table...
Stunning statement piece that will not go out of fashion.
Adds status and opulence to any bedroom decor.
Modern clean design.
Table dimensions: 100cm W x 35cm D x 76cm H.
Only very little assembly is required.
12. Corner Vanity Dressing Table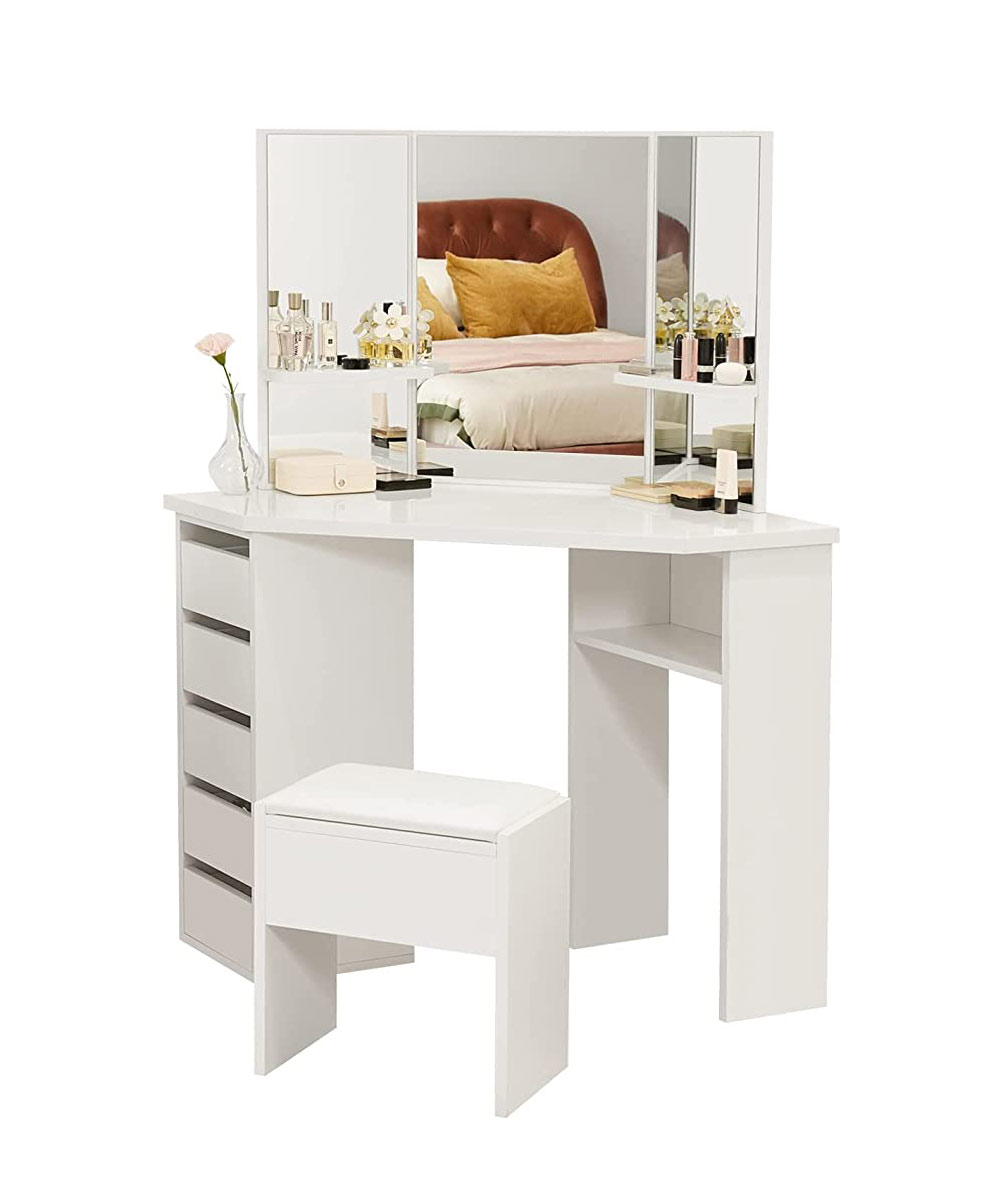 The last of my dressing table ideas is this plain but practical white corner unit. Corners are often underutilised in many bedrooms, therefore this dressing table is an obvious choice for any home looking to make the best use of its space.
Large mirrors, numerous drawers and a spacious work top all make this a great option for the more frequent user.
Why I selected this vanity unit...
Good storage space with 5 drawers and 3 shelves.
Great wrap-around mirrors for easier makeup application.
Stool and Mirror are both supplied with the dressing unit.
Tabletop to floor: 75.5cm (total overall height 141.5cm).
Worktop dimensions: 110cm W x 54cm D.
Easy to clean glossy surface.
My Final Thoughts
I have tried to select dressing tables that will suit a range of different tastes and budgets, so hopefully, I have achieved this with the ones that I have chosen.
I also hope that one of these beautiful pieces of furniture is perfect for your own specific needs. However, if not, I wish you good luck in finding the one.
Frequently Asked Questions
Where is the best place to put a dressing table in a bedroom?
The placement of a dressing table in a bedroom depends on factors like room layout, available space, and personal preferences.
Here are some suggestions:
Position it against a wall for easy access without obstructing movement.
Place it near a power outlet if you use electrical devices.
Consider adequate lighting by positioning it near a window or adding task lighting.
Ensure privacy by placing it away from the entrance or in a secluded area.
Consider the available space to avoid overcrowding the room or blocking walkways.
Should a dressing table be near a window?
Placing a dressing table near a window can certainly have its advantages, but it ultimately depends on personal preference and the specific layout of your bedroom.
Placing a vanity table near a window allows for natural light to illuminate the area, which can be beneficial for tasks like applying makeup or styling hair. It also provides a more accurate representation of colours and can enhance your overall grooming experience.
If you have a mirror on or above your dressing table, positioning it near a window can provide good lighting for reflection, minimising shadows and ensuring better visibility, so another valid reason to situate the dressing table near a window.
Can you put a dressing table in front of the radiator?
For the following reasons it is generally not recommended to place a dressing table directly in front of a radiator:
Heat obstruction: Placing a dressing table in front of a radiator can obstruct the heat flow, preventing the warm air from circulating freely throughout the room. This can result in uneven heating and reduced efficiency of the radiator.
Fire hazard: Radiators produce heat, and placing combustible materials such as a vanity table too close to the radiator increases the risk of fire. It is important to maintain a safe distance between flammable objects and heat sources.
Damage to furniture: Continuous exposure to heat from the radiator can potentially damage the dressing table over time. The heat can cause warping, discolouration, or other structural issues to the furniture.
How do I make my dressing table look nice?
To make your dressing table look nice start by keeping it clutter-free, organising only the essentials on the table while storing other additional items in drawers or organisers.
Choose a cohesive colour scheme that complements your bedroom's overall theme and look, matching accessories like storage containers and trays.
Add decorative accents that reflect your style, such as scented candles, small potted plants, or artwork, to create a personalised and inviting atmosphere.
Optimise lighting by ensuring your dressing table is well-lit with a combination of natural and artificial lighting, using a table lamp or wall-mounted lights for task lighting.
Thoughtfully arrange your make-up, skincare products, and accessories using trays or containers to keep them organised and visually pleasing. Personalise the space with meaningful items like photographs or jewellery to add a touch of sentimentality.
Which light is better for the dressing table?
When considering lighting for a dressing table, I believe that it's important to balance functionality and aesthetics. Two common options are natural light and task lighting.
Natural light is highly regarded for its accurate colour representation, making it ideal for makeup application. If possible, position your dressing table near a window to take advantage of natural daylight.
Task lighting, such as adjustable vanity lights or lighted mirrors, is specifically designed to provide focused and shadow-free illumination for grooming tasks. Look for fixtures with adjustable settings to control intensity and colour temperature, preferably in the cool to neutral white range.
Combining natural light and task lighting offers flexibility based on the time of day and availability of daylight.