---
Handy dressing table organisers are a necessary addition for any dressing table. It would be nice if all cosmetics, makeup, jewellery and hair equipment could be neatly stored away in drawers, but the reality is that not all dressing tables have storage space, and lets be honest, even if they did you probably have more 'stuff' that can be hidden away.
Disclaimer: As an Amazon and Wayfair associate, we do receive a small commission from qualifying purchases made via links within this article.
To help you kit out your dressing table space, I have listed some of my favourite and most highly rated dressing table storage ideas that you can purchase today.
---
---
Velvet Storage Stool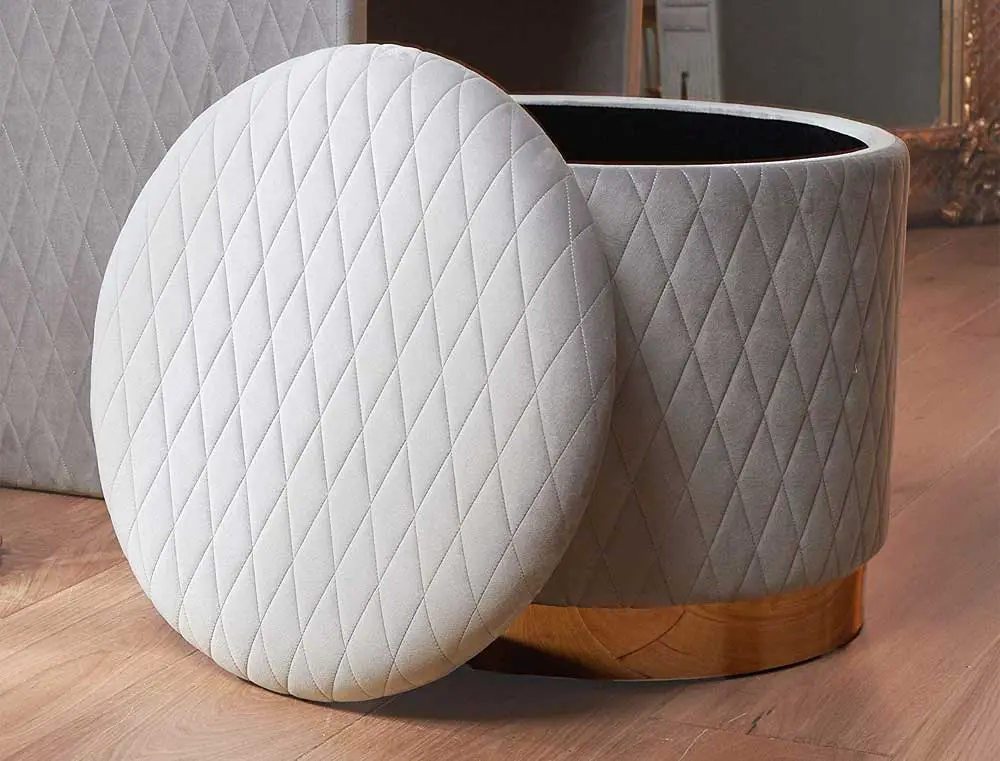 Image credit: amazon.co.uk
As far as dressing table organisers are concerned, this may not be the first idea that you would expect to see. However this fashionable footstool is a practical piece of furniture that serves a dual purpose, not only is it a perfect dressing table stool or footrest, but is also a handy storage space for an assortment of items.
Lift the removable lid to reveal a large storage space with ample room to pack away your dressing table essentials, such as hairbrushes and styling tools.
It is beautifully upholstered with the luxurious touch of soft quilted velvet and a reflective gold trim on the base. This stylish storage solution would enhance any bedroom space with ease.
---
---
Bamboo Makeup Drawers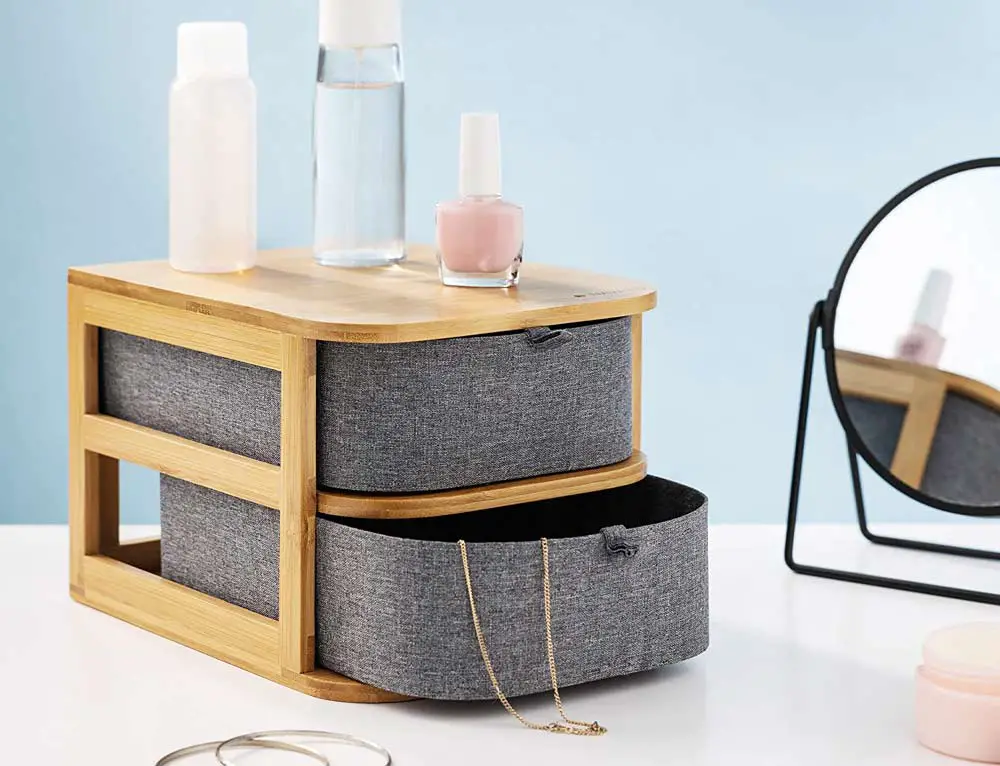 Image credit: amazon.co.uk
Get ultra-organised with this stylish compact storage drawer unit for your dressing table. The singular bamboo frame, combined with easily accessible fabric trays, offers a convenient storage space for cosmetics, make-up and toiletries.
The two tier organiser is also the perfect place to arrange your grooming, hair and skincare essentials, keeping your most used items conveniently close by.
As the frame has been constructed from hard-wearing bamboo, the structural base to the drawer unit is strong and sturdy.
---
---
Plastic Organiser Trays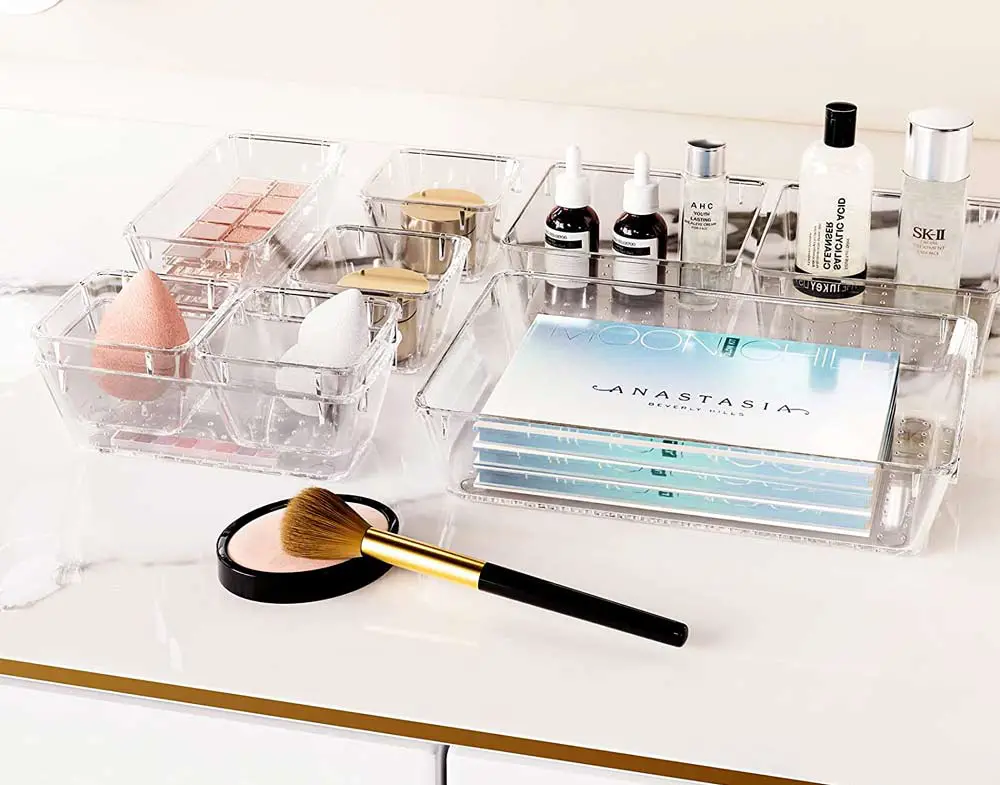 Image credit: amazon.co.uk
Whether for use on a table top or in dressing table drawers, these plastic organiser trays of varying sizes can accommodate a variety of different items. These range from the individual storage of makeup products, such as lipsticks, brushes and eyeshadow, to skincare products, sprays and hair tools.
Anti-slip feet on the base of the trays are an added feature that ensures the plastic trays remain in their chosen designated place and don't slide about.
---
---
Make-up Accessory Jars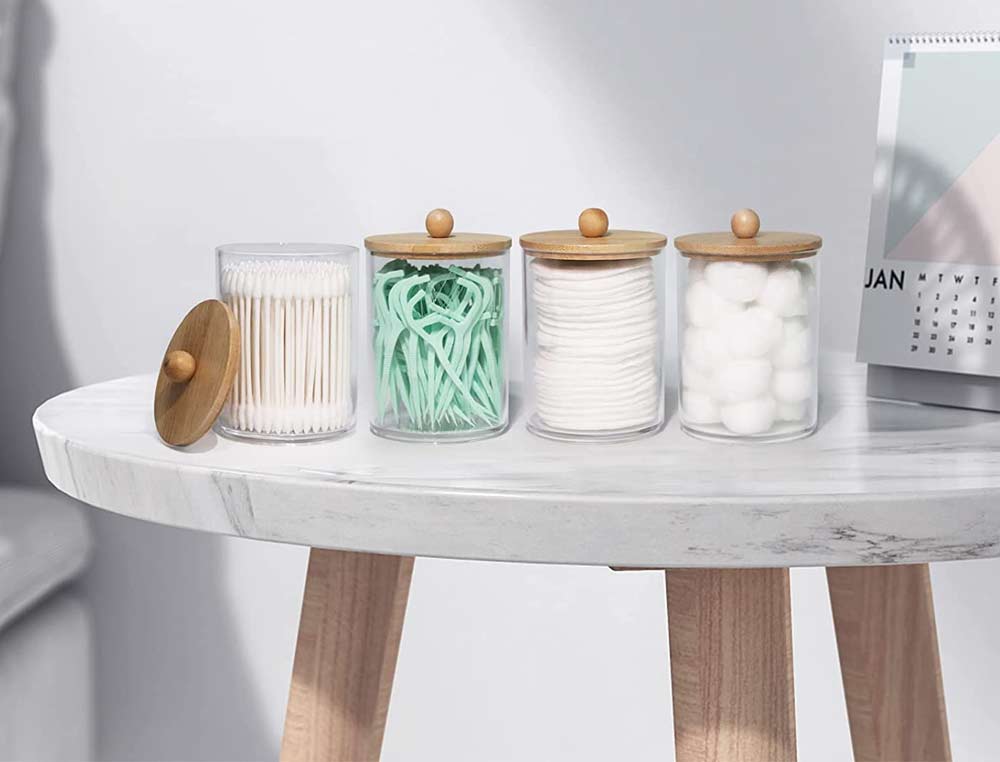 Image credit: amazon.co.uk
These lightweight but strong plastic jars are the perfect receptacles for storing makeup remover pads, cotton buds and ear buds.
A benefit of these containers is that they only take up a small space on your dressing table, while keeping your makeup accessories organised on your vanity unit.
---
---
Hair Tools Storage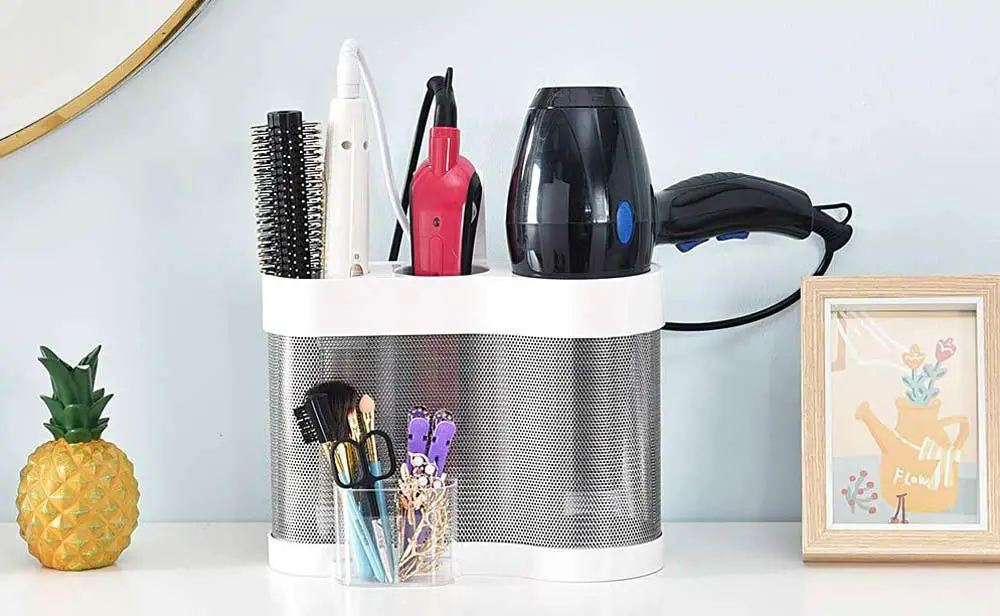 Image credit: amazon.co.uk
This hair equipment holder is crafted from stainless steel, plastic and heat-resistant silicone. Its superior components ensure it is antimicrobial and can withstand the test of time with lasting efficiency.
The organiser offers six separate compartments in which to store beauty styling tools, with the transparent boxes at the front being suitable for bobby pins, hair bands, and brushes or combs. The rear bin adds the extra benefit of keeping any wires neat and tidy.
Being made of heat-resistant silicone and stainless steel mesh guarantees secure storage and a fast cooling time after use, whist also avoiding any heat damage to your dressing table surface.
---
---
Makeup Organiser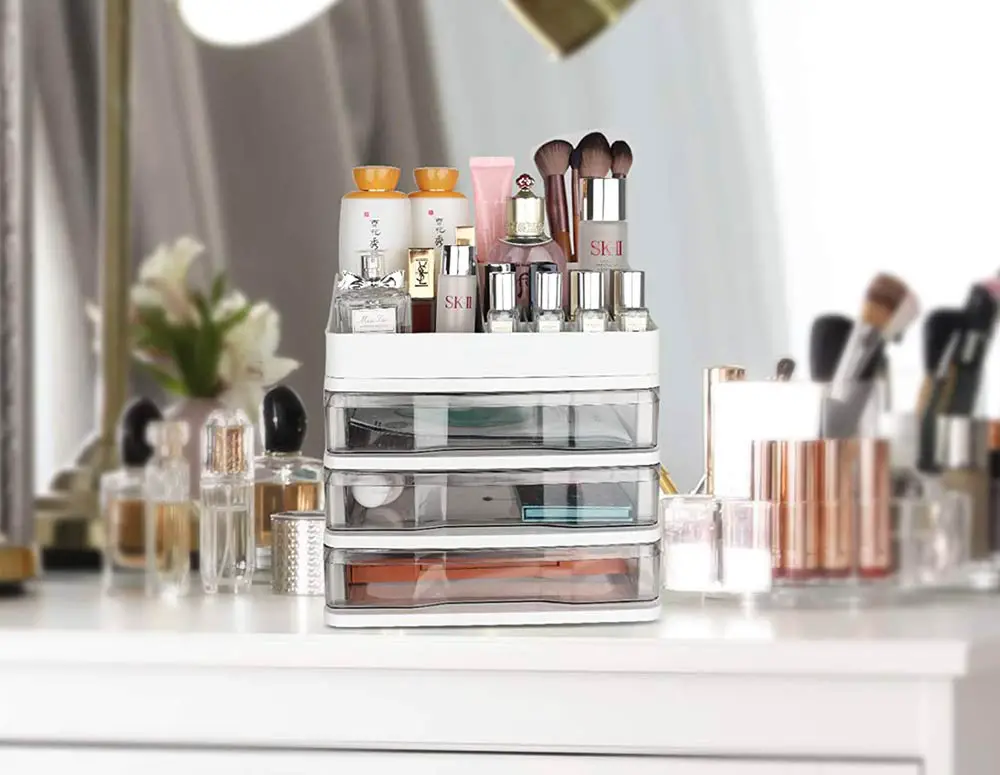 Image credit: amazon.co.uk
This neat and practical makeup organiser includes three sizeable compartments for housing foundations and other cosmetics, ten slots for brushes, lipsticks, eyebrow pencils and eyeliners, as well as three drawers for blush and shadow makeup.
The cosmetics unit comprises of two components which are easily detached from one another, these can then be placed in a variety of places such as the bathroom, dressing table or elsewhere in the bedroom.
Being fully washable this makeup organiser is an excellent storage place for skincare products, hair products, body sprays, perfumes, brushes and lotions.
---
---
Nail Polish Rack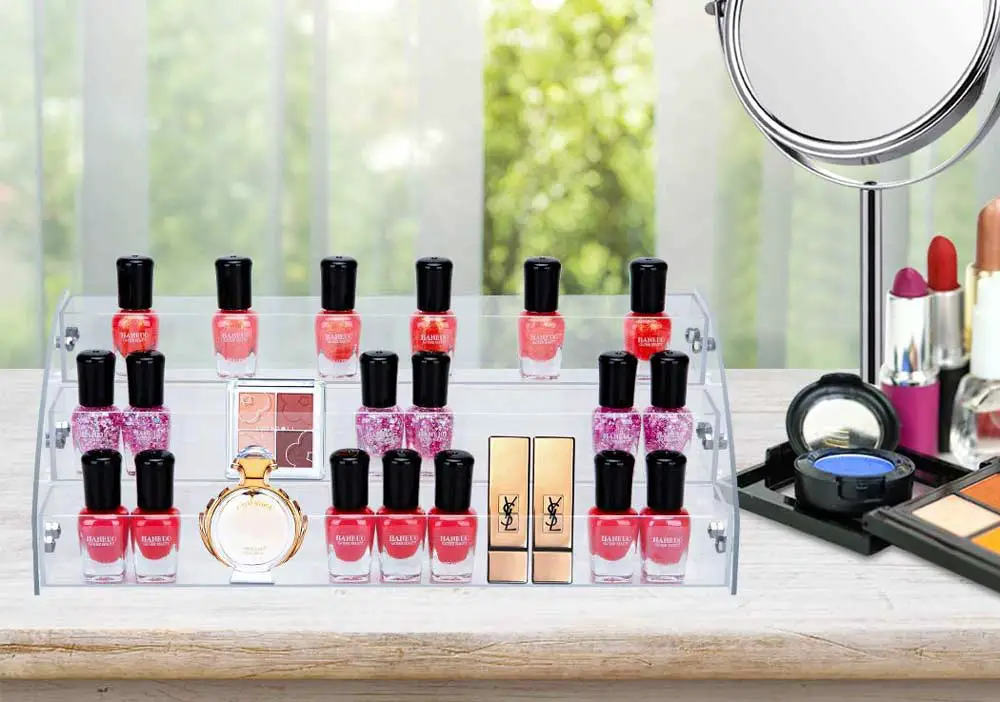 Image credit: amazon.co.uk
This nail polish rack boasts six layers of storage capacity, with a stepped-wedge design that is practical and sleek. The acrylic unit provides a neat, organised storage and display solution for your dressing table, with the shelves possessing an edge rail to ensure that the contents remain in place.
Along with lipstick and lip gloss, this organiser is also useful for keeping nail tools, eye shadow palettes, and clippers in an orderly fashion. The design handily provides maximum visibility for your collection of nail polishes.
---
---
Jewellery Organiser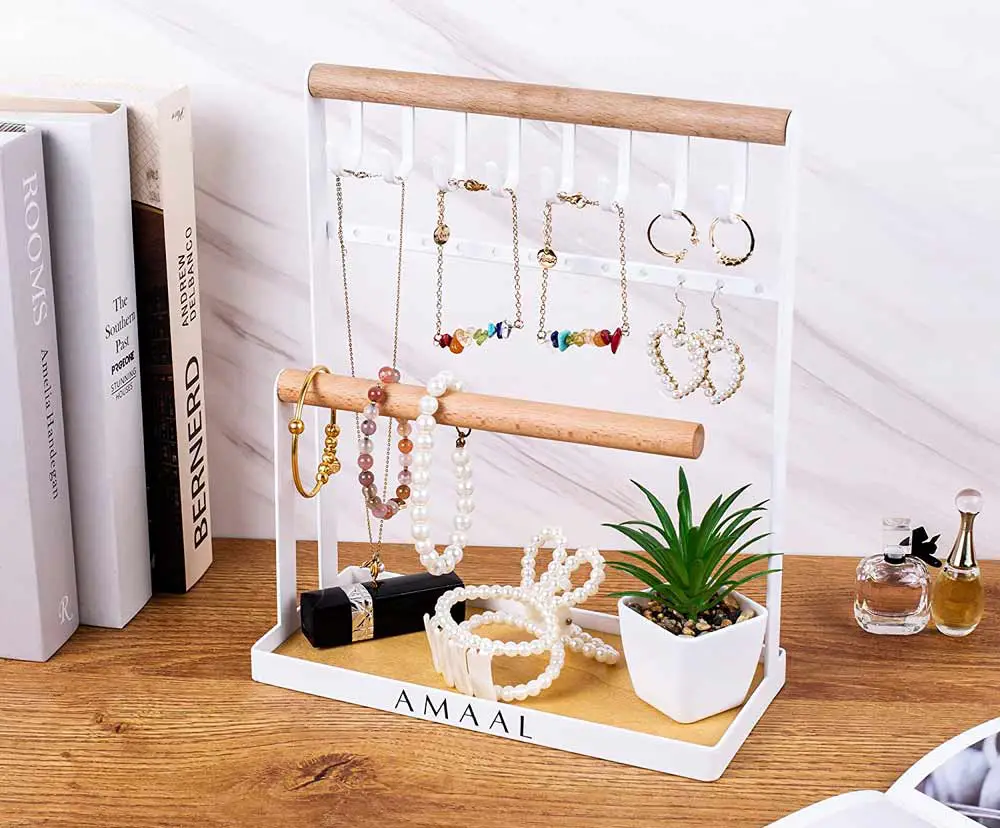 Image credit: amazon.co.uk
This stylish jewellery organiser has been constructed using a combination of natural wood and heavy duty metal, both with sleek smooth finishes.
The boho design of this dressing table organiser exhibits a four-tiered design including a wooden tray, which can adapt to storing watches, necklaces, bracelets, anklets, and perfume bottles.
Due to its tasteful and elegant look, this jewellery stand will combine with any decor style, ranging from contemporary through to minimalist, traditional, boho chic or farmhouse.
---
---
Crystal Tissue Box Holder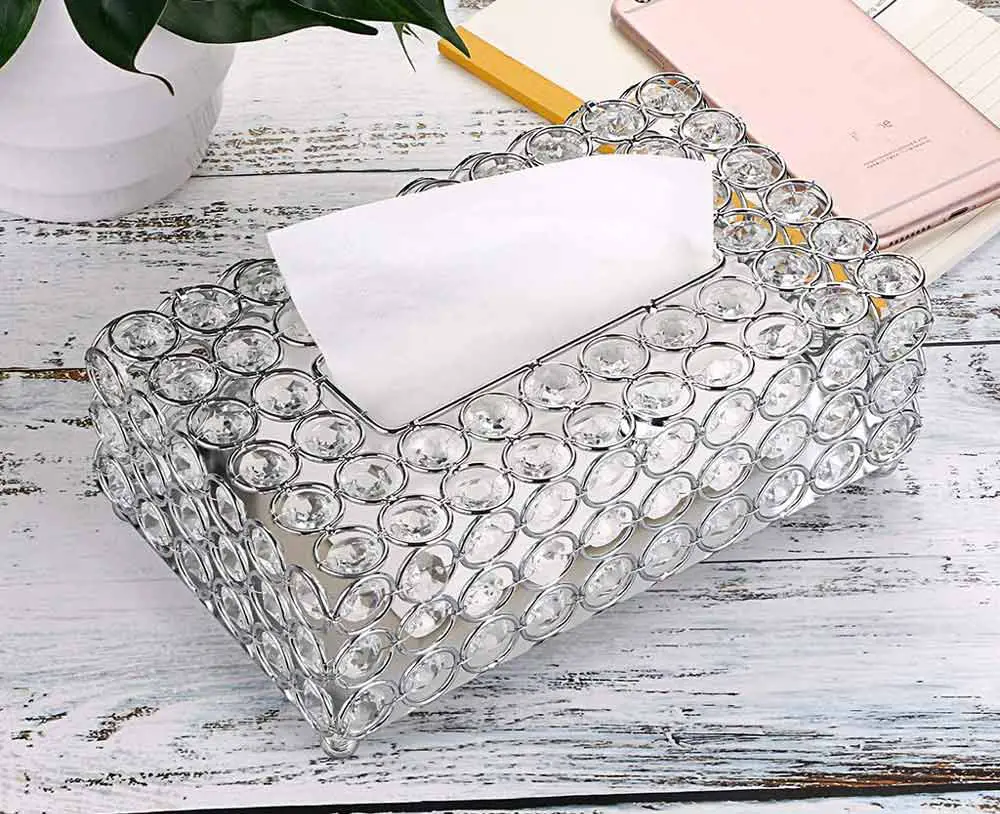 Image credit: amazon.co.uk
This opulently styled tissue box is made from an array of crystal beads and are structurally joined with quality metal, keeping the holder rust-free and sturdy.
The tissue box is a perfect choice for any dressing table decor, with the crystals beads refracting the light that hits them, exuding a radiance that adds an air of elegance. Carefully placed accents such as this can bring cohesion to your rooms design and provide a luxurious feel to your space.
---
---
Makeup Brush Holder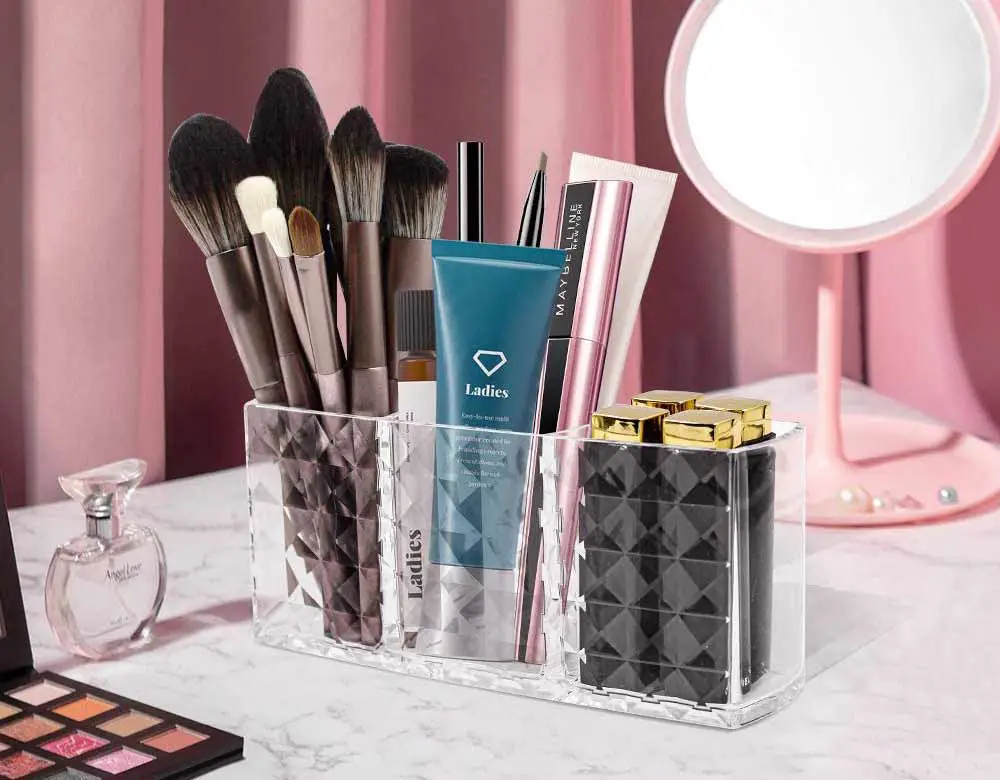 Image credit: amazon.co.uk
This makeup brush holder and cosmetic storage container features a distinctive crystal design that is particularly striking under illumination, making it an ideal accessory for dressing table organisation.
The makeup brush holder possesses three compartments that can be used to store cosmetic items, including brushes, eyeliner, mascara, lipstick and nail polish, amongst other things.
Crafted out of strong acrylic, this container is resilient to both damage and scratches, and offers another space saving solution for your dressing table. Not to mention another handy way to organise and tidy your hair and beauty products.
---
---
Clear Cosmetics Tidy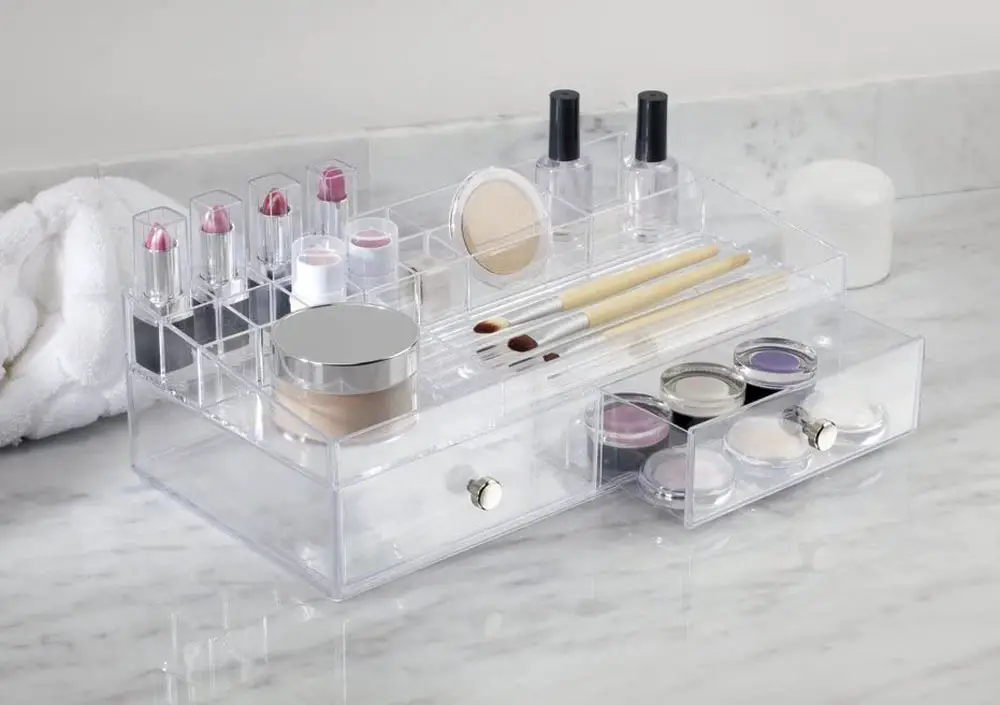 Image credit: amazon.co.uk
This clear acrylic cosmetic tidy is a must-have for any dresser top. It features both compartments and drawers, perfect for storing face creams, makeup, nail polish and makeup remover pads all in one place. The transparent design is a modern touch that also helps the user to easily see what products are to hand.
This is a must-have dressing table storage solution for any poorly organised makeup stash that needs a new home.