---
Creating the ideal living space often requires a combination of design creativity and practical solutions. One such way to do this is with the use of room dividers, which can be used to effectively section off and organise shared areas, such as the open plan space of a large living room with a home office space, a kitchen diner, or other multi-purpose rooms, without sacrificing aesthetic appeal.
There are numerous practical ways to create separate spaces, from permanent construction options such as half walls or built-in shelving unit, to temporary displays such as freestanding screens or hanging curtains. These various options can fit a wide range of budgets and design styles, making it possible to find a room divider that will work for your specific needs and aesthetic preferences.
Disclaimer: As an Amazon and Wayfair associate, we do receive a small commission from qualifying purchases made via links within this article.
---
---
Room Partition Ideas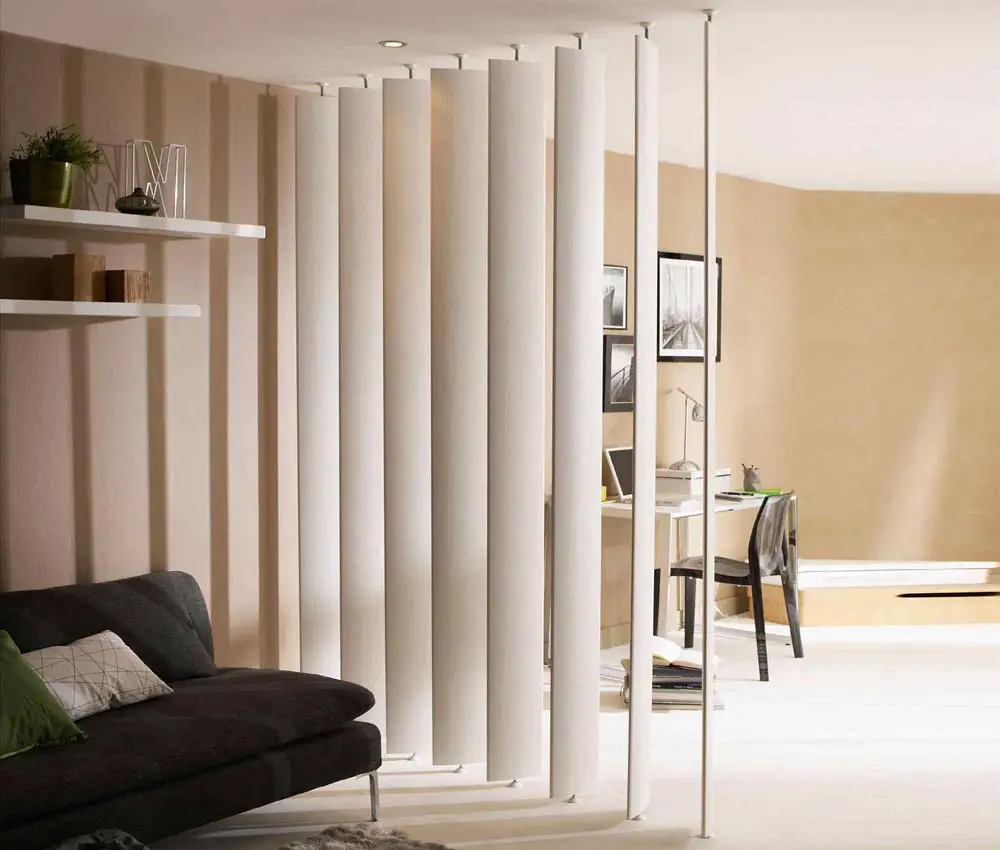 Image credit: pinterest.co.uk
From a glass room divider that offers privacy, while still allowing natural light to come through, to solid wooden screens with intricate carvings. No matter what style you are trying to achieve or materials you're planning on using, there are a multitude of ideas to consider.
When planning your room partition it's important to consider factors such as the size and layout of the space, the intended function of the divided areas, like the office space and desk space here, and your intended design style. By taking all of these things into account, you will be able to create a functional and stylish living space that is tailored to your specific needs and preferences.
Whether you're looking to create a cosy reading nook, a designated workspace in a living room, or simply to add visual interest to your home, a diy room divider can be a great way to achieve the results you desire.
---
---
Bookcases & Shelving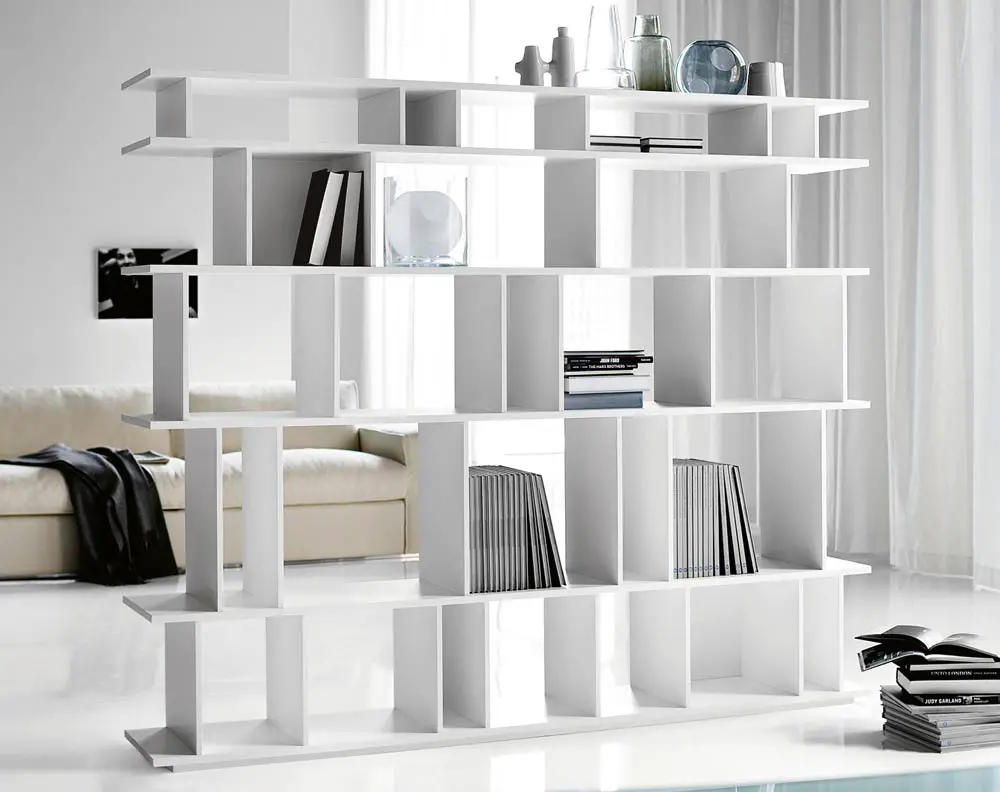 Image credit: architonic.com
Utilising a room divider is a perfect way to effectively organise and elevate the aesthetic of a living room or any other living space, so incorporating functional elements such as bookcases and shelving not only serves as a great solution for storage, but also offers endless possibilities for creatively dividing a room, thus giving them an important double duty.
For a seamless, open plan design, implementing lightweight, wire hung shelving is a great option to go for. Positioning them at varying heights allows for the creation of distinct areas while preserving the continuity of natural light throughout the space.
Additionally, using a tall bookcase as a sliding door room divider is a clever technique for achieving added privacy, additional storage and display, whilst also completely altering the ambiance and function of the room.
---
---
Wooden Wall Partition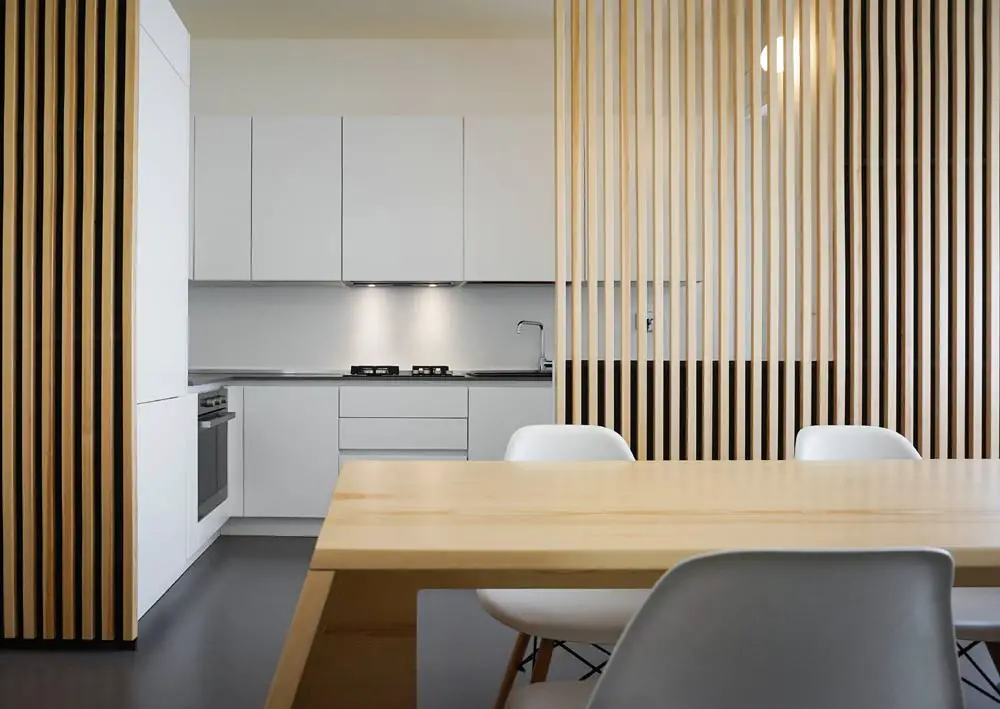 Image credit: leibal.com
Wooden partition walls are a versatile and stylish solution for dividing up your space. These types of room divider offer a range of benefits, from breaking up large rooms to create more intimate living areas, like a kitchen and dining room, to adding visual interest and unique touches of style.
Not only do wooden partitions provide privacy without sacrificing natural light, but they also come in a variety of shapes and thicknesses to suit your space and design.
You may wish to consider opting for either floor to ceiling screens or struts that completely divide a space in two, or narrow panels with open shelving for storage. In addition, you have a further option to choose from various finishes, such as natural unfinished wood, stained wood, or even a bright accent colour to add more vibrancy and interest to the room.
The main benefit of a wooden room divider is that it provides a small amount of extra privacy, allows natural light to flow through the entire space, and adds a unique touch of style.
---
---
Pocket Doors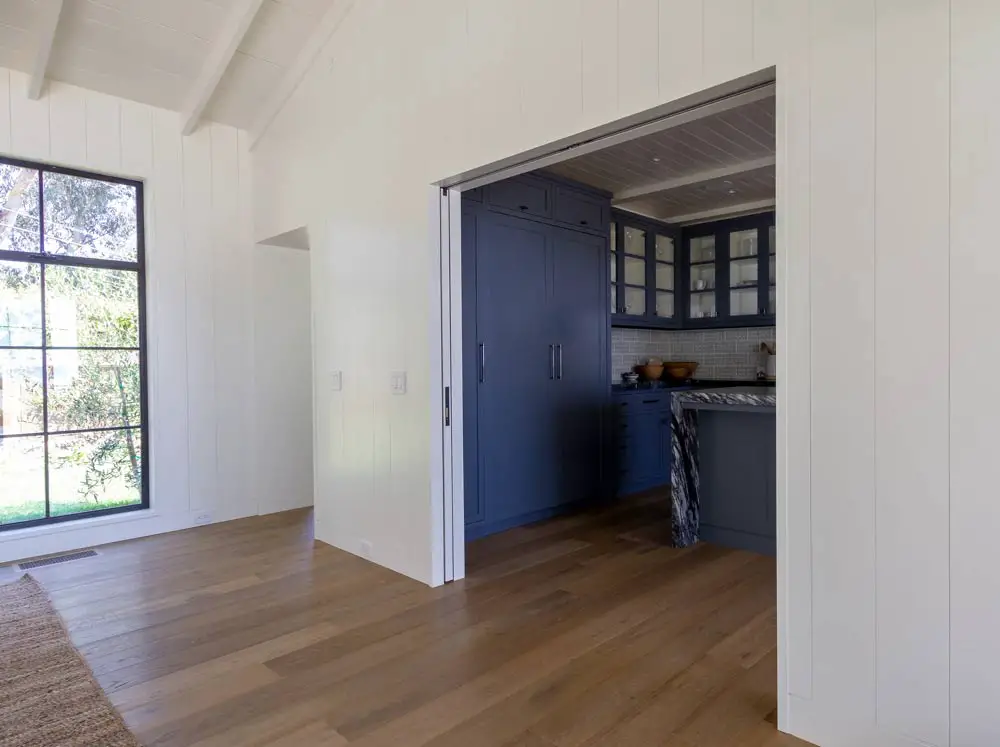 Image credit: petersonpocketdoor.com
Pocket doors not only provide an efficient way to separate a space, but they also allow for seamless access between two areas, making them a perfect room divider.
The unique design of pocket doors allows them to slide into the wall cavity when opened, conserving valuable floor space and permitting natural light to flow freely between the divided spaces. This makes them an ideal solution for dividing living and dining rooms or creating a private bedroom suite within a larger bedroom space.
Additionally, due to the range of pocket doors available, there is plenty of opportunity to customise the style to complement your home's existing decor.
If you prefer a more traditional aesthetic, wooden panels with glass inserts would be a great choice as a room divider. Alternatively, if you're considering a more contemporary look, modern metallic frames can add a sleek and updated design touch.
---
---
Curtains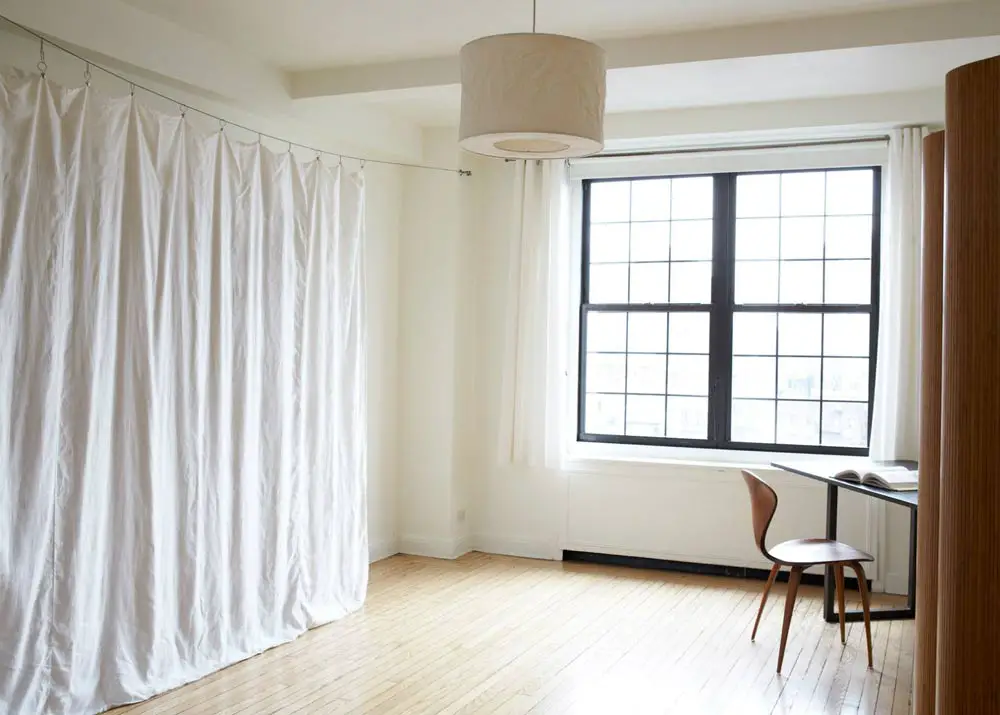 Image credit: pinterest.com
One of the most popular and cost-effective options for separating a room is with the use of curtains. Not only do they provide a functional barrier, but with the right type of fabric and design, can also contribute to the overall interior design of a space.
As we all know, curtains come in a wide range of styles, different materials and patterns, making them a very versatile option for any interior design scheme. So whether you are looking for a modern and sleek look for your room divider, or something more rustic and cosy, there are endless options that will fit your aesthetic and budget.
In addition, depending on the type of curtain rod used, curtains offer the flexibility to fully or partially open or close them as desired, so they won't be in the way when not in use.
One of the key benefits of using curtains as a room divider is the ability to easily create a sense of luxury and sophistication, and with the right choice of fabric, curtains can certainly add elegance and a high-end feel to any space.
Furthermore, curtains add texture and depth to a room, creating visual interest and a sense of cohesiveness with the rest of the interior space.
---
---
Two-sided Fireplace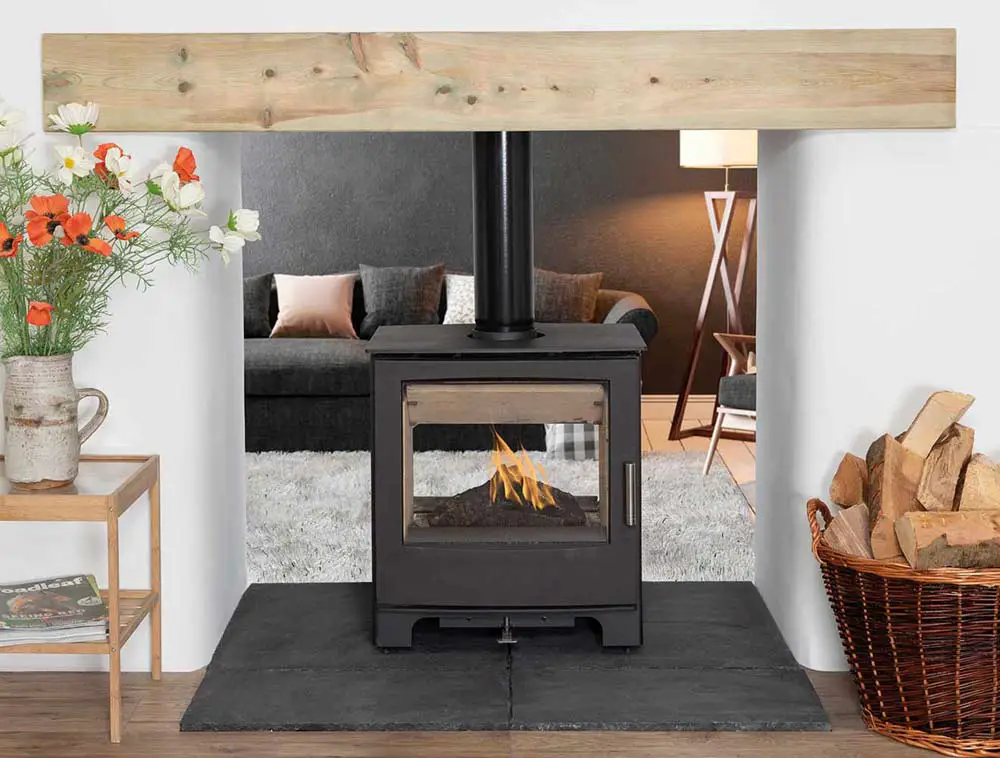 Image credit: heatdesign.ie
When it comes to room divider ideas, a two-sided fireplace is a particularly stunning and practical option that adds both aesthetic appeal and functionality to any space. Not only does it provide a visually striking boundary between two areas, but it also serves as the perfect way to heat your room, that can be enjoyed equally from both sides.
It is important to keep in mind however that the key to creating a successful two-sided fireplace lies in the proper framing and venting of the structure itself. The framing is crucial for supporting the weight of the firebox, stone or tile surround, mantelpiece, and any other components associated with the fireplace.
Proper venting is also essential, as it ensures that smoke does not enter back into the room, causing air quality issues within the space. When executed correctly however, the result is a beautiful and functional room divider that will be the ultimate focal point of your space.
---
---
Steel and Glass Room Dividers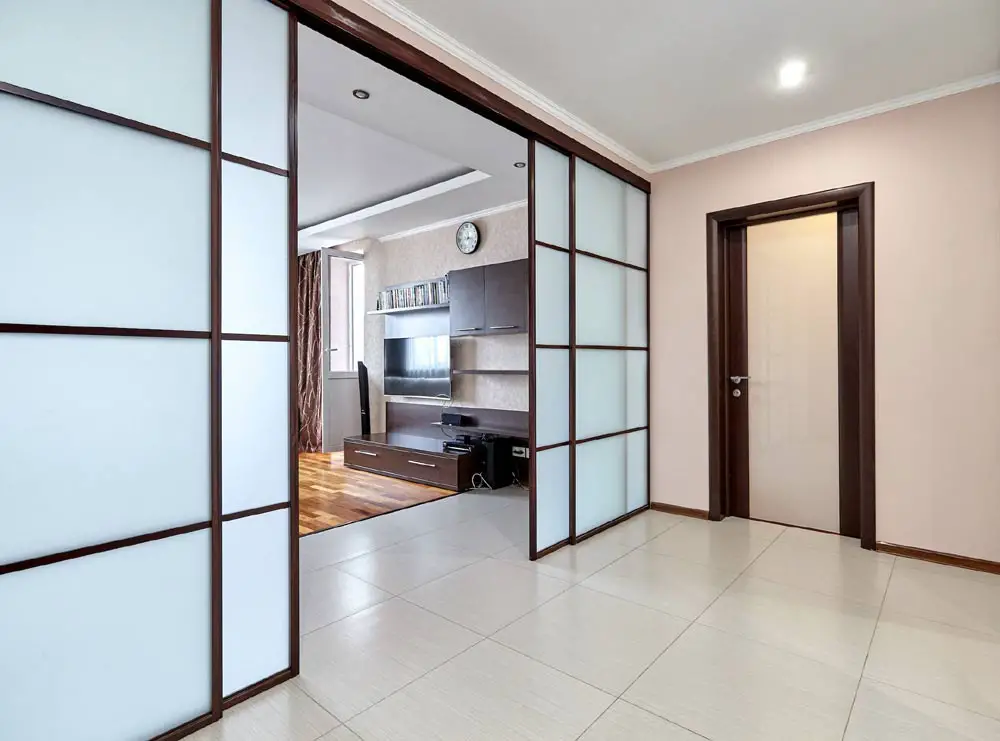 Image credit: aluminiumtradesupply.co.uk
Creating an aesthetically pleasing and functional room divider can be a challenging task. However, with the strategic inclusion of certain elements, such as glass and steel, this task becomes much more achievable.
Glass and steel room dividers are the perfect choice for homeowners looking to achieve a more contemporary or industrial aesthetic in their home. This type of room divider are not only visually impressive, but they also offer a variety of practical benefits.
For example, the transparent nature of glass obviously allows light to travel seamlessly between spaces, while still providing some privacy when needed. Additionally, glass is known for its sound-absorbing properties, which makes it an ideal choice for reducing noise levels throughout the room.
Glass and steel room dividers are also relatively easy to install, especially if the frames come pre-prepared and cut to size, which allows you to quickly refresh any interior space with minimal effort and disruption. They are, without doubt, a versatile and practical design element that can elevate the look and feel of any home.
---
---
Sliding Partition Doors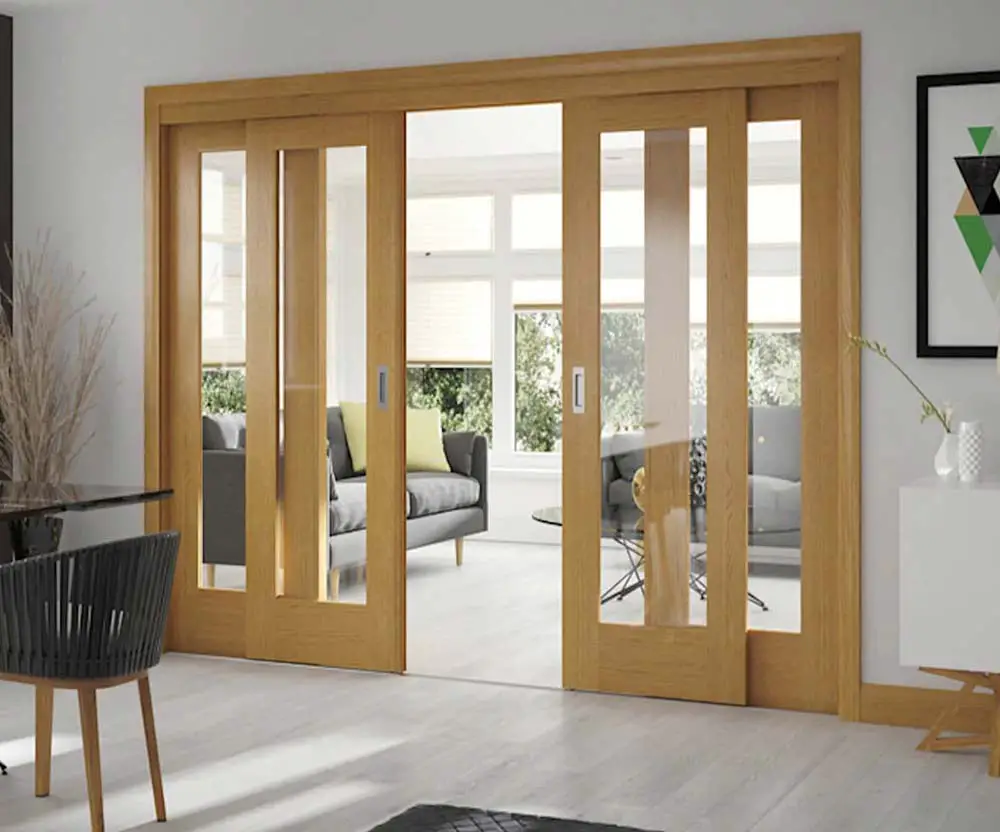 Image credit: emeralddoors.co.uk
Not only do sliding doors offer a sleek and stylish way to divide a room and provide a modicum of privacy, but they can also add to the interior design aesthetic of any space, due to the different options available.
When considering sliding doors as a room divider, it's important to note that they typically have panels that overlap each other when open and sit together when closed. This design feature allows for greater flexibility and versatility when it comes to deciding on the amount of space and privacy you need at any given time.
Additionally, you can choose from a variety of frame materials, such as wood, metal, glass or plastic, and even opt for frosted glass inserts that while still allowing natural light to filter through, provide an extra layer of privacy.
One of the best aspects of sliding doors for me, is their ability to fit into any room size or shape. Whether you're trying to separate work areas, create a temporary bedroom in a living area, or simply add some design flair to your home, sliding doors are a versatile room divider that can be tailored to meet your needs.
---
---
Portable Folding Screens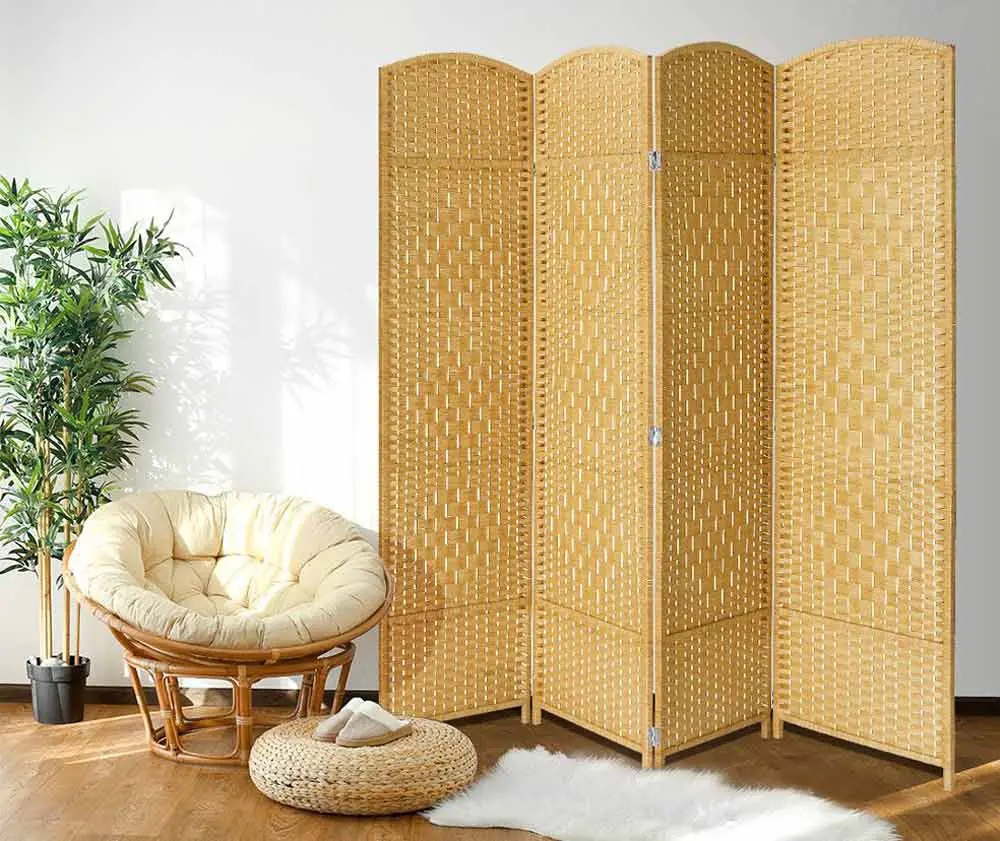 Image credit: pinterest.co.uk
Portable folding screens are a great room divider idea for anyone looking to divide up a family room or other space, without making permanent changes to the structure of their room. These versatile folding screen room dividers can be used in a variety of spaces, whether that be residential or commercial, providing a convenient and practical solution.
Whether you're looking to create private sleeping quarters, break up an open space, or simply add some visual interest to a room, a portable folding screen is a quick, simple and cost effective choice.
A main benefit of these room divider ideas is their versatility in terms of size and style, as they can be customised to the style, shape and size you require. A folding screen typically features lightweight frames made from materials such as wood, aluminium or plastic, making them easy to move around as and when needed.
Additionally, many folding screens feature decorative fabrics that add colour, a bold pattern and texture to the room, creating an aesthetic that is not only functional, but visually appealing.
---
---
Use Cubbies as a Room Divider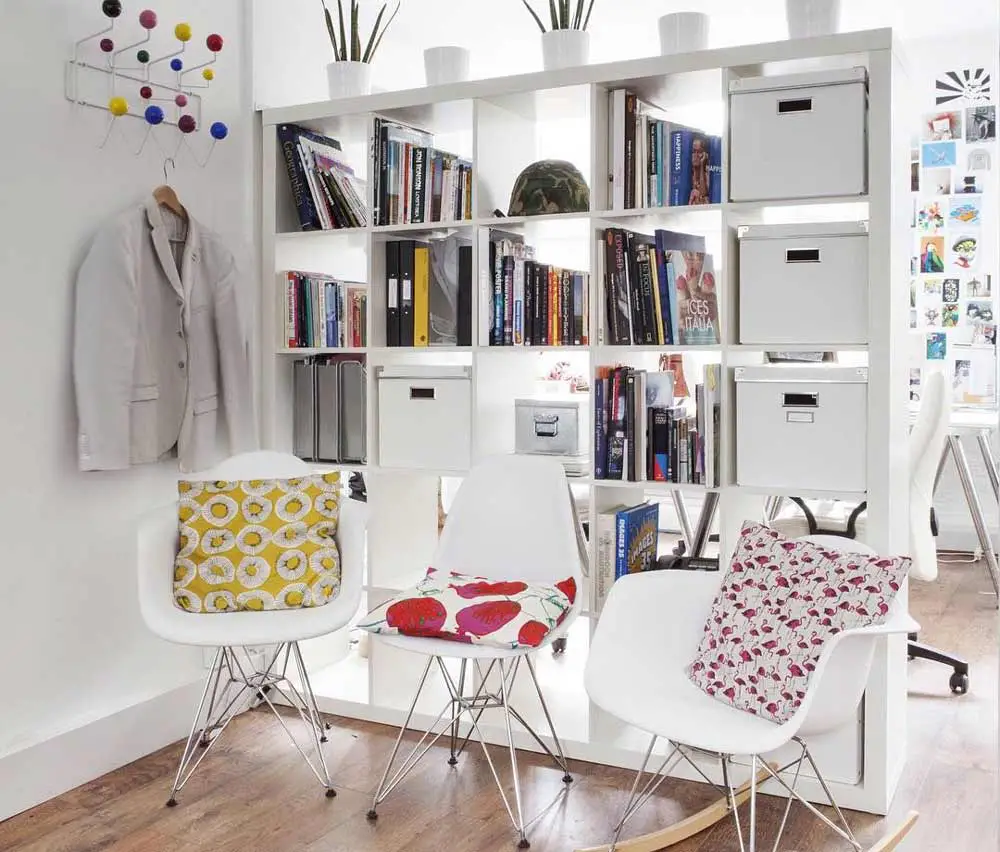 Image credit: pinterest.com
Incorporating cubbies into your room to divide up a space is a particularly practical way for dividing a room, as it provides added storage, organisation opportunities and does not totally block light.
When selecting the perfect cubby room divider for your space, it's important to consider the colours used, overall design style of the room and the specific needs for each part of the space.
From sleek and low-profile designs to modern and multi-level options, the choice is yours. It's all about finding the right balance between the functionality of the storage unit and the overall design, to create a cohesive and visually appealing space.
Cubbies are also ideal for small spaces, as they can be used to create a sense of division without blocking natural light or completely closing off the room. This makes cubbies a great room divider option for small apartments, lofts, and smaller scale open floor plans.
---
---
Divide a Room with Greenery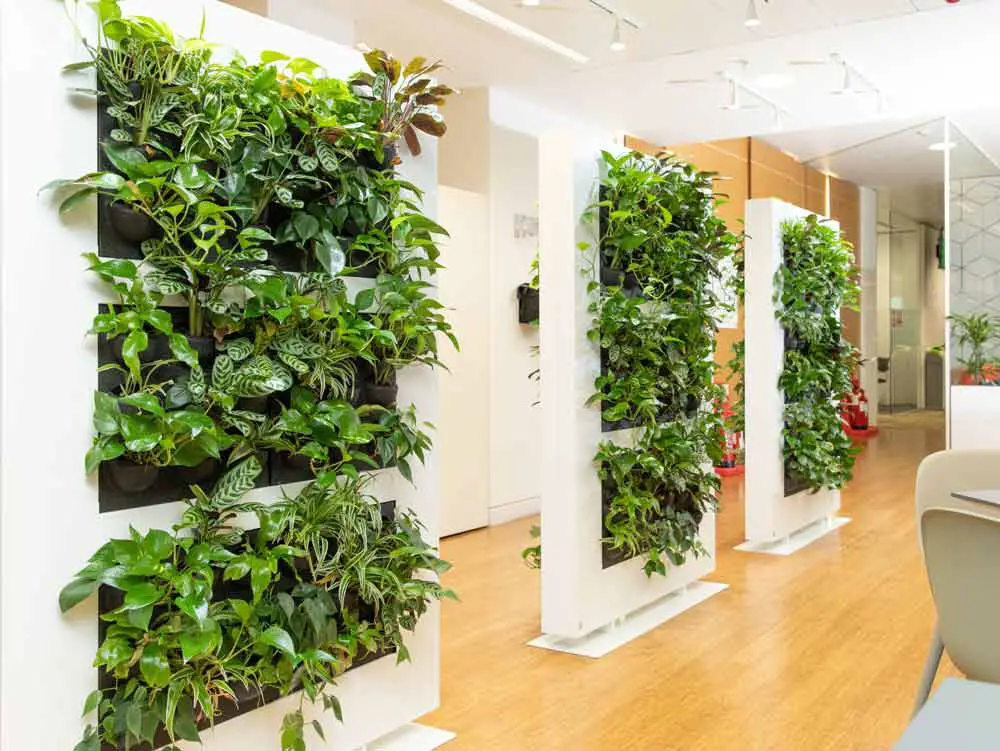 Image credit: twinfm.com
Using elements of nature in any space is an excellent way to enhance its visual appeal and add beauty and vibrancy. A less common use of greenery and plants is as a beautifully creative and unique room divider.
A particularly striking and unique way to achieve the division of a room is through the use of a living wall. These lush, vertical gardens can be customised to suit any space and are an excellent way to add life, dimension, and interest to any room without taking up precious floor space.
Whether you choose to hang them from the ceiling or arrange them on custom built structure, living walls offer endless possibilities of personalisation for a diy room divider idea, including the use of bold colours, different shapes, materials, and sizes. For example, you may consider using fuchsia, magenta or bright orange flowers alongside lush green foliage, for an impactful contrast.
Another option for room divider ideas is the use of hanging planters. These can be also be easily suspended from the ceiling and offer a quirky and interesting way to separate two spaces, without blocking natural light or airflow. They also provide additional versatility in terms of design, and can be used to create a range of different looks and moods.
Summary
My list of best room dividers is a great place to start if you are considering maximising the potential of your home and the space within it. Whether you need to divide a large space for privacy or increase the functionality of a small room, there are room divider ideas that are perfect for your needs.
I hope that my room divider ideas and inspiration will help you to find a cost effective and stylish way to bring life and character to your room. From simple store-bought curtains, to handcrafted wooden panels or folding doors, the options you need are available. It's just about deciding on the best one that suits your interior space.