---
Grey is a popular neutral sofa colour that will match almost any colour that can possibly be imagined, it is just about matching the right tone of grey, with the correct tonal range of the colour you are pairing it with.
Rather than give you a long and exhaustive list of colours that go with grey, I decided that real life examples would be far more beneficial. That way you get to see exactly how the colours work together in a living space setting.
The following examples are great ideas for deciding what colour goes with grey sofa....

Disclaimer: As an Amazon and Wayfair associate, we do receive a small commission from qualifying purchases made via links within this article.
1. Grey Sofa with Mustard Accents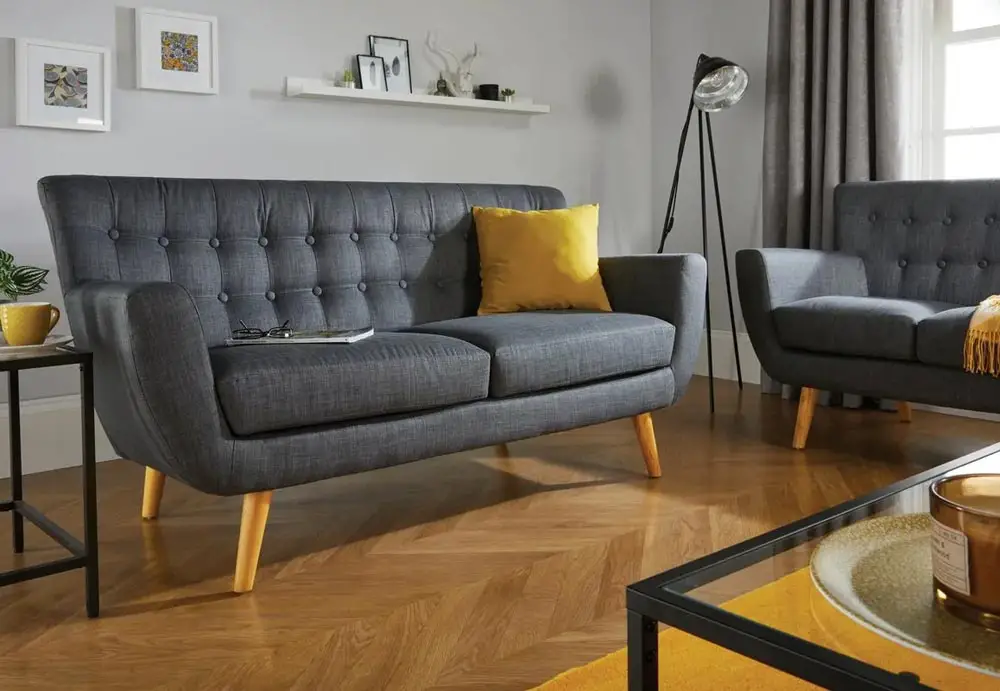 Image credit: avenue interiors
In this first example, two stylish and contemporary dark grey sofas have been accessorised with mustard accents. This has been echoed across the cushions, throw and rug (and not forgetting the mug!), whilst the light shade of grey of the walls and warm toned wooden flooring all work together beautifully to create a warm and homely feel.
---
---
2. Grey, Grey and More Grey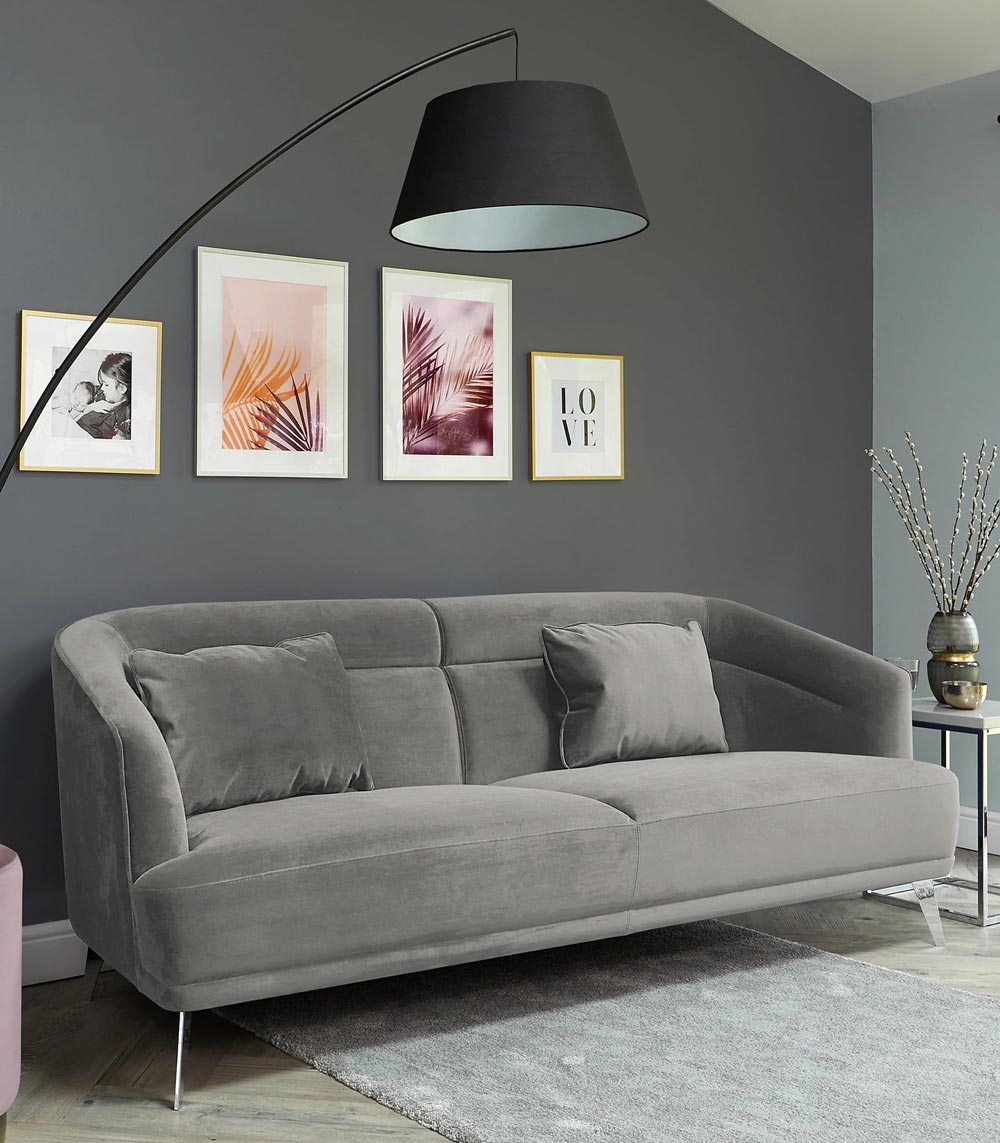 Image credit: Danetti
If you love a grey living room, then this muted colour palette is definitely the one for you! The dark grey wall, mid grey velvet sofa and light grey rug almost cascade down from the ceiling to the grey tones of the wooden flooring. Topped perfectly by the black lamp shade, almost like a fully considered modern art installation.
The only flashes of colour to break up the shades of grey, are within the artwork on the wall and the soft pink table just out of shot.
---
---
3. Soft and Subtle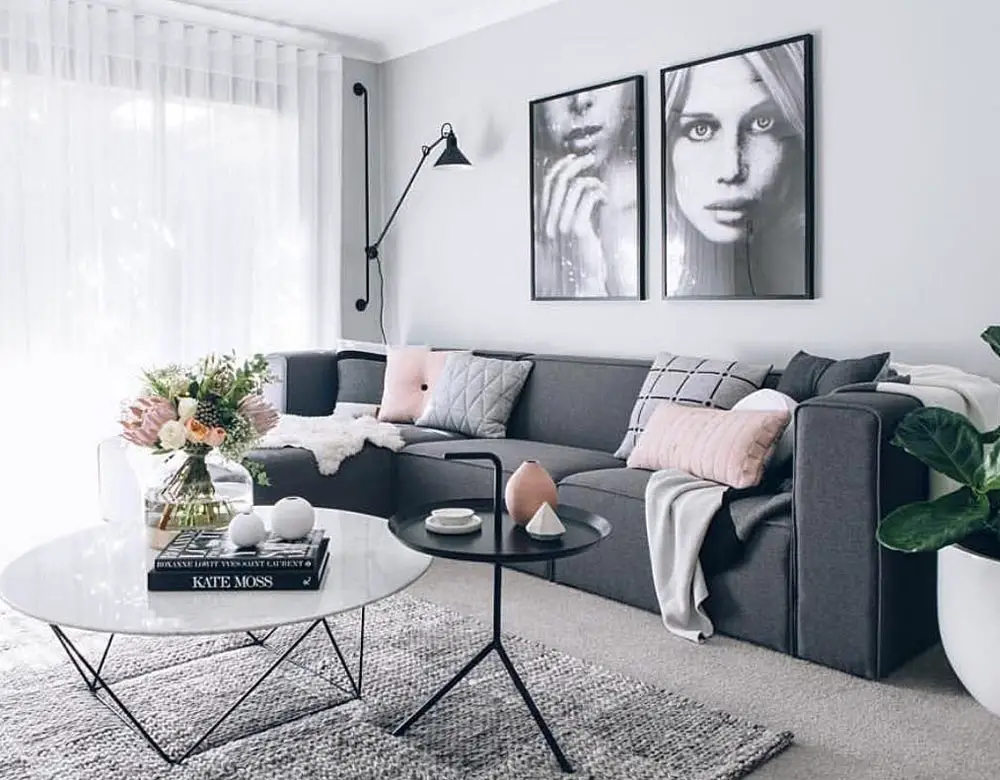 Image credit: pinterest
Grey and pink in the living room are a match made in heaven. Although we don't advise overdoing the pink ! This room however, has just the right balance of pink and grey for me. Light grey walls, a dark grey sofa and mid tone grey carpet, with soft blush pink cushions thrown in as an accent colour creates a beautiful tranquil space.
The mixture of grey cushions, black and white accessories, textured rug, and the pinks in the flowers and vase, all tie in seamlessly with the overall concept of the living space. A winning combination of subdued pastel tones with a grey couch.
---
---
4. Gentlemen's Club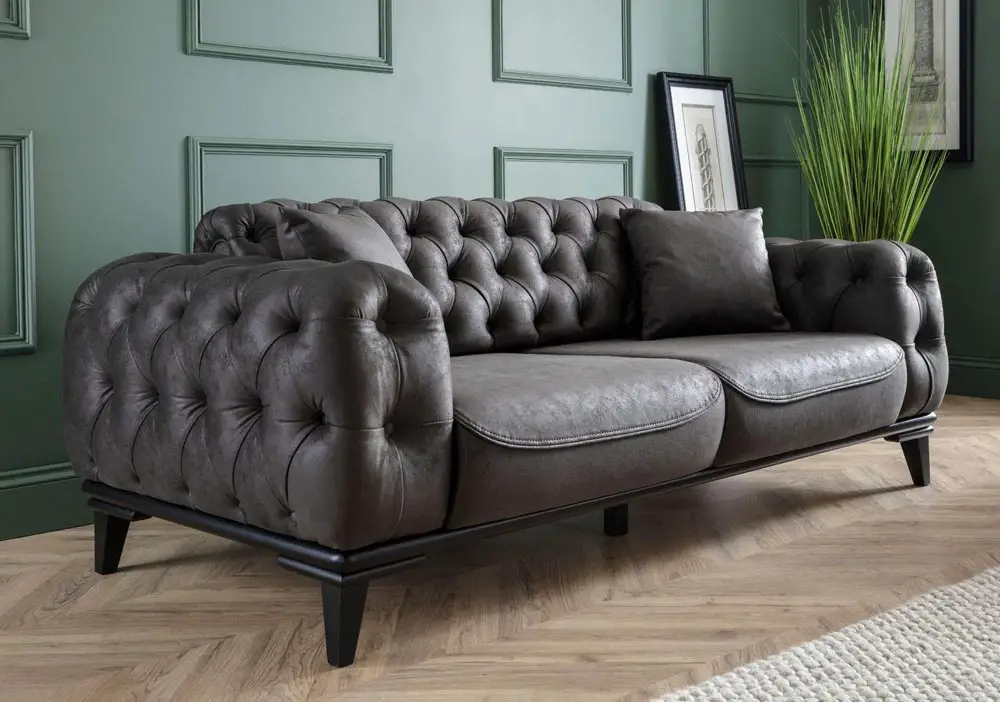 Image credit: London furniture outlet
This living room style reminds me of a modern take on the classic gentlemen's club, or traditional old fashioned pub. I can imagine myself sitting on this deep charcoal grey leather sofa with drink in hand, being warmed by the crackling, raging flames of an open fire.
There aren't many tones of green that would work with the dark grey of this leather couch and lightness of the oak wood flooring, but this matt emerald green on the panelled wall really does. There is no denying though, that this large regal sofa still steals the show.
---
---
5. Grey Sofa with Copper & Gold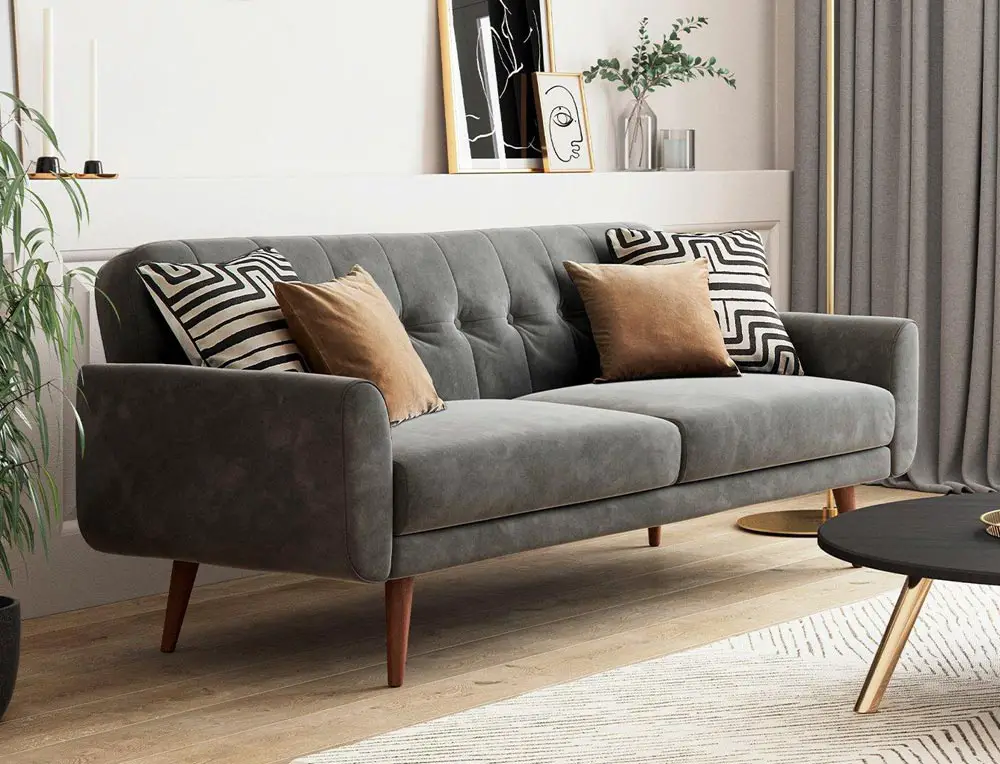 Image credit: bed sava
As far as living room furniture goes, there is a multitude of different pieces to choose from. The trick is to pick items that work together in these three areas; style, design and colour. It can be very hard to pair period furniture with modern items, or match different colour combinations in a cohesive way.
It is best to stick with the same style, using matching or complementary colours and tones. This is echoed in this stunning family room colour scheme. I love this simple but stylish and contemporary grey couch. It sits handsomely as a focal point to the room and is accessorised with copper and black and white geometric sofa cushions.
The black and white theme is further echoed through with the large patterned rug, modern framed artwork and black coffee table. 
Finally, artwork frames, tall light stand and coffee table legs add the hints of gold and plain neutral grey colour curtains finish the living room design simply and effortlessly.
---
---
6. More Gold and Grey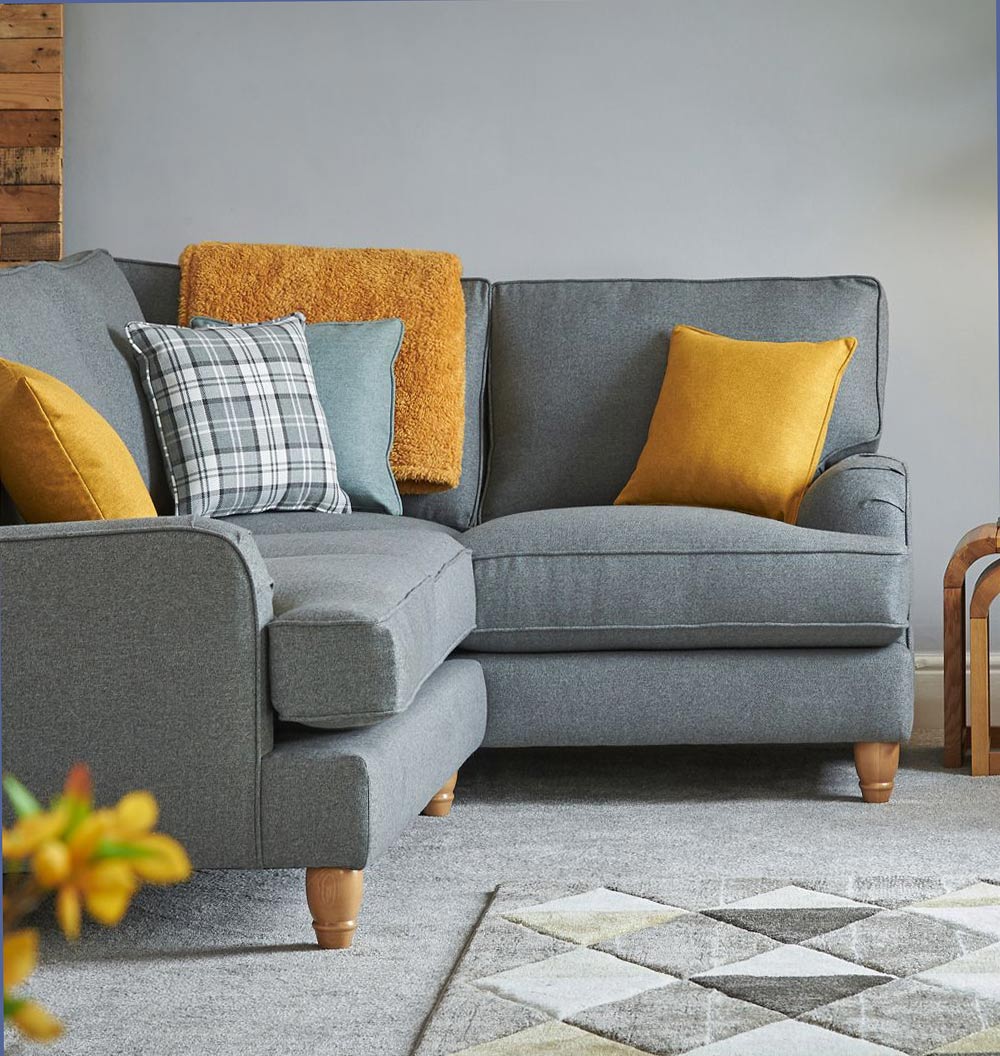 Image credit: Pinterest.com
You can't go far wrong using grey and gold in your living room, it not only makes for a sumptuous modern finish, but in combination they are possibly two of the most used colours in interior design today and for good reason.
In isolation grey can be be a cold and clinical colour, but paired with the sumptuous gold accessories seen here, they not only add a comforting warmth, but also a flash of bright colours for interest.
The colour palette has been extended wider to add contrast, with the subtle use of a teal cushion and olive green in the complimentary geometric rug.
---
---
7. Neutral Hue Living Room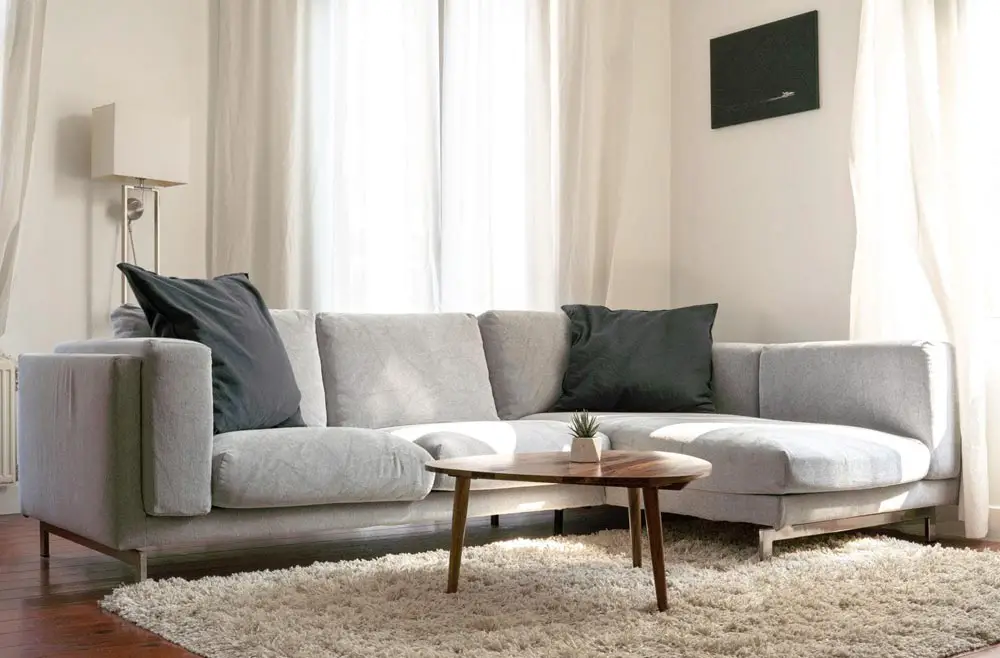 Image credit: decoratedlife.com
Having a grey sofa doesn't mean that you have to add splashes of colour, there is nothing wrong in keeping the whole colour palette neutral and plain, as shown in the example above.
Simply using a neutral colour palette of cream, greys and natural wood tones for warmth, can create a comfortable and cosy atmosphere, suitable for many a home owner.
8. Apartment Living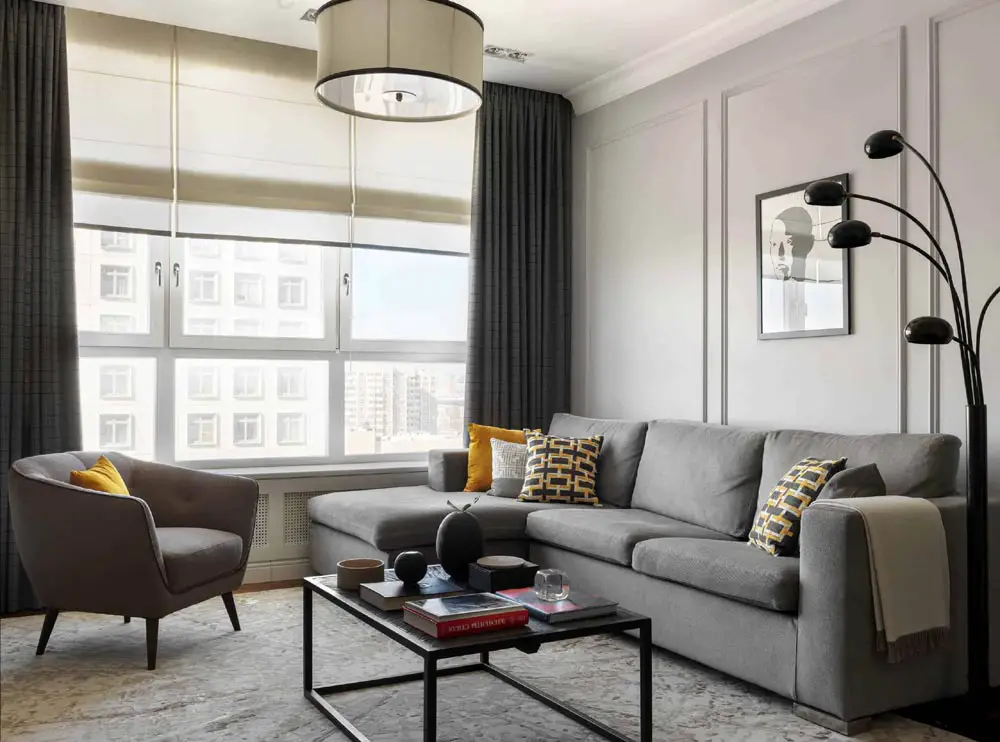 Image credit: decorsnob.com
The classic choice of grey scheme in this apartments living room has far more of a masculine feel to it, with the matching grey upholstery of the couch and tub chair, different shades of grey within the curtains and rug and cooler shade of grey on the walls.
Add to this the black metal frame of the glass coffee table and gloss black of the sculptured light stand and you are left with a pared back modern design style. The only deviation from this is the few plain and patterned cushions that add a touch of colour and contrast to an otherwise grey neutral base.
9. Living Room With Grey Natural Tone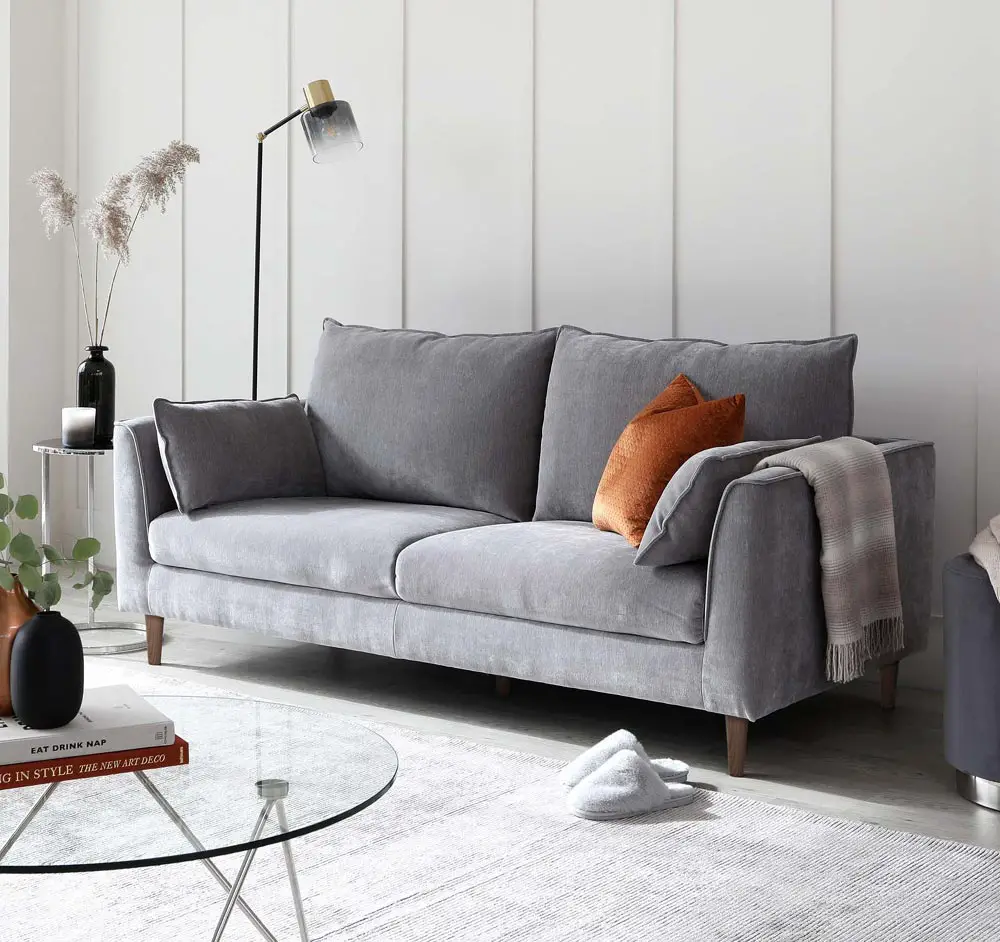 Image credit: danetti.com
The grey tones of the sofa, wall, rug and floor pair beautifully in this modern living room space, whilst the, almost concrete grey of the walls, creates a cool foundation making the space feel open and airy.
When it comes to furniture choices, glass is again chosen for the coffee table and sofa side lamp, continuing the modern design aesthetic.
As with previous examples, only a minimal splash of colour is used to add more depth and warmth to the room.
Final Thoughts
So in answer to the question, 'what colour goes with grey sofa', well firstly grey ! (believe it or not) At least as far as the walls go. For an accent colour within the accessories and soft furnishings we recommend gold, mustard yellow or copper and for flooring, stick to natural wood with a large textured rug that is predominantly grey and white, with additional accent colours within.
Whatever you decide, if using more than one grey element within the colour scheme, make sure to use different shades and tones that compliment each other and pick only one or two accent colours to use around the space.