---
There are a number of reasons why brown leather sofas are so popular. They are very versatile and can be used in a variety of settings, living room designs and colour schemes.
In general leather sofas add a touch of class and elegance to any living room and are particularly durable, often lasting for many years. They are also available in a wide range of styles and colours, so can suit many different tastes.
In answer to the question, 'What colour goes with brown leather sofa'; Safe bets are always going to be white, beige or grey, but differing tones of blues or greens can provide a nice contrast, while still complementing the brown tones of the sofa.
For a more dramatic, unique and daring look, try pairing your brown leather sofa with a deep red, purple, bright yellow or orange.
Whatever colour you choose, make sure it's one that you love, you've got to look at it for some time after all !
---
---
Continue Reading for Inspirational Ideas...
I am a firm believer that you need to see colours together before deciding on the perfect match for your own rooms design. So here are some great examples of brown leather sofas in their natural environment, paired with different colours and styles of living room design.
Tantalizing Teal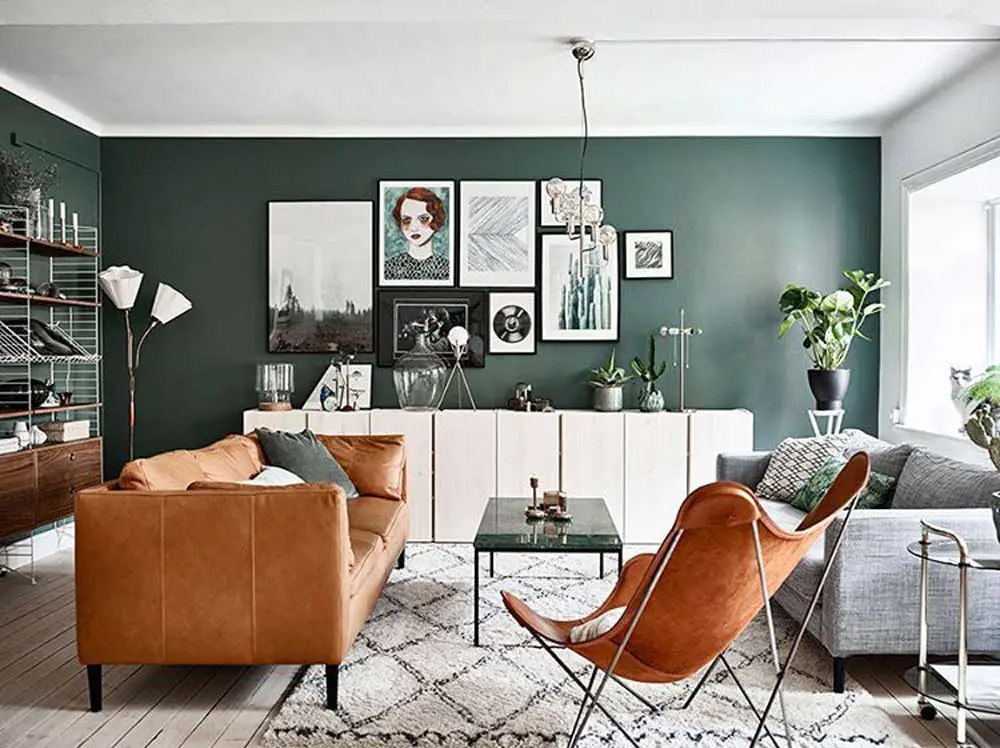 Image credit: pinterest.com
This mid-tan leather sofa and matching butterfly chair contrast with the grey fabric couch, painted floorboards and rug perfectly.
A deep teal wall adds a beautiful blast of colour that lifts the whole space, and stops it being dull, dreary and bland.
The bright white of the storage cupboards, floor lamp shades and ceiling all compliment the other colours in the living room, especially the crisp contrast with the teal walls.
Pattern and texture, always an important element in interior design schemes, are added via the diamond patterned rug and sofa cushions.
---
---
It's a Total White Wash !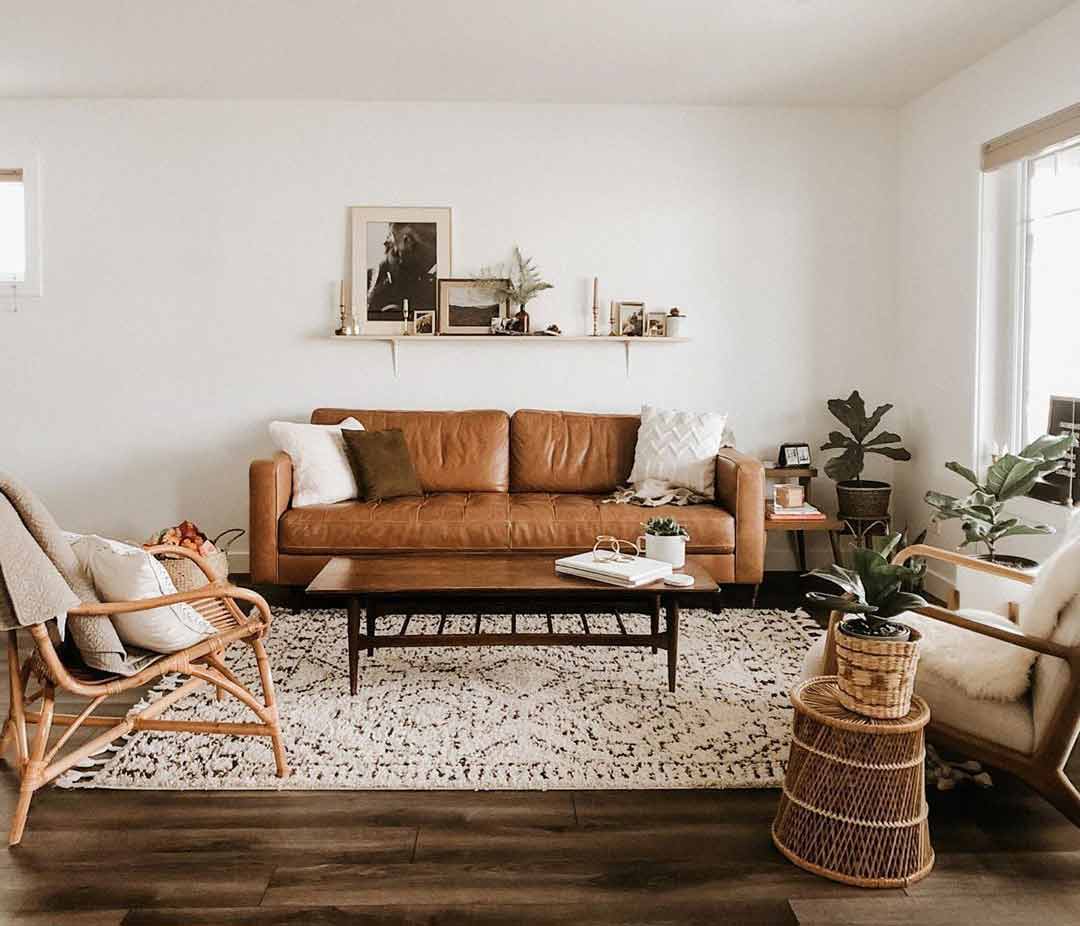 Image credit: pinterest.com
I know white is an obvious selection, but isn't this Boho styled living room beautiful! The crispness of the white walls helps showcase this warm brown leather sofa and other wooden elements of the room, including the dark brown wooden flooring, which grounds the whole space.
White in the rug and cushions ties the theme together perfectly, whilst a flourish of greenery in the plants is a staple of the Bohemian style.
You may also like...
White and black living room ideas
---
---
Dark Grey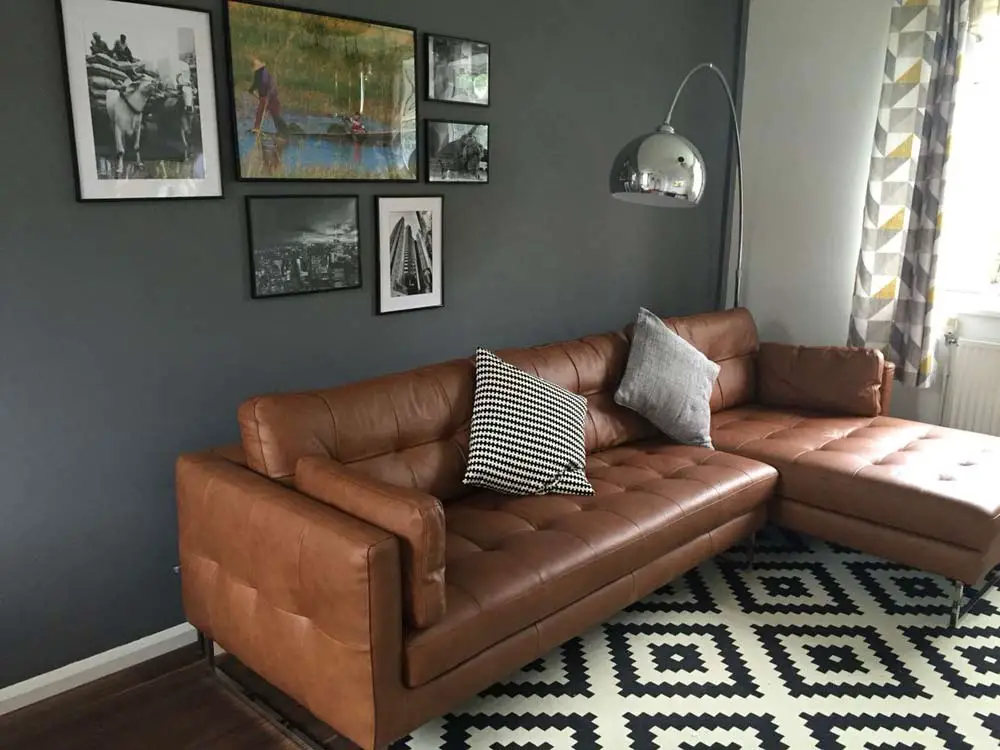 Image credit: pinterest.co.uk
Dark grey and white is a winning colour scheme when paired with a mid brown leather sofa, as can be seen by the above example.
Black and white are other prominent colours within this living room design, used in the bold patterned rug, cushion and black and white photos on the wall.
The subtle grey, white and mustard in the curtains also complements the space and adds a small flash of colour to break up the monotony.
---
---
Beautiful Beige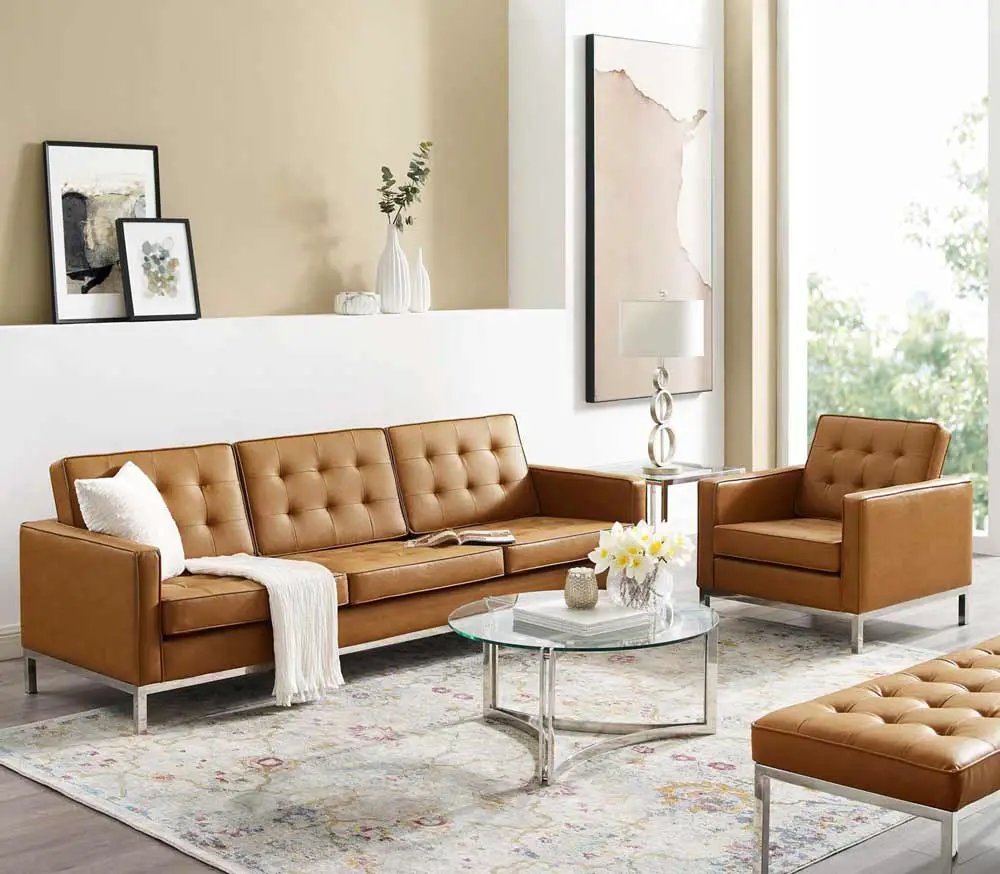 Image credit: pinterest.com
The beige used to highlight selected areas of the walls are crisply contrasted with bright white, adding a warmth to the otherwise cold toned space.
The feeling of warmth within the room is further helped by the modern light brown leather sofa, chair and other brown leather furniture which beautifully dominate the space.
It's not hard to imagine that if there were only cream, mushroom or beige walls, the colours would still all work well together, and in my opinion make for a more inviting, cosy and warm space.
---
---
Vibrant Orange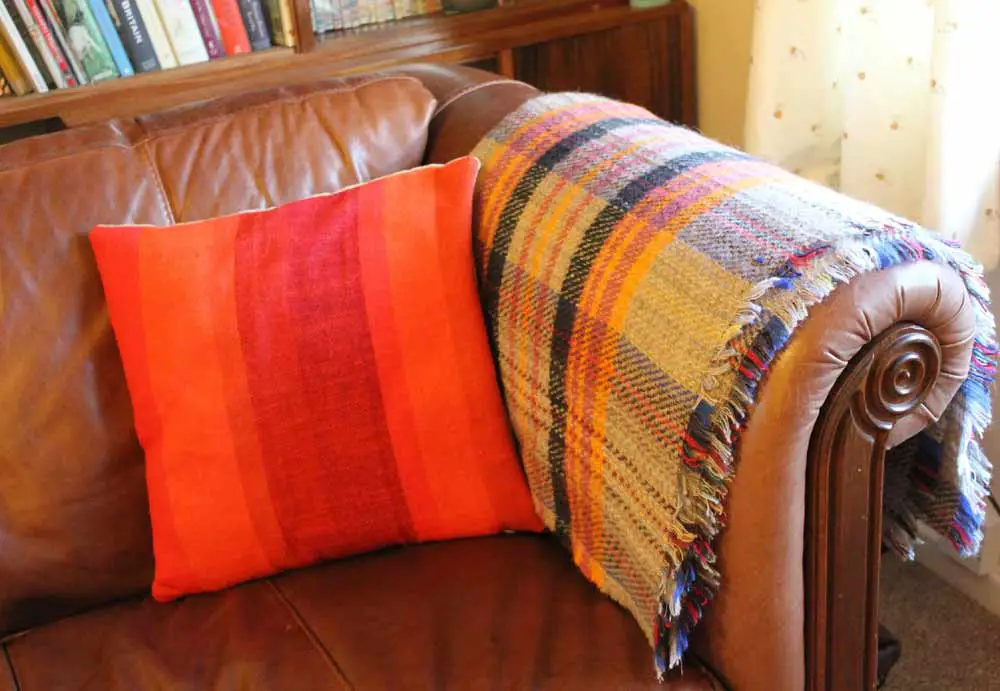 Image credit: cassiefairy.com
Although this room can't be seen in all its splendour, what we can judge from this photo is how well the vibrant orange of the cushion go with this leather brown couch.
Shades of orange have been used in the tartan throw blanket to seamlessly tie the colour theme across other parts of the living space.
---
---
Neutral and Natural Beauty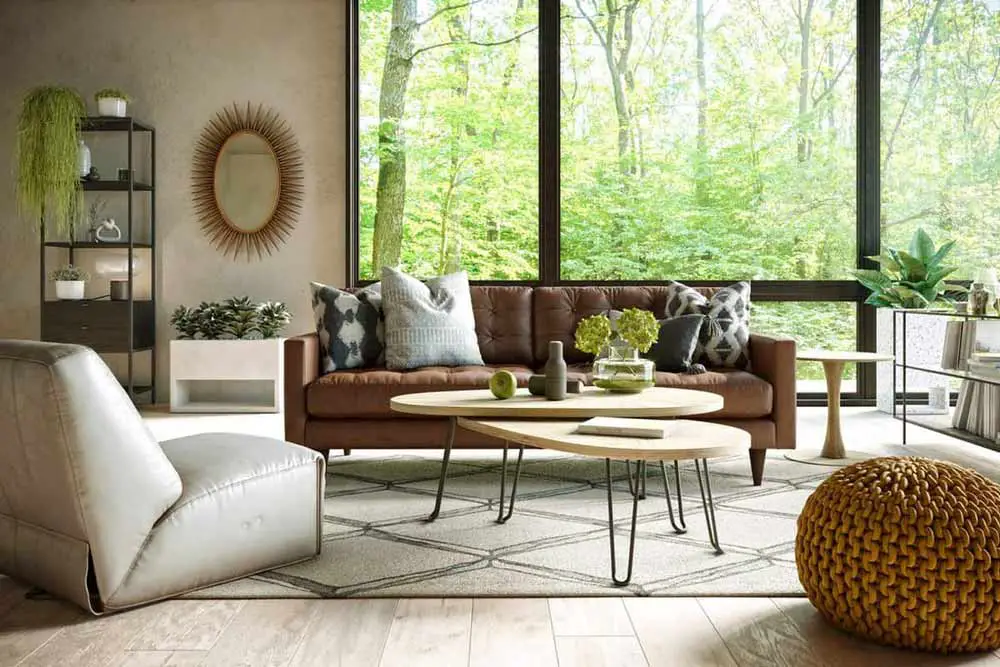 Image credit: luxatic.com
Similar to the previous example, cream has been used on the walls, but here they have a rustic finish to them.
There is no one defining theme to this modern space, with a bit of Boho, rustic industrial and a touch of modern Scandi all thrown into the mix. On paper these different interior styles shouldn't gel together, but I personally think that they do.
The real stars of the show though are the large black metal framed windows which can't fail to draw your eyes to the stunning outdoor greenery beyond.
---
---
Mustard Yellow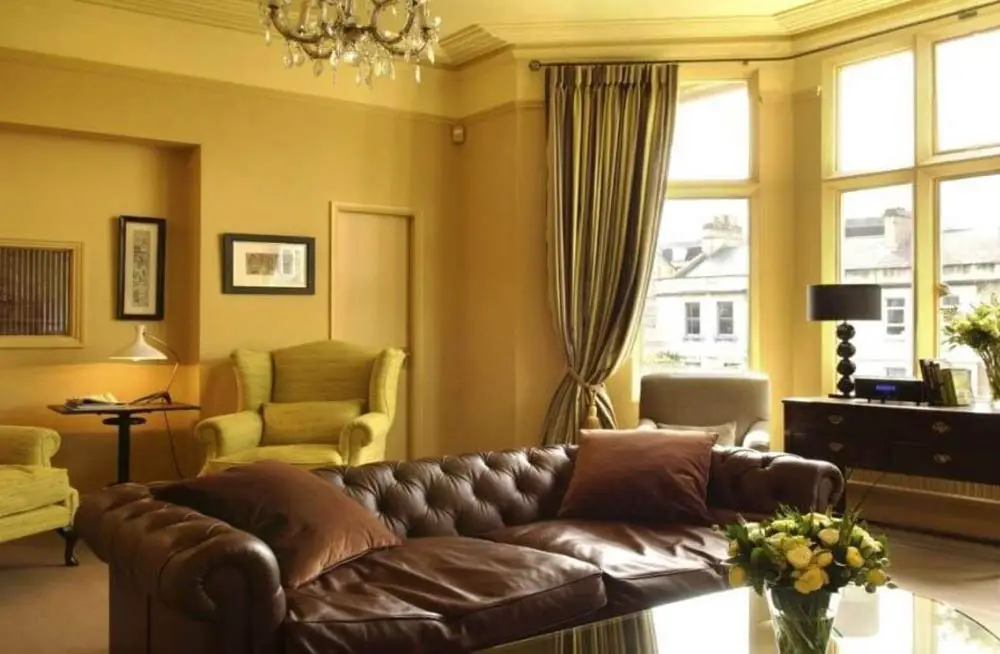 Image credit: farmfoodfamily.com
This traditional living room setting utilises mustard yellow as its main colour choice, a warm and inviting option for any space. The mustard yellow used here is a more toned down colour than say a bright sunshine yellow, which would likely over power the whole space.
The warm tones of the mustard works well against this particular dark brown leather sofa, which may not be the case with a lighter, more orangey tone of leather. Something to bear in mind when selecting either the sofa or paint colour of your own living room.
---
---
Navy Blue & Grey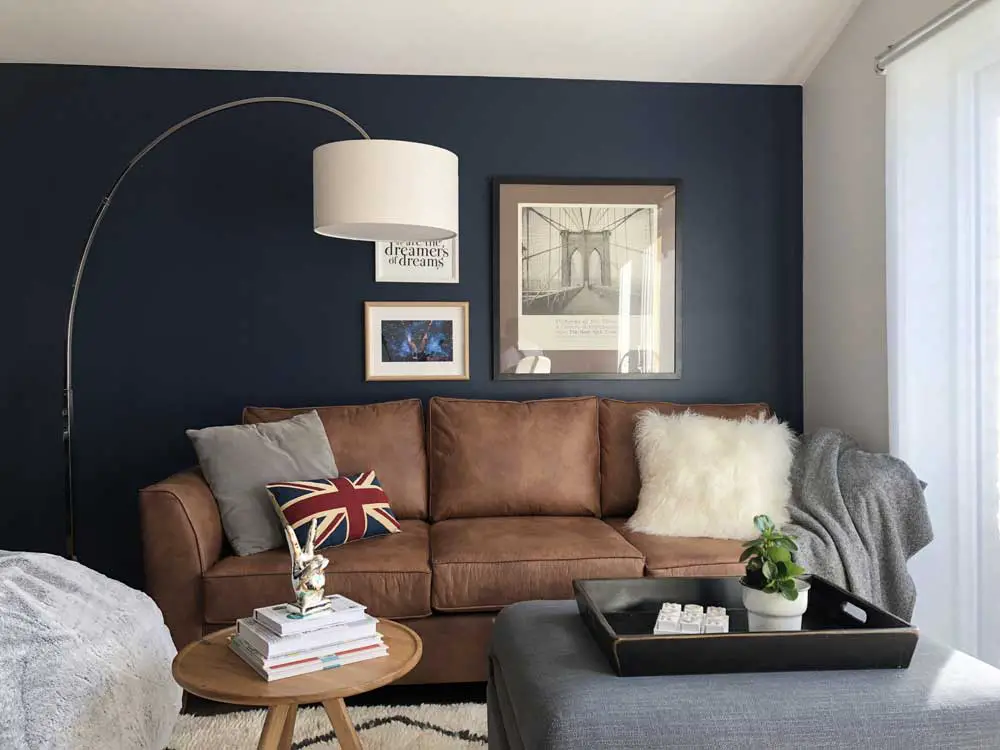 Image credit: pinterest.co.uk
Living rooms with navy and grey as prominent colours always work well, so it's no surprise that adding a brown leather sofa into the mix, looks great!
The white lamp shade, fluffy white cushion and grey elements of the other cushion, throw and foot stool all tie the room together in a cohesive manner.
A navy blue feature wall is the crowning glory of the space and adds a regal richness that you just wouldn't get with a lighter colour, like cream or white.
---
---
Red Retreat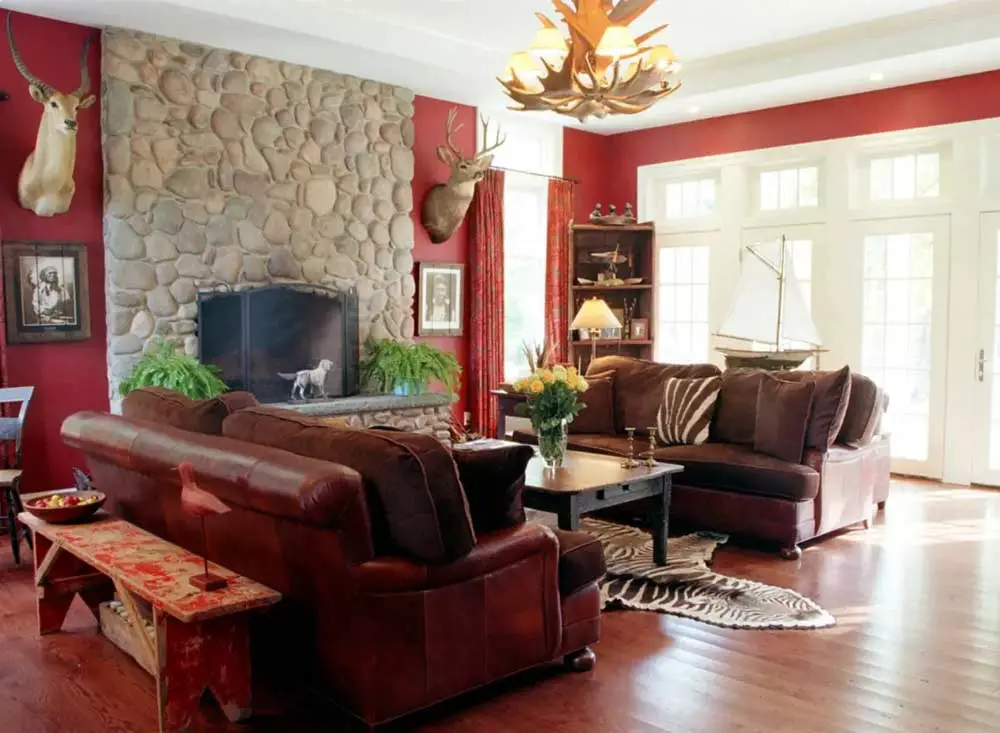 Image credit: nordarchitecture.com
Red is a difficult colour to pull off when it comes to interior design, it is often too overpowering and in your face.
In the case of this example, the red of the walls is heavily broken up be the stone fireplace wall on the left side, and large expanse of well lit windows and doors to the right.
Add to this the warm wooden flooring consistently spreading across the whole space and you end up with a room that is homely, inviting and is definitely not taken over by the deep red walls.
---
---
Light Grey (Traditional)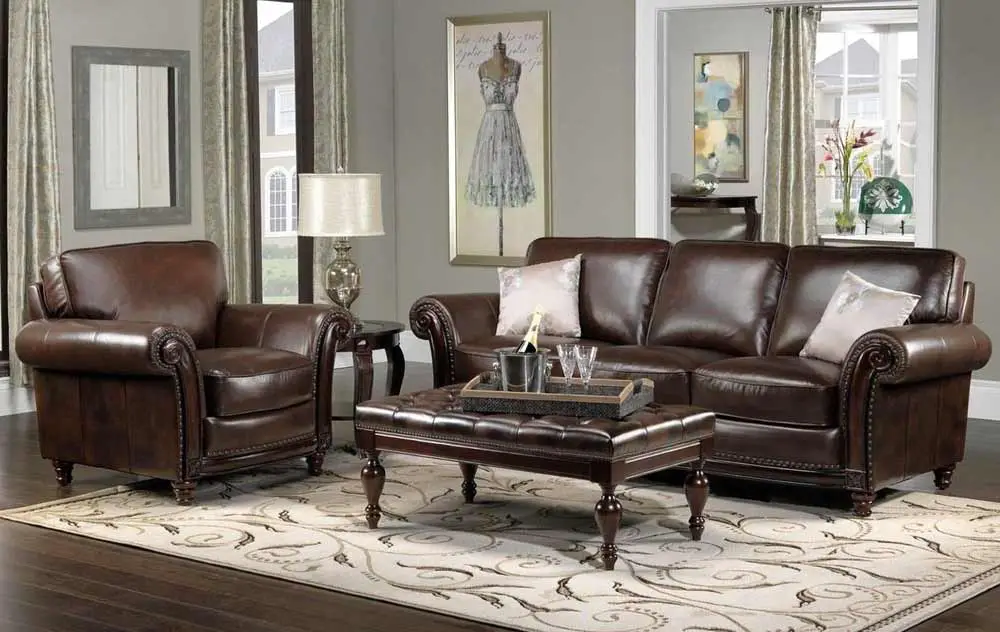 Image credit: pinterest.com
Light grey, although a cold colour, when paired with a chocolate brown leather sofa the coldness is partially balanced out by the sofas warmth.
The opulent silvery colour cushions and lamp shade match perfectly and are both visually balanced with the floral area rug for a cohesive look.
Even with the traditional dark brown furniture on show here, the light grey adds a modern touch, bringing this living room space into the 21st century.
---
---
Light Grey (Modern)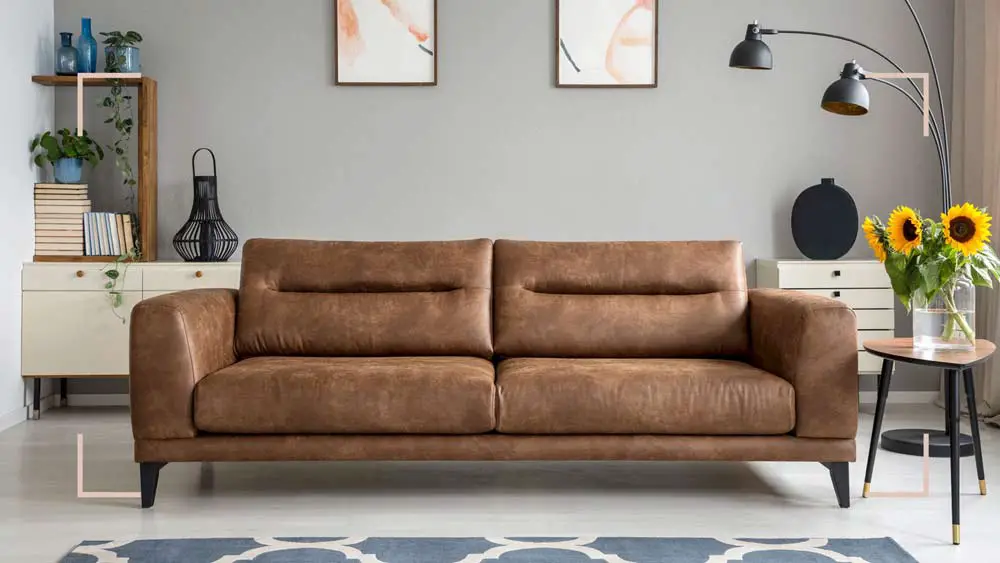 Image credit: womanandhome.com
In contrast to the previous example, this living room is a much more modern affair, again utilising light grey as the accent wall colour.
White is the secondary colour, which has been used on the other walls, flooring and furniture with the main accent colour coming from the blues in the rug, plant pots and glass bottles.
A stunning modern brown sofa made from real leather elegantly dominates the space as the main focal point of the room.
---
---
Dark Aquamarine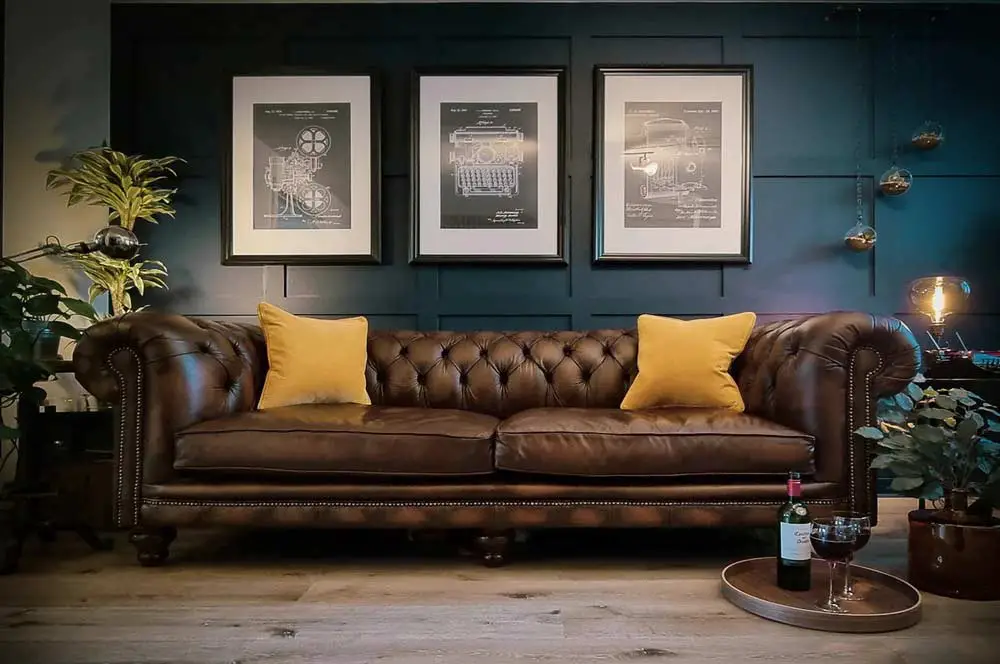 Image credit: theworldincushions.com
Bolder colours in combination with each other tend to either work or not, there is usually no grey area. In the case of the example above, they definitely work.
The feature accent wall, with its dark dominant aquamarine and panelled design, is the perfect backdrop for the bold leather brown sofa and gold cushions.
All the colours and stylish elements sit in unison, giving a truly luxurious feel and creating plenty of visual interest.
---
---
Terrific Tan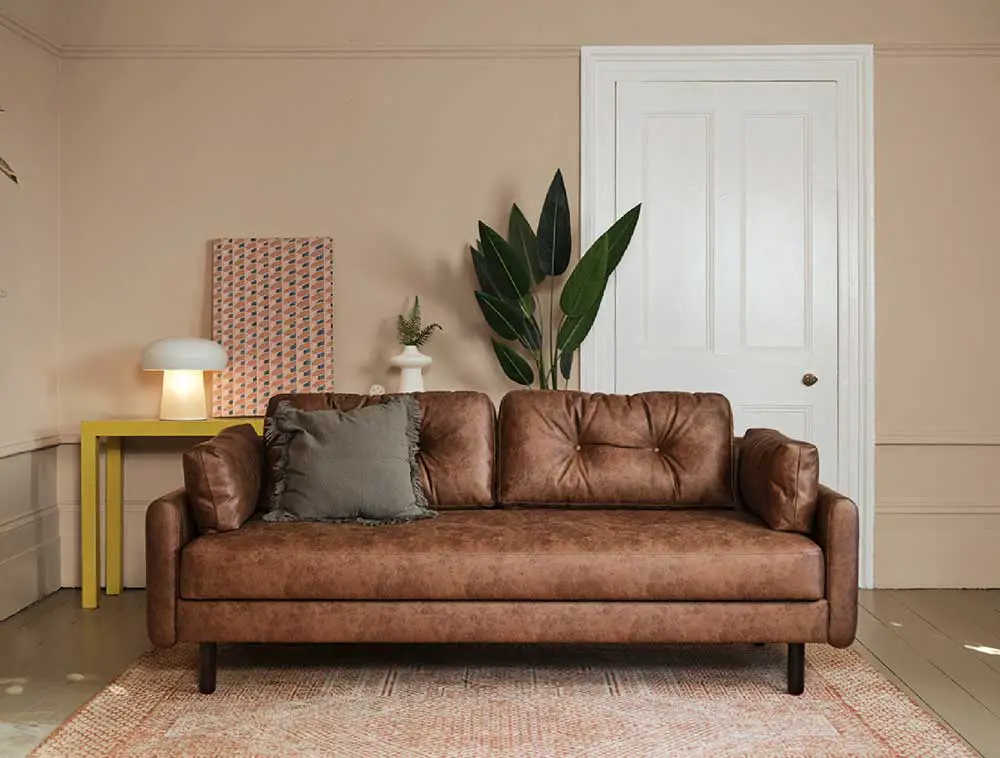 Image credit: swyfthome.com
Although tan coloured walls can sometimes be more akin to an unpainted plaster finish, it can also be warm and inviting. Not to mention that it work particularly well against brown leather furniture.
The detailed washed out rug helps to zone the seating area, adding an extra layer of interest into an otherwise bland room.
I'm not personally a fan of the yellow side table, but it does however add a flash of colour and modernises the space.
---
---
Choosing the Right Brown for Your Leather Sofa
Choosing the right shade of brown for your leather sofa can be a tough and arduous decision. There are so many different shades to choose from, and it can be hard to know which one will look best in your home.
Here are a few tips to help you pick the perfect shade for your brown leather couch:
1. Look at the other colours in your room. What colours are your walls? What colour is your flooring?
It is important to choose a shade of brown that will complement these other elements so as not to clash, or in certain cases, be too similar.
2.Think about the overall style and theme of your room. Is it a traditional room or a more modern space? The style, theme and decor of your room will ultimately determine whether you go for a darker or lighter shade of brown.
3. Consider how much natural light your room gets. If you have lots of windows and get a lot of natural light, then your sofa will need to be lighter. On the other hand, if your room is more dimly lit, then a darker shade may work better.
How to Accessorise Your Brown Leather Sofa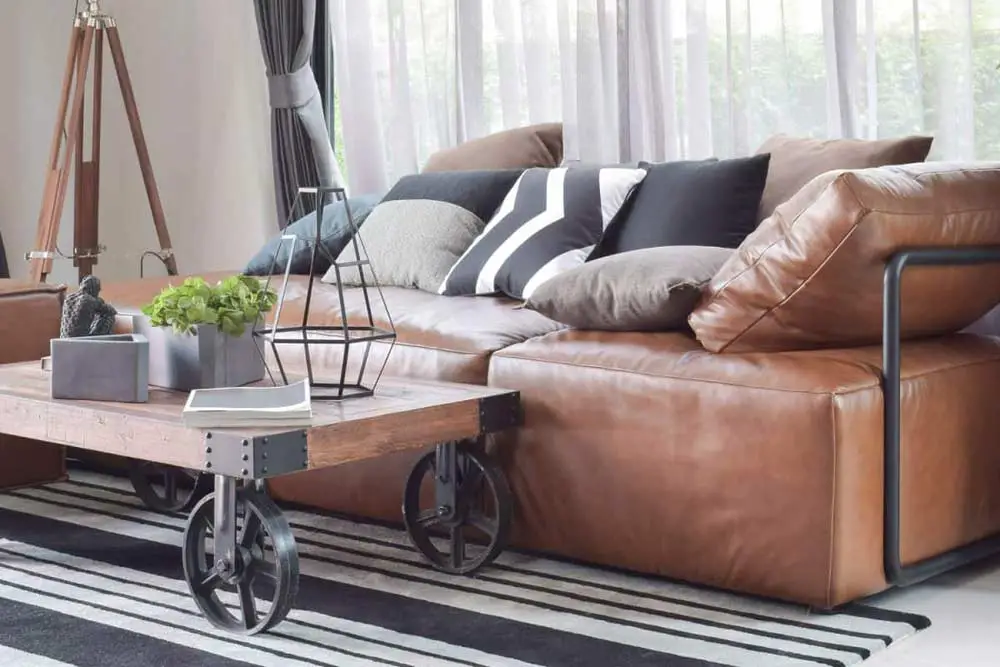 Image credit: uooz.com
If you're looking to add a bit of pizzazz to your brown leather couch, there are plenty of ways to do so with accessories. A few well-placed throw pillows can really liven things up, and they come in a wide variety of colours, patterns and interesting designs.
A cosy blanket or throw is also another great way to add some extra colour and texture to your brown leather sofa, not to mention that they will make your sofa even more inviting and snuggly on a cold winters evening.
If you want to go for something a little more dramatic, consider adding a colourful area rug, or even hanging some tapestries or artwork on the walls behind the sofa.
With just a few simple additions and little cost, you can really change the entire look and feel of your living space.
Summary
By using one of the colours that I have suggested as your main wall colour, and pairing it with the right shade of brown leather sofa, you will have no problem figuring out what colour goes with a brown sofa for your own living room.
Once a decision has been made, add accessories such as cushions, rugs, throws and complimentary furniture into the living space, whilst also considering texture, pattern and the overall theme you want to achieve.
You may also be interested in...