---
What is contemporary interior design?
Contemporary interior design can be defined in a number of ways. One common interpretation is that contemporary design refers to the style of decor that is popular in the present day, whenever that may be. This includes furniture, fabrics, and accessories that are currently in vogue, as well as the latest trends in fashion and technology.
Another way to think of contemporary style is as a design movement that began in the mid-20th century. This approach to design is characterized by clean lines, minimalism, and a focus on function. Contemporary interior designers often seek to create spaces that are both stylish and practical.
Whether you are looking to update your home with the latest trends or seeking a more timeless approach, contemporary interior design can be a great choice.
If you intend working with a professional interior designer, they will be able to help you achieve the contemporary look you are going for while keeping your space functional, sleek and modern.
---
---
Characteristics of contemporary style
There are several key characteristics that define most contemporary interiors:
This design style is known for having few decorative elements, with the overall look being clean and uncluttered.
Contemporary design also emphasizes functionality, with every room element serving a purpose. The Benjamin Franklin quote, "A place for everything, everything in its place" certainly applies here.
The use of natural light is a particularly important consideration in contemporary interior design.
Materials that are generally little used in most homes, such as metal, concrete and glass (for decorative items) are staples in contemporary design.
The bulk areas of walls in contemporary spaces are made up of white, black and neutral colours, with flashes of bright colours coming from accent walls, furniture and accompanying textiles.
Due to contemporary rooms often being open and spacious, plants are large and dramatic so as not to be lost within the overall design space.
Solid hard wearing flooring such as concrete, marble, stone and wood are preferred over carpets and vinyl, with large area rugs used to bring in colour, patterns, texture and warmth.
Contemporary interior walls are kept clear from unnecessary objects and decorations, making sure that clean lines aren't compromised due to the wall decor.
---
---
Contemporary interior design Ideas
I have pulled together some of my favourite contemporary home interiors to hopefully give you some inspiration for your own interior design ideas.
Modern contemporary style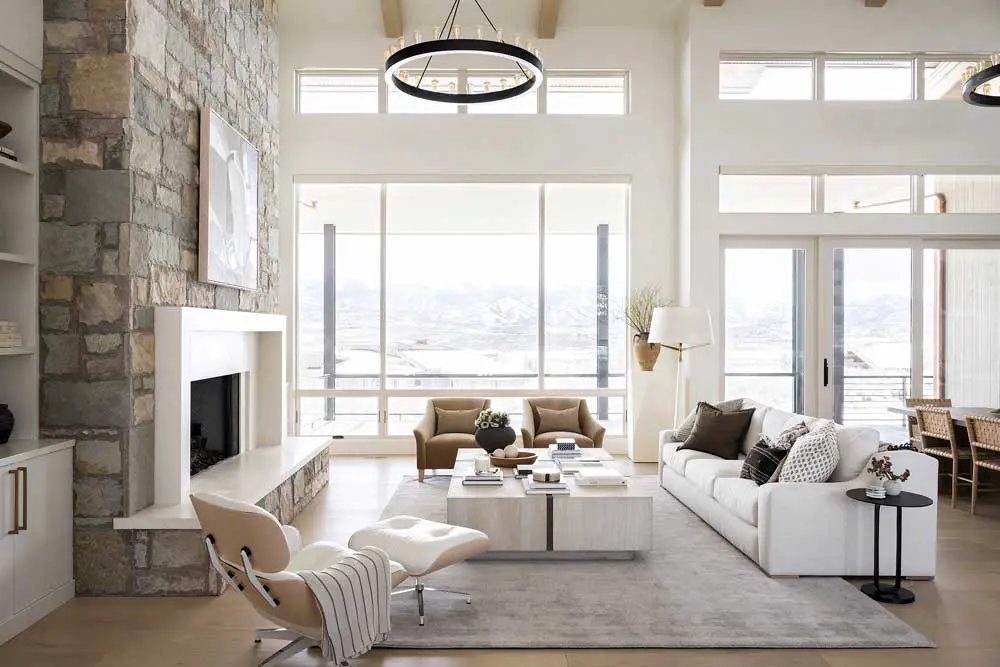 Image credit: studio-mcgee.com
This updated living room diner has been given a full makeover, from a traditional 1960's space with natural elements such as the stone fireplace and oak beams on the high ceiling, into a contemporary style interior design with a much more modern and contemporary feel.
The unique hanging pendant lights echo western saloon candle holders of the past, whilst the lack of window treatments on the large scale glass panels gives an obvious and lasting boost to the amount of natural light that the room receives.
What we are ultimately left with is a bright, open and airy space with a modern contemporary interior.
---
---
Modern design kitchen living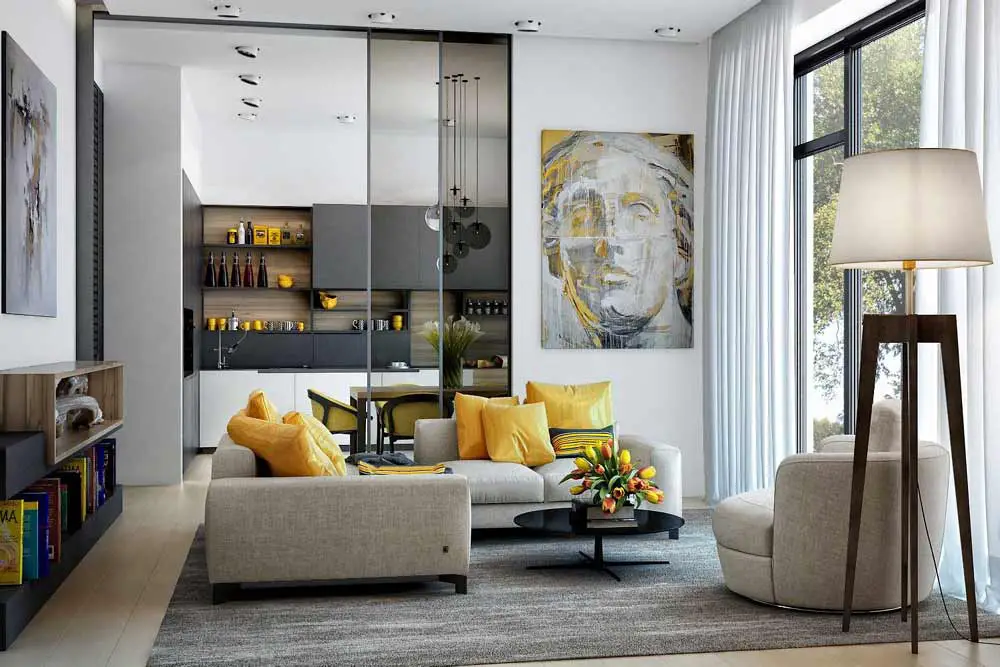 Image credit: fabricsandpapers.com
This contemporary living room space is separated from the sleek modern kitchen by smoky effect sliding glass doors. These are crucial in bringing the amount of natural light from the floor to ceiling windows into the kitchen area, that a modern open space like this deserves.
The two main considered design elements of this room that are hard to miss is firstly the subtle combination of geometric shapes throughout, in the walls, furniture, windows, lighting and rug (I'm not sure if this was planned or just a happy coincidence).
Secondly the use of golden yellow as an accent colour that has been carried through numerous elements such as the sofa cushions, flowers, within the artwork and even the mugs and other objects in the kitchen. 
---
---
Contemporary home garden room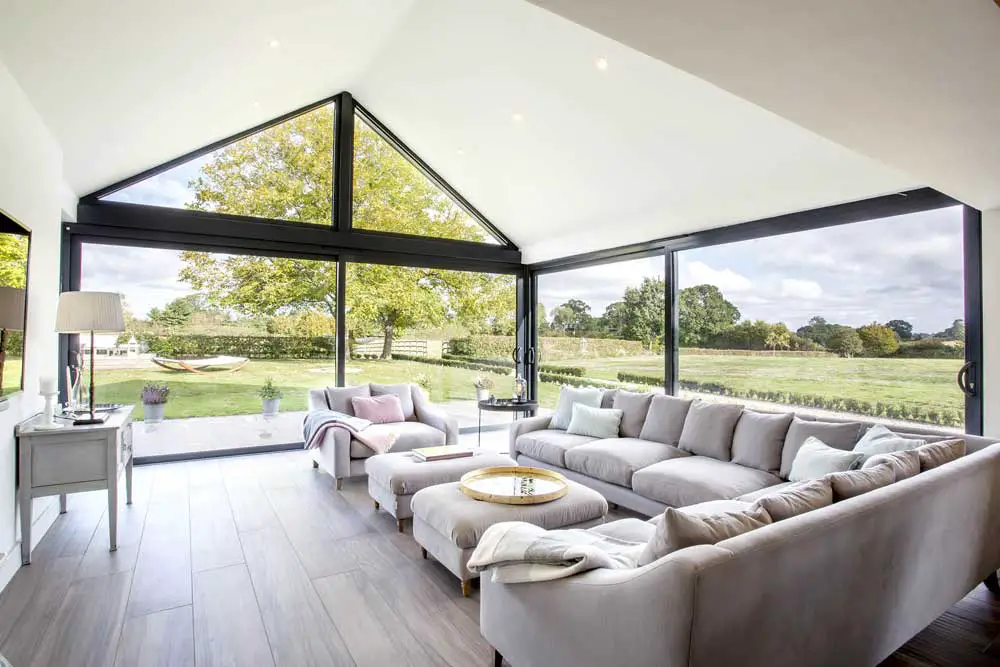 Image credit: faap.co.uk
As with many contemporary interior design styles, neutral tones have been used across the board. The light grey seating and other furniture pieces, soft toned flooring and white walls all stick closely to this theme.
The only deviation from this being the pastel blue and pink cushions, and dominant black metal of the structural elements.
Vast glass sliding doors in a matching black trim finish the room off perfectly, and whether open or shut, create a stunning indoor, outdoor space with views to die for.
---
---
Beach vibes modern interior design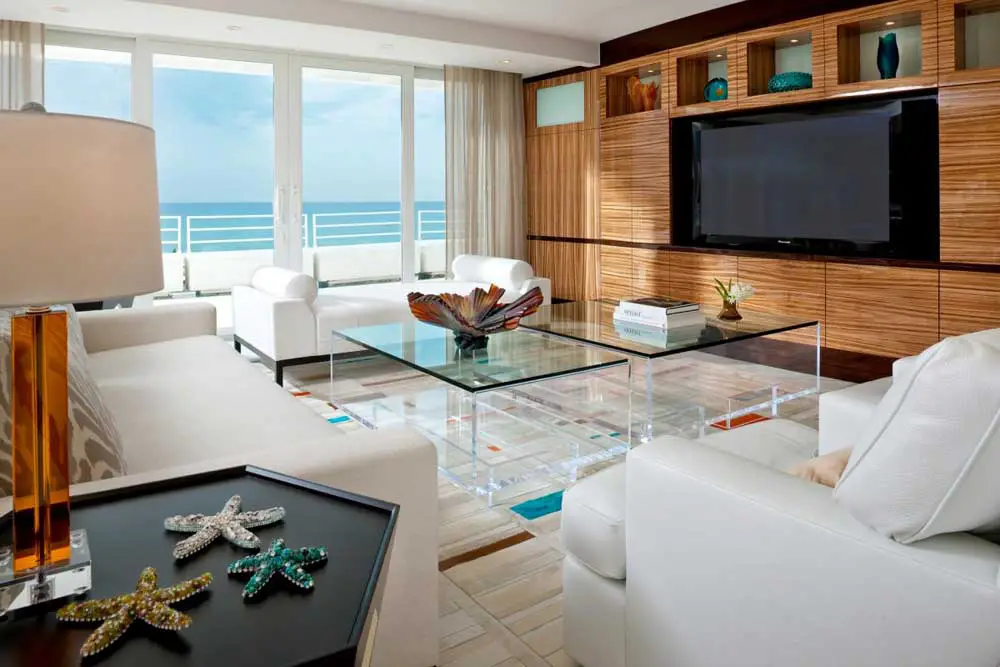 Image credit: homehighlight.co.uk
This modern living room interior has a cool beach vibe that would be at home on any LA beach front.
White has been chosen as the main colour, which has been used for the majority of the wall space, ceiling and leather furniture. A subtle palette of colours coming from a few objects and small splashes within the geometric patterned rug.
The horizontal lines of the wall unit doors create the illusion of visually extending an already wide space, while the see-through nature of the fully glass tables helps to keep the room feeling open, airy and spacious.
---
---
Contemporary living room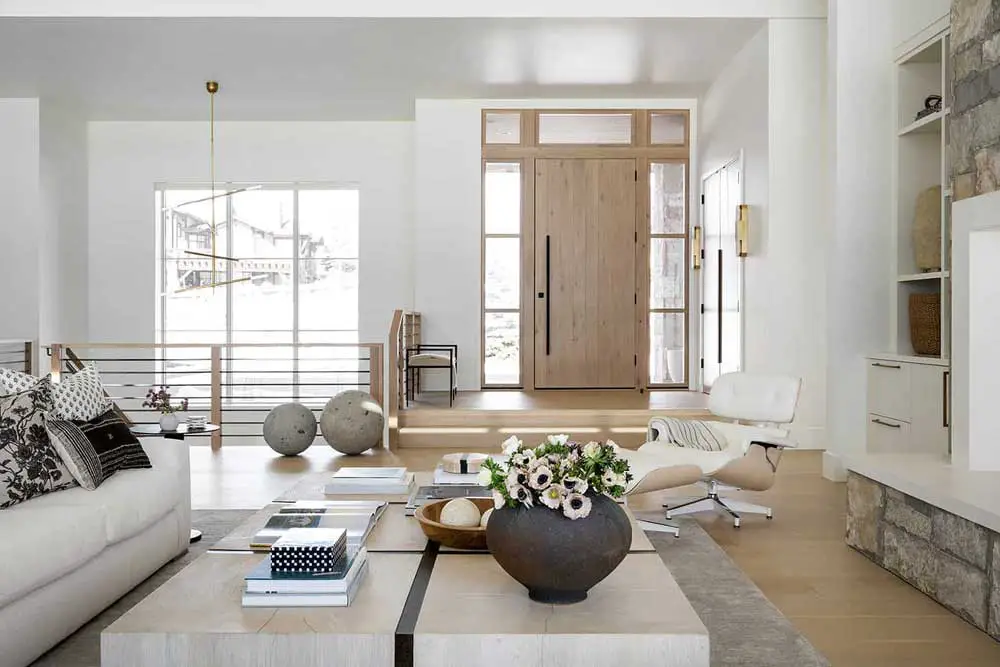 Image credit: onekindesign.com
The contemporary style of this warm and inviting living room is a beautifully designed space for any modern family.
Contrasting against the bright white walls and furniture are the warm tones of the wooden flooring and contemporary furniture pieces made from natural materials, like the stone wall, marble table and hand carved wooden door.
Neutral colours have been used throughout for all accessories, the rug, vase and cushions to name a few.
---
---
Contemporary style open living space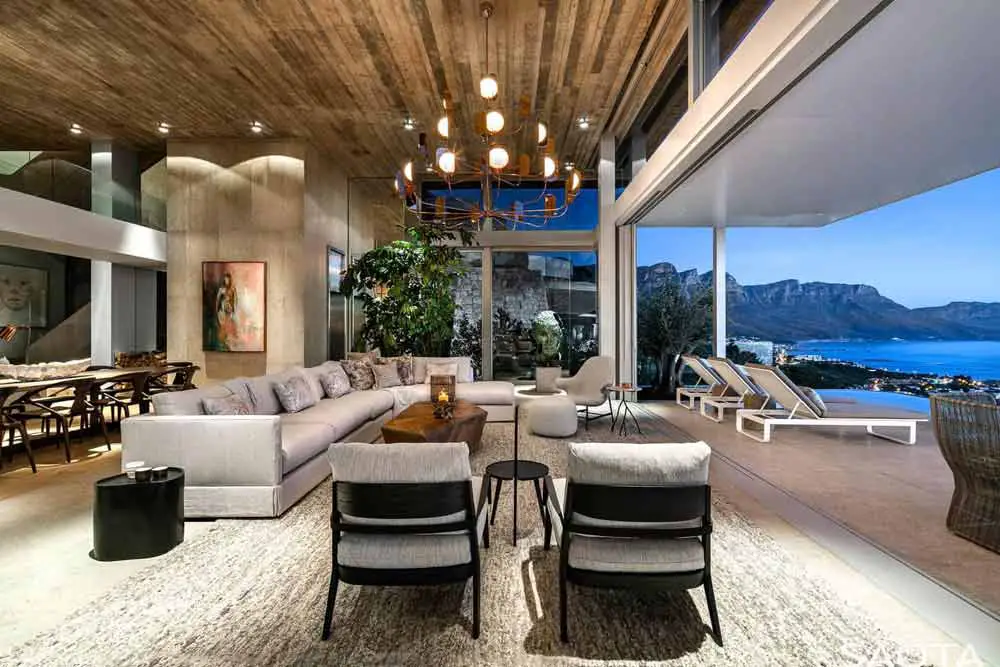 Image credit: homestratosphere.com
Open spaces are a main feature of any contemporary style room, and this living space certainly has that in spades.
Neutral colours, such as the greys in the furniture, large area rug, and browns and beiges of the ceiling and tiled walls all neatly tie the whole theme together.
The full width glass sliding doors are the true star of the show, which when fully open, create the ultimate open air space for daytime chilling and evening gatherings alike.
---
---
Contemporary open plan kitchen living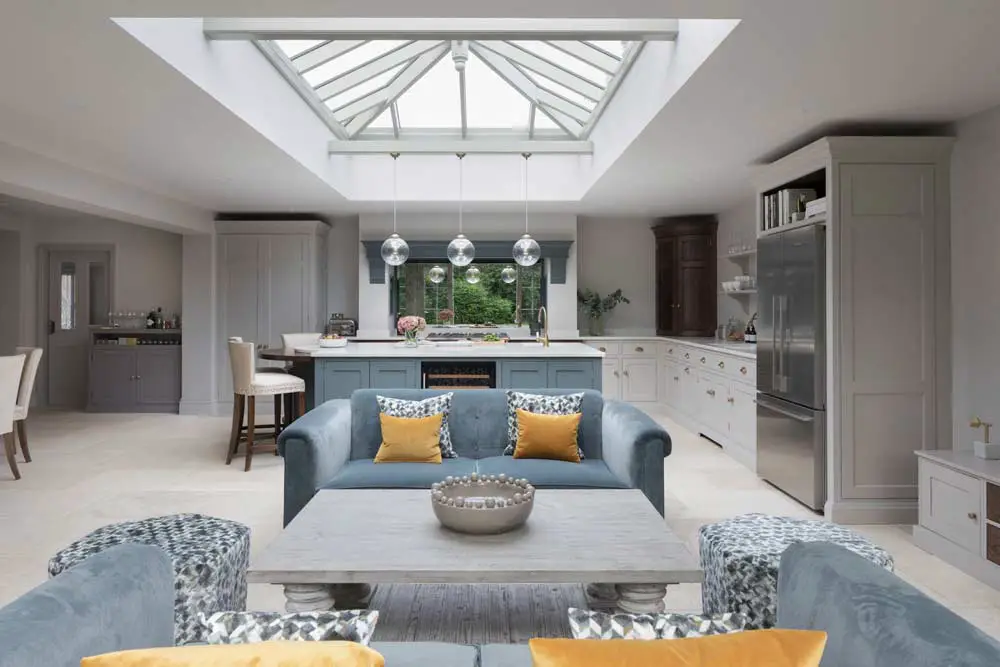 Image credit: pinterest.co.uk
The modern contemporary style of this open plan kitchen, living and dining space is a well thought out interior design scheme.
Against the crisp white walls and ceiling, only three other colours make up the bulk of the designs colour scheme. The light grey of the kitchen units, blue/grey of the sofas and gold cushions as an accent.
Elegant glass sphere light fixtures hang beautifully from the skylight beam above, adding the perfect task lighting over the kitchen island, which in this case is used as a breakfast bar and preparation area.
---
---
Conclusion
The design of your home is not only a reflection of your taste and of who you are as a person and the functions that you need it to perform. Therefore, it's important to choose a design style that reflects your personality and interests.
Should you choose to go down the route of contemporary interior design, you will need to create a space that is open, uncluttered, has a minimalist contemporary feel and utilises modern materials and techniques.