---
Storage space is a premium commodity in many homes, whether they be new or old. So it important that every bit of space than can be utilised better, is so.
One area that often becomes a dumping ground for general junk and other unwanted items is under the stairs, so I have come up with a few under stairs storage ideas that will help you to make better use of this space.
Disclaimer: As an Amazon and Wayfair associate, we do receive a small commission from qualifying purchases made via links within this article.
---
---
Under Stairs Shelves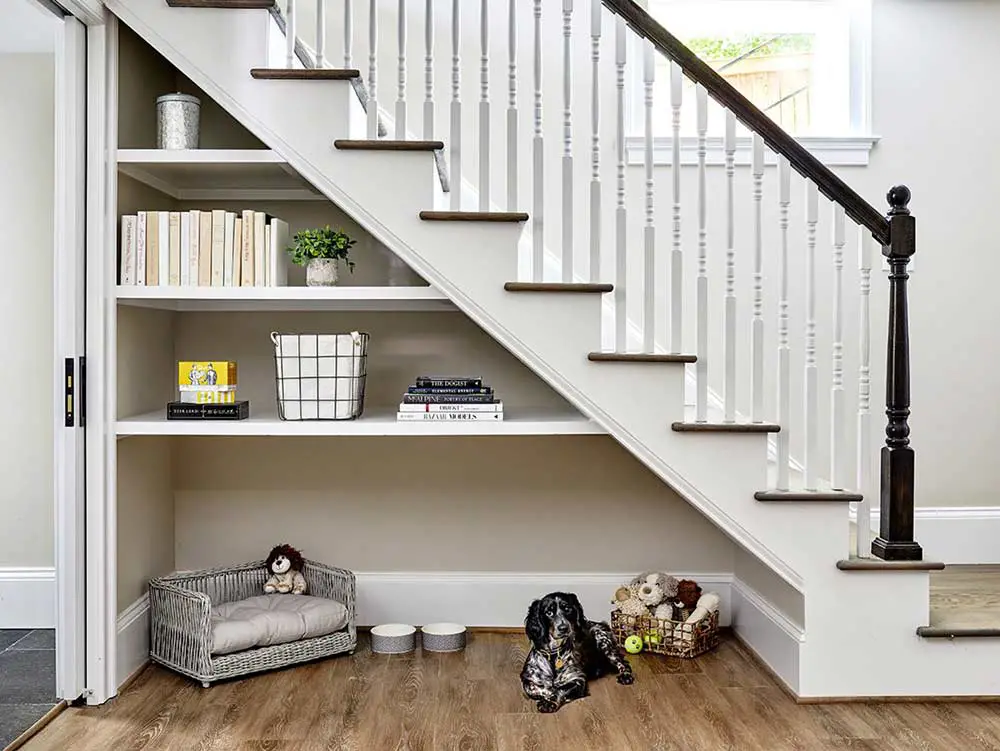 Image credit: alexandrialivingmagazine.com
Utilising shelves, as they have in my first example, is probably one of the easiest and most cost effective ways of making better use of the area underneath your stairs.
Other than mitring the right hand side of the shelves to contour with the slope of the stairs, a few basic DIY skills will be enough to attempt this task yourself without too many issues.
The owners of this property have also made the most of their under stairs storage solution by leaving space below the shelves, creating a cute and practical area for their beautiful puppy to feed and hang out.
---
---
Under Stairs Drawers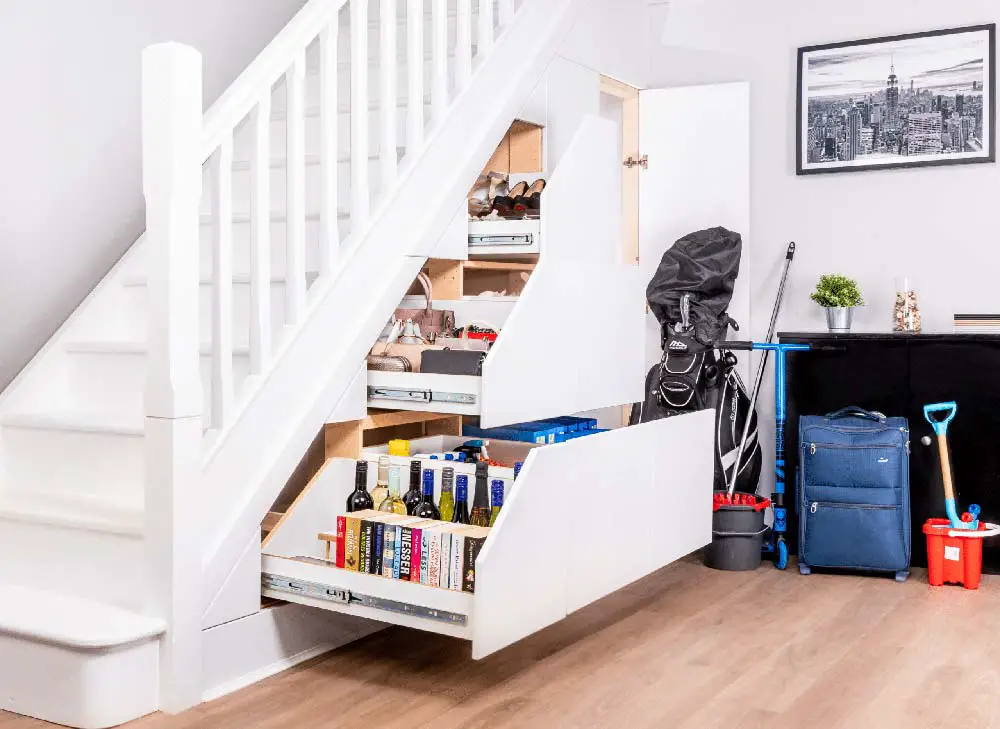 Image credit: clevercloset.co.uk
Under stairs drawers are a great bespoke solution for creating more storage space, as they utilise most of the void available, leaving little wasted space. As you can see by the example shown, there is a wealth of items that can be stored in this way, from books to bags, and shoes to wine!
One downside to this type of under stair storage is the amount of space that is needed to pull the drawers out to make use of their full capacity. Just something to bear in mind if you have a narrow hallway.
Another potential downside is the extra cost that inevitably comes with anything that is custom designed and made. So if you are on a tight budget, this may not be the best option to choose.
---
---
Under Stair Reading Nook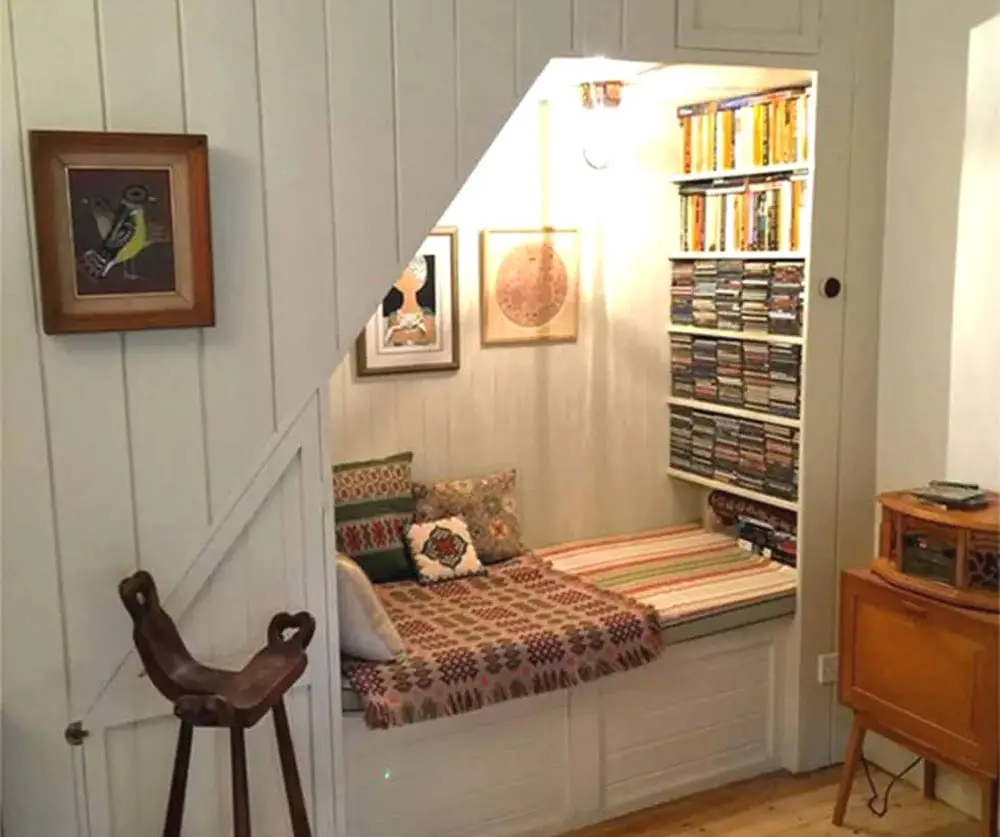 Image credit: furniturechoice.co.uk
You can never go far wrong turning an unused space into a reading nook, like the one shown. We all need that quiet space where we can escape for a while and either read, listen to music or play on our phones, temporarily forgetting all the negative things that are going on in the world around us.
This is another of my under stairs storage solutions that may require the skills of a carpenter or handyman, but is certainly something can be attempted yourself using a bit more of a rustic rough and ready approach.
Adding task lighting is another addition to consider, to make this the perfect reading spot.
---
---
Under Stair Bookcase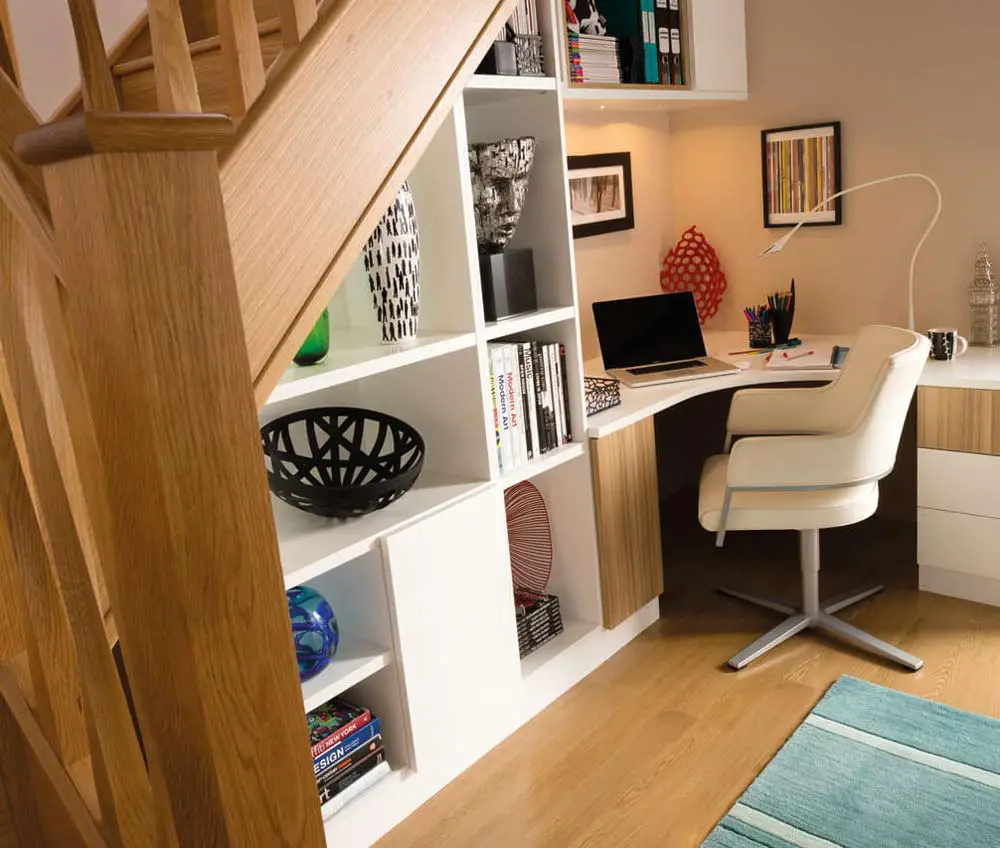 Image credit: nevillejohnson.co.uk
This functional office space is great example of what can be achieved, with a bit of forethought and design skill, under a large open staircase such as this one.
Clearly we don't all have this kind of space to work with, but even a small under stairs space can easily be utilised for book storage. However, remember that you don't have to only store books on your bookcase, mix in decorative objects, plants and treasured items for more of a display unit than just an uninspiring storage area.
Alternative DIY Bookcase Solution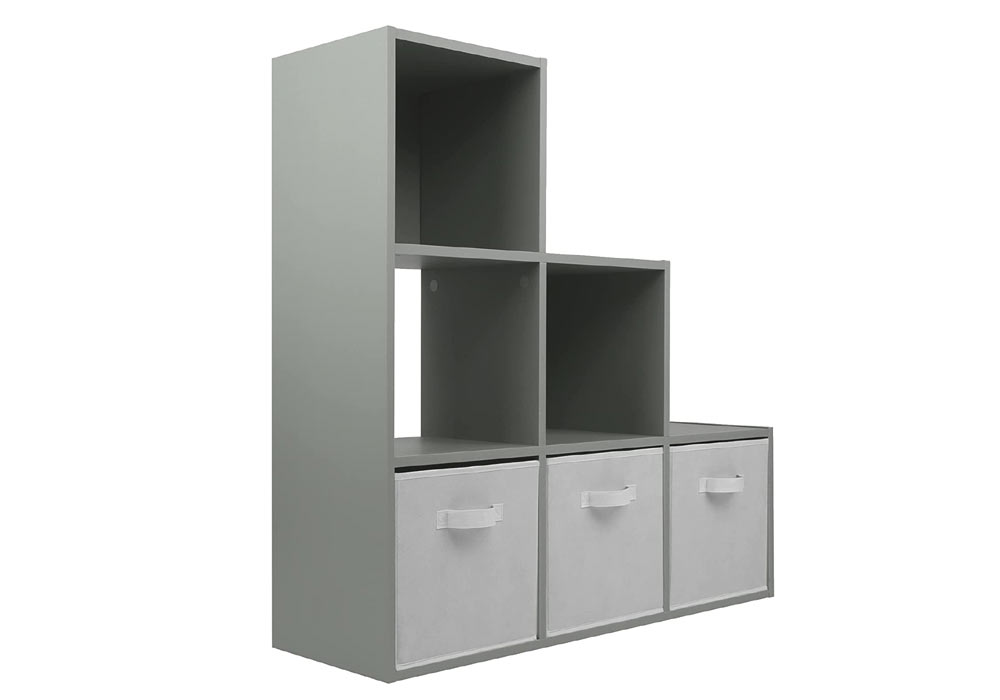 Image credit: amazon.co.uk
---
---
Under Stair Shoe Storage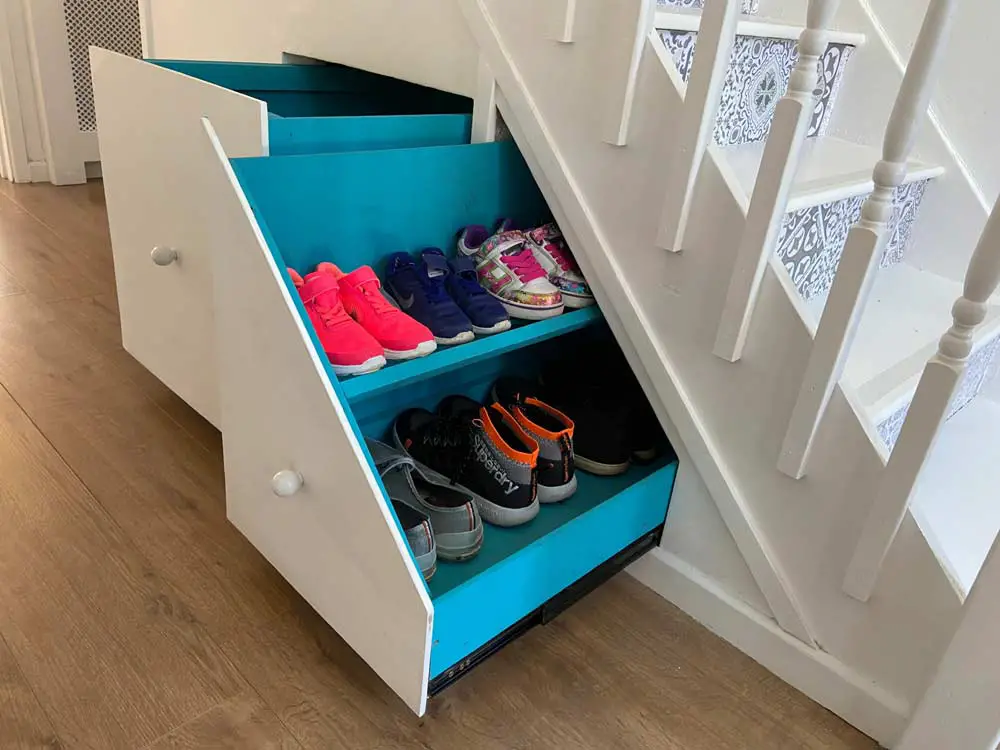 Image credit: wood-create.com
I don't know anyone that is a fan of having to look at shoes strewn across the hallway or kitchen floor, so using the space underneath the stairs is a perfect fix to resolve this issue.
Whether you decide to have some bespoke draws made that perfectly fit the space, or choose the cheaper alternative of using flatpack furniture, it could really be a game changer in decluttering your hallway floors.
Unless you decide to make a design feature of your under stairs storage area, you are pretty much dictated by the colour and style of the stairs. That's why I like the way that this home owner has added a vibrant bold colour to the internal panels of the drawers to take away the monotony of the white exterior.
Alternative Shoe Storage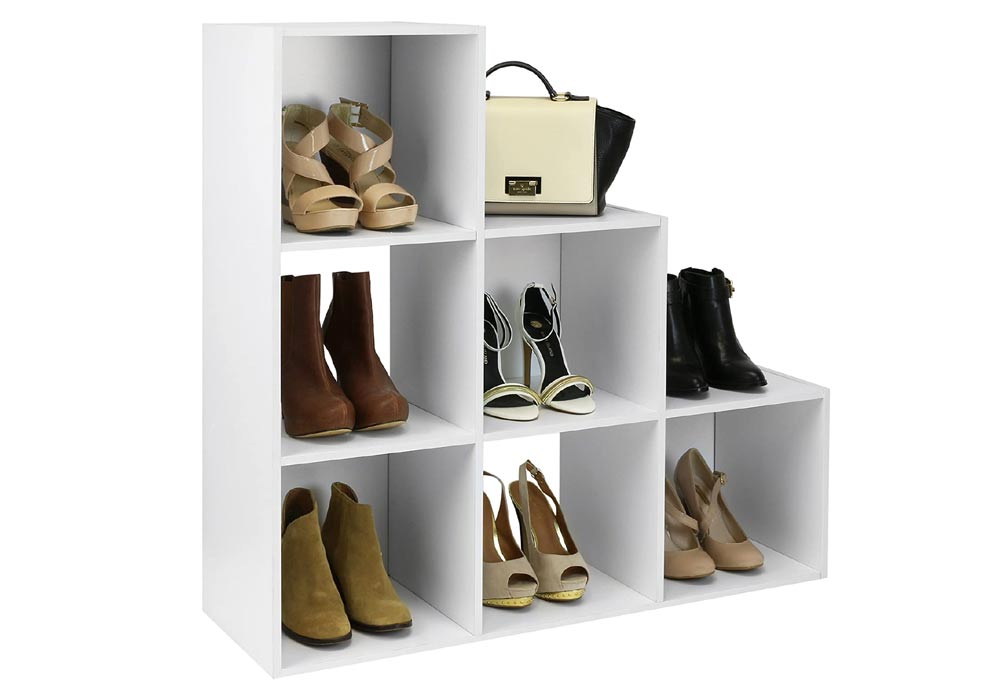 Image credit: amazon.co.uk
---
---
Under Stairs Office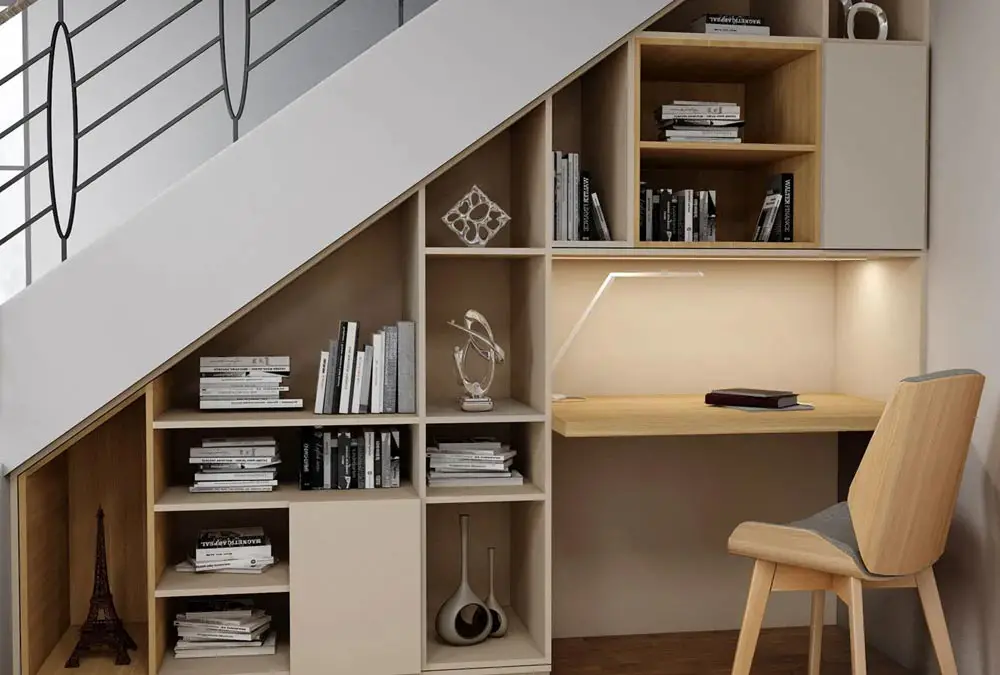 Image credit: inspiredelements.co.uk
To be able to house a useable office under your stairs area, is obviously very much dependant on the amount of space you have to work with. But if you work from home, what an amazing and practical use of the space.
With a specifically designed and custom built storage area, such as the example above, you could really go to town creating the perfect place with enough room to store every last piece of office equipment and stationary you will ever need.
You can also add decorative objects and plants to soften the sterile office look, making it feel like more of a home office and less of an office in your home.
Related reading...
Alternative Flat Pack Options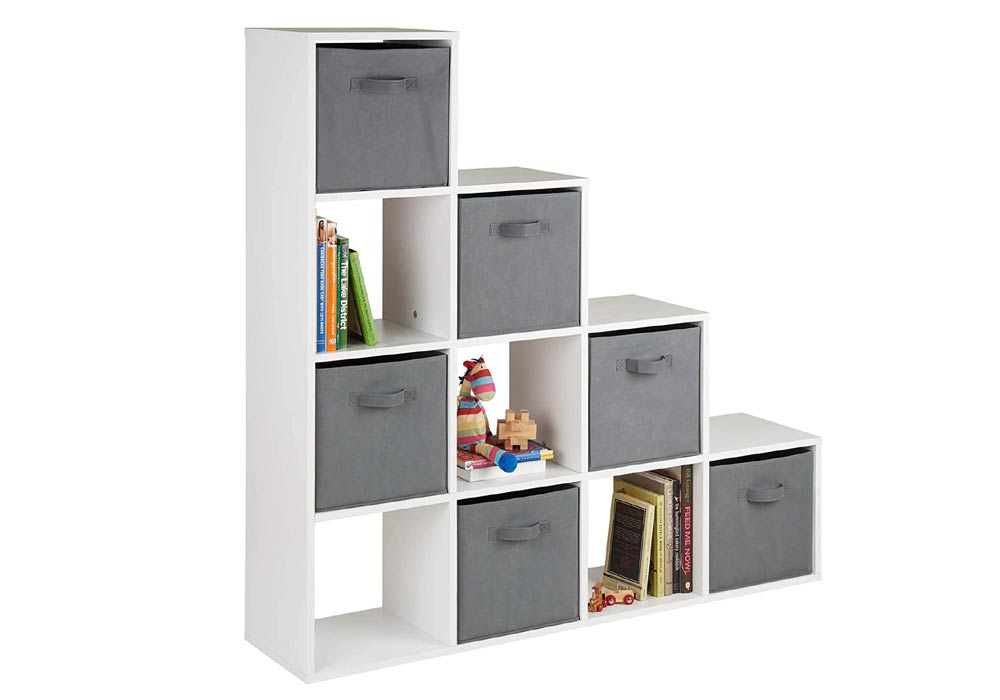 Image credit: amazon.co.uk
---
---
Under Stairs Bookshelves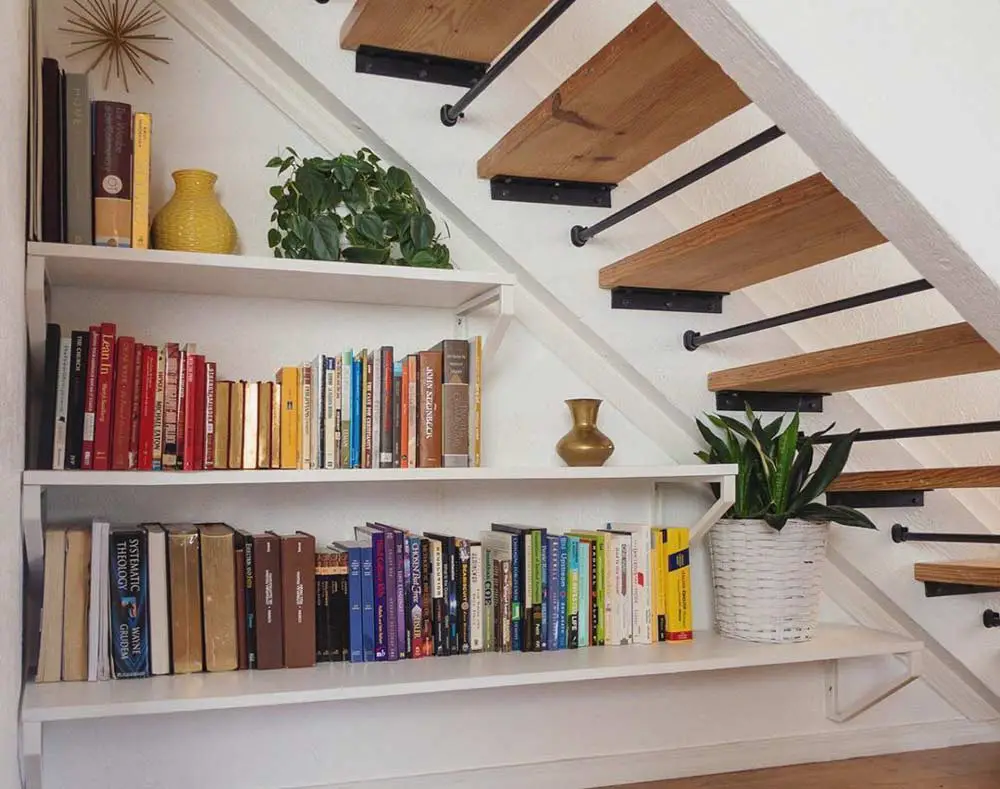 Image credit: pinterest.com
This particular under stairs storage space has been dedicated to keeping and displaying books, with the added decorative touches of plants and vases.
Using shelves is certainly the most practical way of storing books, as it it makes the most of the full length of each shelf so that little space is wasted.
The other benefit to using shelves under the stairs, particularly shallow ones, is that the area is not only less obtrusive but there is also the potential of adding extra storage solutions such as hanging coats or storing shoes and slippers.
---
---
Under Stairs Wine Storage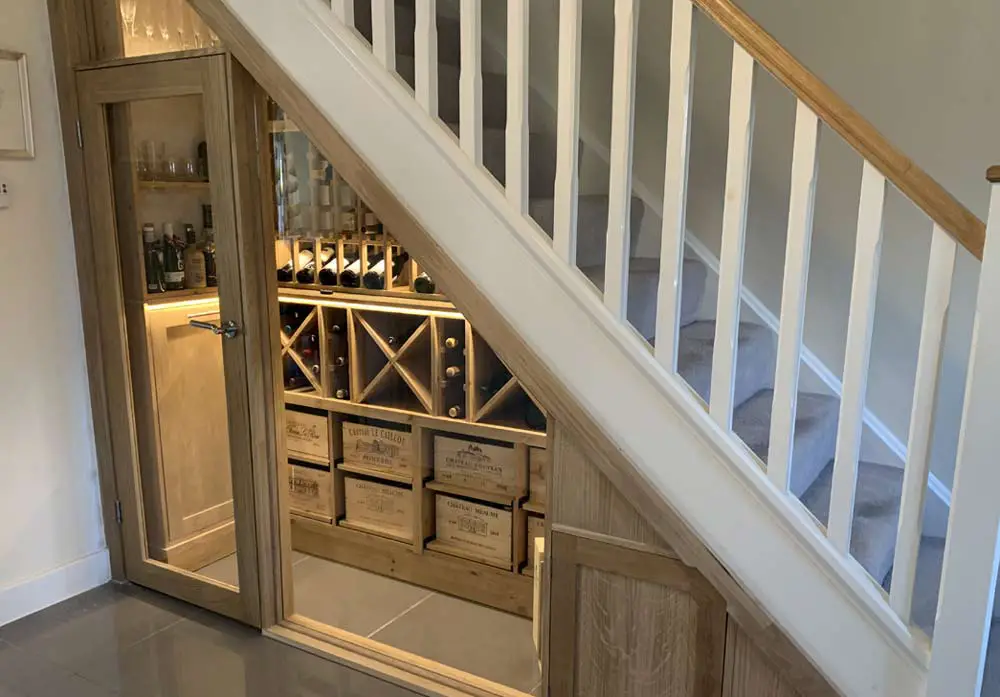 Image credit: wineware.co.uk
Whether you are a wine connoisseur, a collector, or just an avid drinker, building your very own under stairs wine storage is the ultimate in modern home frivolity. But who cares, it's a wine cellar under the stairs!
The owner of this home has not scrimped on the quality or bespoke design of this space, using only the finest wooden materials. The addition of a solid wood glazed door and glass viewing panel create a stunning focal point and window into the space.
This storage solution, with its polished execution and high-end finish may be a step too far for some, which is why I have followed this example with a couple of less extravagant wine storage solutions that are a far more cost effective. Albeit not as grand!
Alternative Wine Storage Ideas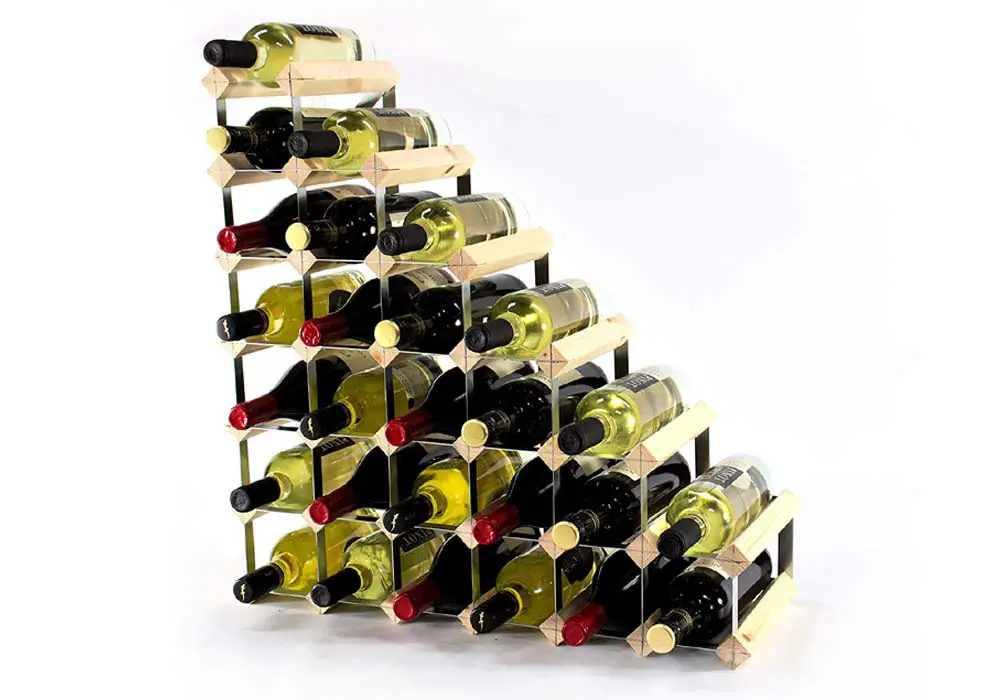 Image credit: amazon.co.uk
---
---
Modular System Wine Rack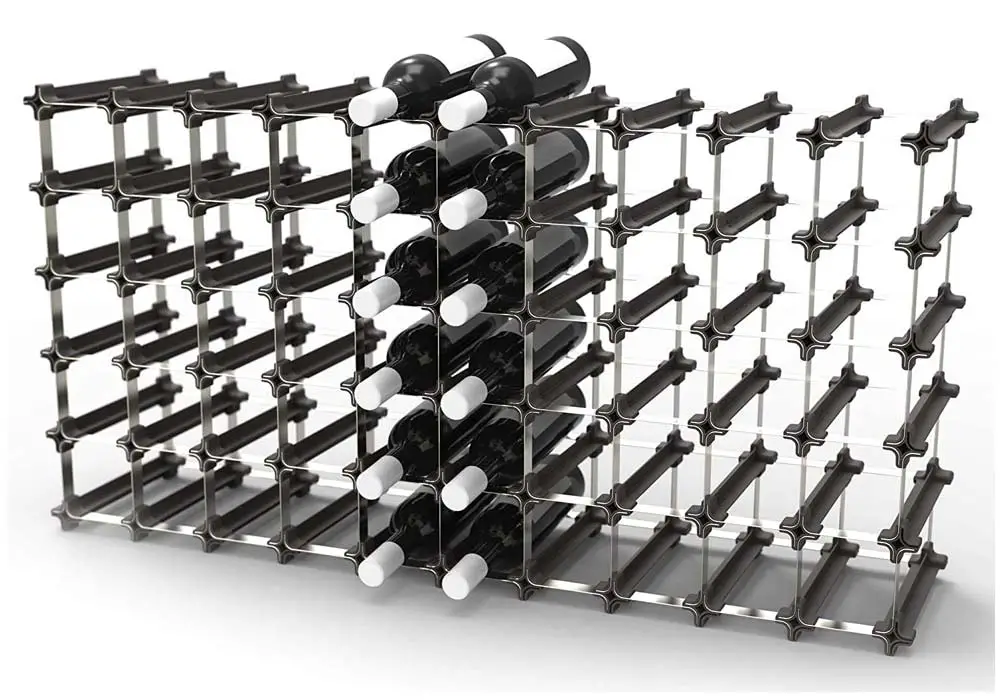 Image credit: amazon.co.uk
---
---
Under Stairs Utility Area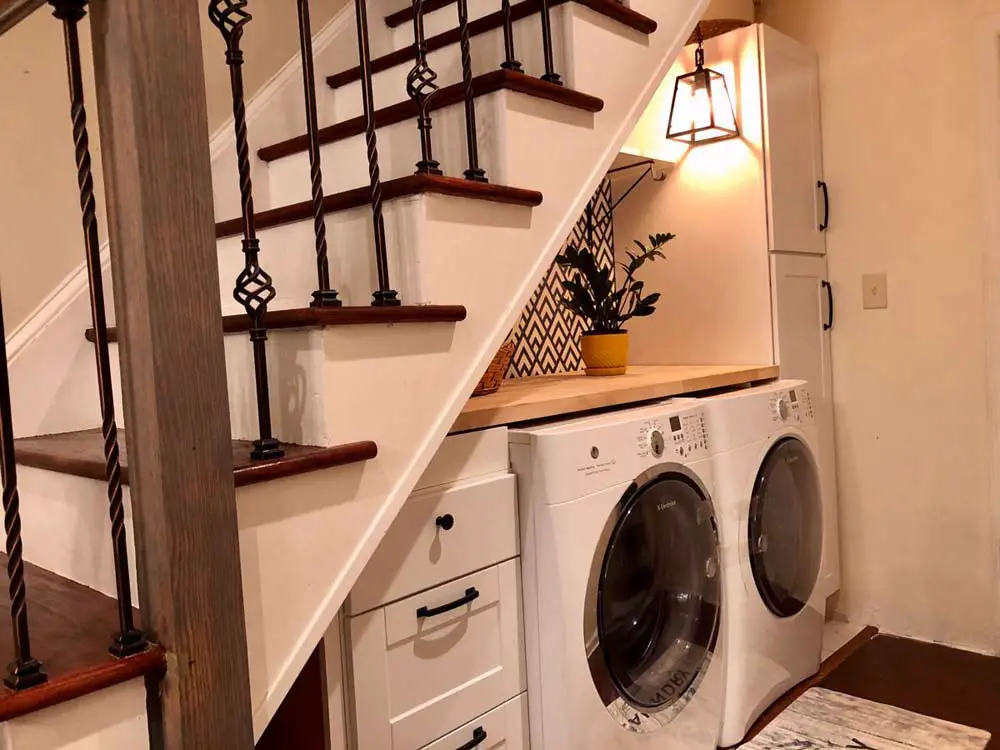 Image credit: pinterest.com
If your stairs are in your entrance hall, this is maybe not what you would expect to see walking past them! However, depending on your ground floor layout, it could be just the solution you have been looking for. Of course if your stairs are located elsewhere, it may be an absolutely perfect solution.
Whether you decide upon an open plan look, or a more closed in design with doors, the benefits of creating a space such as this could be immeasurable to your daily washing routine.
One important thing to bear in mind before going full steam ahead with this idea, is to consider how easy it will be to get both power and water to the appliances, then make sure you add this to your expected costs.
---
---
Under Stairs Dog House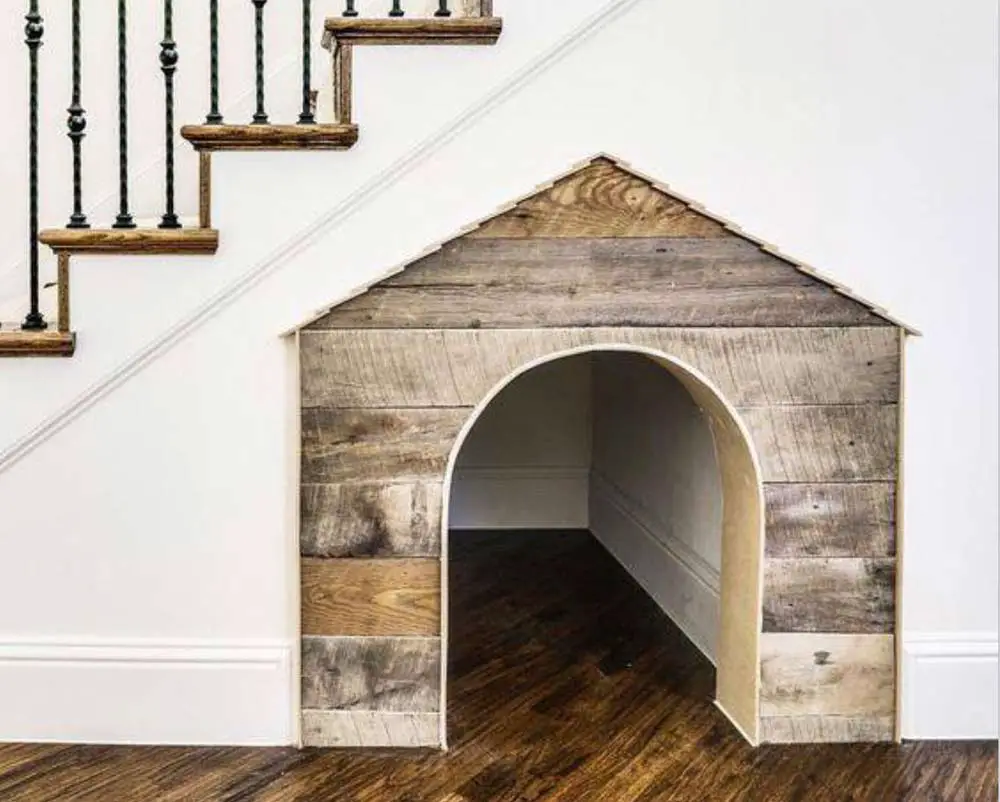 Image credit: acwpg.com
We all love our pets and would do anything we can to make them comfortable and keep them happy at all times. Making the space under your stairs into a dedicated dog house is certainly an out there idea, but just imagine how much they will love their new little home.
This could be done on a relatively small budget if you keep the design simple and use reclaimed materials. It would also be helpful if you know a handy person, or can do the work yourself.
If money allows, you could be much more extravagant with your dog house design, adding a name sign and other embellishments.
Outerwear and Accessory Storage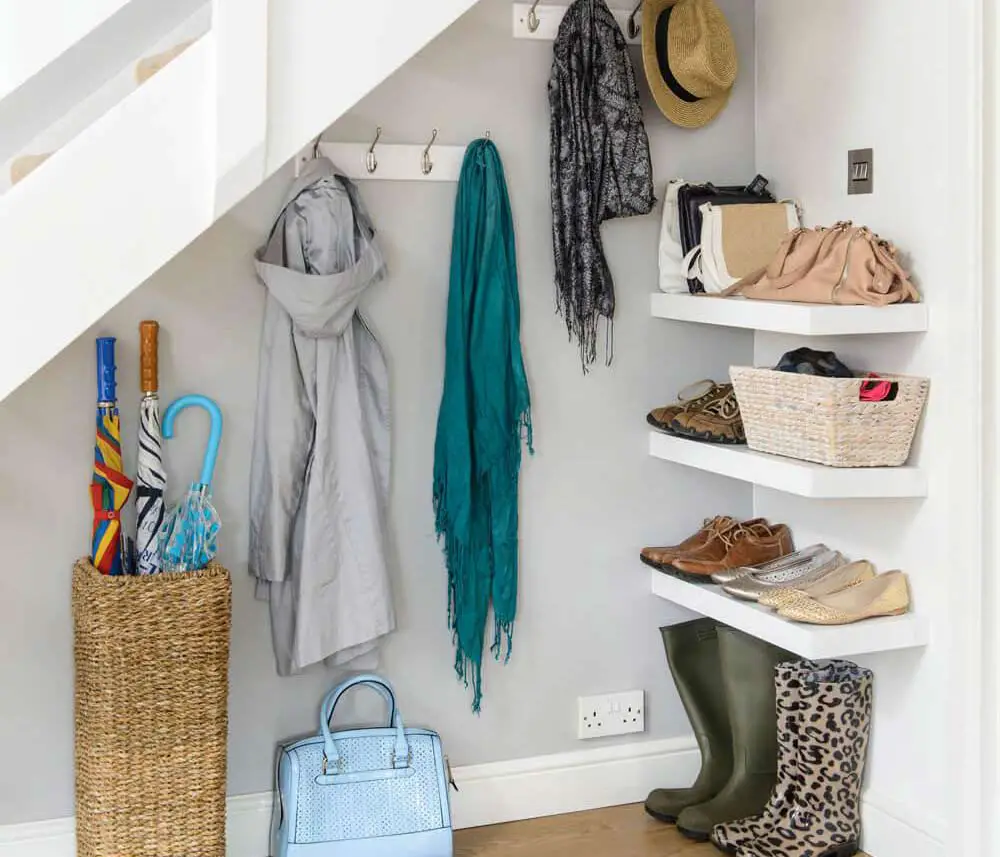 Image credit: pittsburghbettertimes.com
This under stairs storage solution is the perfect place for storing all of the important items needed for going outside in all weathers. Coats, scarfs, shoes, bags and even wellies and umbrellas, all gathered in one area for the ultimate in ease and practicality.
As you can see from the example above, all it takes is a few coat hooks, some floating shelves and a bit of forethought with the layout design.
This idea is the cheapest option that I have listed and is without doubt applicable to the widest set of home owners.
Under Stair Bar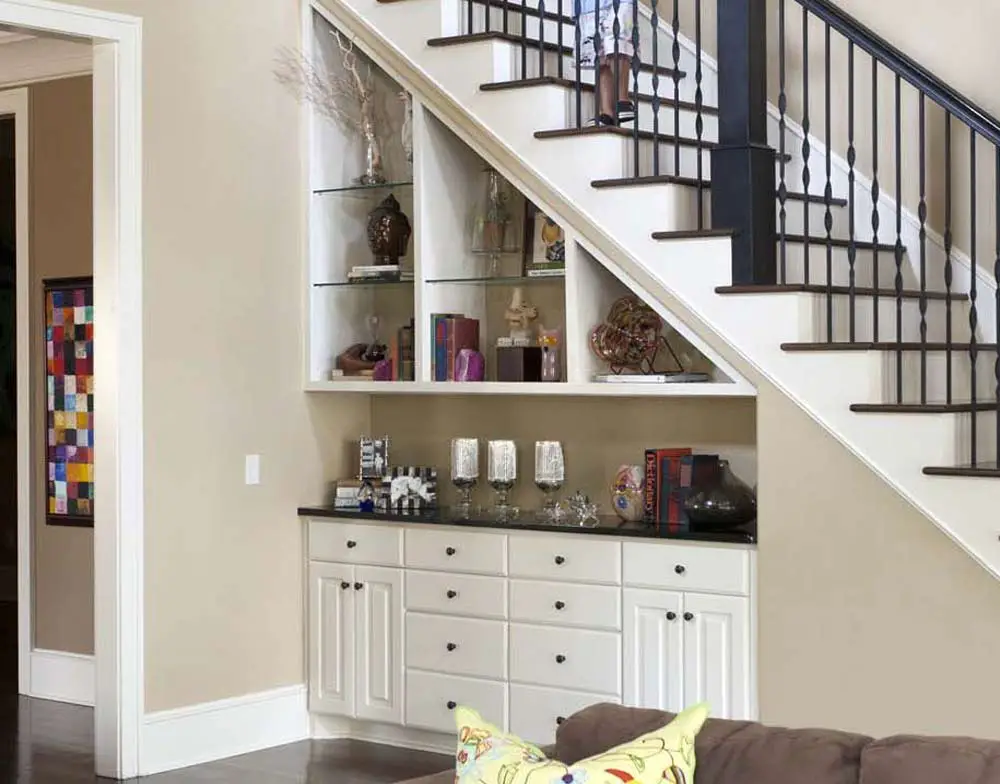 Image credit: pinterest.com
A functional under stairs storage area such as this would be the perfect place to house a bar area, for use when entertaining family and friends.
Not only is there a great deal of space to store alcoholic beverages and soft drinks, but also mixers, glasses and cocktail recipe books.
Adding LED light strips, metal signs, and maybe even some mirror panels could really pimp up this home bar, turning it into a destination of choice.
Bespoke Under Stairs Storage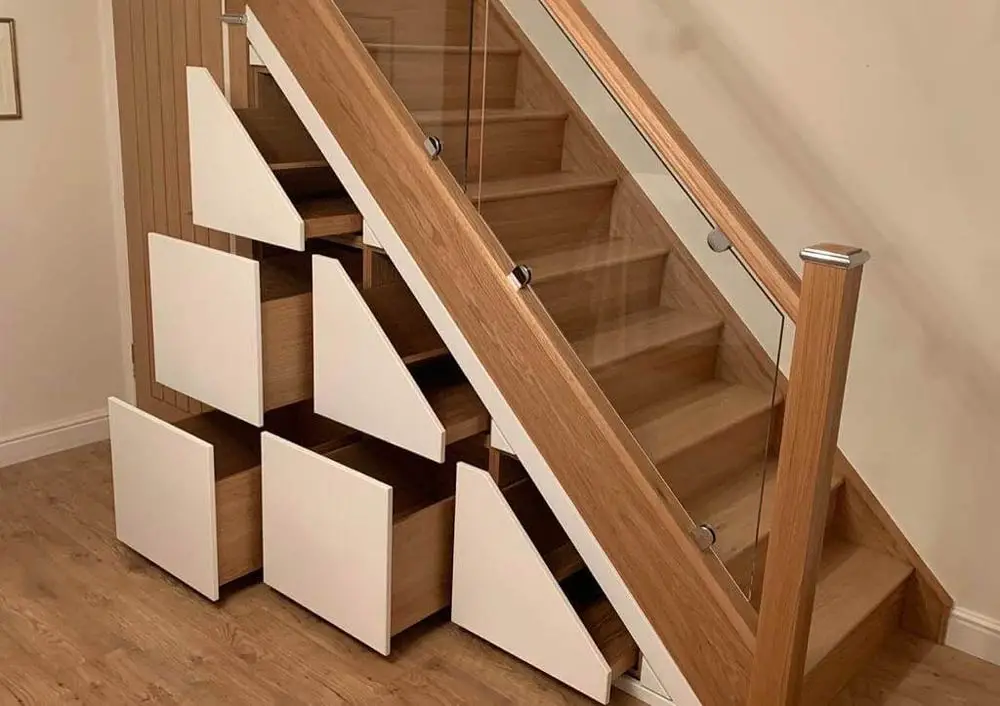 Image credit: moderniseyourstairs.com
Bespoke built storage systems, such as the one shown, are a great option for making the absolute most of your under stairs storage space.
It's not a particularly cheap option to choose, but if you are planning on staying in the property for some time, the long term benefits that the extra storage space brings should outweigh the initial cost.
The most important thing to think about when considering this route is to find a trusted carpenter, custom furniture maker or specialist fitted storage company that have either done work for family or friends, or are highly rated by their customers. There is nothing worse than shelling out hard earned money, only to be disappointed with the final results.
Summary
Whatever way you choose to make use of the space under your stairs, it will almost certainly come down to the space you have available, where your stairs reside, what storage solution you need the most, and last but not least the cost.
The trick is to balance your needs with the money you have to spend, whilst also considering your ultimate end goal.