When it comes to decorating your home interior, you want to have the most innovative and homely design that you can. Whether it's your living room, kitchen, bedroom, or bathroom. You ultimately want to feel comfortable in a house that truly feels like your home. Of course, it goes without saying, that you also want to impress your visitors and have them tell everyone how it wouldn't look out of place in a glossy magazine!
One particular area of most homes which is often overlooked is the hallway decor, or hallways if you have more than one.
Many people see this as simply an area which links rooms together, but if designed properly, it can be a standout space of its own in terms of interior décor.
---
---
Poor hallway decorating can affect the way your other rooms are perceived. If it's cold and uninviting and not much thought has gone into the design, when you enter your bedroom, for example, you're not going to feel that warm, cosy glow that you should. You're going to see it as an extension of that uninspiring hallway.
The only way to get around this is to focus on designing your hallway with as much care and attention as you would the rest of your home.
But, what should you do? How can you make a seemingly boring hallway pop with inspiration?
To give you a helping hand, let's check out a few hallway wall ideas that will help you create a warm and cosy coherent look throughout your entire home, not just those individual rooms.
Disclaimer: As an Amazon associate, we do receive a small commission from qualifying purchases made via links within this article.
---
---

1 - An Inspiring Wall Quote
Image credit: aspect wall art
Who doesn't love a beautiful wall quote? Choose a few words which resonate with you personally or which sum up the people who live within your home. Vinyl wall stickers are easy to apply to your wall and when you want to change them for another design or quote, you can simply remove them and replace with a new one. Remember, you want the quote to be on your wall for some time, so think carefully about what you decide to go with. Whatever you choose, wall quotes can be a stunning addition to what can often be an otherwise bland, boring space.
---
---

2 - A Colourful Canvas Gallery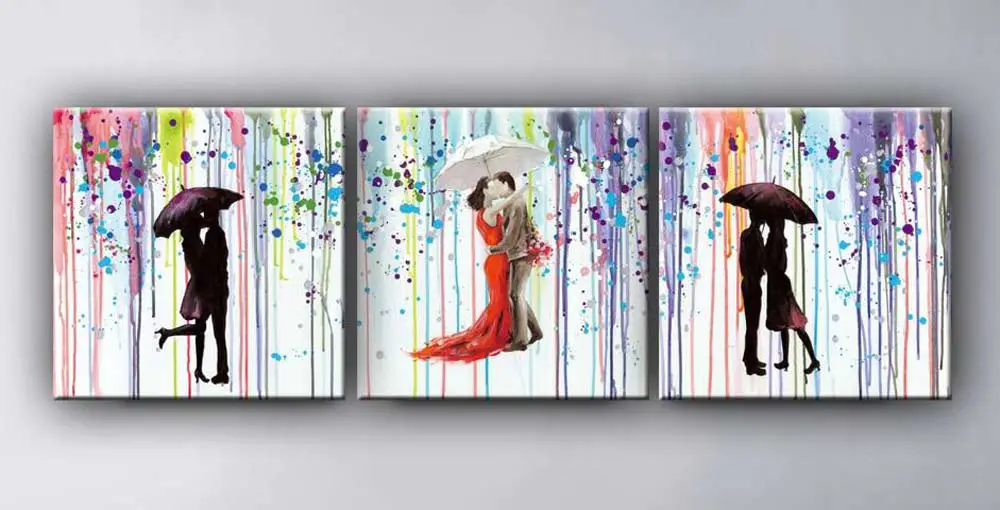 Image credit : sallyhomey.com
It's easy to find colourful and innovative canvases online and when you see a colour scheme you like, you'll probably want to invest in several. If this is the case, why not turn your hallway into a cool modern canvas gallery? You can arrange them at different heights and spacings, not assuming of course that they have to be in a straight line. Mix things up to add a little edge your hallway walls.
If you want to push the limits, go with clashing colours and designs, but make sure that they still complement the overall colour scheme of both the hallway and the rooms that come off it. You don't want the décor in each space to clash to the point of being overpowering. I think it is fair to say that this may not be the cheapest option we have, but it could certainly have the most impact if done well!
---
Our handpicked recommendations....
---
---

3 - Family Tree Photo Wall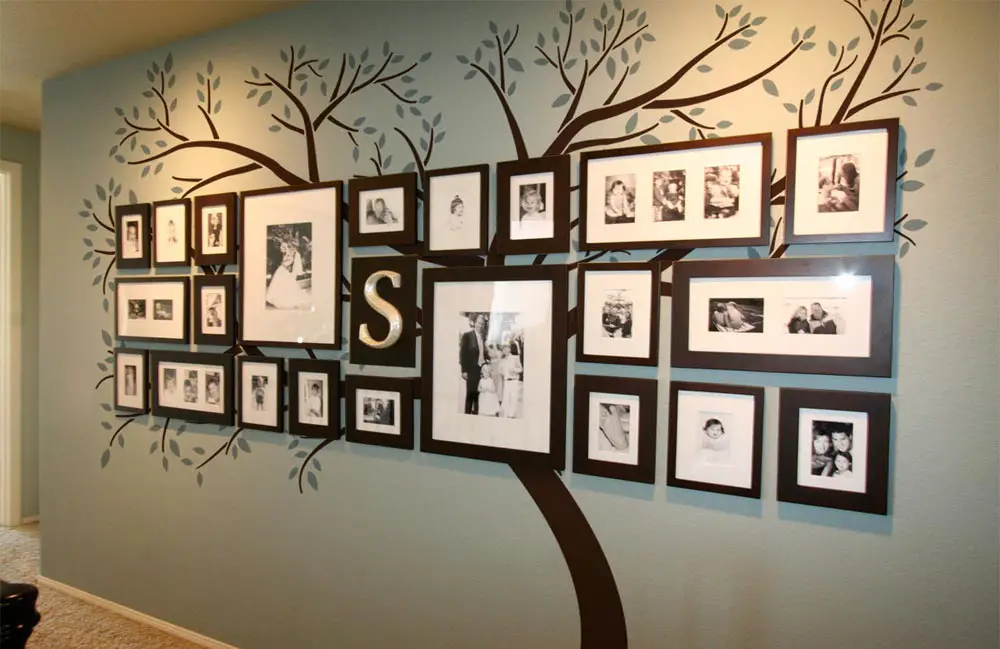 Image credit : pinterest
Most families have countless photos that they never get to show off, so using the hallway is a great way to remedy this! Wall decals come in all different designs and themes, making for endless possibilities. One very popular option that people like to use is a large family tree design. Once you have purchased the tree sticker, you simply use the branches to hang your most important family photos. In the case of the example above, using different shapes and sizes of black picture frames
.
This is a neat and streamlined way to showcase your photos and create a beautiful family wall, whilst at the same time adding the perfect decoration to your hallway. This ultimately makes it a more special and meaningful part of your home.
Of course, if you have new photos taken which deserve pride of place on your family tree, you can mix and match them as you wish throughout the year.
---
Find similar products on Amazon....
---
---

4 - Geometric Patterned Wallpaper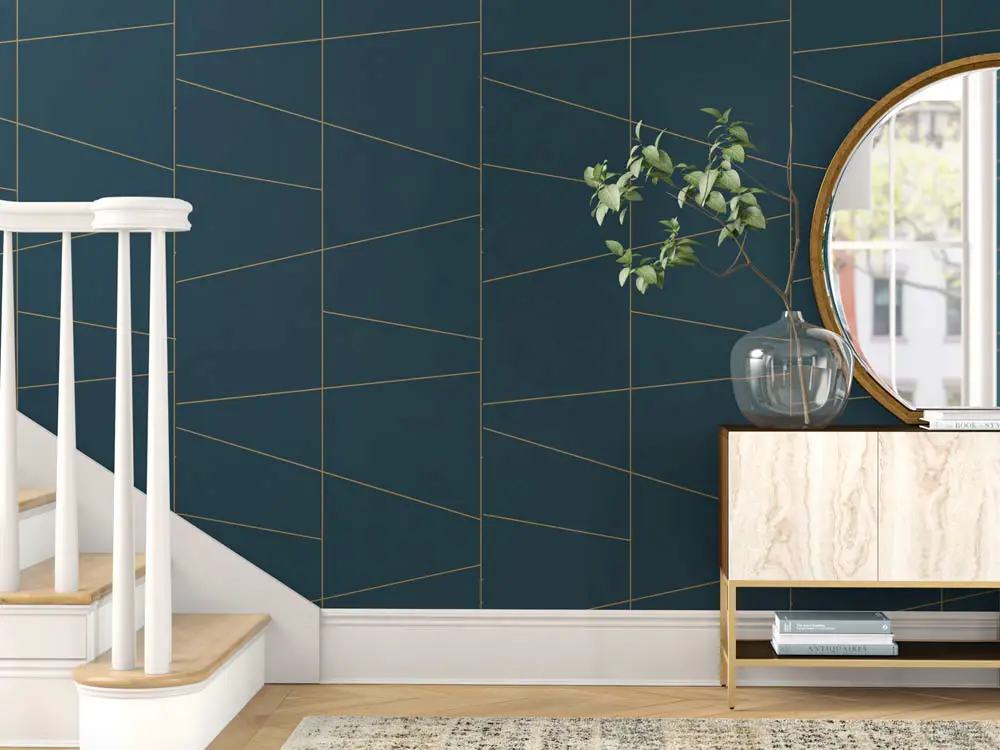 Image credit : wayfair.com
Going for a busy, geometric look in a hallway is a brave move, but it's one which could really create a statement. We suggest that a good option here is to go for a wallpaper that is easy to remove, like the stick-on kind. That way if you change your mind or the look doesn't suit, you can easily backtrack and make amends.
There are many beautiful geometric wallpaper designs available so it shouldn't be hard to find a design that not only compliments your colours, styling and design but also fits within your budget.
---

Other geometric wallpapers we love....
---
---

5 - Single Vertical Wall Decal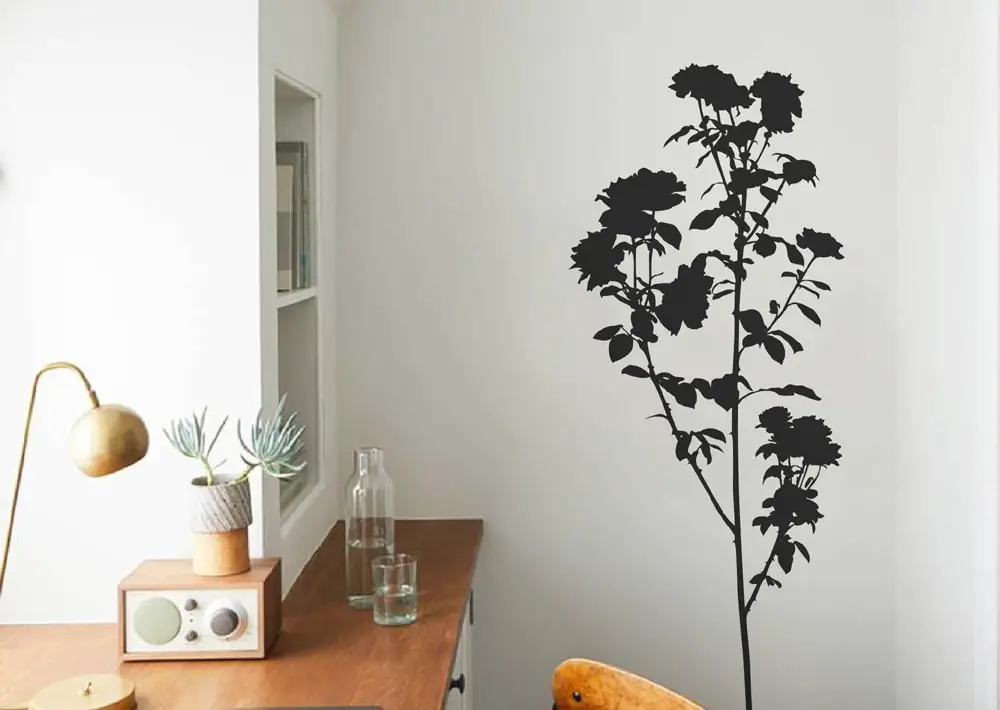 Image credit : aspect wall art
When it comes to deciding on hallway ideas; If your hallway isn't large or particularly long, you could start with a minimal colour scheme, such as beige, cream or white and have one statement wall decal running vertically on one wall. If you think about the types of artwork that has made Banksy famous, for example, the girl with a heart-shaped balloon. You can picture how this look would be effective in a small, clean space. Another option would be a beautiful nature-inspired design, such as a tall roses wall sticker or stylish tree decal.
As an added bonus, this will make your hallway easier to clean and also make it seem larger than it is, due to there being no clutter or extra colour to consider.
---
---

6 - Display Your Children's Artwork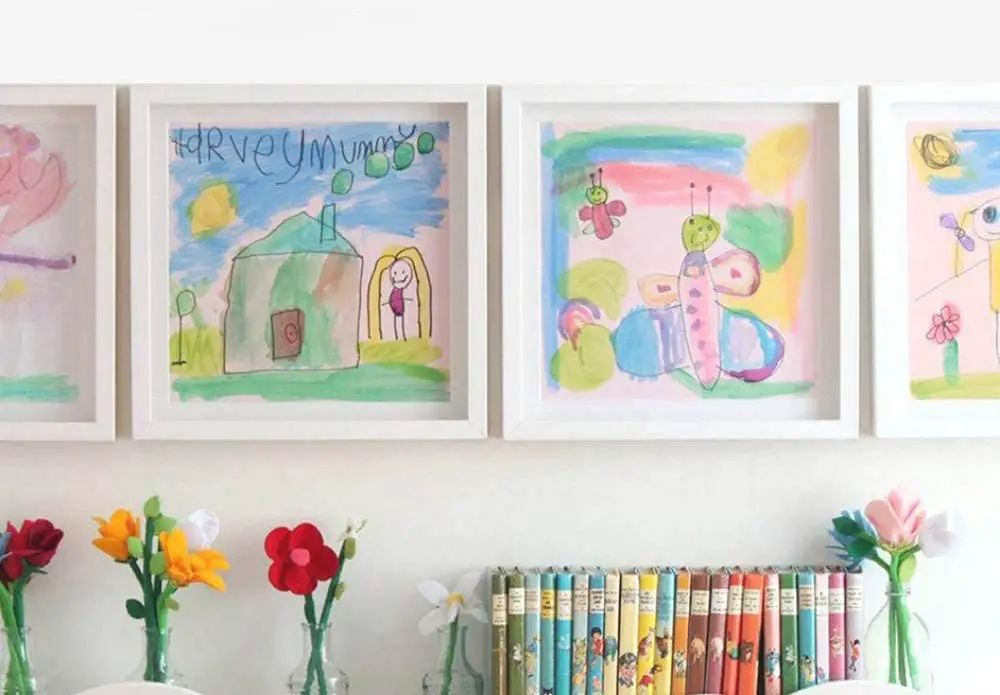 Image credit : amazon.com
If the hallway leads to your child's bedroom, nursery, or playroom, why not create a display of their drawings, paintings, or even handprints? This is a great way to decorate the space in a colourful and ultra personalised way.
If you want to clean up the look and make the design more regimented, you could put their artwork into frames, simply using hooks or removable picture hanging strips to attach them to the wall. A super simple option and a great way to show off their talents as budding artists.
---
Recreate this idea....
---
---

7 - Botanical-inspired Wallpaper
Image credit : thevictorianemporium.com
In our previous hallway ideas we mentioned the use of plants, but how about having an actual living wall (or as close to one as possible!) The real thing would take a huge amount of upkeep and maintenance, but botanical-design wallpaper will give a similar look, for a lower price and far less work keeping it looking tip-top!
However, if you want to go to town and think about an actual living wall, this would be best kept on one long side. There is no denying that it would certainly be a head-turner!
---

Our favourite floral wall papers....
---
---

8 - Use Your Hallway Walls as Storage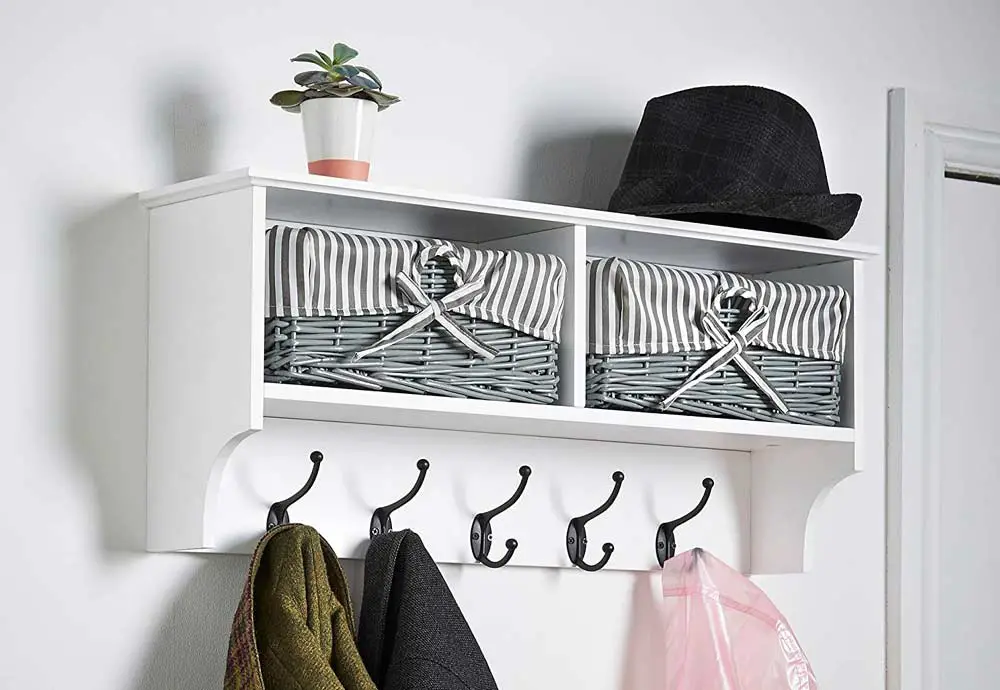 Image credit : Amazon.co.uk
Using your hallway walls for storage is a clever idea and especially useful if you're short on storage space elsewhere. A good way to keep things looking organised and tidy is to use rack-style shelving, with wooden or woven baskets. That way you can keep whatever you like in the baskets and the mess is always hidden from any visitors!
Another option, assuming you have enough width, is to use your hallway to store the families shoes. There are many slimline storage solutions for footwear that can either be floor or wall-mounted and it would be a great use of the otherwise dead space.
---

Purchase this storage solution today....
---
---

9 - DIY Hanging Photos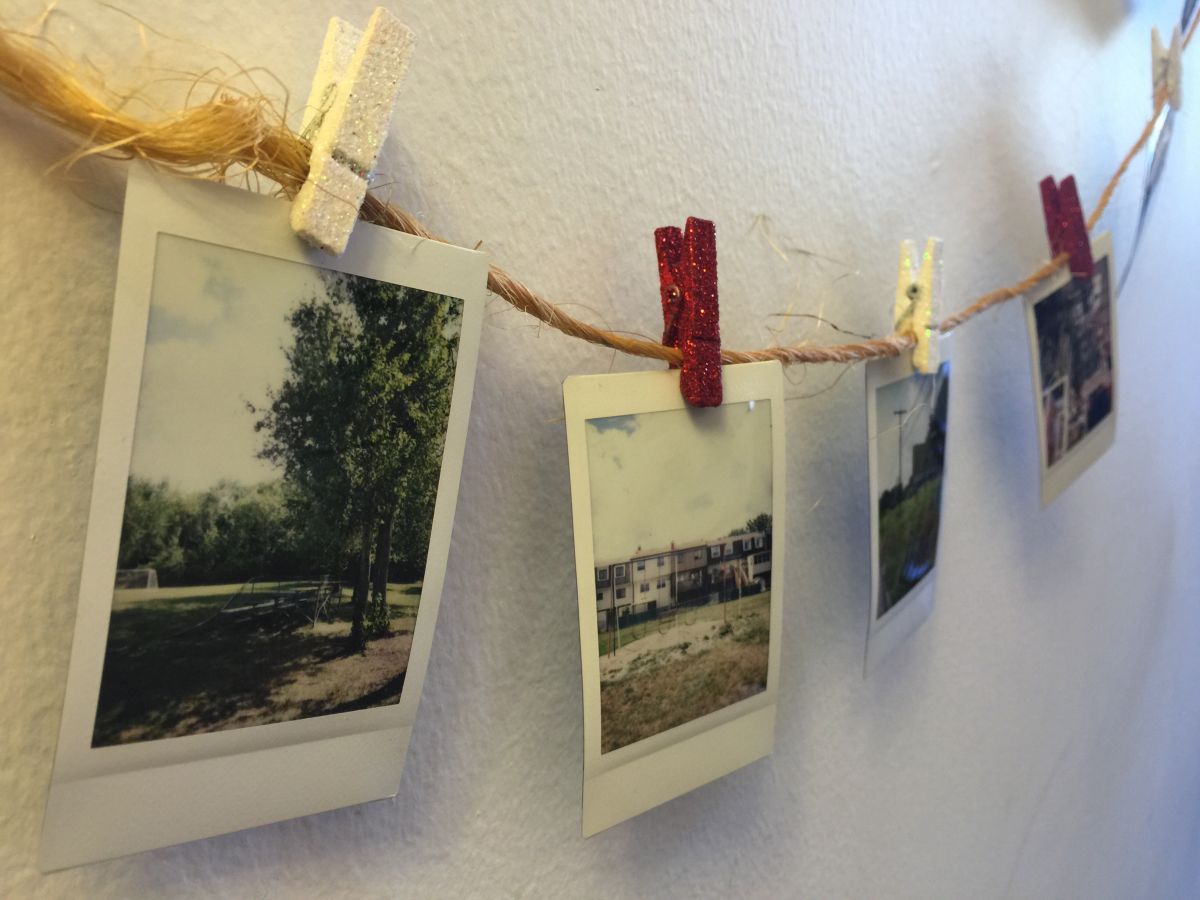 Image credit : diys.com
If the idea of a family tree isn't for you though, another way to showcase those important photos, is to hang a thin wire or rope across the length of your hallway wall. Then using small decorative clips or pegs, attach your photos to it. As an added touch, run some mini fairy lights along its length, weaving them in and out between each photo.
If you have a particularly long hallway, you can always break up the lines, arranging them at different heights and lengths. This is a very low cost and effective way to showcase those family mug shots!
---
---

10 - Extend Your Room Décor
If your rooms are decorated in a certain colour scheme or follow a similar style, you could extend this into your hallway to create continuity. The only downside with this particular idea is that if you change your décor in one room, you'll either need to change all your rooms or redecorate your hallway to avoid clashes. However, if you're not thinking about changing your rooms anytime soon, it could still be a good option.
---
---

11 - Add Shelving With Plants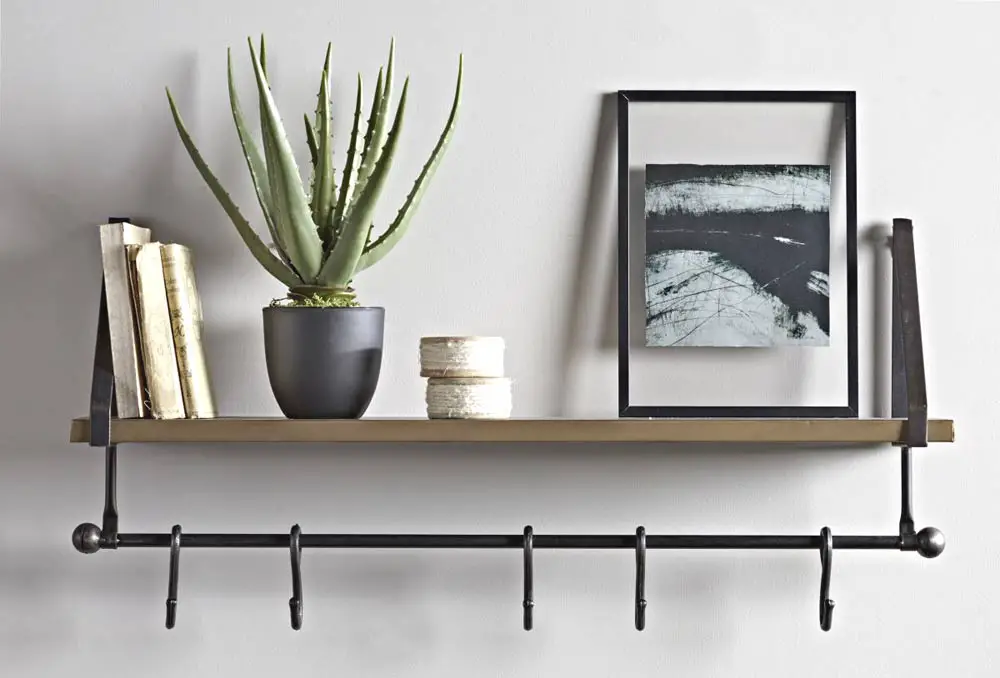 Image credit : realhomes.com
Did you know that house plants can be extremely calming? Not only do they purify the air and help with allergies, but they're also fantastic for lowering stress levels and look great at the same time. Your hallway could easily become a mini indoor garden with just a few shelves and some carefully placed plants.
This look is fantastic in a minimalist theme. Think beiges, creams, whites, or browns, add natural pots and a pop of green from the plants and you have a beautiful backdrop for any hallway.
---
---

12 - Go For a Monochrome Gallery Look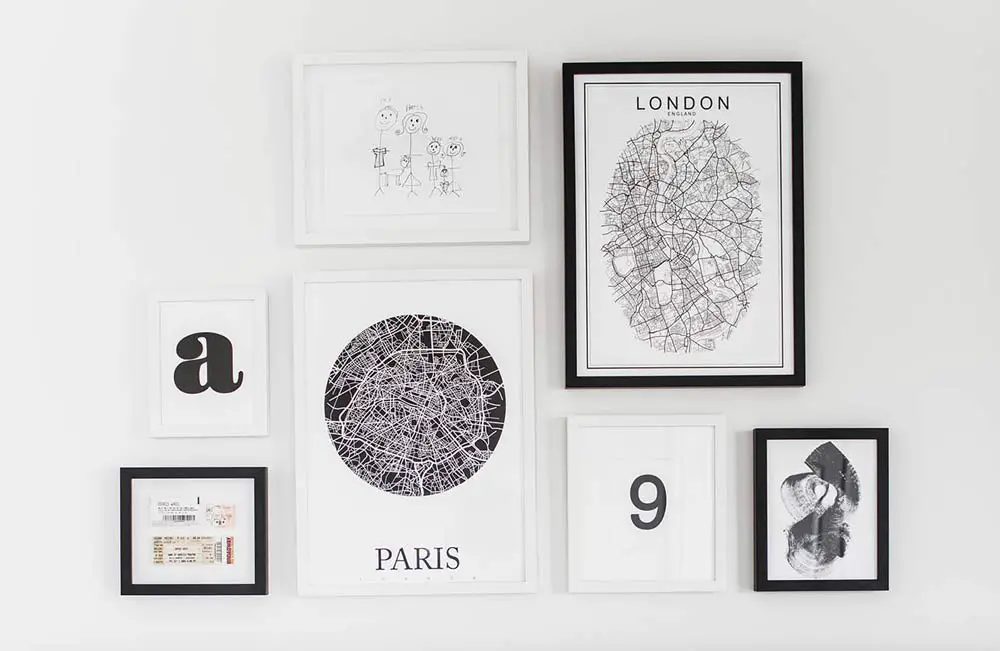 Image credit : hellofasionblog.com
Black and white images look fantastic when framed and hung on any wall. You don't have to just stick with one or two though, why not create a gallery feel by having several pictures, of different sizes, framed and carefully placed across your hallway? As previously mentioned in our earlier hallway wall ideas, place them at different heights according to whether they're portrait, landscape and what size they are.
Just remember that you'll regularly need to clean the glass of the frames, to keep them looking smart and impressive. But i'm assuming you'd do that anyway, right?!
---
---

13 - Create the Illusion of Space With Mirrors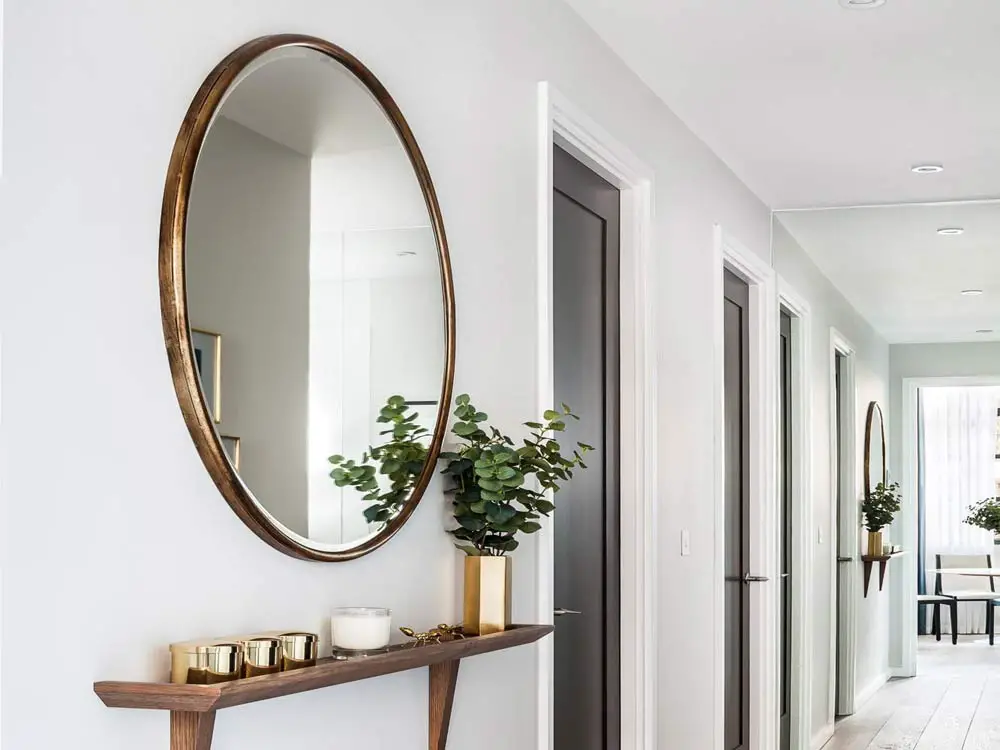 Image credit : pinterest.co.uk
Having mirrors along your hallway walls will expand the feel of the whole area, making it seem much larger and brighter than without. For hallways that have very little natural light, this is is a great way to reflect some in, creating a more radiant and airy space. You should also look at various shapes and sizes for the mirrors you choose and not just stick to the standard square or rectangular designs.
---
---

14 - Minimal Walls with a Statement Rug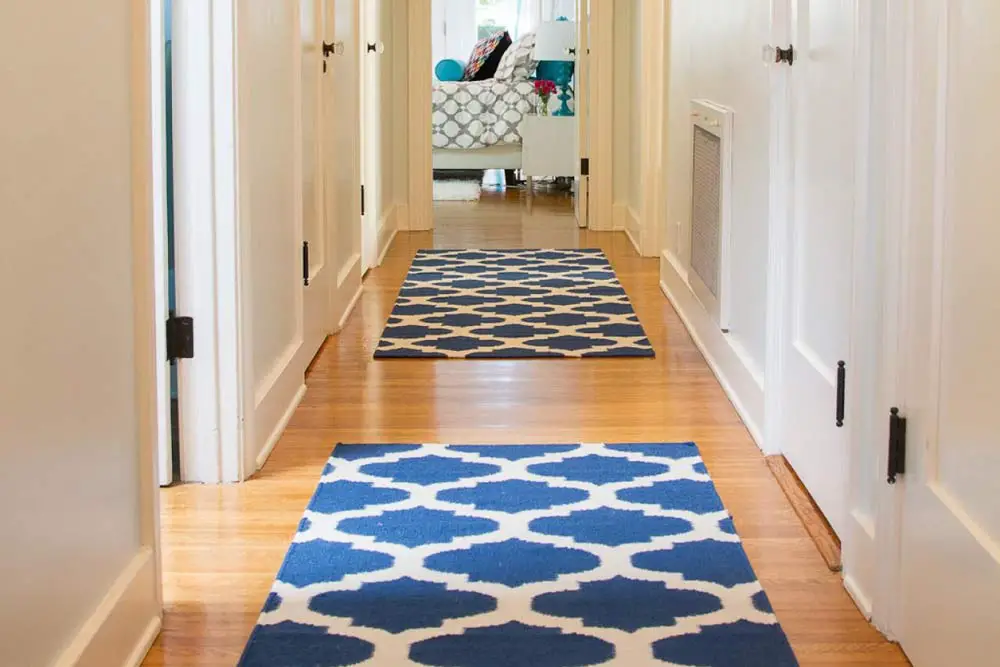 Image credit : pinterest.co.uk
Long hallway rugs and carpets help to create a warmer feel to a cold or uninviting hallway, but you can take this a step further. Go for bold colours or an eye-catching pattern, while keeping your walls minimal in both colour and design. Cream, grey, beige, or even black are just a few of the colours which would look fantastic with a vibrant statement rug through your hallway. If bold is not for you, we suggest steering away from this idea and take a look at our other more refined ones!
---
---

15 - Use Texture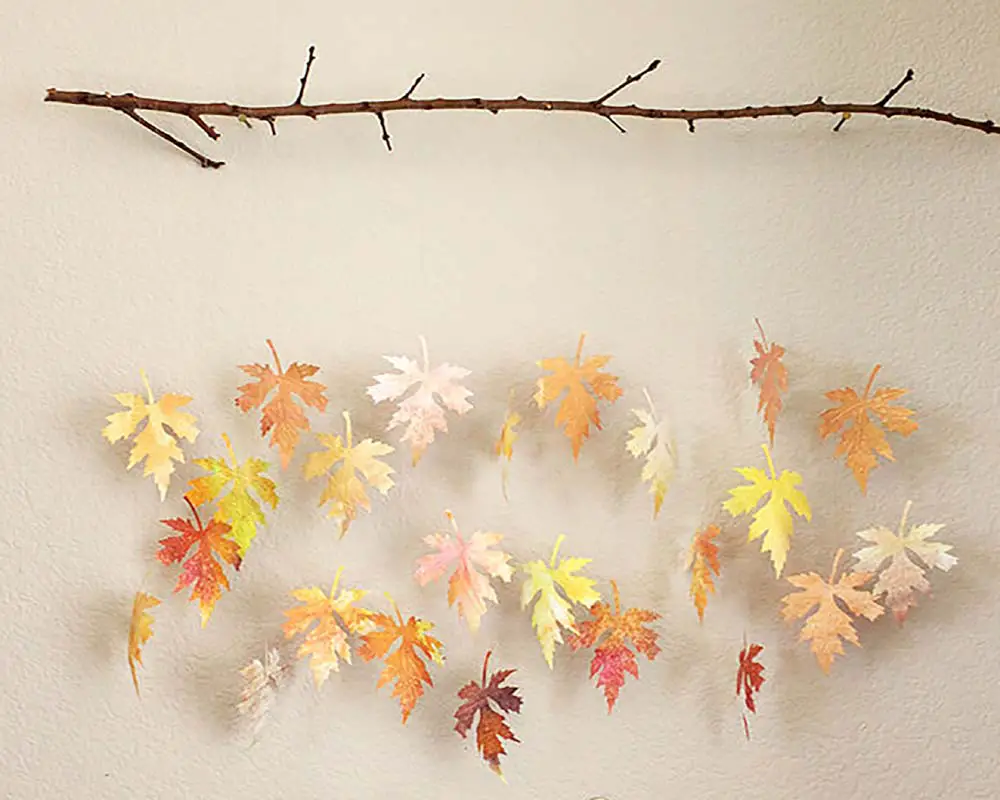 Image credit : countrylivingmagazine.com
For something a bit different and off-piste, think about the use of textures in your hallway. For example pompoms, leaves, fabrics, or quite honestly anything which makes you want to reach out and touch it. This is an interesting and daring use of your walls, but one which will suit smaller hallways or maybe as a statement wall in a larger one.
There are many ways you can achieve this look, but it will ultimately come down to your crafting skills and DIY.
---
---

16 - Statement Wall Lights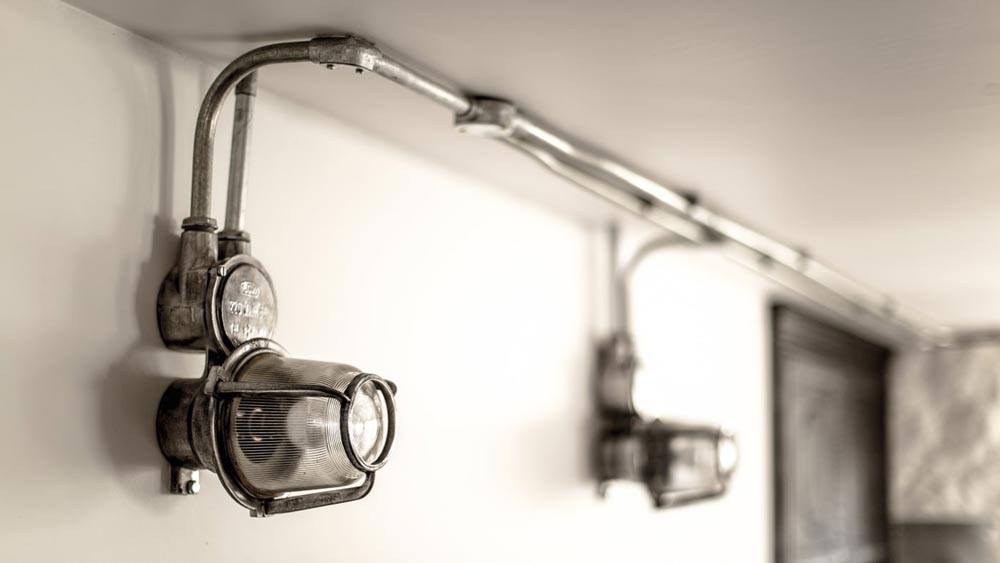 Image credit : skinflintdesign.com
As you can see from our previous ideas, creating an interesting look to your hallway doesn't always have to be about the wallpaper, paint or wall finish at all, it can be about other decorations too. Impressive or quirky wall lights could be a simple answer for blinging up your hallway, without the need for decorating at all. A huge chandelier in the centre would look fantastic with minimal décor elsewhere, or you could have funky wall lights running the length of the hall walls.
The world is your oyster when it comes to light fittings and there is a wealth of different designs, sizes and colours available. So take your time searching for the perfect ones for your needs.
---
---

17 - Wooden Panelling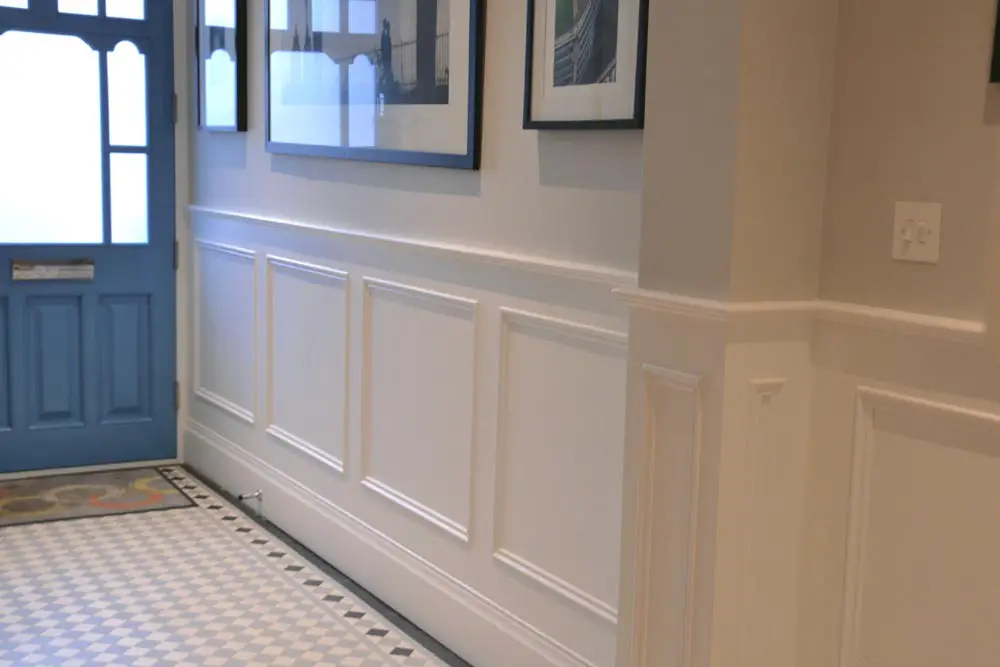 Image credit : Pinterest.co.uk
Our final suggestion is an easy to maintain look which can easily be customised and updated over time. Adding wooden panelling to your hallway walls is a great way to create a stylish country cottage-inspired look. Wood panels can be kept natural, stained or painted in any colour you choose. An added bonus is that when it comes to re-decorating you can simply paint over them, or sand them back, depending on the finish you want to achieve.
You may need a professional to quote for this work, unless you know someone with good DIY skills. This may make this a more expensive option, however, it will last for years and as I said earlier, they can be easily updated when you come to re-decorate.
---
---

Final Thoughts
These 17 hallway ideas have hopefully given you some serious food for thought. Your hallway doesn't have to just be a connecting space that doesn't have any character or style about it. You can easily create a look that compliments the room, making it stand out on its own merits.
Be sure to think about the best option for the size of your hallway. If you have a long, sweeping hallway, go for the 'less is more' theory. However, if you have a small and dark hallway, you might want to think about adding a lighter decor scheme and reflect any light back into the space, in order to make it seem larger than it actually is.
Whichever you go for, remember to compliment the rooms around it. If you have a room decorated in neon pink, you probably don't want the hallway leading to it to be decorated in red! Going for a neutral shade will always be a safer option, no matter how your rooms are decorated.
Before making any final decisions though, give it plenty of thought. Choose a look that not only fits the bill for you and your family, but one which is going to be easy to maintain too. Ultimately you want to create a hallway design that visitors will be wowed by, rather than them simply viewing the hallway as just a corridor to other rooms.