There are plenty of simple, affordable and some more involved staircase ideas to spruce up your staircase space and in turn, add some personality to your decor. From a colourful stair runner to statement wall art, we'll share some of our favourite ways to give your stairs a stylish makeover.
Whether you're looking for a quick fix or a bigger renovation project, we have staircase decorating ideas for every budget, taste and style.
Disclaimer: As an Amazon and Wayfair associate, we do receive a small commission from qualifying purchases made via links within this article.
Let's get started and turn your plain standard staircase space into a beautiful focal point of your home's interior design!
1. Staircase Bookshelves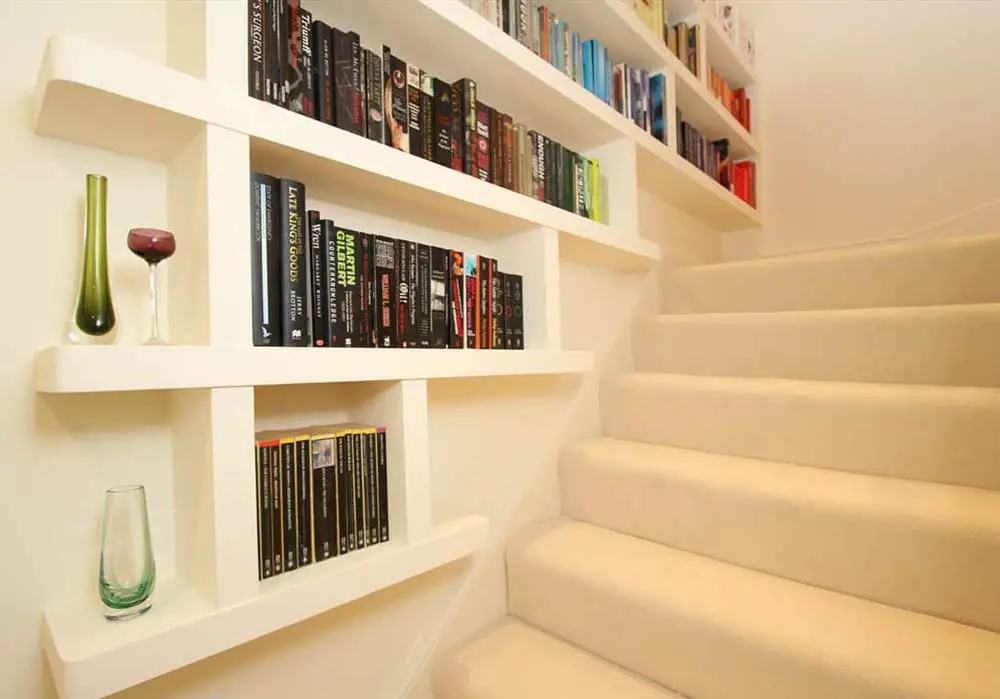 Image credit: empatika.uk
Bookshelves are great wall storage solutions for the staircase as it is usually an unused and under-utilised space, but they also provide plenty of storage for books and other decorative items, such as plants, vases and ornaments.
Along with the functional aspect, staircase bookshelves are visually appealing and a unique interior design element in the home. Additionally, they can be customized to fit the specific dimensions and needs of any space.
2. Staircase Wall Panelling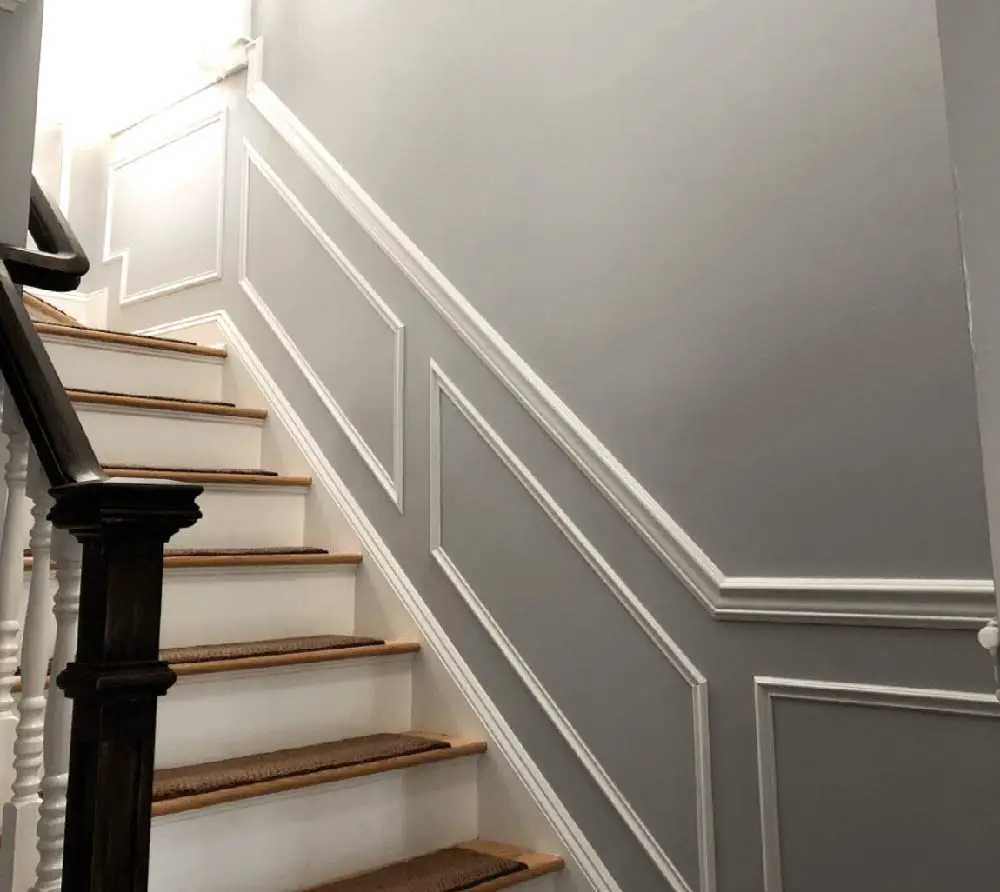 Image credit: azpaintingny.com
Wall panelling adds a great deal of visual interest to any wall space and can be suited to a variety of different property styles. It can be a particularly good fit for most traditional or classic home styles, such as Victorian or Georgian interiors, as these styles often already incorporate decorative elements and panelling.
With all this said, however, wall panelling can also be used in more modern or contemporary interior design by using a more minimalist styling and choosing materials such as glass or metal.
Ultimately, the best match of property style and wall panelling will depend on the specific design and material choices of the panelling.
The materials used for wall panelling can vary from wood and MDF to PVC and metal. The decision to install wall panelling on a staircase will mainly be driven by a desire to add style, match the decor of other areas of the home, hide imperfections, or increase the staircase's durability.
You may also like...
Ideas for Bedroom Wall Panelling
3. Nature Inspired Stairway Wall Art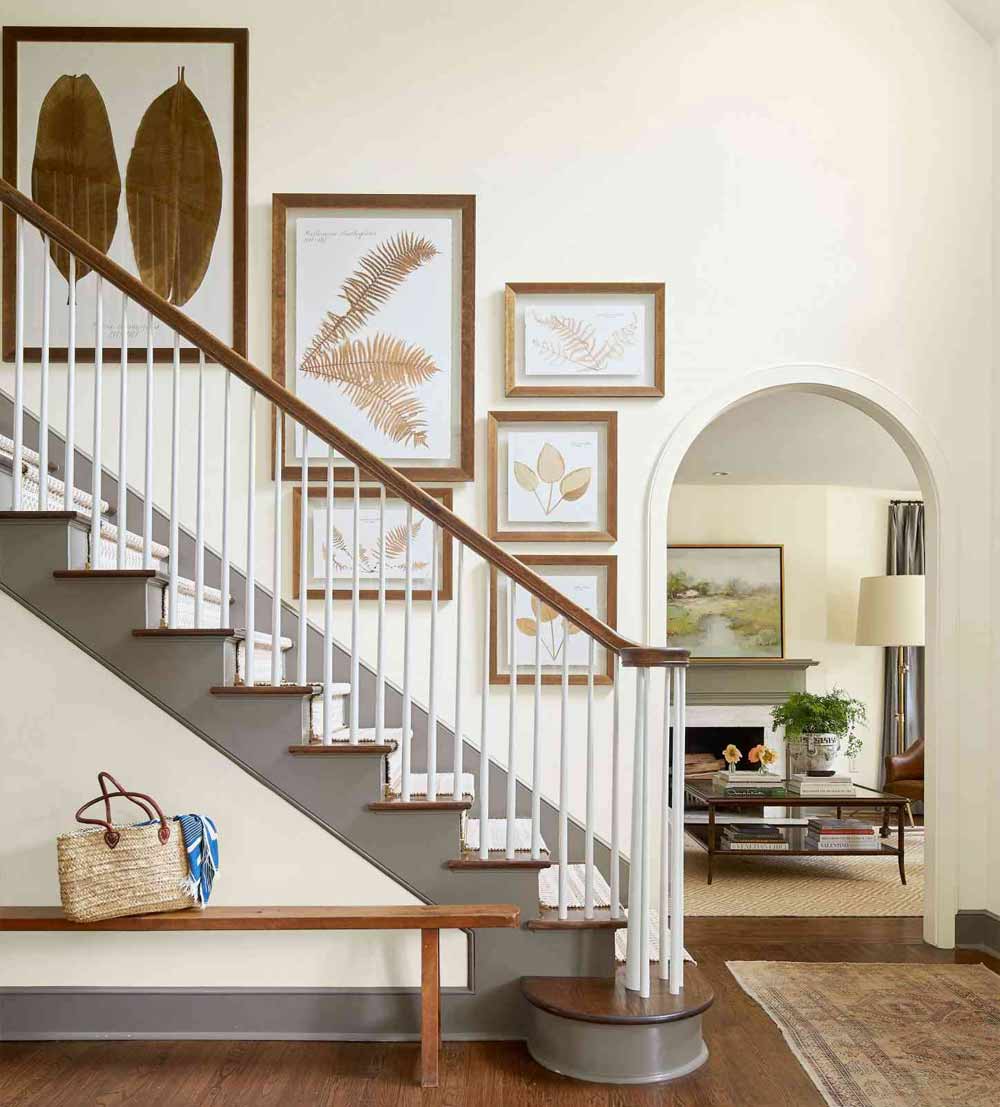 Image credit: southernliving.com
Nature-inspired wall art can be a great addition to a variety of interior design styles, from modern and minimalist to bohemian and rustic.
Hanging pictures, such as this leaf wall art display is a beautiful and creative way to bring a natural, organic touch to any staircase wall.
From an interior design point of view, there are a few considerations that you need to keep in mind when incorporating artwork of this type into a design. First, you need to consider the overall aesthetic and style of the space that you are decorating and be sure to compliment this.
Next, consider the size and scale of the wall art in relation to the size of the wall and the surrounding space. It's important to choose wall art that is appropriately sized for the wall, as large pieces may be overwhelming in a small space and small pieces may be lost on a large wall area.
It is also important to consider the materials that you choose for the wall art and the colour palette used. Nature decor, for obvious reasons, is often made from natural materials and may be painted or left in its natural state. Choosing wall art that complements the colour palette and materials of the surrounding space will help to create a cohesive look.
Finally, think about the placement of the art on the staircase wall. Staircases can be a unique and challenging space to decorate, so carefully considering the placement of the wall art can help ensure that it looks balanced and harmonious within the space.
Related articles...
The Importance of Wall Art in Your Home
4. Landing Seating Area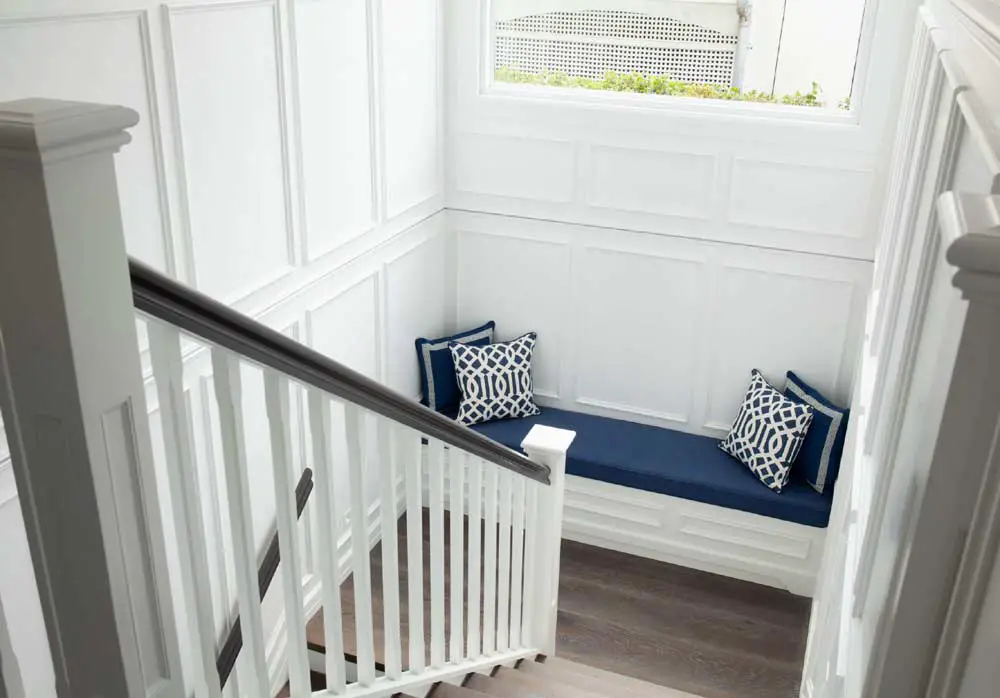 Image credit: intrimmouldings.com.au
When it comes to staircase ideas, creating a built-in seating area between floors, as shown at the bottom of this white staircase, is the perfect functional space for people to take a break, put on their shoes, read a book, or simply rest.
Landing area seating can also add visual interest to the space and break up the monotony of the staircase. In addition, depending on the seating solution that you decide upon, it can provide additional storage space through the use of built-in benches or ottomans with hidden compartments.
If space allows, you could even create a home office area simply utilising a small desk, storage, stool and desk lamp.
You may also like..
Home Office Decor and Design Ideas
5. Rustic Staircase Shelves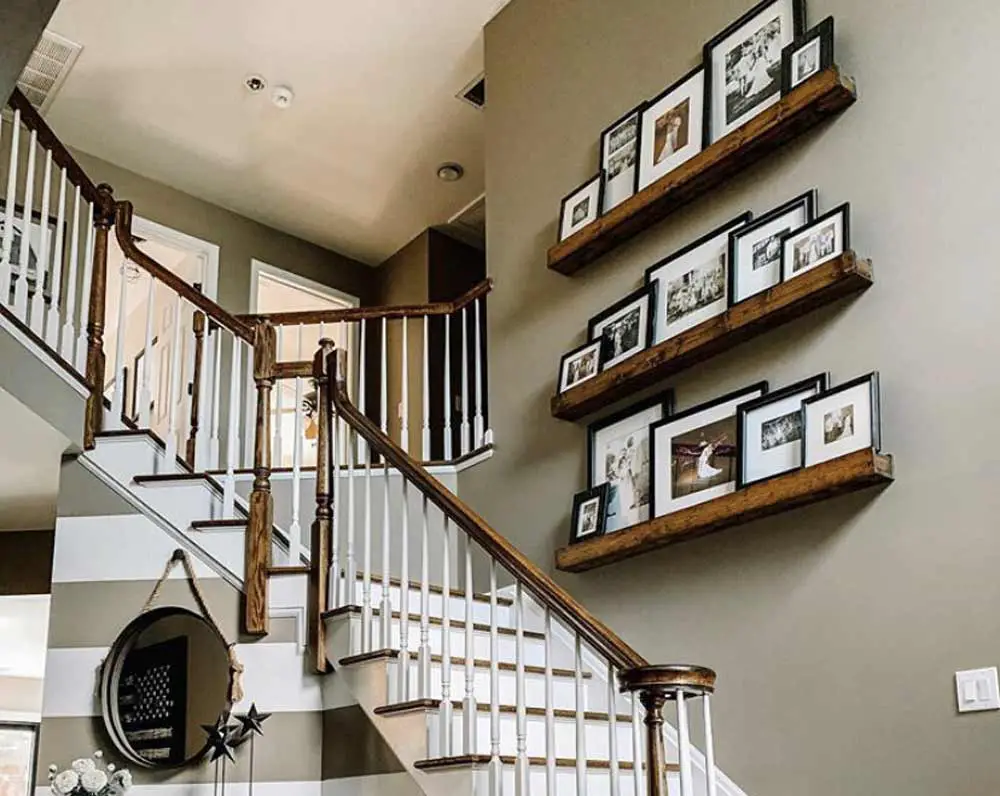 Image credit: thedecorformula.com
These large dark wood rustic shelves add a warm and natural touch to the elegant staircase wall. They not only provide a visual contrast to the cool and neutral tones of the grey wall but also add depth and texture to the space.
In terms of functionality, the chunky rustic shelves can be used to display framed photographs, store books, or hold other decorative items.
6. Modern Steel Stair Railing Design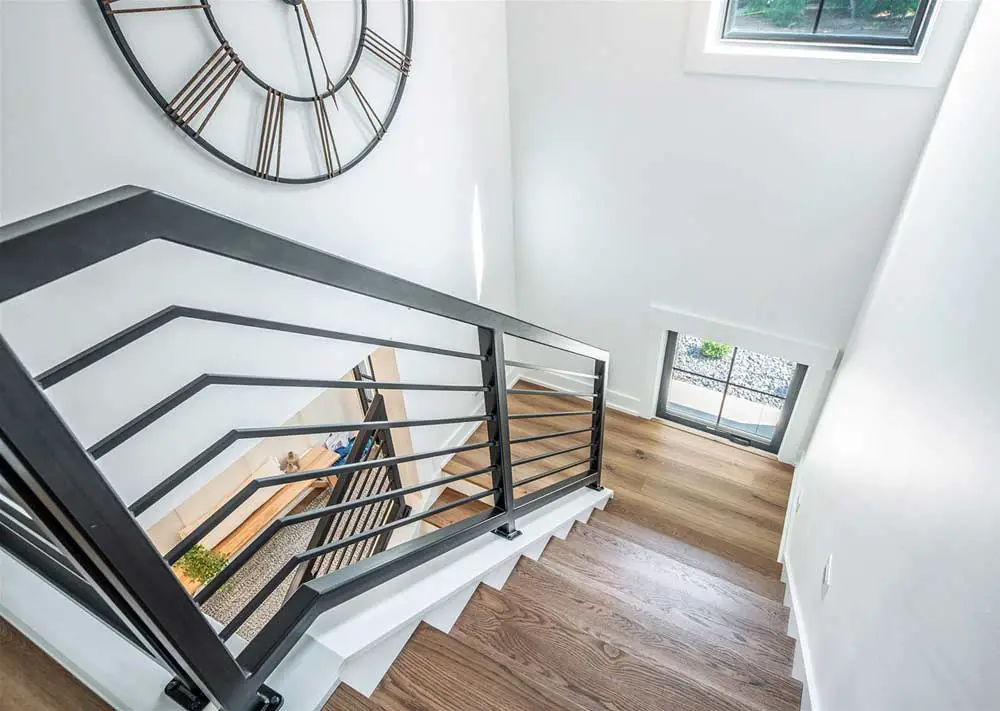 Image credit: milesbuildersllc.com
This black modern steel stair railing is a sleek and sophisticated design choice for this industrial-style staircase. The use of black steel adds a bold and dramatic element to the space, while the modern clean lines provide a sense of style and sophistication to the interior design.
One option for incorporating black steel into a stair railing design is to use thin, sleek rods or tubes as the primary structure. This creates a minimalist look that is both stylish and functional. Alternatively, you could use thicker, heavier-duty materials to create a more rustic industrial look.
Another idea is to incorporate glass into the design, for a more modern, contemporary and open feel. This can be especially effective in small or narrow spaces, as the glass helps to visually open up the space.
The strong and durable nature of this material, with the black and white contrasting colours that have been used, are long-lasting choices that can complement a variety of design styles, from minimalist to rustic and industrial.
You may also be interested in...
7. A Large Decorative Clock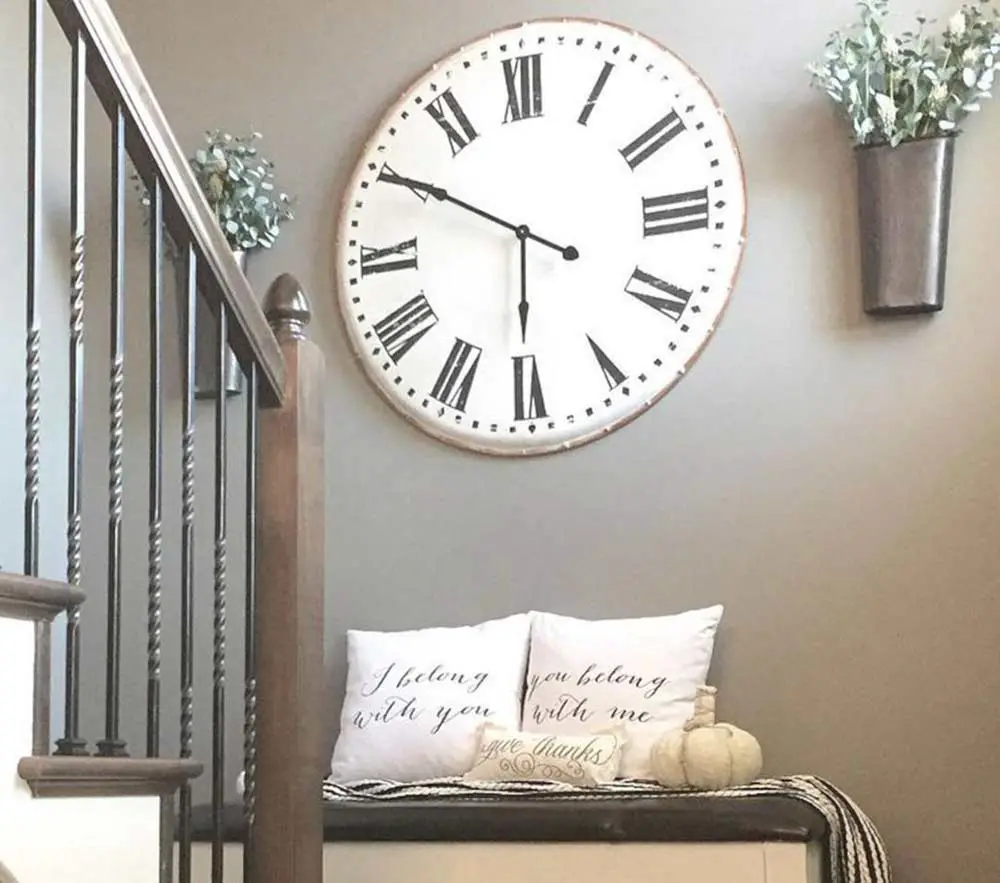 Image credit: pinterest.com
In this particular staircase example, grey has been used as the neutral cool backdrop colour, making the contrasting black metal of the twisted stair railings stand out.
The dark wood newel post and handrail add a touch of traditional design to the overall look and give the staircase a more polished look, and sturdy feel.
To add a functional element to the space, a large white clock with black Roman numerals has been hung on the wall, giving it the perfect focal point. The clock not only serves as a way to keep track of time, but it also adds a beautiful decorative touch.
Finally, silver wall planters filled with foliage, bring a pop of colour and a touch of nature into the interior design. The combination of all these elements creates a cohesive and stylish look for the staircase that is sure to impress.
8. Recessed Wall Shelves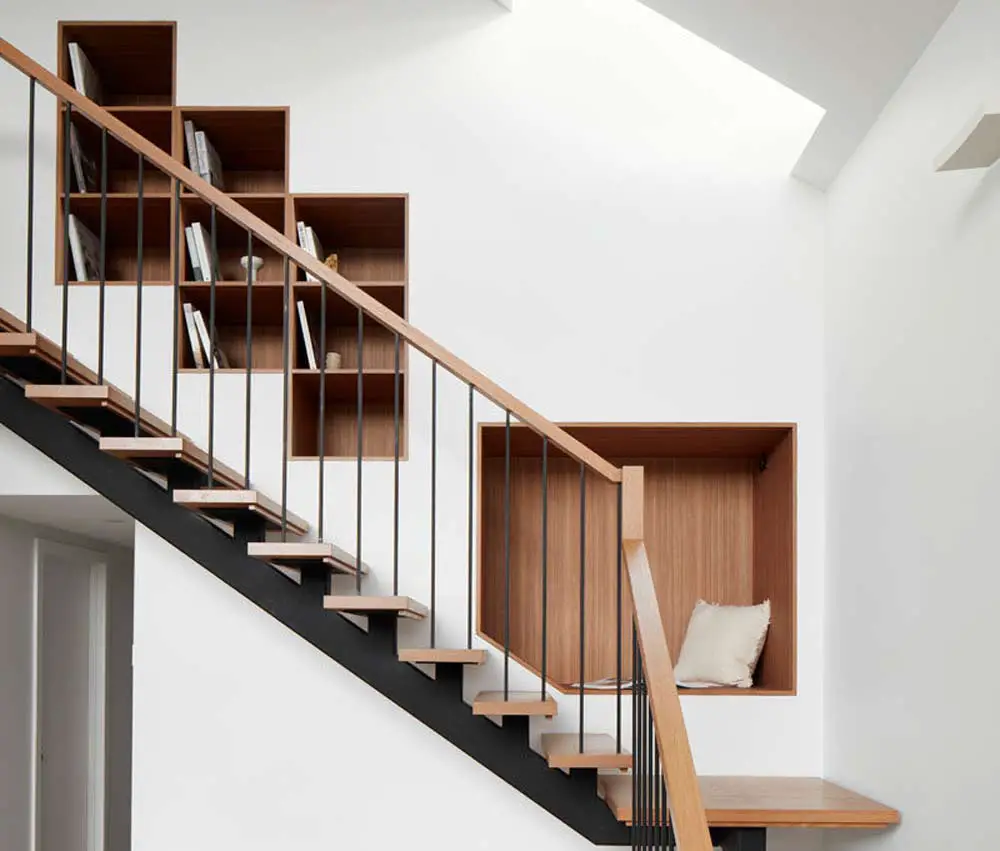 Image credit: contemporist.com
Recessed wall shelves are shelves that are built into the wall, rather than being freestanding or attached to the wall with brackets.
In the context of staircase ideas, recessed wall shelves can be a functional and aesthetically pleasing way to add storage and display space to an area that is often unused or underutilised.
The shelves can be made from a variety of materials, including wood, glass, or metal, and can be finished to match the surrounding walls or staircase furniture, or otherwise to create an opposing contrast.
Recessed shelves like to ones shown are a great way to add storage and display space to your home, while also making use of an otherwise unused area of the home.
9. Stairway Gallery Wall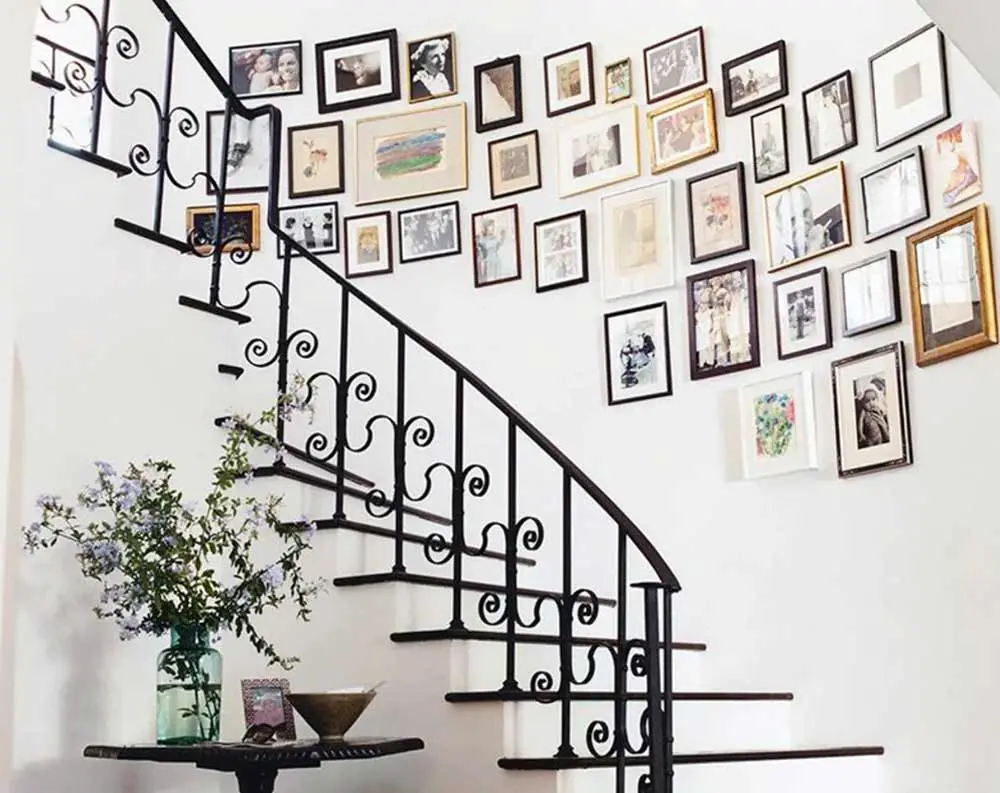 Image credit: kallistostairs.co.uk
A gallery wall display on any staircase wall can be a creative way to showcase a collection of artwork or photographs in an interesting and visually appealing way.
If you are a photographer or artist yourself, why not celebrate and show off your skills? Failing that, you could simply create a beautiful family wall to display a montage of the ones you love.
Staircase walls are often a prominent feature in many homes and using the space as the backdrop for a gallery wall can help draw the eye, creating a stunning personalised focal point to the interior design.
To make the most of a gallery wall on a stairwell, there are several factors to consider, such as placing the picture frames at the right height for easy viewing, the balance and symmetry for a pleasing visual weight and the variety of styles and colours within the artwork or photos on display.
10. Glass Staircase Panels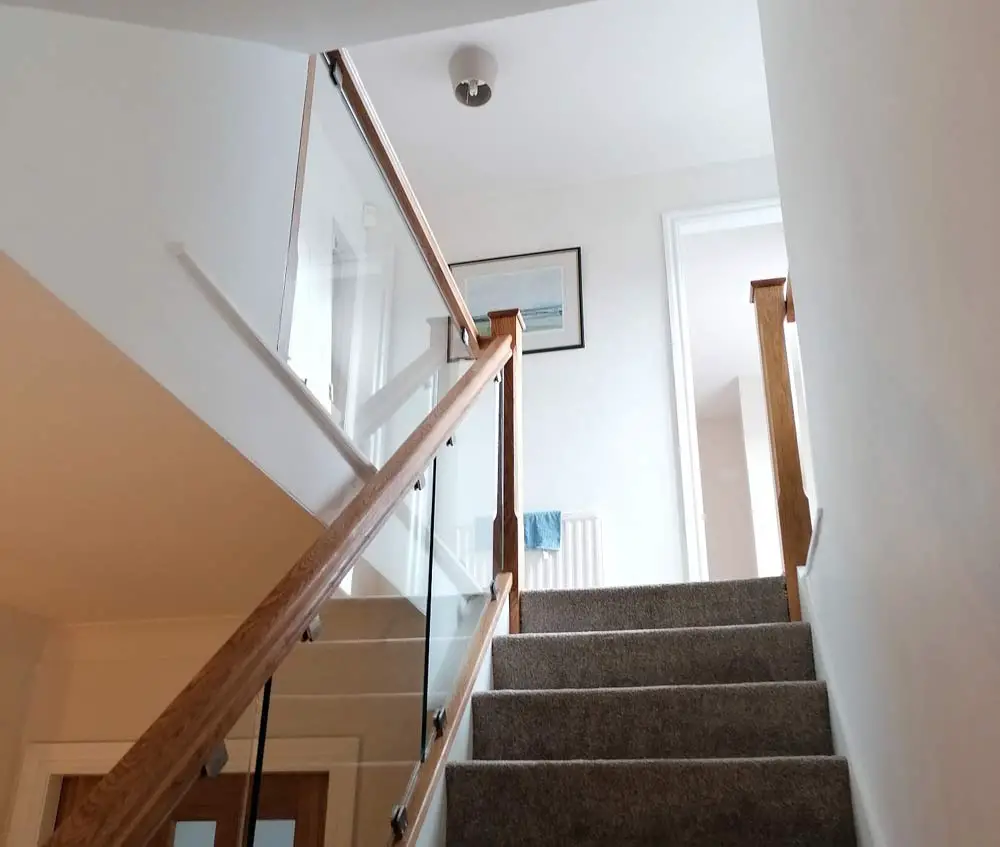 Image credit: beverleyjoinery.co.uk
Installing glass panels within a staircase provides a large area of aesthetic beauty to the overall design of the stairway.
The combination of the natural warmth and texture of the wooden stair framework, with the sleek and modern look of glass, creates a visually stunning effect.
The transparency of the glass allows natural light to pass through, which ultimately makes the space feel more open and airy. This also creates a sense of continuity and flow between different levels of the space, reflecting light into the surrounding environment.