"A room should never allow the eye to settle in one place. It should smile at you and create fantasy", says interior designer Juan Montoya. The kitchen is no exception! This is a place where you spend valuable time preparing food and entertaining family and friends. An appealing décor will not only elevate your mood and encourage your imagination, but also express your personality and lifestyle. Unfortunately, many people consider the kitchen a mainly practical space, forgetting the benefits of pouring in some style.
Countless creative and simple kitchen wall décor ideas can be implemented today. If you have some free space on your kitchen walls that is crying out for something beautiful to fill it, get inspired by these beautiful ideas that we have collated for you. It's time to upgrade your interior design, one kitchen wall at a time!
Disclaimer: As an Amazon associate, we do receive a small commission from qualifying purchases made via links within this article.

Kitchen Wall Hangings
Are you the kind of person that loves to come up with unconventional ideas to style your walls? If so, you can use your creative side with our next interesting idea, kitchen wall hangings. Canvases and metal wall art are not the only things that can be hung on your kitchen wall. Wall hangings can be described as pretty much anything that can be attached or hung onto your walls. Whether that be wooden letters spelling out related words, large metal cutlery or even hanging planters. There is a multitude of different ideas to choose from.
Whatever you use as a wall hanging arrangement, make sure the elements form a coherent theme and that they stay in harmony with the rest of the room. (Think of it as a unitary composition, or huge collage). Depending on how creative you are, you could also make some of the elements yourself. A quick search on Pinterest will bring up so many ideas, that you will be itching to try them out immediately! This will make your design far more personal and extra special.
Our top kitchen wall hanging picks....

Kitchen Word Art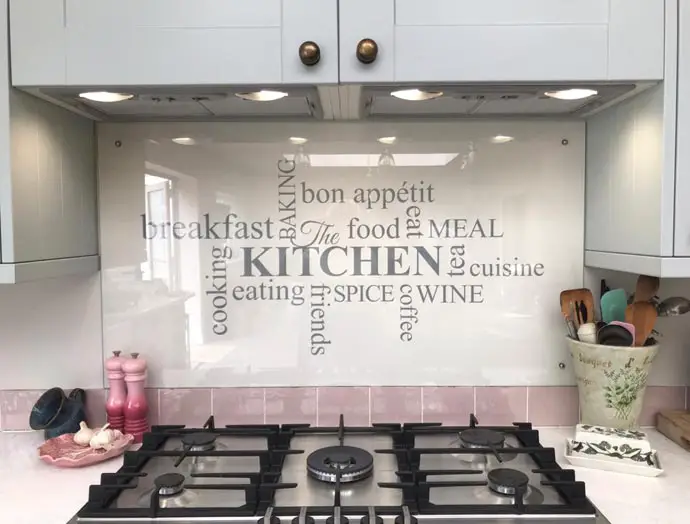 We continue our quest for the best kitchen wall décor ideas with something you might already be familiar with. It can come in the form of stickers, metal or wooden wall art, canvas, or framed prints. Yes, you guessed it. I'm talking about kitchen word art. The great thing about this type of wall décor is that it works with any theme and is very versatile. It doesn't matter if you have a modern open kitchen and living space or a traditional kitchen design. Whether it's funny sayings, inspirational wall quotes or simply a design that suits your character and personality, you can find word art that fits your needs. To get the most out of your kitchen word art though, take your time time to find words that mean something special to you and your family.
Coffee Wall Art For The Kitchen
Are you a coffee addict, or at least a coffee lover? If so, consider giving coffee a special place in your kitchen. And by special place, I don't only mean in a fancy container or cup, but on the wall!
Coffee wall art comes in all different forms, sizes and colours. You can once again have it as metal wall art, a coffee wall sticker, canvas print, word art, and even painting. To be honest with you, the sky is the limit. Whichever type of coffee wall art you choose, make sure you're clear on whether you want to make coffee your main theme, or simply treat it as a nice element that blends with your overall kitchen design.
More coffee wall décor products we love....

Metal Kitchen Wall Art
Do you have some favourite wall sayings, a special symbol, or beautiful image that you'd like to see in pride of place on your kitchen wall? Maybe something that inspires you? All of these could be achieved by using metal kitchen wall art. There are many online companies that not only sell specific words, phrases and images but also allow you to request your own custom design. One practical advantage of metal wall art is that you can easily move them around the house when you want a change. They don't require any specialised mounting attachments and can usually be fixed using simple hooks or screws. You can find many examples on websites such as Amazon, eBay and Etsy, or you can purchase them directly from businesses who specialise in manufacturing them.
To get the best effect, we advise placing your metal wall art in an uncluttered area and choosing a contrasting colour from your wall. This will really make it stand out.
Check out these beautiful metal wall décor products....

Kitchen Sticker Wall Art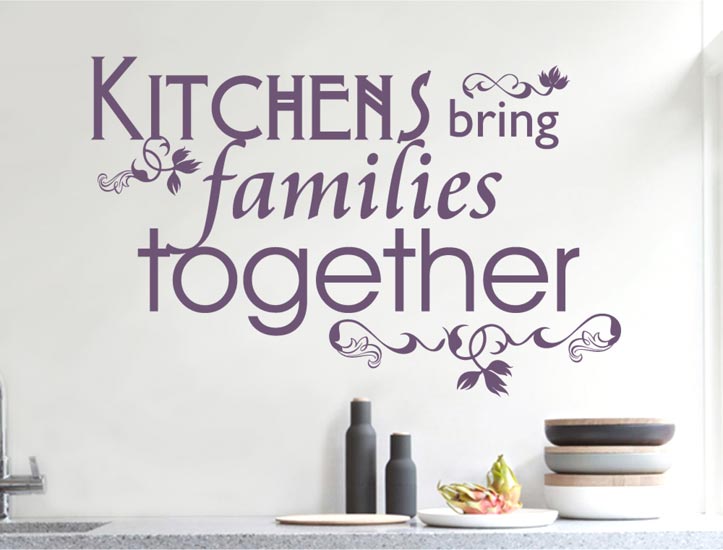 Our list of beautiful kitchen wall décor ideas continues with sticker art. I don't mean the kind of stickers you decorate a laptop or smartphone with, but the ones specifically designed to create stunning kitchen wall art. Wall stickers are available in pretty much any size and colour that you can imagine and depict an endless array of images, quotes and personalised designs. The final look is similar to that of metal art, but they are cheaper, available with more custom options and are generally far more detailed and refined. The secret is to choose a design that matches the style and period of your kitchen.
Black And White Kitchen Prints
If you're not sure which colours work together, it's very hard to go wrong with black and white kitchen prints. Following the 'less is more' principle, black and white prints can be stylish, creative, and easy to fit into any kitchen theme.
This form of wall art can be purchased both individually or as an arrangement of framed prints, depicting images and/or word art and quotes. Prints with either bold black text on a white background or vice-versa can offer your kitchen a touch of class and elegance, but with simplicity at its heart.
Other black & white kitchen wall art options....

Cutlery Wall Art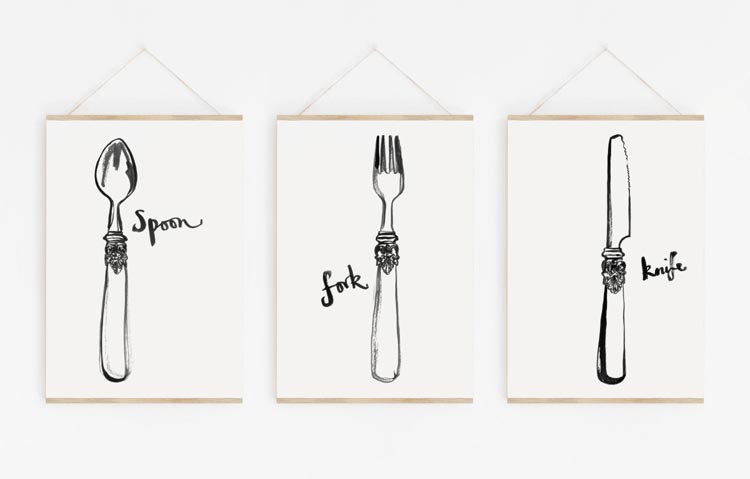 Image credit : Etsy
If you think of 'kitchen', cutlery is certainly something that is brought to mind. Yet so few people think that these elements can work as pieces of art. The simplest way of achieving this is to purchase a knife fork and spoon wall sticker. You can find these in a range of colours and sizes to match or complement your décor. Alternatively, you can buy oversized cutlery in the form of huge metal wall art. This can look particularly stunning if you find the right piece. A cheaper, more creative option is to use your DIY skills and place real cutlery items into a chunky frame, then simply hanging it on your kitchen wall.
The good thing about this type of décor is that it can create a beautiful effect with very little effort. If you have a kitchen that is full of different kinds of wall décor and you're left with that awkward, empty spot, why not consider adding cutlery wall art? Better still, go for the oversized option and make a stunning centrepiece of it.
Other cutlery wall décor products....

Kitchen Canvas Art
If you have a wide wall surface to cover, maybe consider using canvas art. There are several different ways in which canvases can be used. Whether you decide on one large abstract design or a group of images that are similar in style and colour. There are sizes, group quantities and designs to suit all tastes and budgets.
Canvases can be very cost-effective and are conveniently sold ready to hang. They can easily be found in home décor shops such as The Range and online from Wayfair and specialist suppliers like iCanvas.
If you go for a large arrangement of canvasses with complex images, make sure that it is the main element on your wall, keeping all other wall décor to a minimum. A simple rule of thumb is that the fewer colours you have in your kitchen, the less difficult it will be to pick the right canvas. In this instance, you can go crazy and pick a more daring piece. Contrary to this, if the area is already full of other colourful pieces of décor, try selecting a canvas with a toned-down design and more neutral colours.
More kitchen wall canvas ideas....

Modern Kitchen Wall Art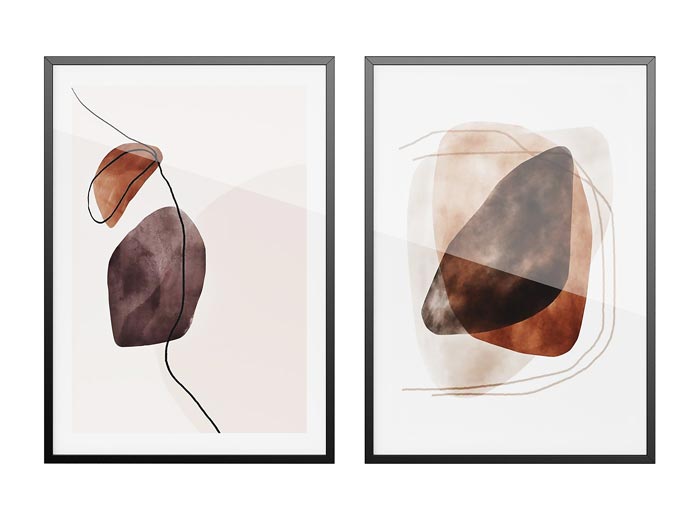 Image credit : Dimensiva
If you are looking for something even more modern for your kitchen walls, try searching for contemporary artists that you like. If money is no object, you may want to splash out on a one-off piece of art, this could also be a great investment for the future. For a more cost effective option, many artists will also do a small run of prints of their work, this would more than half the price of an original and still be a pretty good investment. If looked after of course! Another cheaper option is to purchase kitchen wall prints with the perfect design that fits your needs, then simply purchase a standard frame to go with it. Cheap and stylish !
Don't fall in the trap of thinking that everything in the kitchen should have some kind of connection to food or food-related subjects. The trick is to choose a piece that will balance the overall design of your room but stand out amongst the other decorative objects. If modern wall art is your next move, don't rely too much on the likes of Amazon, Etsy, or eBay. They have some stylish canvases, but maybe a bit too mainstream. Go for something more unique like the prints they have on Desenio or All Modern. They are more expensive but definitely worth the extra cost.
Funny Kitchen Wall Art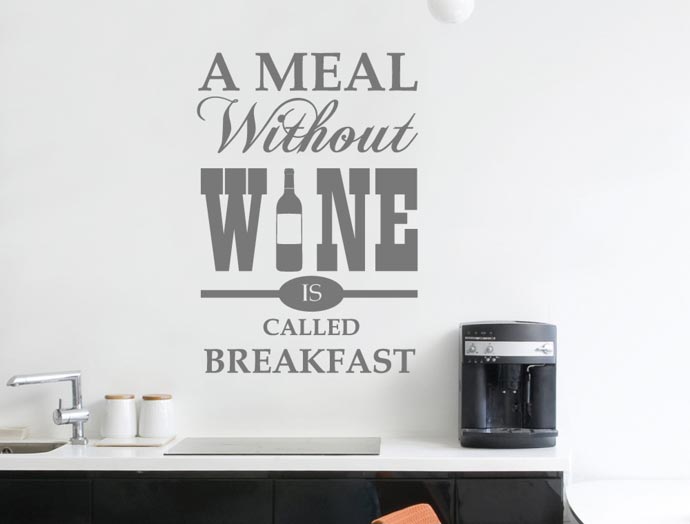 Preparing food for yourself, friends or family can take a lot of time, effort and sometimes be particularly stressful. Why not cheer up your kitchen with a joke or funny saying that always makes you smile? You can buy (or craft yourself) a canvas print with a funny quote/image or, as previously mentioned, a humorous wooden wall hanging or funny kitchen sticker work just as well.
As you can see there are plenty of options to choose from, so feel free to play around as much as you want. Apart from the shops previously mentioned, you can find funny kitchen wall art in many online stores. Check out retailers such as Aspect Wall Art (Blatant plug!), Redbubble and Wayfair.
Elegant Kitchen Wall Décor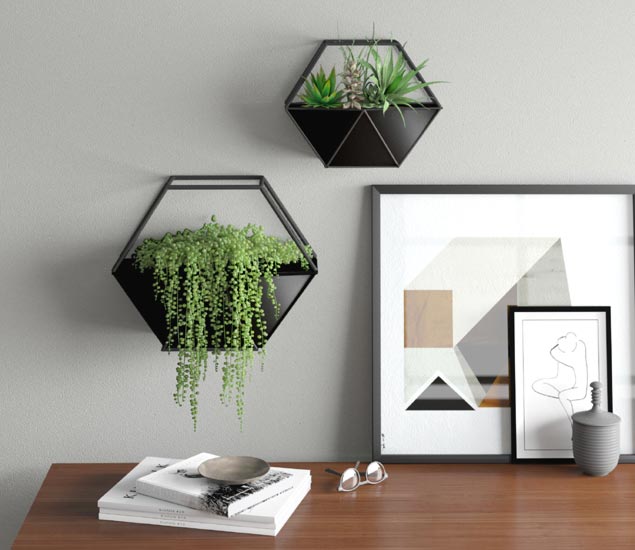 Image credit : Allmodern
For many of us, elegance is a subjective term. Some might consider a minimalist décor elegant, while others prefer the alluring grandeur of a Baroque-style interior. Whatever your taste, most of us associate elegance with harmony, class, quality, and delight.
To create a feeling of elegance on your kitchen wall décor, we suggest keeping it simple and ordered. You could choose a beautiful, unique painting (contemporary or classic, it's up to you), or maybe add shelves with stylish metal supports, adorned with trailing plants and opulent candles. You could also use specifically made wall mounted metal planters for this very purpose. Whatever you decide, it's really important to only add valuable elements to your design and avoid clutter. If you don't do this, your elegant kitchen wall décor can quickly become messy and far from the elegant finish you want to achieve.
Final Words...
Before doing anything else, think of a theme: do you want it minimalist, elegant, more geometric, botanic or vintage? Then pick the main design element which fits within your chosen theme.
Another essential step you have to take is to measure all the areas you want to cover. The worst thing that can happen, is to have your piece of wall art delivered (the one you spent ages deliberating over) and find out that it doesn't fit! After you have your general idea and measurements, list the other elements you wish to buy.
Before making or purchasing any type of wall art, pause for a second, and imagine how you want your kitchen to look. If it helps, make rough sketches of design ideas to give yourself a better view of how the finished effect may look.
There's nothing wrong with surfing shops and Pinterest for inspiration, but don't make the mistake of binge-buying 15 pieces of wall art, only to discover that they don't go together. Also, remember to avoid over cluttering your wall space and work within your theme of choice. Purchasing fewer quality pieces of wall art, over many cheaper ones, is always a safe bet. The pricier items will stand the test of time much better than the cheap alternatives. (Sometimes you do get what you pay for, especially when it comes to wall décor).

I hope these beautiful kitchen wall décor ideas help you to design your very own walls and have given you some great inspiration to work with.