Artwork is often the finishing touch when decorating a room and therefore it is important that you get it right. Large scale wall art can certainly be a bold choice for your home, but ultimately they can make an impressive interior design statement on any blank wall in any room. If you have large wall space to fill it can be very daunting trying to arrange small wall décor items and create the right impact. Therefore looking at large wall art ideas can be the obvious first step to creating a feature that you can be truly proud of.
We have put together the following wall art ideas to help you in choosing the best option just for you, whether that be for your living room, kitchen or bedroom walls. Use inspiration from these examples to create an eye catching focal point for your home décor.

Disclaimer: As an Amazon associate, we do receive a small commission from qualifying purchases made via links within this article.
---
---

Large Canvas Art Inspiration
Large wall canvas prints can be a great option for any room within your home. They are easy to hang and there is a wide range of colours, designs and sizes to make the most of any space and décor.
You can find many designs inspired by nature, like this super cute peering hare above, or a stunning underwater canvas further down the blog. Other options include, a motivational quote, colourful cityscape or maybe even a Banksy inspired design as below. Whichever you decide, once purchased the next step is to learn how to hang a large canvas properly. After all, you don't want to fall at the last hurdle !
---
---
Hand Picked Canvas Wall Art....
---
---

Large Wall Stickers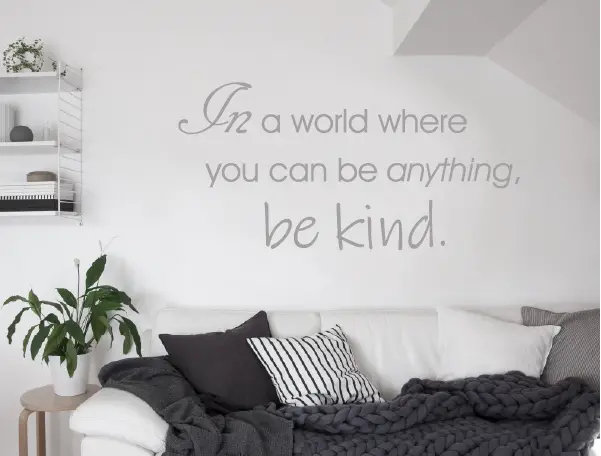 Wall stickers are a very popular and easy way to add personality and colour to your walls. Whether you require inspirational quotes, girls wall art designs or wall decals for your bedroom, you will likely find the perfect option with a quick online search. But before you start searching, check out Aspect Wall Art. They are one of the most highly rated manufacturers in the UK and have forged a reputation for great customer service, receiving a platinum award this year from Feefo reviews.
What makes wall stickers a great choice for anyone looking to fill an empty wall space, including newbies, is their ease of use, cost effectiveness and the fact that they can be ultra customised for exactly what you require. This includes various personalised elements like names, dates of birth and pretty much whatever else you desire. Ultimately you are not just buying off the shelf like with many wall art options, but creating the perfect design that suits all your needs.
---
---

Large Abstract Wall Art
If you are unsure of which direction to go when it comes to the subject of the large scale artwork, or you are the sort of person ( like me ! ) that gets quickly bored by the décor around you, abstract wall art décor is your new best friend. Abstract designs are nondescript and don't have to follow any particular theme with other objects or items within the room.
The colours of the large abstract wall art that you choose can easily make or break the overall effectiveness of your room. We suggest that you either stick to neutral tones that will tie in with any colour scheme you have, or pick colour elements from other items of décor or furniture. This will ultimately produce a scheme that is seamless and cohesive with the rest of the room. A good tip, if you are visiting a physical shop, is to take colour swatches or cushions ( for example ) with you. This way you can be sure to get a good match before making your final purchase.
---
---
More Stunning Designs....
---
---

Large Wall Clocks
Large wall clocks not only serve an obvious practical purpose, but can also double up as a stunning statement piece for your kitchen or living room wall. Oversized wall clocks have become more and more popular in recent years and when you look at the array of beautiful designs available, it's easy to see why.
Large wall clocks can be purchased in a range of materials and forms, from simple modern plastic designs to more intricate metal antique finishes and even cool recycled steampunk constructions.
Aspect Wall Art now stock a range of children's wall clocks, kitchen wall clocks and even some cool funky wall clocks for your home and garden. So feel free to pop over and take a look at their quality, low priced clocks.
More Beautiful Wall Clocks....
---
---

Large Metal Wall Art
Metal artwork has come a long way from what was once just something used for decoration on ships centuries ago - they now stand as elegant additions in both old and new homes alike.  Metal wall décor particularly is becoming more and more popular, from tiny obscure decorations, to huge all-encompassing art covering an entire wall surface with its extravagant design.
Abstract metal artwork in particular is perfect for adding a modern look to any space. It can be flamboyant, colourful and geometrical all at the same time, which means that it is likely to grab your attention as soon as you enter the room.
Large metal wall art is a great way to add an eye-catching focal point to any room ! Take your time to find a perfect design that you can admire for many years to come and make sure to shop around for the best pieces within your price range.
---
---

Map Wall Art
Large maps not only look impressive on a large wall area but also serve to aid learning and education. Family members will become adept at knowing the location of countries and cities around the world, many of which they may never have known even existed previously. The extraordinary amount of detail and information that some maps hold is truly inspiring.
There are different map wall art options from which to choose, whether it be a more simplistic world map wall sticker, a map wall hanging tapestry or a large map mural like the example shown. All have their place in any home with the right surroundings and complementary décor. It very much comes down to personal choice and ultimately what you are willing to spend.
Alternative Map Wall Art....
---
In Conclusion
When it comes to large scale wall art ideas, pick a size of wall art and style that suits your space and décor. It's no good going ultra modern with a particular canvas design when your room style is very traditional, or placing a tiny clock in the centre of a very large wall ! Be sensible in your treatment of the wall space, don't let the wall art over power everything around it and you won't go far wrong. Good luck !