---
Introduction To Open Plan Living

Open plan kitchens continue to be a popular trend in 2020 and it is easy to see why. There are many different home decor ideas that suit different needs and design tastes. Kitchen family rooms need to be practical and make the most of the available space, but this doesn't mean that the aesthetics should be forgotten.
Light, colour, furniture, décor and design can completely change the feel and use of the space. Here are some great kitchen family room ideas to inspire different looks:
Disclaimer: As an Amazon and Wayfair associate, we do receive a small commission from qualifying purchases made via links within this article.
---
---
Open Plan Kitchen Family Room Designs

Opening up a kitchen and living space by removing walls or building an extension can dramatically change its feel. It will allow far more light into the overall space and transform several small dingy rooms into one large airy expanse. However, if you feel that the newly created space becomes too 'open' to the point of being cold and sterile, you can easily zone areas of the room in different ways.
These include using room partitions and dividers, strategically placing rugs, or using furniture to zone different areas of the space. Once done, you can give them different and unique alternative looks.
It is important though to create a sense of flow and connection, be careful not to have clashing designs between the different areas so as not simply create a complete mishmash.
Open-plan kitchens can ultimately make for a very inviting space for the whole family to enjoy together, whilst doing differing activities in different areas of the room.
---
---

1. Open plan kitchen ideas - Elegance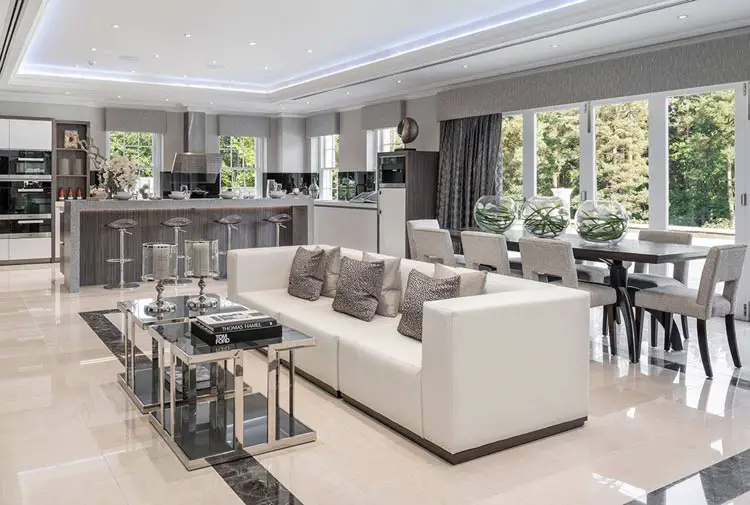 This completely open plan kitchen incorporates a kitchen, dining and living spaces in one light and airy space. The use of glass on the coffee tables and glass bowls on the dining table add a luxury feel and also serve to keep the look clutter-free.
A palette of white and grey is enhanced by the addition of light reflecting chrome furniture, suggesting luxury and opulence, while the overall design creates a modern, sleek and contemporary look.
Gloss white cabinets in the kitchen are matched by a shiny marble effect ceramic flooring throughout. The contrasting dark marbled rectangle in the floor design cleverly acts as a subtle divider between the kitchen and living space, without the need for a physical divide.
A more informal area is created by the island seating between the kitchen and living areas, while the soft furnishings have sleek and simple lines. Although these are minimally dressed, they still feel beautifully elegant.
The large floor to ceiling windows create a light rich space, with stunning outdoor views of nature on all sides. Overall this look is very grown-up and inviting.
---
---

2. Modern open plan kitchen area - Functional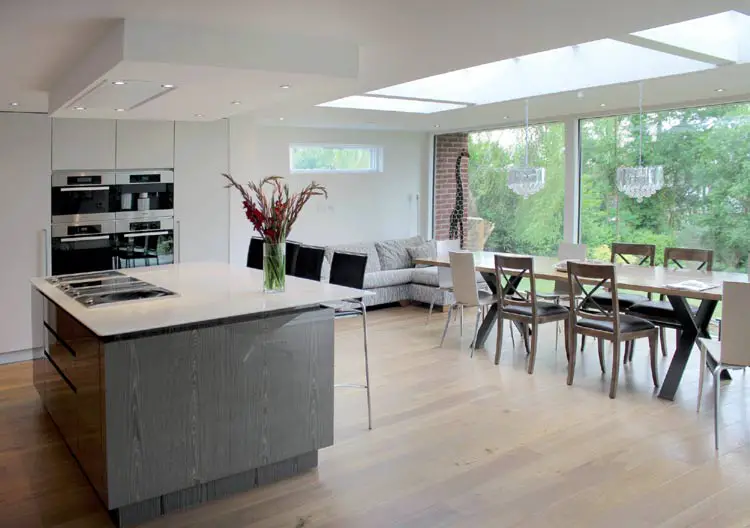 This open plan kitchen living area has very little separation between the living, dining space and kitchen. All have been placed so that they face out towards the large floor to ceiling windows, which allow a mass of light to emanate into the space.
A large skylight has also been added to flood even more natural light into the lounge and eating areas, which is a great way to brighten a dark room.
The kitchen delivers the latest trend of contrasting colours, with the kitchen island, having a much darker grey, to complement the light grey storage cupboards. The light grey is then repeated in the large comfy corner sofa, which helps to carry the design aesthetics through to other areas.
The warm tones of the wood flooring give a cosy feel to the overall space and the similar finish of the table and chairs emphasize the feeling of comfort and homeliness.
For the lighting, numerous discreet spotlights throughout are complemented by dramatic chandeliers situated directly over the dining table, for a more intimate feel when eating and entertaining. Overall a great open plan kitchen area for both a larger household and for entertaining friends and family.
---
---
3. Open plan kitchen lounge – Traditional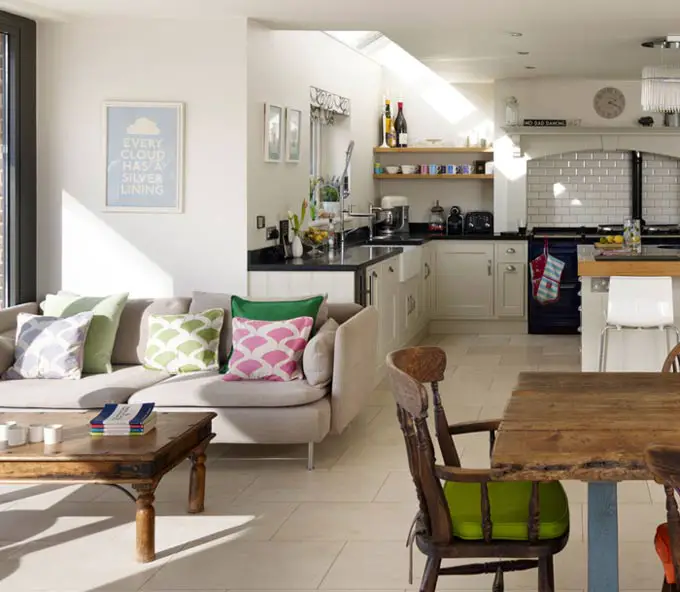 This open plan living, eating and dining area has a more traditional feel, with cream shaker style cabinets and black glossy worktops dominating the space. The large range cooker gives a country cottage feel which is reflected in the choice of wooden rustic table and farmhouse spindle back chairs.
The deep cushioned cream sofa is large and inviting and dressed with eclectic cushions of patterned complementary colours. These colourful accents are replicated on the dining chairs bringing a sense of fun and cheeriness to the extensive neutral backdrop.
This room doesn't feel overly design-led, but more lived in and cosy. Certainly a place that I could feel very at home and comfortable in.
---
---
4. Open plan living space – Garden room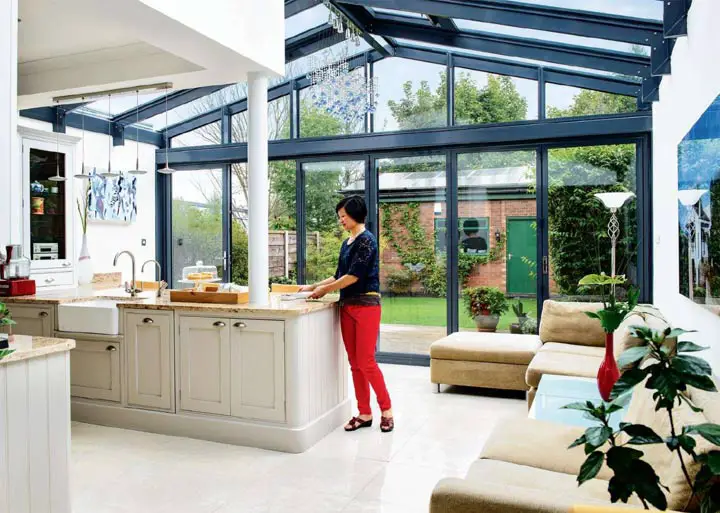 Here we see a completely open plan kitchen design which has fitted into one, albeit large, square space. The large oversized corner sofa is a main feature of the room and runs along the whole wall from the kitchen into the dining space, combing the two areas almost into one.
The dinner table is tucked neatly behind the kitchen peninsular with stunning open views into the neatly kept, low maintenance garden. The room has been made extremely light and airy by the orangery style extension, which throws copious amounts of light into the space.
The room feels practical and very much like a single area with different functions. There is additional built-in shelving in the dining space which matches the kitchen cabinetry and gives a flow to the overall design.
The colour scheme is very much neutral, with small flashes of colour in ornaments and artwork, to add interest and contrast. Large bi-fold glass doors, which are the entire length of the back wall, bring the outside in and give a feeling of a much larger space. This is ultimately down to the fact that your eye-line is not restricted by a restrictive wall, but stretches to the outer reaches of the garden beyond. This is definitely up there as one of my favourite open plan kitchen ideas !
---
---
5. Open plan kitchen dining family room - Modular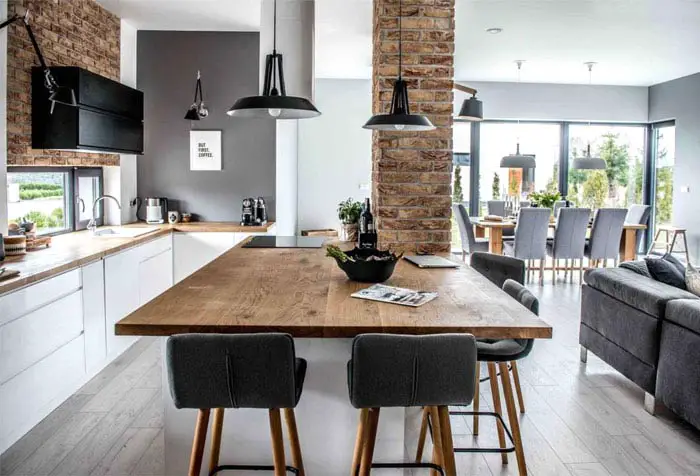 This large open plan space, is divided by an interesting structural brick pillar in the centre of the room. Around which sits a practical breakfast bar island, accompanied by tall stylish stools.
A cooker hob has been incorporated into the island, which is a great way to be close to anyone seated at the breakfast bar when cooking or entertaining.
The kitchen cabinets have white handle-less gloss doors which give a sleek, ultra-modern, clean and uncluttered look. The living area, situated adjacent to the kitchen, encompasses a large grey fabric sofa facing views directly out of the large bi-fold doors onto the outdoor space beyond. As well as the colours used in this beautiful kitchen design, you may also be interested in other colours that go with a grey sofa.
Grey has been used throughout, in differing tones, as an accent to both the exposed brick walls and glossy white kitchen cabinets. This has helped in not only defining the different areas, but also brings the overall design of the whole space together.
Low hung lighting in both the kitchen and dining area is a dramatic eye-catching feature and gives more emphasis on the zoning of these two areas.
It's fair to say that there is plenty of room for the whole family in this large living space, you will certainly never be on top of each other, whatever activities you may be doing.
---
---
6. Contemporary open plan kitchen – Architectural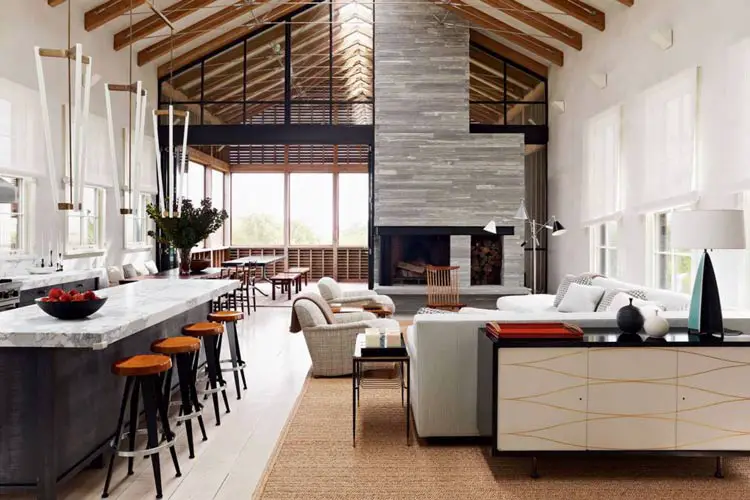 This astonishing design makes clever use of the striking architectural features of the building. Very high ceilings with exposed wooden beams top a large open space, partially divided by a dominating full height modern slate chimney stack and fireplace. The kitchen worktops are made from thick light grey granite, which has been pared with contrasting deep black cabinets.
3 large oversized modern pendant lights above the long breakfast island act as another useful and functional partition element to divide off the kitchen space. Next to this, the living area incorporates several sofas which reside on a large natural textured rug, not only zoning off this section, but also creating a more cosy living space in what is a very large multi-functional room.
The bench seating and table are very much designated their own peaceful area, surrounded by large windows looking out into the open expanse.
---
---
7. Open plan space – Jewelled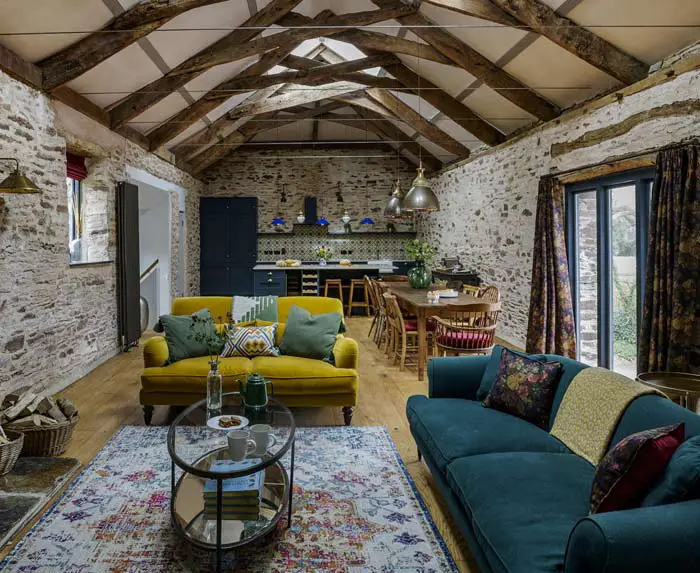 This small open plan space makes the most of a rustic barn conversion, with high ceilings, wooden beams and exposed stone walls. It delivers on a current popular trend of putting teal and mustard accents together. Starting with dark teal kitchen units across the back wall, which have been contrasted with a simple white worktop and a beautiful mosaic tile splashback.
Although small, they have still managed to incorporate two stools under the counter, providing a casual place to sit and eat breakfast or simply chat.
Adjacent to the kitchen is a large wooden farmhouse dining table and chairs, which have been adorned with plump Fuschia cushions, adding to the rich variety of colours within the room.
At the closer end of the room is the living area, with sumptuous sofas in mustard and teal, dressed with colourfully patterned cushions which add texture and interest. Similar but muted colours adorn the large rug which creates the perfect central focal point to their cosy living area.
The clever mix of colour, pattern and fabric brings warmth and plushness to what must have started as a dauntingly stark space to arrange and design.
---
---
Open Plan Kitchen Diners
The quandary here is whether to have a separate table or incorporate dining at a central island or breakfast bar. The decision may ultimately depend on the space you have to play with. Islands are usually fixed and require more room around them for safety and flow. However, they are also multi-functional, as they are at just the right height for food preparation as well as dining and working. On the other hand, tables can be more flexible and usually take up less space.
---
---
1. Kitchen diner with island - Island Dining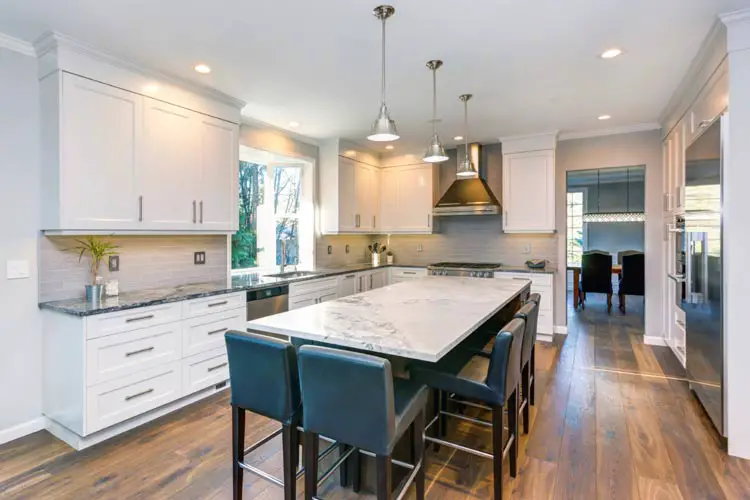 Here the kitchen island can comfortably seat four people on two sides, with ample room on the others for food preparation and serving. The Kitchen cabinet and draw fronts are a simple, clean white shaker style, with black and grey glossy marble worktops. The island, in contrast, has a white marble effect worktop making it stand out proud in the centre of the whole space.
Pendant lighting above the island further creates a central focal point to draw your focus to this dominating area of the room. A cool built-in American style fridge freezer and the larder cupboards give a sleek finish to the other side of the kitchen, while leaving a spacious walkway for the traffic flow into the dining room.
The walls have been painted a subtle muted grey, with slightly darker grey brick effect tiles around the splashbacks and cooker. The barstools themselves bring the flash of blue which is needed to add a splash of colour to what is a very neutral colour scheme.
It is easy to imagine family members working on their laptop, eating casually or preparing food together in this bright modern space.
---
---
2. Small kitchen diner – Blue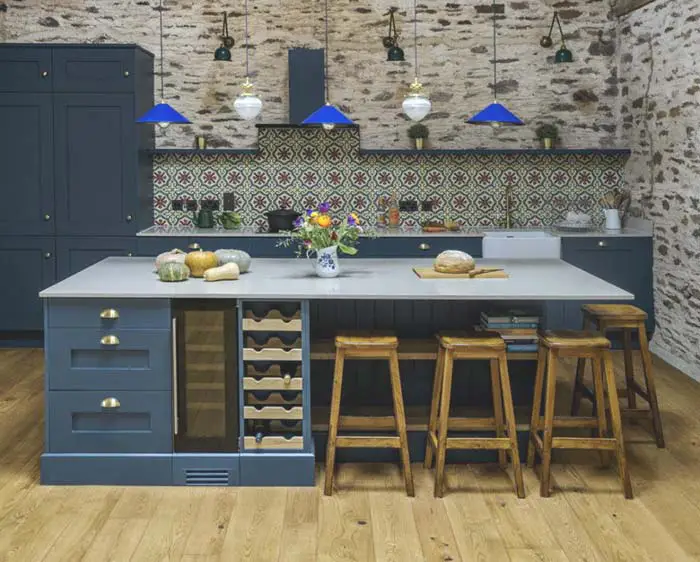 It's fair to say that this kitchen has a very bold look! With base units in a cool deep blue and the combination of a stone wall and busy mosaic tiles, certainly provides a dramatic backdrop. The wooden stools have a rustic up-cycled feel about them and the island where they reside provides ample practical space for either food preparation, eating or socialising.
A tall freestanding unit sits alongside a long colour matched shelf, providing not only open shelving, but an opportunity to show off interesting objects and ornaments. The simple layout of this kitchen-diner provides lots of floor space for a large family to utilise and gives the room a truly multi-purpose feel.
---
---
3. Large kitchen diner – Grey chic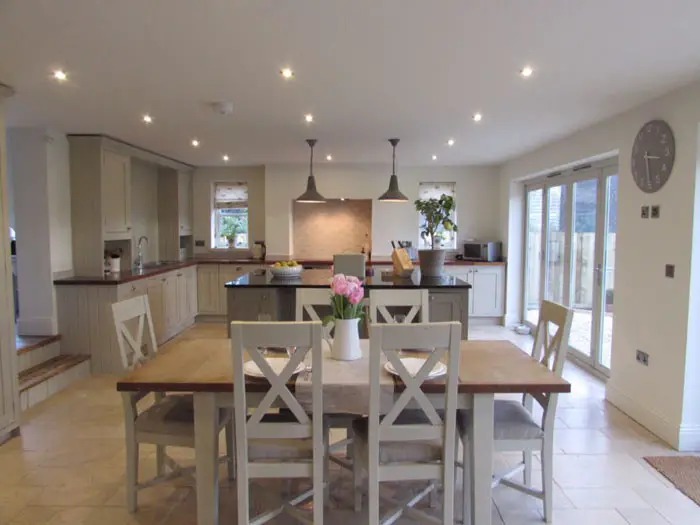 In this modern new build design, the spacious L-shaped kitchen and dining room has a large central island for food preparation and a separate large dining table for family meals and entertaining. The grey of the table and chairs purposely match the pale grey shaker kitchen units, while the dark wooden worktops are similar in tone and material to the table top. This provides uniformity to the space and helps to bring the two areas of the room together.
The ceiling boasts 3 rows of neatly lined recessed spotlights, which serve to make the room feel longer, by drawing your eyes from one end of the room to the other. The natural light from the wide patio doors, adds to the overall feeling of light and airiness.
Targeted lighting is very important when planning a room and not only does the feature drop lighting above the island match the colour of the worktop, creating an extra light source for food preparation, but design-wise, it visually sections off the area from the rest of the room.
---
---
4. Open plan kitchen diner – Emerald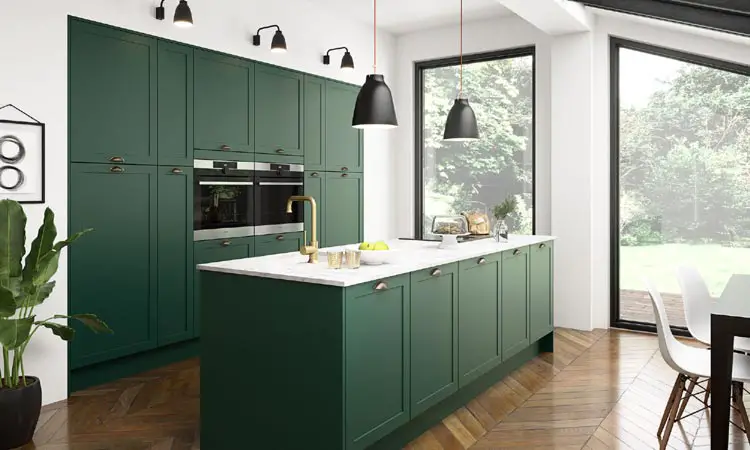 Bold coloured kitchens can make a real design statement, if done in the right way! We suggest picking only one bold colour, either for the units or maybe a feature wall, and pairing this with a neutral backdrop. If you try to mix too many bold shades next to each other, the result can just become a wash of overwhelming colours and you will lose the effect that you were going for.
Emerald green is one of the latest 2020 trends and in the kitchen we see here, they have used the design principle we suggest of sticking to only one bold colour choice.
It combines a deep emerald green with a white quartz worktop, giving a stark contrast to the kitchen units and bright white walls around the room.
A wall of tall cupboards with inbuilt ovens is not only great for storage and clearing away clutter, but also gives a modern, sleek backdrop to the rest of the space. The island hosts both the hob and sink which takes away the need for a separate workspace against any of the walls and also creates a neat divide between the kitchen and dining area.
Last but not least, the highly polished, wooden herringbone floor gives a top class finish to this modern open plan kitchen.
---
---
5. Open Plan Kitchen Diner – Farmhouse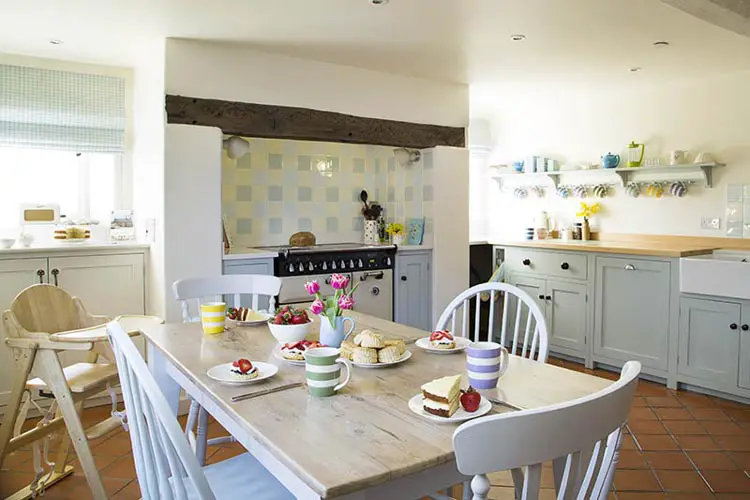 This pretty open plan kitchen features a traditional farmhouse style table and chairs, painted a pale blue to match the minimal kitchen cabinets. Pale blue is another colour trend which continues to grow in both modern and traditional home styling.
The original tiles on the floor add to the overall traditional feel and the dark beam across the range cooker is a striking original touch. Wooden work surfaces and open shelving also add to the farmhouse feel and allow for both the practicality of food preparation and interesting colourful displays.
As you can see, there is plenty of floor space for the addition of a highchair at the table and it is easy to see a family eating together in this delightful warm traditional kitchen diner. You can also imagine this being an ideal backdrop for cream teas and hearty family suppers!
---
---
6. Modern kitchen diner - Industrial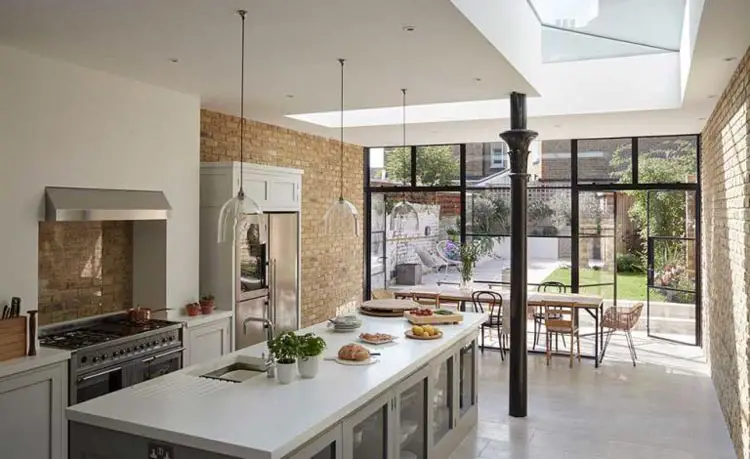 This industrial style open plan space features modern grey painted kitchen cabinets topped with smooth glossy white countertops. Against the back wall sits a modern inset range cooker and hood, next to a trendy American fridge freezer. The extra-long island they have chosen creates the bulk of functional space, as it not only has plenty of prep area, but also has an inset sink and lots of practical cupboard space for crockery and utensils.
The industrial style dining table houses an eclectic mix of dining chairs, all different in style, adding further interest and a touch of quirkiness to this industrial theme. One of the main features of this room though, is a tall, black reclaimed pillar which supports the suspended ceiling above. Thankfully it simply serves its purpose without overpowering the room in any way. Extra light gloriously floods in from the skylights, ensuring that this room is far from dark or dingy.
Exposed brickwork on both sides of the open plan area finishes off the industrial style perfectly, adding warmth to the otherwise cooler grey tones.
---
---
Small Living Room Kitchen Ideas
A small living room kitchen can certainly be utilised as a multi-purpose family living space, but needs careful planning to ensure that it does not seem too cluttered or cramped. Deciding how much space to devote to each use will depend on the needs of your family, but somewhere to prepare food, eat and relax is going to be top of the list.
---
---
1. Small open plan living space with kitchenette – Compact Light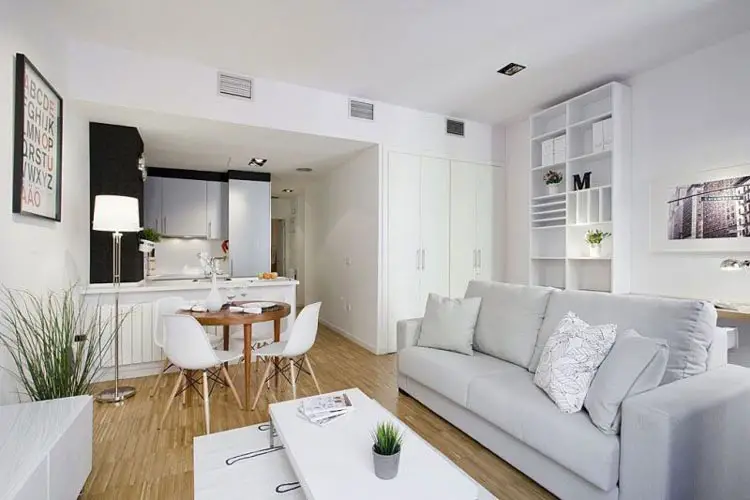 This open-plan space may be small in size, but due to its pale white and grey colour scheme, it still feels spacious and airy. A compact round table (which is perfect for a small space) slots neatly in between the small kitchen and living areas, giving extra flexibility when it comes to eating meals or working from home.
The stark black accent on the kitchen walls give a stylish dramatic contrast to the white elsewhere, offering a zoning effect within the overall space.
Laying wooden flooring throughout, with the lines following the longest run, makes the whole room feel larger and longer than it actually is. This trick works by simply leading your eyes through the whole space, as there are no breaks in the floor pattern from one end to the other.
Decoration elements have also been kept minimal, in both quantity and colour, with display cabinet objects and framed wall art staying within the same black and white theme.
---
---
2. Small open kitchen and living room – Bright Accents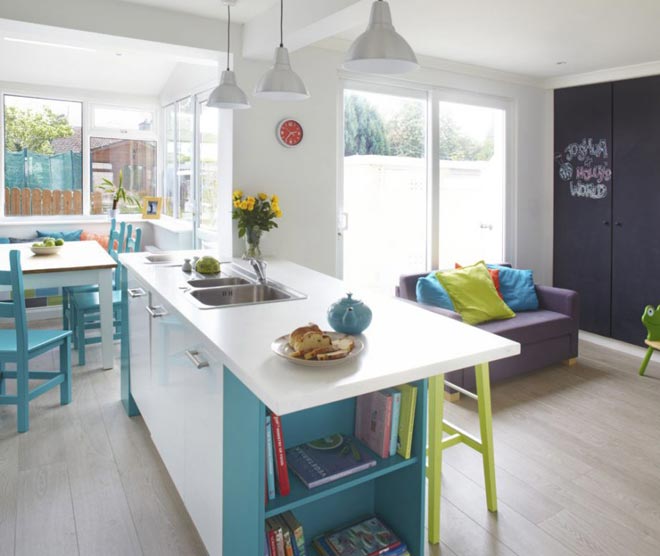 In this open-plan design, the white décor and parts of the furniture are highlighted by bright turquoise and green touches, making the room fresh, bright and cheery.
The space is small, but family-friendly, with a colour matching table one side of the kitchen and a child-friendly living and play area at the other.
Chalkboard painted cupboard doors provide a super practical extra use for them and they can be reused over and over again. If you don't have the space to use this idea in your own room, chalkboard wall stickers are a great alternative and are available in numerous different shapes.
Any child would love drawing and writing on them and it will keep them entertained for hours! Space is certainly utilised to its fullest in the kitchen area, by having the sink inset into the central island, practical for both washing up and for the kids to wash their hands before lunch.
This room is very well zoned and provides a great practical space for all the family to be, with plenty of room for play.
---
---
3. Small kitchen living room combo – Fresh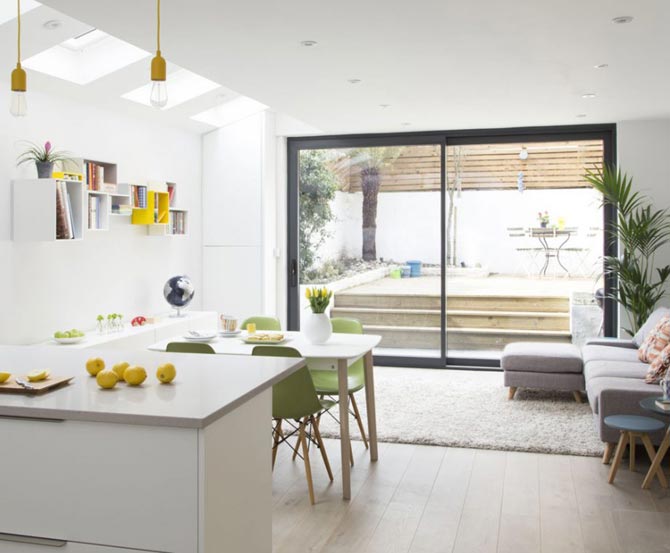 Removing the wall, extending into the garden and adding skylights, has allowed the light from both these and the floor to ceiling patio doors to flood the entire room. In addition, the white kitchen wall décor, kitchen units and dining table also help to increase the overall feeling of space, making the room feel bright, airy and fresh.
The living area is well defined by a large pale grey rug, which makes it cosy and inviting, while accents of bright yellow and lime green in the chairs, lighting and storage give the space a cool fresh look and add needed touches of colour to the room.
4. Small open kitchen design – Dark accents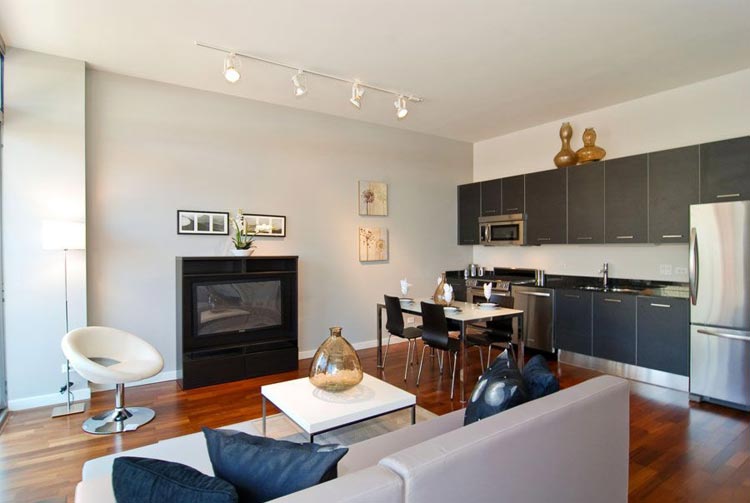 This open plan kitchen design is mainly dominated by the living area with a large rug, sofa and coffee table defining its aim. As you can see, the kitchen units run along one wall where the dark granite is a great colour contrast to the rest of the room, making them stand proud and with purpose. Although not zoned in a conventional sense, by either wall colour or flooring, the kitchen and dining areas are situated together and away from the main living space.
The dark mahogany flooring adds a rich warmth and colour to the room and although minimal, this room has everything you could need as a young couple or small family today.
5. Narrow open concept kitchen living room - Scandinavian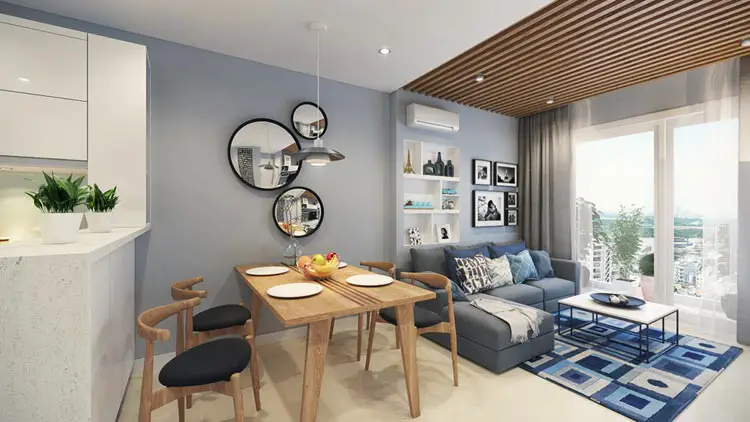 This Scandinavian designed rooms kitchen fits neatly into the corner of the rectangular space, with its sleek white glossy cabinets adjacent to a small marble peninsular. This serves to divide the kitchen from the dining table, which in turn separates the living area from the kitchen.
A set of domed circle mirrors above the dining area help to reflect light into the room and give some drama and appeal.
The living area has been cleverly zoned, by not only a corner sofa and rug, but also where the wall juts out and the wooden slatted ceiling begins. Even the shelving and family picture wall have been deliberately placed and play their part in sectioning off the space.
The Scandinavian inspired wooden beams also give a warm feel to the space, which contrasts nicely with the cooler blues, greys and whites, working in harmony to blend the areas together. If you like this particular element of the room, you may be interested in our other article on bedroom panelling ideas.
6. Small open plan kitchen living room - Simplicity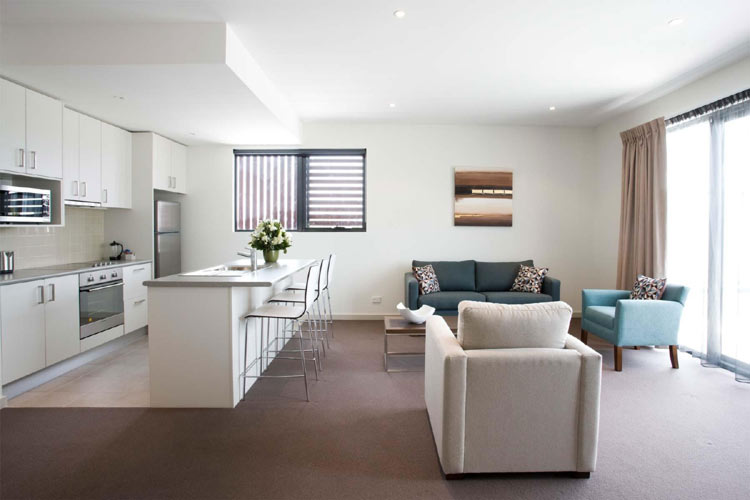 This small open plan space ticks a lot of the boxes by dispensing with a separate dining table and using only a breakfast bar as a divide to the living area. The kitchen has been placed in the corner of the space and possesses a basic white finish with simple grey countertops, a look that is modern and clutter-free.
The kitchen has a standard tiled floor for practicality over aesthetics, in contrast to the living area, which is carpeted in a warm neutral tone giving it a more cosy and opulent feel. The simple lines of the sofa and chairs provide a clean but comfortable look to the room whilst their tonal colours give a natural warmth to the overall feel.
The only thing missing for me, other than it possibly be too minimalist, is some more plants and foliage to soften some of the edges.
In conclusion:
As you can see from all of these kitchen family room ideas, many different styles and designs can be used for open plan living designs.
Whether your space is small, tall, narrow or large, there are many ways of accomplishing the perfect design for you and your family. If you can't find one complete design idea that you can use, simply use our numerous ideas as a guide.
You may find that some things may work in one space but not in another. Mix and match ideas until you find the ultimate compromise between them. Good luck!