---
Space is at a premium in many homes, so finding a small compact dressing table is a must for families looking to add a beauty area for applying makeup or trying on jewellery to their home.
Along with the obvious practical element of having a vanity mirror, a dressing table also serves as a useful storage place for beauty products and other important items.
To help you find the perfect dressing table, we have hand picked these beautiful, practical and luxurious dressing tables for inspiration. We have also added a link for purchasing, should you find the perfect piece of furniture for your needs.
---
---
Disclaimer: As an Amazon associate, we do receive a small commission from qualifying purchases made via links within this article.

1. Minimalist modern design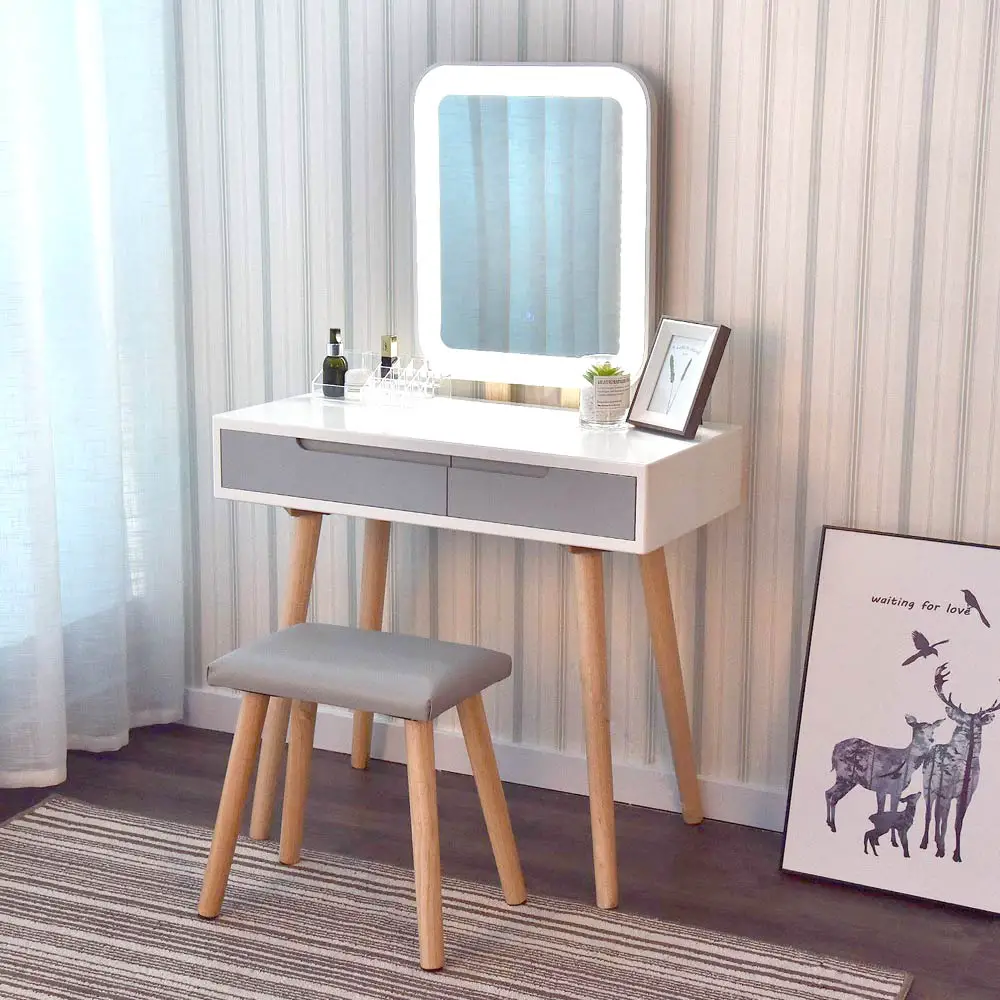 ---
This stylish white, grey and natural wood dressing table, at only 80cm wide, is a great option for fitting into any narrow space. The handless drawers and cylindrical angled wooden legs serve to keep the design ultra sleek and modern.
Why we chose this dresser unit...
Beautiful modern grey and white design.
LED mirror light has 3 mode brightness adjustments.
Stool and Mirror are both supplied with the dressing table.
Free makeup organiser with purchase
Table Dimensions: 80cm W x 40cm D x 79cm H
Stool Dimensions: 38cm W x 25cm D x 42cm H
---

---

2. Hollywood glamour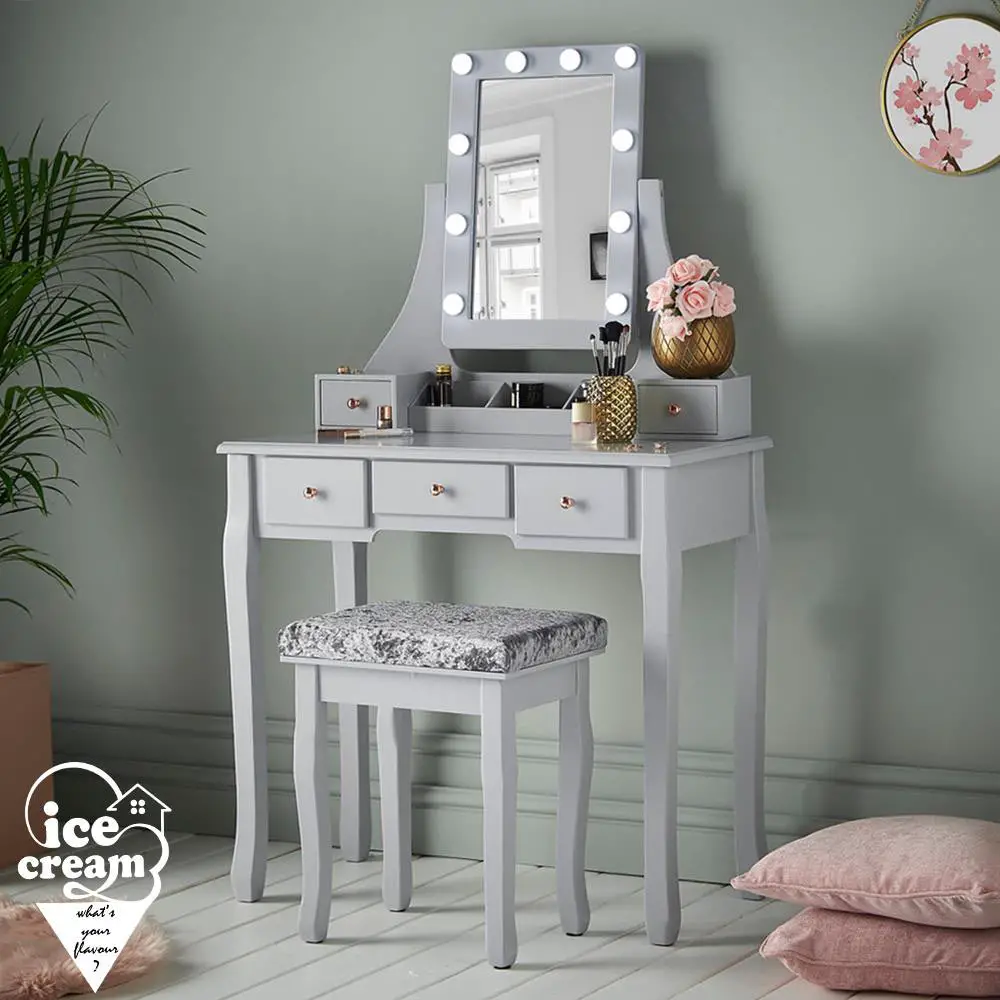 ---
Everyone needs a bit of Hollywood glamour in their lives, and this stunning grey dressing table with LED Hollywood bulbs will definitely provide this for your home.
Why we chose this glamourous design...
A great looking piece of furniture.
LED bulbs can be dimmed to suit the light needed.
No batteries required as lights plug into a socket.
Dimensions: 80cm W x 40cm D x 136cm H.
Stool size: 40cm W x 30cm D x 50cm H, Mirror size: 25cm W x 40cm H.
---

---

3. Stylish Elegance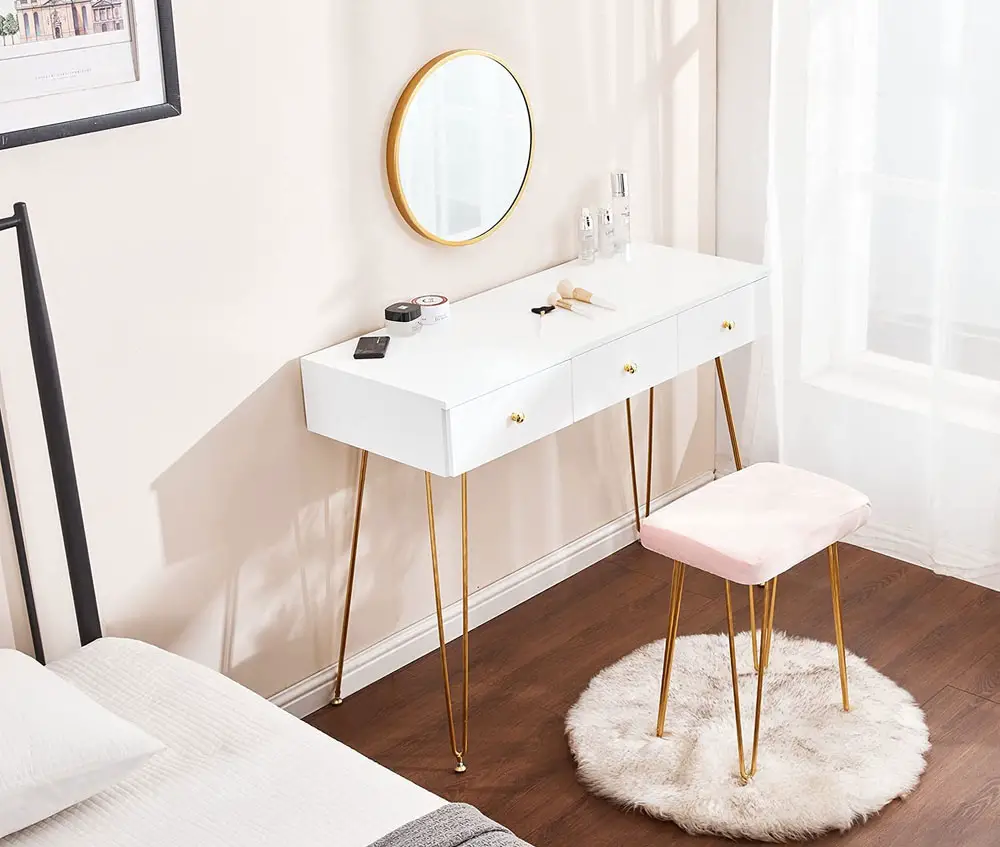 ---
This elegant dressing table is a real show piece. With its thin metal legs, matching stool and soft pink seat cover, It will effortlessly adding a stunning design element to any room.
Why we chose this elegant piece...
Trendy modern design.
Mirror can be set to perfect height as it is wall mounted.
Easy to clean surface.
Velvet stool cover complements unit perfectly
Dimensions for 2 drawers: 80cm W x 40cm D x 79cm H
Dimensions for 3 drawers: 100cm W x 40cm D x 79cm H
Desktop to floor 77.5cm, Mirror 50cm Diameter
---

---

4. Modern chic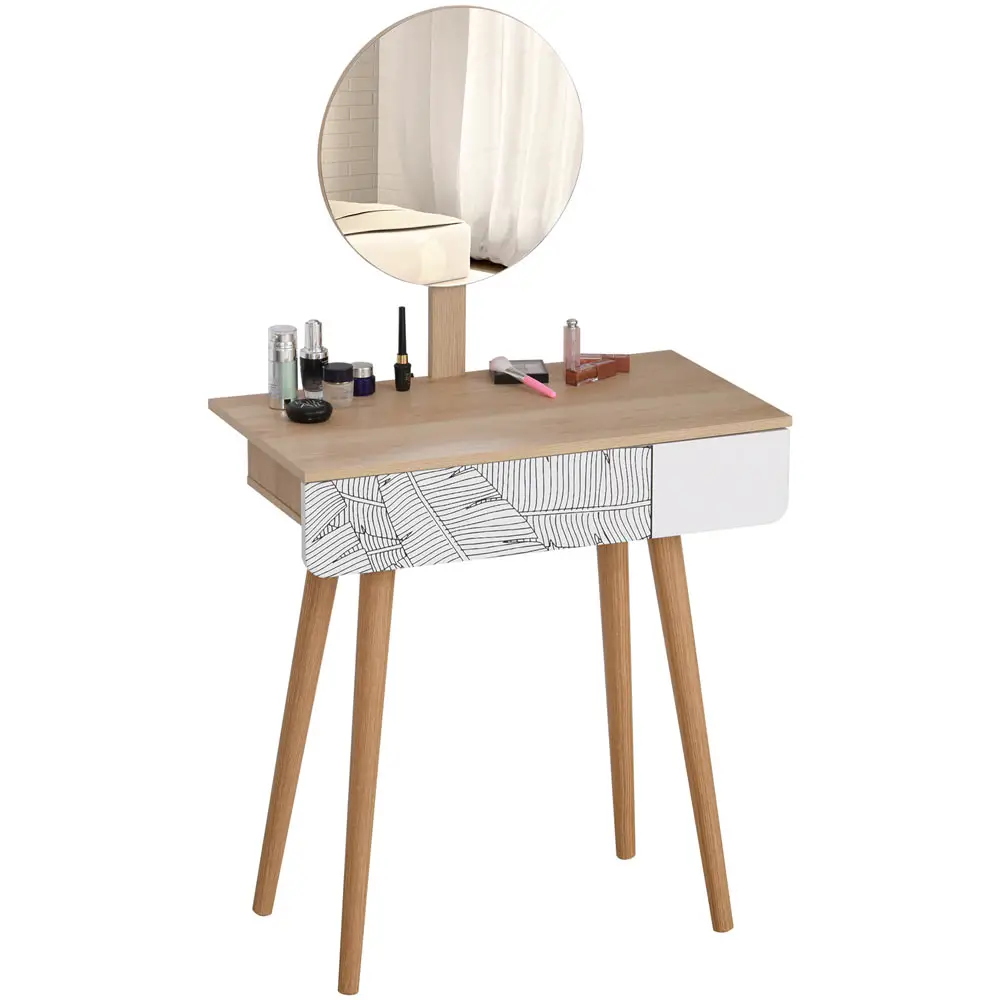 ---
This slimline dressing table is a stunning piece of furniture in its own right and would be a great addition to any modern bedroom decor. The perfect size for the smallest of rooms, whilst still having just enough storage space for the essentials.
Why we chose this chic makeup unit...
Adjustable mirror height.
Striking modern design.
Perfect for smaller spaces.
Low price point compared to other options.
Dimensions: 70cm W x 39cm D x 119-128cm H (mirror: 39cm).
---

---

5. Solidly traditional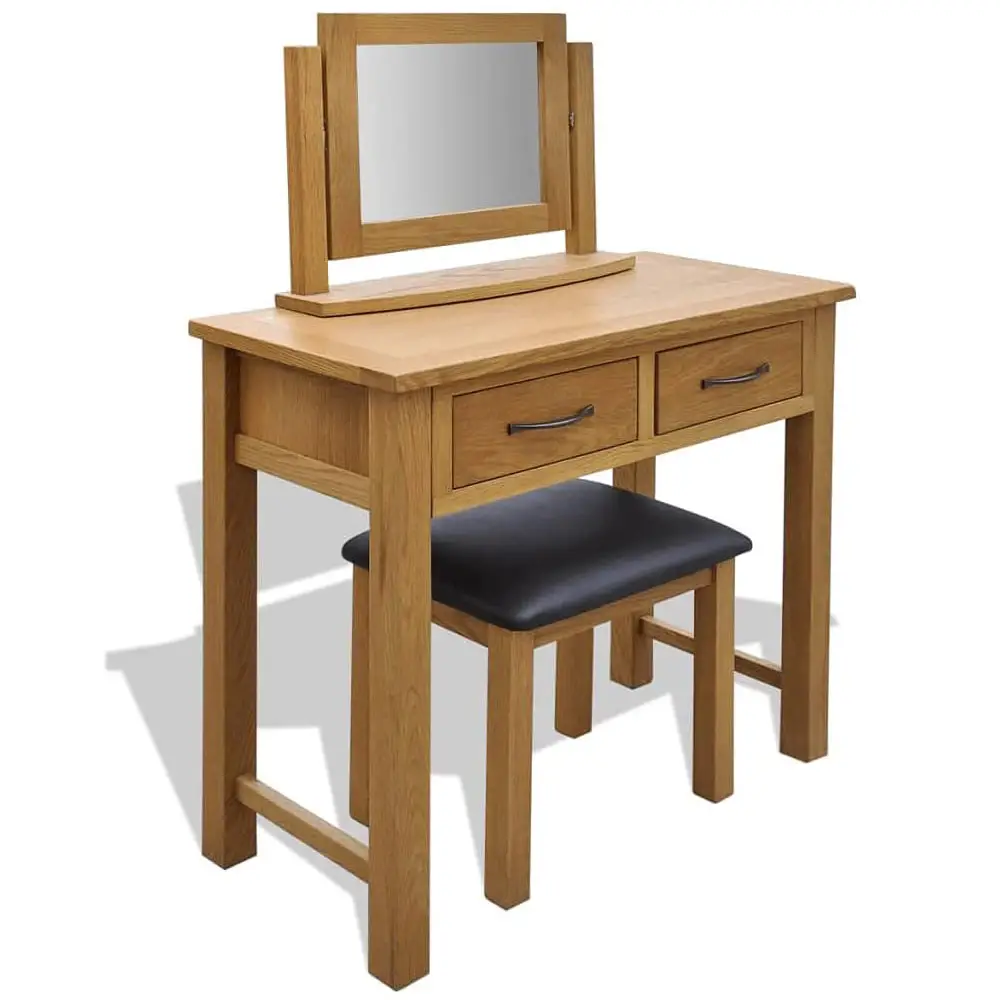 ---
This beautiful Oak dressing table would stand bold and proud in any bedroom or dressing room setting. A solid choice for any modern or traditional style home.
Why we chose this oak dressing table...
Solid design that fit in most styles of home.
Sturdy unit that will last for years.
Plenty of storage space.
Dimensions of dressing table: 86cm W x 40cm D x 80cm H.
Mirror size: 59cm W x 14cm D x 45cm H.
---

---

6. Perfectly Pink
---
This super cute pink dressing table is a great way for any little girl to emulate her mummy applying makeup or doing her hair! Accompanied by a pretty heart shaped mirror and colour matching stool with beautiful silver floral cover.
Why we chose this cute dressing table...
Every little girl loves pink!
Beautiful heart mirror with carved decoration.
Comes with a pretty stool with contrasting cover.
Would make a perfect birthday or Christmas present
Dimensions: 50cm W x 30cm D x 104.7 H (desktop to floor: 62cm)
---

---
7. 1920's Art Deco opulence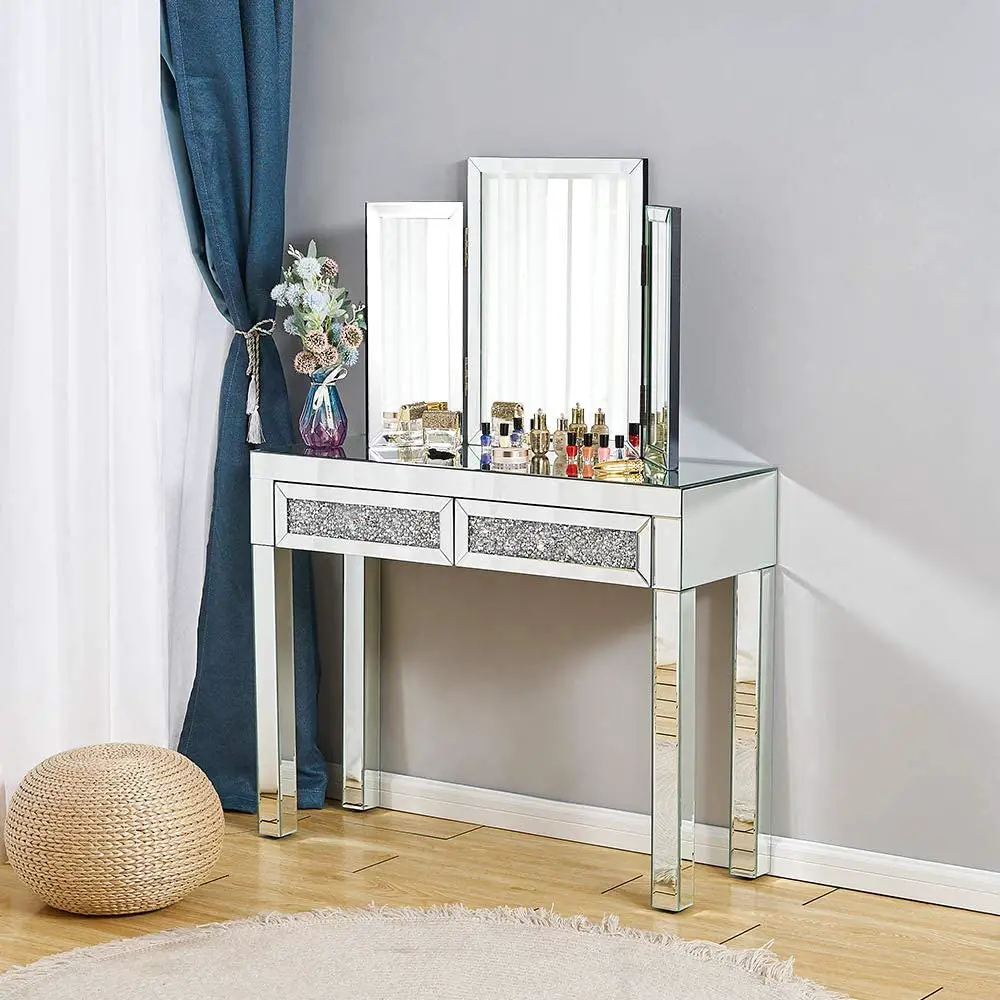 ---
As you will see by visiting any show home, mirrored furniture is still very much in-vogue. Although more expensive than other dressing tables, they are just as much of an investment for the long term as they are a practical piece of furniture.
Why we chose this mirrored dressing table...
Stunning statement piece that will not go out of fashion.
Adds status and opulence to any bedroom decor.
Choose from 4 stool styles.
Table dimensions: 100cm W x 36cm D x 78cm H.
Mirror size: 83cm W x 58cm H.
---

---

8. Corner Vanity Dressing Table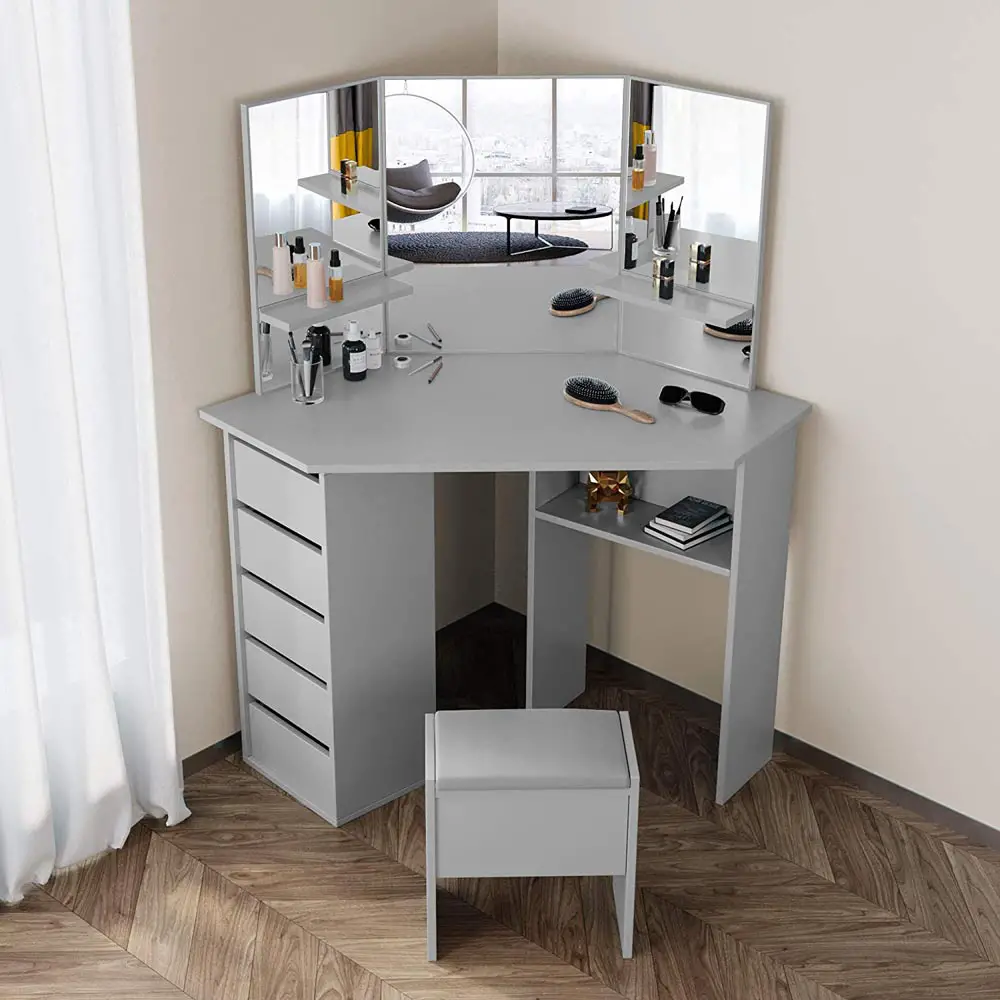 ---
Our last pick is this plain but practical grey corner unit. Corners are often under utilised in bedrooms, therefore this dressing table is an obvious choice for many homes looking to make the best use of their space. Large mirrors, numerous drawers and a spacious work top all make this a great option for the more frequent user. 
Why we chose this vanity unit...
Good storage space with 5 drawers and 3 shelves.
Great wrap around mirrors for easier makeup application.
Stool and Mirror are both supplied with the dressing unit.
Table top to floor: 75.5cm (total overall height 141.5cm).
Worktop dimensions: 110cm W x 54cm D.
---
---
I have tried to select dressing tables that will suit a range of different tastes and budgets, so hopefully I have achieved this. I also hope that one of these pieces of furniture is perfect for your needs. However, if not, good luck in finding
the one
.