---
When it comes to designing bathrooms, we are sometimes guilty of overlooking the importance of choosing the right type of flooring. The bathroom floor not only adds to the overall aesthetic of the bathrooms design, but also plays a crucial role in providing a safe and hygienic environment.
In this blog article I have explored some of the most widely used bathroom flooring ideas to elevate the look and feel of your bathroom space, while providing functionality and durability. From classic ceramic tiles, to modern vinyl or natural stone, I cover many popular (and some lesser known) options so that you make an informed decision for your next bathroom renovation project.
---
---
Ceramic Bathroom Floor Tiles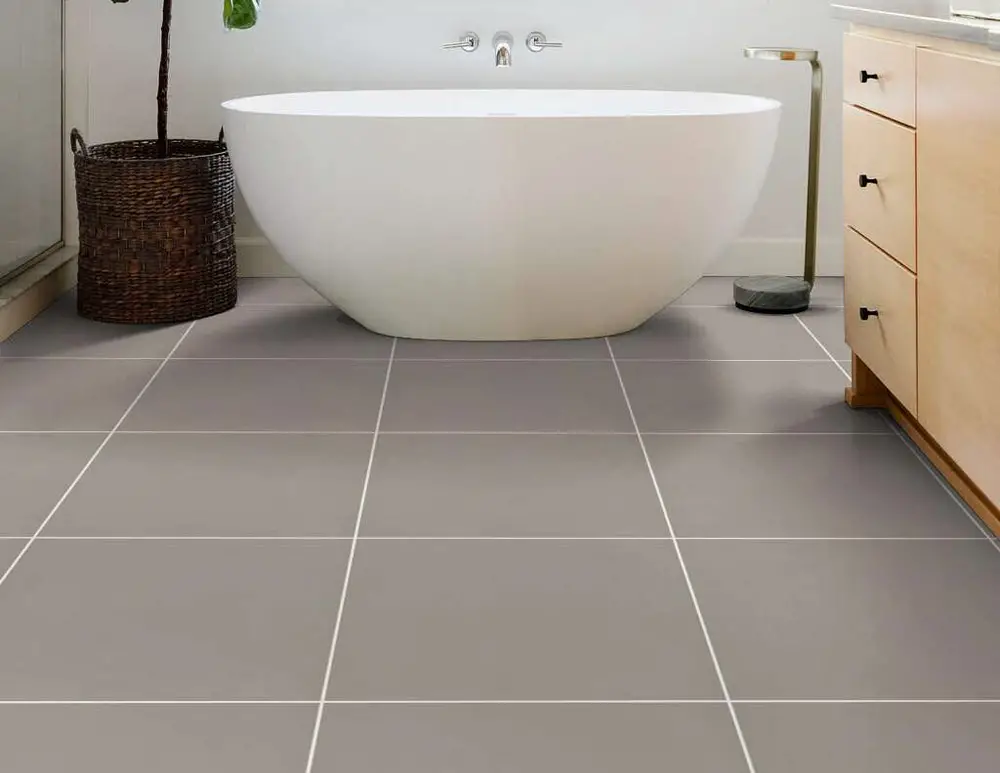 Image credit: shawbuilderflooringsf.com
One of the main benefits of using ceramic floor tiles is the waterproof nature of their surface, making them a great choice for bathroom use. In addition, ceramic tiles are very easy to clean and available in a variety of plain or patterned tiles and sizes, making them an ever popular choice among homeowners.
When selecting ceramic tiles for your bathroom, you should consider both the size of the tiles and the floor area you need to cover. Smaller tiles can be used to create more intricate patterns or designs, whereas larger tiles offer a classic look and also make the floor area easier to maintain and clean.
The extensive range of colours and finishes that ceramic tiles offer, such as wood effect tiles, large format tiles or simply plain tiles, provide you with endless possibilities for creating the exact aesthetic you desire. Glazed ceramic tiles for example, have a glossy finish that is resistant against discoloration and scratches, which makes them particularly durable and long-lasting. Matte finishes on the other hand, offer more grip under foot, but will require some form of maintenance due to their propensity to mark and wear.
Without doubt, ceramic tiles are a solid investment providing both functionality and aesthetic appeal that will stand the test of time.
You may also be interested in...
---
---
Bathroom Carpet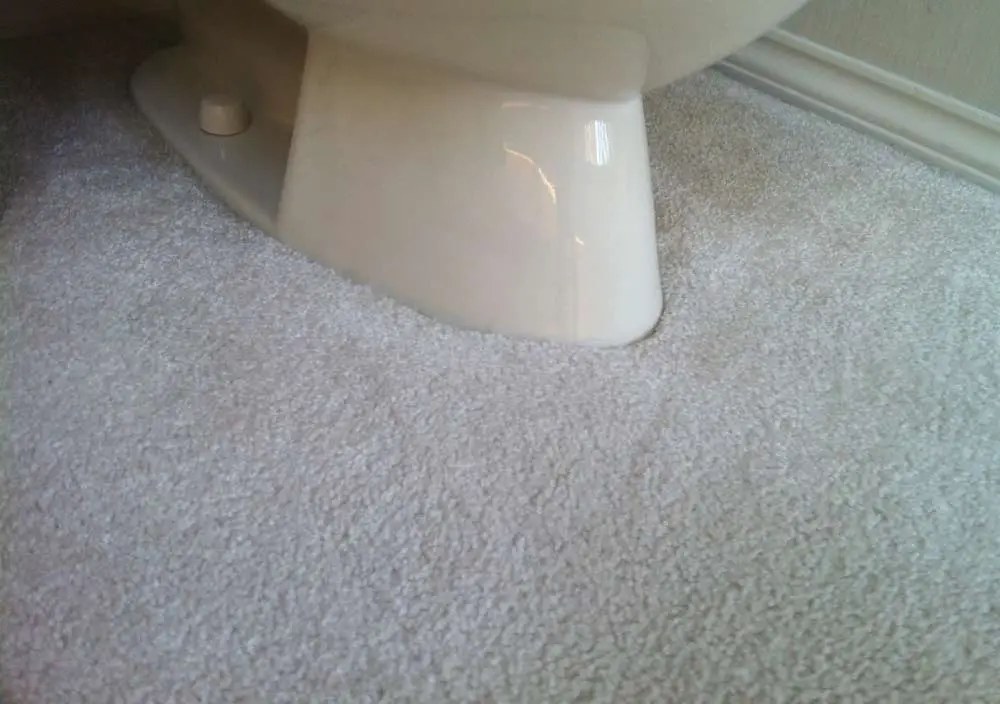 Image credit: getrealtacoma.com
If you like a soft and cosy feeling underfoot, carpet is the bathroom flooring idea to go for. In addition to the sumptuous look it offers, bathroom carpet can also provide excellent sound insulation and warmth to the room.
To ensure its durability and functionality in a damp and frequently cleaned space, one of the most critical factors to consider with bathroom carpet is its ability to withstand moisture and a humid atmosphere. Some carpets are specifically designed for bathrooms, and as such are constructed with materials that can handle higher levels of humidity without deteriorating or developing mould and mildew. Therefore, it is crucial to select a carpet that can withstand these issues..
The type of fibre or pile of the carpet you choose is another important thing to consider when selecting the right material for a bathroom. Carpets with low-looped fibres may not hold up well over time due to water exposure, while shaggy piles may not provide sufficient cushioning or sound insulation in a bathroom setting.
Finally, from an aesthetic point of view, colour is another key factor to bear in mind. The colour of the carpet can significantly impact the overall look and feel of your bathroom and make or break the overall design.
---
---
Bathroom Vinyl Flooring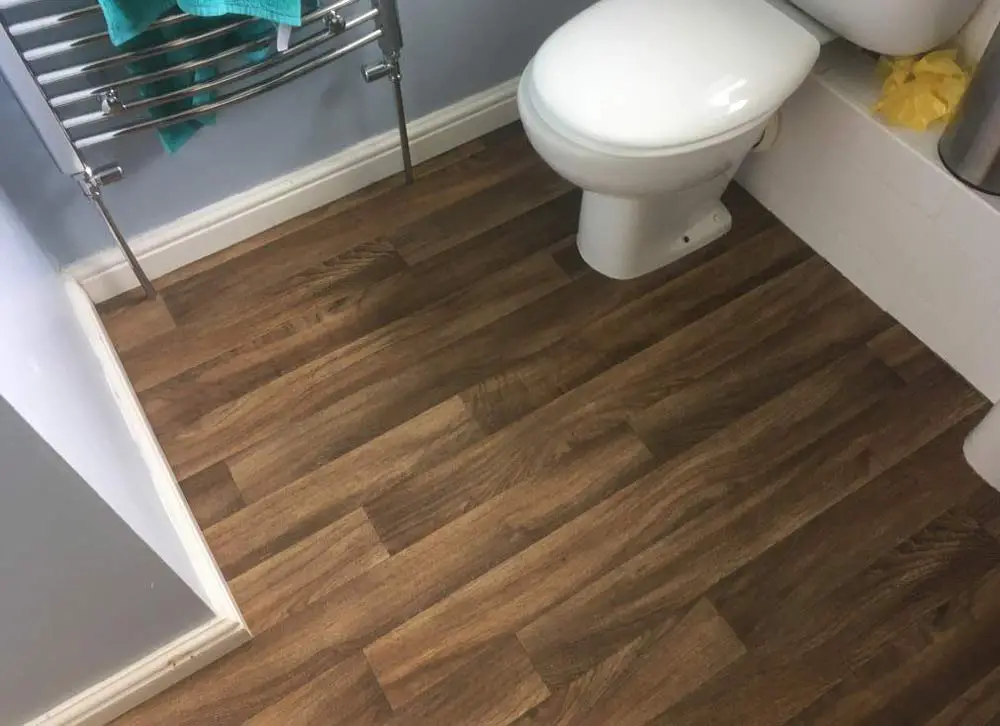 Image credit: feature-interiors.co.uk
Vinyl floorings biggest strength is its high resistance to water and moisture, making it an ideal choice for wet environments such as the bathroom. This also prevents the growth of mould and mildew, which can be a significant health hazard if left untreated.
Another reason why vinyl flooring is popular choice for bathrooms, is its ease of maintenance and cleaning. Vinyl floors are incredibly easy to keep clean, and spills can be quickly wiped away, preventing stains from setting in. This makes it a practical choice for busy homeowners or those with young children.
Vinyl flooring comes in an extensive range of colours and patterns, making it easy to find a style that complements the overall design of your bathroom. Whether you prefer a modern or traditional look, there is a vinyl flooring option that will suit your taste.
From a price perspective, vinyl flooring is also a cost effective solution compared to other types of flooring and offers an affordable alternative to more expensive materials such as ceramic tiles, without compromising on style, quality and durability. With proper installation and maintenance, vinyl floors can withstand heavy foot traffic without showing wear or tear over time.
---
---
Luxury Vinyl Tiles (LVT)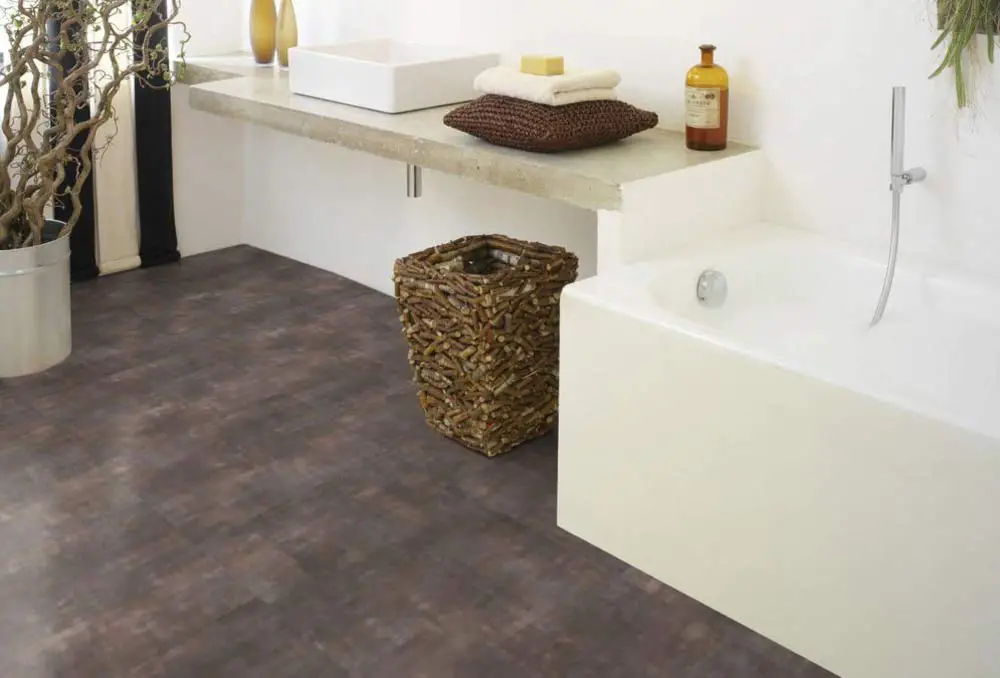 Image credit: bricoflor.co.uk
Made from PVC resin, LVT is a synthetic material that can be designed to mimic the look of natural stone or wood, offering a wide range of styles, colours, textures, and patterns to choose from.
Not only do luxury vinyl tiles offer a high-end look, but cleaning and upkeep are incredibly easy to handle, simply sweep away any dirt and debris, and mop with warm soapy water.
LVT is also another smart choice for humid environments, as it is engineered to be impervious to water and moisture, owing to its additional layer of waterproof backing material. This will help to protect your subflooring from moisture damage, which can be a problem with some other types of flooring. Furthermore, luxury vinyl tiles are soft and comfortable underfoot, making them perfect for those who prioritise comfort.
This vinyl flooring option is commonly available in the form of planks or tiles and either requires gluing to the the floor surface, or is peel-and-stick, making installation a breeze for even novice DIYers. You can easily install this type of flooring on top of your existing subfloor without the need for specialised tools or a professional.
In addition, most luxury vinyl flooring products come with a lifetime warranty against wear-and-tear, so you can rest assured that your floor will maintain its beautiful appearance for many years.
---
---
Bathroom Laminate Wood Flooring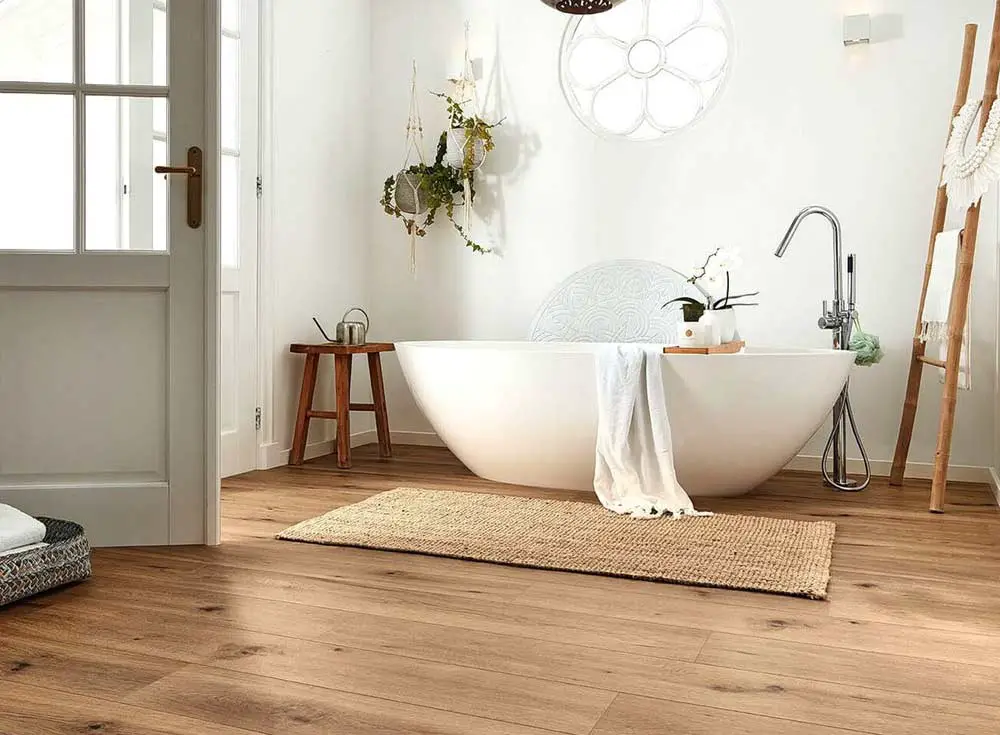 Image credit: hardwoodplanet.ca
Laminate flooring is solid, durable and a relatively easy to install bathroom floor option. It is made up of four separate layers of high-density wood fibre (HDF) which is made from compressed fibres extracted from wood chips. The quality that you choose will dictate the thickness, Density and its resistance to moisture.
Generally, the thicker the board, the stronger and more robust the floor will be, whereas a higher density will give better protection against scratches, chips and wear.
Laminate flooring comes in an array of surface styles that can mimic the look of hardwood, stone, tile, and even metal. This range of variety allows you to create a custom look for your bathroom inspiration, whether you prefer a rustic, modern, or classic design look.
Laminate floors are also easy to keep clean and maintain, unlike some other flooring materials that require frequent re-sealing or refinishing. A regular sweep or vacuum and occasional mop to remove any stubborn stains is all that is required.
---
---
Concrete Bathroom Flooring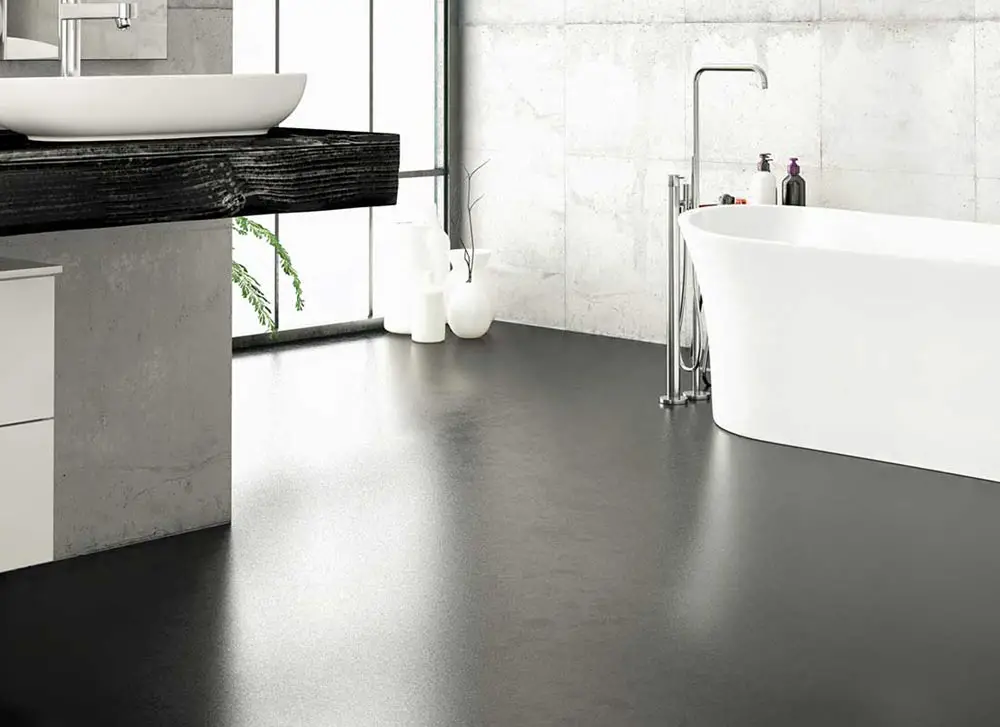 Image credit: refreshrenovations.com.au
Albeit a lot less used than our other options, concrete is another excellent choice of bathroom flooring, mainly due to its remarkable durability, water resistance, and low maintenance requirements. When sealed correctly, concrete floors can withstand years of heavy use, humidity from showers or tubs, and are resistant to staining.
Beyond being incredibly durable, concrete bathroom floors are versatile in terms of their aesthetic appeal. They can be painted or stained in a wide range of colours and designs or highly polished for an opulent reflective finish. Concrete flooring can also be transformed into a beautiful work of art through the use of stencils or stamping mats, creating unique patterns or designs that can be the centrepiece of any bathroom.
Proper maintenance of your concrete floor will ensure its longevity, and with regular cleaning and the occasional resealing, your concrete floor will maintain its beauty and durability for many years to come.
---
---
Real Wood Flooring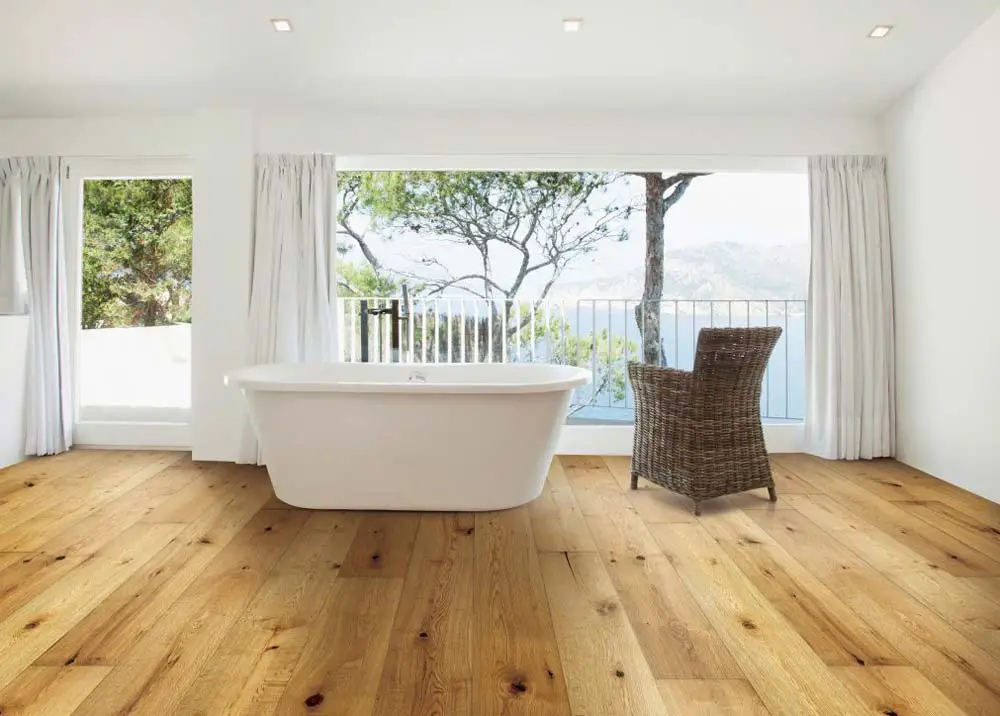 Image credit: lifecoreflooring.com
Real wood flooring creates a warm and inviting look that adds a touch of elegance to any bathroom space. When it comes to integrating wood into your bathroom, there are many different shades and wood types available, making it a versatile choice that can work with any bathroom design styles.
It's important to keep in mind however, that natural wood is vulnerable to moisture and humidity, which can cause warping and even rotting over time. Therefore, it's crucial to properly seal and maintain your wooden bathroom flooring to ensure its longevity. This means using waterproof sealants and finish treatments specifically designed for bathroom floors.
This is even more important if you are considering fitting solid hardwood floors, as they are more prone to water damage than engineered woods. This is because solid hardwood floors are single pieces of real wood, whereas engineered wood is made from multiple layers that are glued together, making them more resistant to moisture.
When installed correctly with the appropriate maintenance routine, wooden flooring is a particularly beautiful choice. However, it's essential to do your research and choose the best type and quality of wood for your space, to ensure that your bathroom floor will stand the test of time.
---
---
Natural Stone Bathroom Tiles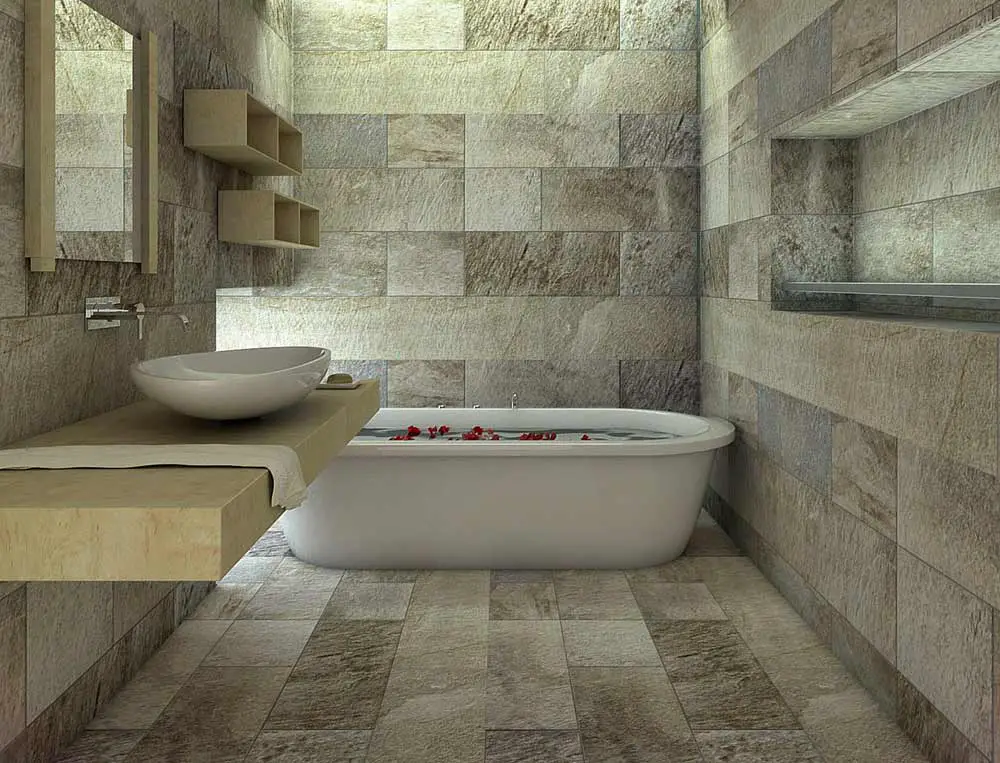 Image credit: pinterest.co.uk
If you want to create a truly unique and high-end look in your bathroom, you won't go far wrong using stone tiles. They are available in various options, including marble, granite, slate, and travertine, allowing you to choose the perfect finish to complement your bathroom design vision.
Marble is a particularly popular choice for natural stone bathroom tiles because of its luxurious appearance and hard wearing nature. Marble tiles exude elegance and sophistication and are perfect for creating a spa-like atmosphere in your bathroom space.
Granite tiles are another great choice that are incredibly hard-wearing and resistant to scratches and stains, the smooth surface providing a sleek and modern look to any bathroom design.
For a more natural rustic feel, slate tiles are the ones to go for, their unique texture and colour variations making each tile a one-off piece. Slate is also incredibly slip-resistant, making it a perfect choice for wet areas like the bathroom.
Finally, travertine tiles are perfect for achieving a classic Mediterranean look and feel. This natural stone has warm earthy tones and unique swirls, providing a unique look to any bathroom design. Travertine is also easy to maintain, making it a perfect low-maintenance, yet sophisticated option.
---
---
Rubber Bathroom Flooring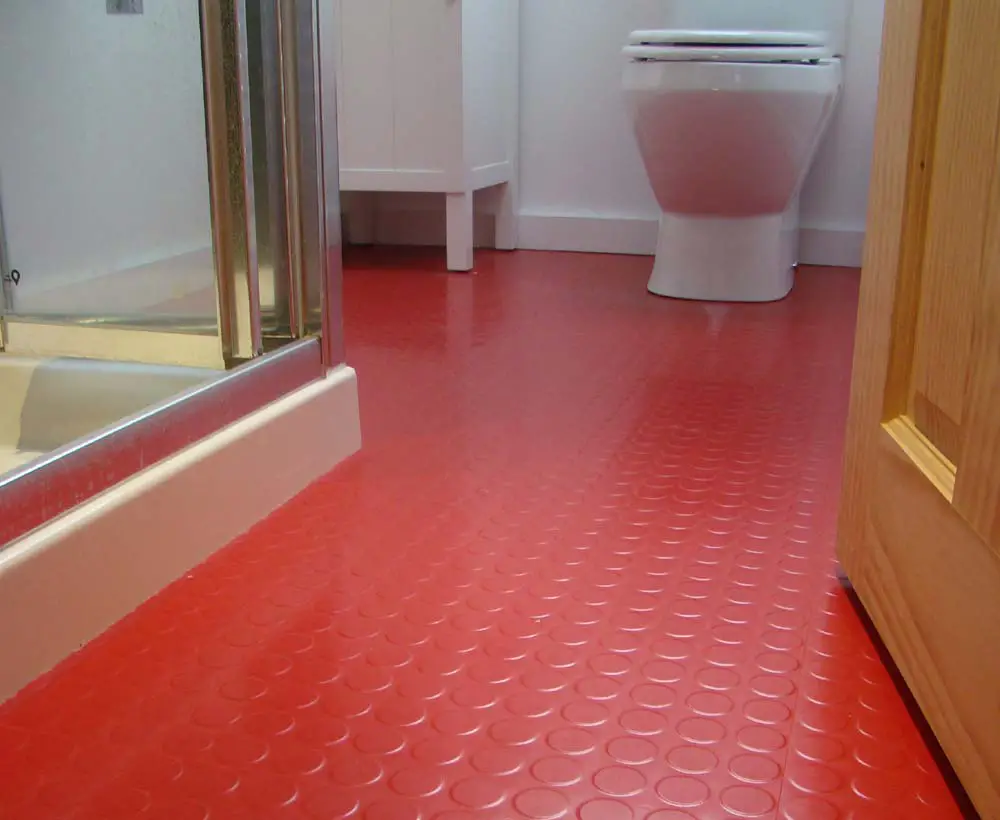 Image credit: pinterest.co.uk
When it comes to bathroom flooring ideas, rubber flooring is an ideal option for areas with high moisture and wet conditions, as it is naturally water and slip resistant. This is especially true in constantly wet areas such as a shower or wet room, where safety is a primary concern.
Rubber flooring is an affordable option that also provides excellent sound absorption, which is essential for creating a peaceful and relaxing atmosphere in your bathroom space.
Rubber flooring comes in a wide range of colours and finished detailing, giving you the flexibility to customise the look and feel of your bathroom floor. It is effortless to clean and maintain, requiring only occasional sweeping and mopping with a mild detergent solution.
The versatility of rubber flooring means that it can be perfectly cut to shape and trimmed to fit around any fixtures and fittings like toilets or bathtubs, providing a neat and tidy finish.
The final advantage of rubber flooring is its ability to retain heat better than many other materials used in the bathroom, such as tile or laminate. This makes it particularly useful in cold winter months, providing warmth and comfort for your feet.
---
---
Porcelain Bathroom Floor Tiles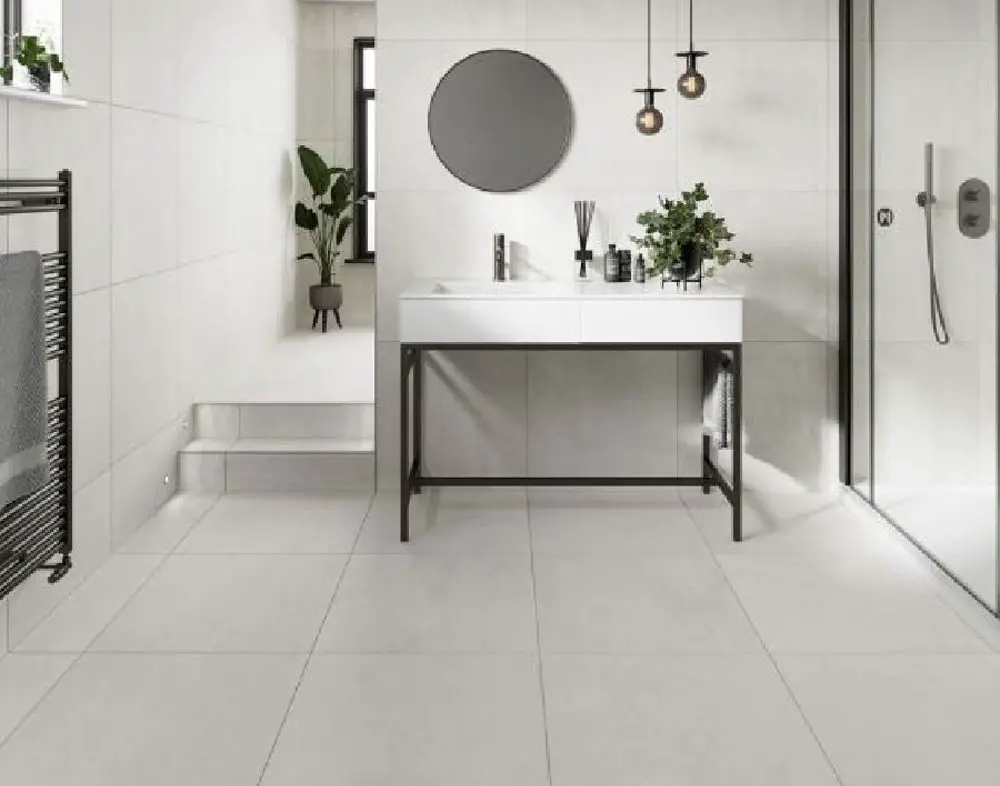 Image credit: lafabrico.uk
Porcelain bathroom tiles are unrivalled for their combination of beauty and durability. This type of tile is an excellent choice for bathroom flooring due to its remarkable moisture-resistant properties and extensive range of colour options, shapes, and sizes, making it an adaptable option for any bathroom.
In addition to being moisture-resistant, porcelain floor tiles offer excellent durability and are resistant to stains, cracks, and fading. Porcelain tiles also often come pre-glazed which eliminates the need for additional sealants or waxes after installation, while still providing a beautiful finish that stands up against wear and tear over time.
Porcelain tiles remain one of the most popular choices for bathroom flooring for all the reasons already explained. But one final advantage of porcelain tiles is their ease of installation, which makes them ideal for DIY home projects. Installing these tiles is a relatively straightforward process that requires only basic knowledge of home improvement.
---
---
Cork Flooring for Bathroom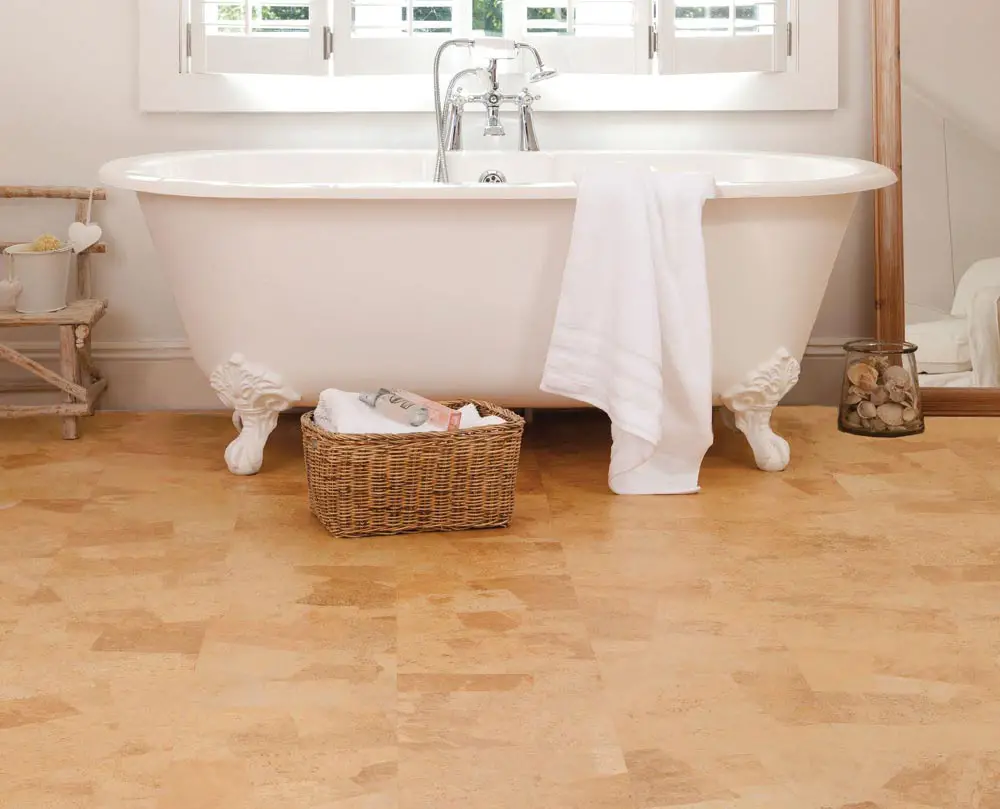 Image credit: issuu.com
Cork flooring offers natural warmth and comfort underfoot that will transform your bathroom into a cosy and inviting space. Its unique cellular structure also makes it naturally resistant to water, mould, and mildew growth, ensuring that your bathroom remains hygienic and free of harmful microbes.
Another benefit of cork flooring is its excellent sound-dampening capabilities. Making it a great option for reducing noise from foot traffic, allowing you to enjoy a peaceful and tranquil bathroom experience.
Cork floor tiles are easy to install yourself, either by using adhesive or buying cork tiles with a pre-applied adhesive backing. This will work in the same way as liquid adhesive to keep the tiles in place without requiring any nails or glue.
Finally, cleaning cork flooring is a breeze as it naturally repels liquids instead of absorbing them, while in addition regular sweeping or vacuuming will help keep dirt and debris at bay.
---
---
Resin Bathroom Floor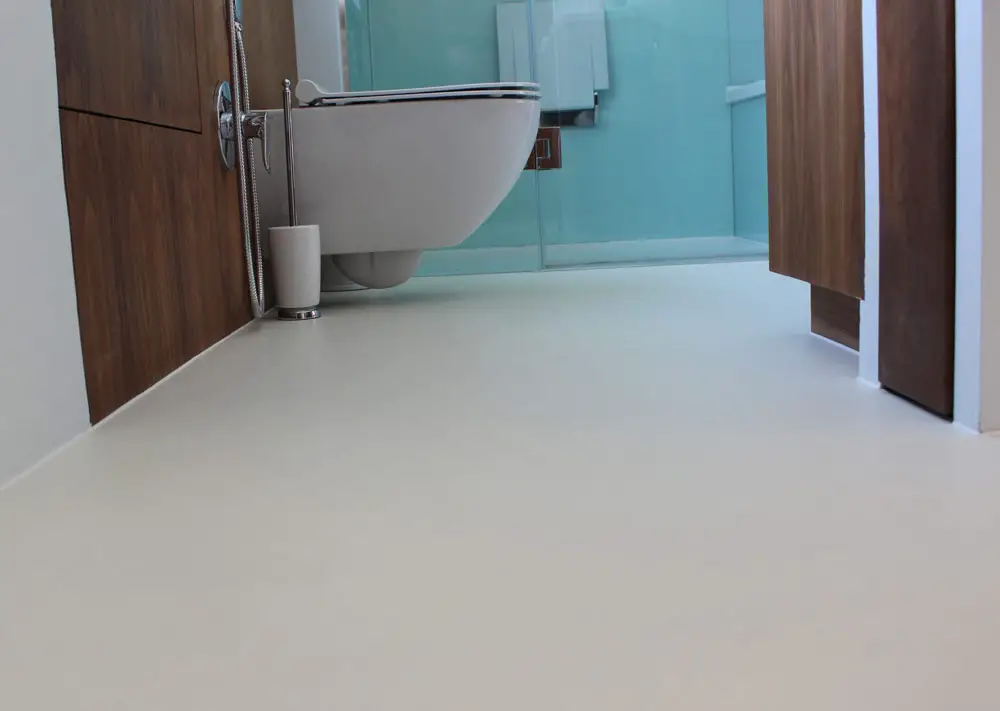 Image credit: 3droyalfloors.co.uk
Resin offers an extensive range of options for covering bathroom floors, including solid colours, glitter effects and decorative designs that can significantly enhance the overall look of your bathroom.
Not only are resin floors aesthetically pleasing, but they also provide a safe and secure surface with anti-slip finishes that ensure they remain slip-resistant even in wet conditions. Resin floors are highly resistant to staining and scratching, ensuring they maintain their elegant appearance over time.
Is is possible to create a resin floor yourself if you are handy at DIY, but for most I would advise hiring a professional installer. Once installed, resin floors require minimal care and upkeep, with regular mopping and occasional sealing being the only maintenance requirements to preserve their appearance and longevity.
Unlike traditional tiled floors, resin eliminates the need for grouting, which can discolour over time and produce an uninviting and unsanitary environment. By choosing resin flooring you can create a beautiful seamless effect, which is a modern and low-maintenance bathroom flooring that meets all of your design and functional requirements.
---
---
Pebble Floor Tiles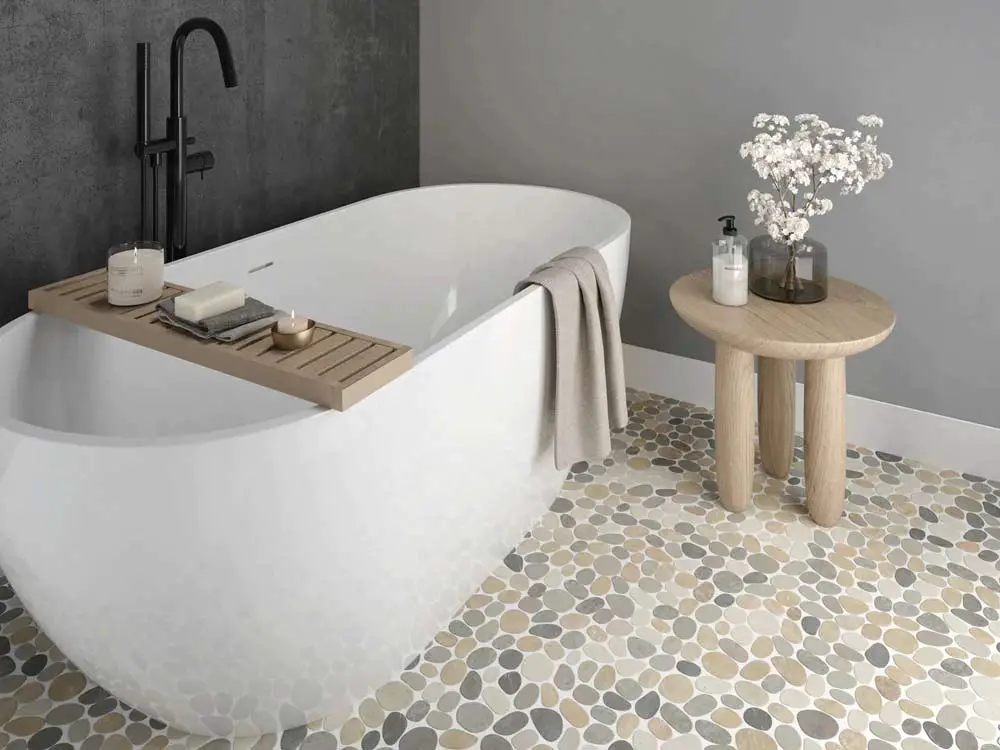 Image credit: aradbranding.com
Pebble bathroom tiles are a stunning and innovative way to enhance the overall aesthetic of any bathroom floor. These unique tiles are a quirky choice for anyone who wants to infuse their bathroom with texture and interest.
Pebble tiles are inspired by the natural beauty of river rocks, with the small, organic shapes of the pebbles creating a visually captivating effect, adding depth and character to the floor space. They are also versatile enough to complement a range of design styles from modern to traditional. Their organic feel can add warmth and tranquillity to a bathroom, while the sophistication of the natural stones adds an element of luxury.
Installation is an easy process and most pebble tiles come pre-assembled on mesh backing, which helps to simplify the fitting. Once stuck down to the floor surface, the pebble tiles will only require grouting for completion.
---
---
Terrazzo Flooring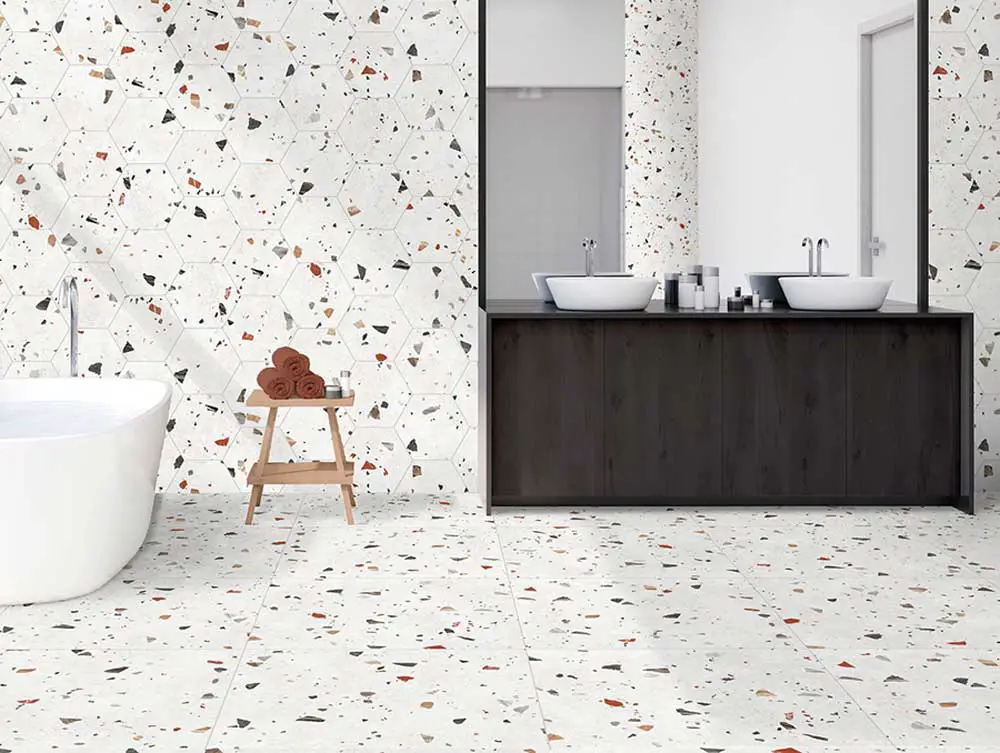 Image credit: decosurfaces.com
Despite having been around for centuries, terrazzo flooring has never lost its popularity in modern homes due to its exceptional durability, low maintenance needs, and attractive appearance.
Authentic Terrazzo floors are crafted by mixing small pieces of marble, granite, quartz or other materials with a cement-like binding agent, before polishing them until they are smooth. The resulting surface creates a captivating random pattern that adds texture and interest to any bathroom floor surface.
One of the standout features of terrazzo flooring is its incredible resistance to scratches, stains, and moisture damage. Terrazzo floors can also be easily customised to your exact needs by mixing different colours of stone together, or by incorporating design elements like mosaic tiles or embedded shells. This would be a great way to create a unique, personalised look that reflects your own style and taste.
For a less involved application process, terrazzo designs are now available in the form of tiles, so you can get the stunning look without the extensive work that is involved.
Linoleum Bathroom Flooring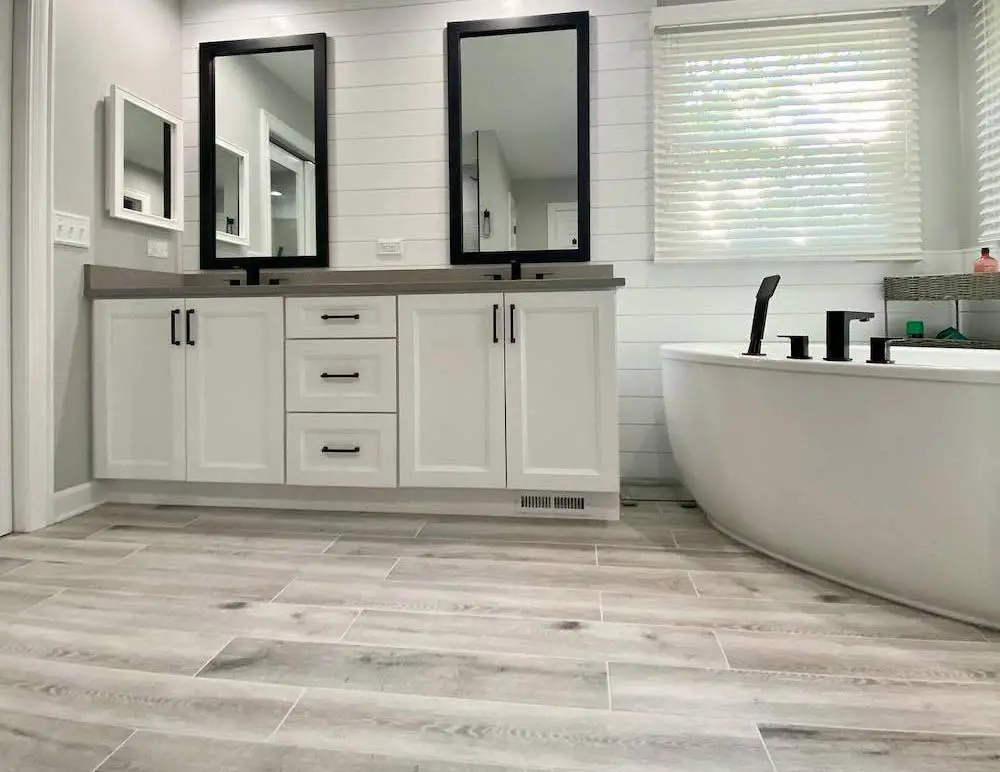 Image credit: msisurfaces.com
From bold geometric patterns to subtle textures, linoleum can add a beautiful finishing touch to any bathroom design and is also a perfect option if budget is a consideration.
Linoleum is known for its impressive lifespan, lasting up to 40 years if properly installed and maintained. To ensure it stays looking new and fresh, regular mopping with cloth mop and cleaning solution is recommended. However, it is crucial to wipe up spills promptly as linoleum is not entirely stain-proof.
It is essential before fitting this type of flooring to ensure that the subfloor is level and clean before laying down the linoleum. This preparation will ensure the final result is not only even and level but also secure and long-lasting. When installing linoleum on a concrete subfloor, using an approved adhesive is crucial to keep the flooring in place.
Over time, deep scratches or gouges may occur in the surface of the linoleum, due to its soft properties. That said, they can potentially be filled with wax sticks or putty crayons, specifically designed for this purpose, maintaining the integrity and aesthetics of the flooring.