---
Small bathrooms are a common site in many homes across the country, which can certainly pose some unique design challenges for interior designers and home owners. However, don't lose hope, as we have some great tips and tricks for making the very most of the bathroom space that you have.
Here are our top ideas for overcoming the problems that a small bathroom can bring, and making the very most of every inch.
Disclaimer: As an Amazon and Wayfair associate, we do receive a small commission from qualifying purchases made via links within this article.
---
---
Create The Illusion of Space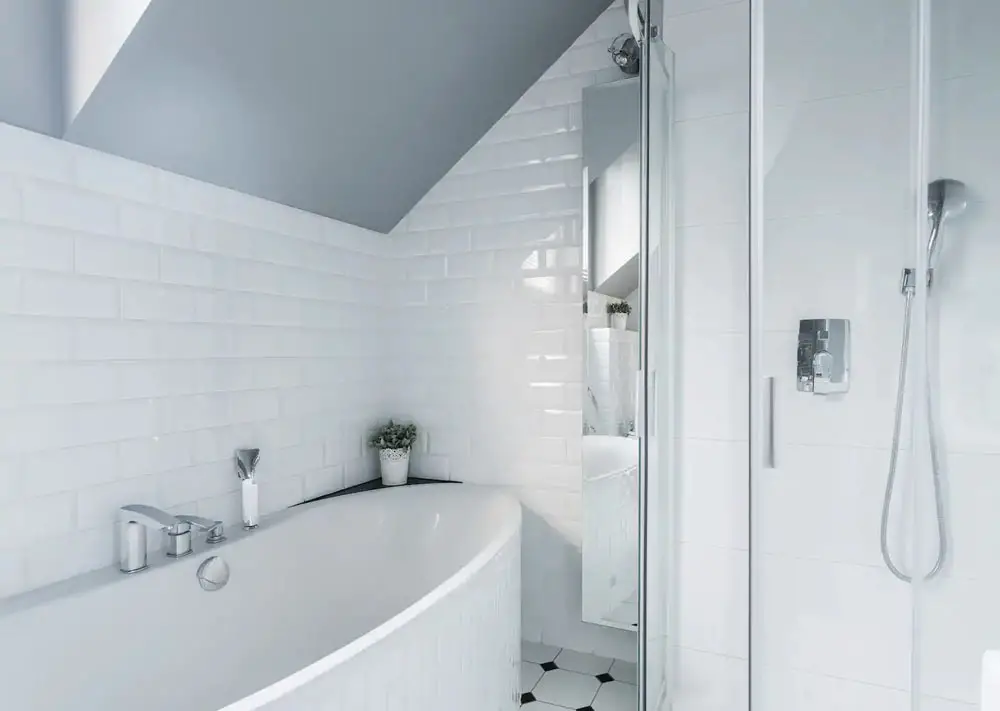 Image credit: angi.com
It's fair to say that many bathrooms are short on space. But there are some easy tricks you can use to make your small bathroom look and feel more spacious.
One decorating trick is to use light colours on the walls and ceiling. This will help create the illusion of extra space, as light colours reflect more light, which makes the space feel brighter and more open. This is especially important in very small bathrooms, where every square inch counts.
In addition to making the space feel bigger, using light colours can also help create a more calming and serene atmosphere. This is a great tip for any size of bathroom, where often all you want to do is relax and unwind after a long day.
You may also be interested in...
---
---
Utilise Clever Storage Solutions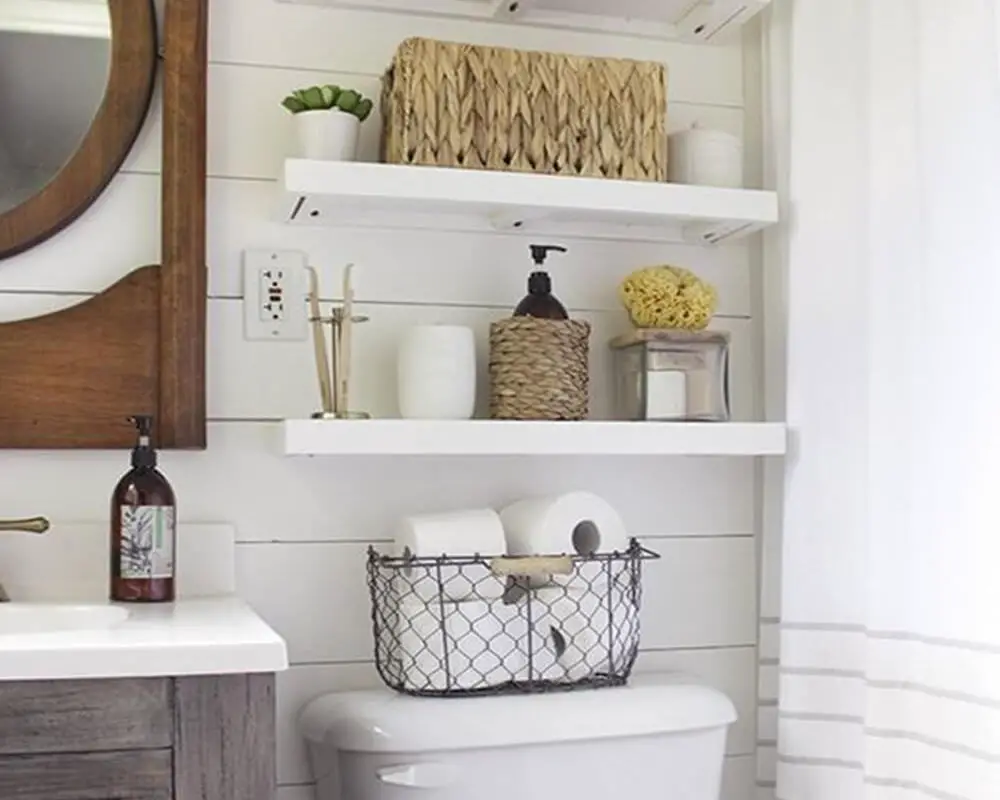 Image credit: hotcore.info
You may occasionally get frustrated and feel that there is no hope for your small bathroom. But with a little bit of creativity, you can transform your tiny bathroom into a functional and stylish space.
Here are some clever storage ideas that you can utilise today:
1. Use wall-mounted shelves - This will help free up floor space and keep your bathroom looking clean and clutter-free.
2. Install a corner shelf - This is a great way to make use of an often under-utilised area of the bathroom.
3. Make use of baskets and bins - These can be used to store toiletries, towels, and other similar items, while still keeping them within reach when you need them.
4. Install a shower curtain rail with extra hooks - Handy for hanging a loofah brush, shower cap or washing products.
5. Hang a small cabinet or shelf unit from the wall above the toilet - It's a great place to store extra toilet paper and other bathroom toiletries or cleaning products.
6. If you have a shower cubicle, fix a bar between the tiles and glass - This is a great place to hang your shower caddy and flannels.
7. Use shower hooks to hold your shampoo, conditioner, and soap, so that they are conveniently accessible.
8. Install a shelf above the toilet - A useful spot for extra storage space.
9. Add a hook or two to the back of the bathroom door - Perfect for hanging your dressing gown or clothes to change into.
You may also like...
15 tips for making small rooms look bigger
---
---
Declutter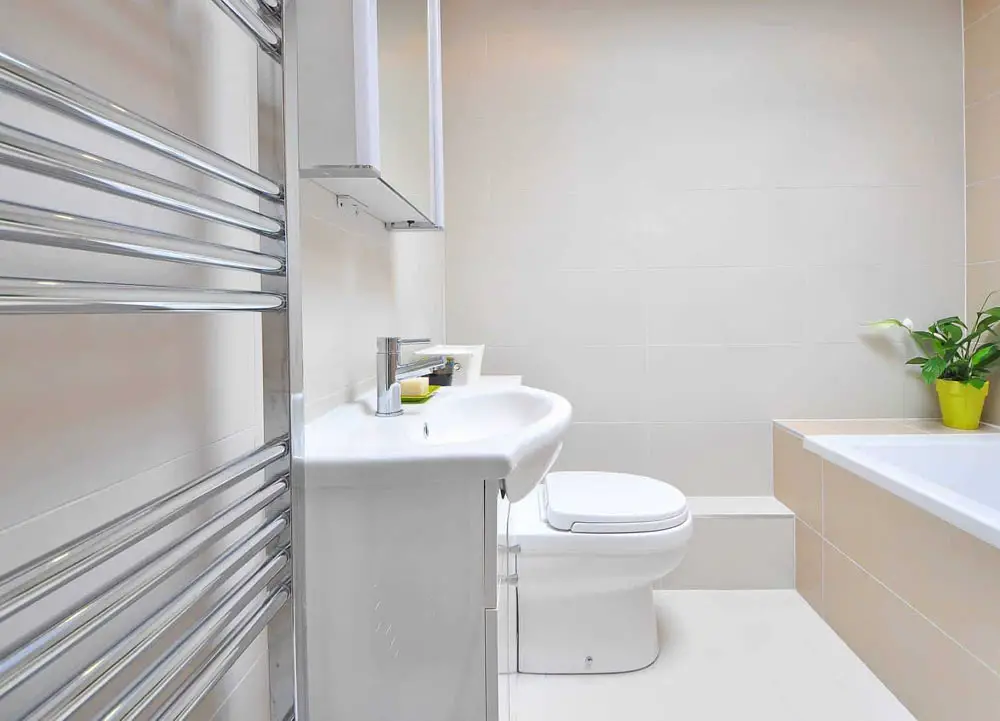 Image credit: abeautifulspace.co.uk
Important in any small bathroom, is to declutter your counters, shelves and any other surfaces that are on show. A cluttered and messy countertop can make your bathroom space feel even smaller and more cramped than it already is.
Also take the time to organise what you have on display, and completely remove any unwanted items and objects from your compact bathroom. The neater, tidier, and more organised that the small space is, the better.
More reading...
Living room ideas for a small terraced house
---
---
Opt for Mirrors and Glass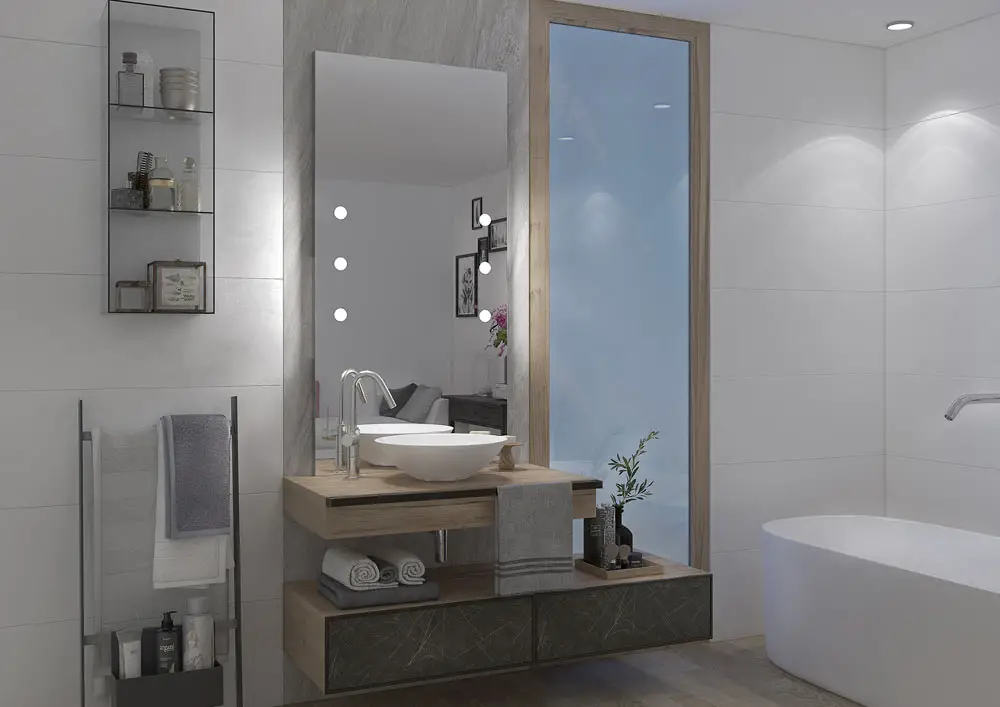 Image credit: lineaunica.com
Another simple trick for making the most of a small space is to use mirrors. Mirrors are very effective at reflecting light and bouncing it around the room, which will ultimately amplify the feeling of space and make the bathroom look and feel bigger than it actually is.
You can also fit glass shower doors or a glass screen to your bath, instead of shower curtains. Shower curtains (unless see-though) block off the open space and make any small bathroom feel even smaller and more claustrophobic, whereas a glass shower door will not block out the light or visually hide any space. This will without doubt make the small bathroom feel more open and airy.
---
---
Light the Space Effectively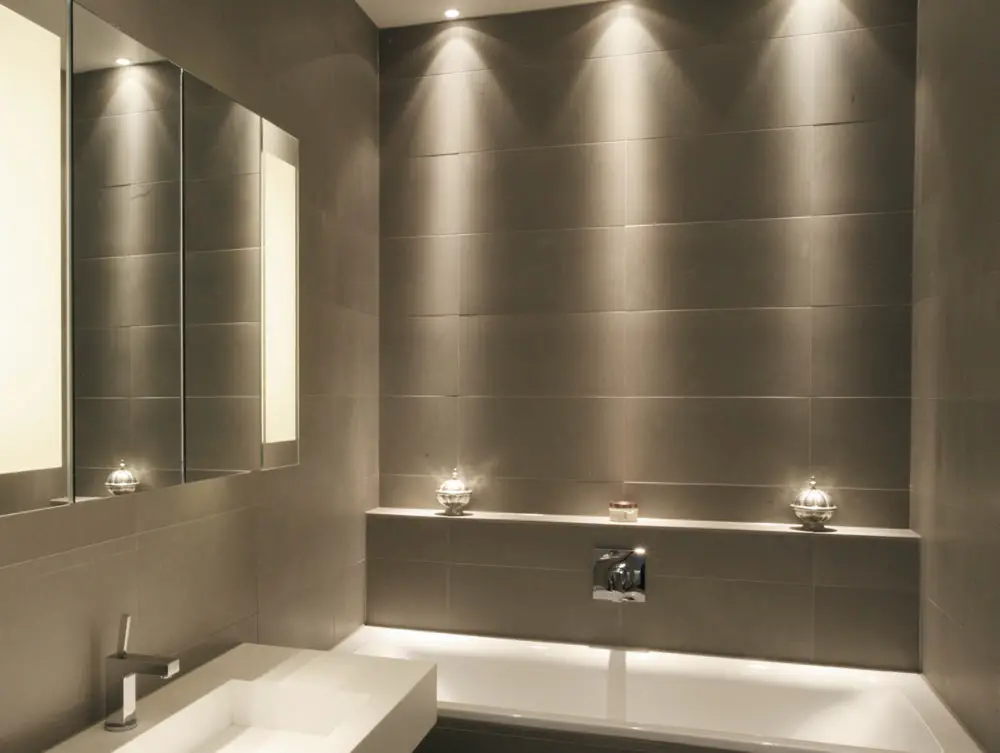 Image credit: sianbaxterlighting.co.uk
The types of lighting that you use is key to decorating any small space, as the correct lighting can be the difference between dark and dreary, and light and airy. Not only that, but have you ever tried using a bathroom mirror to put make up on or shave, in dull light? If the answer is yes, you will know how hard it can be!
Most importantly, make the most of any natural light that you have in your bathroom, by not blocking the window glass with dark or heavy coverings . If possible, for maximum light, leave it completely clear of any window treatments.
Recessed lighting is a common way to light bathrooms, these are especially popular within the construction of new builds. Just be sure to purchase the correct ones for use in a bathroom, as they need to be protected from the moisture that showers and baths will create.
Also consider under-cabinet LED strip lighting. It is small and discreet and low energy, but powerful enough to brighten countertops to create a more even distribution of light within the room.
---
---
Wall Mount your Vanity Unit
Image credit: sunlightbathrooms.com.au
Mounting the vanity unit to the wall, so that it is 'floating', is a great way to open up the useable and visually free floor space in a small bathroom. This gives you the option of either creating extra storage below it, or simply leaving it open, to give the feeling and illusion of more space.
---
---
Fit a Skylight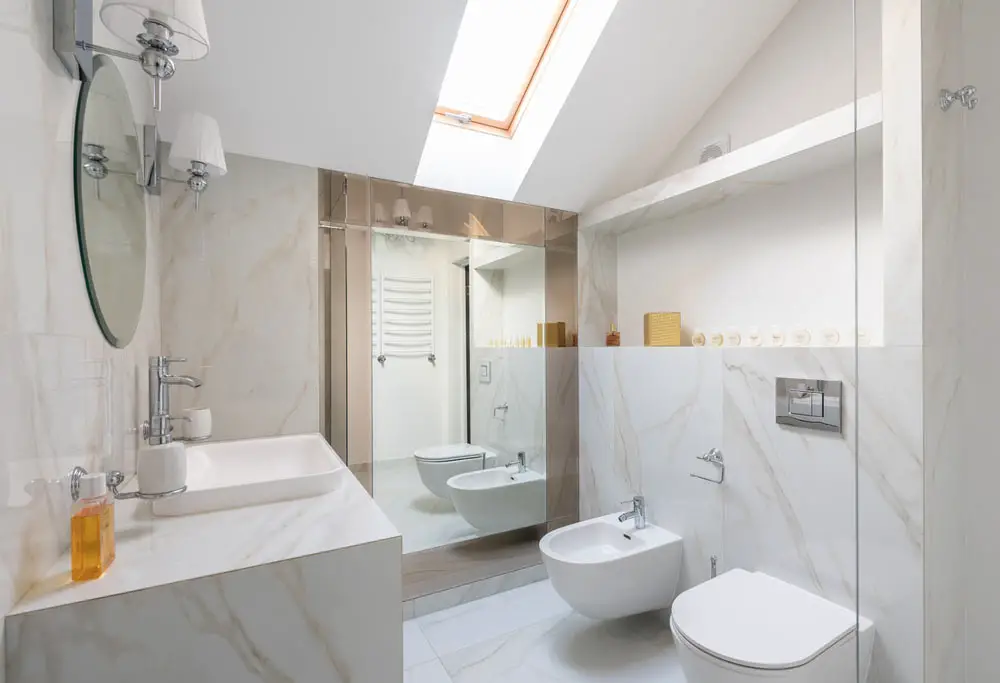 Image credit: glasgowtradespeople.co.uk
As previously mentioned, natural light is very beneficial for improving the feeling of openness in any small space. So, what can you do if you haven't got any natural light coming into your bathroom?
Although an extensive undertaking, adding a glass skylight would undoubtedly make a massive difference to your small bathroom. However, if the cost of this or the workload involved would make this a no-go for you, there is another more cost effective alternative.
Solar tubes (also known as tubular skylights or sun tunnels) are simple but clever devices that, when placed in the ceiling and directed to the outer roof surface, tunnel and diffuse natural light back into the room. An effective and free source of lighting.
---
---
Use Multifunctional Furniture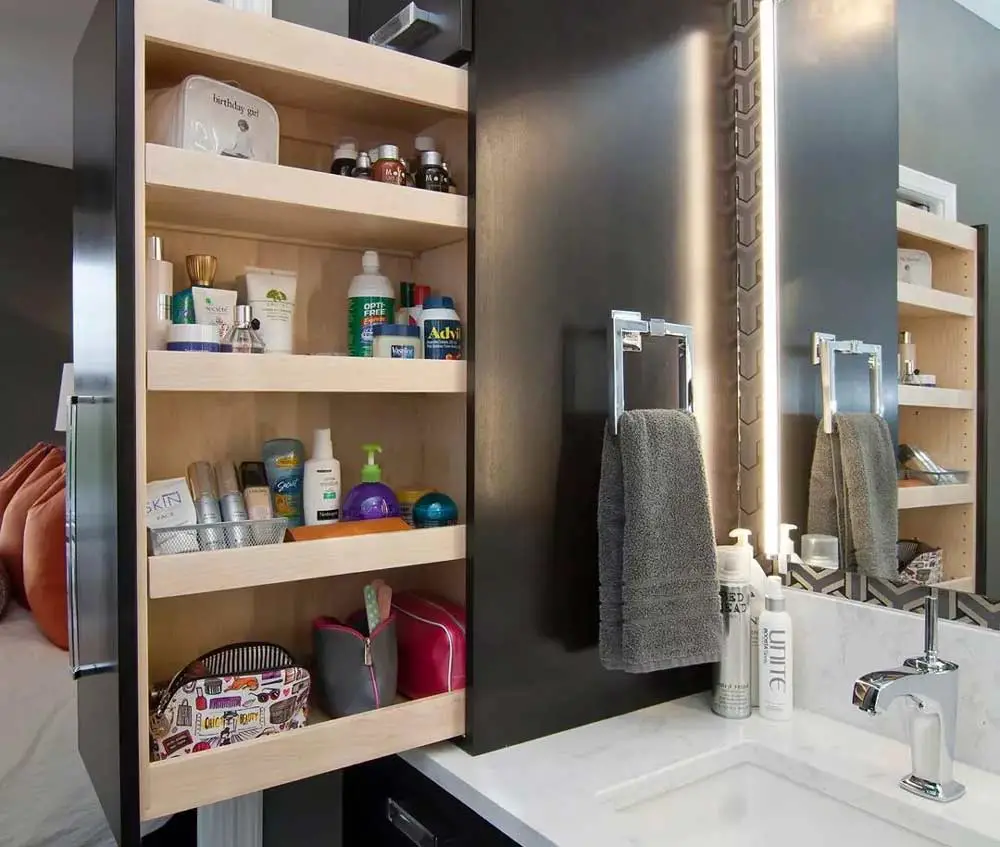 Image credit: extraspace.com
An optimal way to make the most of your small bathroom space, is to add pieces of furniture that are multifunctional.
Multifunctional furniture is a great way to save space in any small room, as the more use that each piece has, the more practical and useful the space becomes.
A vanity unit with built-in storage, for example, can help you keep your bathroom organised and tidy, while a wall-mounted cabinet or shelf can also be used to store towels, toiletries, and other useful items.
When choosing which furniture to use in your small bathroom, it is important to consider its optimal function and where it should be located for minimum space saving.
For instance, you may want to choose a pedestal sink if you already have limited countertop space. Adversely, if you don't have enough surface space, swap out the pedestal basin for a countertop and build a sink into it.
If you are planning to fit a shower unit into your small bathroom, but are limited for space, you may need to opt for a corner shower if it suits your bathroom layout better.
---
---
Fit a Shelf Above the Door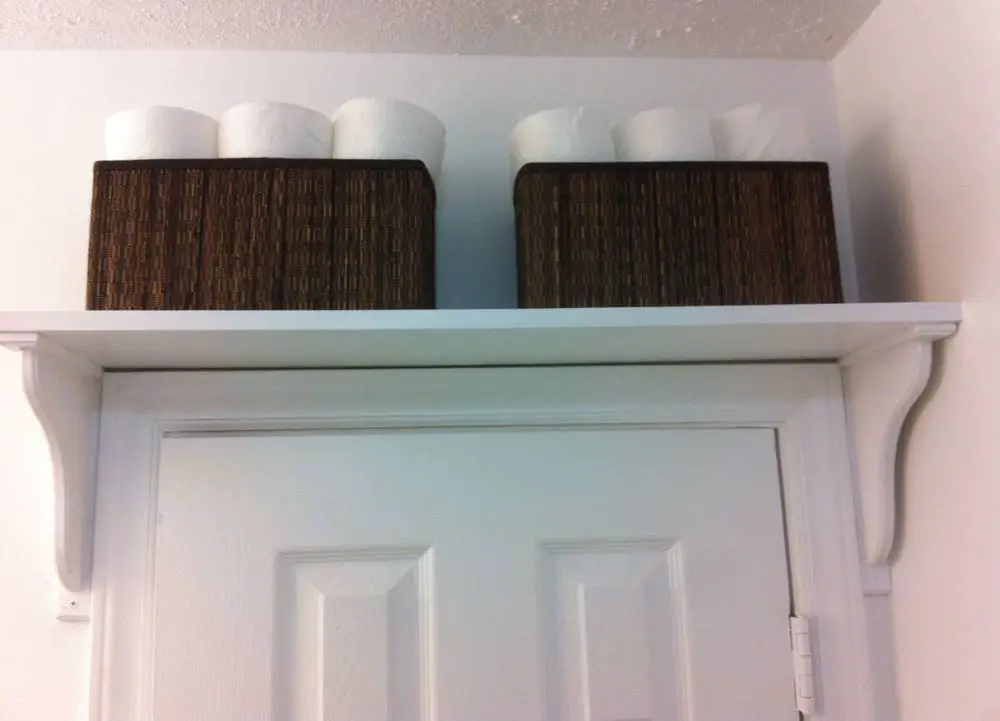 Image credit: pinterest.com
If you have a high ceiling and have enough space above your bathroom door, utilise it by fitting some form of metal or wooden shelf. This would be the perfect place to store linen or towels, giving you more useable space elsewhere.
---
---
Consider Underfloor Heating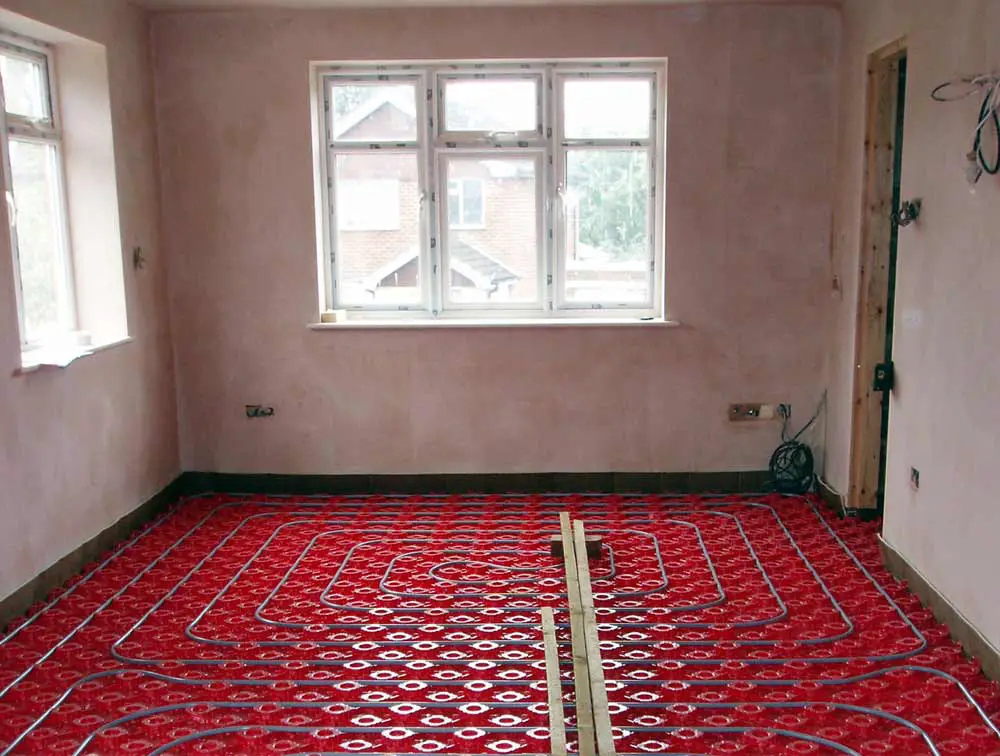 Image credit: homebuilding.co.uk
Although underfloor heating is not what you would consider a cheap option for your small bathroom, it can effectively remove the need for a radiator or wall mounted heater. This not only frees up valuable wall space, but can also save you up to 25% in costs when compared to a radiator. Not only that, but it feels lovely underfoot !
---
---
Alter or Change the Bathroom Door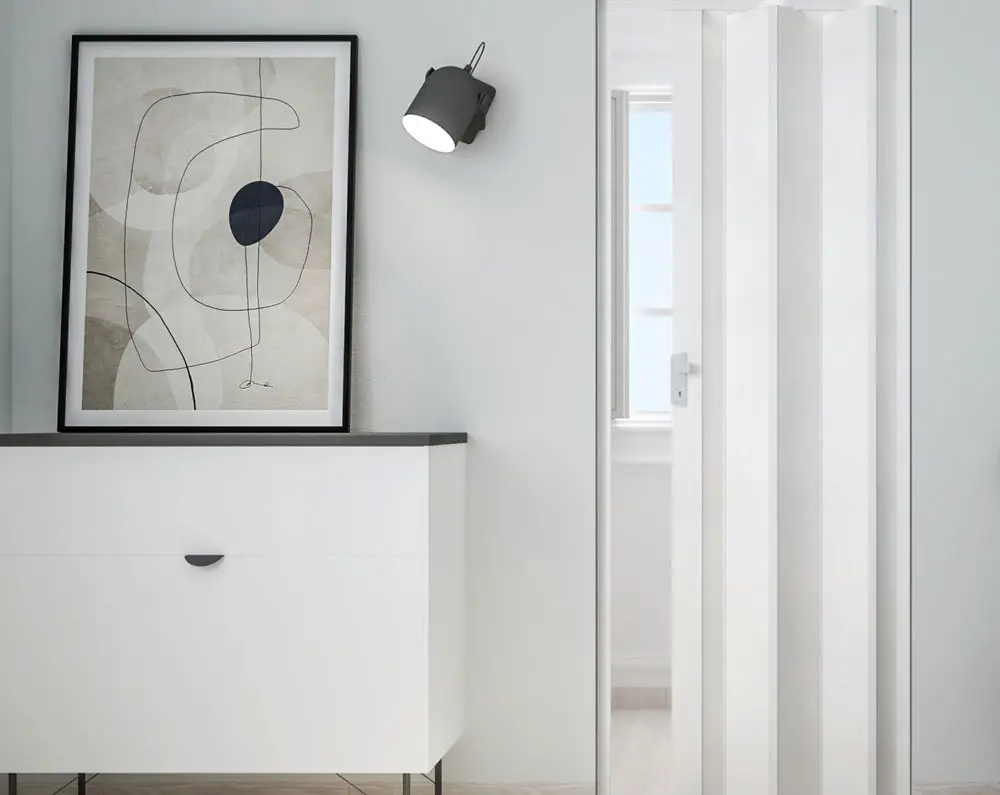 Image credit: marleyfoldingdoors.co.uk
If you have an annoying door that opens into your bathroom space and stops you being able to make the most of the floor area that you have, there are a few possible remedies and workarounds. First you could turn the door round the other way, so that the hinges are on the other side. This may give you a more practical and useable space behind the door to work with.
Secondly you could move the door position completely, by creating a new opening (although I agree in most cases, this will be a bit extreme!) or thirdly you could replace the existing one with a concertina folding door or pocket door, that slides in and out of the wall. Both of these would result in all of the bathroom floor space being fully useable.
---
---
Go Large with Bathroom Tiles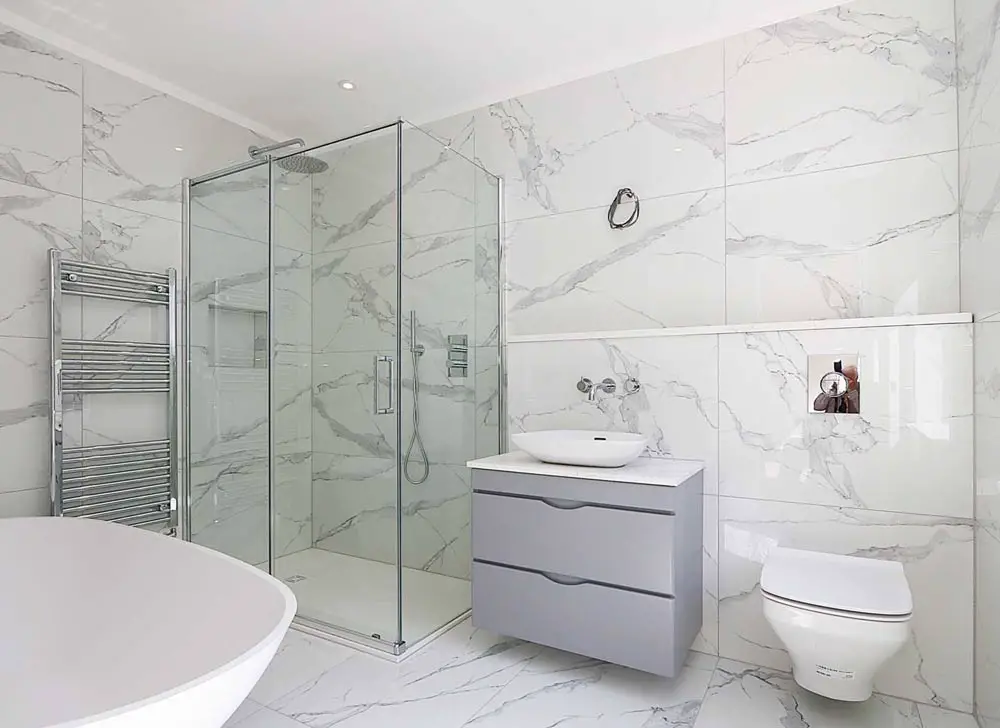 Image credit: singletonanddaughter.co.uk
When choosing tiles for a small bathroom, it is tempting to think that you need to stay small with the tiles too. But although it may seem a little counterintuitive, large tiles can actually work much better in small spaces. This is because using larger tiles means that there are less grout lines interrupting the visual flow.
That's not to say that you can't use some smaller tiles to compliment the larger ones. In fact, if you are creative with the design, it could benefit the whole decor scheme.
---
---
Remove the Shower Cubicle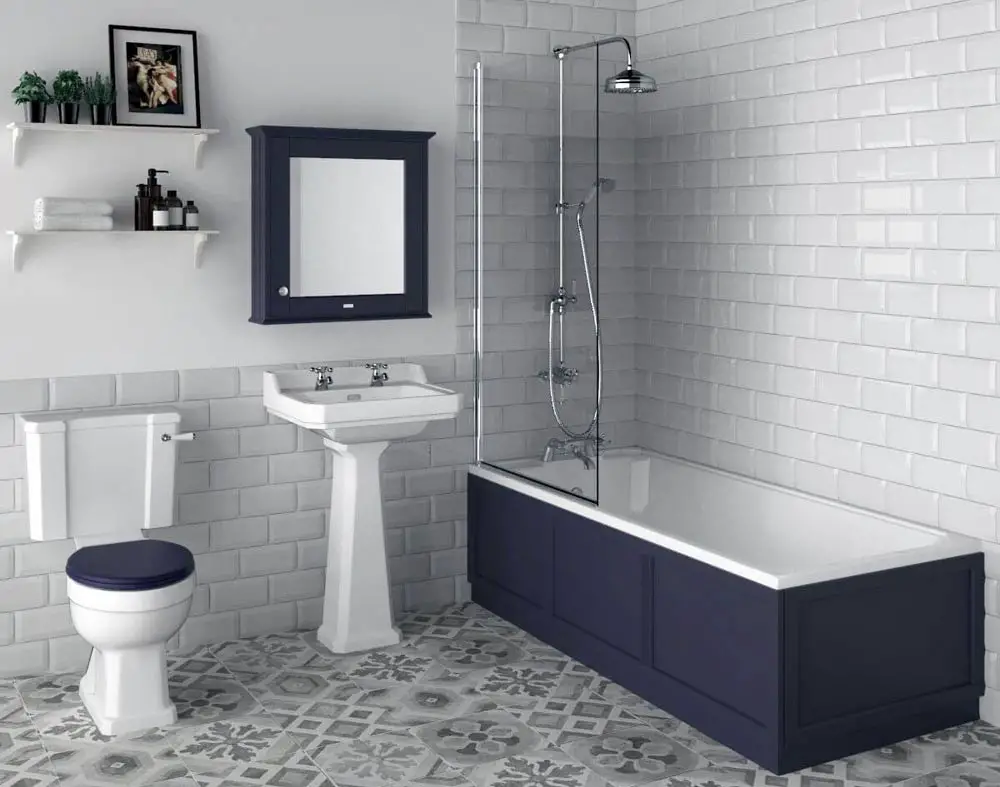 Image credit: bellabathrooms.co.uk
If you currently have both a bath and separate shower cubicle in your bathroom, you may want to consider removing the shower cubicle completely and going for a bath/shower combo. This will create a great deal more space that can be better utilised, whilst not losing the benefit of being able to bath or shower.
---
---
Match the Wall Tiles to the Floor
Image credit: new-image-tiles.co.uk
Another visual interior design trick to make a small bathroom space feel larger, is to use the same tiles on the entire wall as the floor. By removing the separation between the two, the eyes are tricked into thinking that the walls are actually further away, opening up the visual space before you.
Turn your Bathroom into a Wet Room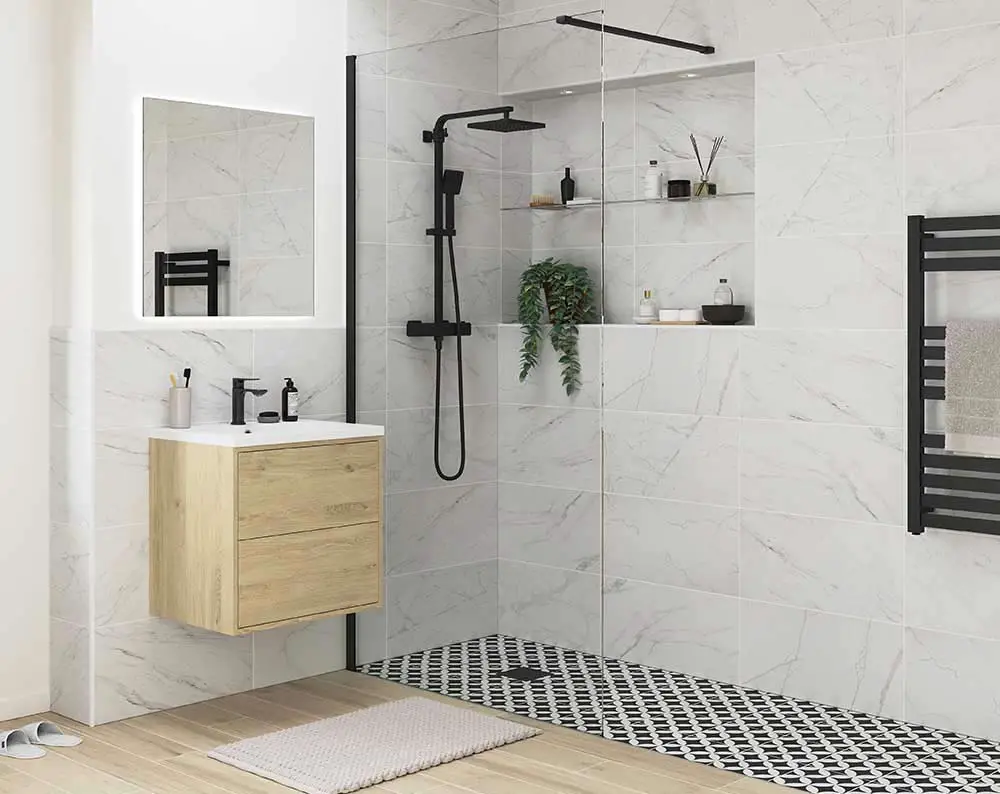 Image credit: roomh2o.co.uk
This small bathroom solution is always going to be a simpler task if you are starting the design of your shower room from scratch, but can also be achieved by renovating an existing bathroom. Wet rooms are great for small bathrooms, as they use seamless transitions from one area to the next, keeping the small space fully open and airy. No curtains, shower doors or other hinderances to visually block your view.
Install Recessed Shelving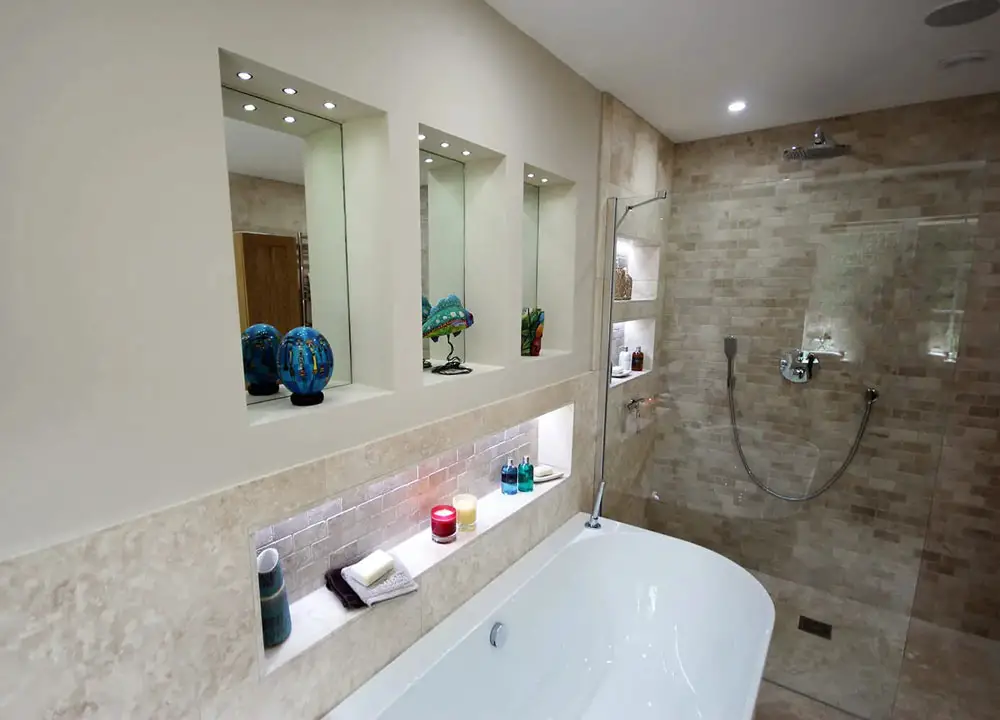 Image credit: stoneandchrome.com
Recessed shelves are an effective way to add storage without intruding into the rest of the bathroom space. This option is only really possible if you have stud walls, as the already existing void within them can be utilised to created the recess needed. Solid plaster walls would, without doubt, be a much more difficult proposition and would most likely require a false wall being installed.
This would obviously defeat the whole object of trying to gain more space!
Shrink the Bath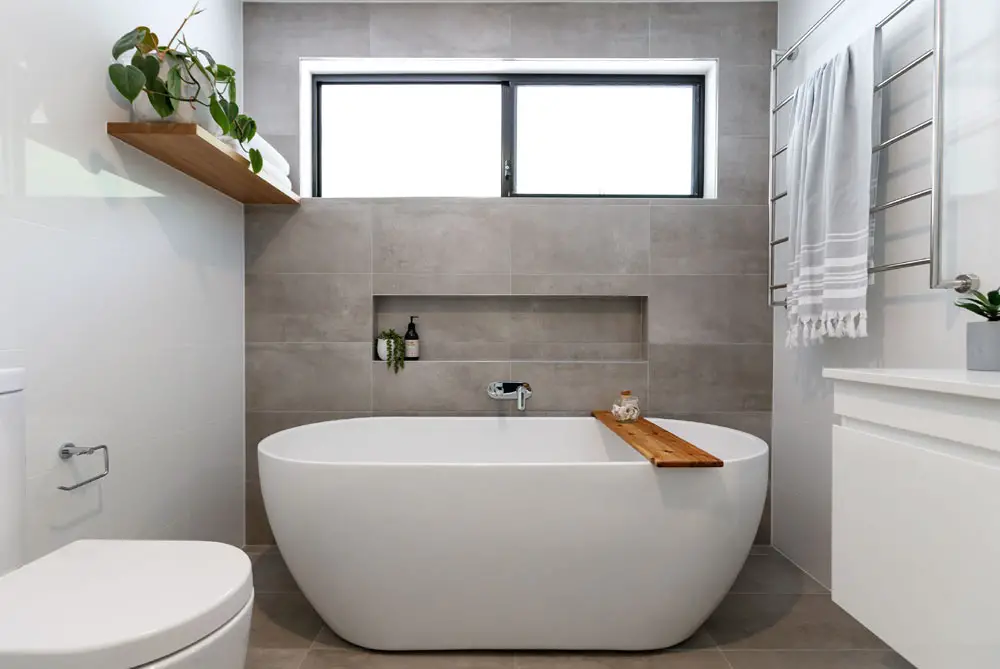 Image credit: treehouse.co
Sometimes the limited space that a small bathroom provides can mean that a full-size bath is simply not an option. One obvious option to get around this, is to buy a smaller bath. Although if you like to stretch out and lay down to relax in your bath, this may be a compromise too far. Maybe stick with a walk in shower!
Conclusion:
With a few exceptions, these small bathroom ideas are easy and inexpensive to implement and can make a big impact on the overall look and feel of your bathroom. So don't be afraid to try some of them out, you may be surprised at the results you can achieve.
With some careful planning and a bit of creativity, any small bathroom can be made into a functional and stylish space.