---
There are numerous bathroom styles, specific interior designs and choices of materials that couldn't fail to make any bathroom space into a haven of serenity, calm and beautiful design.
To help you decide which bathroom ideas and styling is best for you and your home, I have listed the 10 most popular ones and given an explanation of what they consist of how they can be incorporated into your own bathroom design.
Whether you are planning a complete master bathroom renovation or simply looking to refresh your existing space, these bathroom design ideas will help to inspire you and assist in your decision making.
---
---
1. Art Deco Bathrooms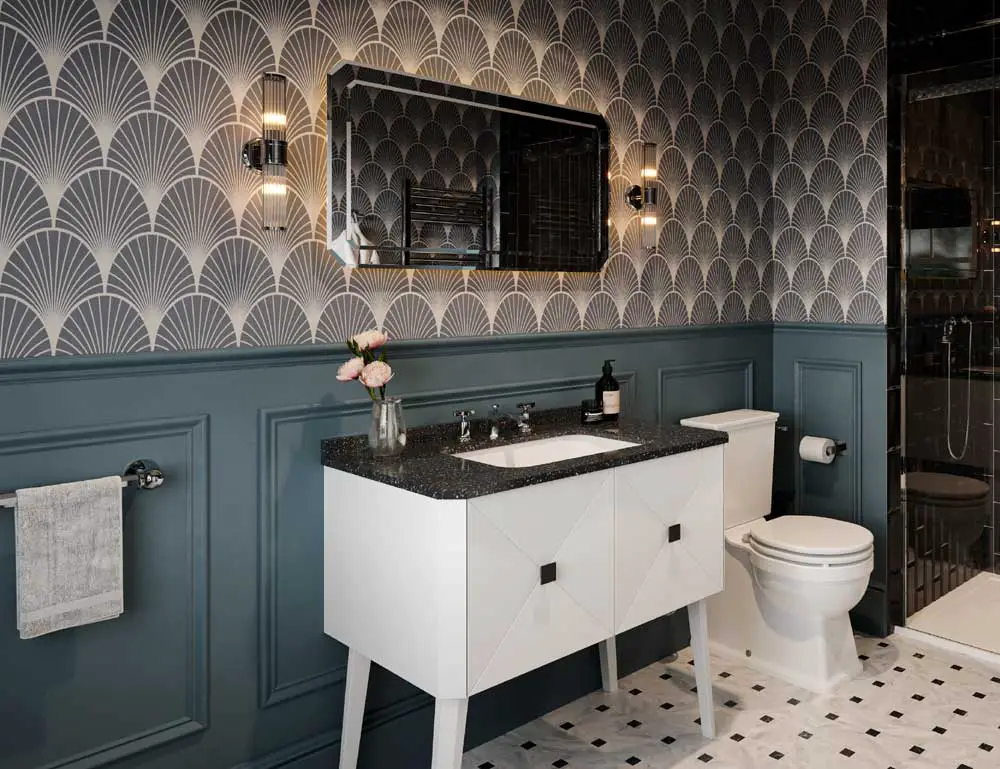 Image credit: pinterest.co.uk
The Art Deco style is very much characterised by its use of geometric shapes, bright colours, and luxurious materials and one of the most effective uses of this interior design aesthetic is to add it to your master bathroom.
To create an Art Deco bathroom, consider starting with the walls by choosing a bold, statement-making colour like navy or gold, and pair it with sleek white tiles for a dramatic contrast. Alternatively, you could opt for mosaic patterns using a black and white palette, geometric tiles or striped wallpaper to add additional visual interest.
When it comes to lighting fixtures and accent pieces, look for items made from chrome or brass, as these materials perfectly align with the Art Deco style.
Mirrors can also be used as decorative but functional decor pieces. Consider searching for oversized frames with geometric shapes that will fit seamlessly with your Deco theme.
By incorporating these bathroom design elements into your room, you can create a stunning Art Deco inspired look in your bathroom that has the perfect balance of function and visual impact.
Related reading...
---
---
2. Victorian Bathrooms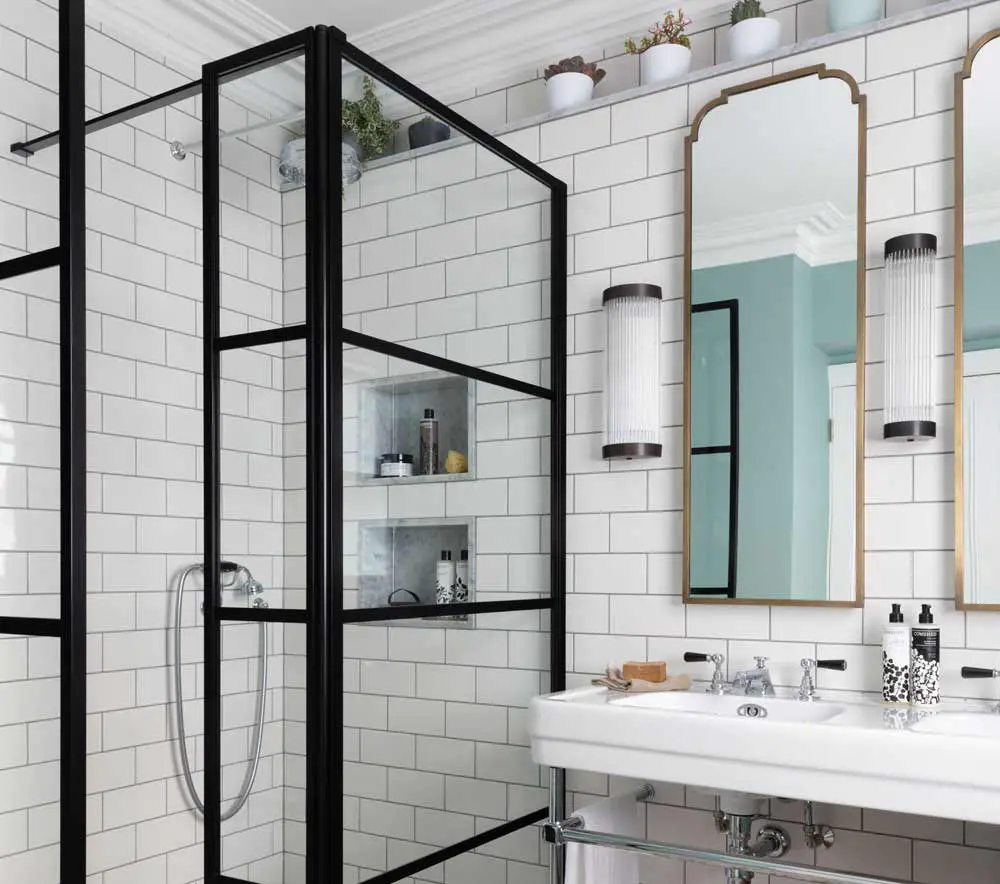 Image credit: westonebathrooms.com
Victorian bathrooms, with their combination of classic elegance and modern convenience, are an enduringly popular bathroom style that has been around for centuries. This bathroom style is best known for its unique elements, which provide vintage charm and timeless beauty.
Features such as a freestanding tub, pedestal sinks, large mirrors and ornate wallpaper patterns all contribute to the inviting atmosphere that typifies Victorian bathrooms.
In terms of a colour scheme, bold hues like burgundy, navy blue, and forest green will help to bring out the opulence of this interior design style and add warmth to the space. For a more refined look to your bathroom design, neutral shades are also used to create a soft contrast against other more vibrant colours.
Further resources...
Victorian Bathroom Ideas with a Modern Twist
---
---
3. Modern Bathrooms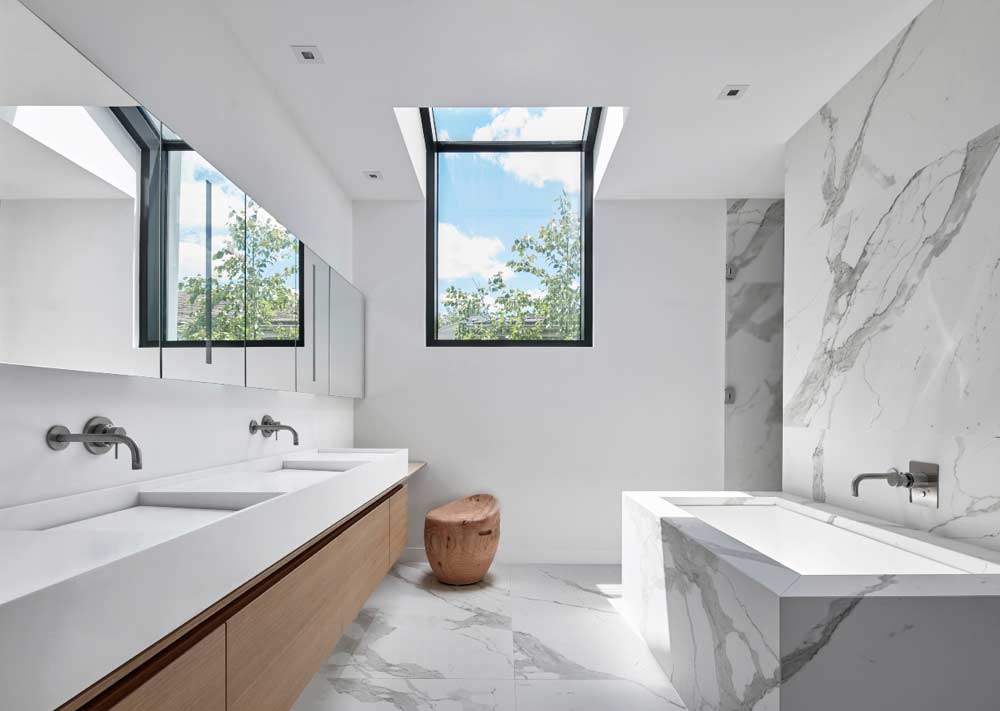 Image credit: designlinesmagazine.com
Incorporating modern design into your master bathroom can greatly enhance the time spent in that space. With the latest technologies and materials at your disposal, you can create a bathroom that is not only visually stunning but also highly practical. From smart toilets to heated floors and automatic bathtub taps to a walk in shower, modern bathrooms offer a luxury that is next level.
One of the benefits of modern bathroom design is the wide range of materials at your disposal. Porcelain tiles and natural stone are just a couple of popular options that can give your bathroom design a timeless and sophisticated look.
If space is a consideration, modern design techniques such as curved walls and and other unique shapes can help you make the most of any limited space.
Adding pops of colour or wallpaper to your bathroom decor can add flair to your bathroom without sacrificing its overall modern style, allowing you to craft a space that perfectly suits your needs and taste.
---
---
4. Contemporary Bathrooms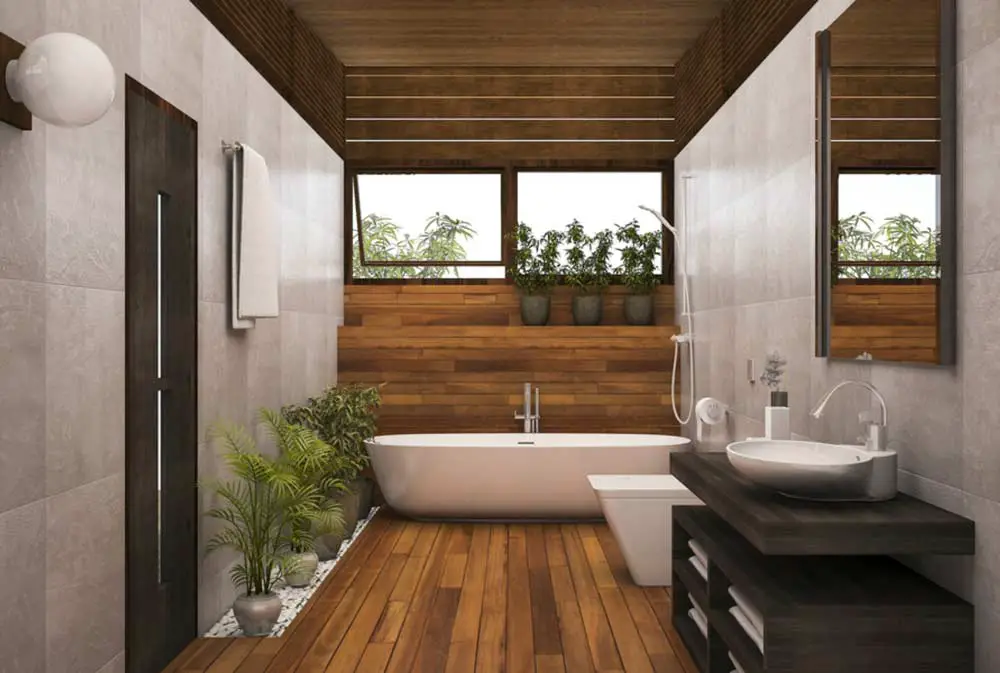 Image credit: theplumbette.com.au
I can confidently say that master bathroom interiors are one of the most important spaces in any home. It should not only be functional for the daily use that it endures, but also make a design statement that stands out against other rooms in the home.
Contemporary bathroom design is known for its clean lines, attractive finishes, and modern fixtures that create a relaxing atmosphere.
This bathroom style has evolved significantly from its older counterparts, with today's contemporary bathrooms incorporating elements such as sleek cabinetry, stylish vanities, rain showerheads, heated floors and motion sensor faucets. Not to mention the latest touch screen TV's and sound systems.
With the addition of intricate tile patterns and luxurious stone decorative accents, these features not only enhance the aesthetic appeal of the bathroom, but also add the latest in modern functionality.
---
---
5. Traditional Bathrooms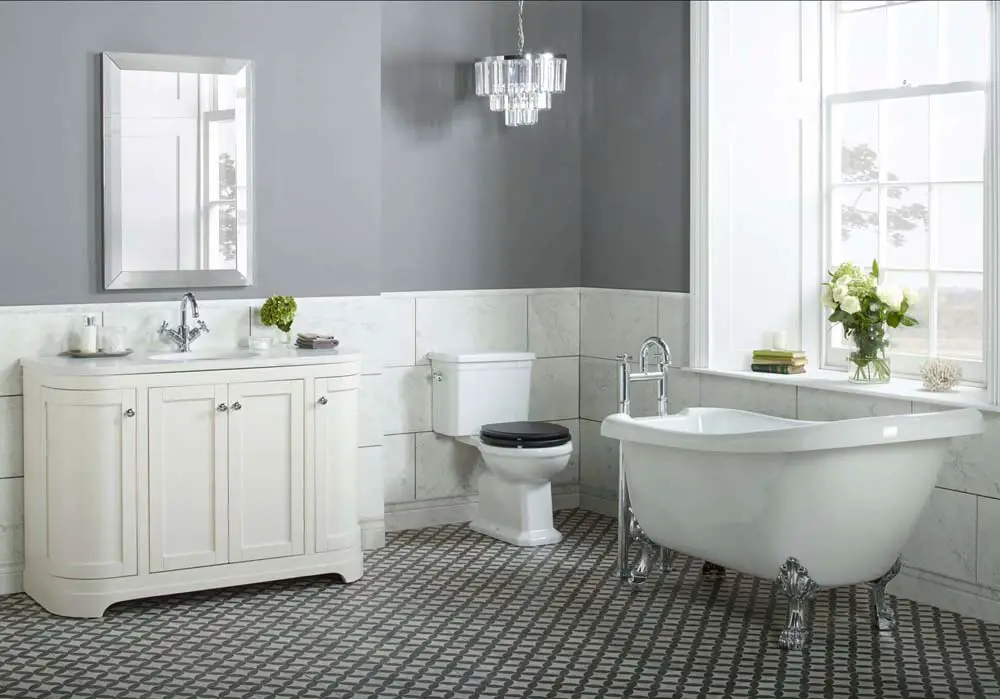 Image credit: leekes.co.uk
Traditional bathrooms, above any other style, have a classic feel and timeless aesthetic that makes them a continually popular choice for homeowners of all ages. This style of bathroom is often based on traditional motifs from the 18th century, such as floral patterns, muted colour schemes and intricate trim work.
While traditional primary bathrooms may be seen as old-fashioned by some, they can be easily updated with modern features to create a modern twist on traditional design. Some key features of traditional bathroom design include clawfoot tubs, pedestal sinks, and ornate fixtures.
Clawfoot tubs are a luxurious and iconic element in traditional bathrooms, and are available in a range of shapes and sizes to suit many individual preferences, while pedestal sinks add a touch of elegance and style with their decorative details and ornamental touches.
Finally, ornate light fixtures can help complete the classic look of a traditional bathroom while also creating a warm and inviting atmosphere.
---
---
6. Farmhouse Bathrooms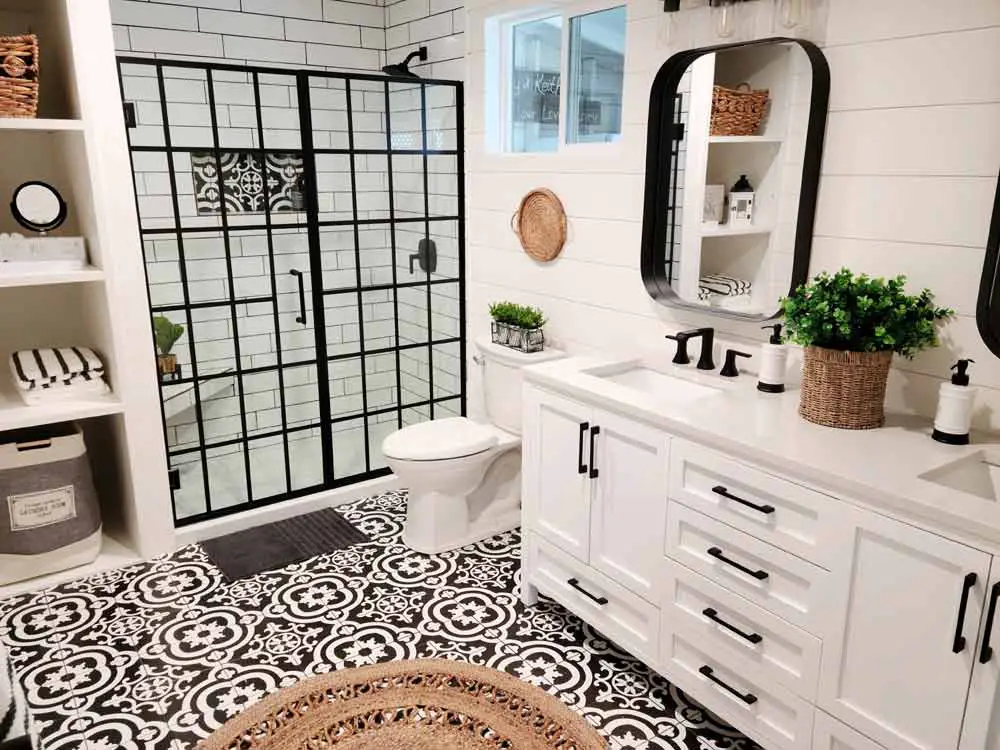 Image credit: cleverhousewife.com
Inspired by the natural beauty of rural living, farmhouse bathroom styling brings a cosy, rustic charm to any main bathroom space.
The decor of a farmhouse bathroom often combines antique and modern elements, such as distressed wood vanities and handcrafted tiles, creating a homely atmosphere that is perfect for relaxation.
To style your own bathroom in this way, consider starting with shiplap walls painted in shades of warm neutrals such as white, grey, or beige. This will create a neutral base for your farmhouse bathroom that can then be built upon with other elements.
Choose furniture and fixtures that feature simple lines and earthy textures, such as weathered wood or wrought iron glass doors, to capture the farmhouse aesthetic.
Finally, add some unique accessories to stamp your own personality and charm onto your bathroom decor.
---
---
7. Industrial Bathrooms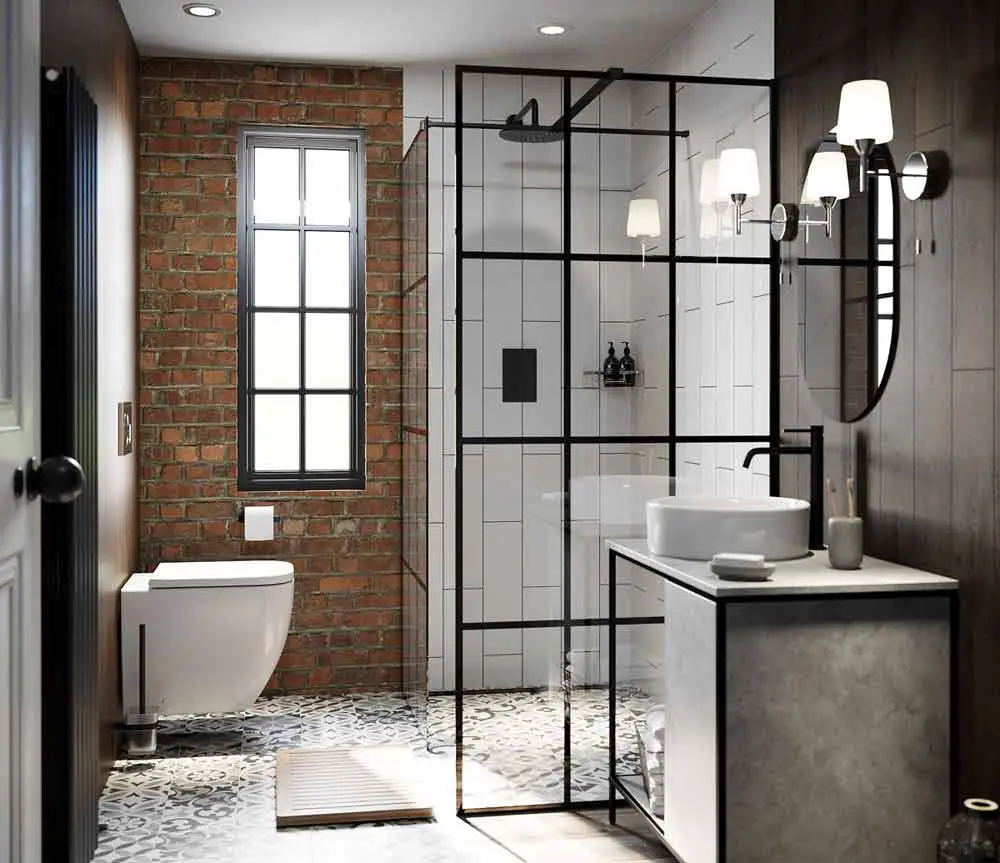 Image credit: pinterest.com
There are many interior designers and homeowners alike that believe the bathroom should be a luxurious and stylish space for relaxation and rejuvenation.
While traditional bathroom designs are always a safe and beautiful choice, industrial bathroom styles offer a unique and trendy alternative.
Industrial-style bathrooms embrace raw and unfinished elements such as exposed pipes, natural materials, concrete floors, exposed brick walls and rustic lighting, creating a quirky and rustic space.
Creating an industrial-inspired bathroom can be as simple as adding a few key pieces, such as dark coloured cabinetry, matte black fixtures, rough wood panels, and industrial metals are all great options for achieving this look. If you prefer a more modern aesthetic, consider adding glass shower stalls and brass or chrome finished towel bars.
With some careful searching, clever shopping and a bit of creativity, you can easily transform your master bathroom into a stylish and modern industrial retreat.
---
---
8. Coastal Bathrooms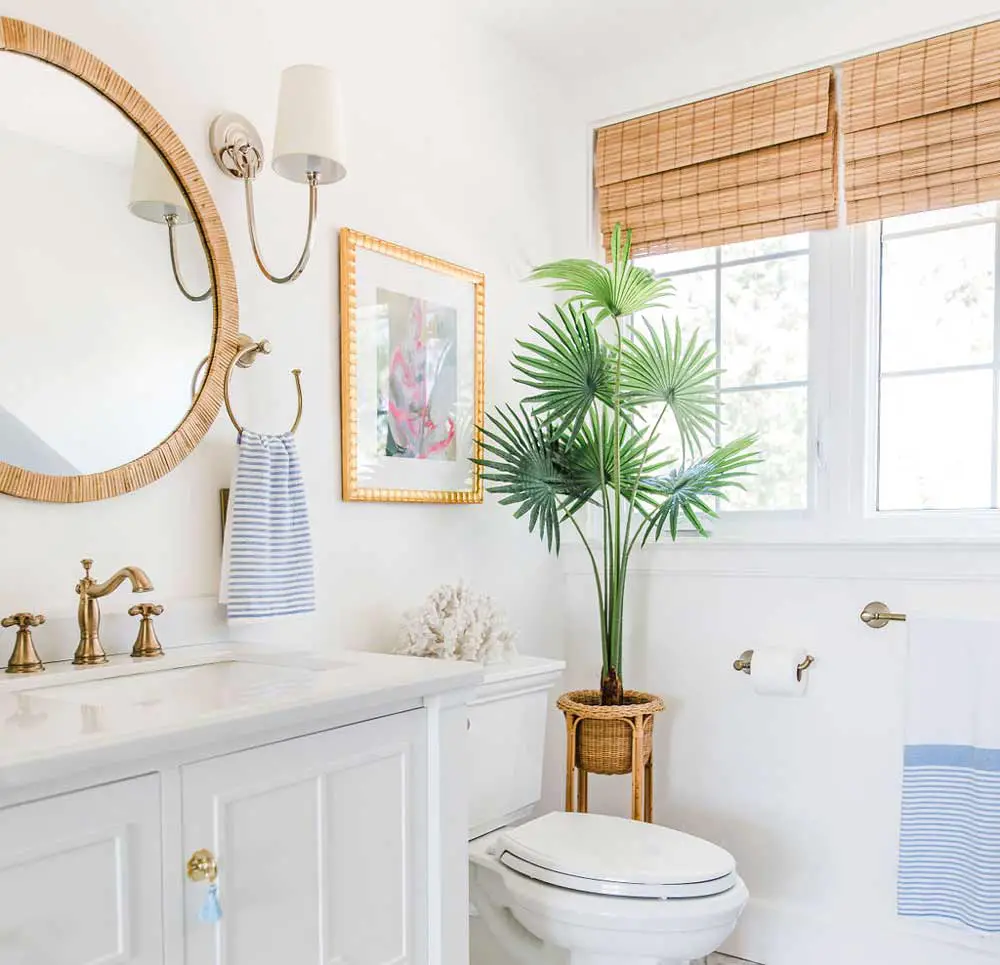 Image credit: thelesliestyle.com
Coastal beach style bathroom ideas are becoming an increasing go to for primary bathroom design, due to their calming and relaxing atmosphere.
This bathroom style often features natural materials, such as stone tiles on the walls or floor tiles underfoot, white cabinets, and a freestanding bath made of materials such as cast iron or copper. In addition, the use of beach-inspired accessories like driftwood mirrors and starfish drawer pulls can add to the overall effect.
A colour palette of light blues and sandy neutrals is also commonly used in coastal bathrooms to enhance the beachy atmosphere, making the space feel calm and serene.
To complete the look, consider adding finishing touches like natural wood accessories, wicker baskets filled with seashells and white window shutters.
---
---
9. Scandinavian Bathrooms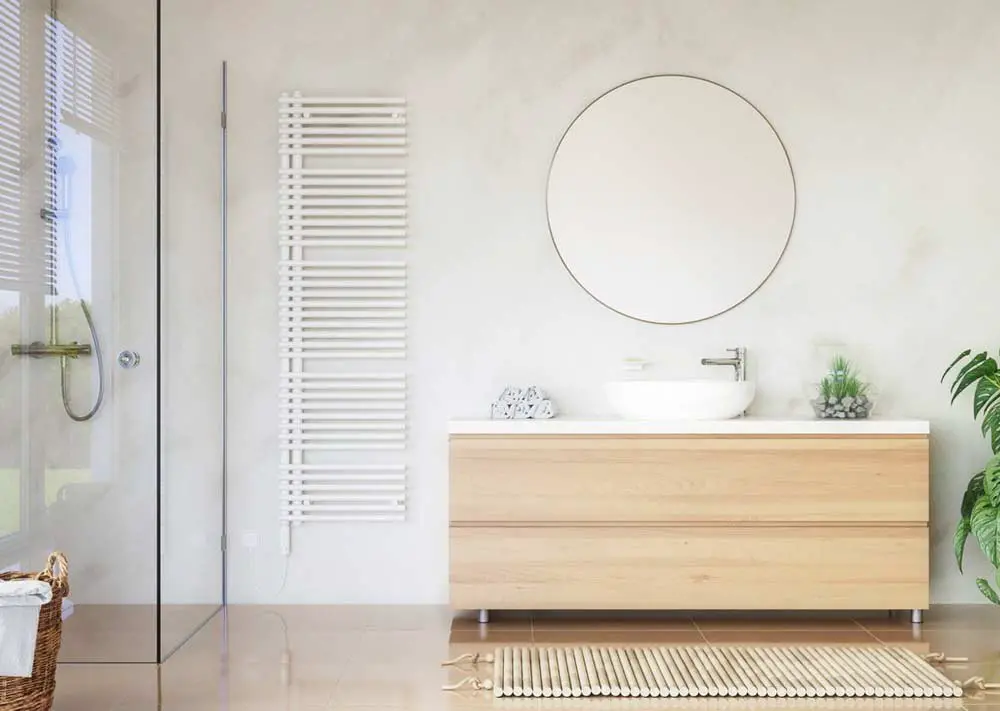 Image credit: korado.com
Scandinavian bathroom designs offer a beautiful modern and minimalistic aesthetic. With clean lines and a neutral colour palette, this bathroom style exudes a sleek and contemporary look that is both stylish and practical.
In Scandinavian design less is often more and function is emphasised over form, but that doesn't stop this bathroom style exuding elegance. By using natural materials such as wood and stone, Scandinavian bathrooms offer a warm, relaxing and inviting atmosphere.
When it comes to choosing Scandinavian bathroom furnishings, it's important to prioritise quality over quantity. A few well-chosen pieces can go a long way towards creating the perfect Scandinavian bathroom style. Be sure to consider both form and function to ensure a balanced and cohesive look.
---
---
10. Shabby-Chic Bathrooms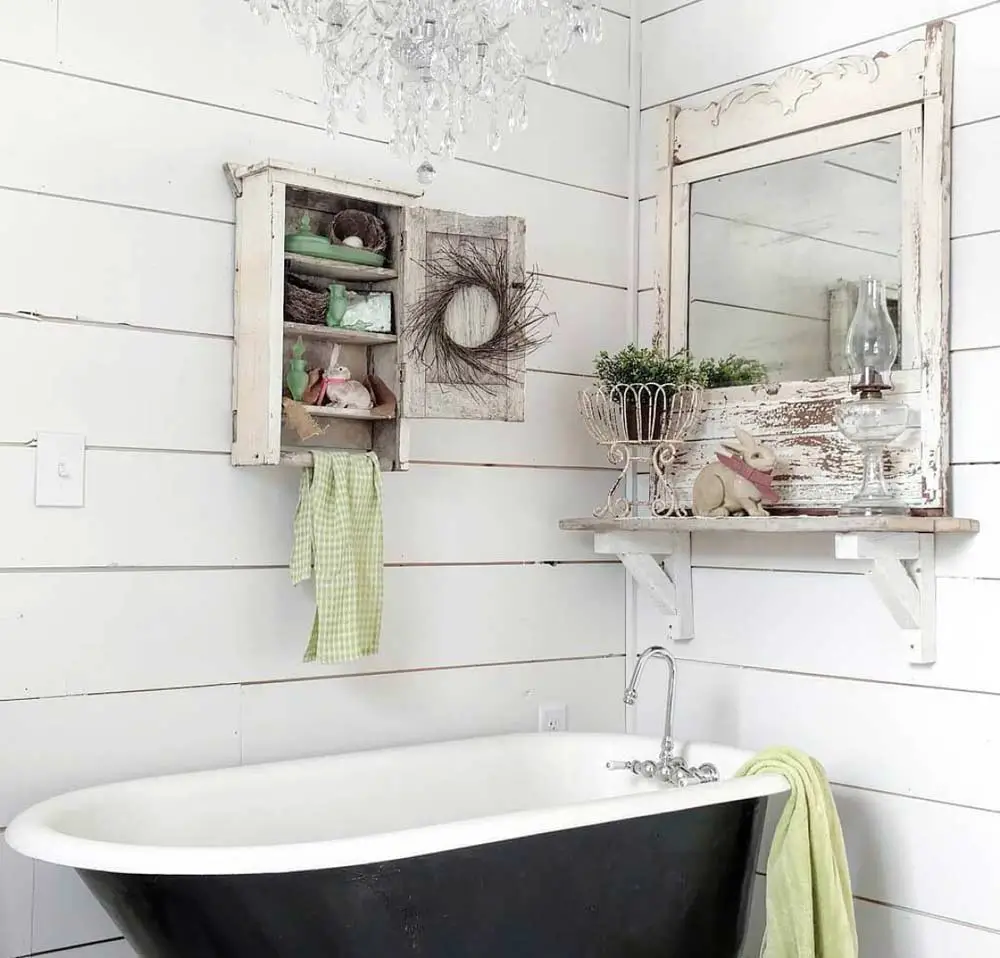 Image credit: britishceramictile.com
Shabby-chic combines elements of vintage and modern design to create a cosy, yet chic look that brings character and warmth to any home.
One of the key features of a shabby-chic bathroom style is its eclectic mix of colours, textures, and materials, which allows for endless possibilities during design.
When decorating in the shabby-chic style, it is important to incorporate distressed furniture pieces that have plenty of character and charm. This can include wooden cabinets with an aged patina or floral patterned wallpaper, adding warmth and interest to the space.
Soft pastel colours, such as baby blue or pink, are also a popular choice for this design style and can be used either on the walls or as an accent colour within the bathroom accessories.
---
---
Summary
Consider the various primary bathroom styles that I have listed and choose the one that best aligns with your personal taste and the overall aesthetic that you would like to achieve for your space.
Don't be afraid to mix and match different decorating ideas and elements of these styles to create a unique look that is all your own. And remember, even small updates can make a big difference in the overall feel of your bathroom design.
Use our list of popular bathroom ideas as inspiration, and embrace your creativity as you design and decorate your very own bathroom sanctuary. If you don't know where to start, or need further assistance, consider getting the advice of an interior designer.