---
The Victorian era, which spanned from the early 19th to the early 20th century, was known for its ornate and opulent aesthetic, and can easily be incorporated into a bathroom space. With the right combination of colours, furnishings, fixtures, and accessories, you can achieve a luxurious yet practical bathroom that is sure to impress.
When designing a Victorian-style bathroom, start by selecting colours like pale blues or pastel greens that will evoke an airy feeling. Then add period-appropriate furniture such as claw foot bathtubs, vanity cabinets with ornate detailing and intricate tile patterns.
You'll also want to invest in high quality fixtures like brass faucets and shower heads that will give the room an extra bit of opulence and sophistication.
Disclaimer: As an Amazon and Wayfair associate, we do receive a small commission from qualifying purchases made via links within this article.
All of these vintage fixtures and antique elements will add character and charm to your Victorian bathroom decor, making it the perfect luxurious retreat.
---
---
Opulent Victorian Bathroom - Purple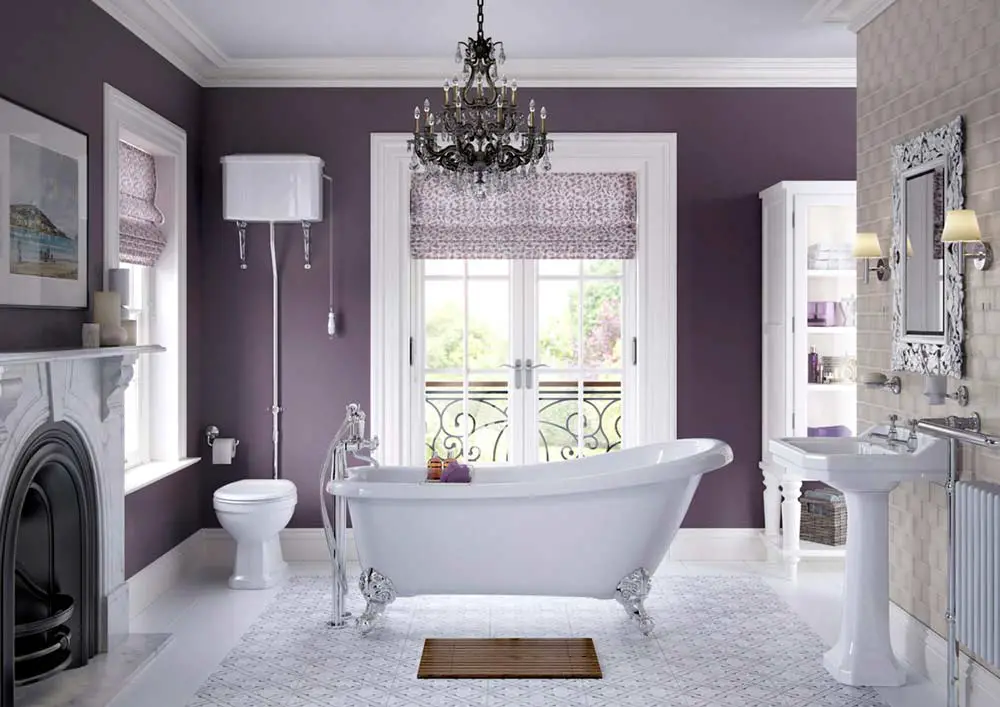 Image credit: robinsonbathroomsandheating.co.uk
This opulent feeling Victorian bathroom is sure to make a statement in any home. The rich purple walls and black and silver chandelier create a luxurious atmosphere, while the white roll top bath with silver claw feet and silver framed wall mirror provide the perfect finishing touches to the space.
Anyone would enjoy the comfort, convenience, and traditional style of this exquisite Victorian bathroom design. The combination of a classic Victorian bathroom suite, timeless details and modern amenities makes this an ideal choice for anyone looking to add a touch of luxury to their home.
You may also be interested in...
What other colours go with purple?
---
---
White Victorian Ceramic Pedestal Sink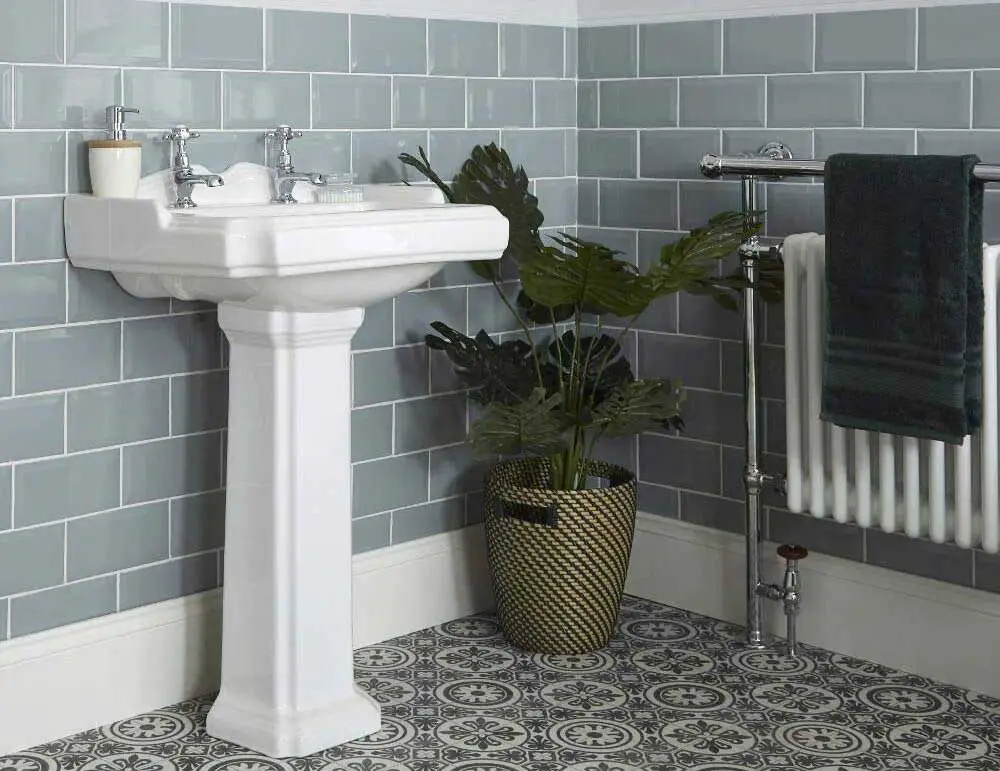 Image credit: amazon.co.uk
This gorgeous period design Victorian pedestal sink is perfect for any home and brings with it a timeless elegance. Its unique design and detailed accents will add a touch of sophistication to any bathroom ideas.
The combination of Victorian style, durability and practicality make this pedestal sink a must-have for anyone looking to upgrade their bathroom space.
---
---
Green Victorian Bathroom Tiles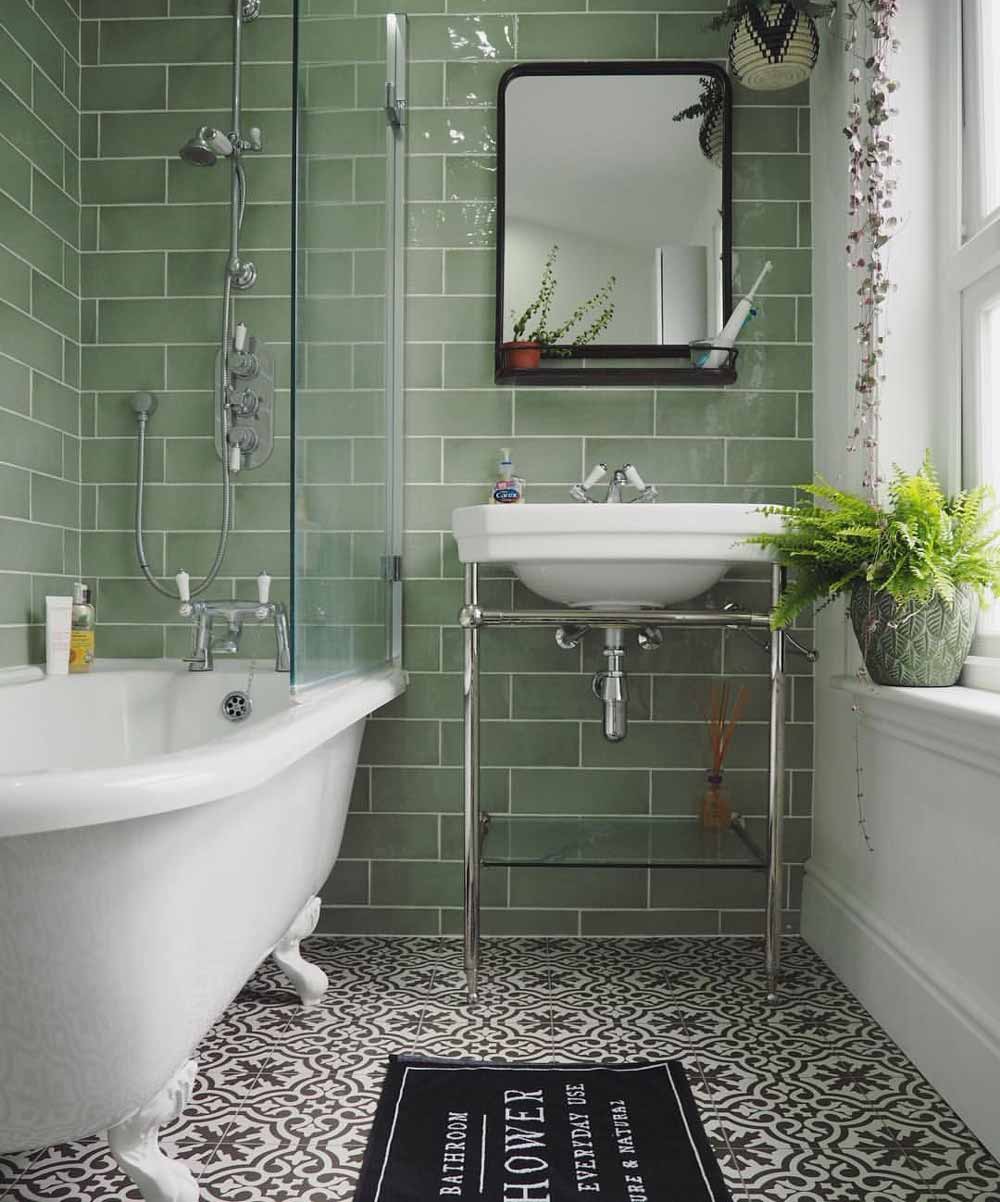 Image credit: pinterest.co.uk
The focal point of the room is the without doubt the green colour gradient Victorian bathroom wall tiles, which add a beautiful elegance and character to the small space.
The intricate detailing on the flooring is another design element that adds to the Victorian styling of the room. The floral motif patterned tiles, arranged in a repeating pattern, give the space a uniform look and perfectly complement the contrasting tiles above.
To complete the look, silver accents are strategically placed throughout the bathroom, adding a touch of luxury and refinement to the overall design. The silver accents of the taps, shower and sink stand, although subtle in the whole scheme of things, make a stylish impact and are the perfect finishing touch to this beautiful Victorian bathroom.
Recommended reading...
Popular Bathroom Styles to Inspire your Design
---
---
Panelled Victorian Style Bathroom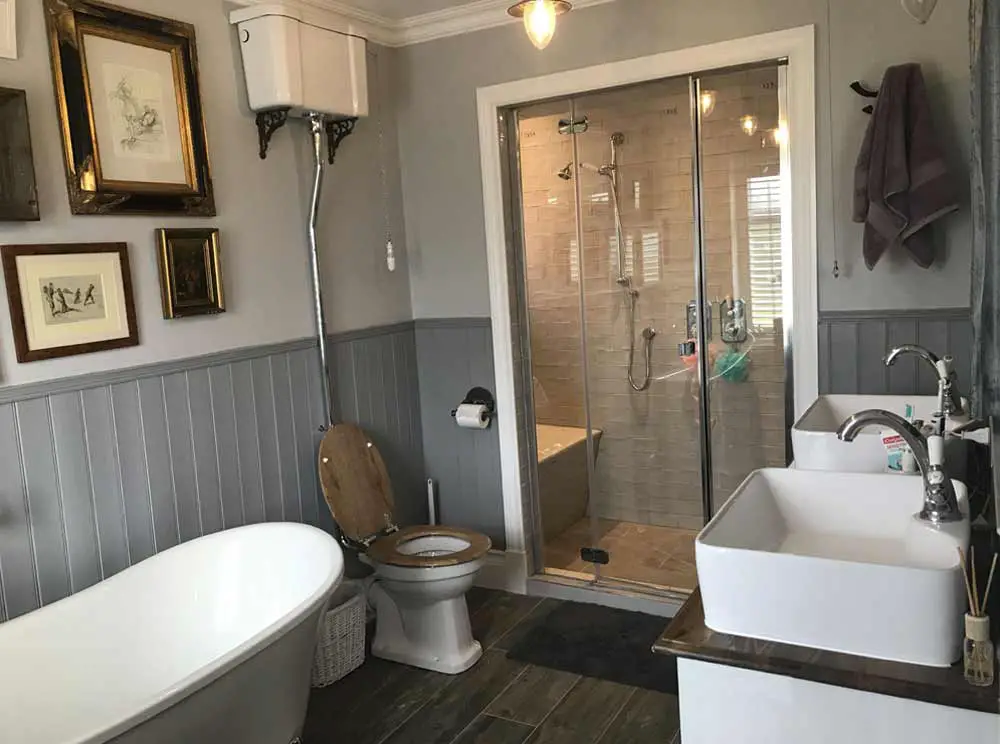 Image credit: pinterest.co.uk
This Victorian style bathroom features elegant grey vertical wall panelling, adding warmth and texture to the space. A highlight of the room being the high level traditional Victorian ceramic cistern, which adds authenticity to the period design.
To cater to the homeowners needs and preferences, duel his and hers sinks have been incorporated into the freestanding vanity unit, providing practical space for both individuals to use the bathroom simultaneously.
The mixture of period framed artwork pieces grouped together, gives a unique touch to the design and an extra sense of historic relevance and character.
A built-in shower has been included for some modern technology and convenience, providing a functional and alternative place to wash, whilst another bathes in the freestanding bath. To Finish the design, silver and white lever taps have been incorporated into the sinks, adding another authentic touch to the overall Victorian aesthetic.
You may also like...
Bedroom Panelling Ideas to Inspire you
---
---
Victorian Bathtub Taps - Ceramic Levers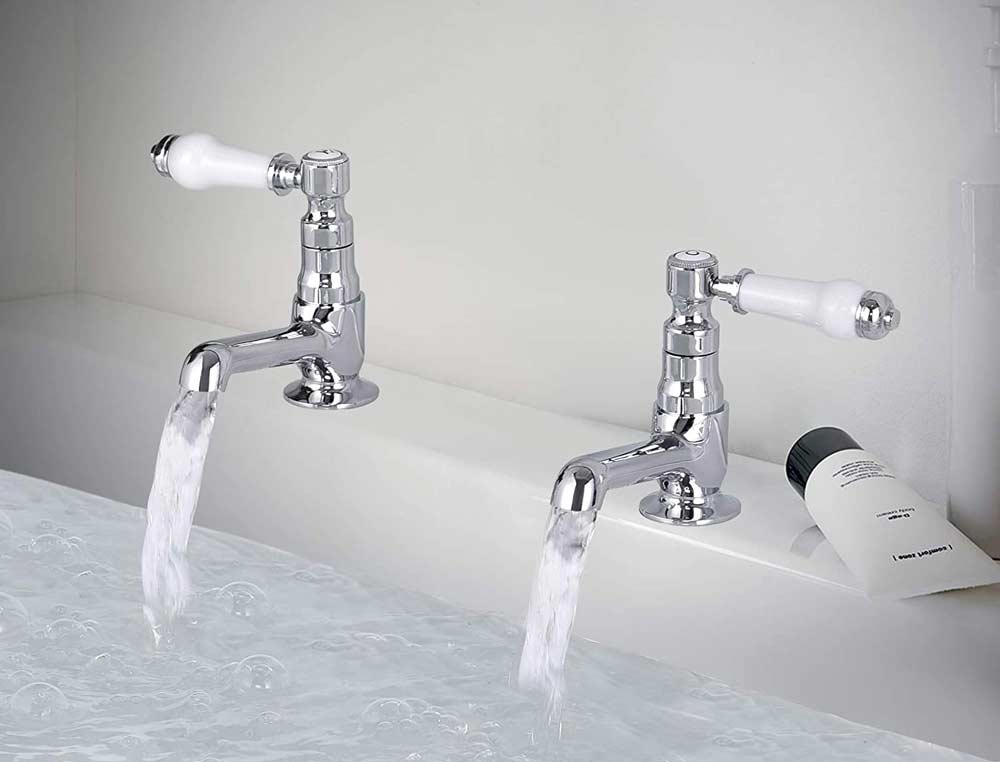 Image credit: amazon.co.uk
Experience the luxury of a classic period design with these Victorian bathtub taps with white ceramic levers. Their beautiful aesthetic will add elegance and style to any Victorian bathrooms.
The ceramic levers offer superior durability and smooth operation, while the smooth white finish is easy to clean and is resistant to fingerprints and water spots. With their eye-catching design and reliable performance, these Victorian bathtub taps are sure to be stunning enhancement to any home.
---
---
Modern Victorian Bathroom - Monochrome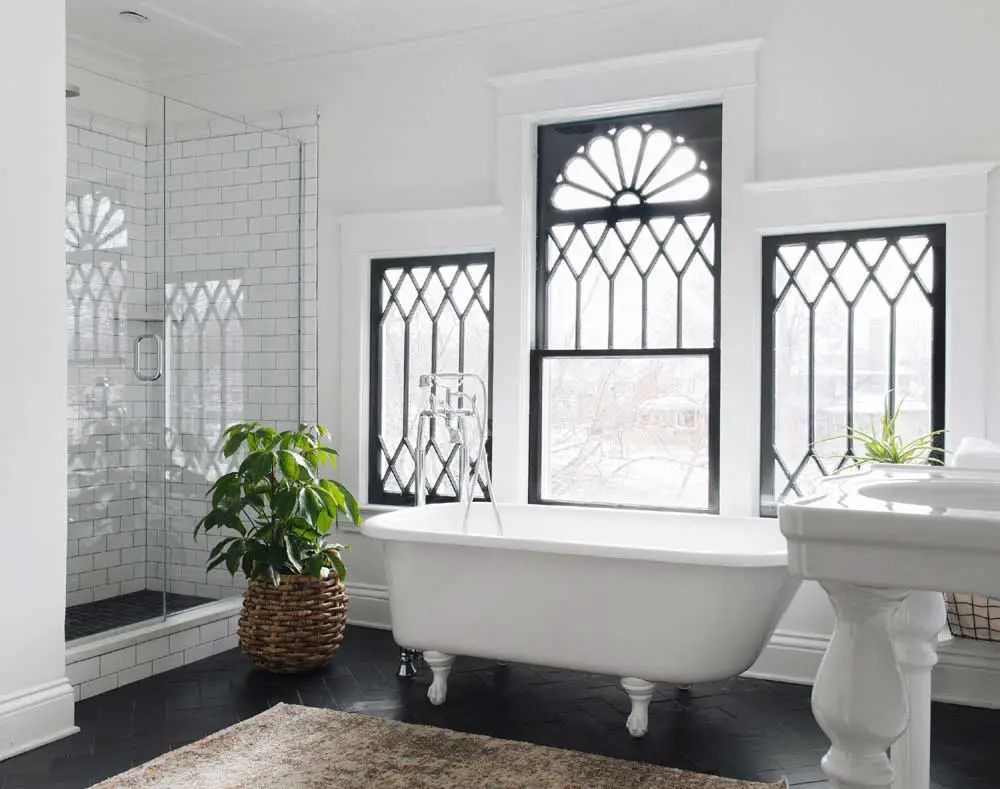 Image credit: pinterest.com
This black and white Victorian bathroom boasts sleek styling with a modern design edge, featuring a predominantly white colour palette, with striking black accents.
The bathroom space is well illuminated by large black geometric patterned steel windows, which add a stunning modern take on a traditional Victorian aesthetic.
The shower cubicle is lined with classic white subway tiles, creating a clean look and practical smooth surface. A large green plant in a wicker pot adds an element of nature and brings a sense of freshness to the room.
Without doubt, the centrepiece of this Victorian bathroom is a stunning white freestanding bath that is held aloft by elegant claw feet, providing a luxurious and indulgent bathing experience.
---
---
Victorian Bathroom Radiator Towel Rail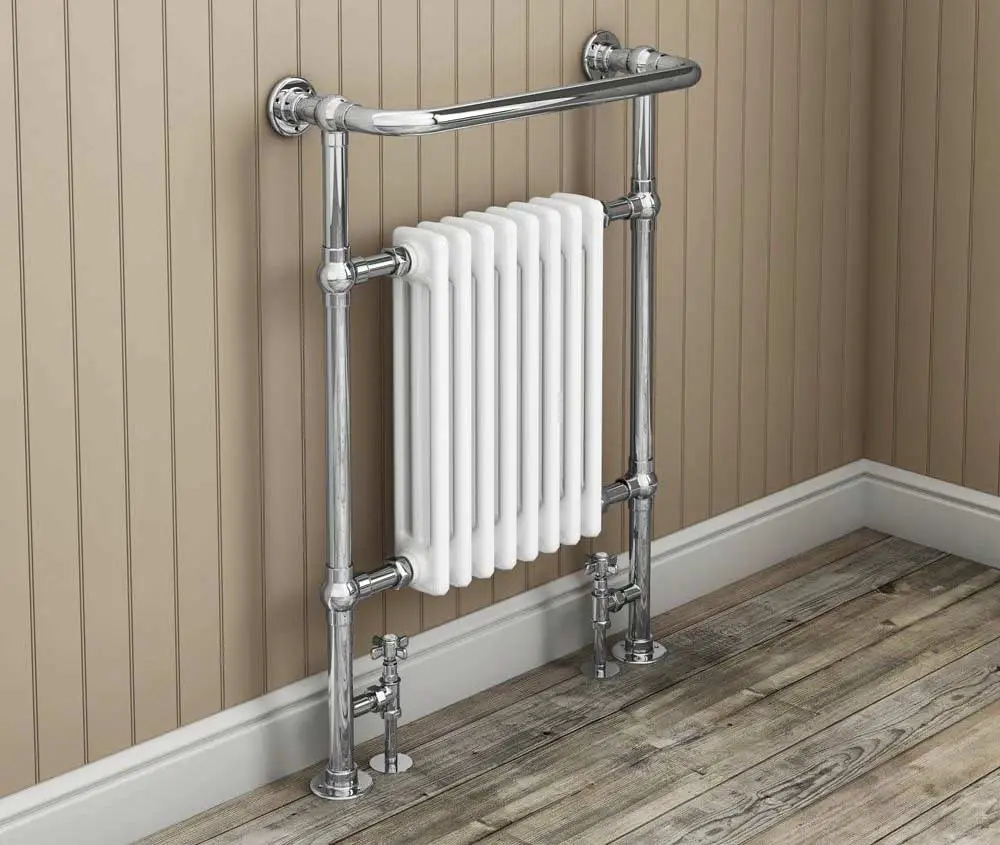 Image credit: amazon.co.uk
This Victorian design towel radiator is a beautiful and functional addition to any bathroom of this era. Not only does this product help keep your towels warm and dry, but its authentic design ensures that it will remain stylish in your home for many years to come.
---
---
Luxury Victorian Bathroom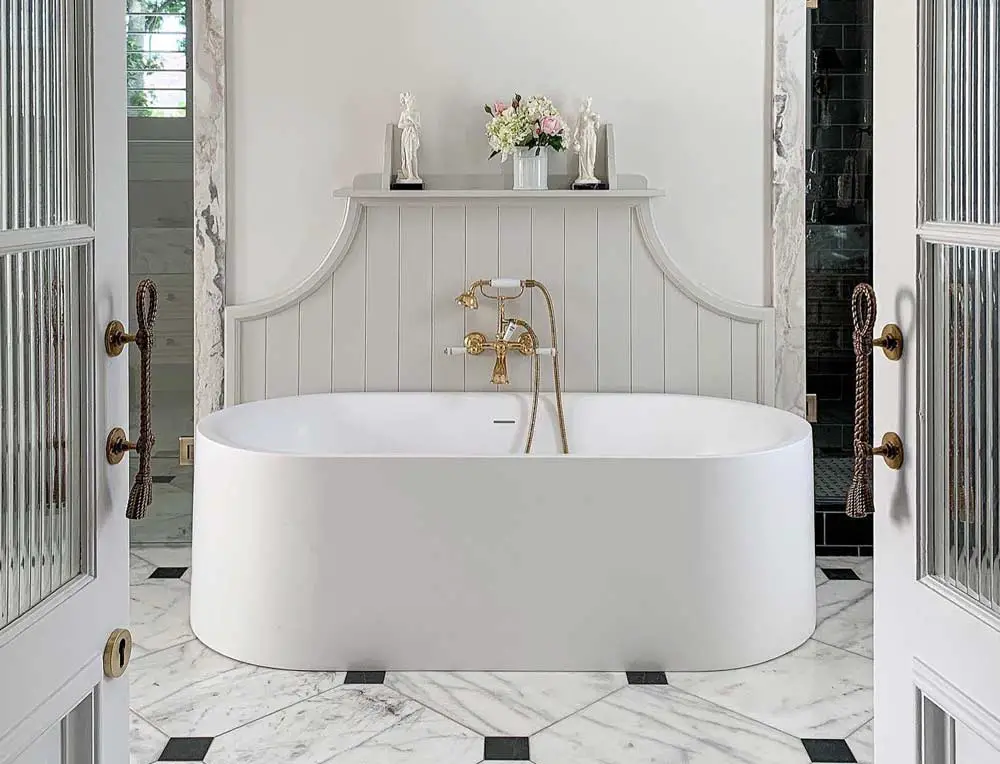 Image credit: sadecor.co.za
This luxury Victorian bathroom interior is a classic design that combines traditional elements with modern amenities. The white walls are accented by ornate grey wall panelling, adding depth and character to the space.
In the centre of the bathroom, a deep modern oval bath is the main focal point, providing a luxurious spot for bathing and relaxation, whilst the tiled black and white diamond marbled floor adds a layer of pattern and texture. The gold and white lever mixer bath taps complete the opulent look.
Together, all of these bathroom ideas create a stunning Victorian bathroom design that is both functional offers a beautiful aesthetic.
---
---
Curved Panel Double Column Radiator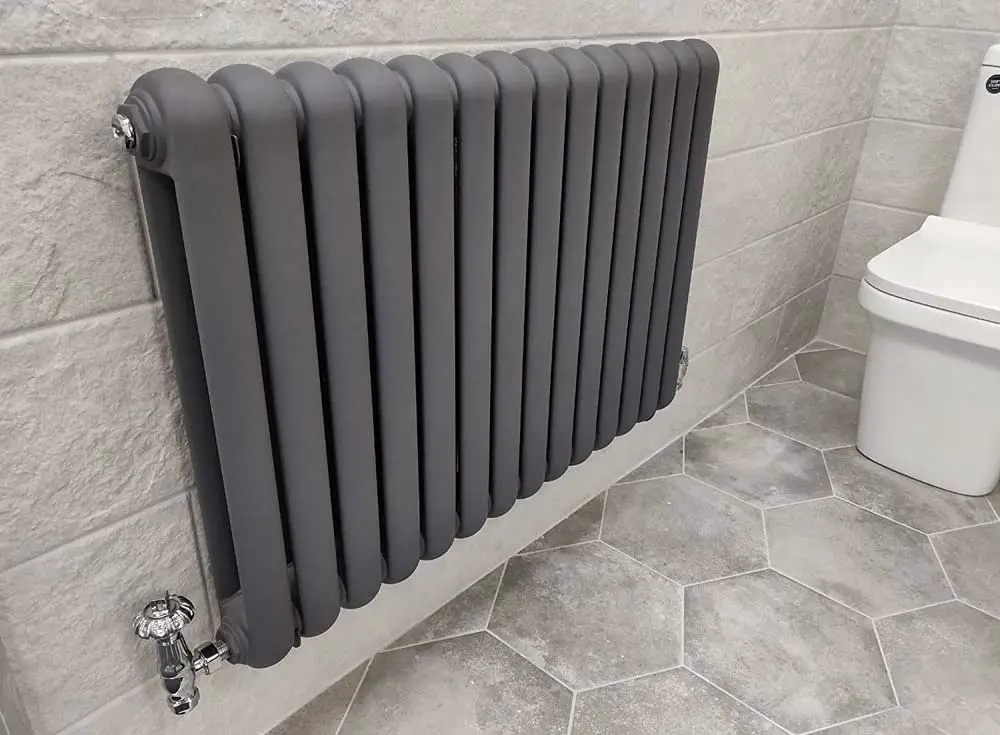 Image credit: amazon.com
This traditional Victorian style grey curved panel radiator is an impressive piece of furniture affording a modern update on a classic design. It is a great option for anyone looking to add a Victorian touch to their home.
This radiator features two curved panels and a matte grey finish that will look beautiful in any living space. It also comes with two columns providing excellent heat output and efficient heating for your entire room.
The radiator is made from high-quality materials, which enable it to be both durable and long-lasting, it is not only aesthetically pleasing but also provides the benefits of efficient heating and great quality at an affordable price.
---
---
Traditional Victorian Bathroom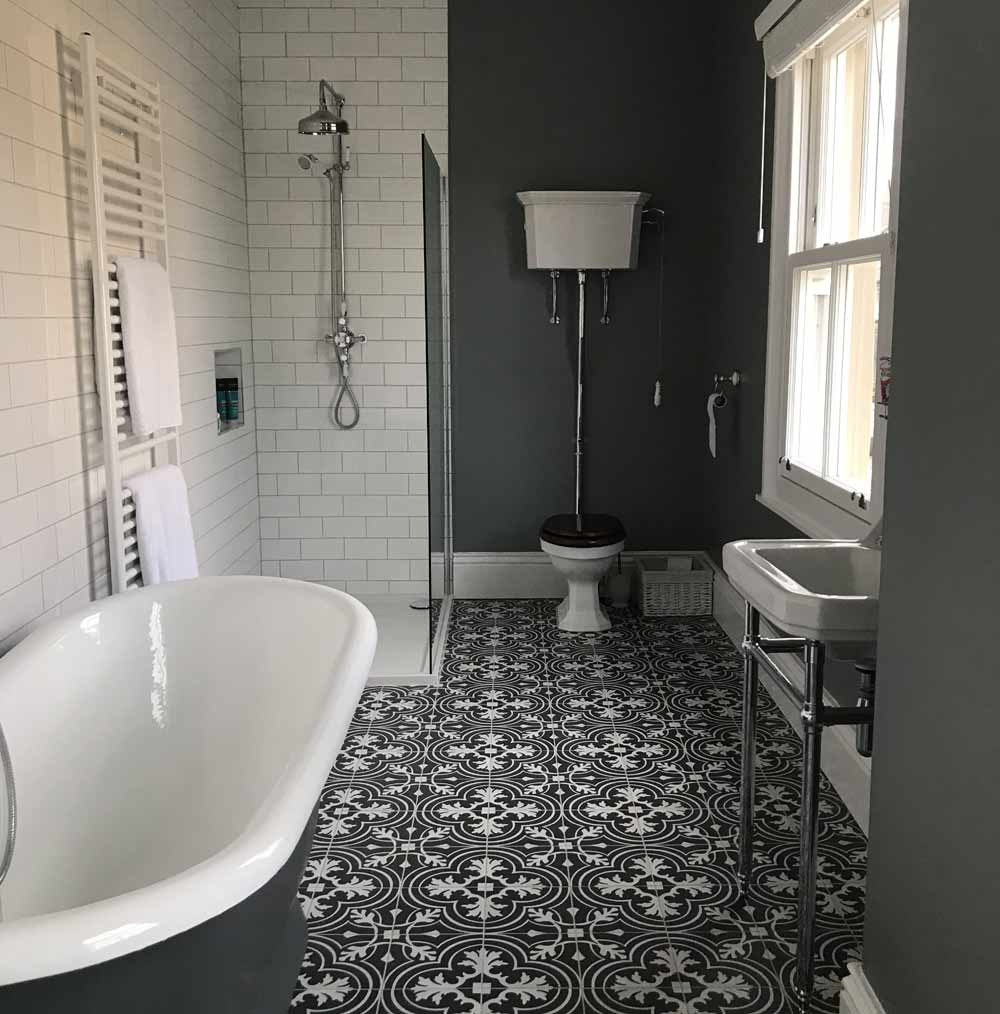 Image credit: pinterest.co.uk
This traditional bathroom aesthetic is defined by its dark grey and white colour scheme, creating a sophisticated and elegant ambiance to the space. The beautiful white and grey roll top bath adds to the luxurious feel of the bathroom.
The high level cistern toilet and silver pipe sink stand are a nod to the architectural style of the Victorian era, while the silver shower unit provides a lustre and functional touch.
A traditional repeat pattern grey and white tiled floor space completes the look, adding texture and interest to the space. The floor's pattern is an essential element of the bathroom's design as it brings a sense of continuity and flow throughout the space.
The overall interior design of this perfect Victorian bathroom is a harmonious blend of traditional elements, creating a space that is elegant, stylish and of the era.
---
---
Arch Window Frame Bathroom Mirror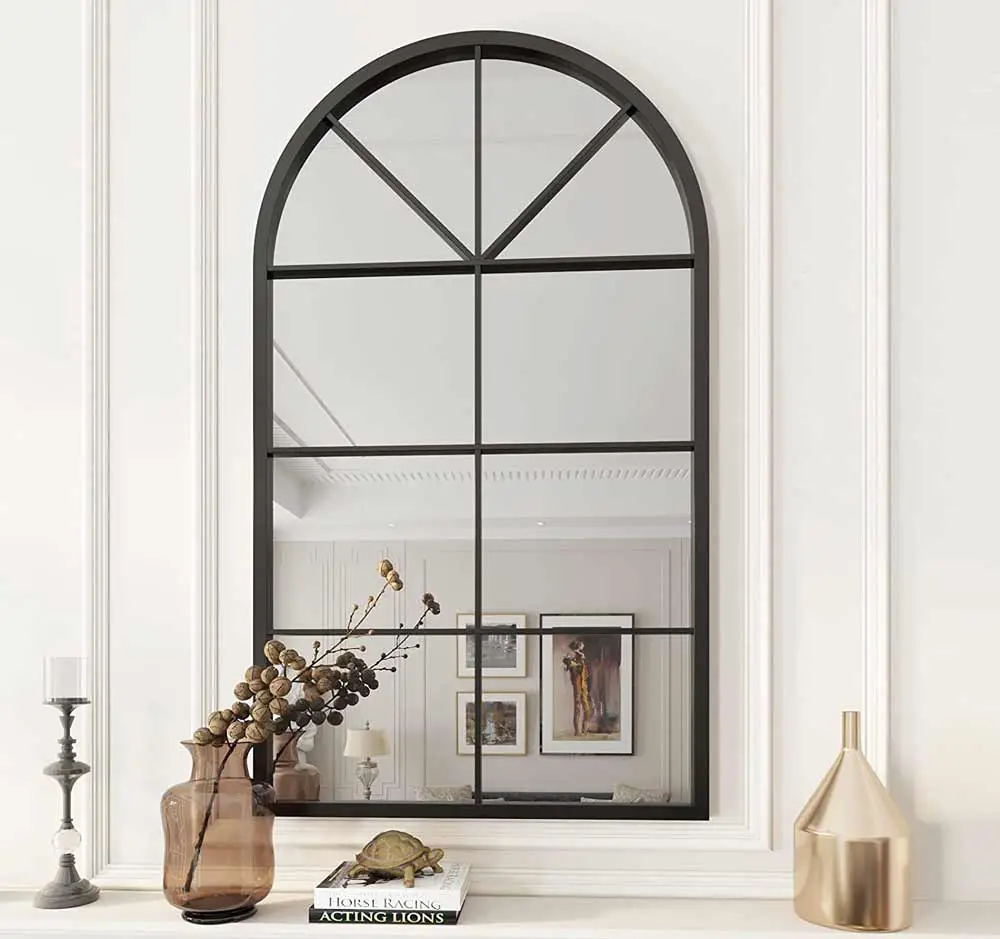 Image credit: amazon.co.uk
This stunning traditional bathroom mirror is a stylish and functional addition to any Victorian styled bathroom.
Featuring an elegant arch frame design that is sure to stand out, this wall mirror adds an elevated touch of sophistication to any room. With its clean lines and simple design, it will compliment many decor styles and give your bathroom ideas a decorative lift.
---
---
Modern Victorian Style Bathroom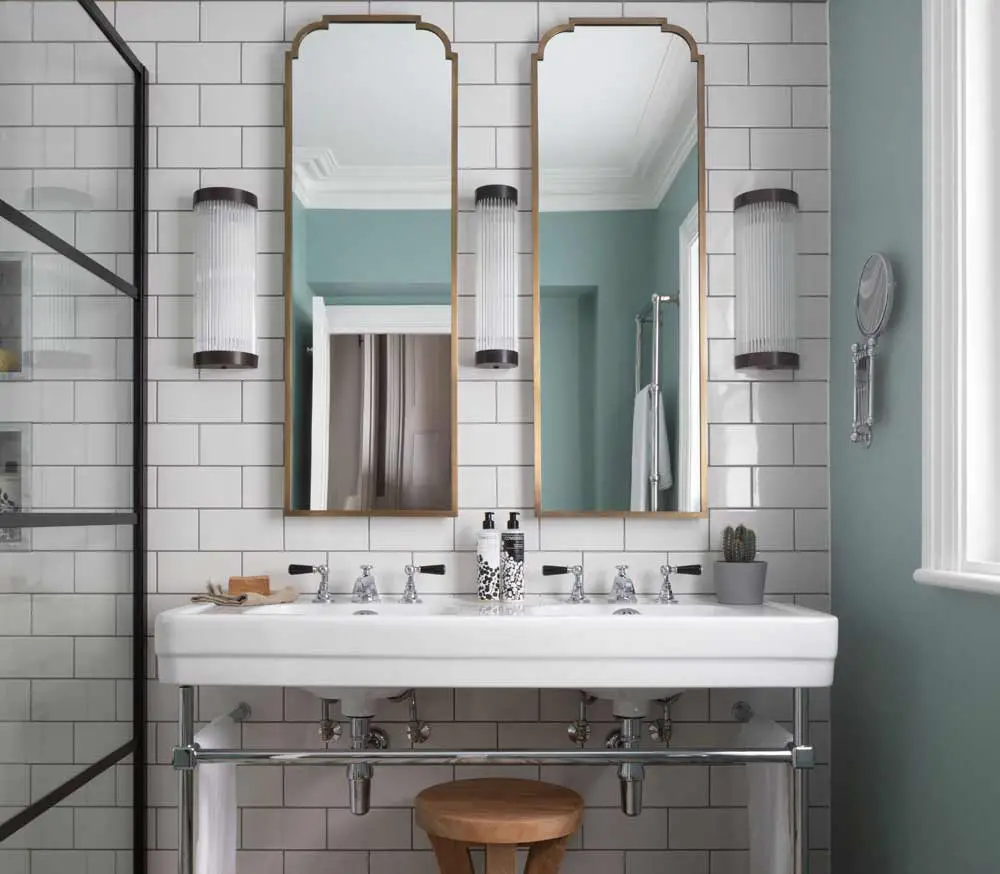 Image credit: westonebathrooms.com
This is another modern take on a Victorian themed traditional bathroom, with its elegant gold framed mirrors intersected by three period light fittings, which nestle neatly between them. A white brick tiled wall is the perfect backdrop for the pipe supported ceramic basin, and modern black metal and glass shower surround.
Contrasting with the crisp white of the metro tiles, basin and window frame is the beautiful aqua marine of the adjacent wall. This Victorian style bathroom perfectly combines traditional period elements with modern material and colour scheme.
---
---
Victorian Bath Shower Mixer Tap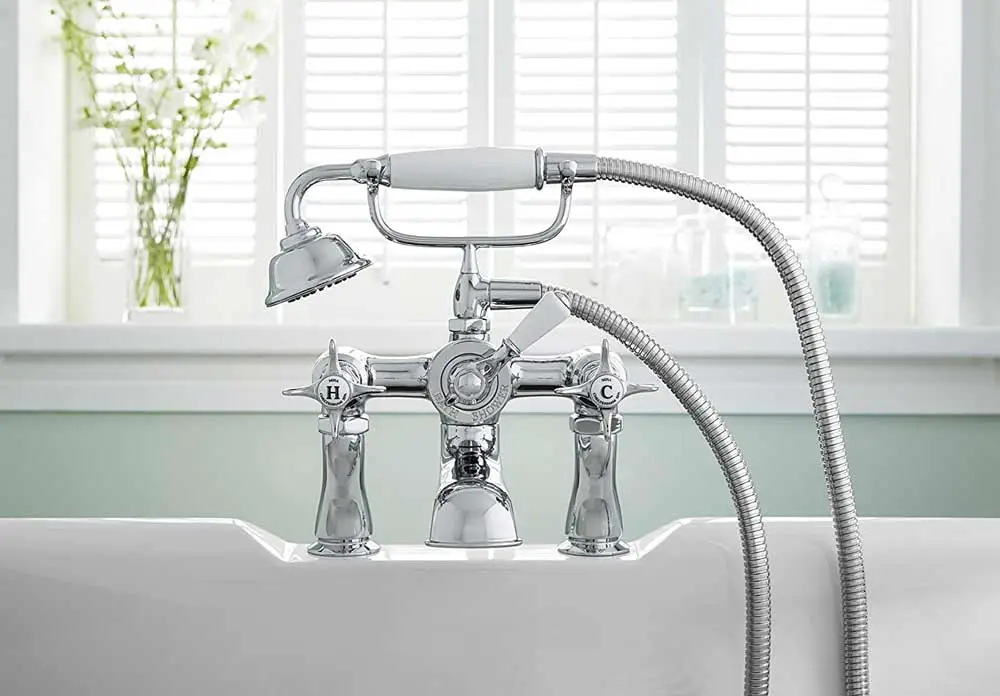 Image credit: amazon.co.uk
This Victorian bath shower mixer tap is the perfect addition to any Victorian themed bathroom. Featuring an elegant, vintage-inspired Victorian design, this tap adds a touch of classic style to any bathroom decor. As well as two separate taps for hot and cold water, it also has a flexible shower head, making it a great choice for anyone wanting the option of both a bath or shower.
Additionally, the chrome finish ensures that it is durable and easy to clean and perfect for anyone looking to add an elegant touch to their bathroom decor, while still enjoying maximum convenience.
Without doubt, a beautiful addition to any fixed or freestanding bath.
---
---
Summary
Victorian bathroom design offers a everlasting and elegant aesthetic that can be incorporated into any large, medium or small bathroom space.
Whether you're renovating an old Victorian home or simply want to add some traditional vintage charm to your existing bathroom, these Victorian bathroom ideas will hopefully inspire your own ideas and designs.
From clawfoot tubs and mosaic tile floors to ornate mirrors and brass fixtures, there are many ways to incorporate a Victorian style into your bathroom.