---
As the world of interior design evolves, so too do the popular bedroom styles. Boho bedroom ideas are a perfect example of this ever-changing landscape. Boho chic is all about blending different cultures and styles together to create a unique, one-of-a-kind look, being creative and having fun with your space.
When most people think of bohemian, they might imagine free-spirited, carefree people who live a life of leisure and travel. While this may be true for some, the modern definition of bohemianism is more about self-expression and finding your own unique style. This is especially true when it comes to decorating your bedroom.
If you wish to add boho flair to your bedroom decor, start by browsing online shops or flea markets for eclectic pieces that reflect your personal taste and style.
Here are some tips to help you get started on creating your very own boho bedroom retreat.
Colours for a Boho Bedroom: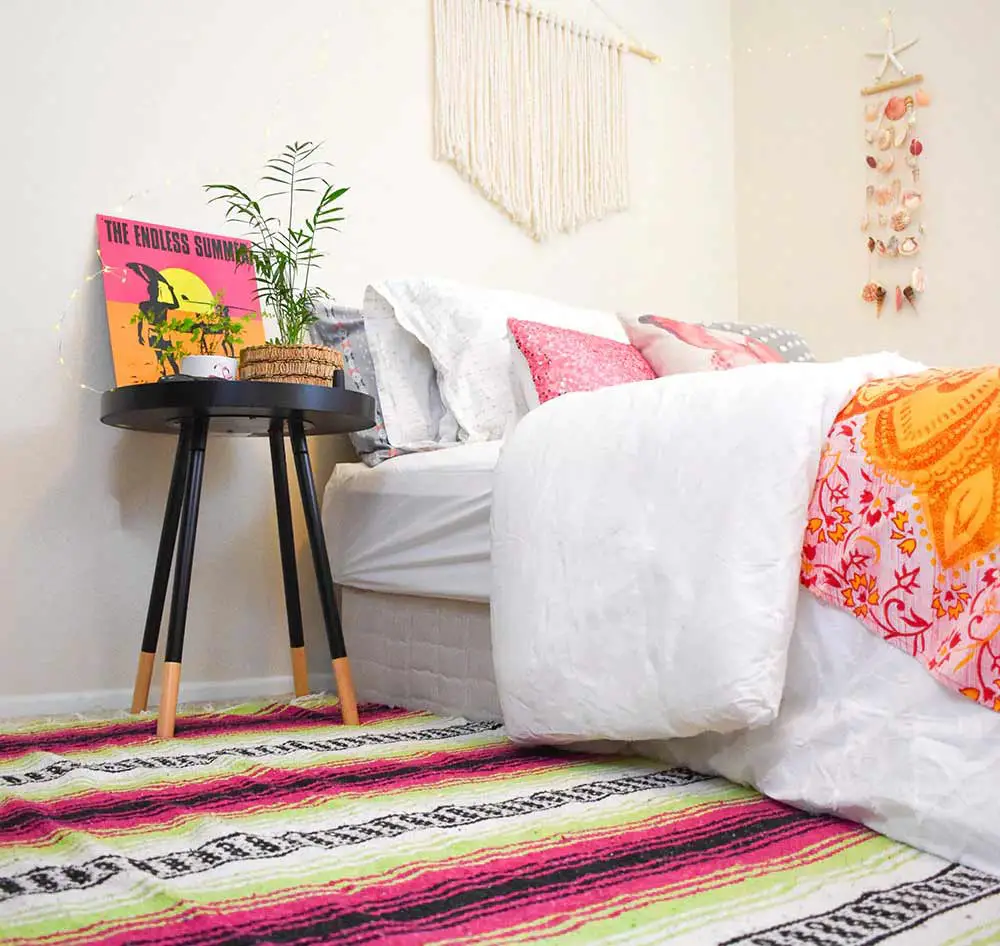 Image credit: davistaylortrading.com
Boho style bedrooms do not have a particular colour scheme that you are restricted to. The colour palette can be anything you want, from bright, bold colours, to more muted white walls of Scandi design.
Feel free to use daring hues, gorgeous patterns and earth tones whilst adding natural materials into the design. Do not be afraid to mix and match different colours, as it helps make your bohemian decor ideas so unique.
Consider using bright colours for your boho bedroom decor to create a fun and eclectic look.
---
---
Boho Bedroom Furniture: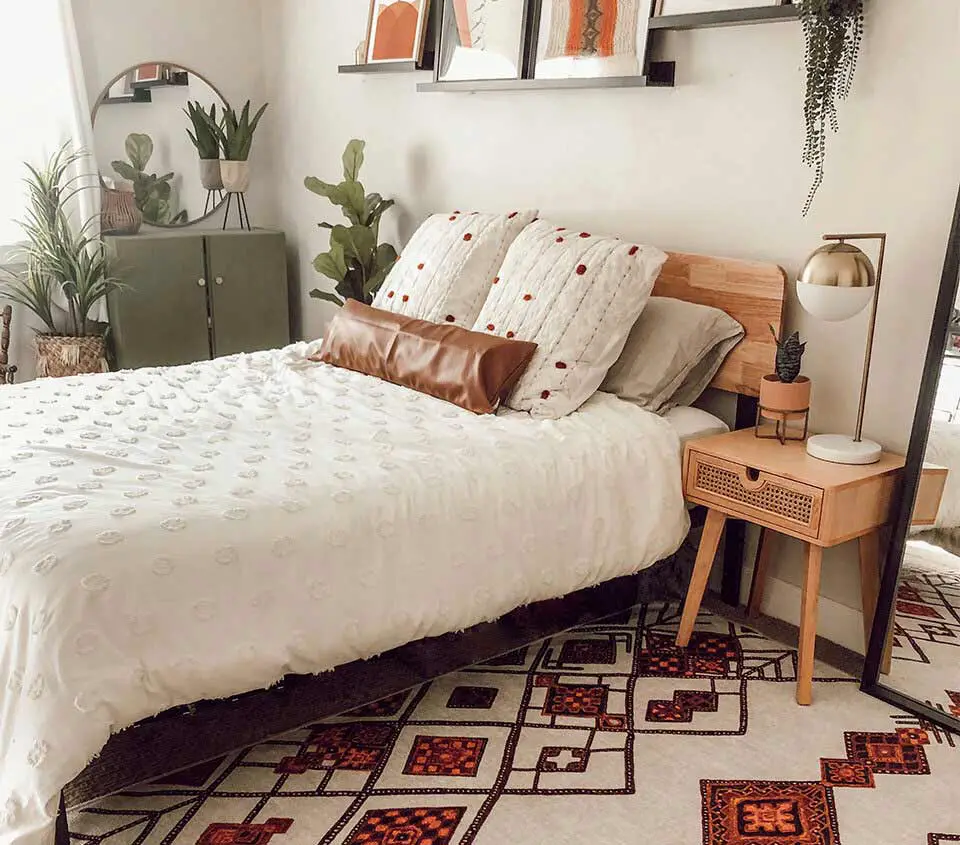 Image credit: blog.ruggable.com
Second-hand, repurposed, or upcycled furniture would work well in a bohemian-themed room.
Add unique pieces of rattan furniture to give your bedroom a boho vibe. You might also want to consider a unique headboard or footboard, like those made of metal or wood.
Adding a rug in front of your bed can make the space feel cosy and more inviting, not to mention that it can jazz up an otherwise plain and bland floor space.
---
---
Boho Accessories: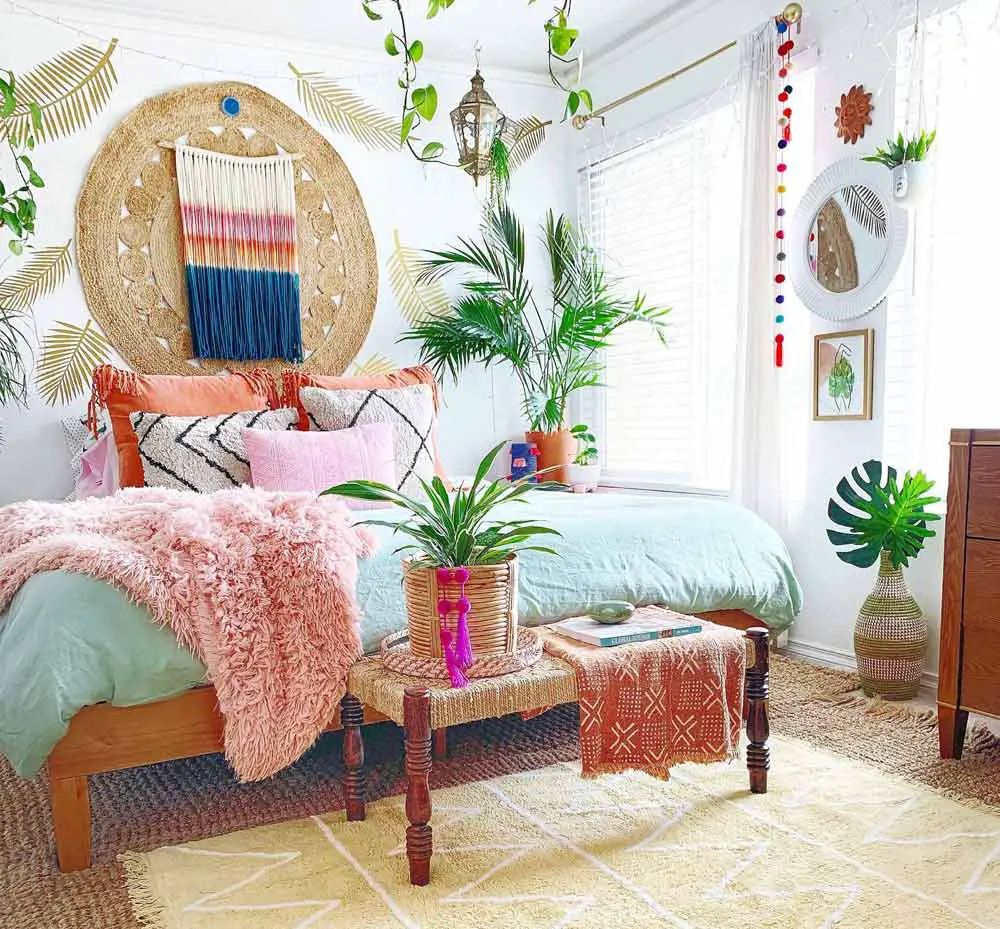 Image credit: magzhouse.com
Never forget about the accessories! Accessories can include anything from rugs and pillows to artwork and table or floor lamps. A patchwork quilt or colourful throw pillows can add the perfect personality and style to the space.
By choosing accessories that reflect your personal style, you can create a room that feels like an expression of who you are and not just a mismatch of various objects.
When it comes to window treatments, to fit in with the boho style, they are generally made of light and sheer materials like voile. This allows natural light to enter the room, creating a soft and warming hue.
---
---
Textiles: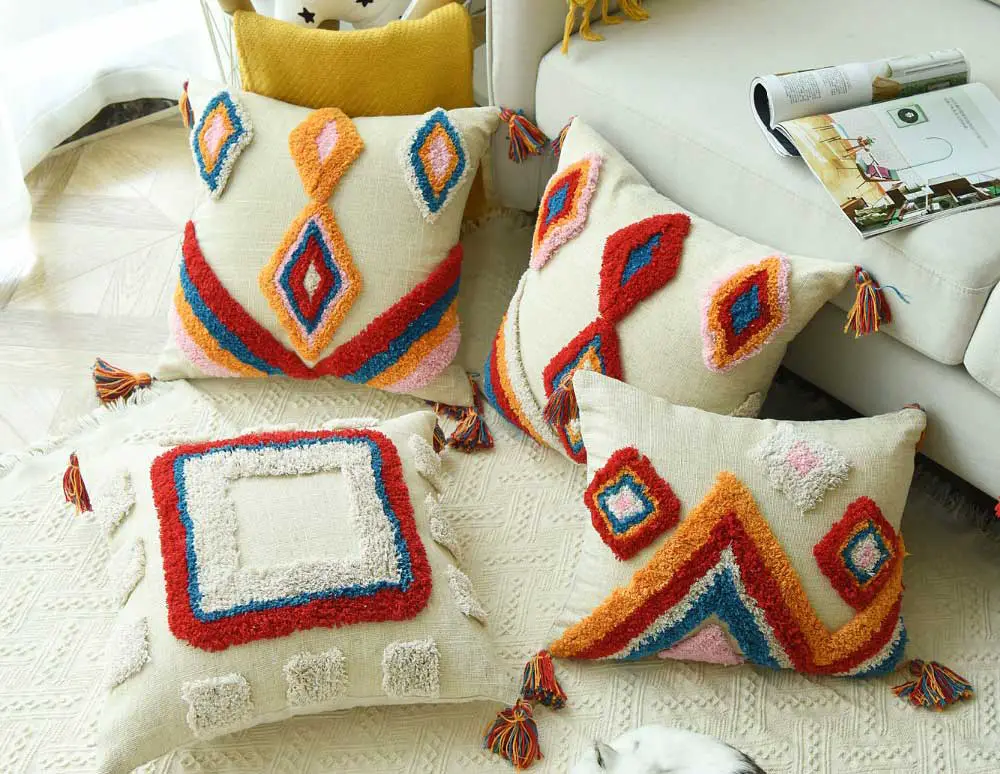 Image credit: voguenest.com
Textiles are important in any bedroom design. This is especially true for bohemian bedroom decor ideas. They add colour, texture, and pattern to the space, helping to create a look that reflects your personal style. When creating an authentic bohemian style, use organic and natural elements, as they are essential in boho-style rooms.
Once you have a few key accessories, start layering in textiles like blankets, pillows, and rugs to create a comfortable and inviting space. Add warmth and cosiness by adding finishing touches might include draping a throw over a chair or tossing it over your duvet cover.
---
---
Plants: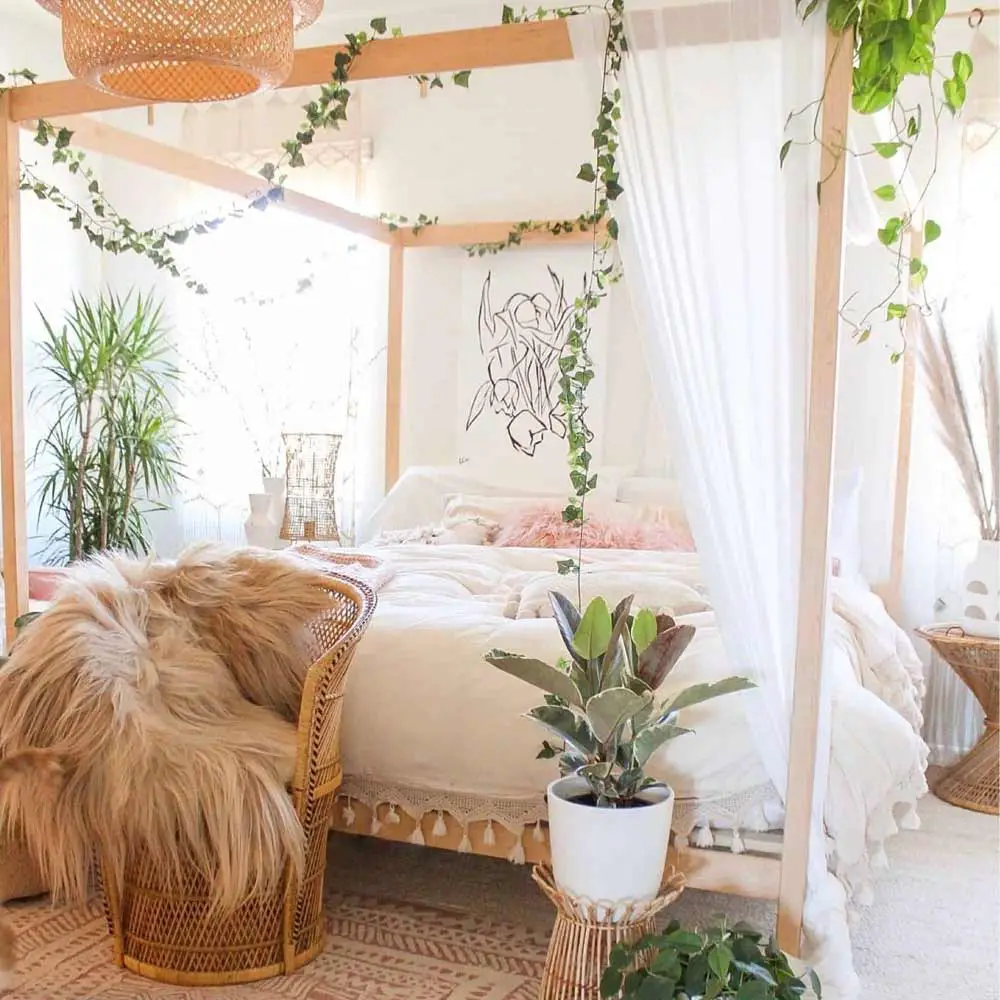 Image credit: halehouse.org
Boho bedroom ideas are all about connecting with nature, so a few well-placed plants or baskets can help to set the tone for your bohemian bedroom design.
Hang a few plants from the ceiling and drape greenery from shelves and bookshelves to create a vernal ambience. Do not go crazy here though, and keep it simple. You should then be good to go.
If the upkeep and watering of the plants is not for you, you can create the same look with faux plants without the effort.
---
---
Lighting: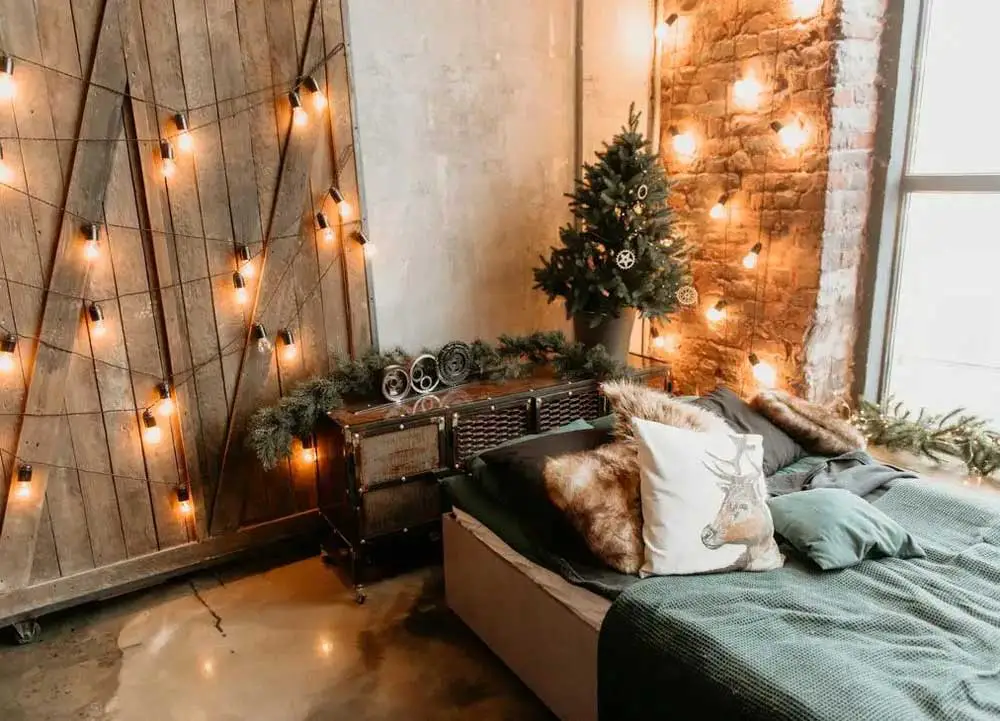 Image credit: prolinerangehoods.com
Bohemian lighting fixtures commonly feature materials such as fringe, rope, beads, rustic metals, and even ceramics.
Other possible options include natural lighting, like candles, or creative lighting such as fairy lights or other types of string lights. The perfect way to set the mood for your boho bedroom. At the end of the day, your bedroom should be a place where you can relax and feel comfortable.
Getting the lighting right an important step as it sets the mood and can create the perfect environment for reading, working, or just relaxing at the end of a busy day.
---
---
Boho Wall Decor Ideas:
Boho wall decor is often colourful and eclectic, including items such as tapestries, mirrors, plants, and candles. When it comes to choosing the objects that you require, feel free to mix and match different pieces to create your own unique look.
It's easy to neglect the wall decor element of Boho Interior design when there are so many other things to consider first. But wall decor is where you can add the perfect finishing touches to your Boho space, bringing everything in the room together.
Tapestries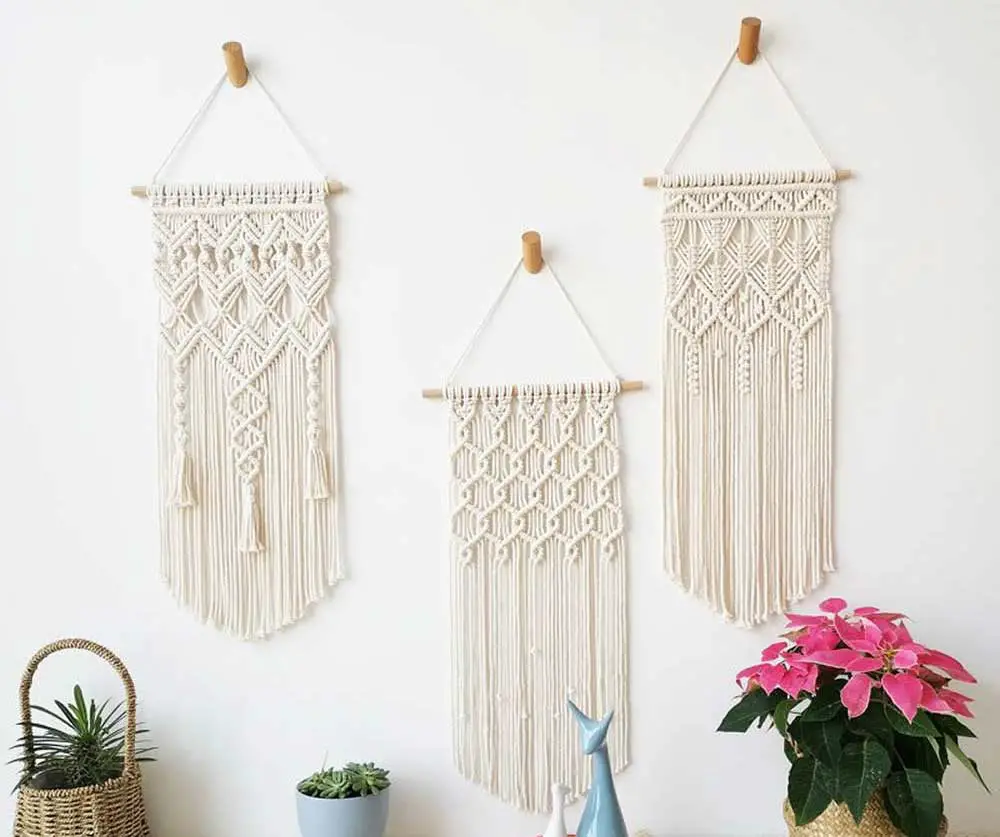 Image credit: alibaba.com
Tapestries are a popular choice for a Bohemian bedroom decor, often featuring bright colours and patterns. They are used to add a Boho or hippie-chic vibe to any bedroom or living room space.
Boho wall tapestries are made from a variety of natural materials, including cotton, wool, and even silk.
When choosing a Boho tapestry for your home, it's important to consider the overall style of the room you are decorating and if you want the tapestry to be the focal point of the space, choose one with bold colours or an intricate pattern. If you prefer a more subtle look, opt for one with muted colours and a simple design.
There really is no right or wrong as to the one to go for, it is simply down to personal taste and finding one that best suits your space.
Bohemian Wall Mirrors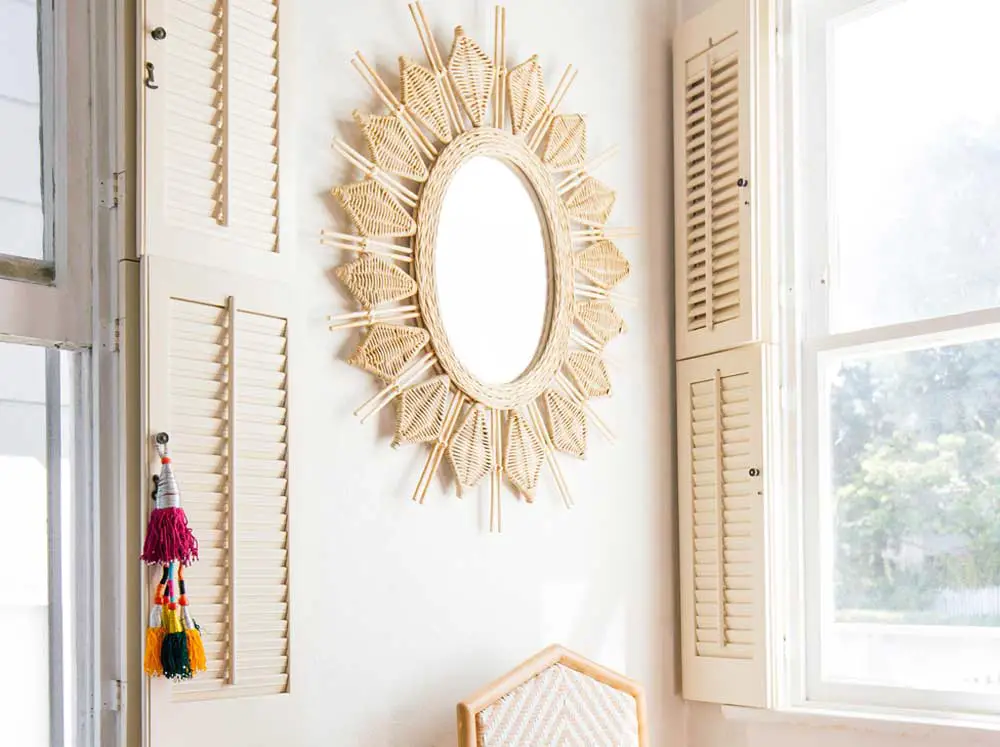 Image credit: pinterest.com
Boho wall mirrors add a warm personality to any living space or bohemian bedroom. They not only look great and help to reflect light, adding a natural brightness to your room, but also possess a certain natural charm that feels homely and inviting.
Boho Wall Baskets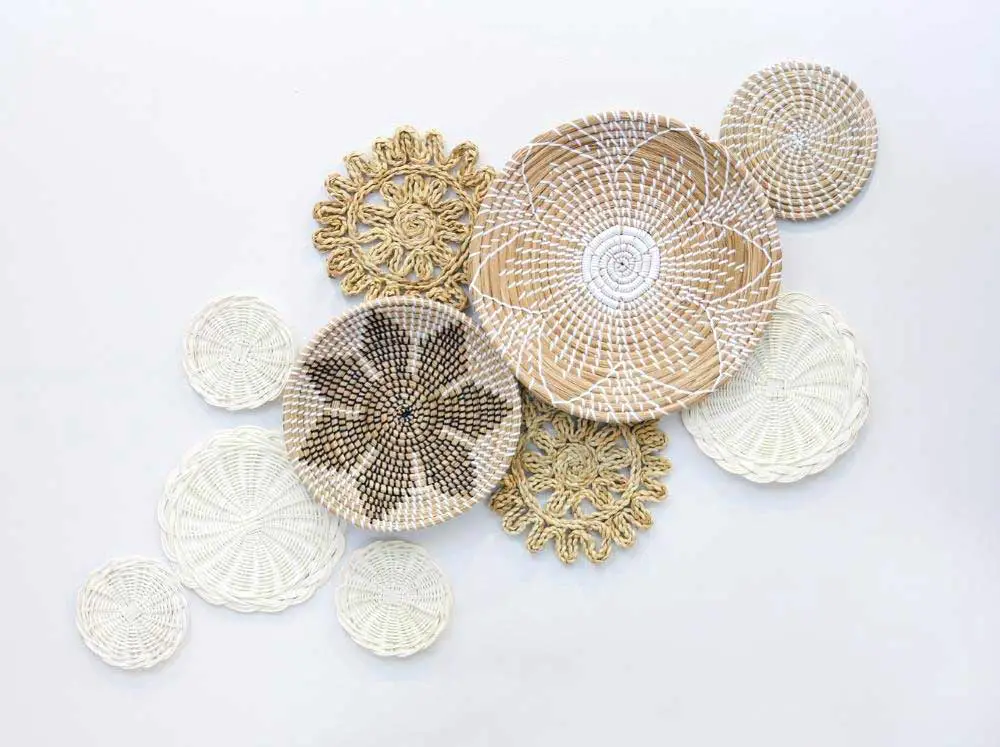 Image credit: chicnchill.net
Boho wall baskets are a must-have for any Boho bedrooms. They add the perfect touch of natural design and can be used for a variety of purposes. From flatter decorative baskets as shown above, to larger ones for holding plants or storing towels etc.
They are not only beautifully handmade from natural materials, but are both stylish and functional.
Boho Bedroom Inspiration:
I have collated a number of stunning bohemian bedroom styles to inspire you. My hope is that it leaves you with some great ideas for completing your own Boho vibes project.
Modern Boho Bedroom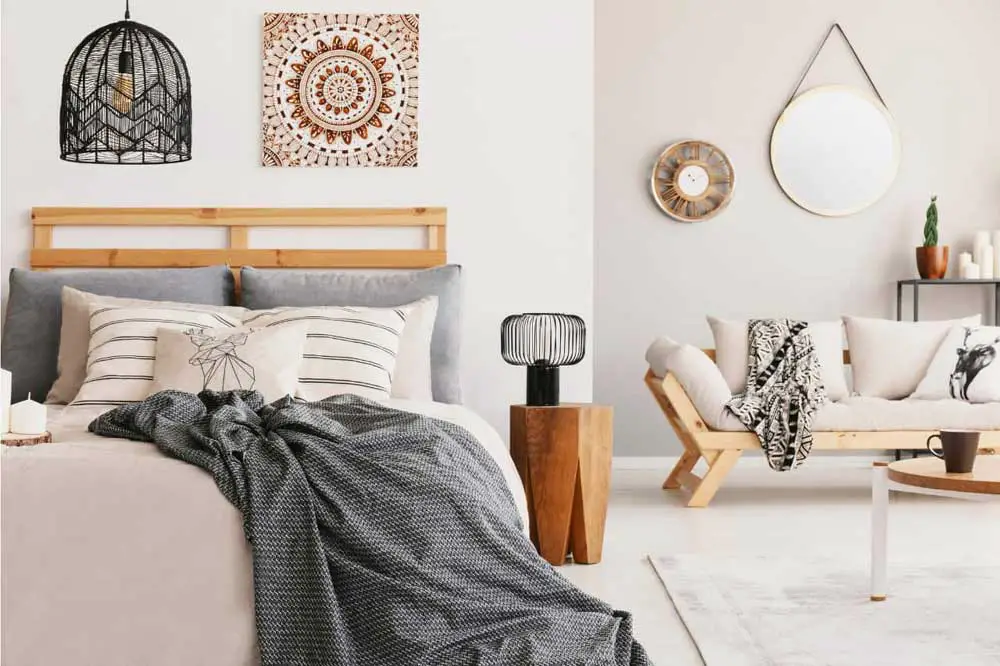 Image credit: homedude.co
Rather than going all out for a full on boho aesthetic, this bedroom gently and subtly only hints at it. The canvas art, light shade, mirror and wooden furniture all pointing to a boho style master bedroom.
A very modern and sophisticated  take on a simplistic boho vibe.
---
---
Traditional Boho with a Modern Edge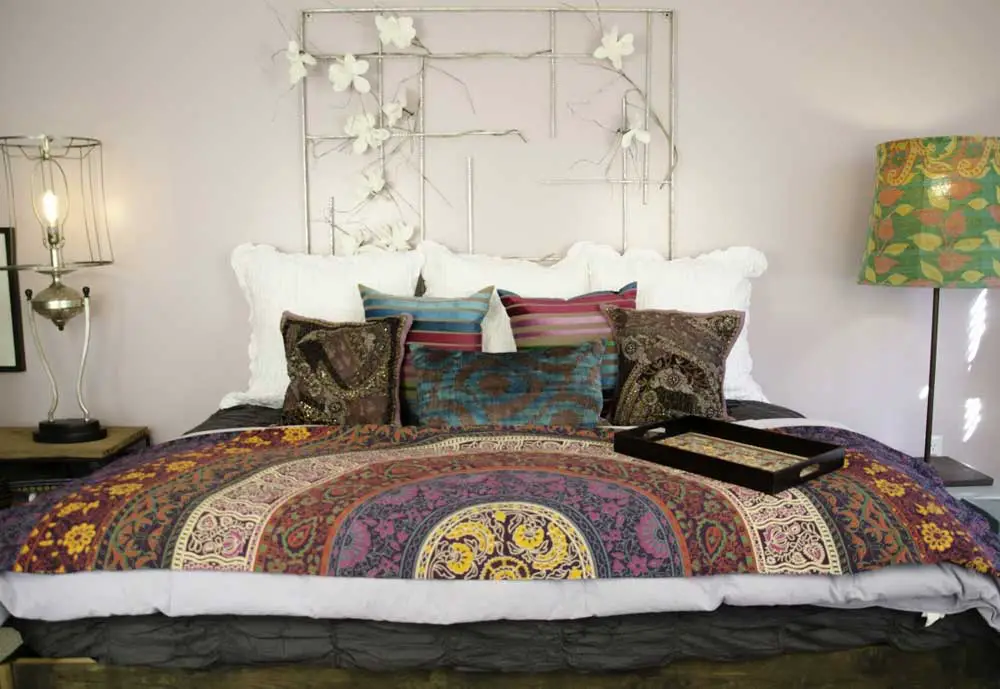 Image credit: rileyonmain.com
The boho bedding, cushions and matching colourful lamp shade all point to a traditional boho look. However delve deeper and there is a modern flowery art piece above the bed and a contemporary table lamp on the side table.
This just goes to show what an eclectic mix bohemian style bedrooms can have, and still work in harmony.
---
---
Natural Earthy Tones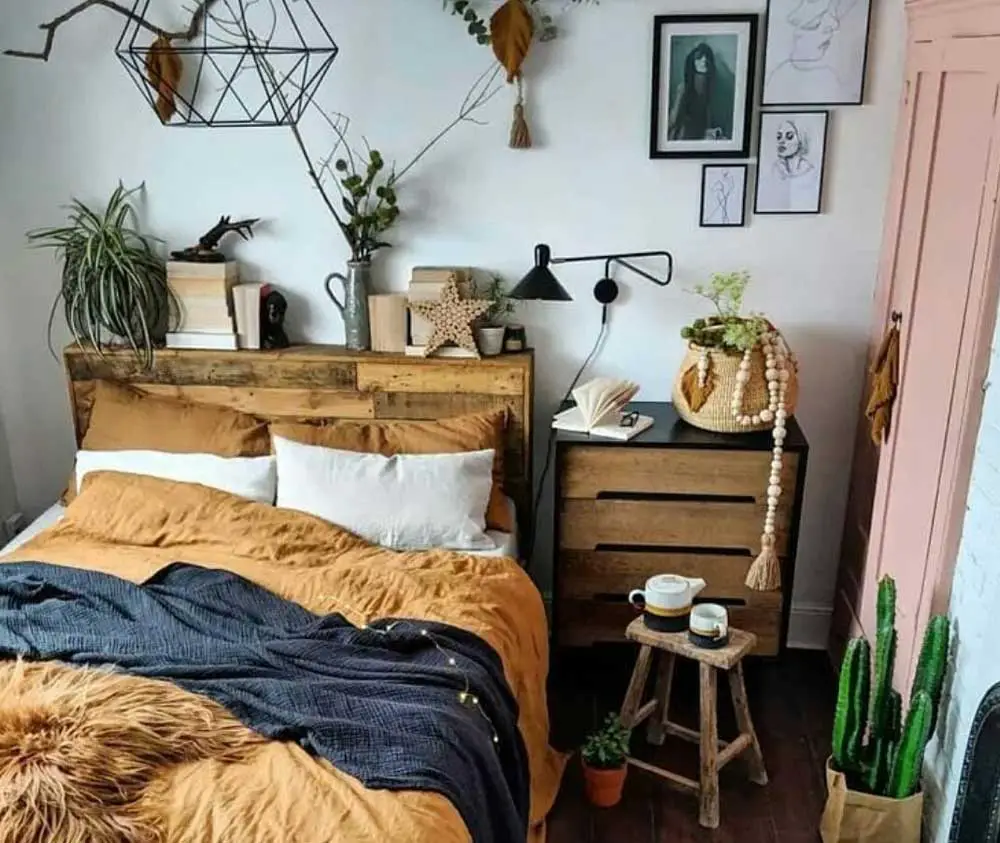 Image credit: thewondercottage.com
This boho bedroom decor instantly feels warm, cosy and inviting with its earthy tones and soft shades of pink and blue. Natural materials have been used within the rustic wooden bed frame and accessories, which not only adds to the bohemian style, but also to the cosiness and warm feeling of the room.
Finally greenery has been added in various areas within the space and at differing heights, tying the whole earthy vibe together.
---
---
Monochrome Boho Chic Bedroom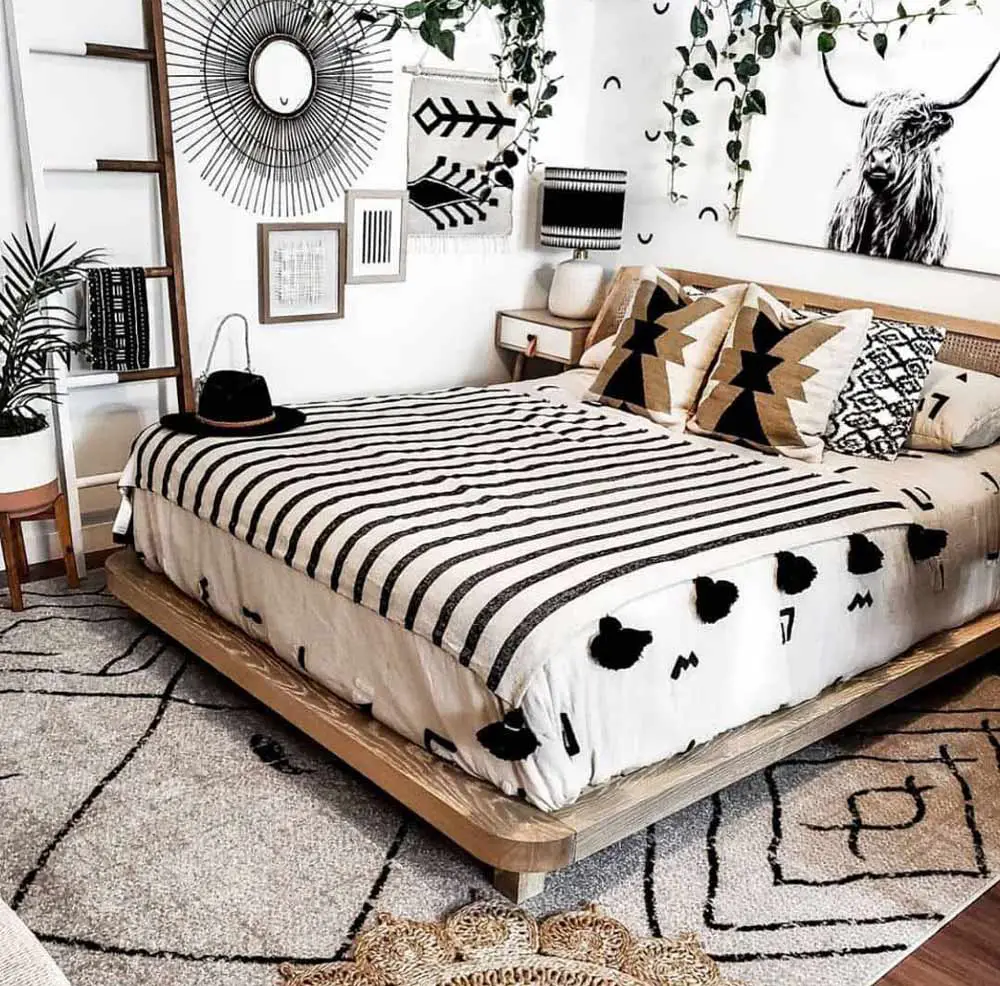 Image credit: thecardswedrew.com
Black and white are a great colour combination for bedrooms in general and this monochrome boho chic bedroom is no exception.
Everything has been selected and placed to add complimentary layers to the overall boho style, from the black lines in the patterned rug, throw, white bedding and cushions, to the ratten starburst mirror and hanging plants.
Jute rugs are a further great addition to any bohemian bedroom. They are synonymous with the boho style and the natural textures give an extra dimension to a boho chic bedroom.
All these interior design elements sit perfectly as the focal point and visual interest against a backdrop of stark white walls.
---
---
Boho Bedroom on a Budget
Image credit: coasterfurniture.com
The styling of this modern Boho chic bedroom creates a wonderful calming, light and airy feel. With the light wood of the headboard, wooden palette and wall hangings, and the clean and crisp white washed walls, the modern Boho style is there, but subtle.
All of the elements used, such as the palette, bed, plants and wall decorations are all budget friendly items, showing that the Boho style can be created in a very cost conscious way.
---
---
Moroccon Inspired Boho Minimalism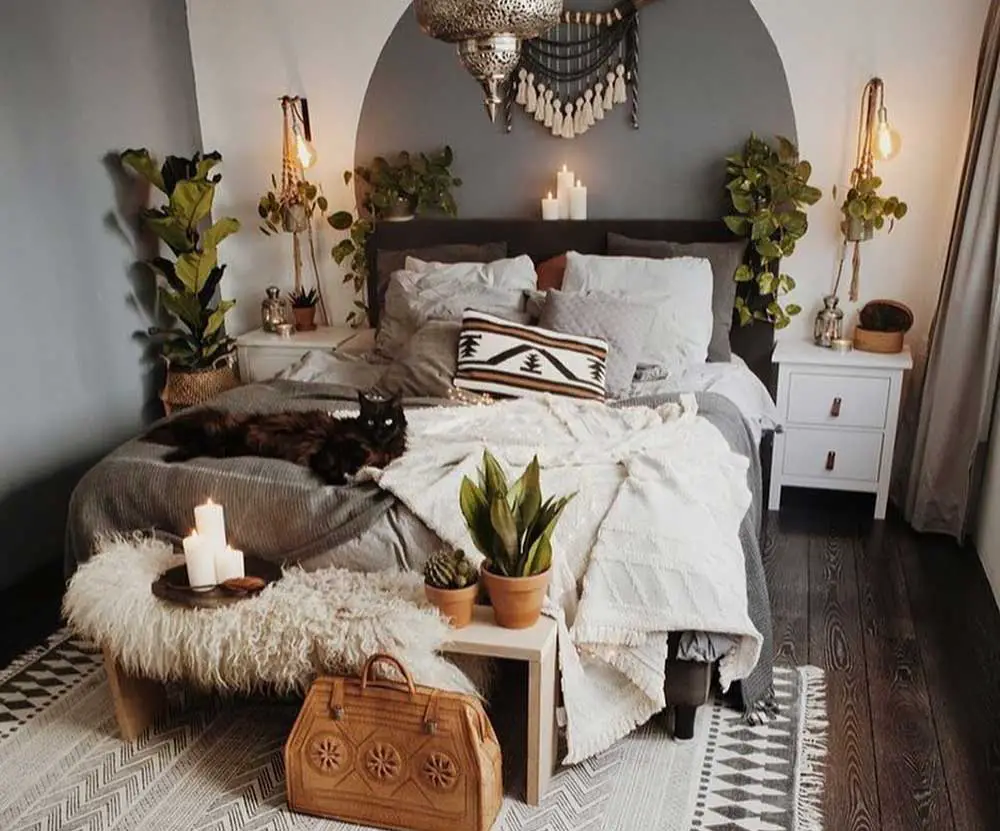 Image credit: pinterest.com
In this Moroccan inspired boho bedroom decor example, the dark wooden flooring and bed frame have been chosen to contrast with the white patterned rug, bedding and bedside tables.
Deep grey is carried across the main wall, part of the feature wall and within the top bedding layer and cushions. This creates the perfect balance between the dark wood and white furniture and accessories.
As in many boho bedrooms, plants are the finishing touch that brings nature into the fold. In this case, different styles and heights of plants are used to add variety, including macrame plant hangers which cleverly hang from the bedside light fixtures.
---
---
Bright Contemporary Boho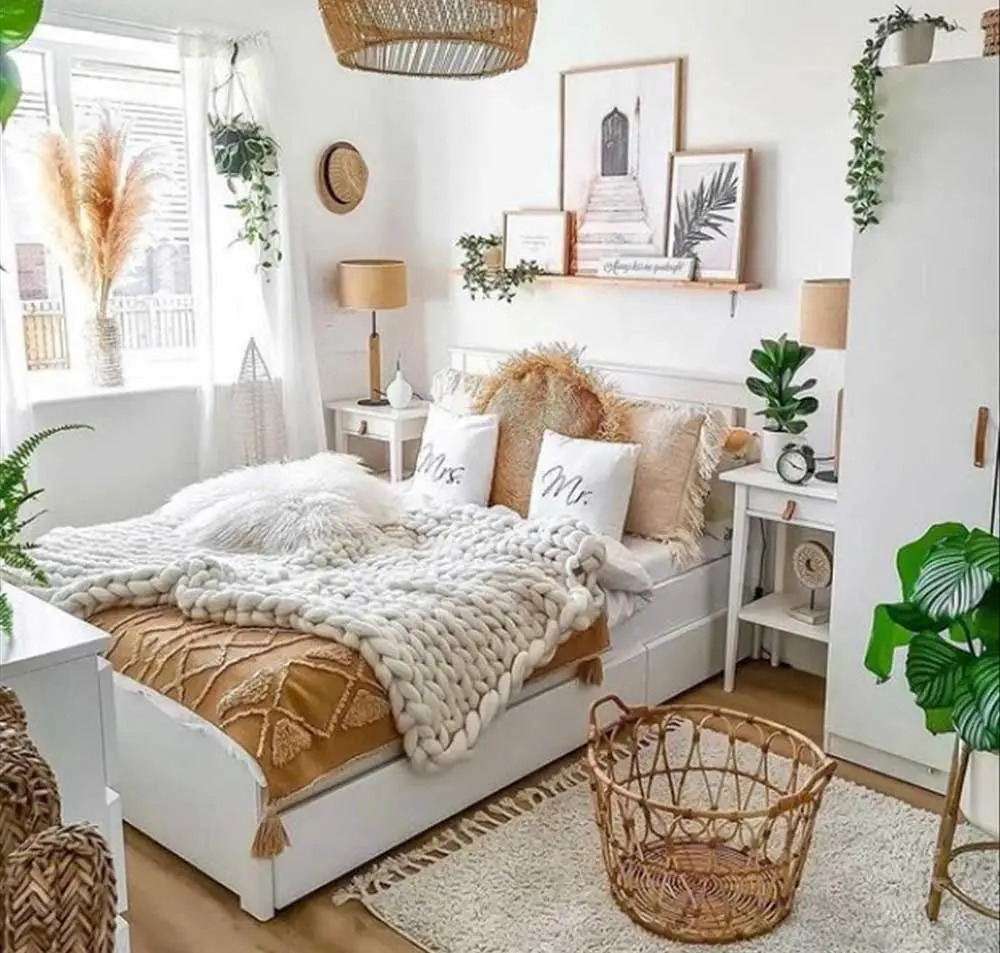 Image credit: cozylivinglife.com
This predominantly all white bedroom is a contemporary modern take on a boho inspired vibe, with its natural textures, soft and tactile materials and luscious greenery playing the starring roles.
Pampas grass in the window and the rattan of the basket and light fitting are the perfect finishing touches that bring the theme to life.
---
---
Cosy and Comforting Boho Chic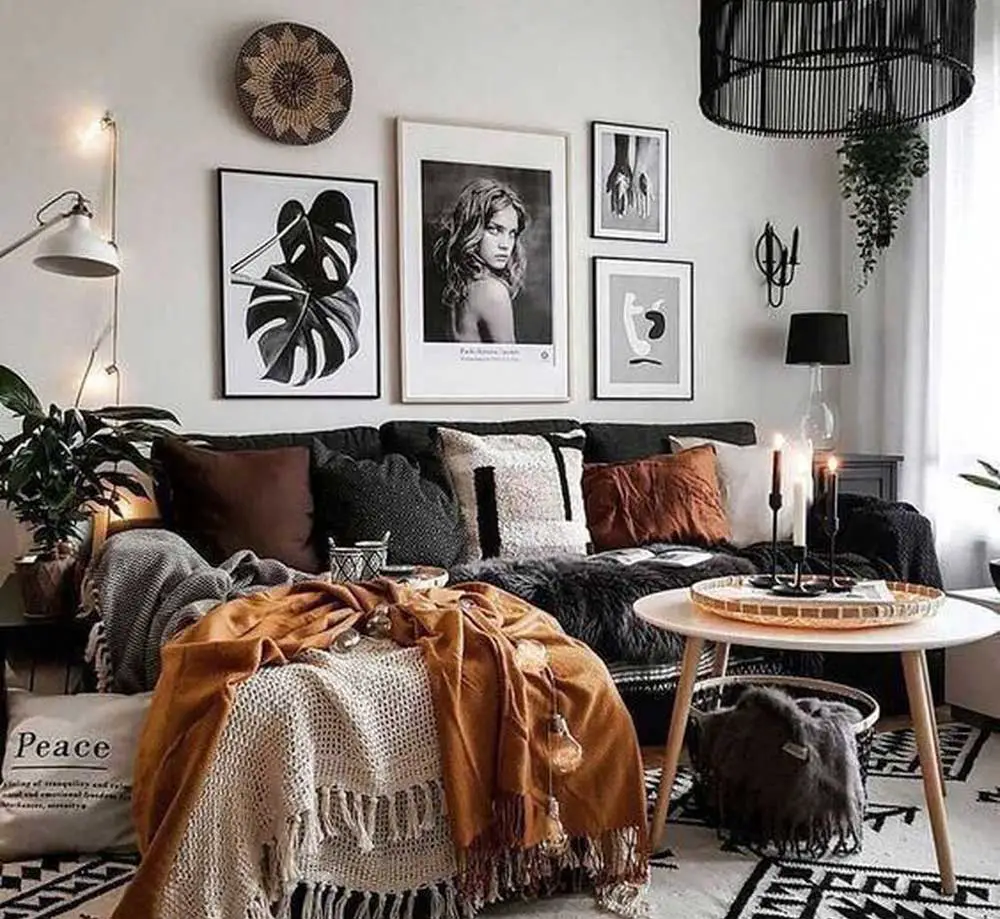 Image credit: pinterest.com
Although this last example is clearly not a bedroom, the same colour scheme, warm colours and interior design ideas could be used to create an equally stunning boho bedroom.
Textiles are again a key element of this boho design and the relatively neutral colour palette across the various elements of the room align perfectly.
The gallery wall is a new idea not seen thus far, and serves to add character and personality to the space without taking away or overpowering the overall theme. Plants and hanging vines are the extra decorative flourish.
---
---
Fresh Bohemian Vibe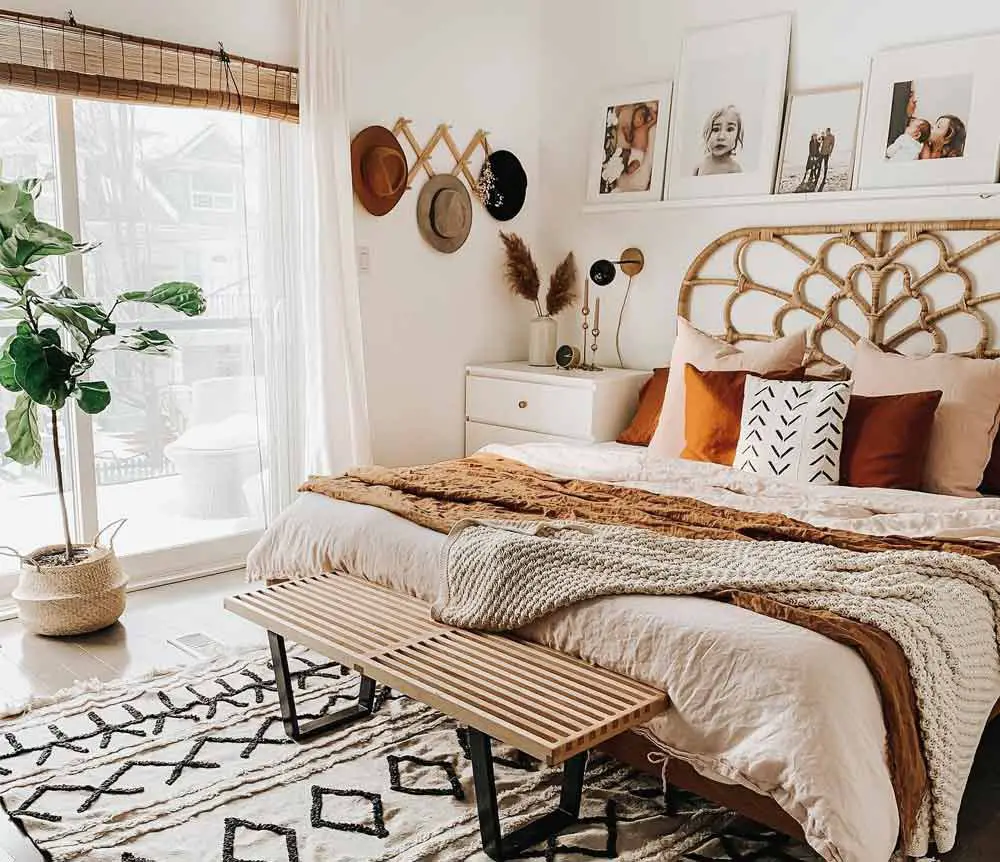 Image credit: cozyhome101.com
Set to a clean and bright white background, this Bohemian bedroom is a paired back, modern take on a Boho theme.
Touches such as the bamboo blind, floral motif statement headboard, pampas grass, greenery and textiles of the throw and rug, all work together in harmony to create what is a cool, fresh looking Boho themed bedroom.
Black and White Boho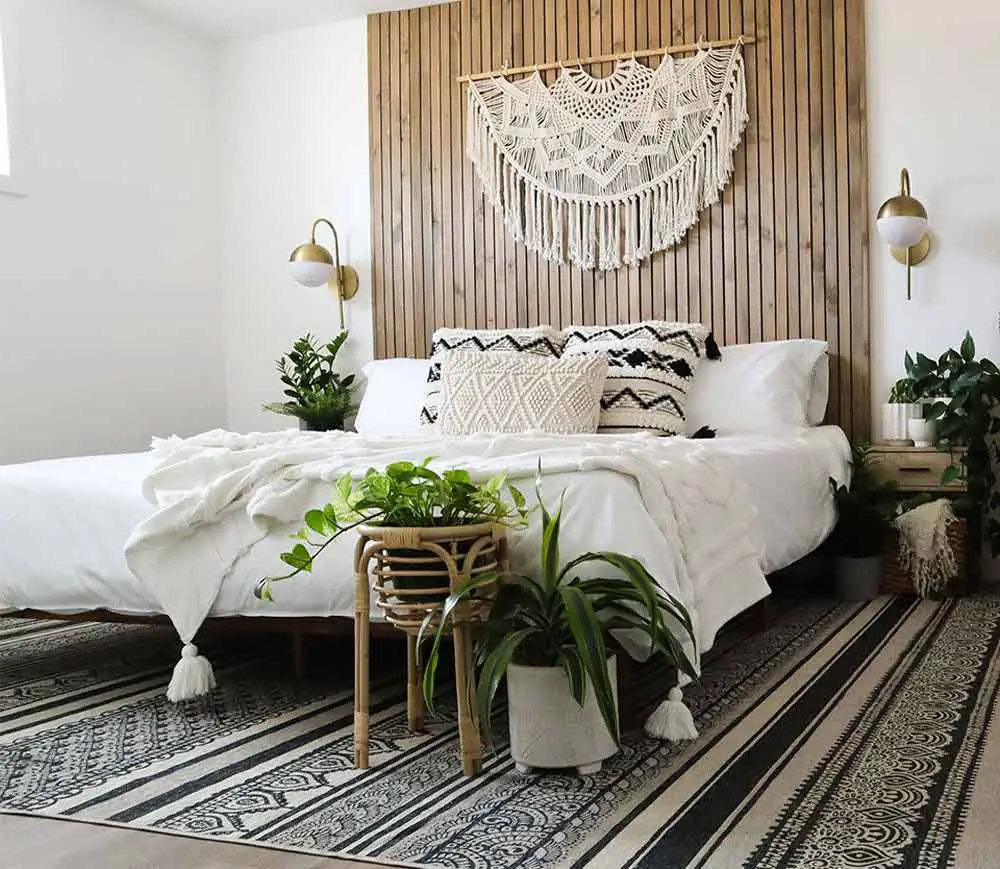 Image credit: blog.ruggable.com
This bedroom design is slightly different from the more widely copied colourful or warmer toned Bohemian styles. Other than the warmer creams within the hanging tapestry and throw cushions, and the natural warmth from the impressive floor to ceiling panelled headboard, the colours are mainly muted to black and white.
The intricate designs within the large area rug and throw pillows are the prominent patterns on display, but are well balanced by the plain white walls and bedding between and surrounding them.
Finally greenery has been well used both at the foot of the bed and on the bedside tables, creating the outside inside look and feel that the Boho theme demands.
Neutral Tones Bohemian Bedroom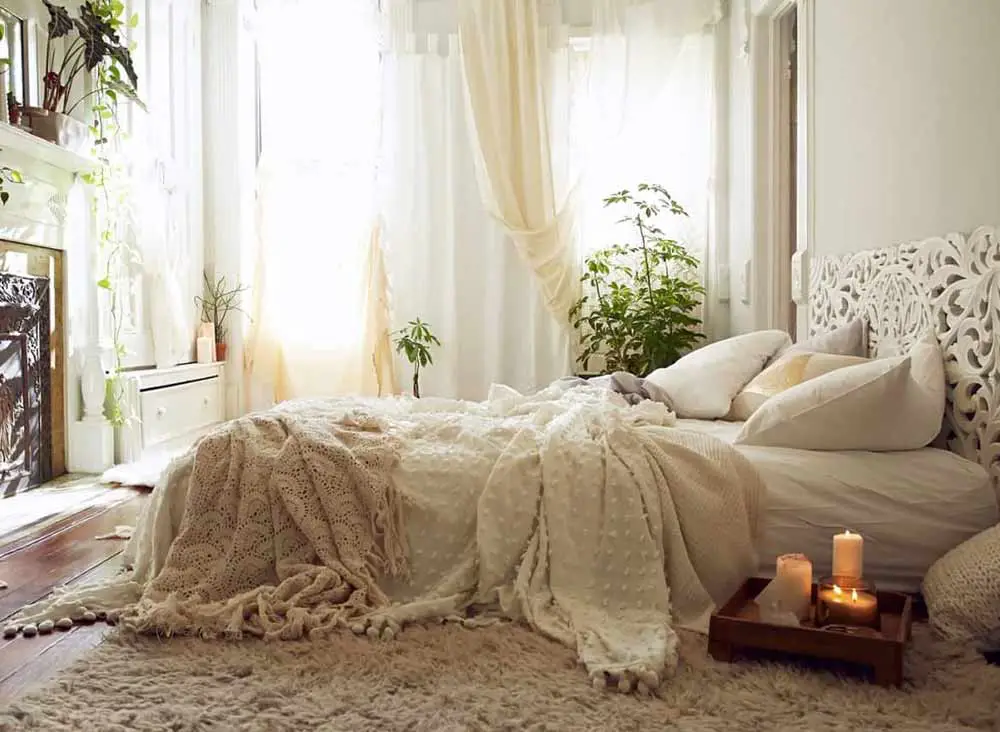 Image credit: trendir.com
The warm neutral tones of the textured throws and Boho bedding create a super cosy and inviting space in which to relax and sleep.
A sumptuous fluffy rug, intricately carved headboard and mixture of plants in different areas of the room and at differing heights, all add another layer of authenticity to the Boho bedroom decor effect.
French Floral Boho Bedroom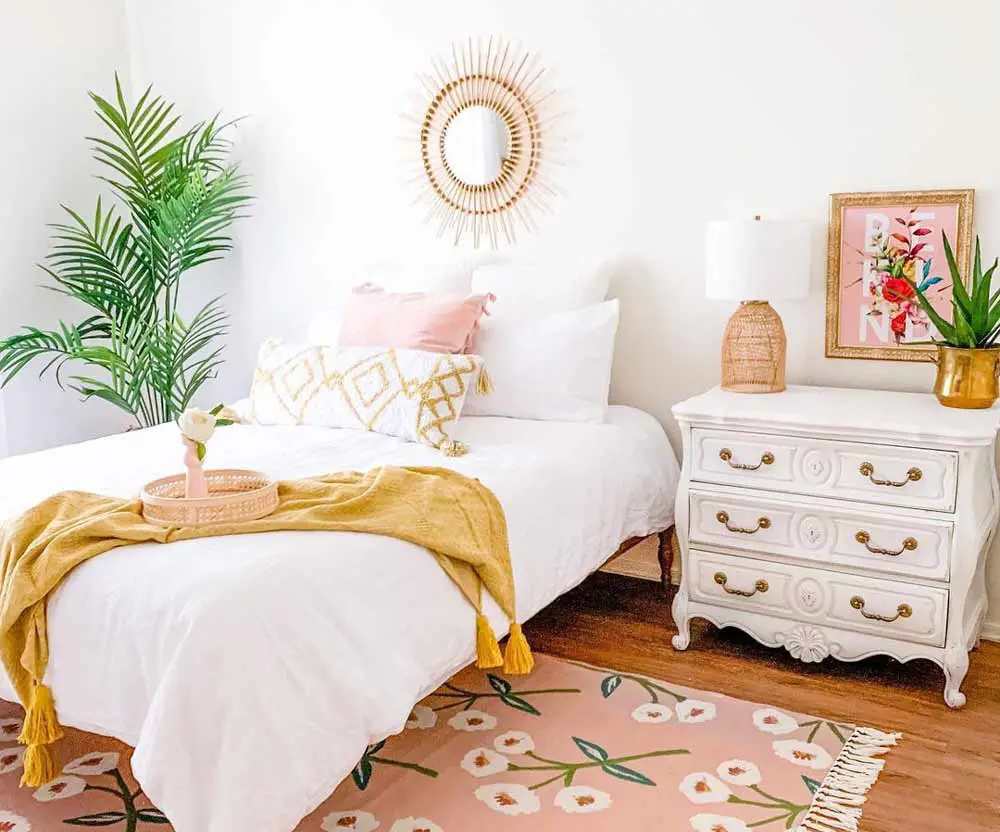 Image credit: pinterest.com
The French floral Boho aesthetic of this beautiful pink, white and gold bedroom screams of a modern contemporary Boho chic bedroom of today.
A rattan lamp, sunburst mirror and greenery are all key staple elements of the Bohemian style. Add to these the French chic drawers, gold accents and floral rug and you are left with this modern Boho bedroom design. A personal favourite of all of our Boho bedroom ideas.
Rustic Bohemian Bedroom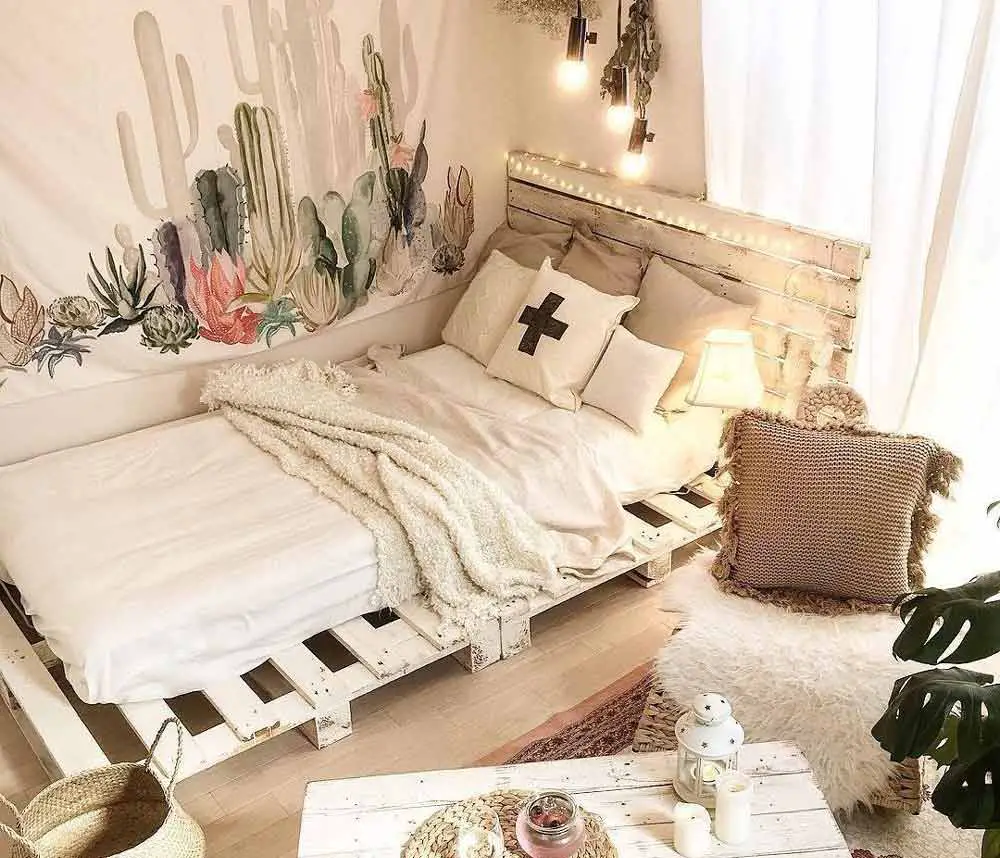 Image credit: pinterest.com
If you are looking for a way to create Boho bedroom decor on a budget, then this rustic design is a great place to start.
A simple bed built from cheap but sturdy delivery palettes and a rustic upcycled table tie in seamlessly with the other Bohemian pieces of the throw, cushions, rug and plants.
The beautiful cactus tapestry is an extra special touch which brings warm colours and the owners own personality into the space, with the added benefit of not leaving the walls bare and lifeless.
Hanging bulbs and fairy lights add a final flourish of Bohemian style and offers not only the practicality of task lighting, but a cosy warm hue at night.
Bright White Boho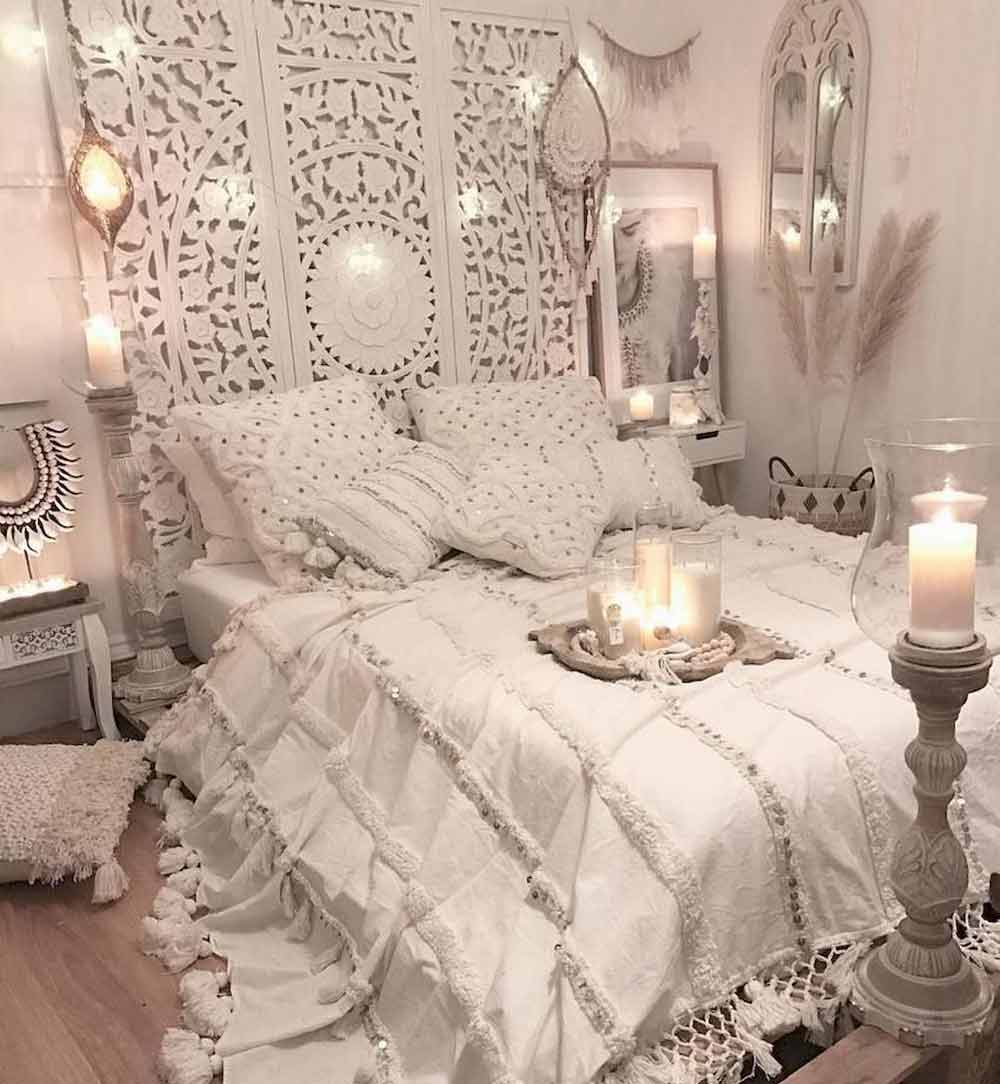 Image credit: pinterest.com
Not many Boho bedroom ideas are single colour focused, yet this modern Boho bedroom decor barely deviates away from a pure bright white colour.
While on the surface this may sound plain, bland and boring, this Boho bedroom is far from it.
To make up for the lack of colour, numerous textures, patterns and clusters of warm cosy light has been cleverly integrated into this bedroom space. The detailed nature inspired carving of the impressively sized headboard, being a triumph of design and a main focal point of the room.
Colourful Boho Hippy Vibes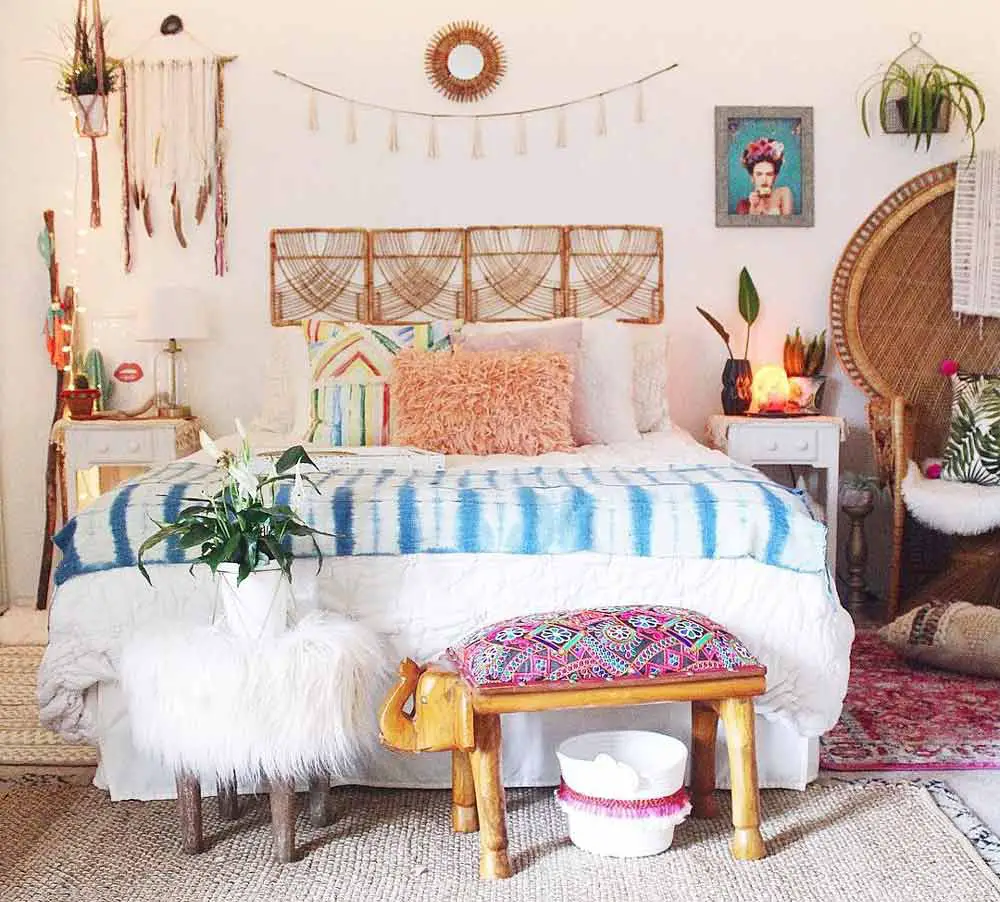 Image credit: pinterest.com
This final example of our Boho bedroom ideas has more of a hippy vibe than previous Boho bedroom decor examples.
The true eclectic mix of materials, colours, patterns and textures all add to the overall interior design of the Boho bedroom space.
Natural materials have been chosen for their Bohemian vibes, and are evident in the statement wicker chair, blocks of wall art above the bed and textiles on the floor, bed and elsewhere within the room.
A beautiful fresh and airy hippy design that anyone would love to stay in.
Summary:
For the perfect Boho bedroom ideas start with the fundamental process of choosing natural wall colours, such as white, off-white or cream. Then add extra colour and texture by layering throws, rugs and accessories one piece at a time.
Be sure to use plenty of natural materials, like rattan and wicker, within the furniture and accessories and don't forget to add plants!
Boho bedrooms are an extension of your own personality, taste and style, however eclectic that may be. So enjoy the process and have fun designing your Boho bedroom !
You may also be interested in....