---
Decorating a bedroom in shades of grey and white is a great way to achieve a classic and sophisticated look.
Grey is the perfect neutral colour as it can be calm and serene or dramatic and moody, depending on the shade you choose.
When paired with white, it can create a look that is both clean and classic.
Not sure how to bring these two colours together in your bedroom? The following grey and white bedroom ideas will show you how, and inspire your own decorative design.
Disclaimer: As an Amazon and Wayfair associate, we do receive a small commission from qualifying purchases made via links within this article.
---
---
Modern White and Grey Loft Bedroom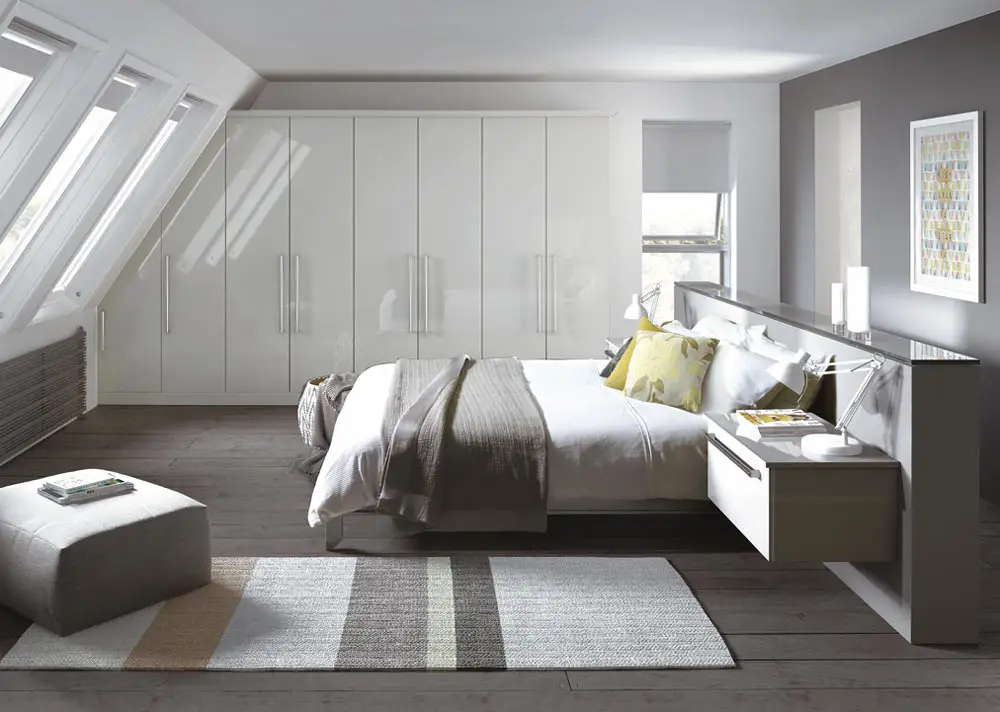 Image credit: brosna.co.uk
This large and airy loft space is the perfect place for a modern and sleek bedroom space. The large glossy white wardrobes and grey and white shiny bed furniture surround, with floating side tables, are a stunning addition to the room. They not only add a contemporary edge to the space, but are also functional and practical.
The sizeable skylights in this bedroom are a fantastic feature that allows plenty of natural light to flood in and brighten up the space. This not only has the potential to save on energy costs, but also makes the room feel even more open and spacious.
Grey toned wooden flooring is a beautiful choice, which brings the colour theme together and adds a bit more elegance to and already elegant grey and white bedroom.
A soft grey textured throw and striped grey and beige rug complete the look.
---
---
Boho Grey White Bedroom Style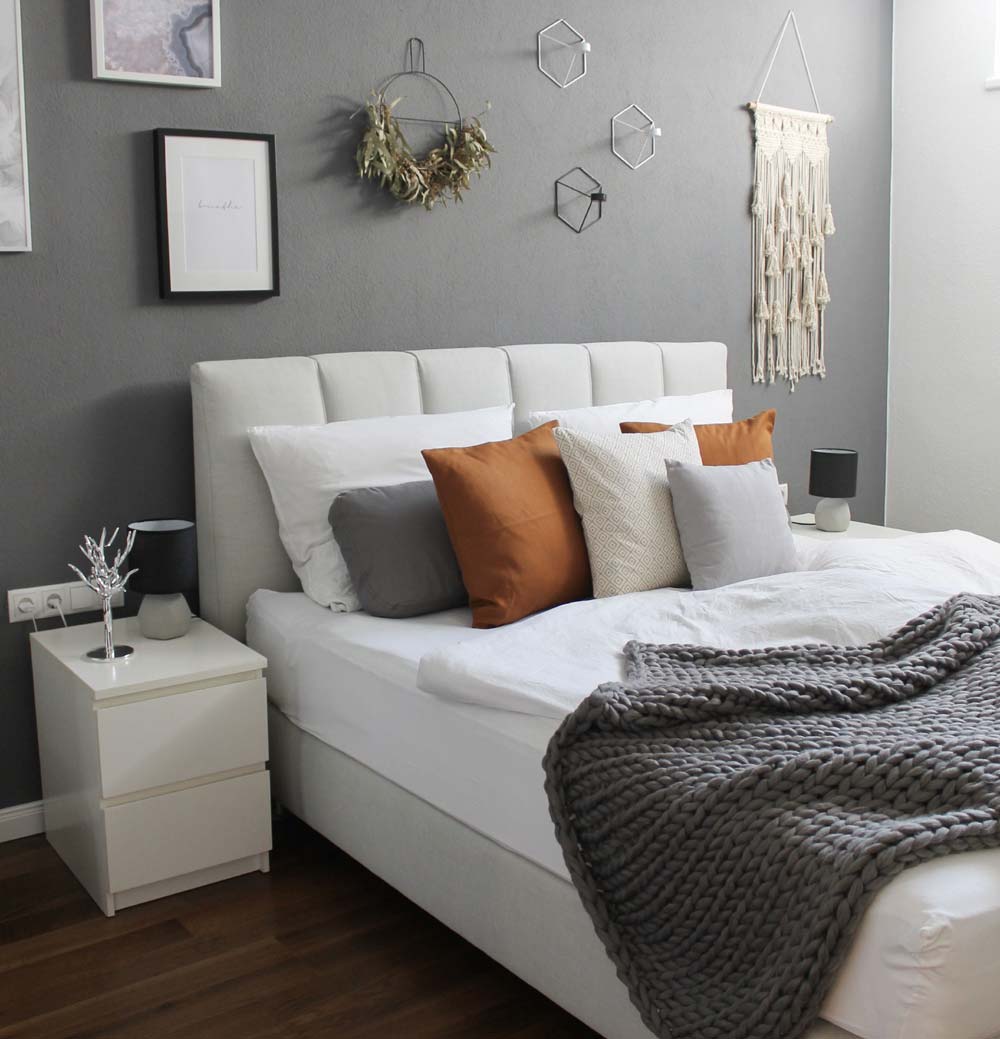 Image credit: pinterest.com
This aesthetically cool modern space has a stylish feel, with a touch of bohemian flair. The grey and white palette is both calming and sophisticated, with the grey feature wall framing the bed and surrounding furniture.
The white and grey throw pillows give a comforting place to relax, while the rust orange cushions add an extra pop of warmth, colour and personality.
The macrame wall hanging and other wall decor pieces, along with the chunky grey wool throw, are the perfect finishing touches to this stylish and soothing sanctuary.
If a Boho bedroom style is of interest to you, we have written an article dedicated to Boho Bedroom Designs.
---
---
Pastel Pink Grey and White Bedroom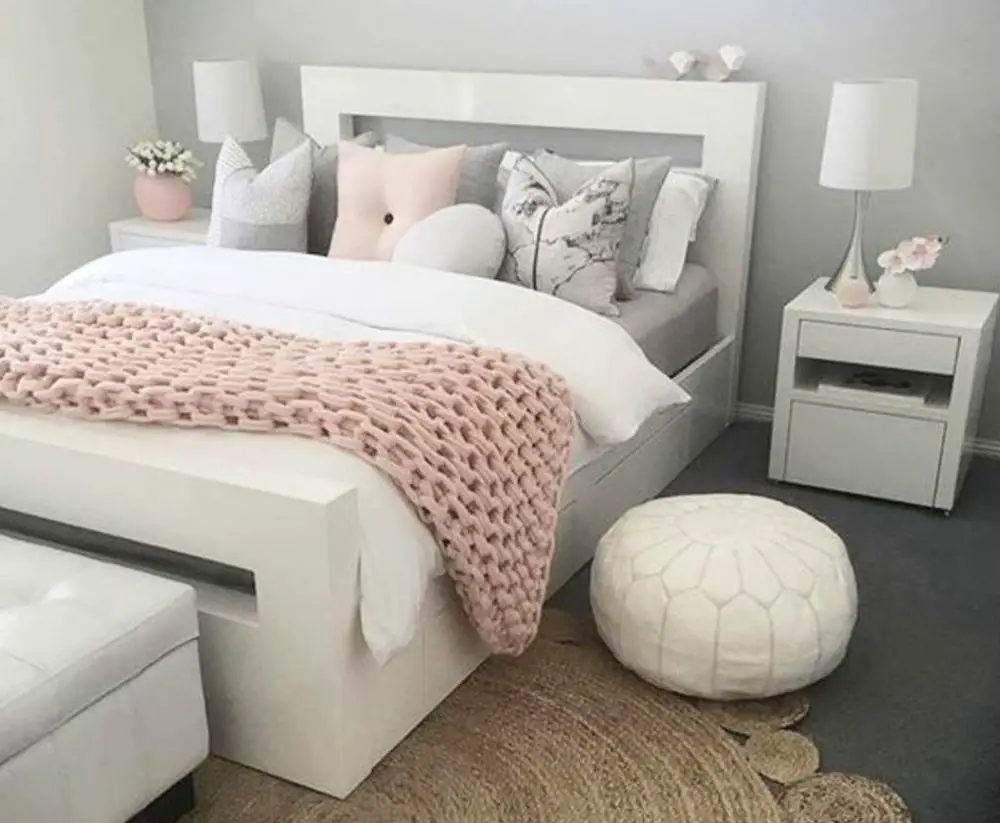 Image credit: curriculumnacional.cl
The pink grey and white colour palette of within the interior design of this space is perfect for anyone who wants to add a touch of femininity to their bedroom decor. The light colours are soothing and inviting, while the dark grey carpet visually grounds the room.
Pink accents in the cushion, plant pot and thick woollen throw add a splash of colour, but without being too overwhelming to the rest of the space.
This bedroom design is a great choice for creating a interior space that is both beautiful and functional.
---
---
Cool Black White Grey Bedroom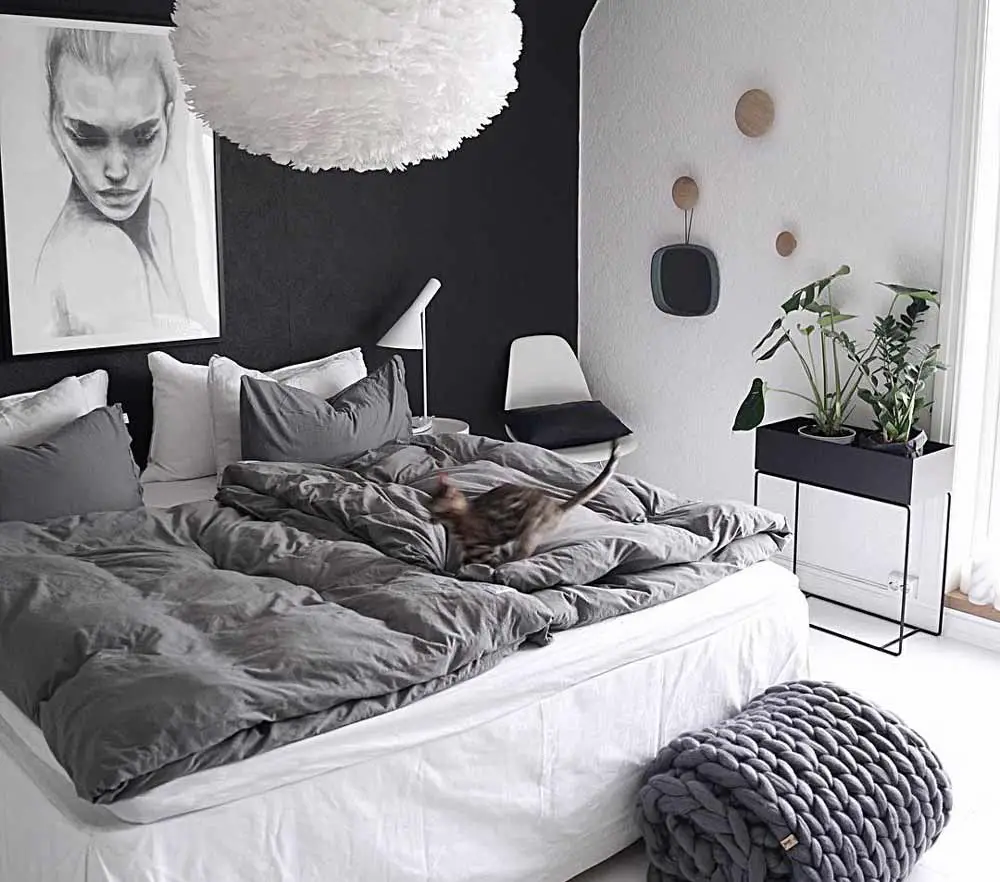 Image credit: pinterest.co.uk
This cool bedroom design is a minimalist combination of sleek design and cosiness, and features an eye-catching black accent wall which is adorned by a striking pencil drawn piece of art.
The dramatic black accent wall provides the perfect backdrop and blank canvas for the artwork and rest of the room, while the grey duvet, wool throw and fluffy white light fixture add a feeling of luxury and serve to soften the bold space.
A modern grey indoor planter and white chair with black seat cushion both help to tie all the elements of the bedroom together into the overall colour theme.
This design scheme shows that the balanced combination of black, white, and grey are the perfect neutral tones for creating a cool modern and stylish look in any bedroom.
You may also be interesting in our other article
---
---
Sophisticated Grey and White Bedroom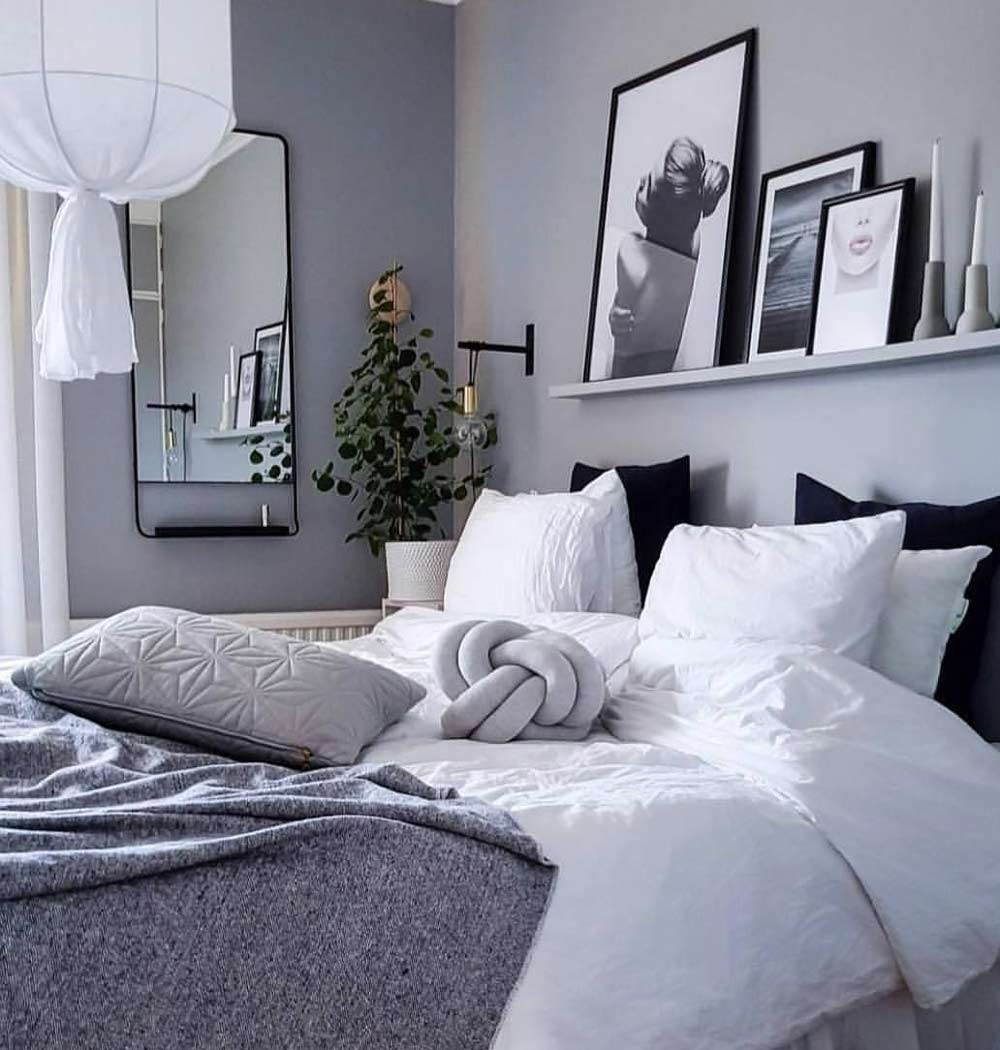 Image credit: pinterest.co.uk
This clean contemporary bedroom features white, grey and black accents within its interior design, creating a sophisticated look and feel.
A mirror situated next to the bed, adds extra light to the space and makes it appear more open. For further wall decoration, black and white fashion photographs with theme matching black frames have been placed on a slim floating shelf above the bedhead, adding a sleek modern decor style.
The bedroom is accessorised with white, black, and grey cushions, along with a soft tactile grey blanket, which seamlessly completes the interior design of the room.
---
---
Dark Grey and White Bedroom Decor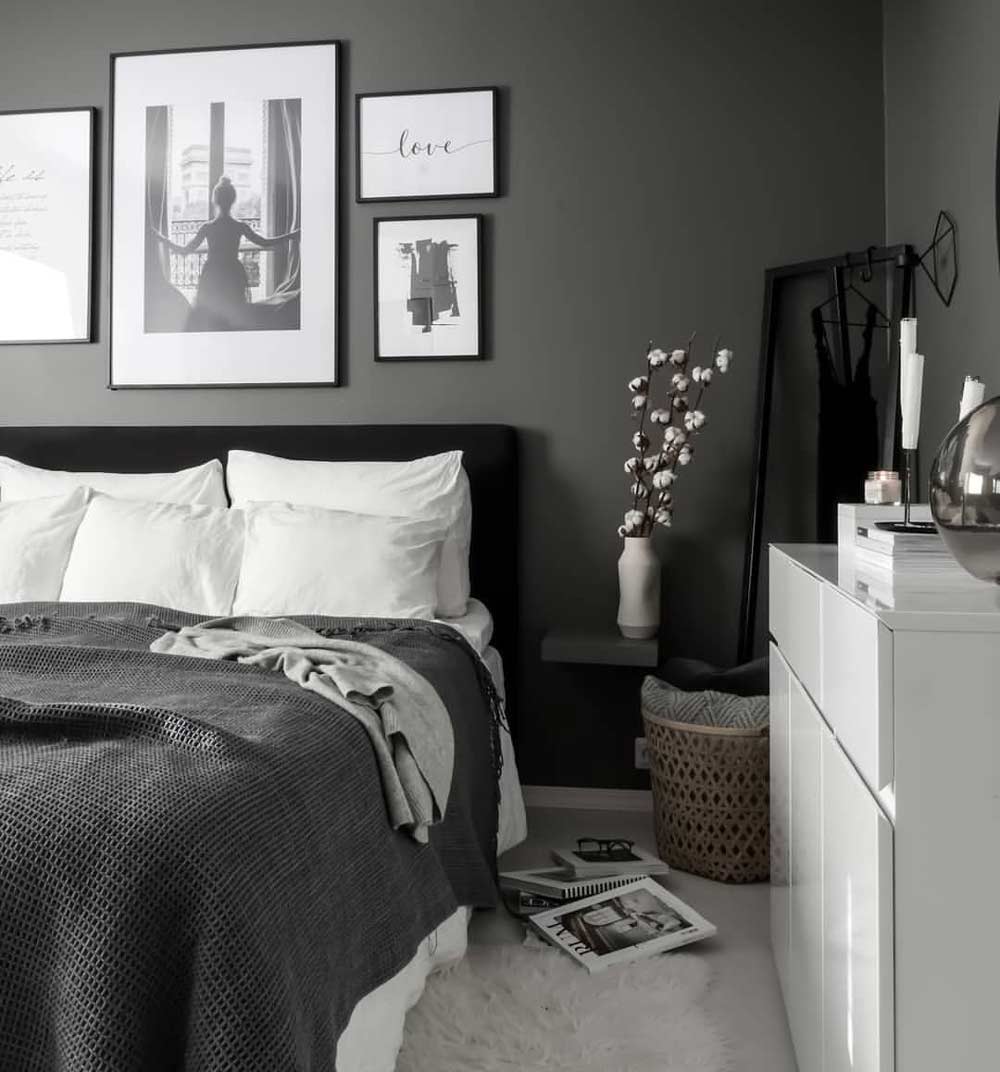 Image credit: pinterest.com
This dark greys and white of this bedroom give a definite masculine feel, yet there are still plenty of feminine touches such as the vase of flowers, black and white photos and quotes above the bed.
Dark grey walls are matched closely by the grey waffle patterned blanket, while the minimalist floating bedside shelves add a practical place to site an alarm clock, drinks or a book. The gloss white storage cabinet is perfect for hiding clothes, shoes and other objects out of site, helping to keep the room tidy and organized.
The choices of bedroom furniture pieces are great for anyone wanting a modern bedroom space that is also functional and practical. A sleek aesthetic and the grey and white colour scheme are both fashionable and timeless, ensuring that this bedroom design set will not go out of style.
---
---
Glamorous Light Grey and White Bedroom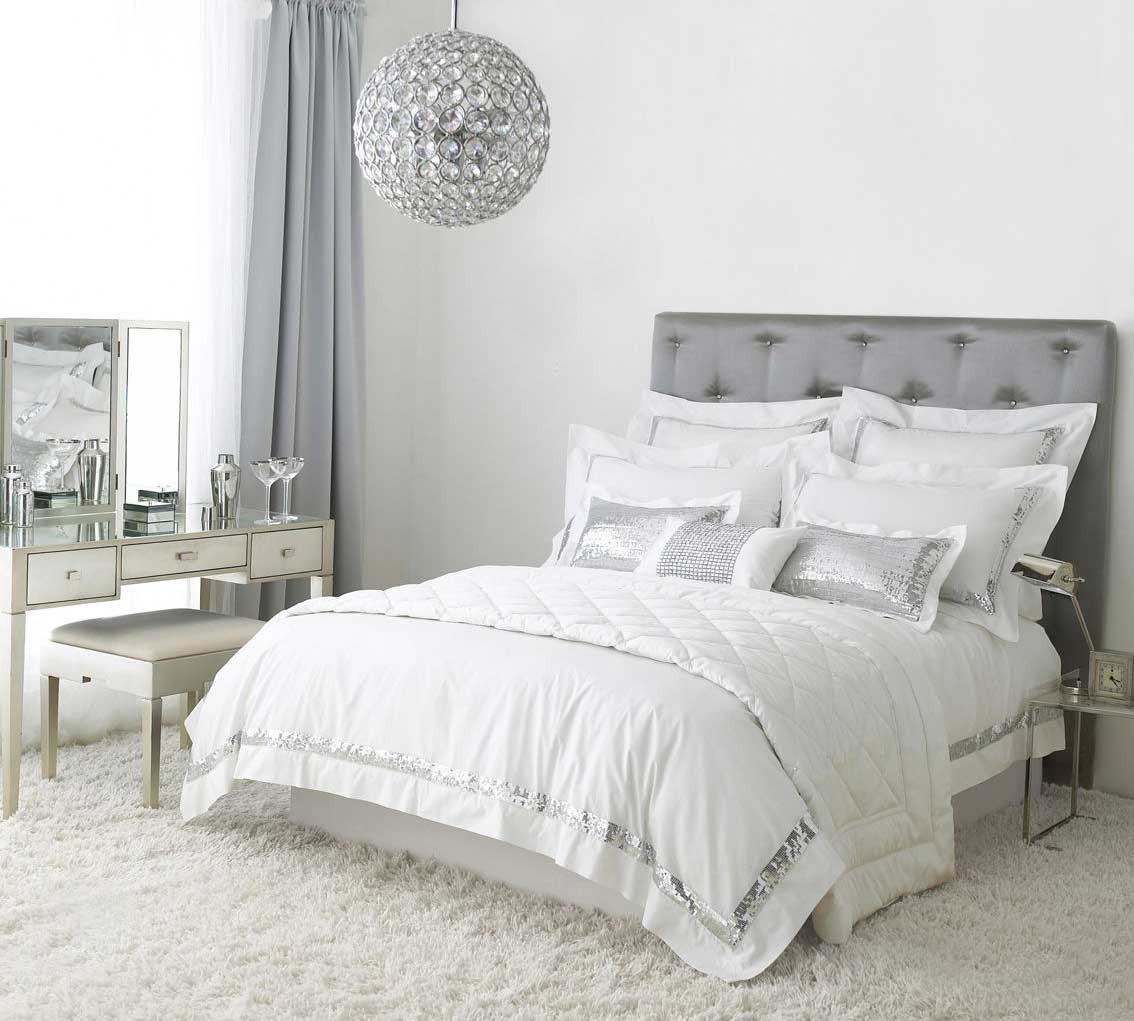 Image credit: pinterest.co.uk
This sparkly grey white and silver bedroom is a grown-up and glamorous take on 1950's interior design, and screams opulence in every direction you look.
The shimmering silver pillows, silver trim on the bedding and chrome and silver metal elements of the bedside table, dressing table and elegant light fitting all fit perfectly within the design brief.
A stylish on-trend silver/grey headboard, grey curtains, and sumptuous white thick pile carpet finish the bedroom scheme off in style.
You may also like...
Grey and silver bedroom decor ideas
---
---
Modern Grey and White Bedroom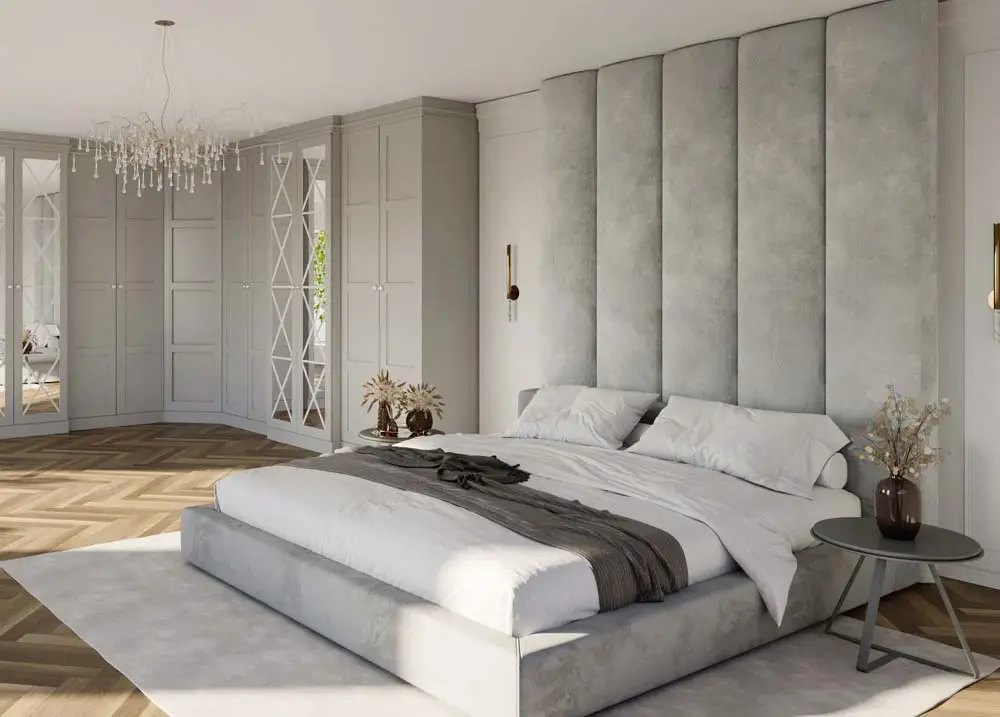 Image credit: boughtonsbedrooms.co.uk
Although there are many traditional bedroom style elements within this grey and white bedroom design, such as the extravagant chandelier and built-in wardrobes. Much of the space has a great deal more modern feel, especially the floor to ceiling padded headboard panels and low level grey velvet covered bed frame.
A large light grey area rug cleverly zones the space where the bed sits, and stops it otherwise being lost in a sea of herringbone flooring.
There is a definite and deliberate move towards minimalism here, with only two grey furniture side tables and a few flower filled vases on show for decoration.
---
---
Aesthetic Grey and White Bedroom
Image credit: homedit.com
The aesthetics of this elegant bedroom design have certainly been thought out to a greater degree than many of our other grey and white bedroom ideas.
Although many are quite subtle touches, like the irregular white and grey pattern in the area rug and grey wooden muted tones in the furniture, they all help to add a further layer to the design aesthetic.
The soft grey colour of the walls, headboard, striped cushions and blanket, next to the contrasting darker grey of the throw, help to tie the theme together and make sure that grey is without doubt the star of the show.
---
---
Modern Country Grey and White Bedroom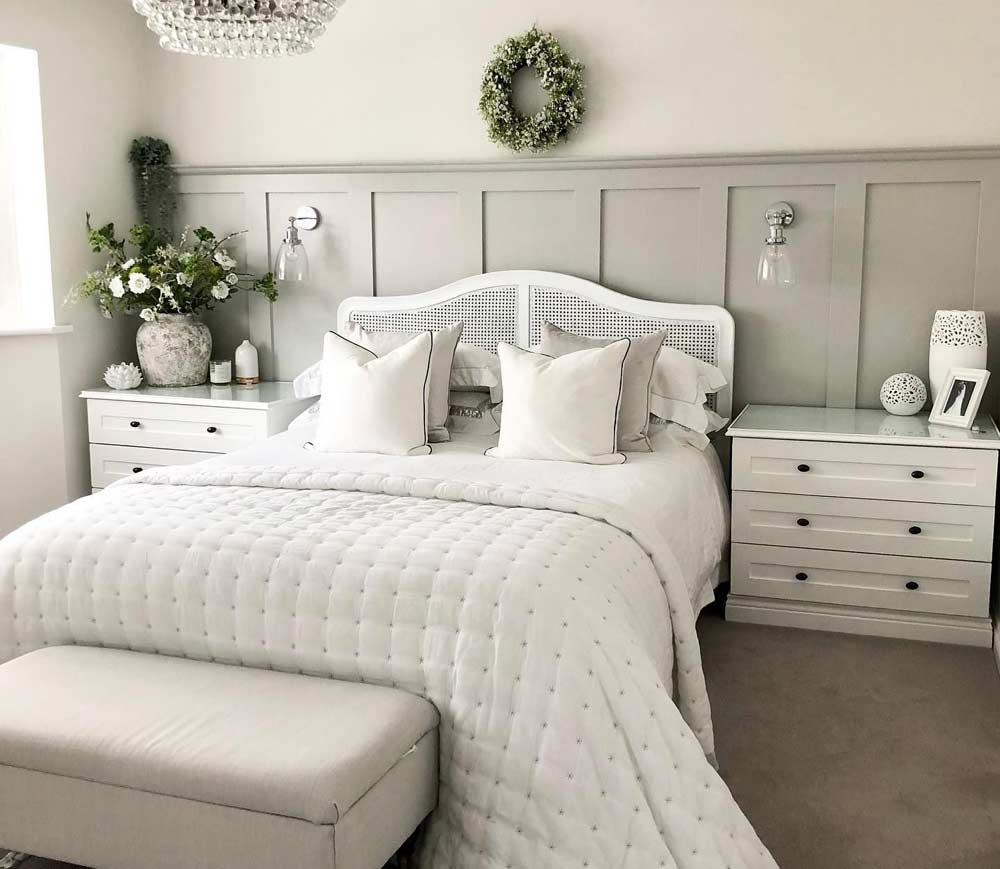 Image credit: pinterest.co.uk
Grey and white bedrooms can sometimes feel cold and clinical, but if you add in the right colour tones, decoration and texture, much of this can be negated.
The traditional grey wainscot panelling across the back wall and white bedside drawers, that echo a similar style, work seamlessly against the more modern look of the quilted square patterned duvet cover and grey pin-stripes edging the pillows and cushions.
The opulent glass wall lights, stunning chandelier and other decorative items, all add to the modern country aesthetic and bring this interior design theme to life.
You may also be interested in...
Wall panelling ideas for bedrooms
---
---
Grey and White Small Bedroom Space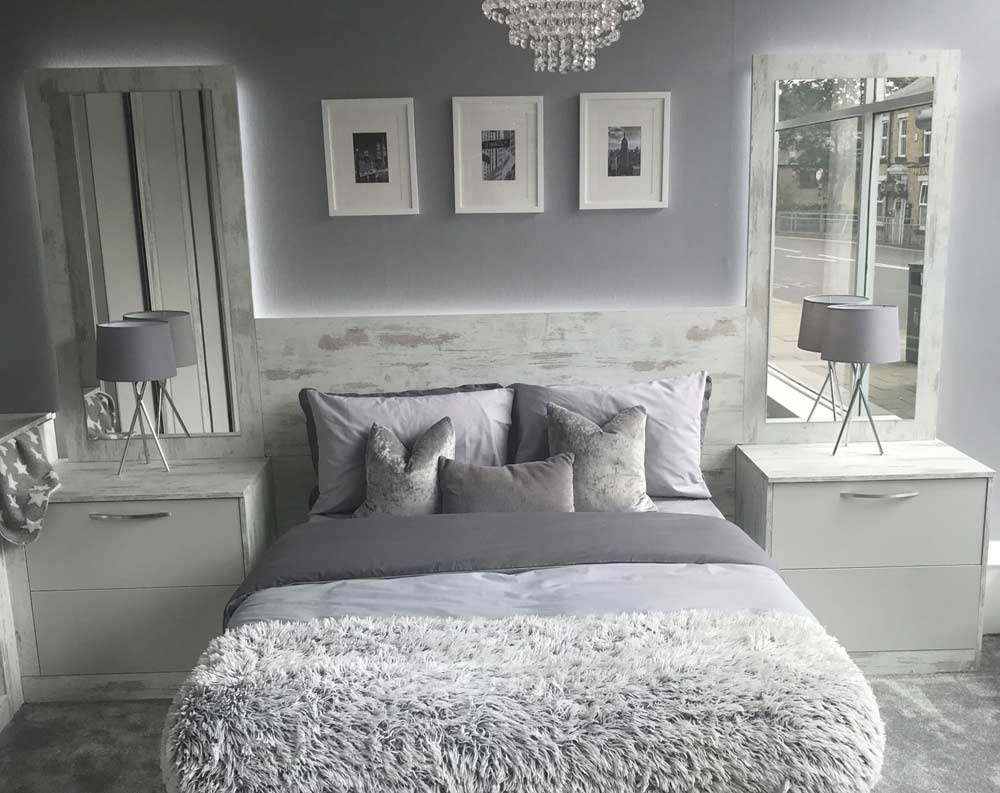 Image credit: taurusinteriors.co.uk
The all-in-one nature of furniture in this small bedroom space cleverly incorporates the headboard and bed, mirrors and side tables. This concept certainly makes the most of the small bedroom space available, whilst creating a modern and cosy aesthetic.
As with any rooms decor, the mirrors help to bring light into the small space and give it a greater feeling of size. With the sumptuous cushions, pillows and fluffy blanket all adding texture and softness for a cosy and comfortable spot to relax in.
Lighting has also been well considered in this bedroom design, with ambient lighting being used on the ceiling, task lighting for the bedside tables and decorative LED lights to highlight the frame of the furniture.
If you have a small bedroom space yourself, you may be interested in our other article on decorating ideas for small bedrooms.
---
---
White Grey and Blue Bedroom Decor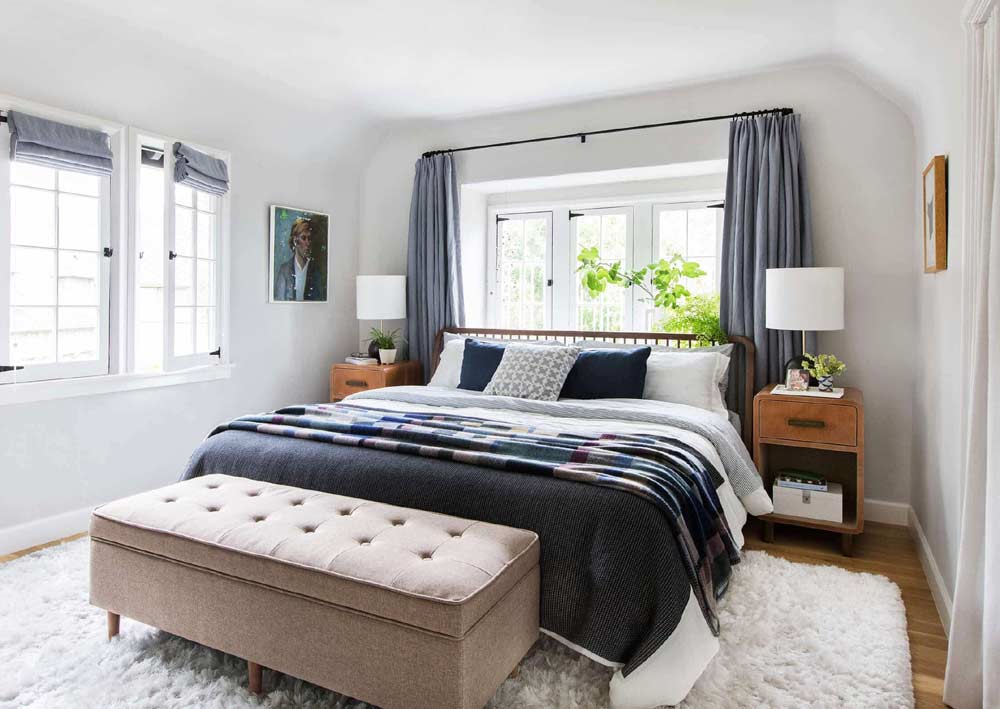 Image credit: pinterest.co.uk
With expansive but subtly coloured light grey walls, a large white fluffy rug and two large window aspects, this bedroom has a very pleasant open and airy feel to it.
To add warmth to the space the floors have been kept a natural wood colour, which matches nicely with the stylish bedside tables.
Finally, to add some colour into the bedrooms interior design, different tones and darker shades of grey and blue have been used in the ottoman, bedding, cushions, curtains and blinds.
A stylish, cohesive and co-ordinated white, grey and blue bedroom is the final result.
---
---
Contemporary White and Grey Bedroom
Image credit: soulandlane.com
Warmth and light are two things that are needed to create a cosy and inviting bedroom space. This room has both in spades, with a beautiful contemporary fireplace to effectively warm the bedroom during winter and large sash windows that let in plenty of natural light.
Further cosiness is added by using a soft light grey on the walls, giving a subtle warm tone to the space. While sumptuous cushions and pillows, and tactile taupe and dark grey fabrics adorning the bed all help to enhance the feeling of comfort and relaxation.
---
---
Bright White and Grey Bedroom Interior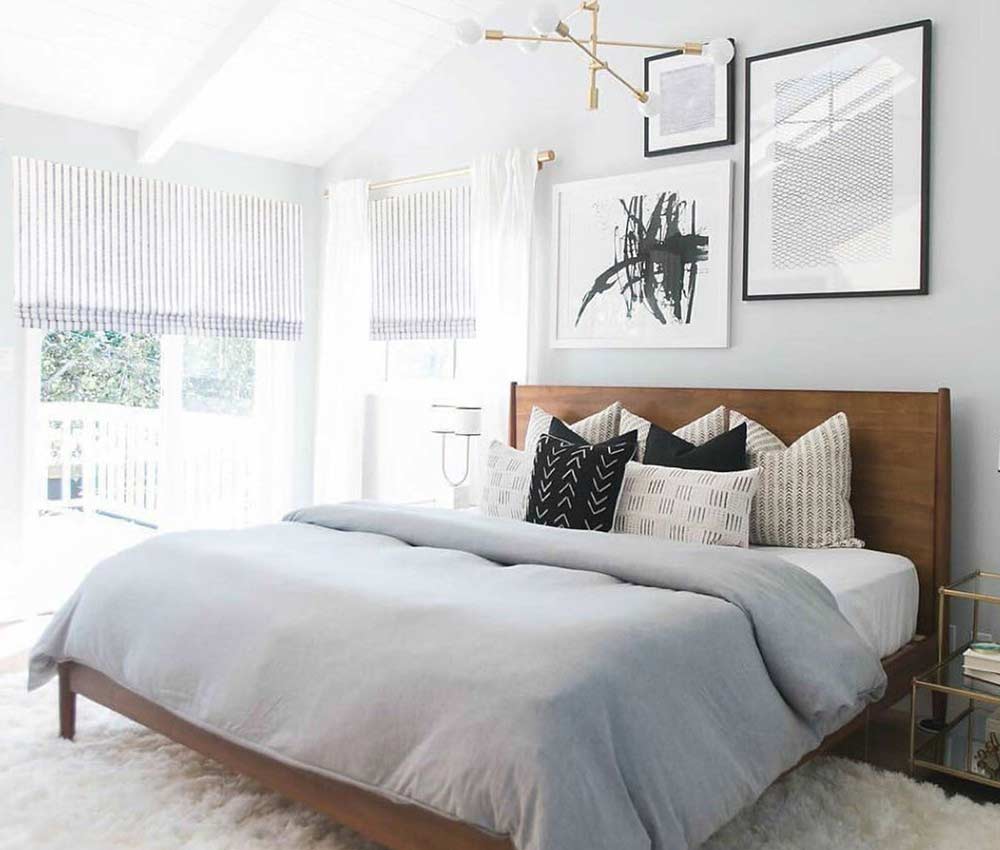 Image credit: pinterest.com
This bright and airy bedroom space with its neutral shades of grey and white, benefits from the copious amounts of light that it receives from the windows and balcony door.
Black and gold have been thrown into the design mix as accent colours to the scheme, complimenting the white and grey perfectly.
Metallic gold has been used as the material for the ceiling light and bedside table, while black has been added into the theme with patterned cushions and abstract artwork above the bed.
---
---
Cosy Grey and White Bedroom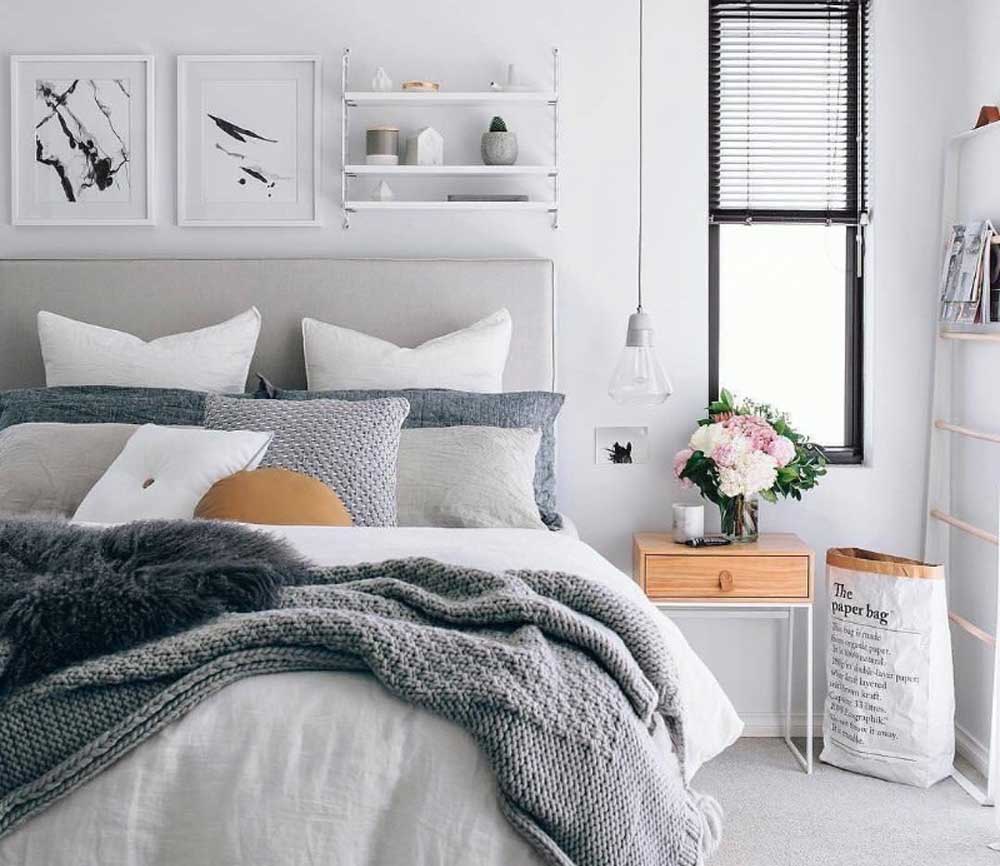 Image credit: essentialhome.eu
This cosy looking grey and white bedroom provides a restful retreat from the hustle and bustle of daily life. The white walls give a clean and calming effect, while the grey woollen textile fabric cushions and bed throw add a touch of luxury and comfort into the space.
Black and white abstract artwork, mounted in colour co-ordinating white frames has been hung above the bedhead, whilst next to these shelves provide a convenient place to store small objects and display items of interest and personal value.
The warmth of the natural wood and white metal legged side tables add a neat little contrast to the otherwise neutral bedroom theme, and a narrow black metal window detail and low hanging glass light add to the modern interior design that echoes the rest of the space.
This grey and white bedroom is the perfect haven for anyone wanting to relax and sleep in comfort and modern style.
---
---
Traditional Grey and White Bedroom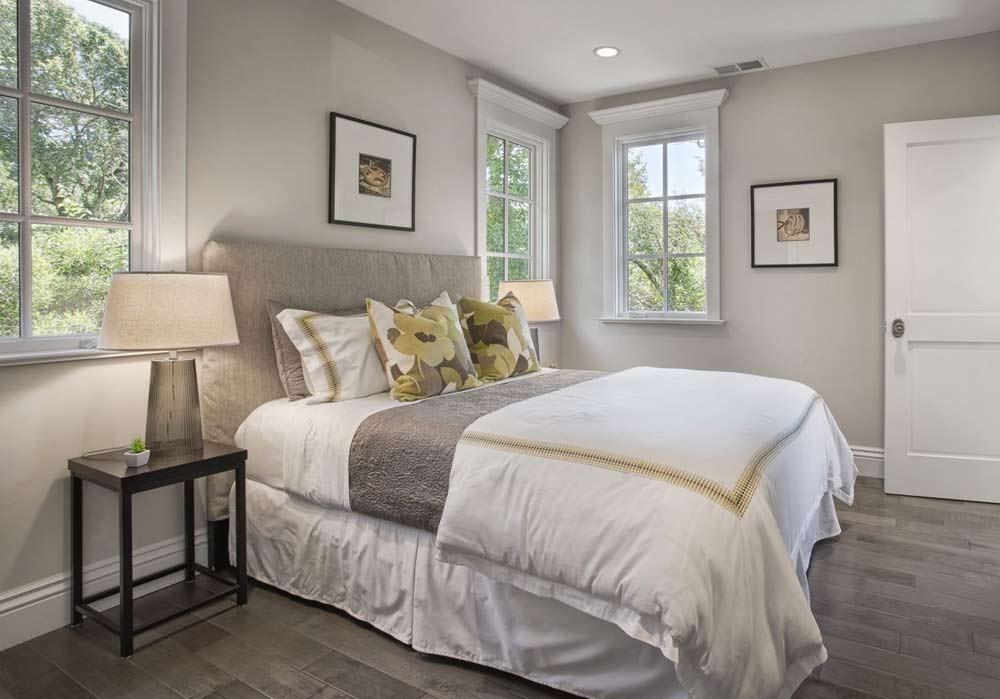 Image credit: jimenezphoto.com
This traditional bedroom space has a clear modern edge and a classic sophistication to its design. The soft grey walls and dark grey toned floor boards contrast neatly against each other, while the crisp white of the bedding is the perfect colour option to sit between these two shades.
A subtle hint of colour is sprinkled into the space on both the bedspread, pillows and cushions, which adds a small amount of warmth into the overall colour scheme.
Interest is added to the walls using white and black framed photos of abstract pieces, with the two bedside tables offering a touch of practicality, for placing personal items, books and drinks during the evening.
---
---
More Beautiful Grey and White Bedrooms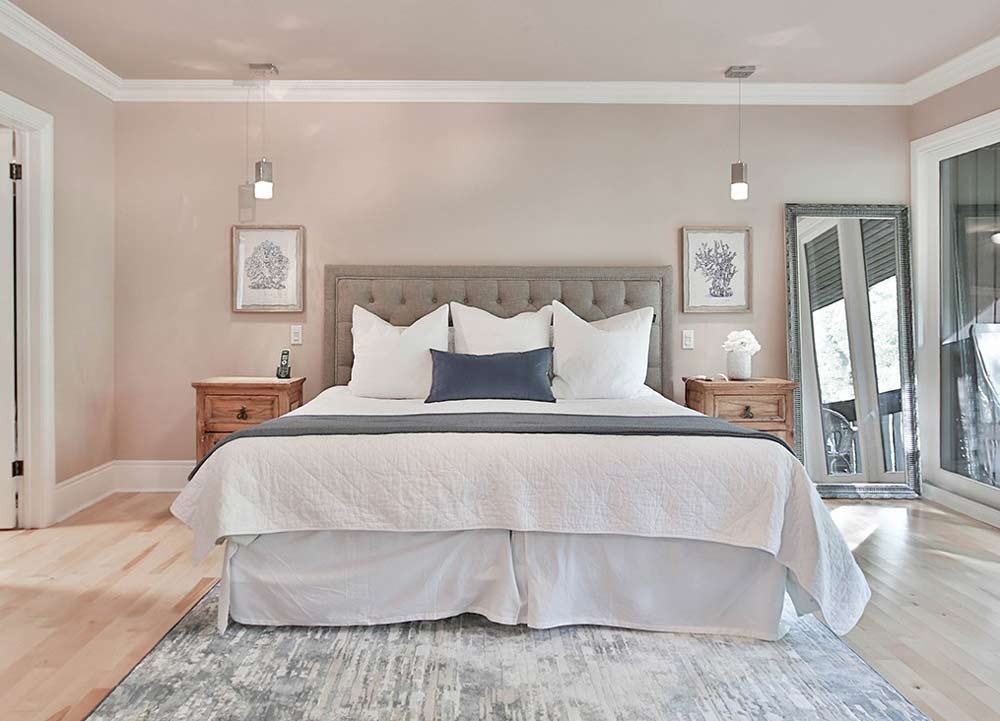 Image credit: ashwinshethgroup.com
---
---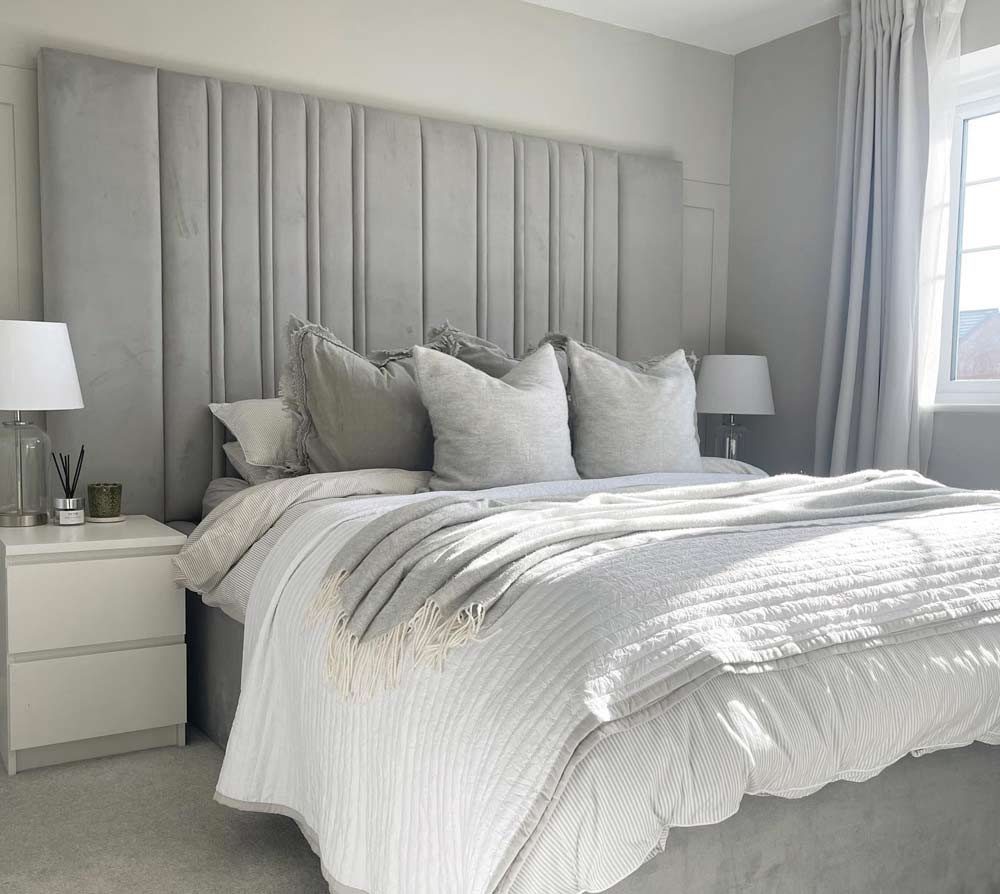 Image credit: dusk.com
---
---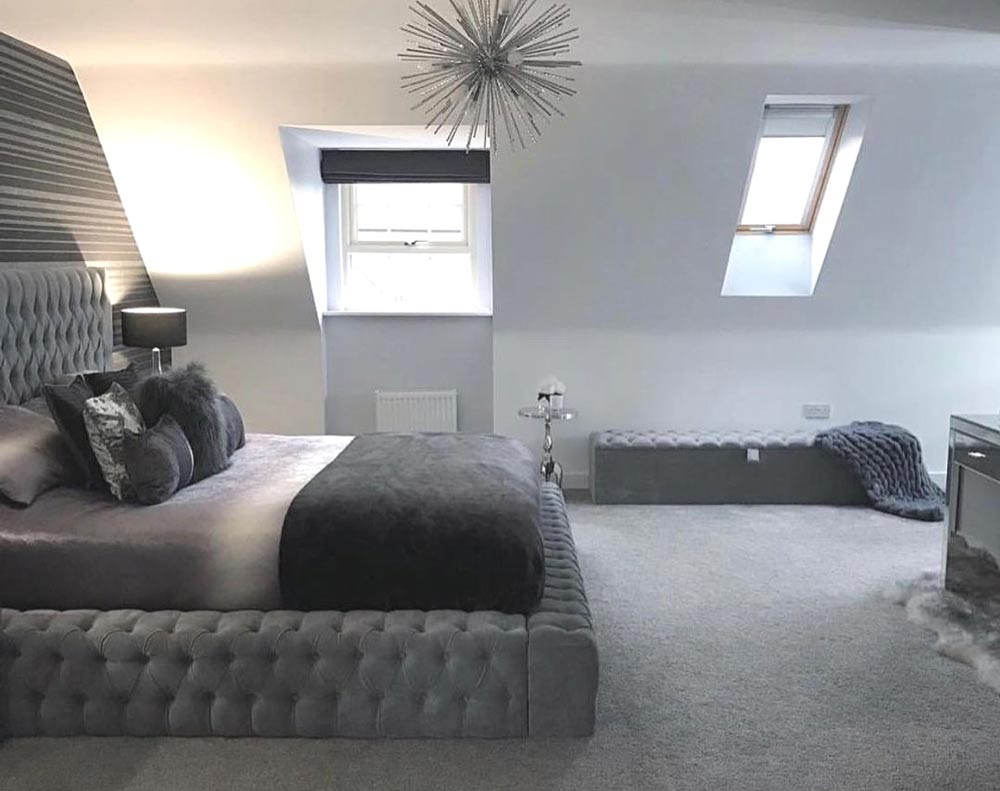 Image credit: pinterest.co.uk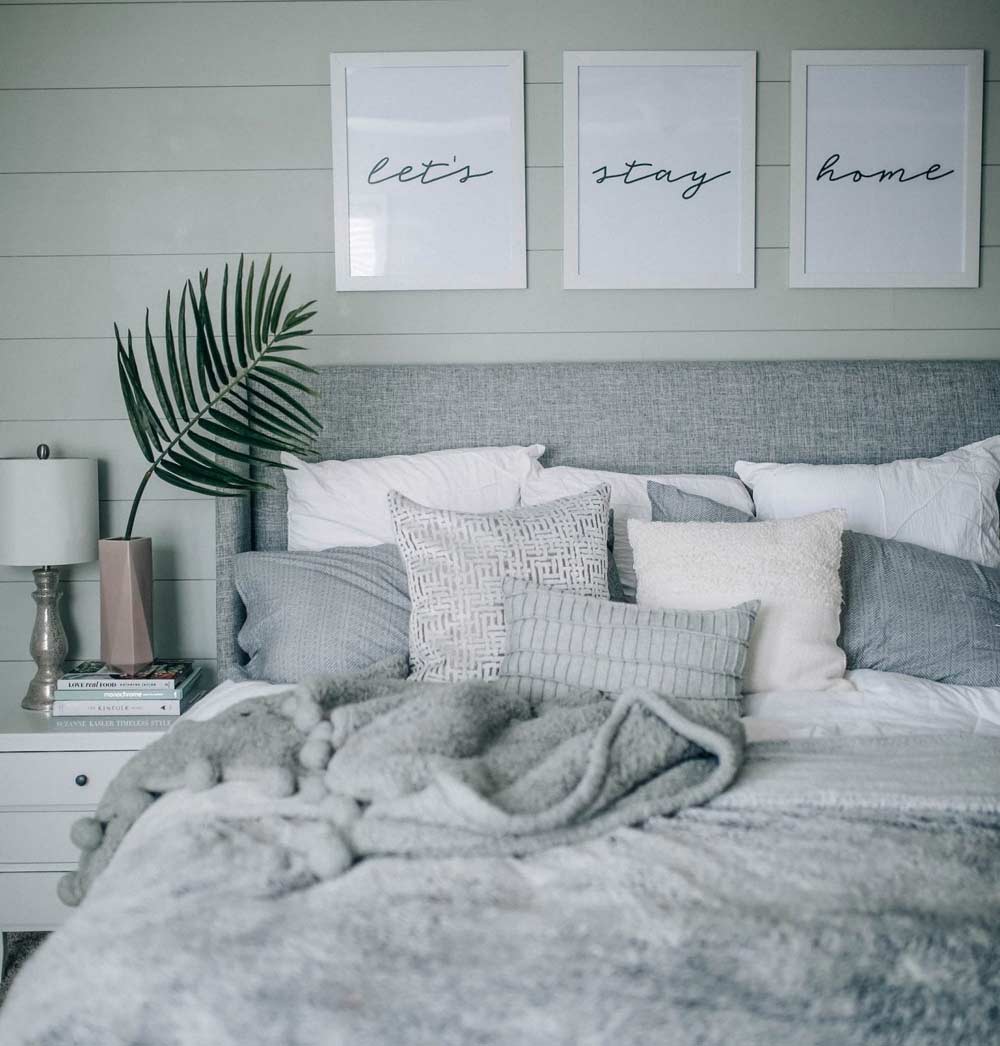 Image credit: prettyinthepines.com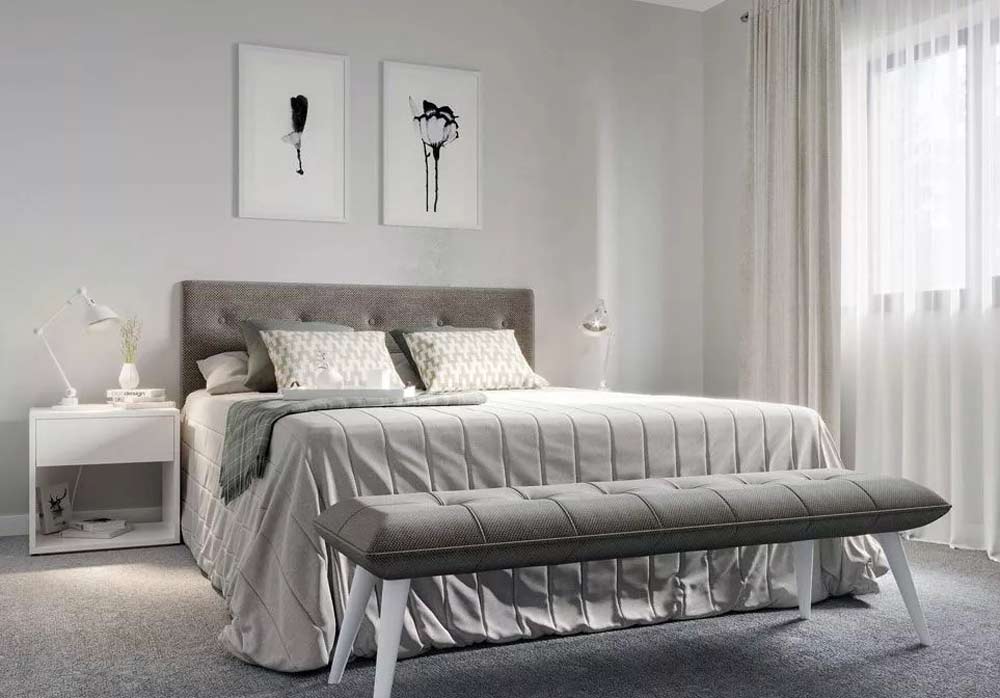 Image credit: gravenhill.co.uk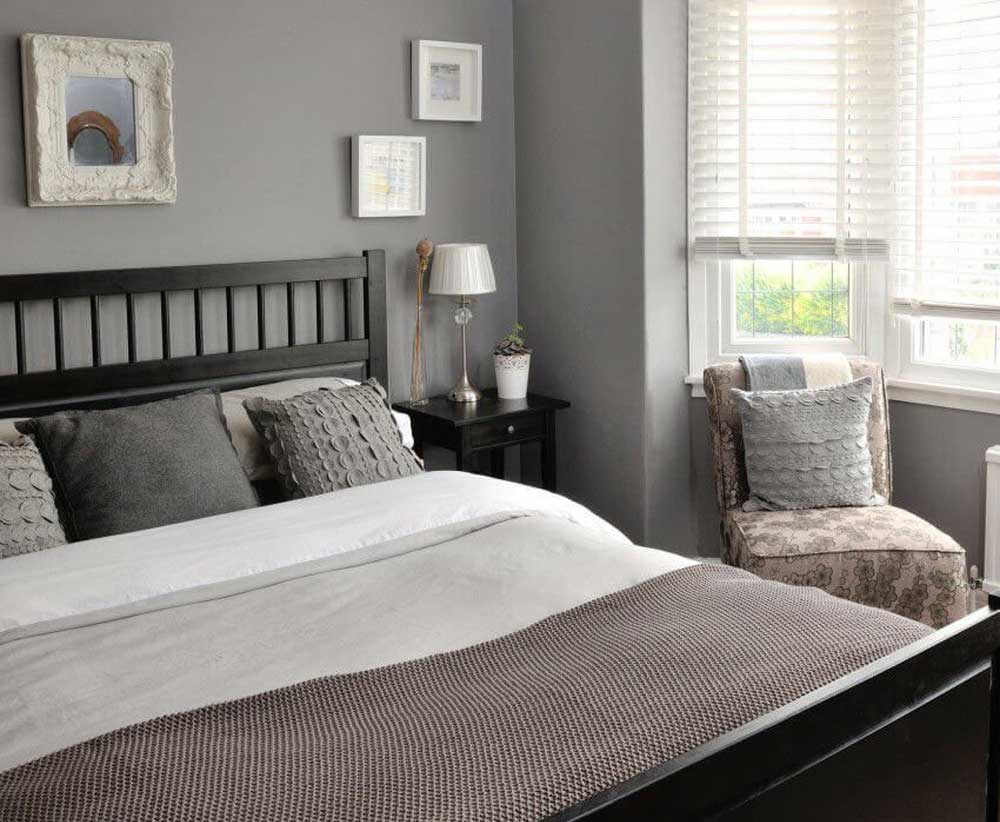 Image credit: pinterest.com
Conclusion:
In conclusion, these grey and white bedroom ideas show that there are many different ways that you can incorporate these colours into your bedroom space.
Whether you want a light and airy feel or a more dramatic look, there is are multiple options for you.
By using different shades of grey and white (and throwing in the odd accent colour) as well as different textures and patterns within the design, you can create a bedroom space that is unique and fits your own personal style, taste and aspirations.