---
When it comes to interior design style and home decor in general, there are various styles to choose from, some well known, others more obscure.
Some of the most popular styles used today include contemporary, traditional, and transitional. A Contemporary style is characterised by clean lines and a minimalistic approach, while traditional interiors are more ornate and feature classic design elements. Transitional designs sit somewhere in between, and combine elements of both.
In this article we will look at some of the most popular interior design styles that you can adopt for your own home, and explain the main points of each.
Disclaimer: As an Amazon and Wayfair associate, we do receive a small commission from qualifying purchases made via links within this article.
---
---
1. Contemporary Interior Design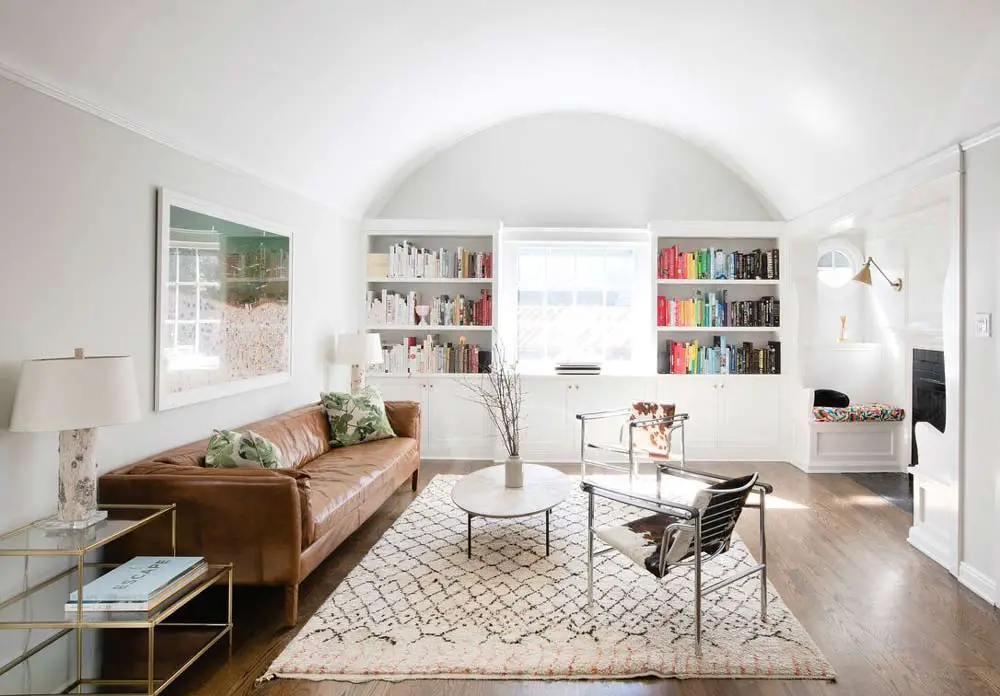 Image credit: realsimple.com
The contemporary interior design style is a popular choice for many families that purchase a new build property, as it is both stylish, practical and suits the style of a modern new build.
This interior design style typically features clean detailing, neutral colours, and shiny smooth surfaces. Additionally, the furniture in contemporary interior design is often minimalistic and more design-led than made for comfort.
You may however choose to make use of a super comfy leather sofa and simple practical coffee table in your contemporary design space. Or you might opt for a more modern interior design, with smooth black metal furniture and sleek mango wood surfaces, for example.
---
---
2. Industrial Design Style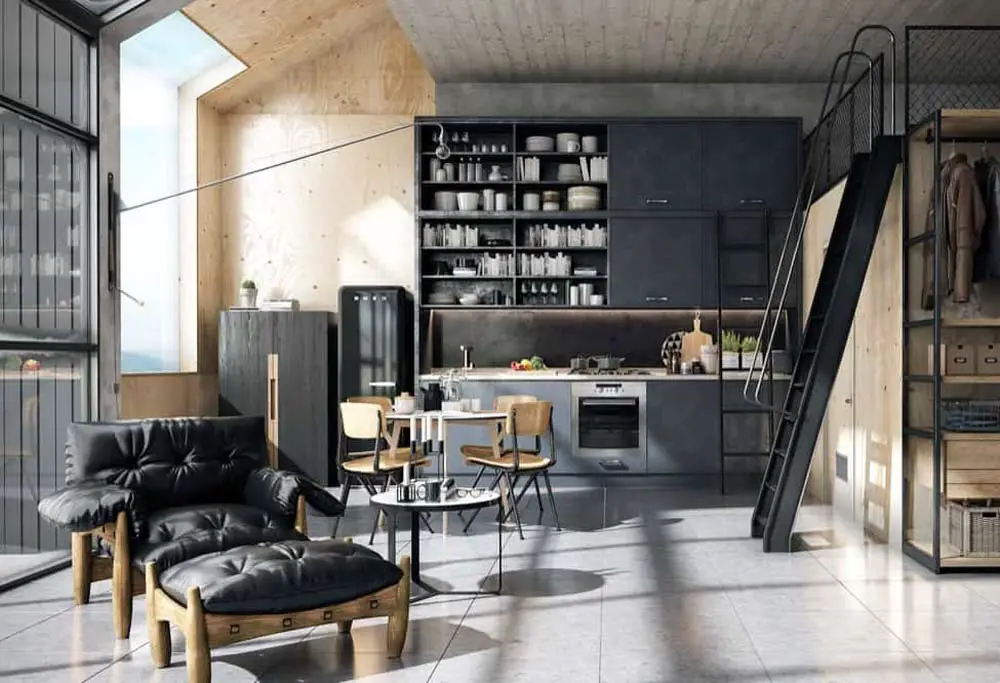 Image credit: metallicepoxy.sg
An industrial interior design style is a great option for larger and more open spaces, as it can give the space a unique and striking industrial look. This interior design style often features bare brick, exposed pipes, and concrete floors.
Additionally, the furniture in an industrial-style space is often simple but functional, with metallic accents and wood finishes. As an example, you could choose to use metal chairs and tables, or you might opt for vintage or rustic pieces.
Industrial design spaces also tend to have a lot of natural light, mainly due to the large windows that are often present in buildings that adopt this style of interior design.
---
---
3. Modern Farmhouse Style Interior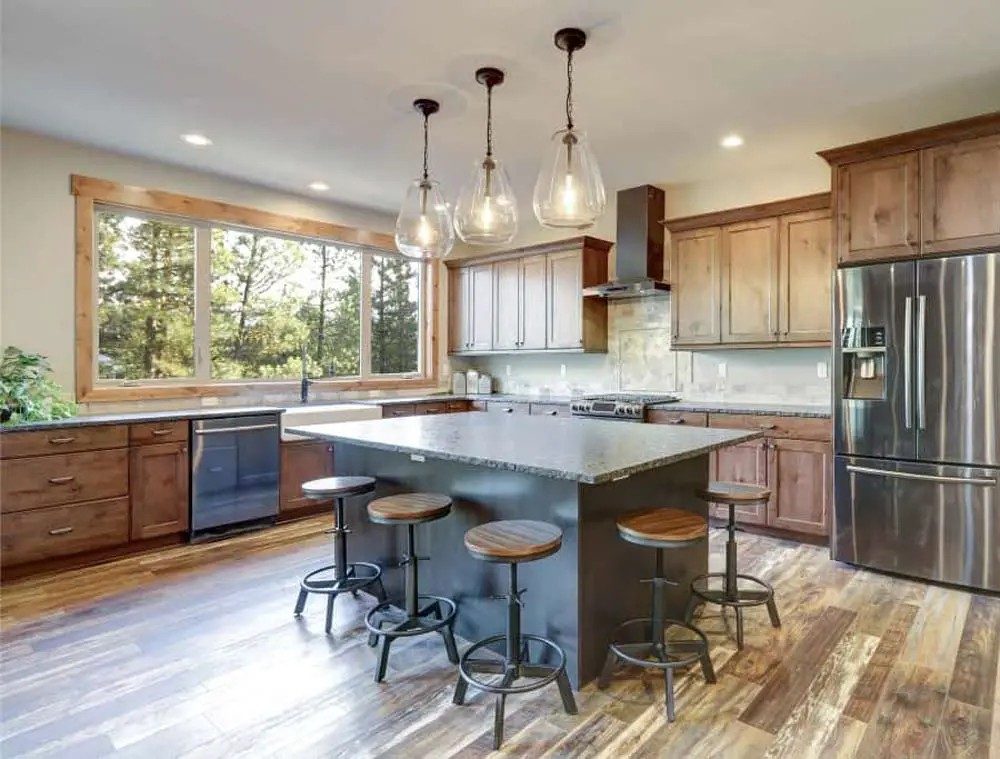 Image credit: zolo.ca
Modern farmhouse interior design is a beautiful and timeless approach to style your home, especially if your properties is located in rural areas.
This design style typically features country-style furnishings, exposed beams, hardwood floors, and plaid fabrics. The colour palette in a modern farmhouse style space is often neutral, with colours like white, cream, and light blue being used.
You can also decorate your house with vintage finds, or purchase new pieces that fit the style brief.
---
---
4. Eclectic Interior Design Style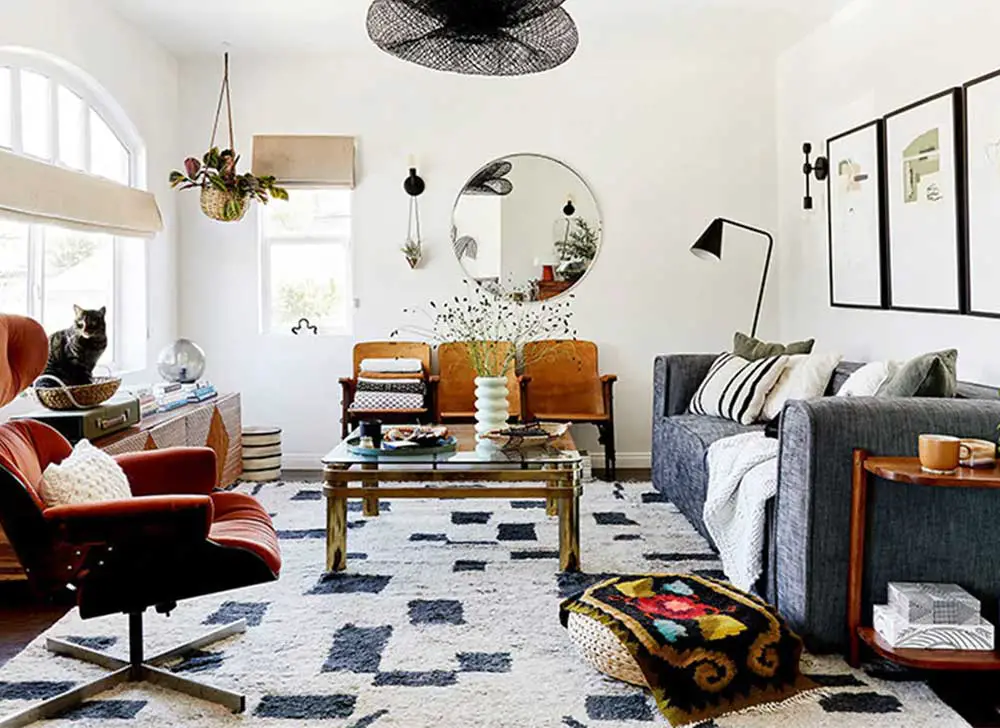 Image credit: nomad33.com
The eclectic interior design style is for those who want to add some personality and create interest into their home.
This style is an eclectic mix of different design elements, and it can be tailored to fit your specific needs. For example, you may want to mix and match different furniture styles, or you may want to add some colourful accent pieces.
You can also use the eclectic style to showcase your own personal taste, whether that be quirky and out there, or a more tame and reserved interior design style.
---
---
5. Contemporary Coastal Style
Image credit: loungelovers.com.au
An interior design style that has become increasingly popular in recent years is contemporary coastal. This interior design style is all about creating a relaxing, beach-inspired space, that is calming and serene.
If you're looking to create a contemporary coastal design in your own home, start by incorporating plenty of natural materials such as wood and stone. Then, add in some light, airy colours like soft grey, white and blue tones, to create a sense of calm.
Finally, choose simple furnishings and accessories that won't clutter up the space, to keep the feeling of openness in tact. With these elements in place, you will be able to achieve the perfect contemporary coastal look for yourself. 
---
---
6. Traditional Style Interior Design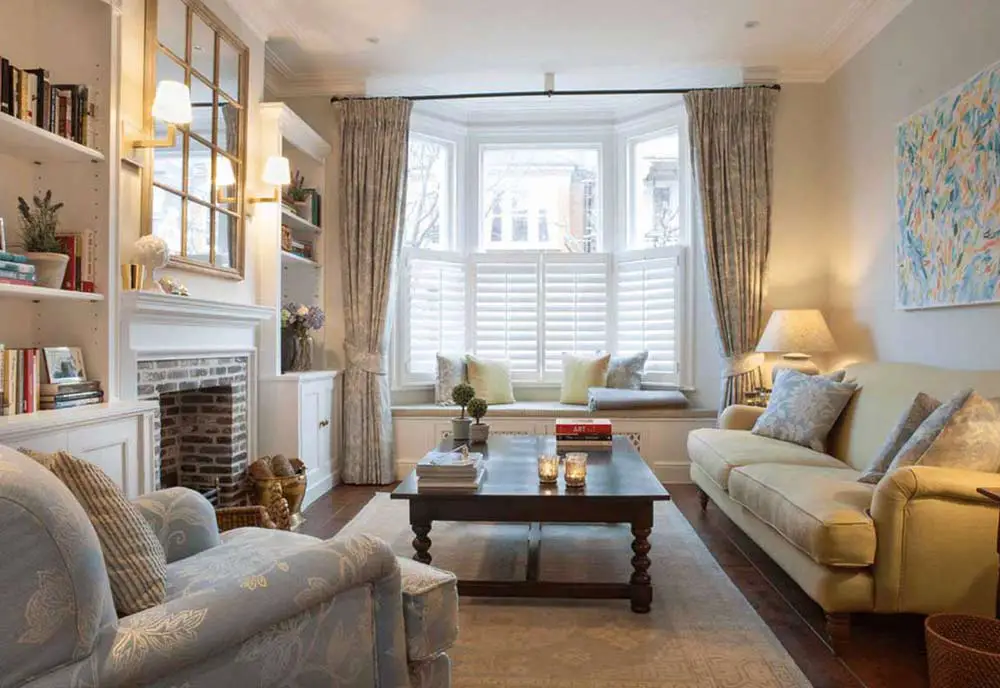 Image credit: fabricsandpapers.com
Traditional interior design styles are a classic choice for many homeowners, and can give your home a timeless look.
The key features of a traditional design are symmetry, formal furniture, and rich colours. Additionally, the traditional style is often associated with luxury and sophistication.
An example of a home that you would expect exude traditional elegance, is a manor house or stately home. These types of properties are generally adorned with beautiful traditional furnishings, and decorated in floral patterns and rich luxurious colours.
---
---
7. Rustic Design Style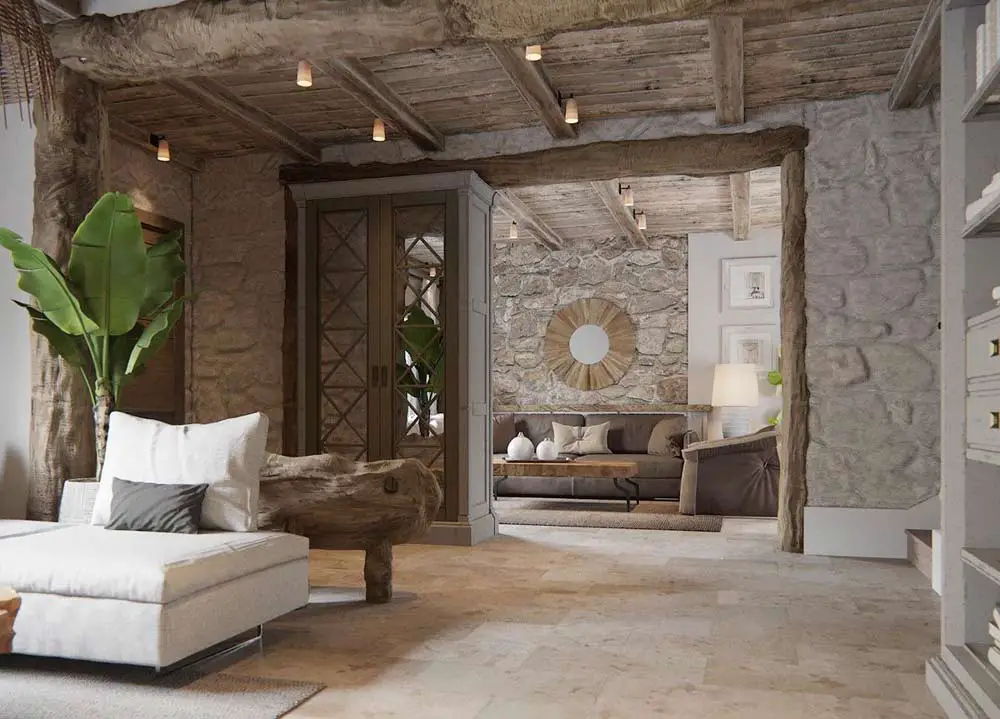 Image credit: pinterest.com
The rustic interior design style is perfect for those who want to create a warm and inviting space. This style often features reclaimed wood beams, stone fireplaces, and cosy furniture design. Also, the colour palette in a rustic-style space is often earthy and neutral.
You can easily add your own personal touches of interior design to the space. For instance, you could add some family photos or rustic-inspired artwork to the walls. Or, simply add some throw blankets and pillows to adorn the furniture.
---
---
8. Minimalist Interior Design Style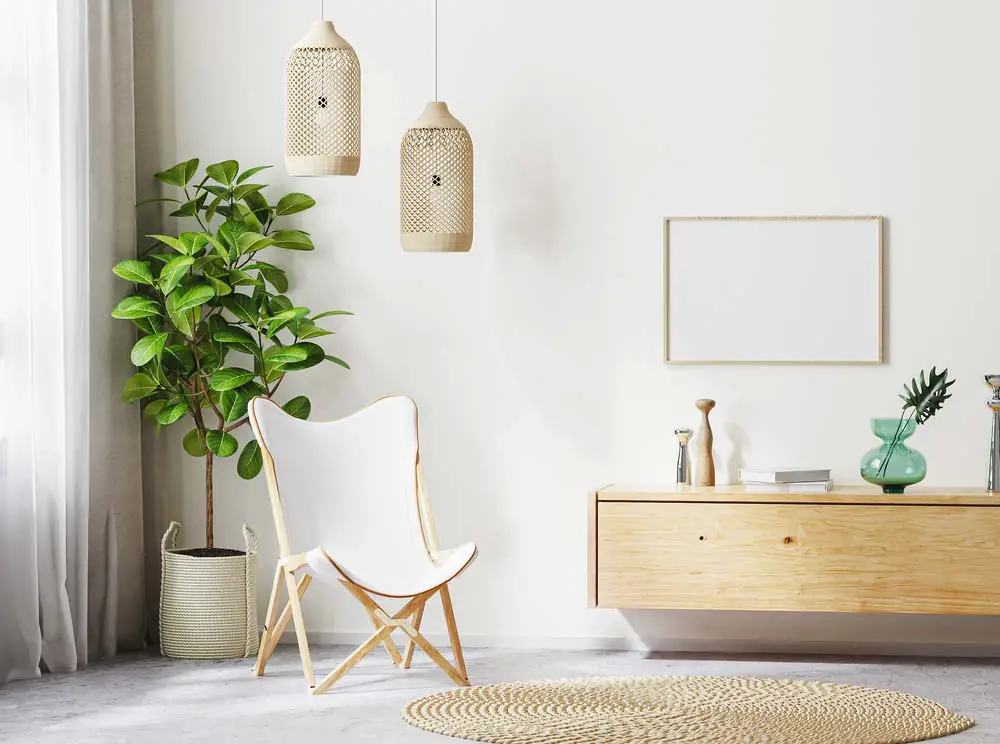 Image credit: stewartlighting.com
Minimalist interior design styles are all about sleek crisp lines and clutter free spaces. Minimalist interiors often follow a modern design, with gloss finishes and clever hidden storage solutions the norm.
To create a minimalist interior design, start by decluttering your space and getting rid of any unnecessary items. Then, choose furniture and decor that are clean-lined and have a minimalistic look.
Finally, add some personal touches to give your living space character and warmth and stop it from being too cold and clinical.
---
---
9. Mid Century Modern Design Style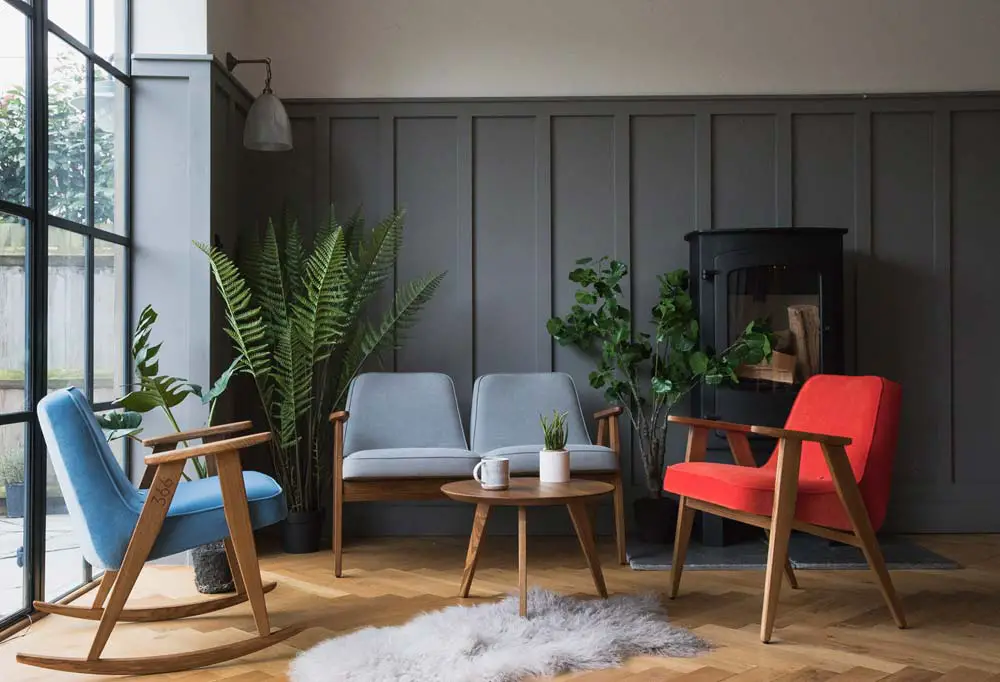 Image credit: roseandgrey.co.uk
The mid century modern design style emerged in the 1940s, becoming a popular trend in the 1950s and is known for its simple, clean lines and lack of ornamentation.
The furniture for a mid century modern interior is often made of natural materials such as wood and leather, and features low, streamlined silhouettes.
A great place to find Mid-Century Modern furniture is on sites such as eBay, where there is a wide range available, including bedroom sets, living room furniture, dining room sets and desks.
This interior design style is still popular and going strong today, thanks to its timeless appeal and modern twist on an old style.
---
---
10. Art Deco Design Style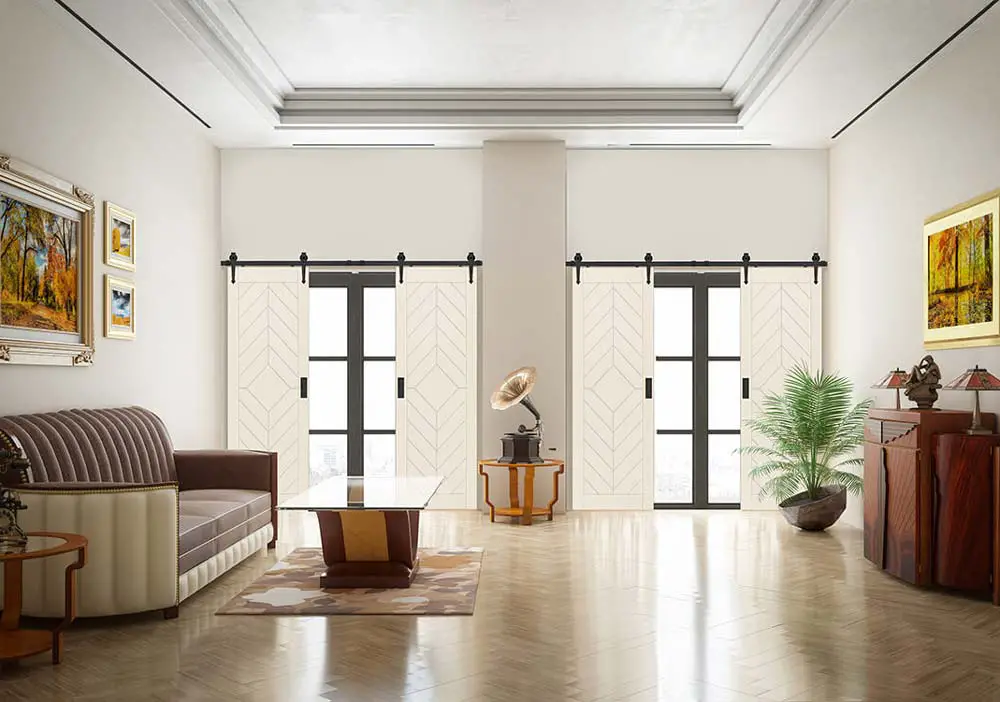 Image credit: barndoorz.com
The Art Deco style originated in the 1920s and is characterised by its use of geometric shapes, bright colours, and sleek lines.
Art Deco interior design styling is once again becoming popular in both residential and commercial design, especially with Art Deco bathrooms, and is still admired for its stylishness and sophistication.
Its unique aesthetic is perfect for adding a touch of luxury and elegance to any space.
---
---
11. Scandinavian Interior Design Style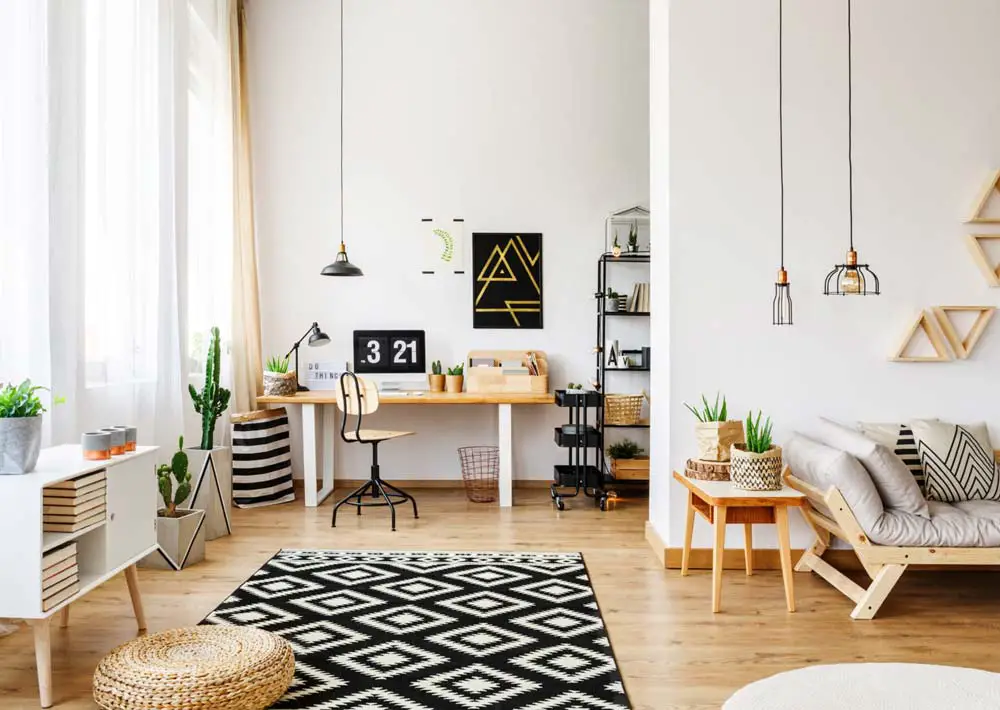 Image credit: yourmap.io
If you want your room design to have a light, airy, and modern feel, you may be interested in exploring the Scandinavian interior design style.
Scandinavian interior design styles are very popular, for obvious reasons, in countries like Sweden, Norway, and Denmark, and are defined by clean lines, minimalism, and a focus on light and natural wood.
If you have never heard of Ikea (if not, where have you been!), it is without doubt one of the best places to visit for a wealth of Scandinavian style furniture and accessories.
---
---
12. Bohemian Interior Design Style
Image credit: sandykozar.decoratingden.com
Interior design styles come and go, but there are a few that have withstood the test of time like that of Bohemian style design, which has been around for centuries.
Boho design is all about mixing and matching different elements to create a unique, yet cohesive look. Boho elements are very eclectic and can incorporate a wide range of colours, textures and patterns. These are often accompanied by a range of indoor plants and other natural accessories.
All of these interior decor design ideas mean that you can really let your personality shine through in your space.
So if you want a property that feels relaxed and free-spirited, Boho is the perfect choice.
You may like...
Great Ideas for a Boho bedroom
---
---
13. Retro Interior Design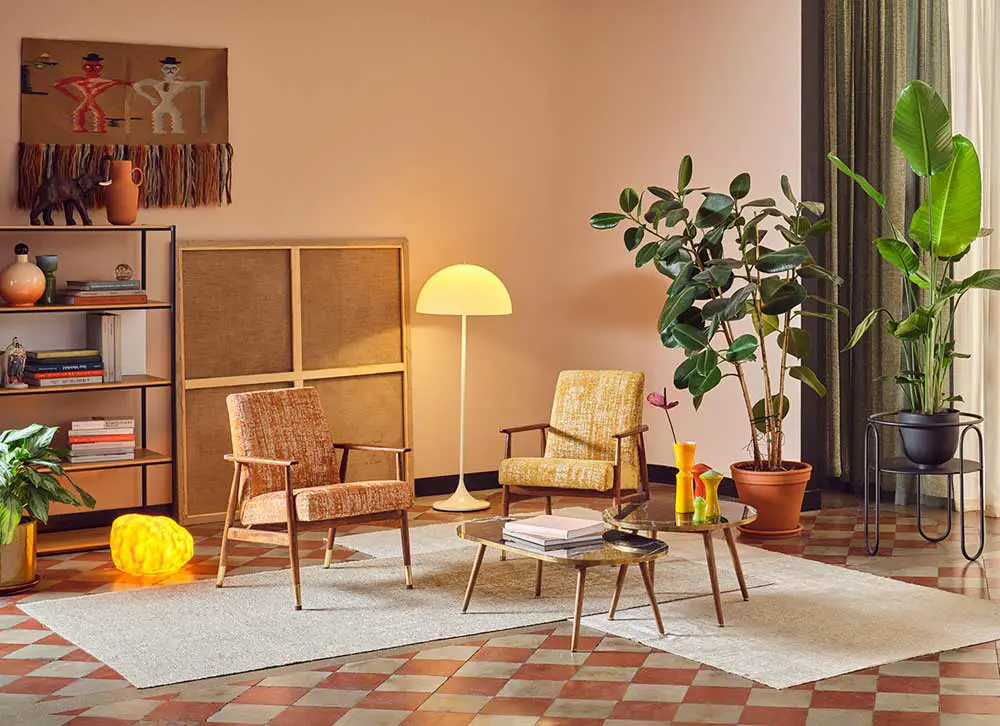 Image credit: dekoma.eu
Retro interior design can primarily be described as influenced by design inspiration and trends from the past. This type of design often incorporates bold colours and patterns, as well as vintage furniture and decor.
Retro interior design has gained popularity of late, as more people are looking to create a totally unique and stylish retro feel.
While retro interior design styles can be quirky and fun, they also require careful planning to ensure that the overall look is cohesive and stylish and doesn't fall into being too 'kitch'.
---
---
14. Transitional Interior Design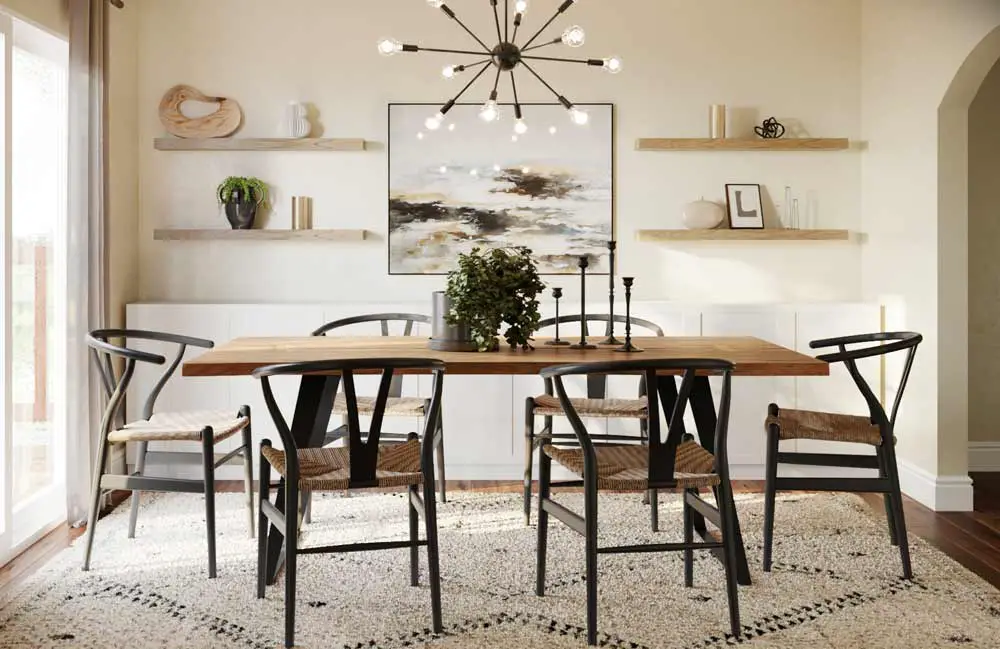 Image credit: havenly.com
Transitional interior design styles are often described as a balance between traditional and contemporary design, and combines elements of both of these styles. This interior style is not overly decorated or fussy, but it is also not known for being stark or minimalist. The key elements of transitional design are simplicity, functionality, and comfort.
While the overall look of a transitional interior is fairly neutral, there are still some ways to add personality and interest to the space. One way to do this is by incorporating bold colours or patterns into your decor scheme. Another is to mix and match different textures and finishes to create an more eclectic look. 
15. Shabby Chic Interior Styling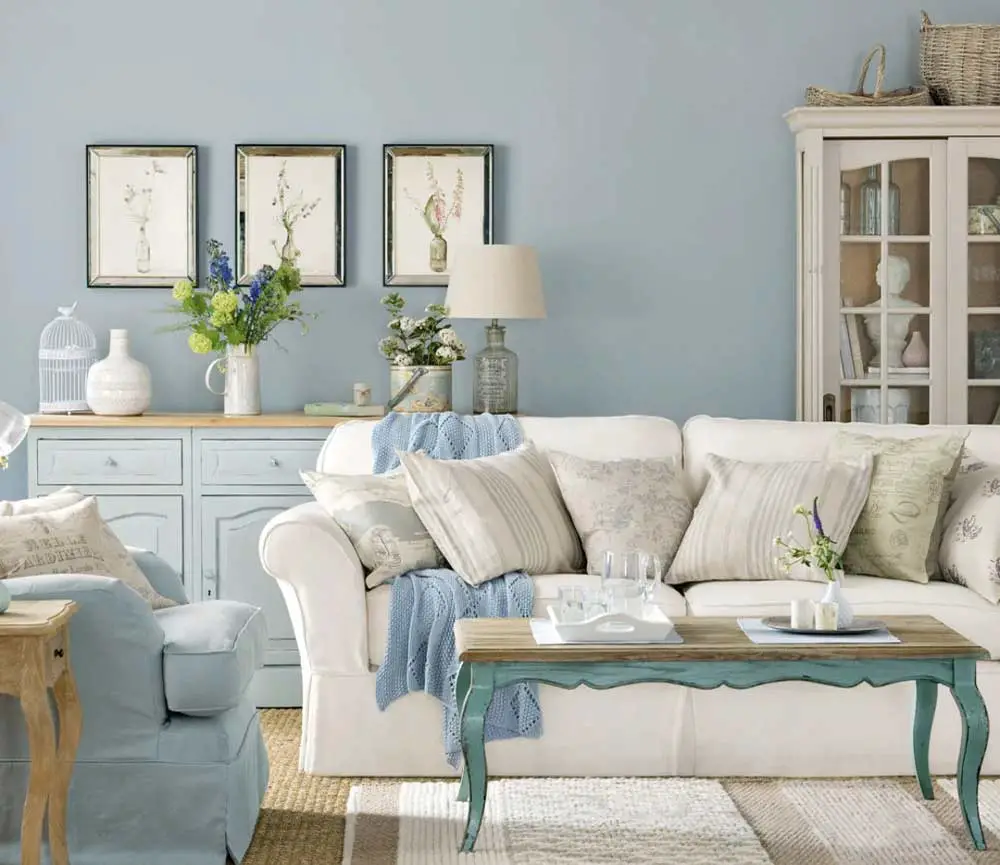 Image credit: indonesiadesign.com
Shabby chic interior design combines both traditional and more modern elements within their design.
The shabby chic look can be achieved by using a variety of different techniques, such as distressing furniture with paint and sandpaper, adding vintage-inspired fabrics and accessories, or simply mixing and matching different styles of furniture and patterns.
16. French Country Interior Style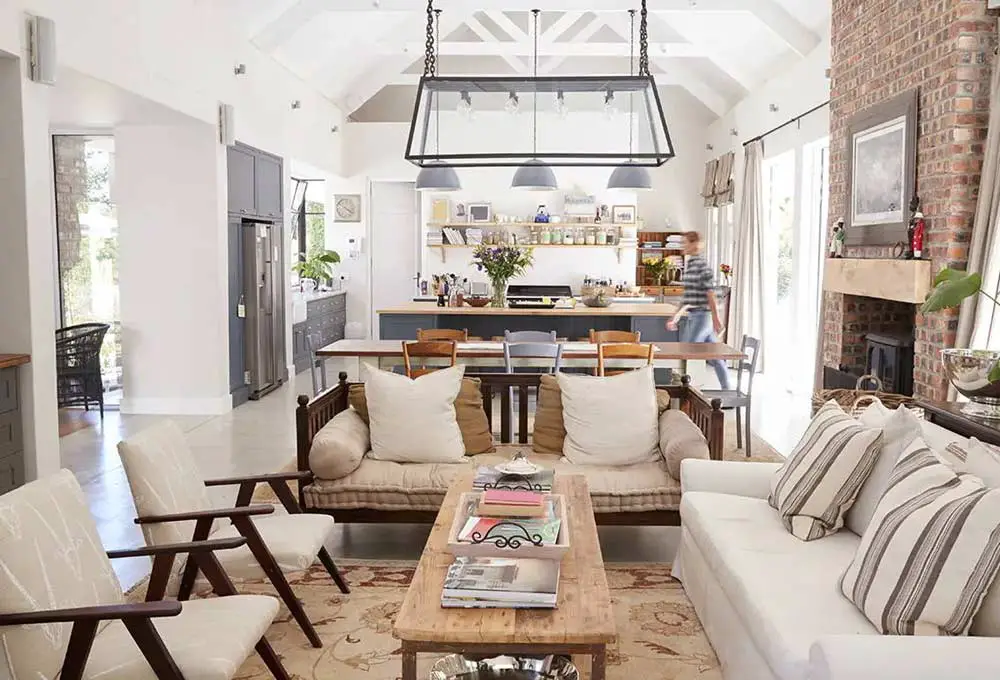 Image credit: curativly.com
French country interior design is about creating a comfortable atmosphere with an interior that is filled with rustic elegance and other more refined elements.
The French country style often incorporates materials like natural wood, stone and exposed brickwork. Distressed furniture, traditional country style fabrics and a cosy rug or two, all add to the overall interior design scheme.
This style is great option for anyone who wants to create a warm and inviting space in their home.
17. Urban Modern Interior Design Style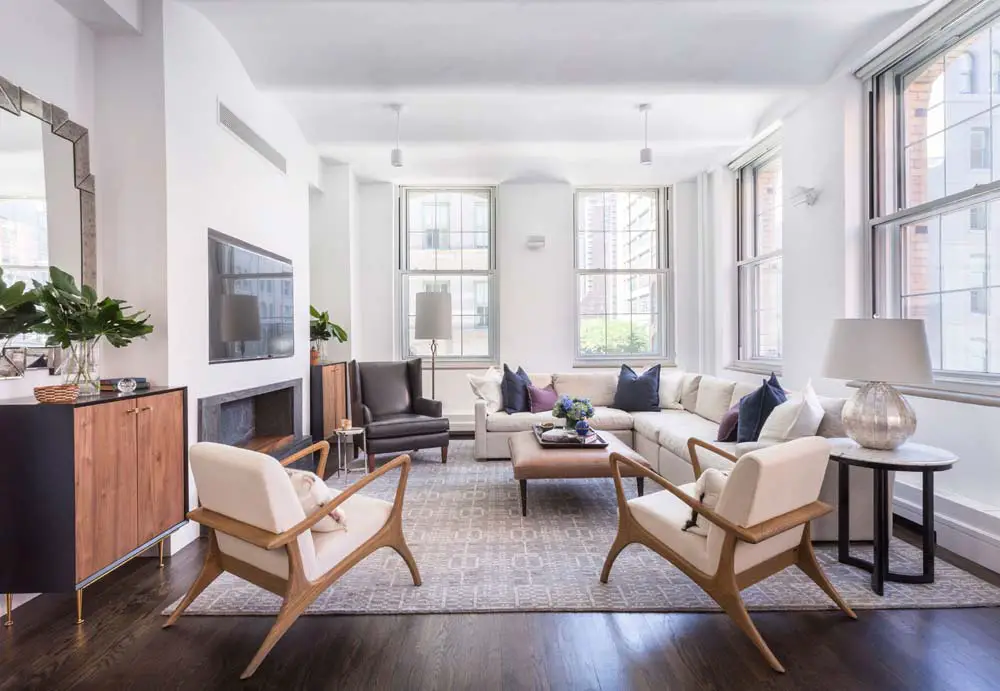 Image credit: pinterest.com
Modern urban interior design is all about clean lines, simplicity, and functionality. It often incorporates industrial elements like exposed brick or concrete, and metal fixtures. The goal of this interior design style is to create a space that is both comfortable, stylish and practical.
Many people are drawn to its clean and chic aesthetic and if you're looking to add a design edge to your home, then the urban modern interior design style is certainly one for you to consider.
If you wish to incorporate this interior design style into your home, focus on aesthetic simplicity and the functionality of furniture and space. Keep your room clutter-free and focus on investing in pieces that serve a purpose and are not just for show.
Add industrial elements, such as brick or concrete walls and metal or chunky wood fixtures. Finally, pick a colour palette that is bold and modern, white walls and neutral furniture and accessories will all help to achieve this look. 
Which Interior Design Style is Right for You?
As you can see from the interior design styles that we have detailed, each one has its own unique characteristics that can be used to create a specific look and feel to your home. Now that you know more about some of the most popular interior design styles, it is time to decide which one is right for you.
It is important to consider the overall aesthetic of the space, and how the furniture, accessories, and decor will come together to create a cohesive look.
If you are looking for a style that is both stylish and practical, a contemporary style may be the perfect choice for you. Or, if you wish to add some personality to your home, an eclectic style may be the way to go.
By having a deeper understanding of the different interior design styles available, you will find it much easier to choose the one that best suits your interior design needs.
Regardless of which interior design style you decide on, it is important to make sure that the space reflects your personal taste and style, and that it works within the period and decor of the property.