---
Silver is a chic and sophisticated colour that can add a touch of glamour and elegance to any bedroom designs.
Whether you're looking to create a bold statement with metallic accents or simply want to incorporate subtle silver touches into your bedroom design or home decor, there are plenty of ways to incorporate this versatile colour into your space.
I have compiled a list of our favourite silver bedroom ideas to help you create your very own beautiful and stylish bedroom space that is elegant, stylish and sparkles in all the right places!
Disclaimer: As an Amazon and Wayfair associate, we do receive a small commission from qualifying purchases made via links within this article.
From metallic accents and mirrored furniture to plush silver bedding and accessories, we've got plenty of inspiration to help you get started.
---
---
1. Polished Shiny Bedroom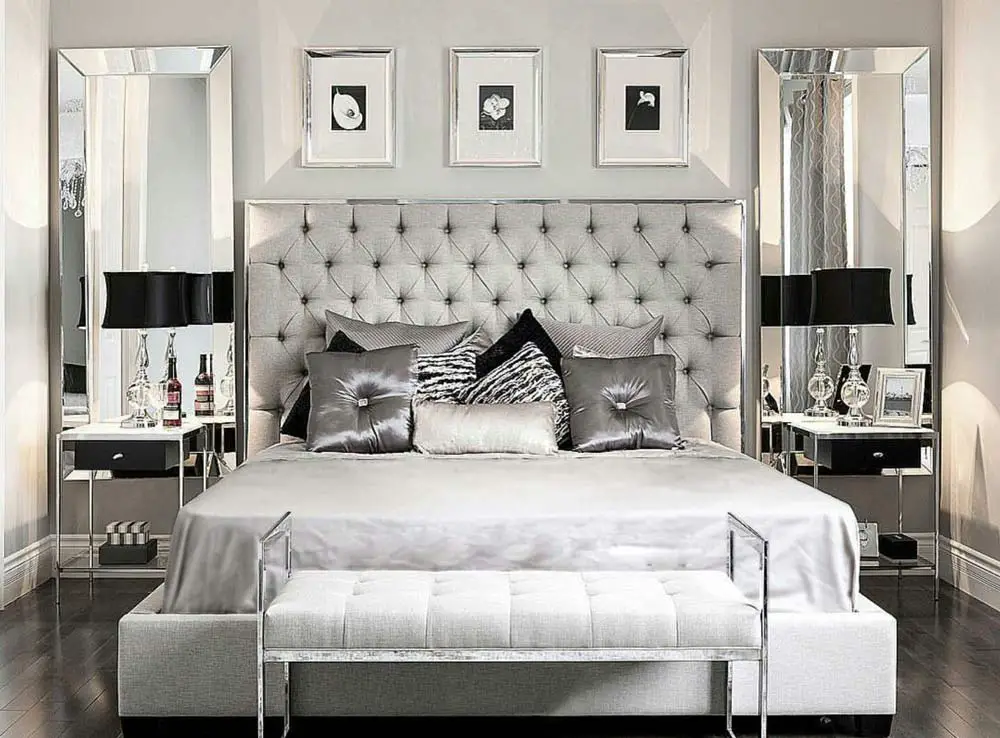 Image credit : cherrycherrybeauty.com
Get The Look....
Combining soft grey, silver, and frameless mirrors is a popular move for interior designers. Not only is the look in vogue, but it's also a modern twist on the light and airy feel that many people are after.
Some however, contrast this with dark flooring and accents to give a much more dramatic and polished look, as seen here.
The dark wood flooring, black drawers, black pillows, and black lampshade all stand out in stark contrast to the light grey walls and shining silver metal.
This is a perfect solution for those bedrooms which have limited natural light, as the large rectangular wall mirrors will gather up the light and reflect it around the room.
For anyone that likes a few flashes of colour within their bedroom designs, could simply replace black accents with deep blue or red to achieve a similar look.
---
---
2. Fabulously Flocked Silver Bedroom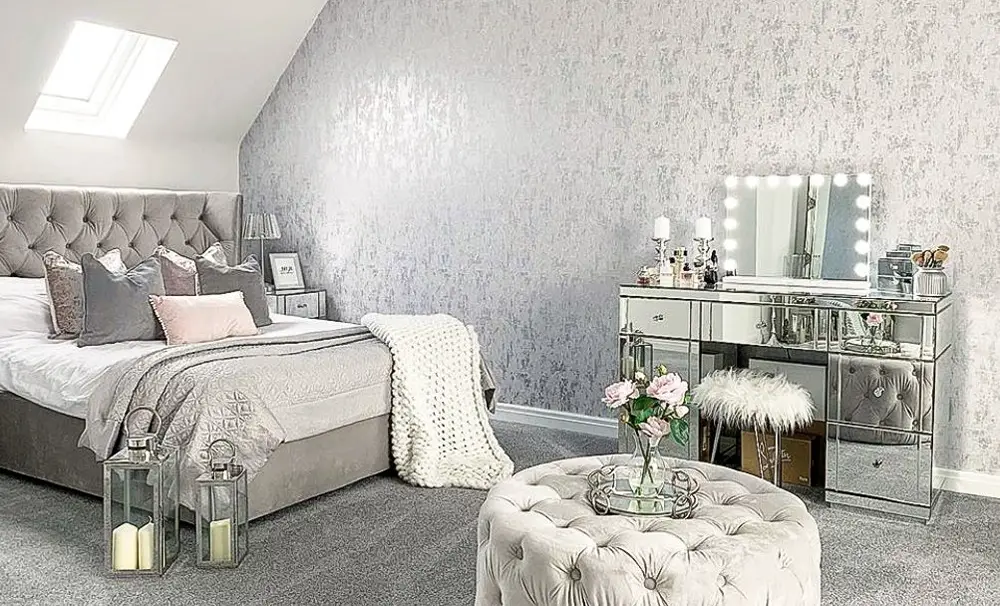 Image credit : ilovewallpaper.co.uk
Get The Look....
If you are thinking of purely silver bedroom ideas, this design is certainly very much along those lines. Silver and cool greys are often of the best colours to choose when you want to make the most of textures in a room.
The mixture of flocked fabrics on the bed, patterned silver wallpaper, and a padded grey headboard makes the room look and feel sumptuous and inviting. It also adds a great amount of visual interest to the bedroom space.
The silver carpeting is pale enough to ensure that the silver, white and grey bedroom feels spacious despite being small, and the addition of mirrored dressing table helps by reflecting light and adding a little glitter to the room (this also lights up the designs on the wallpaper)
All of these interior design elements together, with the addition of a few fresh flowers, gives the overall effect of mature glamour and style.
---
---
3. Chic Grey White and Silver Bedroom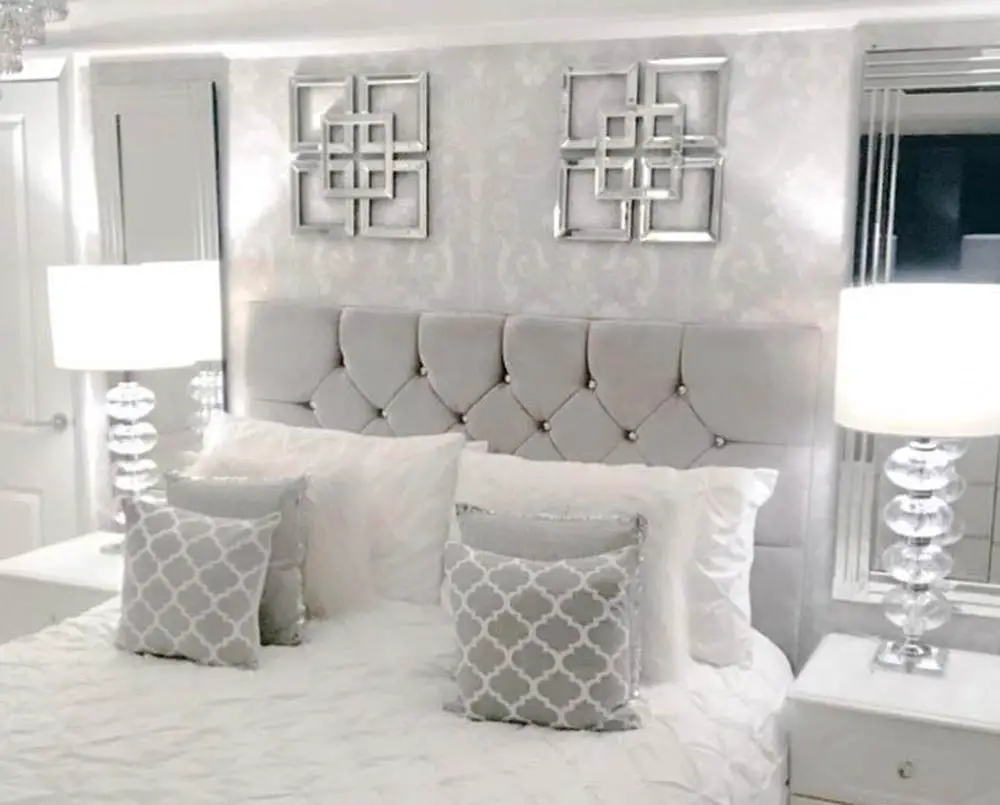 Image credit : pinterest.co.uk
Get The Look....
While contrasting dark grey and light grey looks stunning in large spaces, small spaces can be best serviced by favouring a light palette of soft greys and/or silvers.
This silver, white and grey bedroom is a perfect example of how a soft grey and silver interior design can be used to give depth and warmth to a classic white colour theme.
The padded, soft grey headboard and almost matching pillows complement the pale grey wallpaper and prevent the otherwise uniformly white decor from becoming clinical or overwhelmingly cold.
At the same time, the clear lamp bases and large all glass frameless wall mirrors reflect light giving the illusion of size, while the metal wall decorations above the bed draw the eye upwards and give the illusion of height.
You may like...
30 of our Favourite Bedroom Wall Ideas
---
---
4. Art Deco Bedroom Decor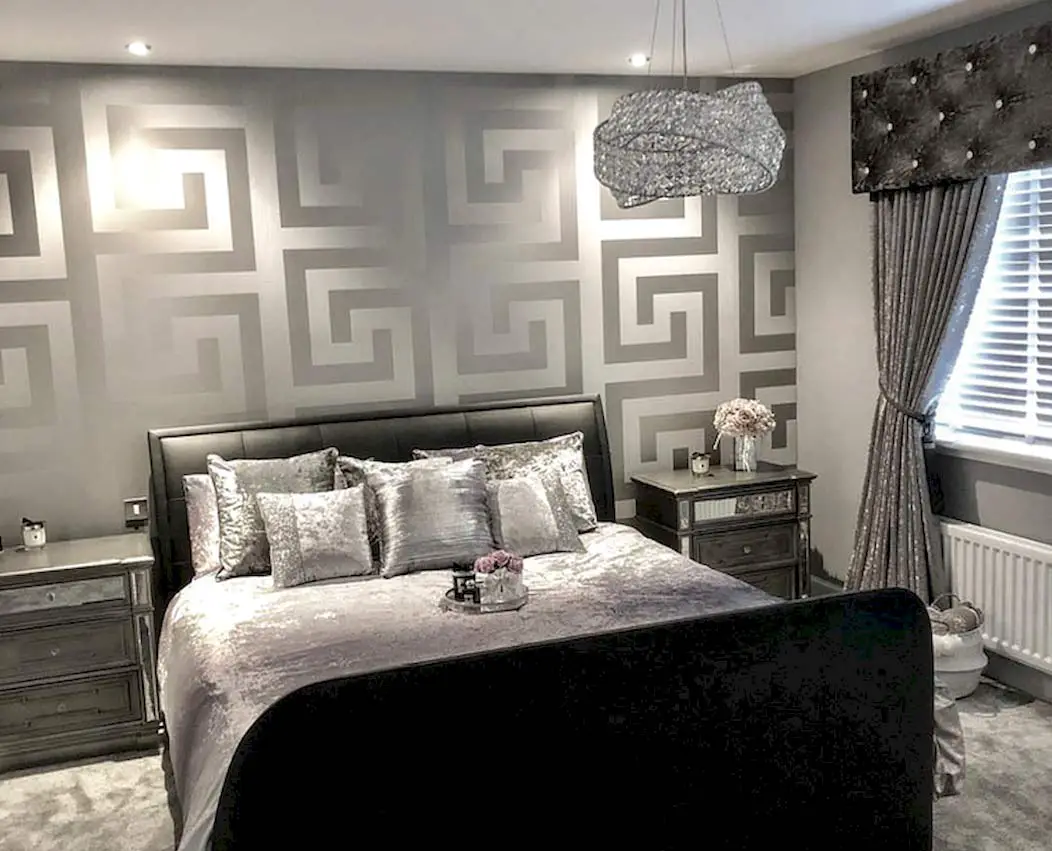 Image credit : pinterest.co.uk
Get The Look....
When we think of Art Deco in terms of decoration, it is common to envision gold, green and other such vibrant colours. However, Deco is really about structure, repetitive motifs, and sumptuous glamour. This can be clearly seen in these beautiful Art Deco bathrooms.
This silver and grey space, with its clashing textures and clean lines, is a perfect example of a new approach to classic Art Deco design.
The grey and silver geometric maze wallpaper is not only a prominent focal point of the room, but it also catches the light from the intricate light shade and spotlights, giving the illusion of texture on the wall. This then ties into the sumptuous piling of the bedroom carpet.
The deep fibres of the carpet mean that it takes on an ever changing colour depending on how the fibres are brushed. The darker grey curtains and padded velvet pelmet above have been chosen to match the lighter, velvety pillows and bedding.
Finally, the mirrored side tables are reminiscent of the old-world glamour that birthed the Art Deco style way back in the 1920's.
---
---
5. Glamorous Silver Bedroom Design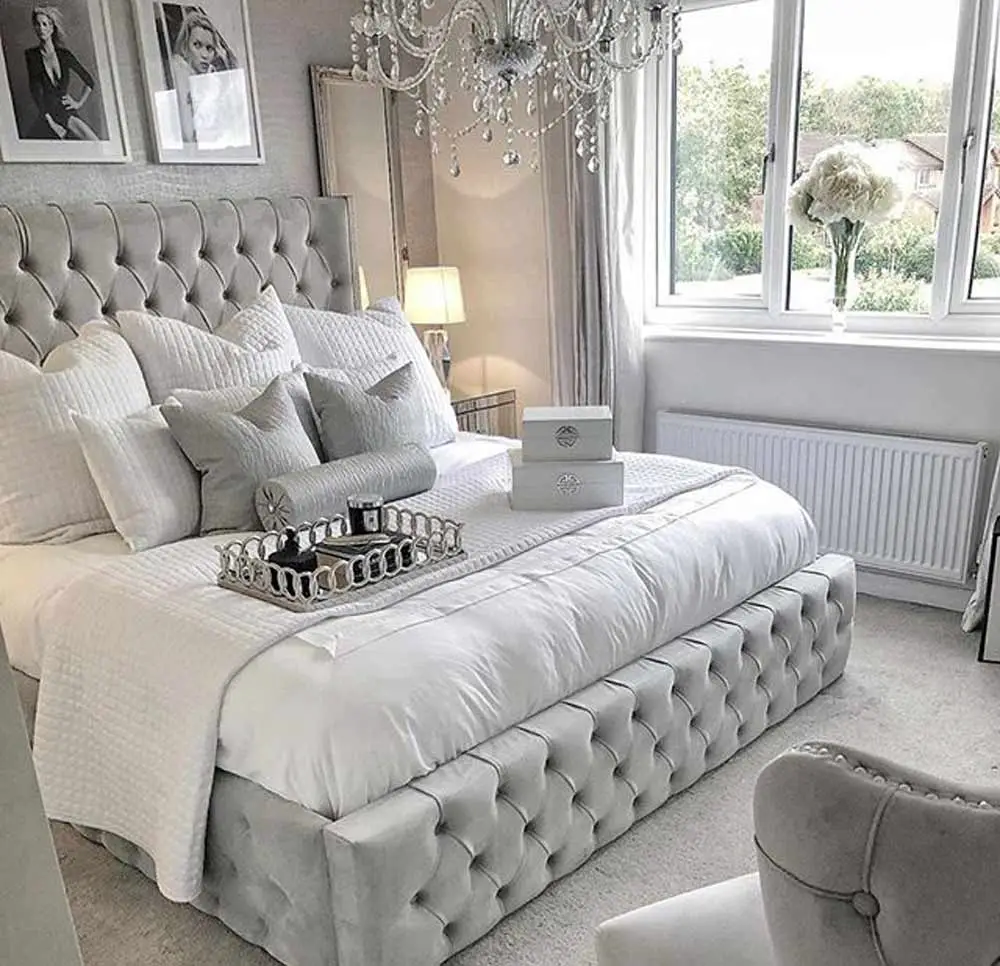 Image credit : pinterest.co.uk
While light greys and silvers can be incredibly calming, they are also the purest example of opulent glamour and will add a great deal of style to any bedroom designs.
This elegant master bedroom is just about as close to a pure white colour scheme as greys and silvers can get, and the result is beautiful.
Perfect for making small rooms feel bigger, the mix of off light grey carpeting and a padded grey bed frame, matching chair, silver accent pillows, and sparkling chandelier brings to mind opulent gemstones and jewellery.
This is the perfect grey bedroom style for any self confessed glamour puss that would love even more luxury in their sleeping space.
---
---
6. Reflective Silver Bedroom Styling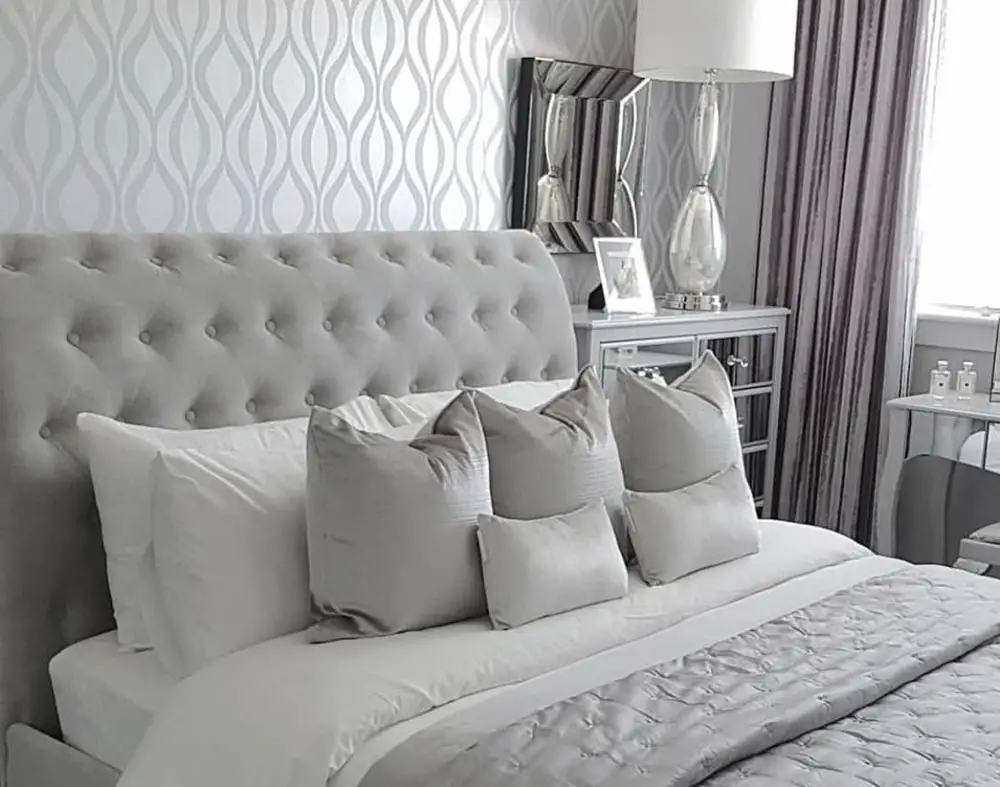 Image credit: pinterest.com
From an interior design perspective, this silver bedroom showcases a modern and sophisticated aesthetic, with a focus on silver accents and reflective surfaces.
To create a cohesive silver bedroom design, the interior designer has incorporated an Art Deco style silver wallpaper as an accent wall, creating the perfect focal point for the space.
The silver wallpaper has been paired with the grey walls to create a cohesive and modern look, while the tactile silver cushions and silky silver duvet cover on the bed add a touch of glamour.
For functional and decorative lighting, glass table lamps have been added to the mirrored side drawers, which will create a subtle light for reading or resting.
Overall, these grey, silver, and reflective elements work together to create a cohesive and stylish silver bedroom design.
---
---
7. Silver Glitter Bedroom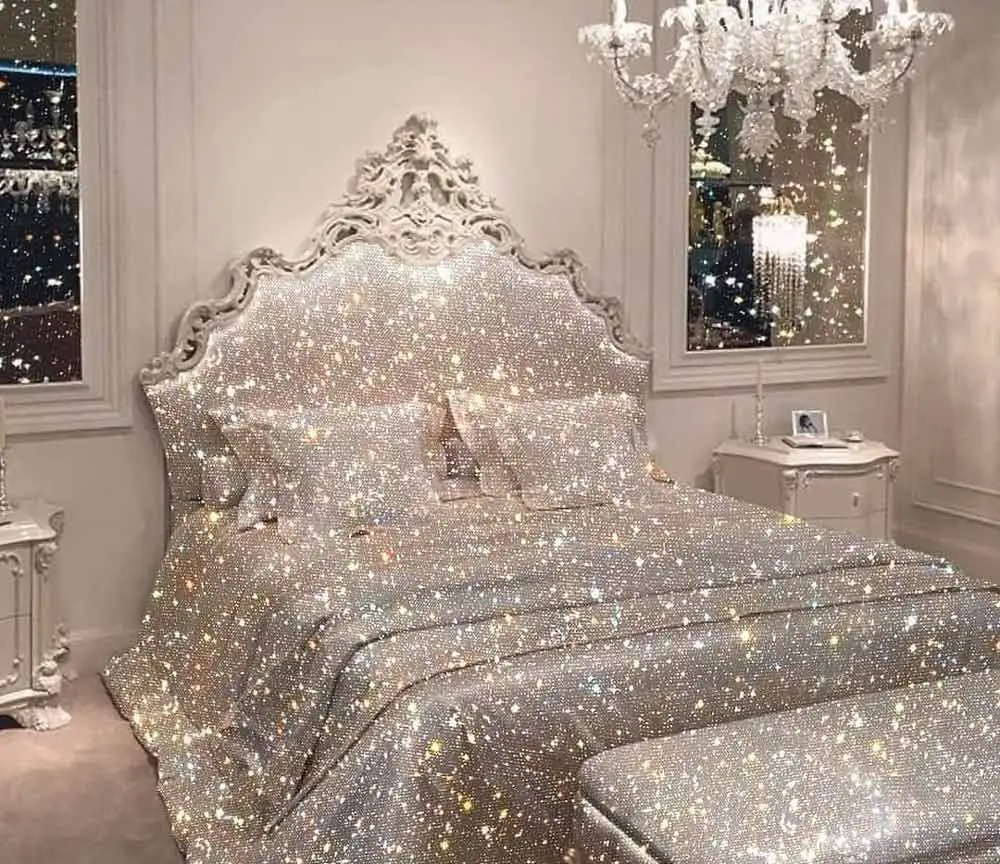 Image credit : pinterest.co.uk
Another sparkling silver bedroom idea is this beautiful glamorous and glittery bedroom decor. If you want to go for a silver or grey colour scheme, embrace its potential for over-the-top opulence with glitz and glamour.
By keeping the walls and carpet plain, this silver bedroom makes the sparkly bed, footstool, and chandelier light fixtures the true stars of the show.
The matching bedspread dramatically completes the look of course, but plain silver or white bedding would still complement this glamorous look while offering a slightly more understated iteration.
That said, the flamboyant sparkly duvet cover really cements the Essex Glamour look.
---
---
8. Light and Airy Silver Bedroom Decor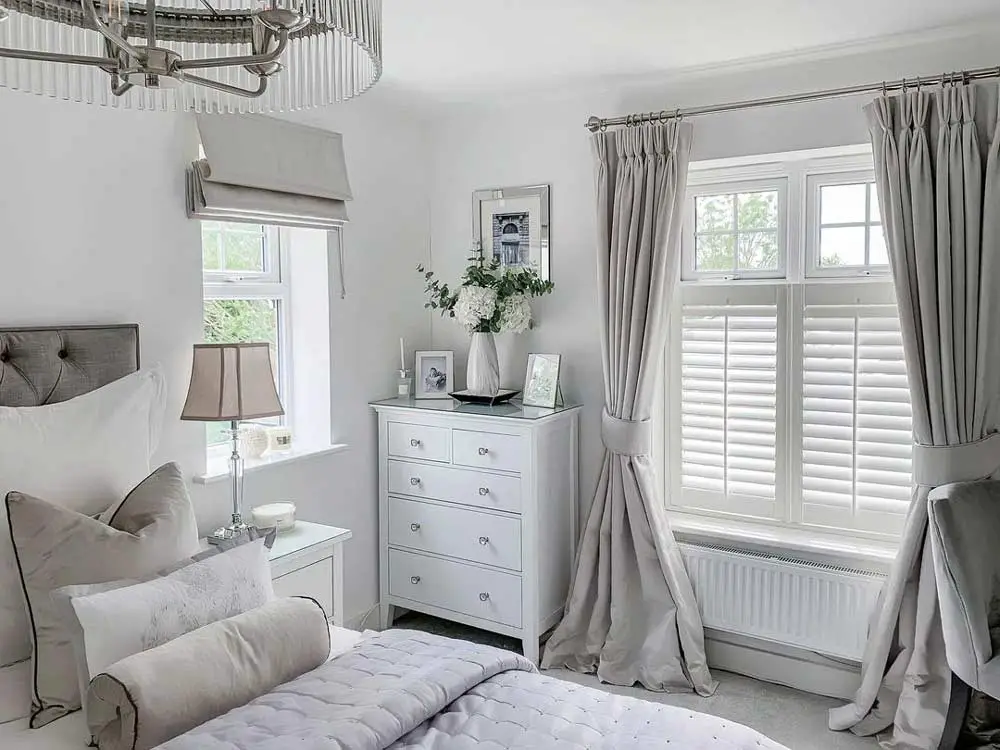 Image credit: colorpsychology.org
Along with the the silver curtains, the silvery grey carpet of this modern bedroom serves as the foundation for the rest of the room's design. They are a subtle yet striking choice that helps to tie all of the other silver elements together.
The white drawers with glass handles are a practical addition to the bedroom, providing plenty of storage space for a number of your belongings. They also fit aesthetically with the overall theme, thanks to their sleek glass handles and glass top.
The glass table lamp with a grey lamp shade is another subtle but effective way to add some warmth and ambiance to the room and provides a soft and subtle source of light, that's perfect for relaxing or reading before bed.
In addition to these other elements, the silver roman blinds help to filter natural light, creating a cosy atmosphere and allowing a certain amount of privacy.
A large silver pillow and bolster cushion on the bed add a touch of shimmer and comfort, making it a welcoming and inviting place to rest after a long day.
Finally, the silver ceiling light with attractive glass shade serves as the room's main source of light, casting a warm and inviting glow throughout the space.
---
---
9. Rustic White & Silver Bedroom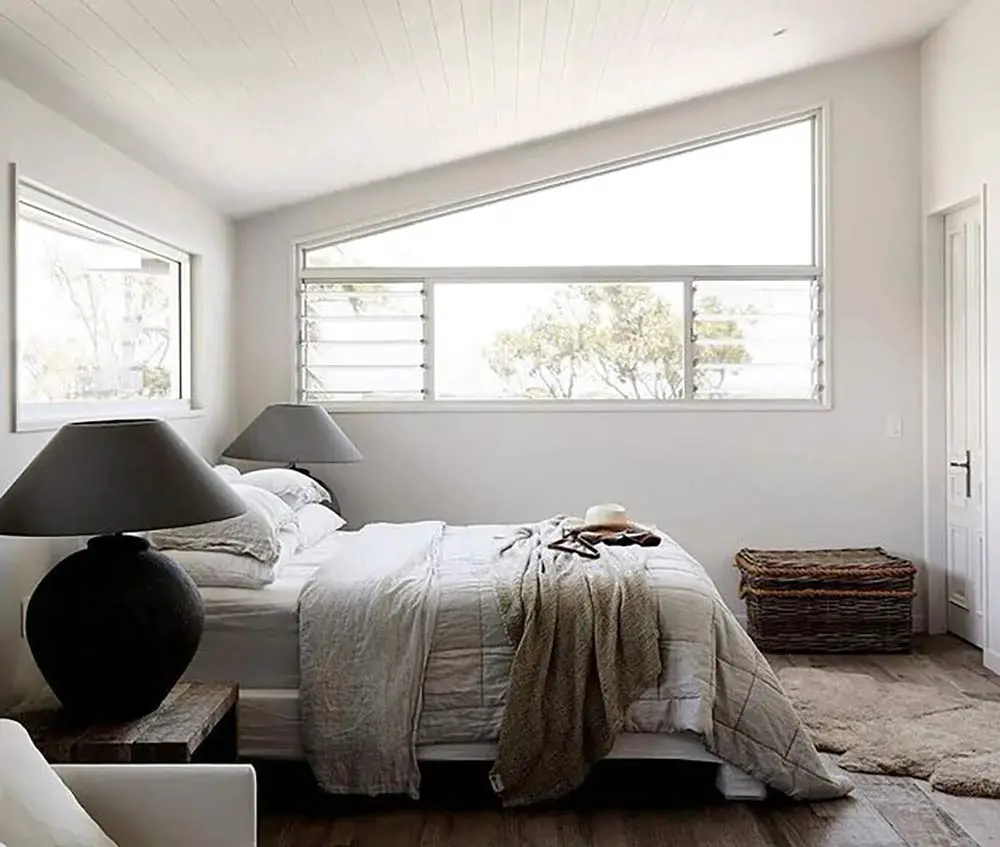 Image credit: wilsondorset.com
Imagine walking into a bedroom that feels like a breath of fresh air. The open and airy space is flooded with natural light thanks to the large windows that line the walls.
The rustic dark wood side tables add a touch of warmth to the feel of the room, and the large round table lamps with grey lamp shades provide a cosy ambiance in the evenings.
The bed is dressed in a luxurious silver square detailed duvet cover and matching silver pillows, inviting you to sink into its softness after a long day.
For added texture and warmth on a cold evening, a grey throw is draped over the bed, ready for use whenever it is needed.
The rustic dark wood side tables add a touch of warmth to the overall feel of the room, while the matching wooden flooring is softened by a soft, plush fluffy rug, creating a comfortable and inviting space.
---
---
10. Sophisticated Silver Bedroom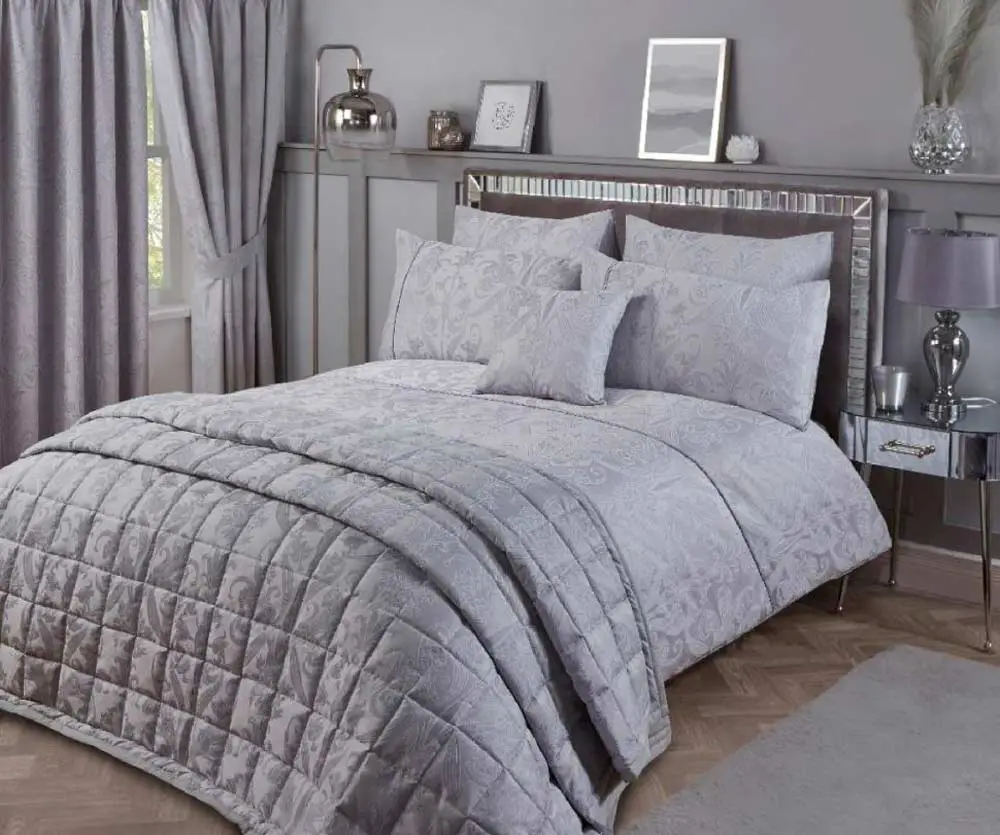 Image credit: ahinteriors.co.uk
One of my favourite elements in this silver bedroom is the bed itself. This grand bed is the centrepiece of the room and is dressed in the most luxurious silver jacquard bedding, while the mirrored detailing on the headboard adds a touch of sophistication and elegance.
The grey wooden panelled wall behind the bed creates a stunning backdrop for the whole space, while the grey rug anchors the bed and adds a cosy touch to the otherwise smooth wooden floor surface.
A silver dome floor lamp by the bedside adds some warm and ambient lighting to the room, with other light coming from the silver table lamp with purple shade sitting on the mirrored silver bedside table. Along with the matching colour of the curtains, these two elements add a pop of colour and additional interest to the space.
A convenient ledge, created by the wall panelling is the perfect display space for some silver accessories, adding a touch of shine and personalisation.
The combination of silver tones, mirrored accents, and pops of colour make this a unique and elegant space.