---
When it comes to garden room or summer house interior ideas, there are many decor possibilities that can be used to improve the aesthetic and feel of the space.
Interior design and decoration can not only create a specific atmosphere, but can also help to define the function of the space.
Disclaimer: As an Amazon and Wayfair associate, we do receive a small commission from qualifying purchases made via links within this article.
Here are some summer house interior ideas to get you started:
---
---
Keep The Space Open and Airy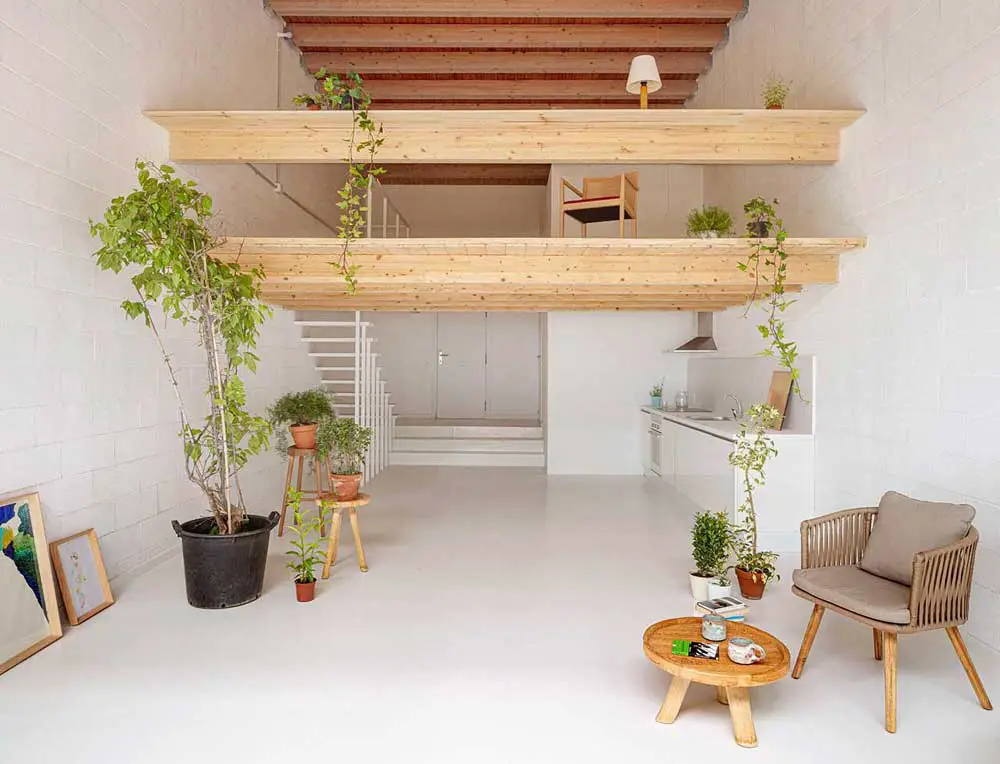 Image credit: design-milk.com
With an open floor plan and plenty of natural light, your summer house will be the perfect sociable place for hosting parties or entertain friends.
To keep summer house interiors feeling airy and spacious, opt for light-coloured or white walls and furniture. Whites, creams, and pale blues will reflect the natural light and make your space feel bigger.
To add a pop of colour, try using accent pieces like throw pillows or rugs.
For small summer house interiors, keeping the small space open may not be an option, simply due to the limited room that you have. In this case you just need to get the most out of every bit of space that you do have, and make sure every part of your small summer house is as multi-functional and useable as possible.
---
---
Use Furniture That Fits Your Needs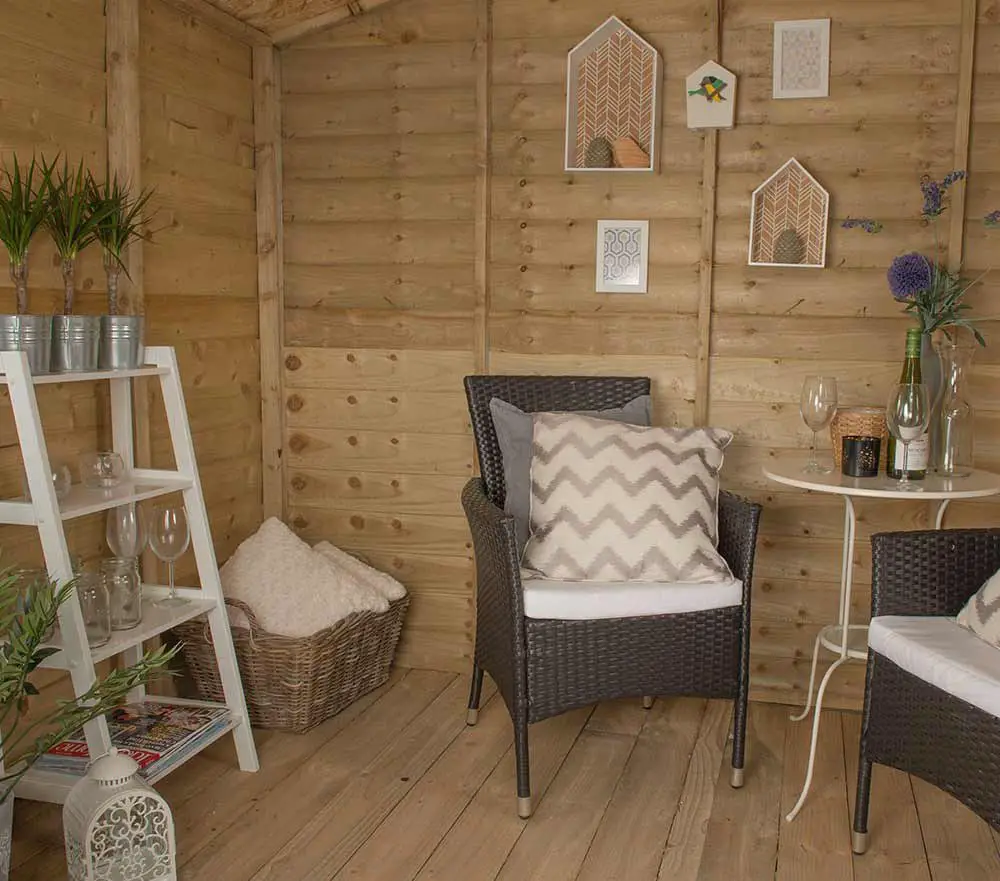 Image credit: cuckooland.com
If you're lucky enough to have a garden room or summer house, you'll want to make the most of it by creating a relaxing and inviting space. A comfortable sofa or daybed would be the perfect addition for any summer house.
You'll want somewhere to lounge and enjoy the peaceful surroundings. Add some cushions and throws in soft, natural fabrics for an extra cosy feel to the space.
---
---
A dining table is also a great addition to a summerhouse. Whether you're enjoying breakfast al fresco or hosting a dinner party, you'll need somewhere to eat. A simple wooden table with matching chairs is a classic look that won't date.
Finally, don't forget to add some storage solutions to your garden building. Shelves are perfect for storing books, magazines and games, while baskets can be used for storing blankets and throws for when it gets a bit chilly.
---
---
Pick Lighting to Suit Your Space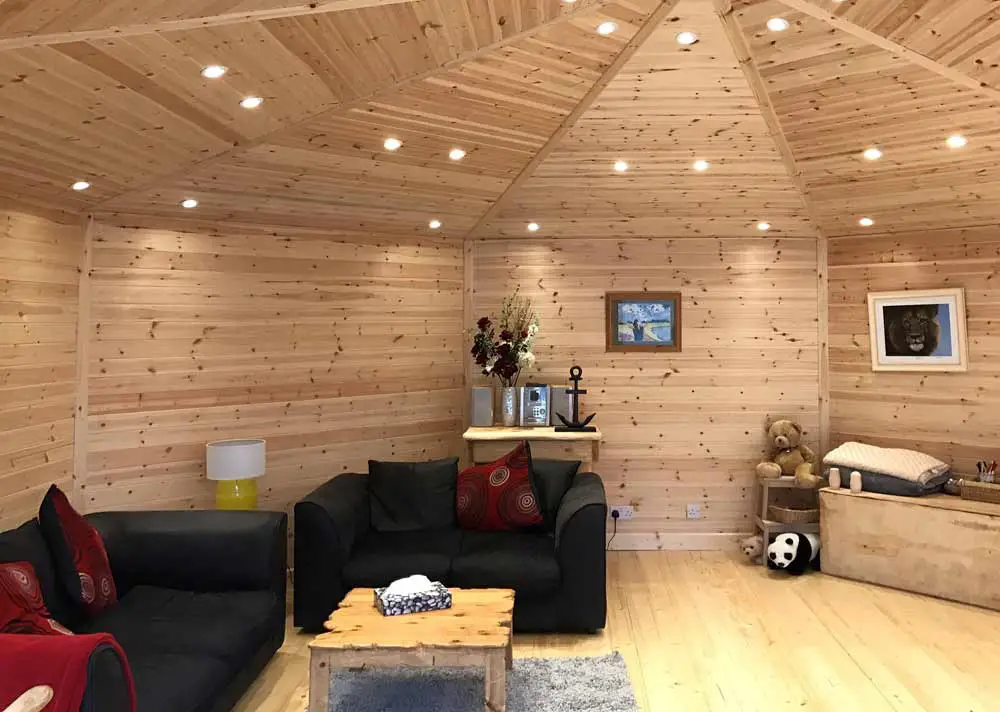 Image credit: twitter.com
Before you can make a decision on the lighting to go for in your summer house, It is important to consider the practicalities of the space and the overall aesthetic you want to create.
Do you want a bright and airy space, or something more cosy and intimate? Once you have an idea of the atmosphere you're going for, you can start to narrow down your options.
Some further things to bear in mind before taking the final decision are, how much natural light does it get currently? What are the power outlets like? And how easy is it to install new fixtures?
There are many types of lighting that can be used to illuminate summer houses, such as candles or fairy lights, for a diffused light. Or spotlights and recessed lights for a brighter and overall ambient light.
If you want something more unique and quirky, why not go for some funky lighting fixtures that will grab your visitors attention.
---
---
Don't forget about your budget either! There are plenty of beautiful light fixtures out there, but depending on what you go for, they can be fairly expensive. So, by setting a realistic budget before starting your search, you hopefully won't be tempted to overspend!
Taking all of these factors into account, and then of course using personal preference for the style, colour and size. You should hopefully be able to make your decision that much easier.
If you are still struggling for inspiration, we have written the perfect article on summerhouse lighting ideas that will certainly help.
---
---
Add Soft Furnishings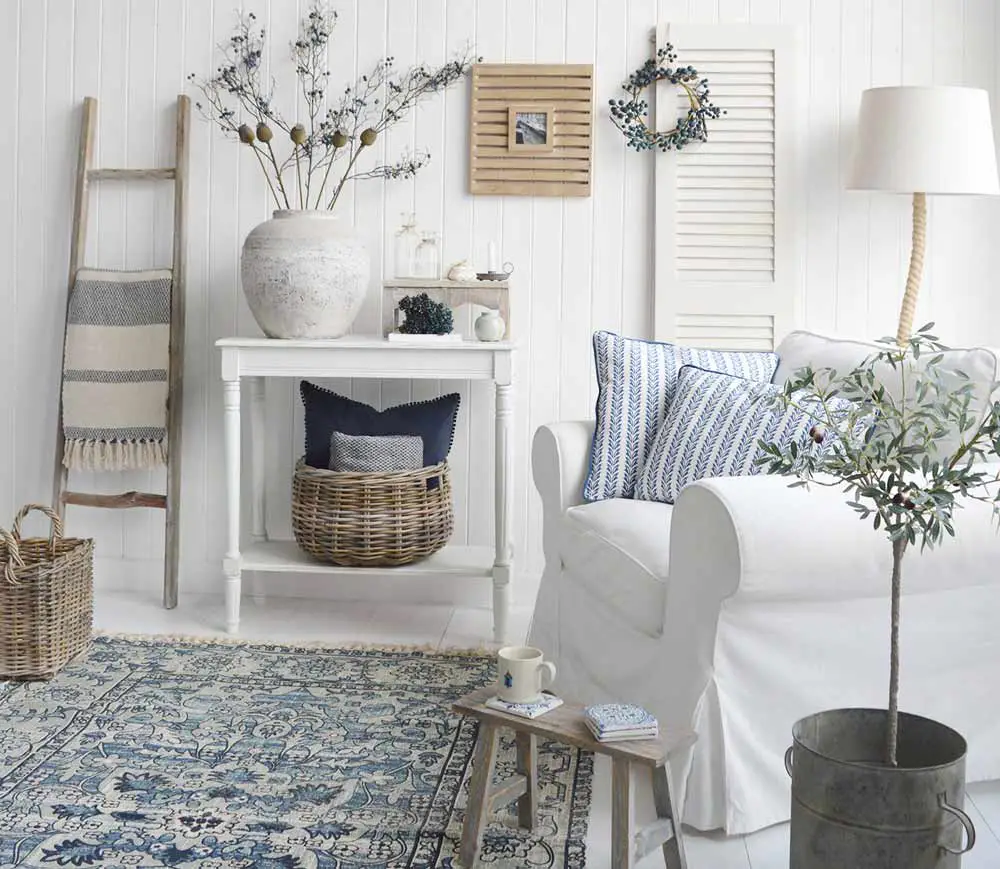 Image credit: thewhitelighthousefurniture.co.uk
Use soft furnishings to add a pop of colour to your summer house decor, using vibrant pillows and throws. Add a touch of luxury with velvety fabrics and rich textures.
If your garden room or summer house has a lot of windows, take advantage of them by hanging sheer curtains that compliment the colour scheme of the space and other fabrics. Sheer curtains will let in the sunlight while still providing privacy.
For a dramatic look, choose curtains with more daring patterns, a colour palette of bold shades or sumptuous texture. Or for a more timeless look, go for neutral creams, beiges or white.
---
---
Utilise Mirrors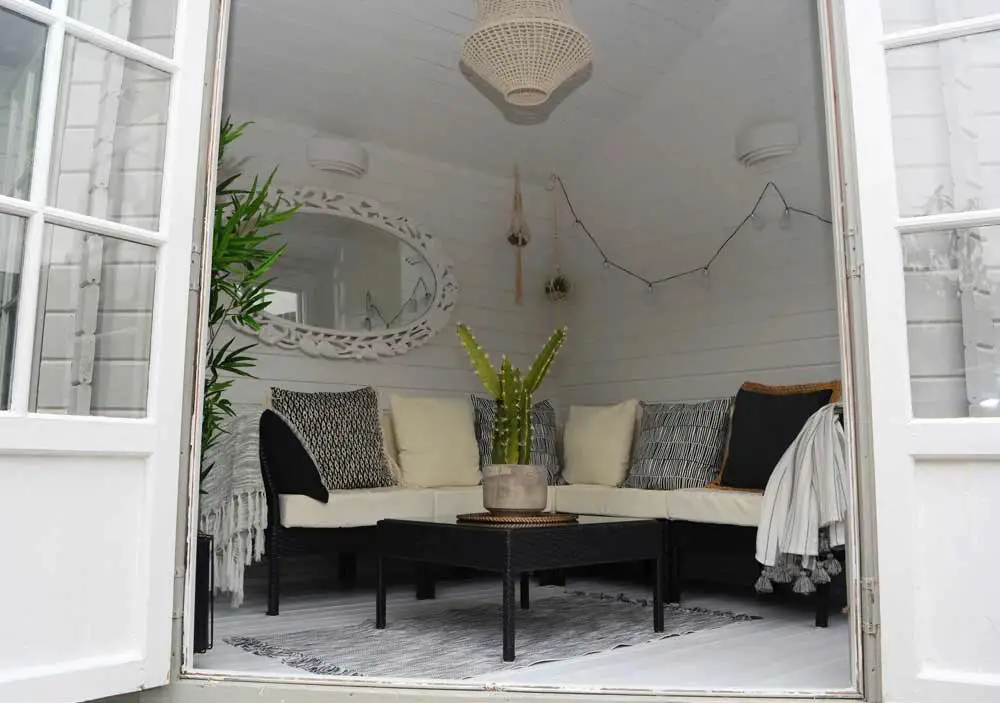 Image credit: placeshaperinteriors.co.uk
A mirror or a few mirrors are a must-have in any room, but especially in a garden summer house where you want to make the most of any natural light that you already have.
Not only will they reflect light and make the space feel brighter, but it will also create the illusion of more space.
---
---
Use Plants for Decoration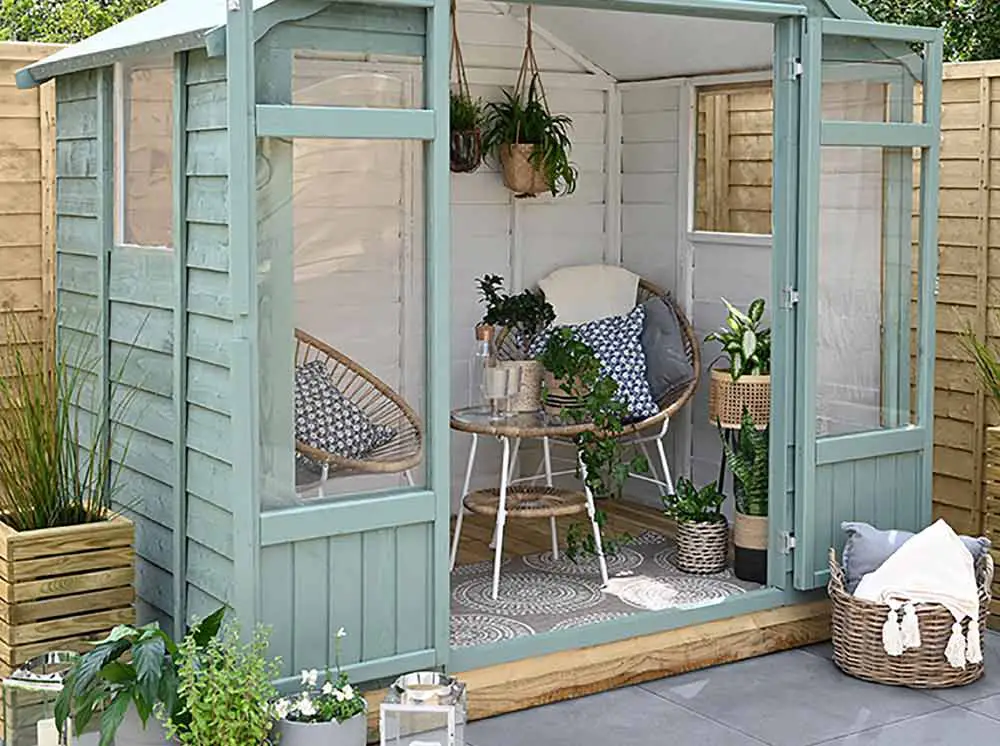 Image credit: homebuilding.co.uk
If you are considering adding some plants to your summer house, and why wouldn't you! First, consider what kind of light your summerhouse gets. If it's mostly shaded, try ferns, impatiens, or begonias. Alternatively, if it's sunny most of the time, opt for sun-loving plants like petunias, geraniums, or marigolds.
Next, think about the temperature and climate inside your summerhouse. If it tends to be hot and humid, look for tropical plants that can tolerate those particular conditions. If it's on the cooler side, go for plants that prefer cooler temperatures like impatiens or coleus.
Finally, don't forget to add a few personal touches with some of your favourite flowers or herbs, to create a beautiful aroma.
---
---
Fit Shelves for Practicality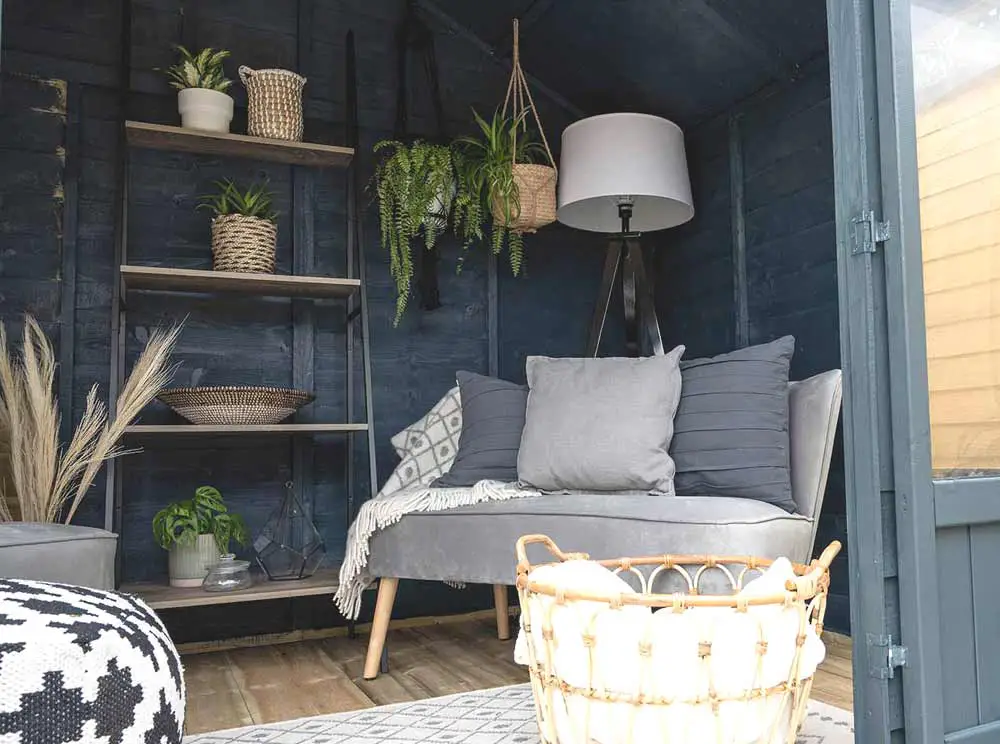 Image credit: thorndown.co.uk
When it comes to furnishing a summerhouse or garden room, shelves are a great option to go for. Not only do they provide practical storage for your essentials or decorative objects, but they also help to keep the space feeling airy and light. Shelves also provide a convenient place to keep everything within reach.
Make sure that the shelves you choose are durable and can withstand the changeable elements and will also complement the overall aesthetic of your summerhouse. Also pick shelves that will be functional and provide ample storage space for your needs.
Another benefit to installing shelves, is that you can use the front edges to hang things from, like string lights, bunting or just attach hooks for keys etc.
---
---
So, what are the best shelves for summer houses? One option is to go with wicker shelving. Wicker is a great material for summerhouses because it is durable and resistant to moisture. Plus, it has a natural look that will complement any summerhouse decor.
Another option is to use metal shelving. Metal is another very durable solution and can withstand harsh conditions.
---
---
Beautify the Walls with Artwork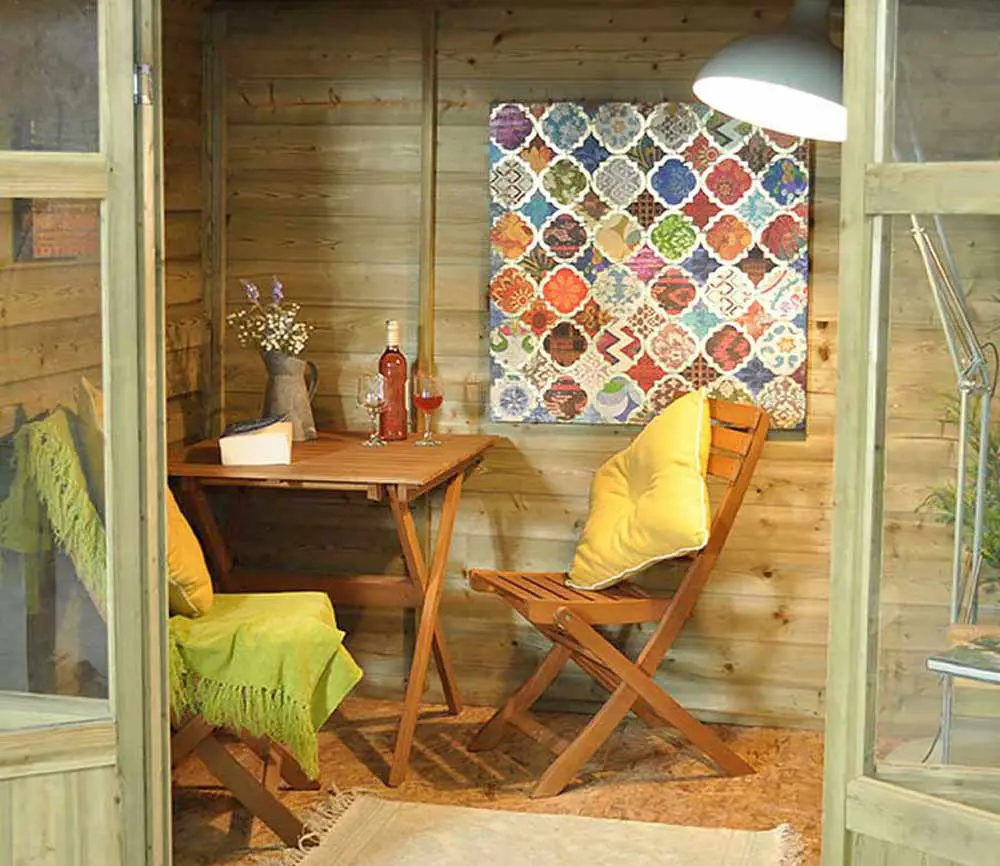 Image credit: gardentimberonline.co.uk
Adding artwork to summer house interiors can give them a more homely and lived in vibe, as it feels more like a living space than just an outbuilding.
Before looking into the choices available, consider the overall style of your summerhouse. Is it more rustic or contemporary? This will help you narrow down your options.
If it's rustic, then perhaps an antique landscape painting would be a good match. If the space and decor is more contemporary, a bright and colourful abstract painting would be a fitting choice.
Related article...
---
---
Another thing to consider is the size of the artwork. Obviously, you don't want something that's too small or too large for the space that you have. A good rule of thumb is to choose something that takes up about two-thirds of the wall space.
Finally, think about what kind of mood you want to create in your summerhouse. Is it a place for relaxation? Then something like a seascape or beach scene would be appropriate. Alternatively, If you want your summerhouse to feel more lively and active, then an abstract painting or some form of 3d textured art would be a good choice.
---
---
Turn the Summerhouse Into a Kid's Den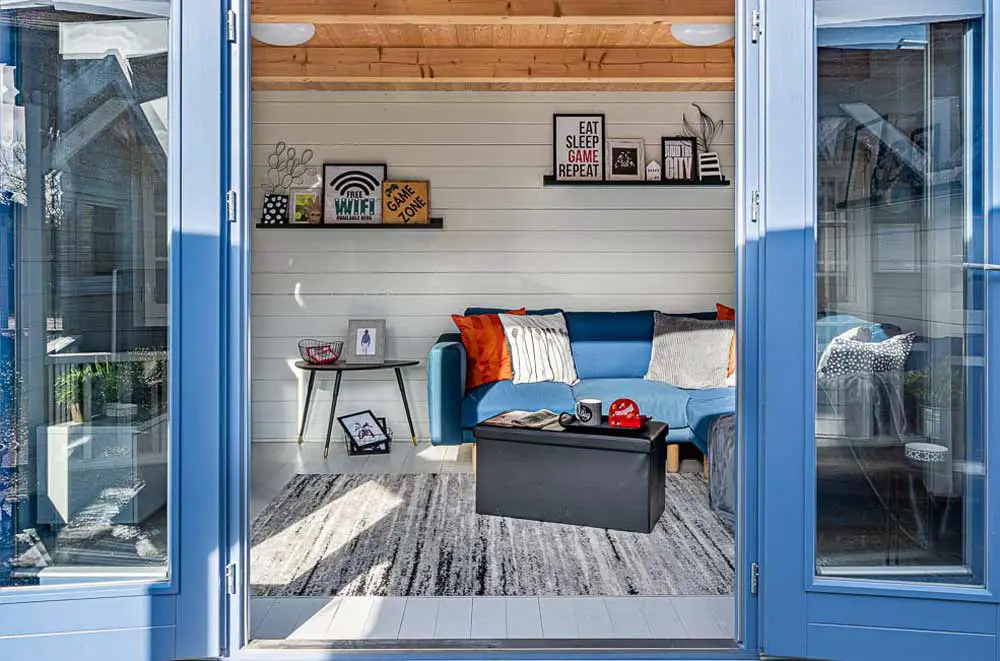 Image credit: gardenaffairs.co.uk
If you rarely use your summerhouse for anything other than storage or the occasional retreat, or just need some extra space where the kids can play (and you can get some peace and quiet!) why not consider turning it into a children's den?
With a few simple interior design ideas, you can easily turn it into a fun multi purpose space for your kids to hang out and play. Here are some ideas to get you started:
Give the summerhouse a fresh coat of paint in bright, cheerful colours. This will not only immediately transform the space, but it make it more inviting for the kids.
Add some comfortable seating options like bean bags or floor cushions. This way, they can lounge around and read or play video games in comfort.
Create a game area with a table and chairs for them to play board games or make puzzles.
---
---
Add Bunting for Decoration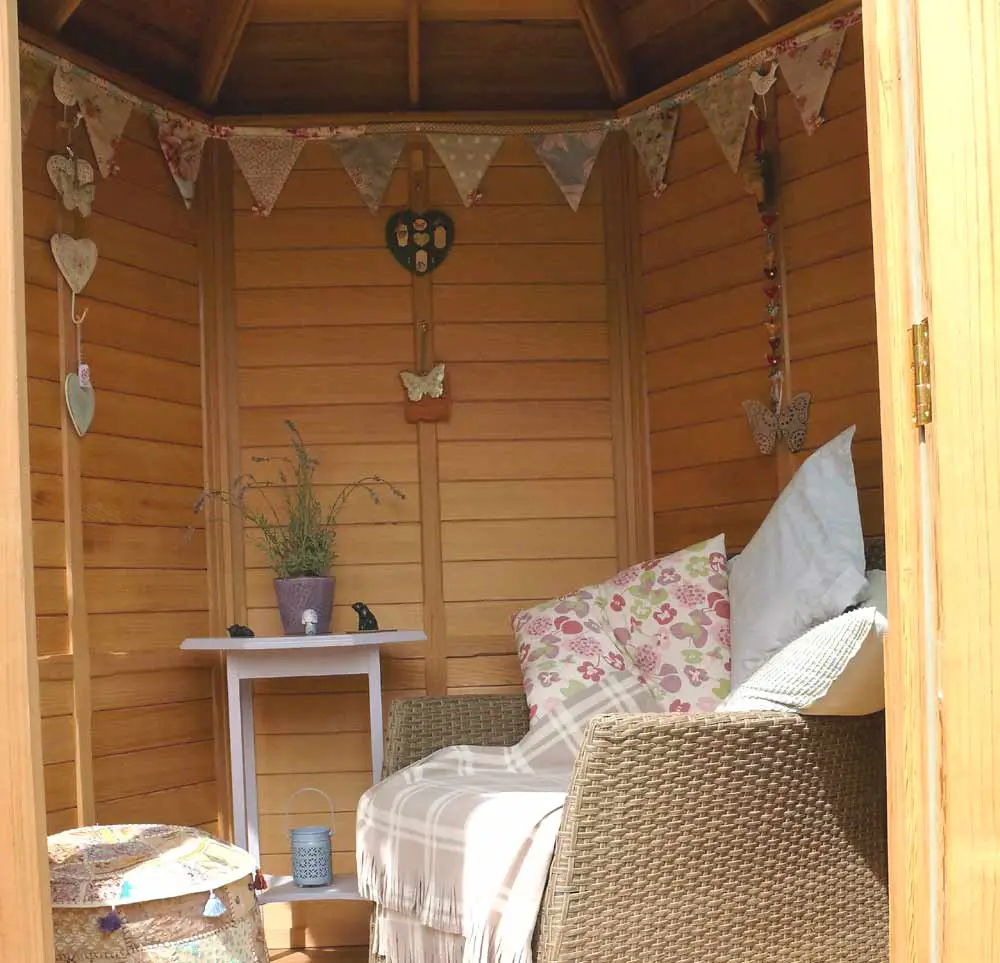 Image credit: stanfairbrother.co.uk
Bunting is a great addition for creating a summer vibe in your space, and it's the perfect way to decorate summer houses on a budget. It can also be very colourful and cheerful, so is a fantastic way to brighten up the space.
If you are handy at crafting, you could easily make the bunting yourself using fabric or paper, so it's the ideal decoration for adding a personal touch to your summerhouse.
---
---
Turn your Summer House into an Office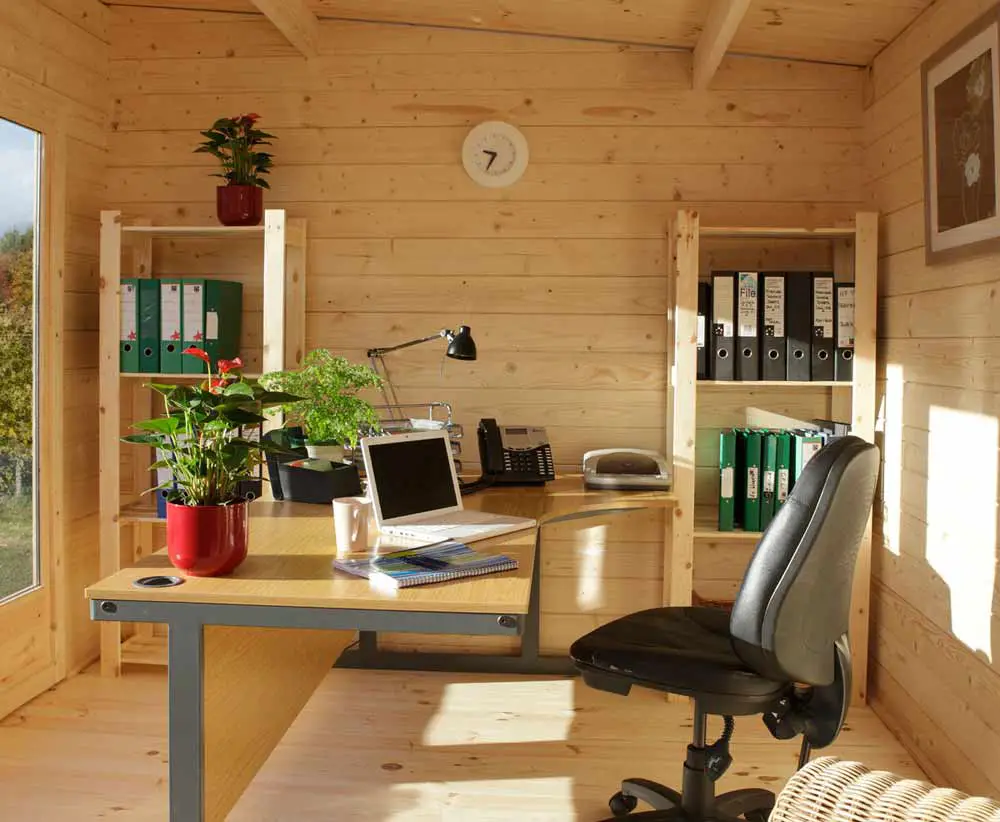 Image credit: costco.co.uk
Summer houses and garden rooms are the perfect solution for a place to set up a home office. Just image how much more work could be achieved with all the extra peace and quiet it would give you!
With a few simple ideas, you can easily create an inviting and productive space that will make working from home a pleasure and not a chore.
Start by choosing the right location for your summerhouse office space. If possible, pick a spot that gets plenty of natural light and is out of the way from distractions. Then, set up a comfortable chair and desk where you can fully focus on your work.
Include plenty of storage for all of your office supplies, such as a filing cabinet or shelving unit. This will help to keep your space organized and tidy. Finally, don't forget to add some personal touches, like photos or artwork, to make your office feel like your own.
---
---
Bring the Outside In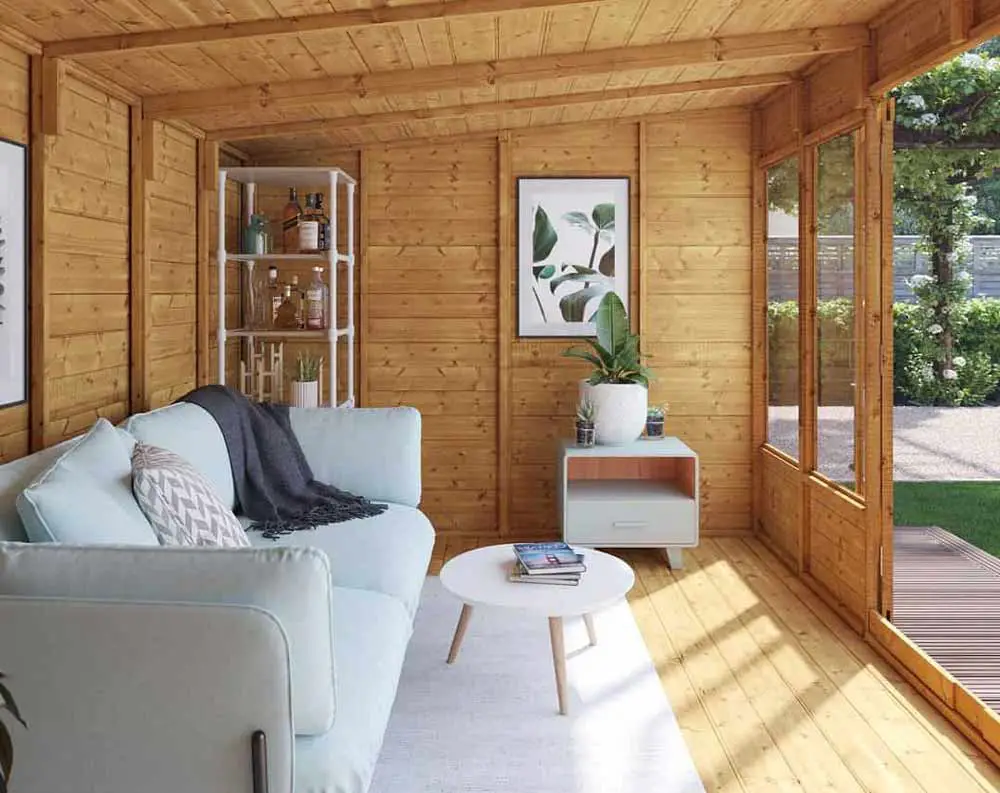 Image credit: gardenpatch.co.uk
Whether there is a plethora of beautiful sunshine or the weather outside is dull and miserable, there's nothing nicer than retreating to your very own summer house. But what if it looks more like a storage shed than a sanctuary?
With a few simple tweaks, you can easily turn your summer house into an oasis that feels like more of a natural extension of your home.
Bring the outdoors in by hanging floral prints, using natural greens and earthy shades, or adding other nature-inspired colours and motifs on the walls.
---
---
Add plenty of different shapes, sizes and styles of plants to the space, and even some fresh flowers picked straight from the garden, for the ultimate delight for all the senses.
If you are willing to take on a bigger job, and you want a truly seamless indoor-outdoor experience, Install large windows and doors to let in much more natural light and fresh air. This is obviously a much more involved change to undertake, and may not suit the budget you have to work with. But just image how the end result could look.
---
---
Throw Down a Rug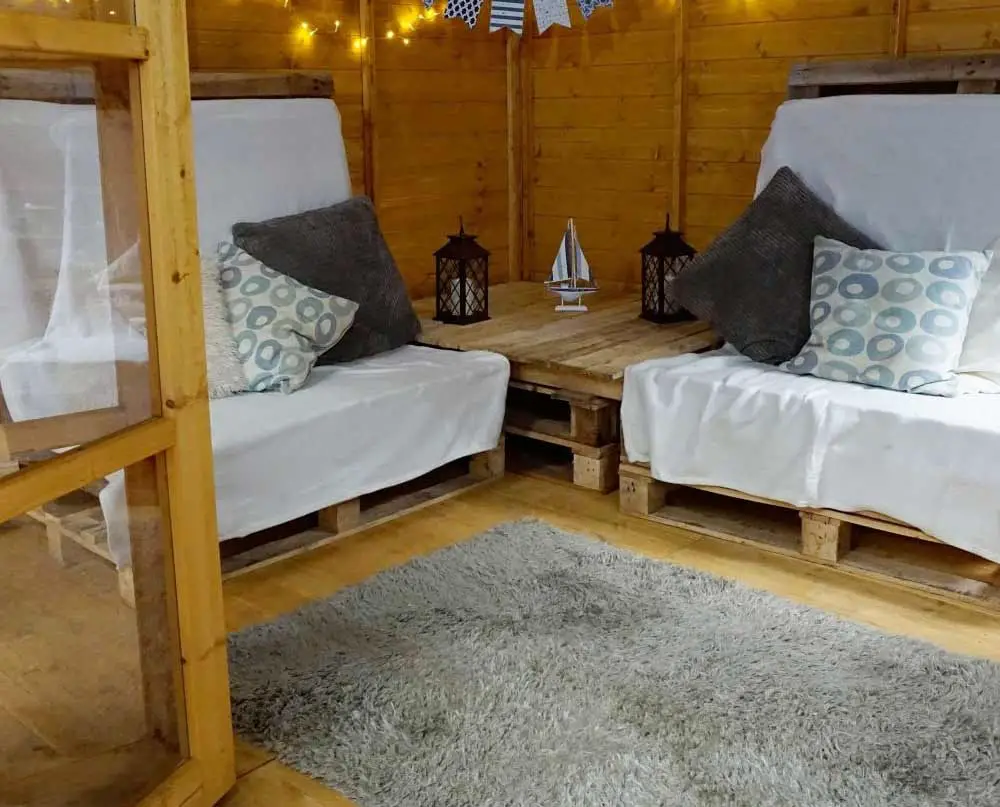 Image credit: simplylogcabins.co.uk
A rug can really inject some personality and style into a summer house. It can also help to create a more defined space, which can be useful if the summerhouse is on the small side. Rugs also protect the flooring from dirt, damage and obviously keep your feet warm when the weather is on the colder side and cool in the warmer months.
Rug designs, sizes and textures are widely varied, so you're sure to find one that fits your summerhouse's aesthetic and theme.
You may also like...
Living Room Rug Ideas (and how to choose one)
Conclusion:
With a little bit of creativity and elbow grease, these summer house interior ideas are sure to take your space to the next level, and you'll achieve a beautiful and inviting space that is perfect for entertaining or relaxing.
So what are you waiting for? Get started today so you are able to enjoy your new garden oasis during the summer months or colder British weather periods (if it is insulated).