---
The black and white living room is a classic colour combination and interior design concept that can be both stylish and elegant and can be used in a variety of ways to create different looks and atmospheres.
If you are looking to create a black and white living room, you will need to use a variety of different design elements.
Whether you go for a predominantly white finish with only hints of black within the furniture and accessories, or mix and match black and white furnishings equally, is really down to personal taste.
Just be careful not to create too much of a contrast in large areas, you don't want the space to look like it is two different rooms. It is important to keep everything feeling unified with a coherent look.
Once you have decided how you are going to balance the two colours, it is time to select furniture and accessories that will compliment the look and turn it into a liveable space.

Disclaimer: As an Amazon and Wayfair associate, we do receive a small commission from qualifying purchases made via links within this article.
---
---
Luxury Black and White Living Room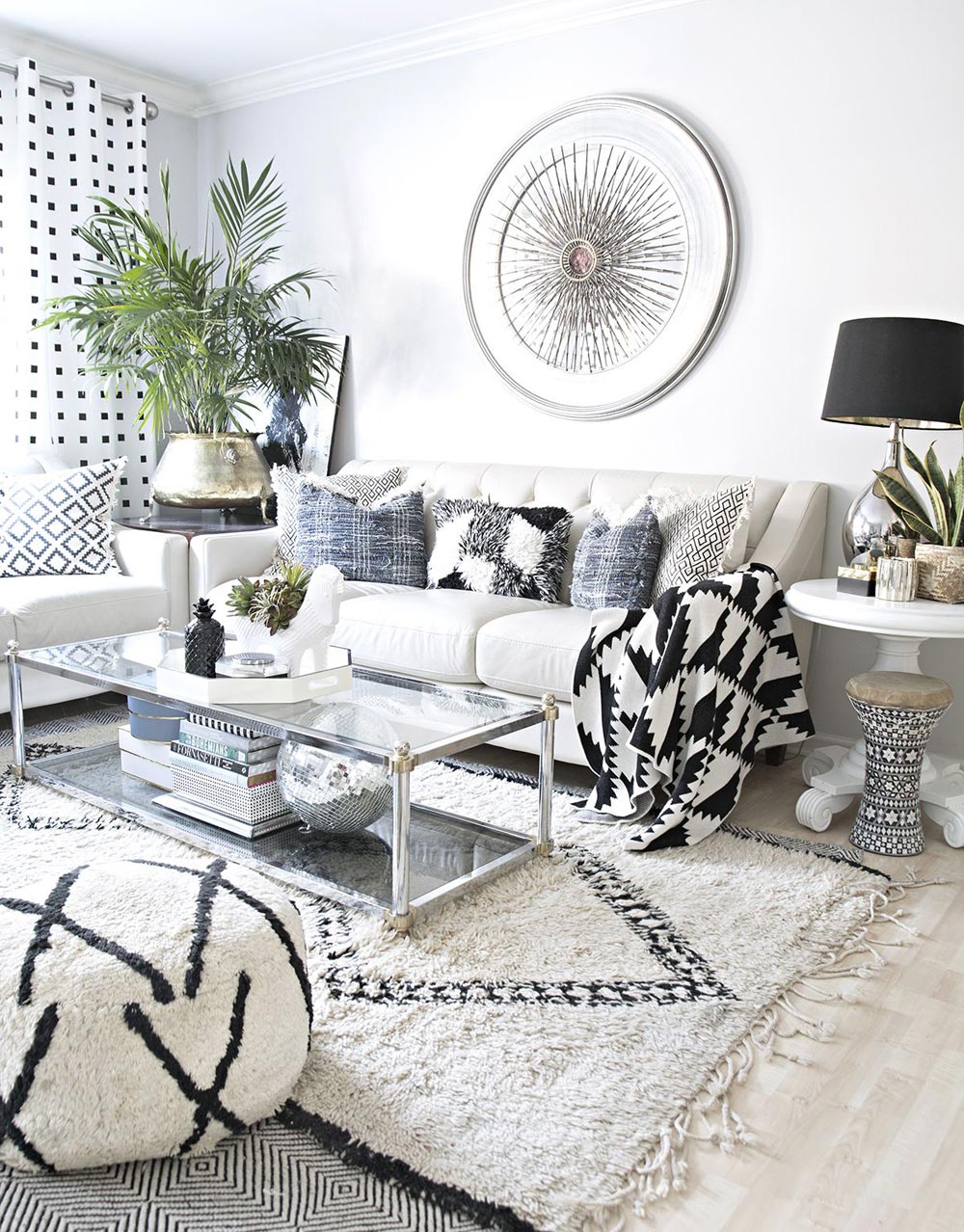 Image credit: Pinterest.com
Black and white living room furniture and accessories can be found in a variety of styles and from many different high street and online retailers, so you should have no problem finding pieces that fit your taste, budget or that makes the right bold statement.
The above image shows an elegant living room design which offers plenty of black and white elements as well as silver metallic accents as the main colour scheme.
If you are going for a more modern look and feel, you may want to consider using metal or glass furniture as shown in the example above. If you prefer a more traditional look, there are a multitude of great sellers of solid wood furniture to give you the style that you are looking for.
---
---
Black White and Grey Living Room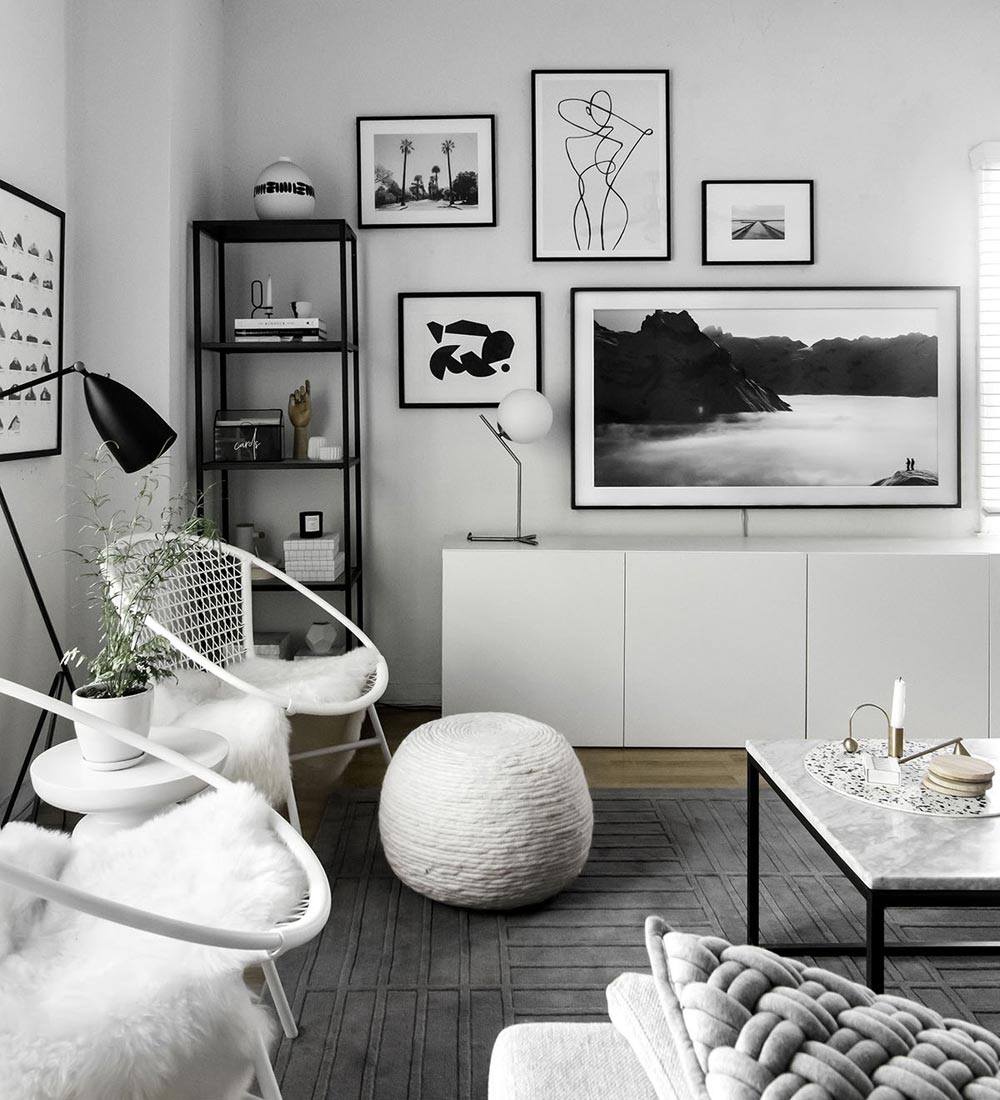 Image credit: TLC interiors
Once you have the basic elements in place, you will need to accessorize the room to complete the look. As an example, a black and white living room is not complete without decor additions, like some artwork on the walls.
There is a large variety of different artwork, image styles and photos to choose from, so make sure to take your time and find pieces that you love, and that you won't get bored of too quickly. However, even if you do it is simple and cost effective to simply keep the frame and just switch out the print itself.
Prints and photos have been used generously in the example above to create a stunning gallery wall. You can see how effective they are in giving the space character and interest. Just image how cold and plain it would be without them.
Although grey is often seen as a cold colour choice, in this predominantly white space the dark grey patterned rug actually helps to add a touch of warmth and cosiness to the entire space of this black and white theme.
---
---
White and Black Living Room Decor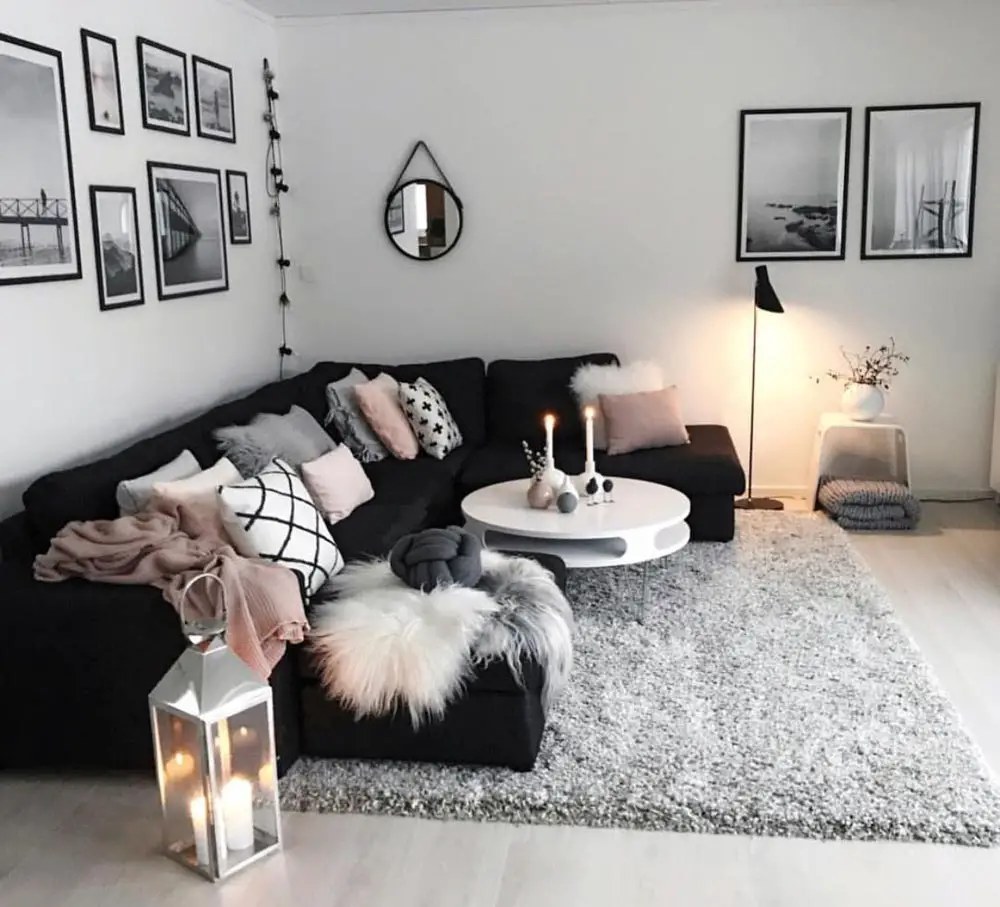 Image credit: Pinterest.com
Going for a black and white living room doesn't mean that you can't throw in bright pops of colour here and there. It not only adds depth and warmth to the room, but subtly breaks up the otherwise monotone effect.
As with the previous black and white living room design idea, the walls are adorned with framed black and white photos. This creates an interesting focal point, whilst also breaking up the large expanse of white walls.
The use of different textures within the furniture, throws, cushions, rug and other accessories also helps to give a more cosy and comfortable feel that the room wouldn't otherwise have.
---
---
Minimalist Black and White Living Room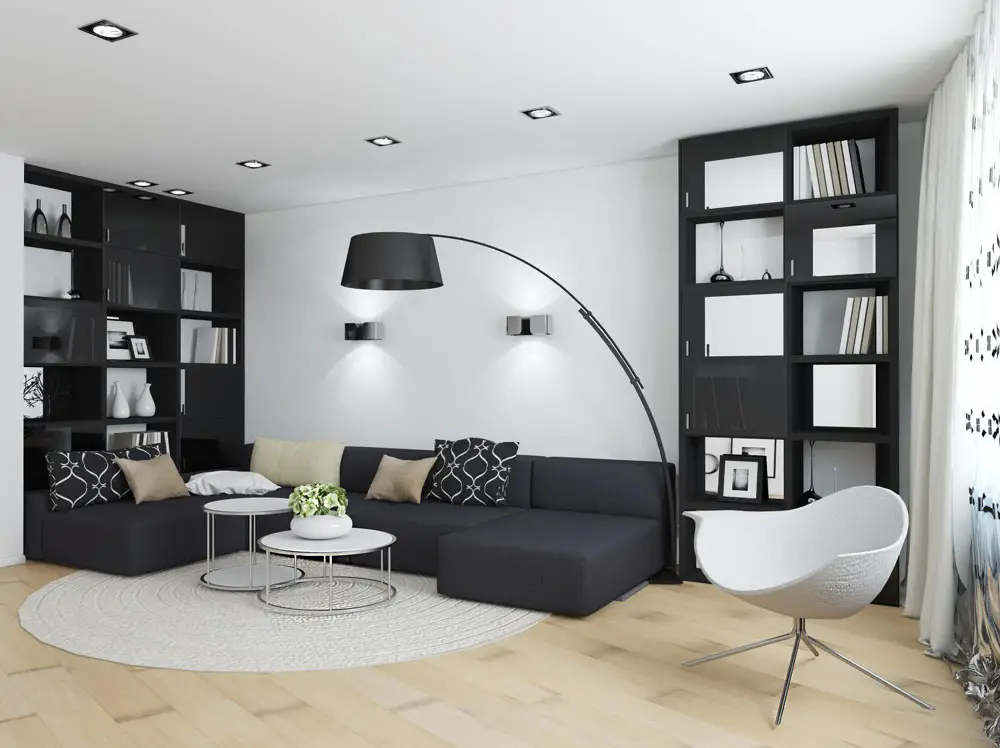 Image credit: decoratorist.com
This modern minimalist black and white room sticks with a very neutral palette across the entire room, with the only non black furniture or white pieces being cushions and the circular off-white rug.
All three forms of lighting have been used in this living room interior design, ambient, task and accent. These light fixtures allow the home owner to create the perfect mood lighting for whatever task is being performed, whether that be reading, watching tv or simply cuddling up on the sofa.
The designer of this living area has cleverly used clean and straight lines within the functional and display units, whist contrasting this with modern curved furniture pieces and rug. A triumph of modern living room decor.
---
---
Black White and Gold Living Room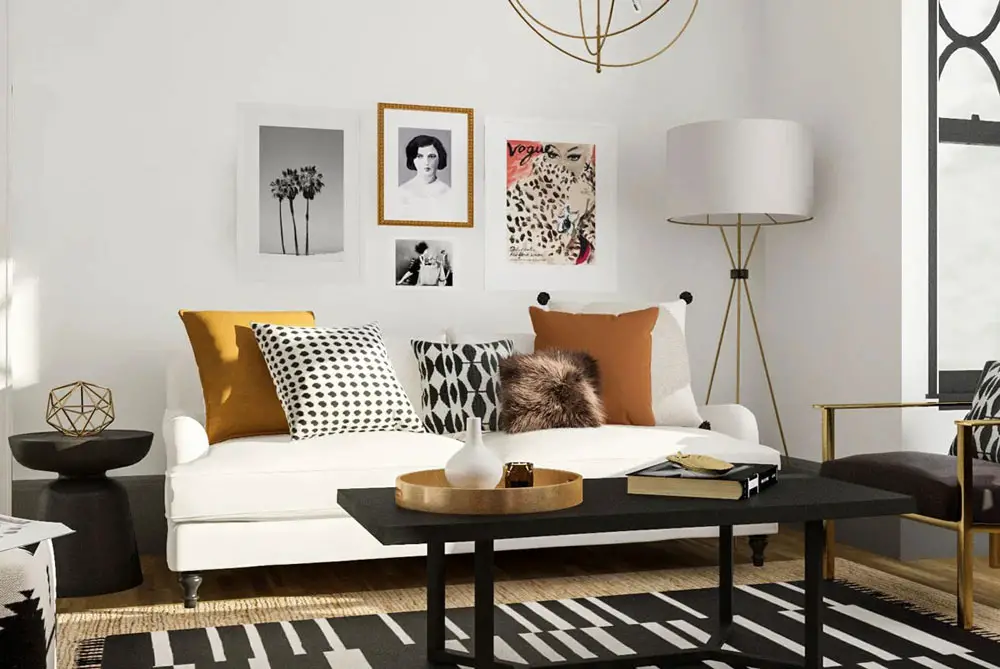 Image credit: blog.modsy.com
This almost wholly white living room decor is given a contemporary vibe by the gold metal elements within the chair, tray and light stand, gold cushions and the addition of modern black accents against the crisp white backdrop.
The pristine white sofa sits proudly in prime position, creating a beautiful picture perfect refined elegance.
Interest has been added to the white wall with the addition of grey scale and gently coloured prints, while patterns add the same in the cushions and black and white bold geometric pattern of the rug.
---
---
Modern Style Black and White Living Room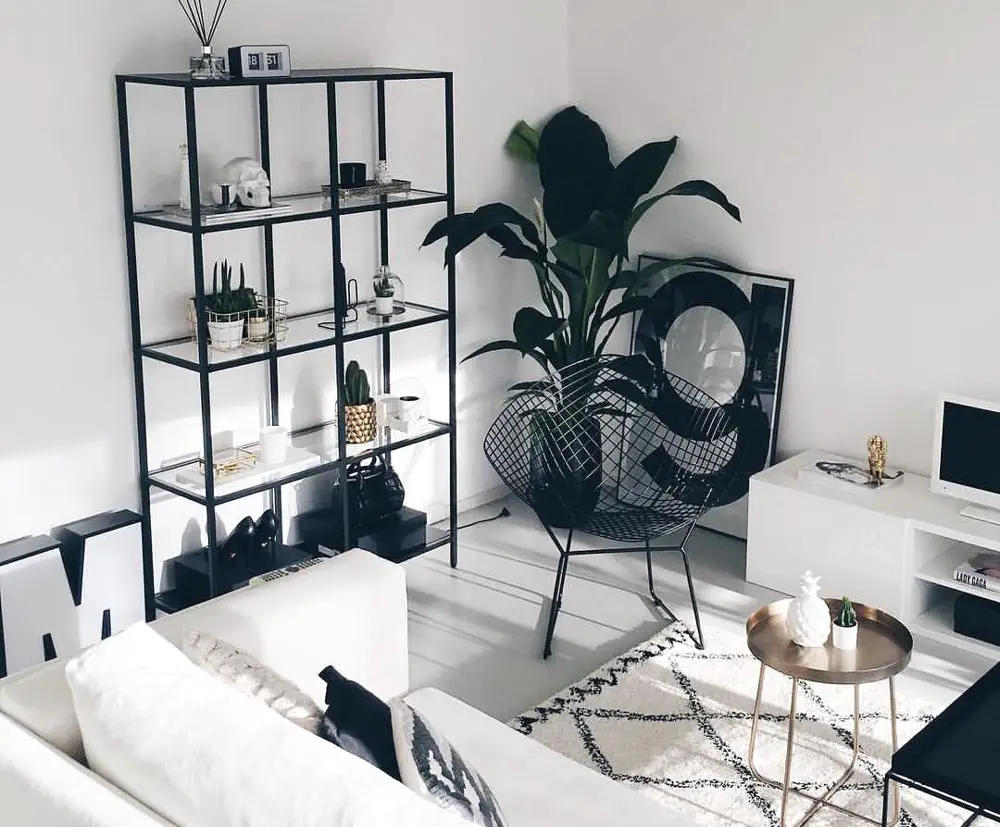 Image credit: Pinterest.com
The final example for our list of black and white living room ideas, is this cool modern style lounge space.
Metal and glass are definitely the on-trend furniture materials at the moment and this trendy room design has that covered.
A tall black metal and glass display unit, metal table and black wire chair all adorn the space contrasting perfectly against the crisp white walls, sofa and tv unit. A true monotone feeling.
Softness is added within the mixture of cushions and fluffy white and black diamond design rug, while nature plays it part with the use cactus plants and a large bird of paradise plant.
---
---
In Conclusion
Creating a black and white living room is not as difficult as it may seem. With a little bit of planning and some creativity, you can easily create a black and white scheme that is both stylish and inviting.
What we have discovered through our research, is that black and white spaces on their own can be a bit cold and clinical, but adding a bit of colour, personality and texture will stop this happening.
Living rooms are a heavily used area, so take your time and enjoy the process and you will be able to create a room that you and your family will love for years to come.