The living room is the heart of your house; it's where you spend time with your family, entertain guests, and wind down after a long day at work. Decorating a small room interior can be a challenging task. However, if you are clever about the colour schemes, furnishings, and home décor that you choose, you can create a warm and inviting terraced house interior design that creates the illusion of being larger than it actually is. If you're not sure how to decorate your small living room, check out these tried and tested small terraced house living room ideas that we have for your inspiration !
Disclaimer : As an Amazon Associate Aspect Wall Art receives commissions from qualifying purchases made through links within this article. We spend a lot of time and effort finding quality, highly rated products that we hope will interest you.

Things to Consider Before Redecorating
Redecorating any room can be stressful, but doing this in a smaller room can compound the problems further. This is mainly due to the extra difficulty of getting furnishings out of the space, or at least moving it sufficiently so as not to be in the way. Furthermore, if you are happy with your walls and foundational décor as it is, there really is no need to make huge, costly changes. You can simply make smaller adjustments, removals, or additions to get the look you desire.
Is your living room too dark ?
If you have a particularly dark room, both in terms of natural light and the colour-scheme, it will almost always feel smaller. In this instance consider the following, which could be simple fixes to brighten up your living room :
Are the windows blocked ?
Are the curtains or blinds too heavy?
Is your light shade causing problems?
Simply switching to lighter curtains, both in terms of the colour and the material used, or choosing Venetian blinds instead of a roller blind, can significantly increase the amount of natural light that a room receives. Likewise, making sure your windows aren't blocked by furnishings or clutter will also help. Ultimately letting in as much natural light as possible is key to making the room feel bright, airy, and spacious during the day. Alternatively, at night your light shade plays a much bigger role. Not only in the amount of light your room receives, but also the overall feel of the room. Choosing a light shade that focuses the majority of light upwards ensures that the light diffuses softly throughout the room. Otherwise your bulb could just create a concentrated point of harsh light surrounded by lots of shadows.
Is the Room Cluttered ?
Clutter makes a room feel overly busy and claustrophobic, especially if the clutter is in the way of the most frequented areas and furnishings. If you really want to keep all those little knick-knacks, try putting them on shelving just above eye level. They will then still be seen, but will not get in the way.
Is Your Furniture the Right Size ?
Furniture is expensive, so it only makes sense to keep a hold of items that are in good repair for as long as possible. However, if your furnishings are oversized for your room, you are creating a problem for yourself. Consider getting rid of unneeded items, or selling unsuitable furniture in order to make space for more appropriately sized pieces (for example, trade-in your couch for a snuggle).
Do You Have Enough Storage Space ?
While it may seem to go against all wisdom to add more to an already cramped space, cleverly deployed storage solutions can make all the difference. By gathering together clutter like magazines, dog toys, or children's toys in one, compact and attractive location. Whether it be a seat with an interior compartment, a hanging storage
tower, or modern chunky, floating shelves.
If these issues don't really cover the problems within your room, or you're just looking to change the décor in your small terraced house living room, there are some new interior design ideas that you need to familiarise yourself with. According to the latest wisdom, small rooms need no longer be boring !
20 Small living room decorating ideas
These 20 simple design ideas for a small sitting room will help you beautifully decorate and furnish your room, whilst also making the most of every inch of space available to you. Our living room ideas range from small changes that you can make quickly and easily, to bigger changes that will require redecoration or new furnishings. All of these design schemes are effective ways to make the most of your space and decoration.
1. Use your walls to minimise clutter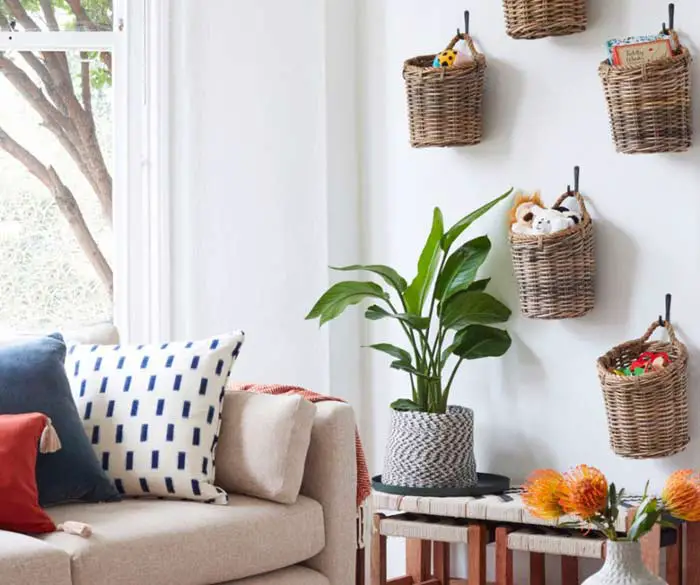 Image credit : Idealhome.co.uk
Hanging decorations which double as storage options is another great way to keep a small living room feeling spacious and airy. Hanging small baskets on the wall, or a cloth storage tower from the ceiling is a great way to store small loose items, such as children's toys. Ultimately helping to keep your living room less cluttered.
Our top hanging basket picks....

2. Cover up the floor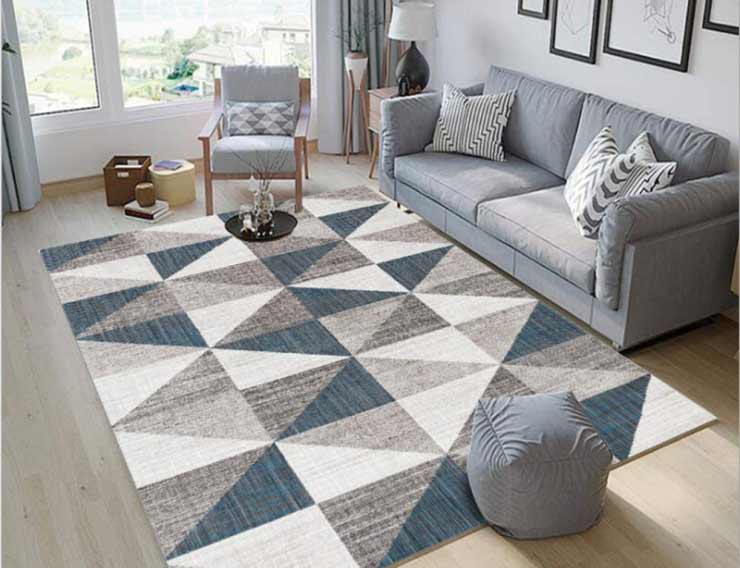 Image credit : Amazon.co.uk
Not entirely, of course! These days wooden flooring is far more desirable than wall to wall carpeting. Therefore, if you have polished floorboards, covering up part of this with a sizeable rug will break up the floor space and give the illusion of a grander room by creating more defined areas. Rugs also add texture, warmth, and movement to a living room, which is otherwise (by necessity of its size) plain.
Large rugs we love....

3. Choose an elevated living room focal point
Image credit : ooba.co.za
The focal point of a room is an important factor in how spacious it will look and feel. For very small rooms, creating an elevated focal point can give the illusion of height. One example of an elevated focal point would be a shelf or statement light shade hanging from the ceiling. Try to choose something that is largely transparent, or which has large gaps in it. If you don't do this, the feature piece may instead dominate the room and make it feel shorter and smaller. Moderation is the key here.
Beautiful hanging shelves you can buy now....

4. Ideas for small living room furniture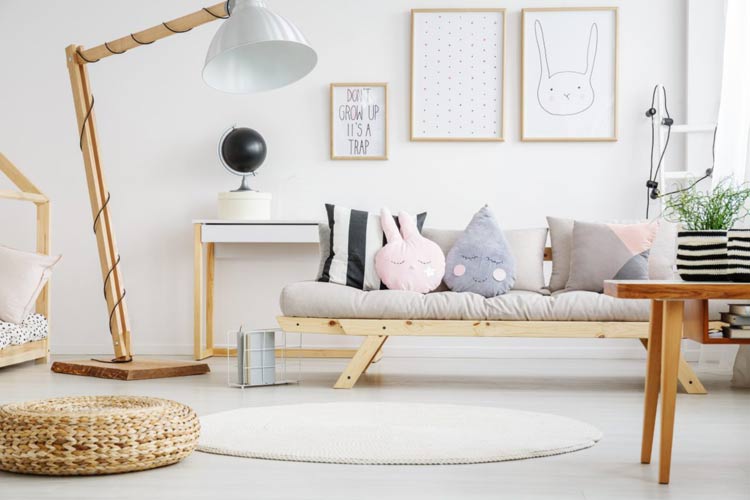 Image credit : greatideahub.com
You may be wondering how to furnish a small living room. One practical idea that an interior designer may use is dual-purpose or function furnishings, they are real lifelines for those who own small terraced homes or flats. Sofa beds
are one of the most common examples of this, but these days there are more and more options for people who want to make the most of small spaces. Coffee tables that also hide chairs or chairs which can be folded out into single beds for guests, are both great ways to make your small living space work harder for you!
5. Consider hanging furniture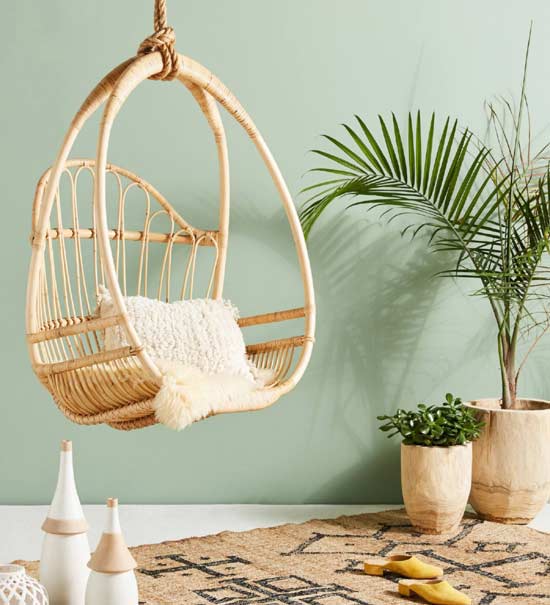 Image credit : elledecor.com
Hanging furniture isn't everyone's cup of tea, either for the look, or the often difficult and problematic fitting of it. However, if you have high, strong ceilings and limited floor space, it could be just what you need. Egg chairs
may be seen as a little dated, but they're actually making a comeback (and they're pretty comfy, too !). Furthermore, you could opt for a table or shelf which can be wither raised to the ceiling via a pulley, or folded against the wall. These furnishings will require more extensive instalment, but are well worth the time, cost, and effort if your space is tight.
6. Decorate vertically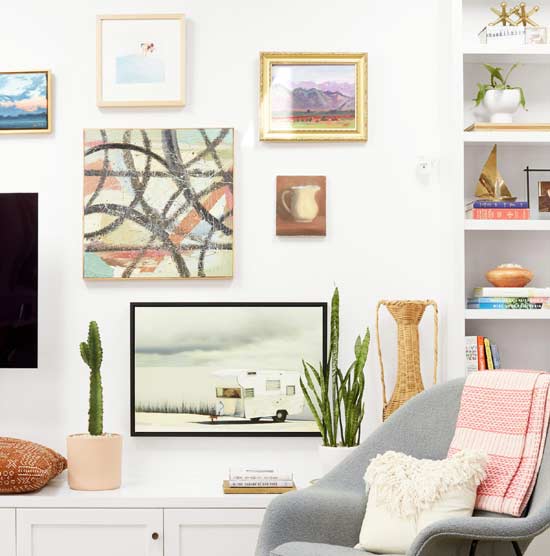 Image credit : bhg.com
Whether you're considering family wall ideas, hanging plants, mirrors, or even fabric hangings, you should always decorate vertically in a small room. Low, wide arrangements will make the space feel small by drawing attention to the lack of width in the room, and by bringing the ceiling down. Instead, opt for a mosaic layout, which uses small-ish pieces added to the wall in an uneven upward and outward orientation. Alternatively, you could consider a single, large piece of artwork which is taller than it is wide. Whatever you decide, always remember that wall art is important when it comes to the finishing touches of a room. The wall décor you choose can, without doubt, make or break the overall aesthetics of any space.
7. Mount your TV/sound system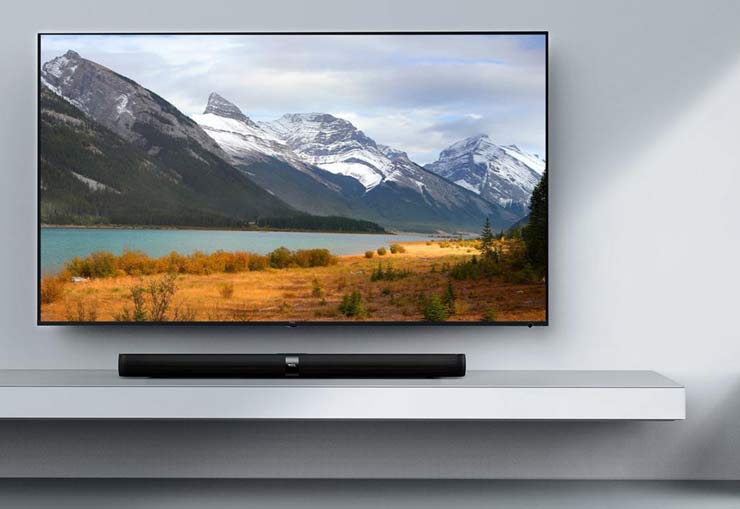 Image credit : uk.pcmag.com
TV's, sound systems, and gaming consoles can take up lot of space in a small living room. Taking the time to mount them on the wall with wall brackets
, or installing shelving on which to place them, can again help you save a huge amount of space. Not only that, but it will keep the room tidy and free up even more floor area. This will make the room appear larger by removing the need for a bulky TV stand or cabinet.
8. Make the most of mirrors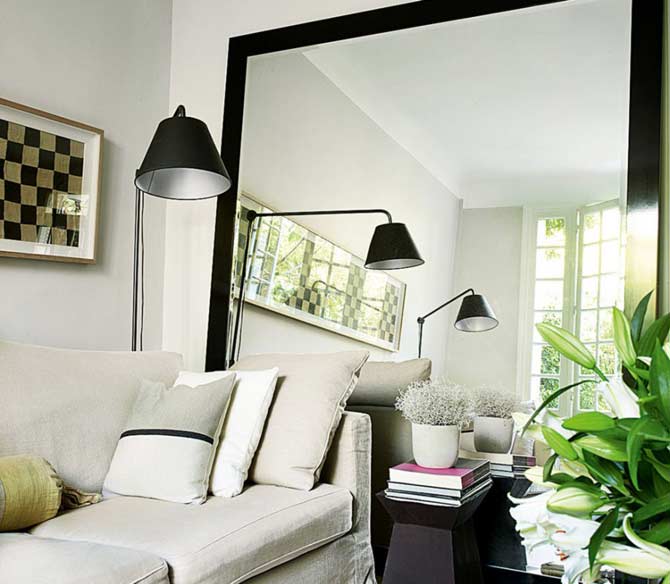 Image credit : Idealhome.co.uk
When you are dealing with a small living room design, carefully placing wall mirrors
in the correct place, will help you to make the most your space. It will create the illusion of extra depth, width and height. This may be the oldest trick in the book, but it is also one of the most effective, and why it is still often used by professional interior designers. If you can, choose extra large mirrors
that takes up most of the free space on a wall. Making sure it is situated to catch and reflect as much of the natural light as possible which shines into the room.
9. Contrast light and dark colours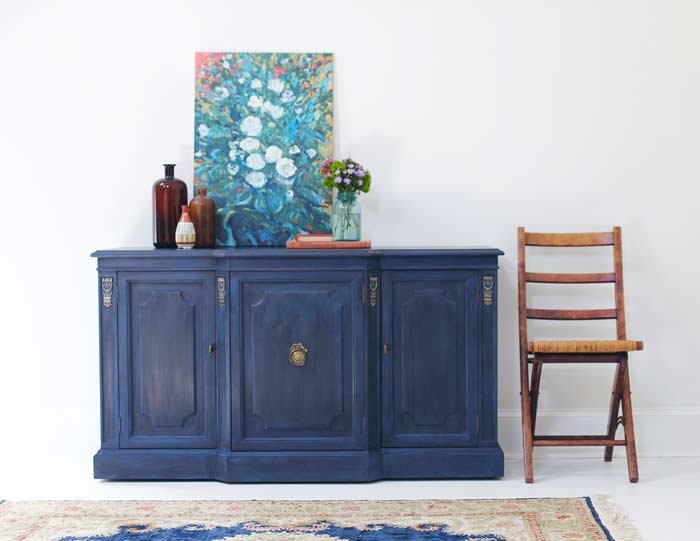 Image credit : asimplerdesign.com
Conventional wisdom dictates that you should use pale or neutral colour schemes in a small room. White, cream, grey, silver, and pale variations of primary colours are most often seen in smaller living rooms. The reason for this is that they make the most of the available light, while dark colours are traditionally avoided. Despite this, contrasting light and dark colours can provide a stunning overall effect. Choosing a light colour such as white or grey for your walls and adding dark accents, for example, by painting furnishings or skirting boards, will give the room more depth and interest.
10. Paint or stain the floorboards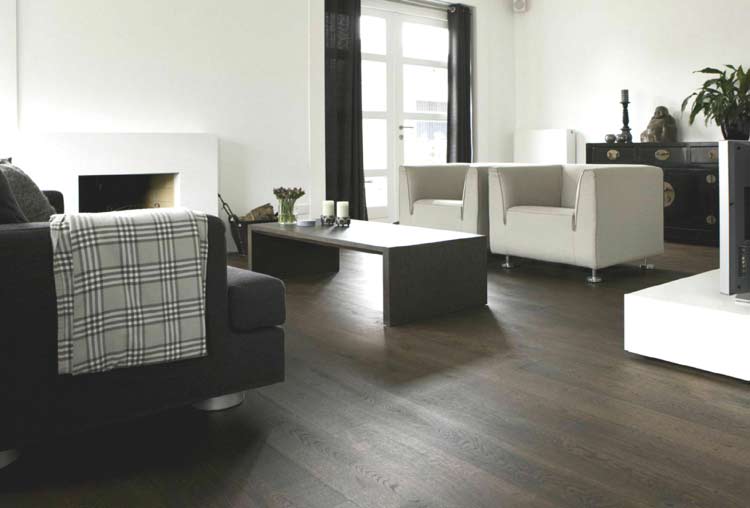 Image credit : decor24online
While a lighter colour scheme is generally recommended when painting or papering walls, flooring, by contrast, should be darker. This serves to maximise the look of the space you have. Especially if your walls are very pale; this will create a aesthetically pleasing contrast. There has been a trend, recently, for painting floorboards black, but for us dark mahogany is a far safer bet if you're not feeling overly brave !
11. Colour block your clutter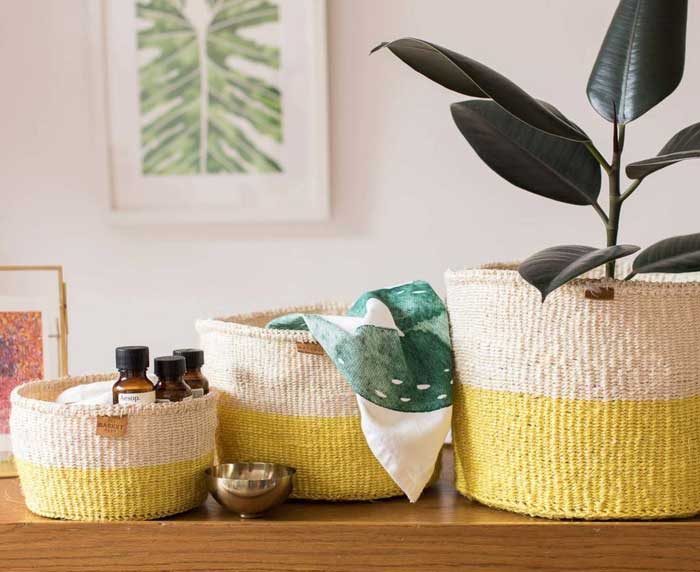 Image credit : Notonthehighstreet.com
A splash of colour is certainly the key to livening up any bland room, but in small rooms, the trick is having the colour but not letting it overwhelm the rest of the décor. This is where 'colour blocking' could be used. For those not in the know, colour blocking is the practice of keeping items of similar colours together. For example, organising your bookcase by colour, or having a block of coloured cushions placed on the couch, will make the room look more organised. It also helps to add layers and depth to the overall décor of the room.
12. Avoid sharp edges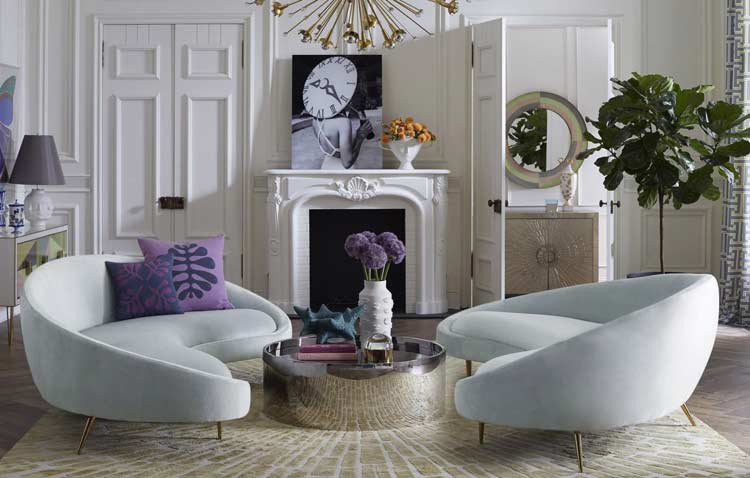 Image credit : blackroosterdecor.com
In small spaces, rounded shapes are preferable. This is especially true when it comes to tables, where sharp edges will catch passing legs. Choosing oval or round tables
will not only make it seem that there is more space in which to move, but it will also actually give you such (even if it's only a small amount extra). Likewise, choosing rounded edges for your seats, couch or decorations, will make the whole room feel a little cosier and more habitable.
13. Choose furnishings with exposed or narrow legs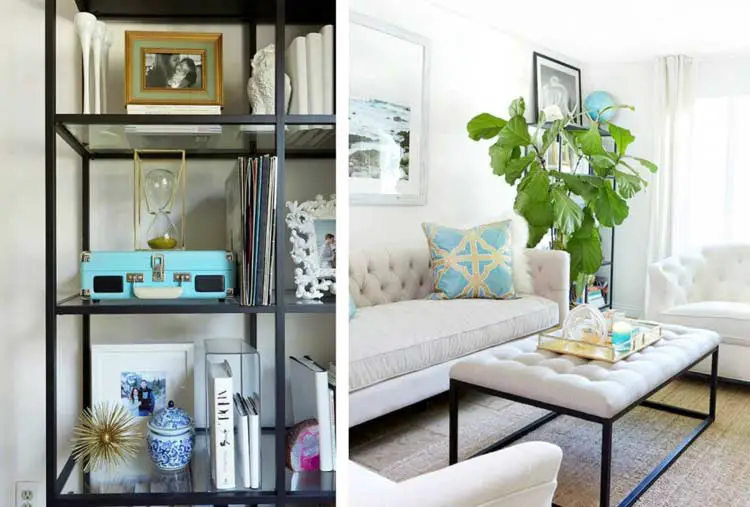 Image credit : Pinterest
Furniture with thin, spindly legs and exposed sides create the illusion of space by allowing us to see through and beyond them. In short, when you have a traditional coffee table or bookcase, the area that they use to function is taken from the room, but so too is all the space that they cover. When you choose an open, thin-framed bookcase or coffee table, you can still see the walls behind and the floor underneath them. While this makes no practical or functional difference, it does give the illusion of more openness.
14. Try mirrored or glass furniture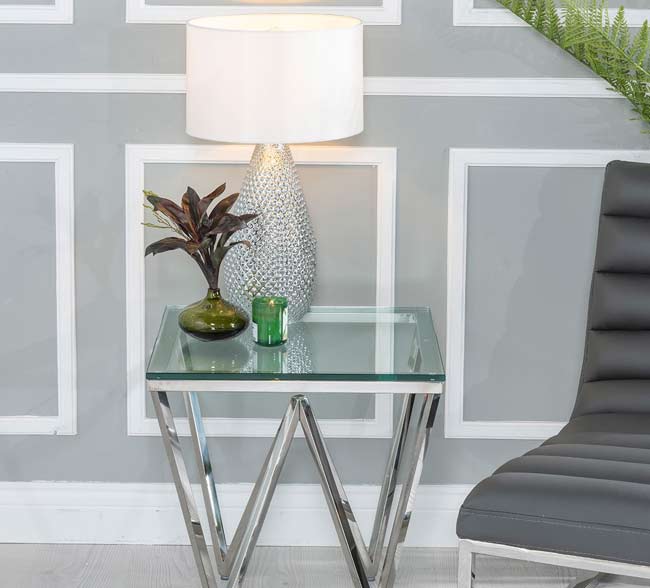 Image credit : choicefurnituresuperstore.co.uk
As you may be beginning to gather, the furnishings you choose for a smaller room are very important. Just as thin-legged furniture creates the illusion of space glass-topped furniture
can do the same. Adding mirrored furnishings will create interesting optical illusions, and brighten the overall feel of the room. This happens as they reflect and refract the natural light. The downside, of course, is the fact that glass and mirrored furnishings require far more upkeep. They will need to be polished and dusted regularly to remove finger prints and other marks. Otherwise, they will simply draw attention to themselves and away from your room, which is not what you are trying to achieve.
15. Add some greenery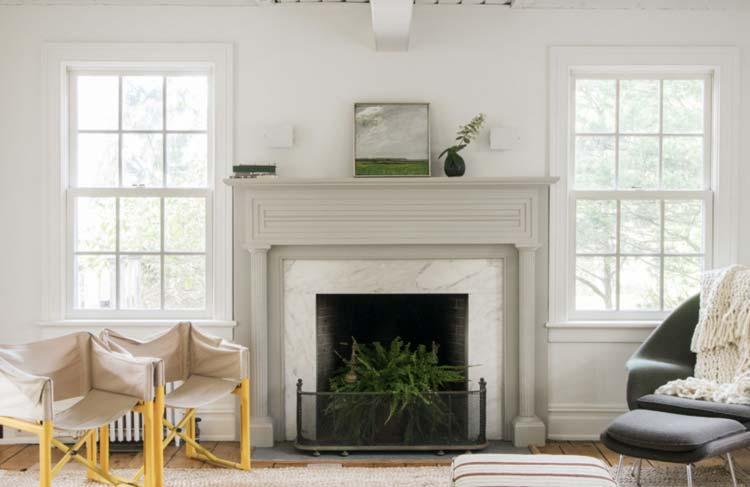 Image credit : Pinterest
This advice may, once again, seem to go against tradition, but there are always exceptions which prove the rule. With interior design, plants, more often than not, are this exception. Studies have shown that having plants in a room not only elevates your mood, but it's also good for your health. Putting scented plants on a window sill, for example, will fill the room with a pleasant, natural scent, especially with a breeze from an open window. If you have 'negative' space, too, plants are a good way to fill this. Negative space, for those who have never heard the term, is empty space which cannot be easily utilised for anything else. A good example of negative space is a non-functioning fireplace for instance. Adding plants of different sizes to various places in the room will provide extra visual depth, freshen the air, and lift your spirits.
16. Use the room corners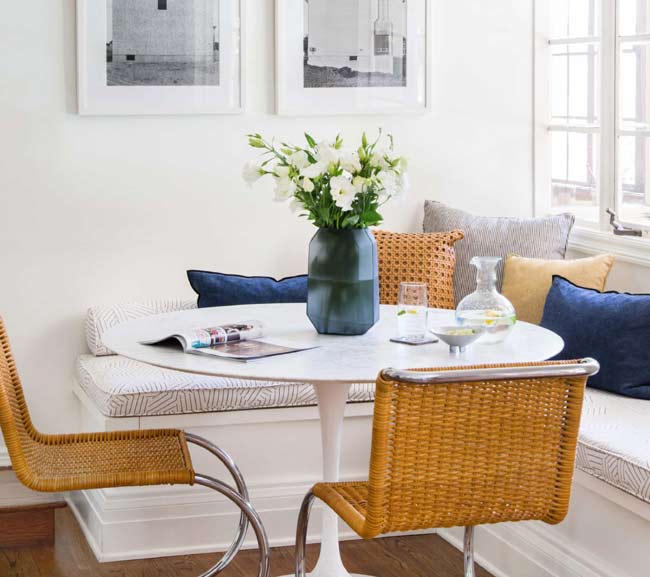 Image credit : yellowbrickhome.com
Many people will tell you to keep furnishings away from the walls but, once again, there are exceptions to this rule. If you have a small living kitchen space that also doubles up as a spare room, consider using one of the corners to create a cosy reading nook. For example, a corner booth style seat placed against the wall accompanied by a low coffee table (preferably facing a window) will give you a sense of openness but with complete privacy. The perfect place for you to unwind and feel separate from the rest of the room, even though it isn't.
17. How to arrange a small living room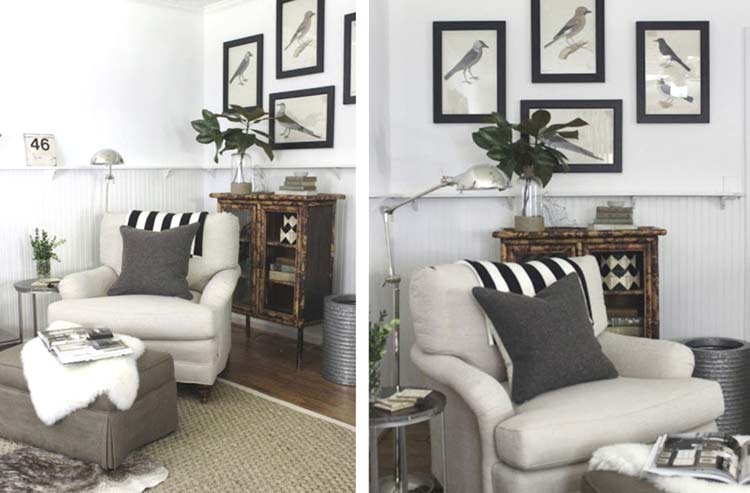 Image credit : Pinterest
Sit your furniture, especially seating and tables, at an angle rather than being parallel with the walls. This will not only make the room a little cosier and lived-in, but it will also allow for more flow when you move around the room. Furthermore, by angling your furniture in a way which allows you to move around it and behind, you will benefit from the illusion of more space.
18. Small living room lighting ideas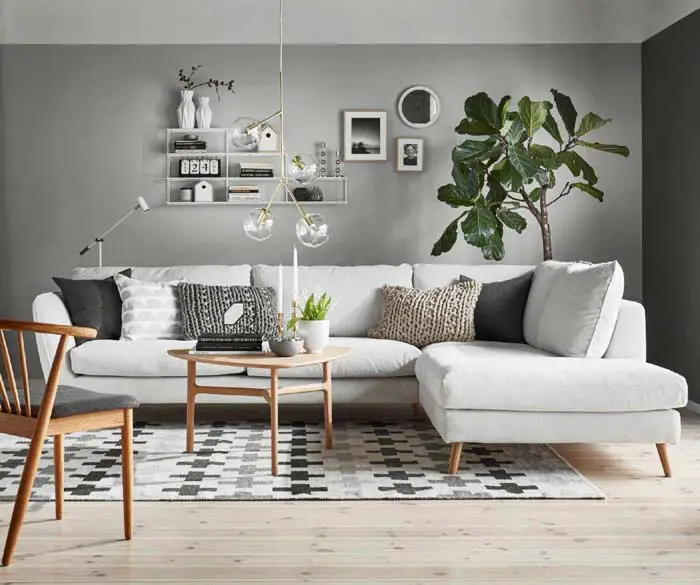 Image credit : Pinterest
Spotlights fitted into the ceiling, wall-mounted lamps, floor lamps, and the classic hanging shade in the centre of the room. These are some of the many options when it comes to living room lighting
. Whatever you choose, make sure that light is evenly distributed throughout the room. If you don't do this, you will find that shadows will make the room look and feel much smaller than it actually is. You could also consider a clear shade if you have particularly low ceilings, this will obviously allow the light to radiate much better.
19. Take advantage of high ceilings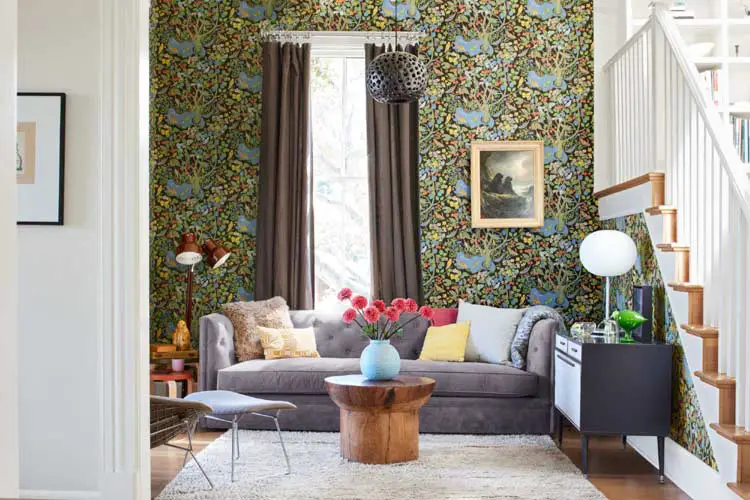 Image credit : hips.hearstapps.com
Some rooms, although small, have the benefit of having high ceilings. If your living room benefits from this, you should definitely make the most of it. Tall storage units, multiple shelving options, and light fittings which reflect and refract light, should be high on your list of must-haves. Anything which draws the eye up, and saves you floor-space, is instrumental in maximising space in any small room ! You could even add extra greenery to your room by having hanging plants dangling from the ceiling.
20. Make use of architectural anomalies
Image credit : windowfits.com
Indentations, protrusions, and strange shapes are very much a feature in small homes, especially in period properties, and they can make decorating a real nightmare... unless you use them to your advantage. When you have a sizeable indented area, like an alcove, try putting furniture such as sideboards and sofas into that area to save floor space. Bay windows, in particular, can be a gift for small spaces. Placing a chair or small sofa into it, or investing in a bespoke box seat with storage, will save a lot of space within the main floor area and give the illusion of having more space.
Your Room, Your Rules
Above and beyond all of these small terraced house living room ideas, you should decorate your room in a way that pleases you and makes you happy. After all, this is your living space, no-one else's; if you prefer solid, wooden furniture, choose that. If you would rather have an oversized sofa, have one. These ideas are just that - ideas. You can always offset any pieces or choices that make the room feel small with other alterations discussed ! If you have now got a thirst for more inspiration and ideas, to help with the other rooms in your home, check out these 25 simple house décor interior ideas.