When it comes to decorating your home and choosing paint colours, wallpapers or other decorative items, we all have our preferences and tastes concerning colours and colour combinations.
Purple is certainly not everyone's first choice for use in your rooms colour schemes, however, it can be a stunning base or accent colour and you may be surprised by just which colours work well in combination.
Disclaimer: As an Amazon and Wayfair associate, we do receive a small commission from qualifying purchases made via links within this article.
The colour purple is derived from mixing red and blue, two of the three primary colours, the other being yellow.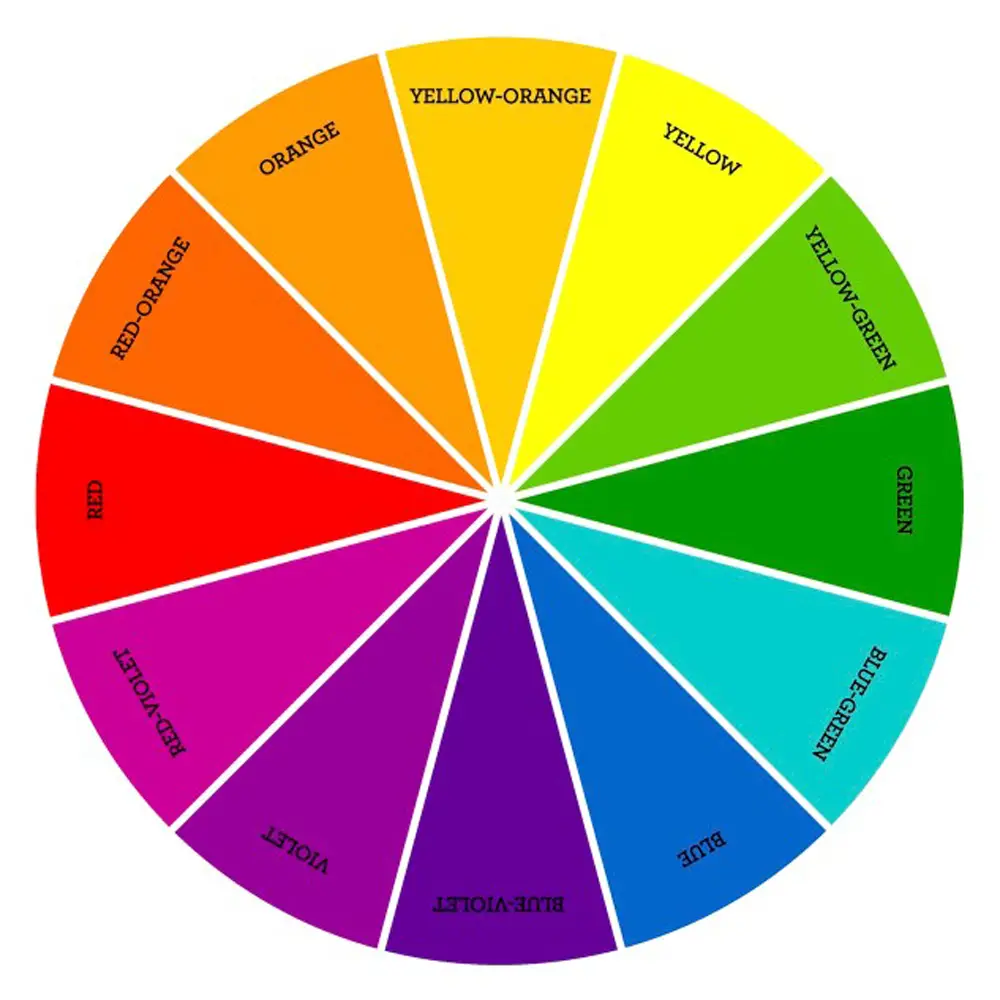 The colour chart above shows exactly which colours go well with purple and how they look against each other in a simple colour palette. So to answer the question 'What colours go with purple', according to colour theory, the answer is red, blue, yellow, green and orange. However, that doesn't mean that other colours won't also work well with various shades of purple, like violet and lilac. These are grey, silver and pink.
To show these combinations in reality, I have compiled examples of various rooms that use these colours in different tones to great effect.
Purple Living Room Ideas.
Using purple shades in your living room, whether that be on the walls, in the furniture, or simply as an accent colour, can add a rich sophisticated and modern look to your space.
There are many different tones and shades of purple to choose from, so finding the right one for you is crucial. The first thing to decide is whether you wish to go bold, by using a deep or vibrant purple, or more subtle, by using a soft light violet or pastel lilac shade.
Pink and Deep Purple Living Room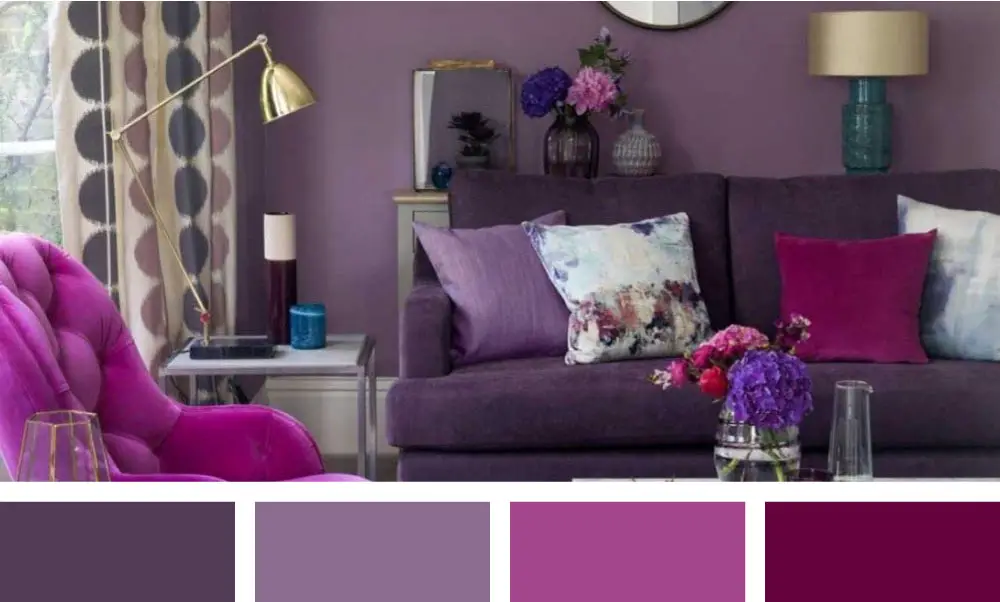 Image credit: sebringdesignbuild.com
This first living room design shows just how well different shades of purple and pink can work together to create a cohesive decorative finish.
The sumptuous deep aubergine sofa sits perfectly against the soft purple shade of the painted wall behind, while the regal pink armchair and cushions complement the colour combination perfectly.
Finally, the addition of the white cushions with flashes of all the colour accents within the room is a nice touch that brings the whole scheme together.
Silver and Purple Opulence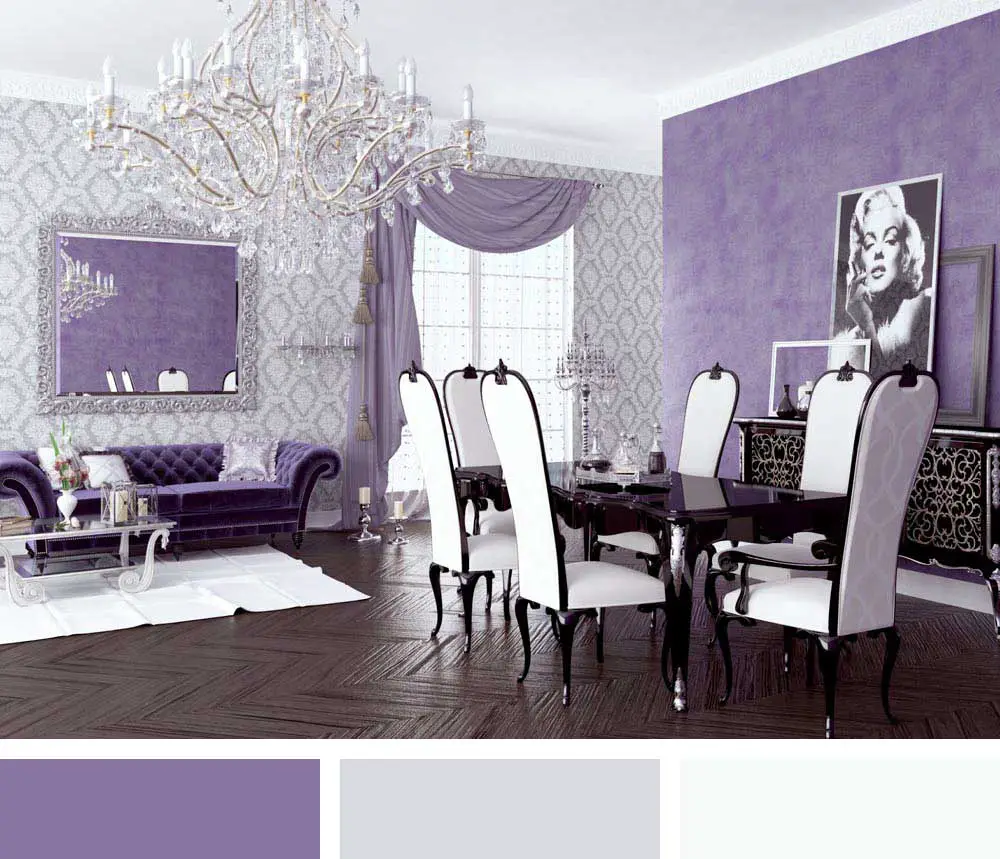 Image credit: wordpress.com
When it comes to room interiors, silver and purple are classic colours due to their rich opulent look, especially when paired together.
The extravagant chandelier, large detailed mirror and coffee table all carry an elegant silver finish, whilst the bold feature wall and purple curtains possess the same muted shade of purple.
For me, this room shouts glamour and opulence with abundance! This would not be possible without the use of purple in this interior design scheme.
Colourful Living Room Decor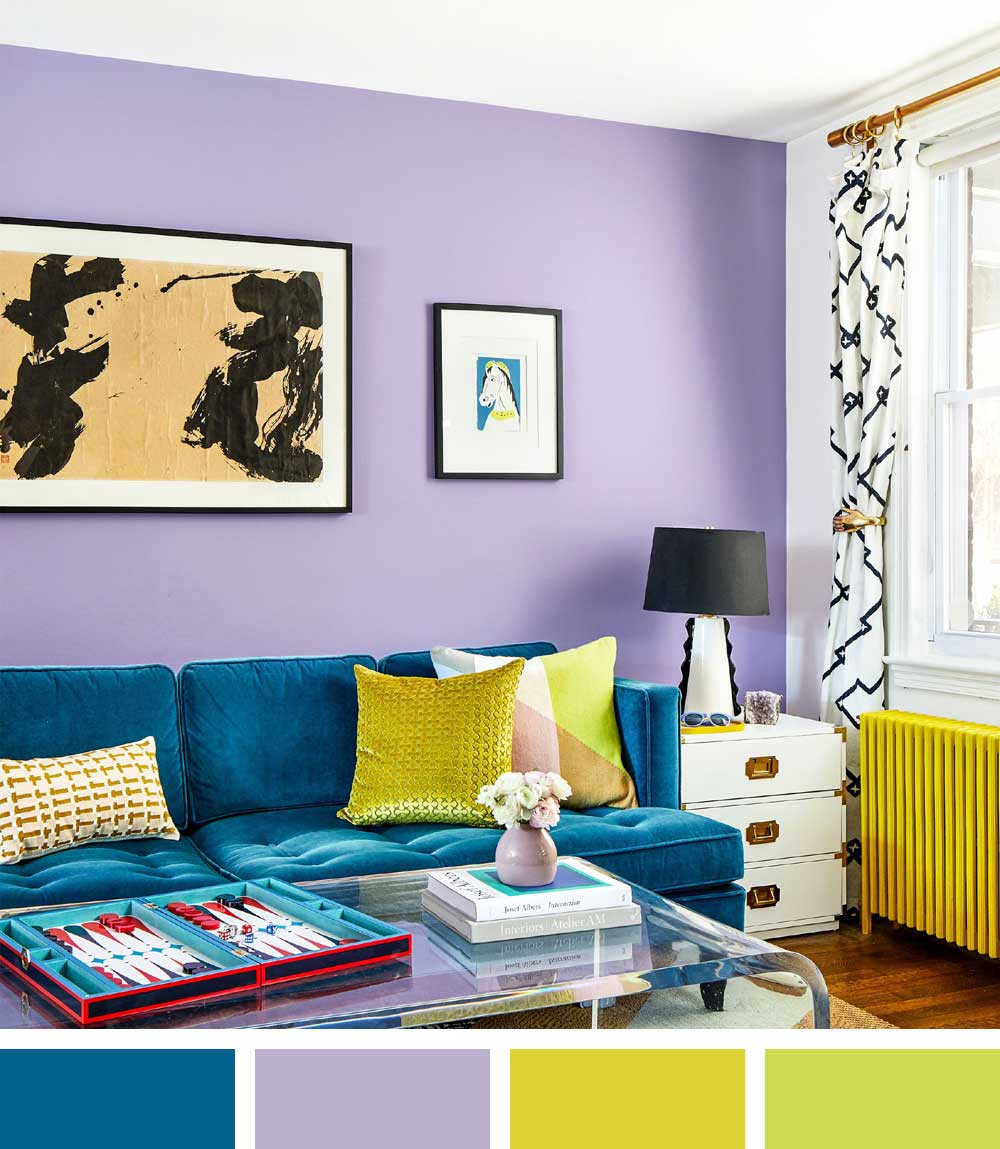 Image credit: pinterest.com
If you love bright shades and bold colours, like the pale lavender walls and soft French blue of the sofa, you'll love this vibrant, colourful living room design. If you hadn't seen these colours together in this photo, you wouldn't believe that they could work together. But they do!
By not being scared to go all out and use a number of the colours shown on the colour wheel, the finished effect is a beautiful blend of primary and complementary colours that work beautifully together.
Chic Floral Living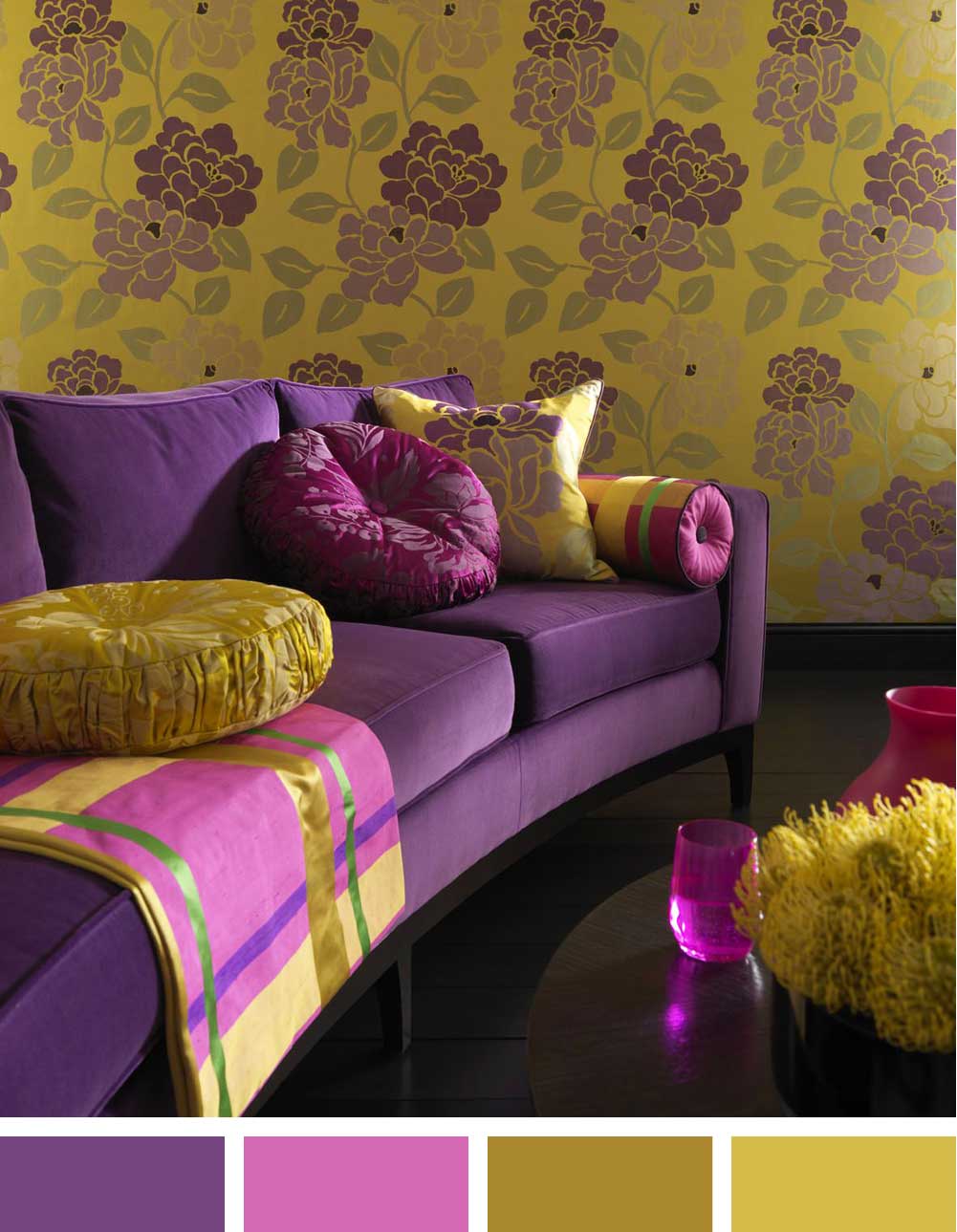 Image credit: pinterest.com
The floral wallpaper alone is a bold statement to make in this relatively small living space. Most people may be tempted to pare this down with white or cream-neutral furniture, but that is not the case here! They have gone all in and added this stunning curved royal purple sofa, adding accents of pink, yellow and gold within the throw and cushions, to further raise the opulent feel.
Simple Modern Colour Flash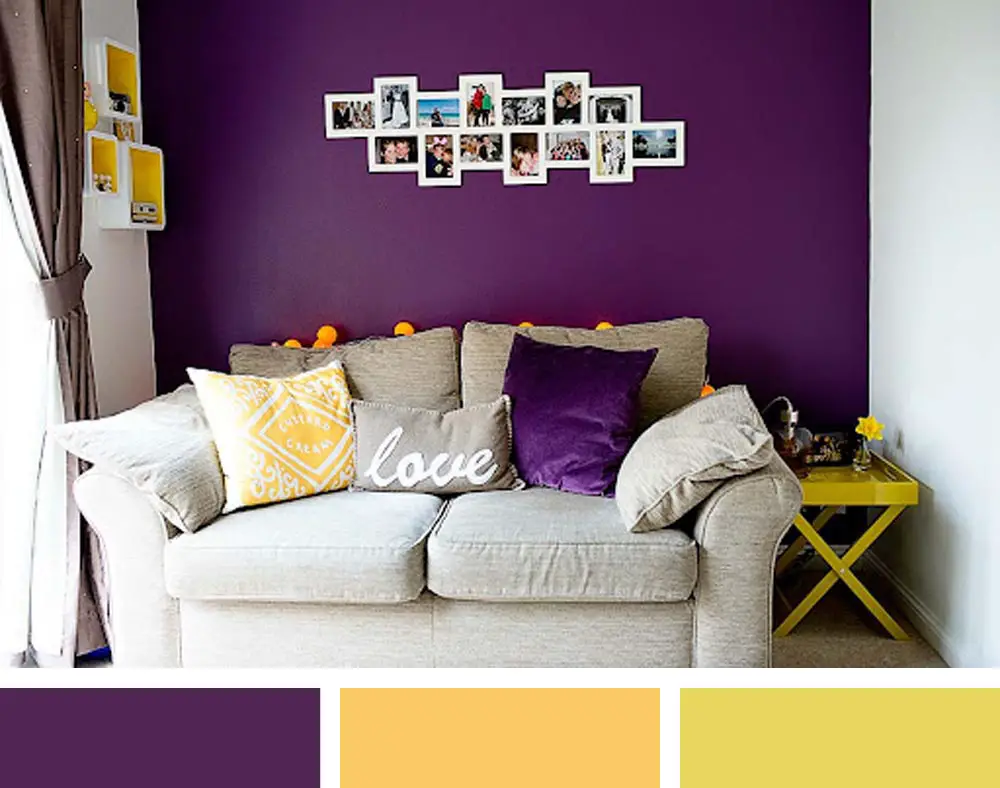 Image credit: katieellison.co.uk
With a small area like this, you are limited in what you can do to stop it from being just another bland and boring space. However, the homeowner has done exactly the right thing by adding this eggplant tone bold purple accent wall, which has been matched to the same darker shades of the deep purple cushion.
The mustard yellow side table, orange cushion and wall shelves, along with the matching purple cushion, all subtly tie the design together perfectly. I think it is fair to say that a magnolia wall just wouldn't have done this room justice!
Purple and Yellow in Nature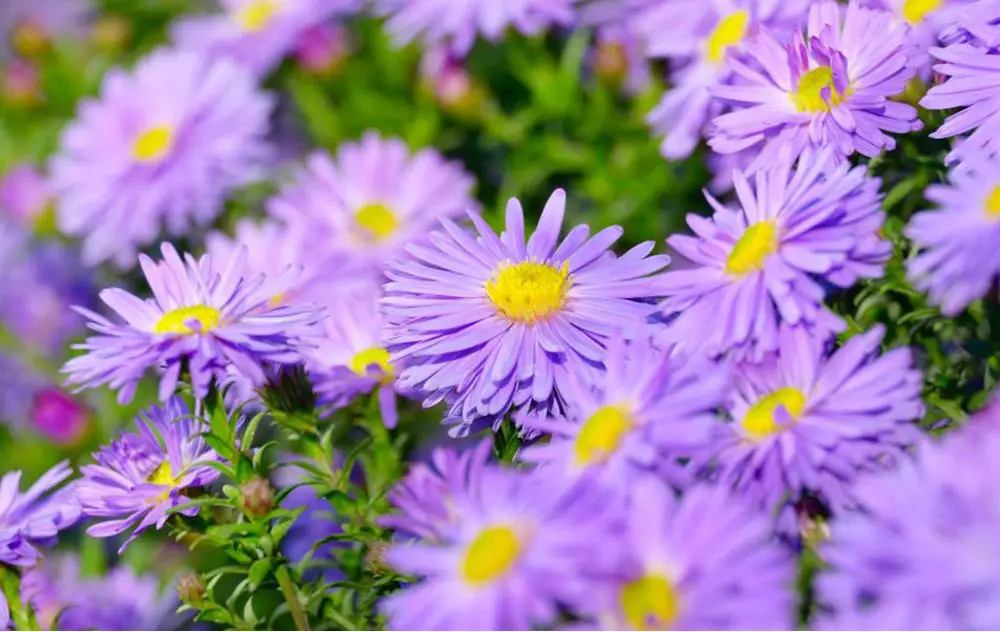 Image credit: coloursexplained.com
These beautiful purple and yellow flowers show how nature uses this pairing of colours together impeccably.
If these naturally occurring colours work harmoniously in nature, they will most definitely work in the home too.
Rich and Vibrant Cosiness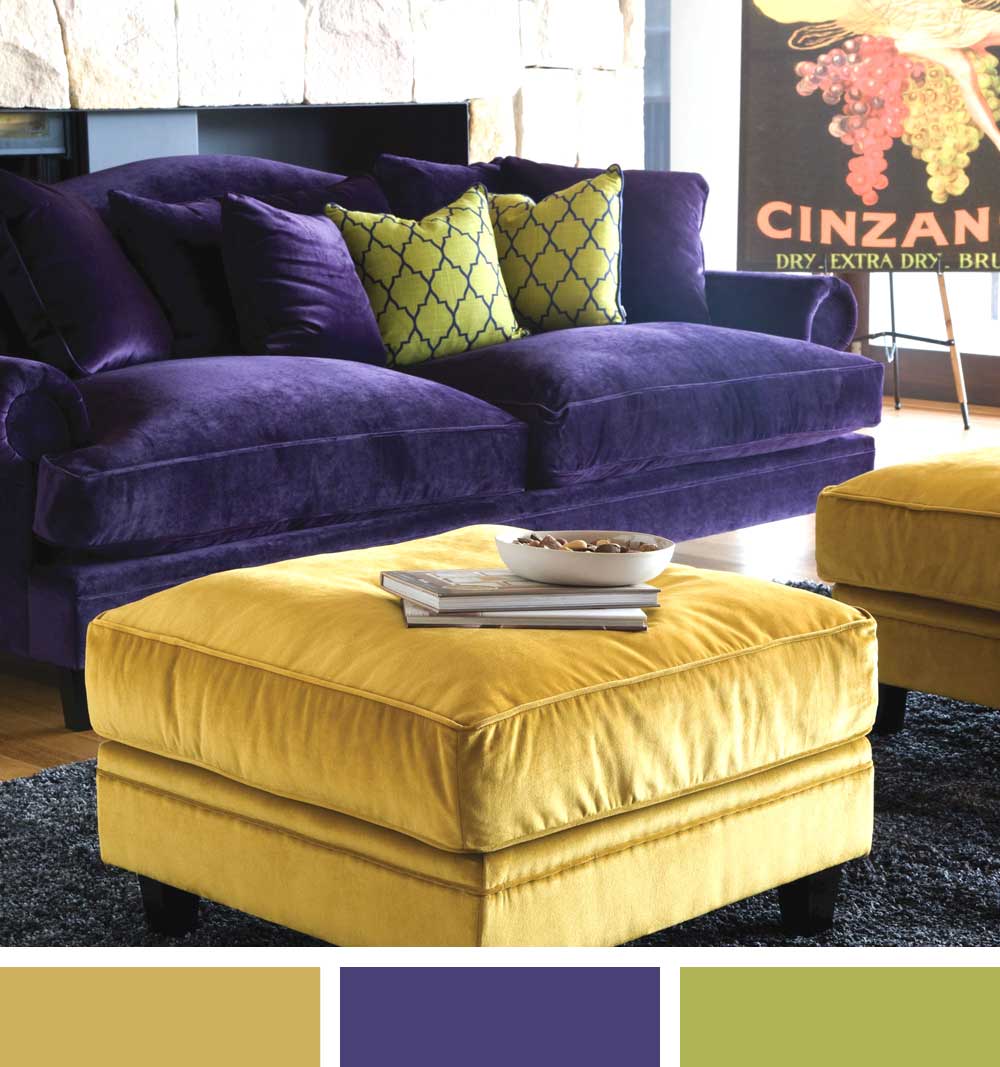 Image credit: pinterest.com
Another great example of how well purple and gold work together in harmony, creating this luxurious but comfortable and cosy living space.
The splash of green in the cushions breaks up the gold and purple palette and works particularly well against the deep plum purple of the sofa.
It just goes to show that it is not always about adding bold colours to walls, ceilings or skirting boards whilst keeping the furniture neutral. This room turns that theory on its head and it is a triumph of cool modern design.
Grey and Purple Living Room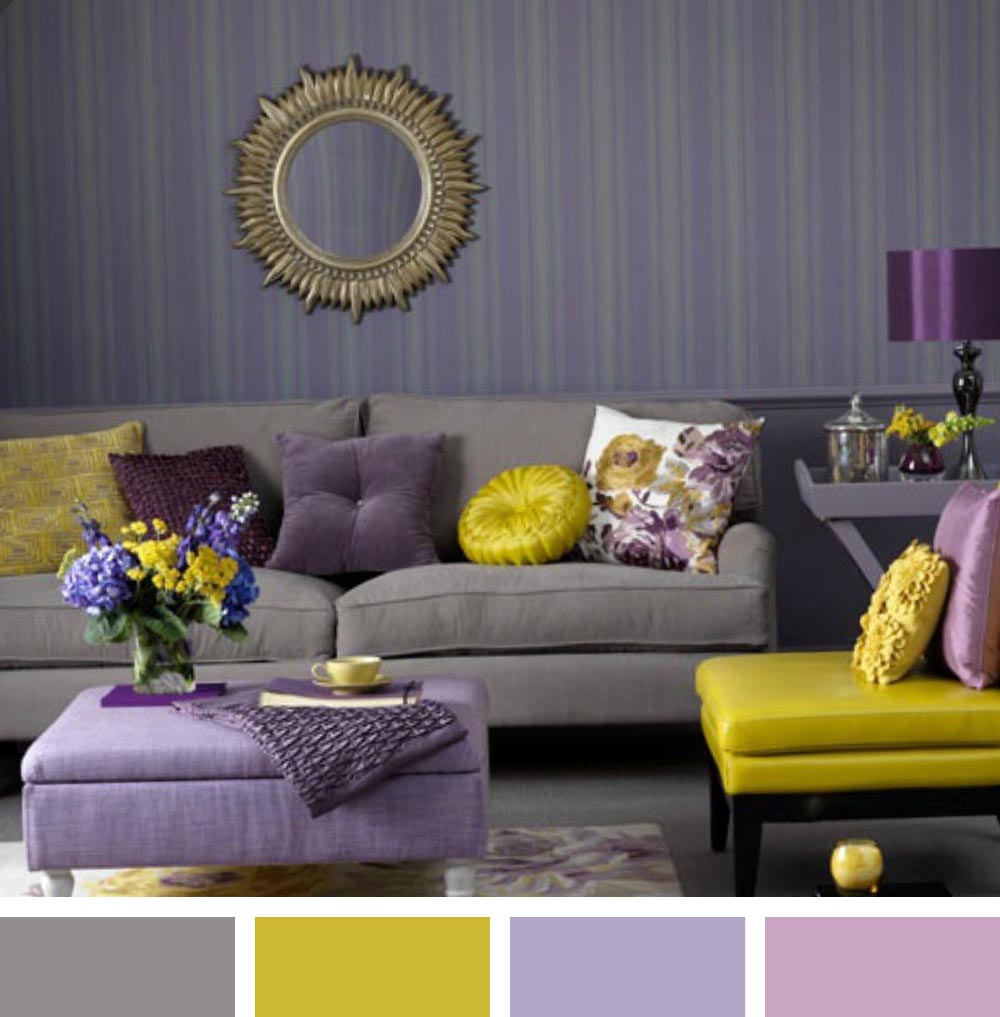 Image credit: wallpapertip.com
A large neutral grey sofa has been used as the main focus of this room, with the main splashes of colour coming from the purple and grey striped wallpaper, footstool and gold seat cover.
As shown by this room alone, grey sofas are very versatile in the colours that they can be paired with. Click here for my blog on colours that go with a grey sofa.
The colour combinations of grey, gold, light purple and lavender in the furniture, wallpaper and accessories all work in perfect unity, creating an elegant style in this stunning living room.
Purple Bedroom Ideas.
Purple, when used in bedrooms, is often associated with children's rooms, particularly girl's bedrooms. However, as you will see from the following examples, this certainly isn't always the case.
Traditional Purple and Blue Bedroom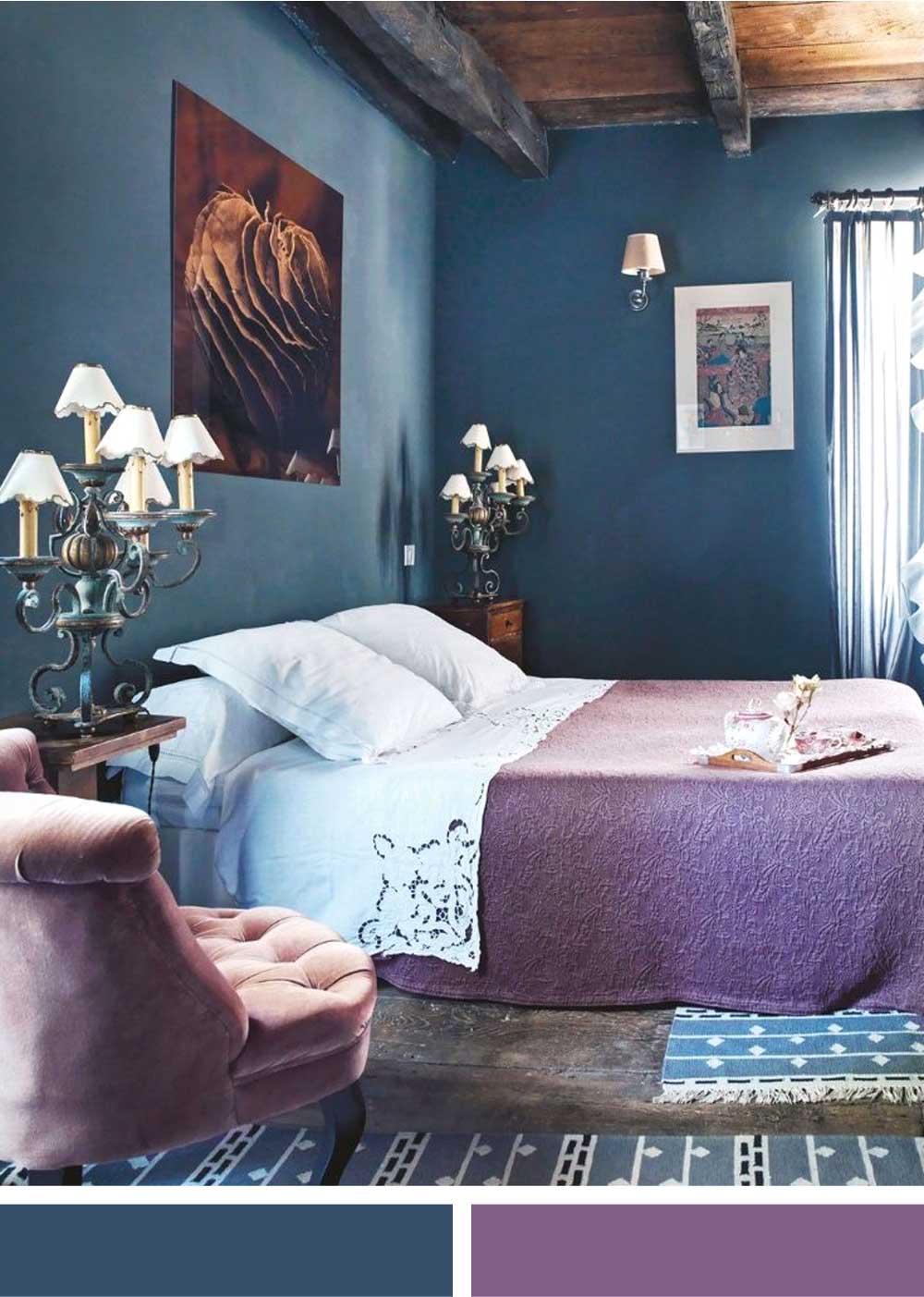 Image credit: pinterest.com
I love the deep blue tone of the wall colour in this traditional Mediterranean-style bedroom design.
The pink chair and vintage purple/lavender bed cover pair perfectly with the light navy blue walls and contrast crisply with the pretty white bedding.
The blue in the rugs brings the whole room together and creates just the right balance of colours.
Girls' Pastel and Purple Bedroom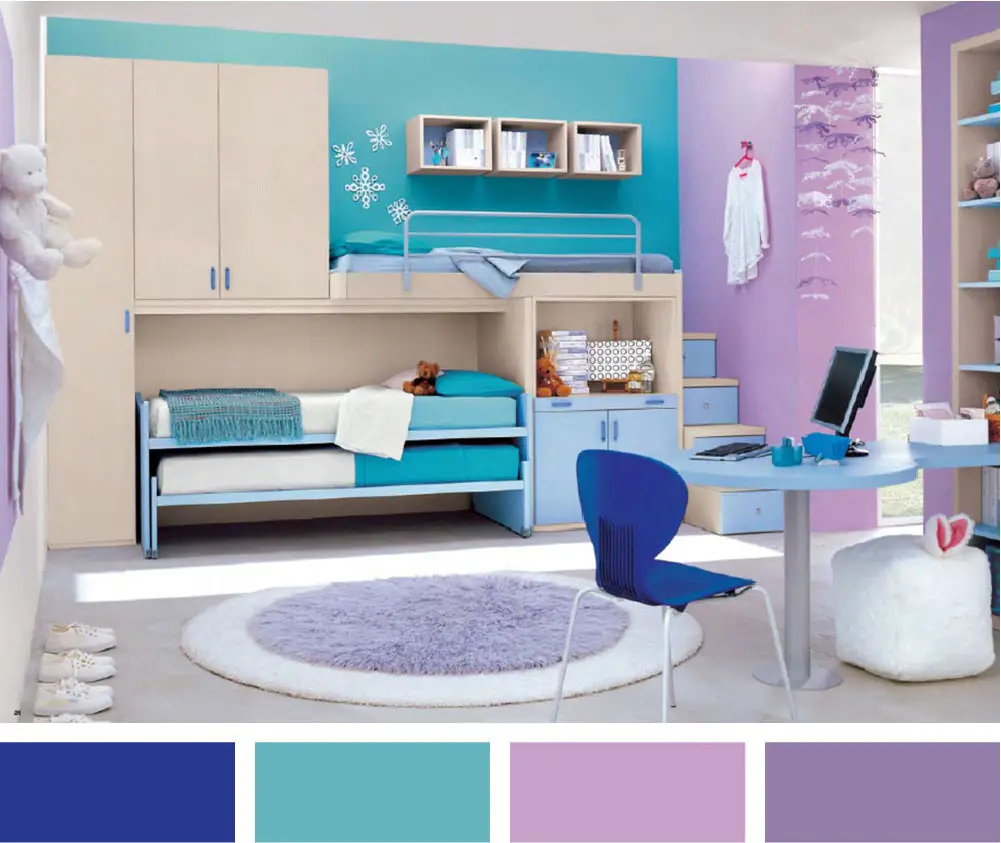 Image credit: pinterest.cl
The basis of this bedroom's interior design is, without doubt, the feature teal and violet walls which butt crisply against each other in the corner of this room.
The light sky blue of the furniture components complements the walls perfectly and adds a nice colourful contrast.
The space is finished with a simple navy blue seat and accents of teal and lavender in the rug and bedding, tying the whole theme together.
Bright Red, Blue, Purple and Green Bedroom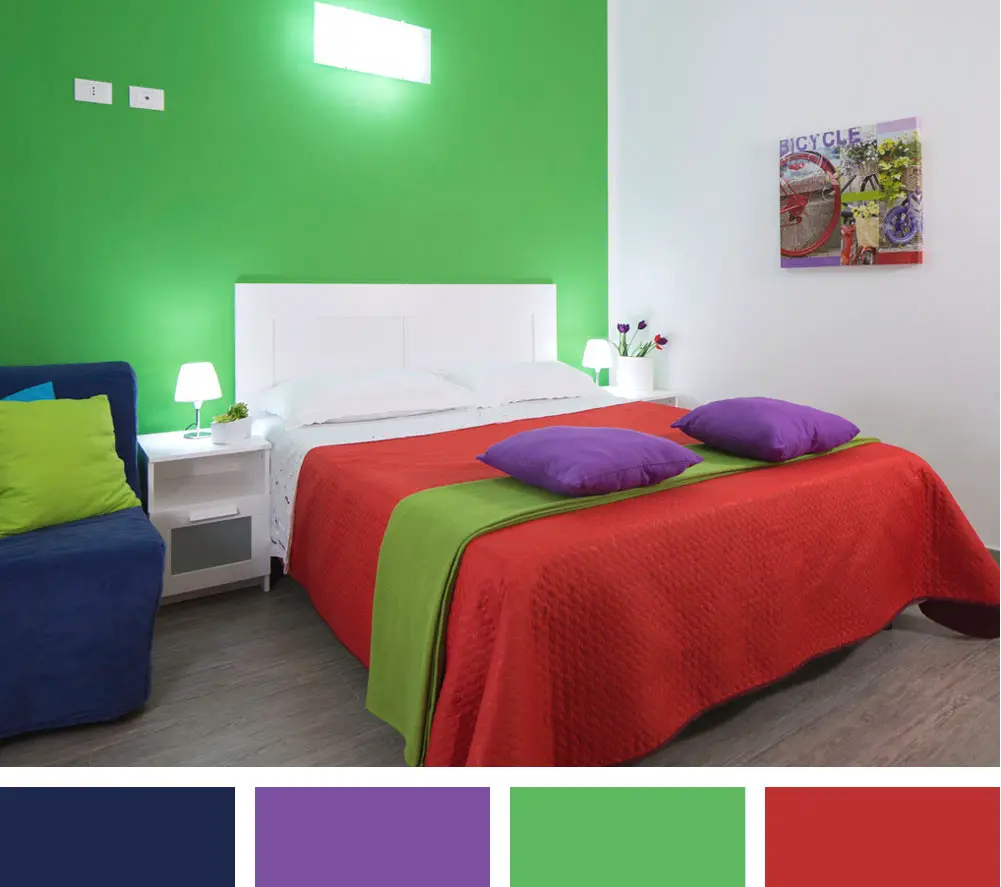 Image credit: arricampati.it
Sunglasses at the ready, this room certainly makes a statement! Although very bright and colourful, the royal blue, green, red and purple have been used in just the right mix.
The bright white in the headboard, bedsheets, side tables and other walls helps to pair back the brightness and just about stop the colours from being too overpowering.
A neutral wooden flooring has been used throughout so as not to add yet another colour into the mix, nicely finishing off the bedroom space.
Girls' Pink and Purple Bedroom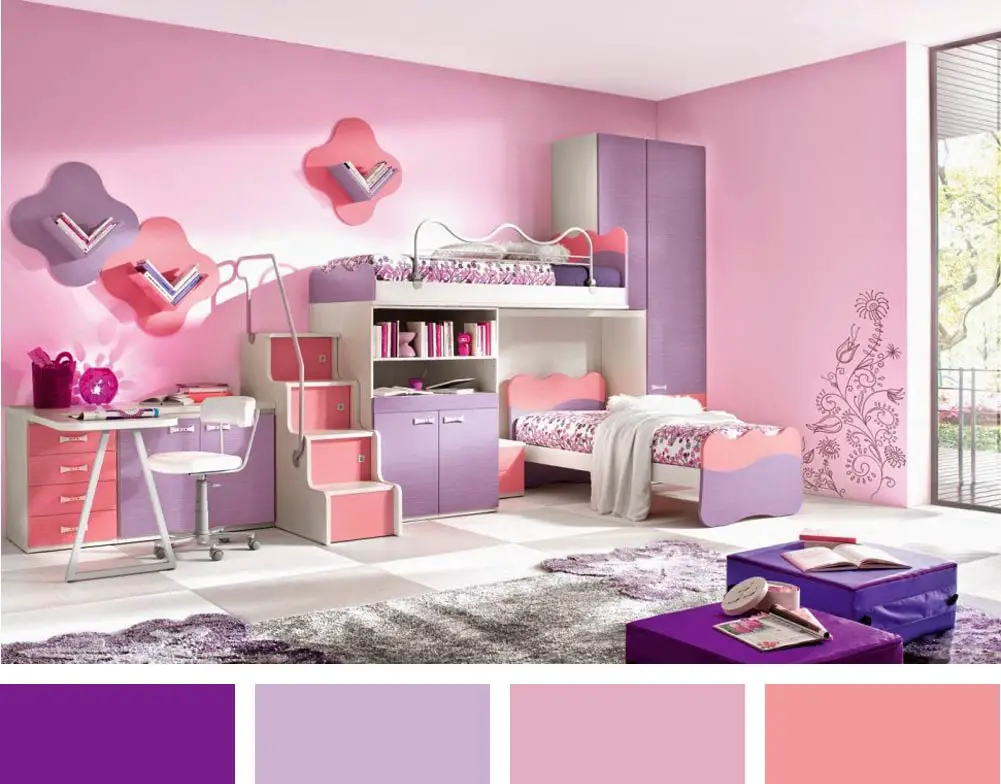 Image credit: laperla-london.com
Any girl would adore this large and airy pink and purple bedroom, especially with the amount of space that is available to play and run around in. The soft pink of the walls is the ideal backdrop for the white, pink and purple furniture elements, while the rugs and work boxes all add to the overall colour palette perfectly.
Boys' Purple and Orange Bedroom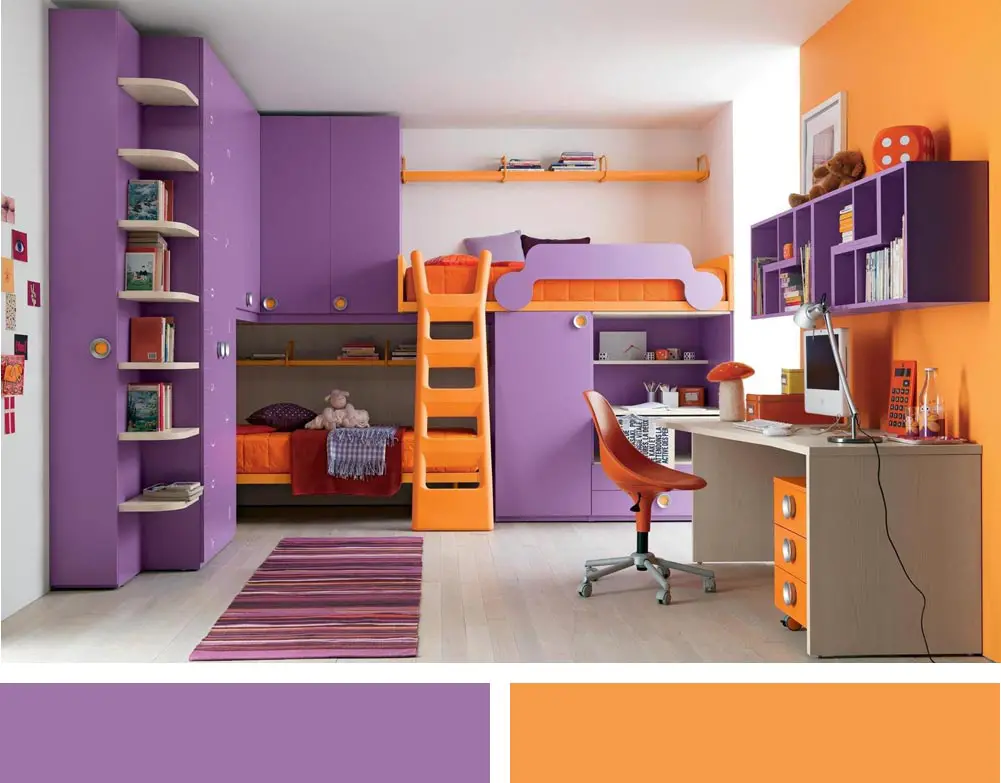 Image credit: pics.design
Purple and orange are a winning colour combination for a younger boy's bedroom. The designer of this space has mixed and matched them perfectly with thought and design in mind throughout.
The orange wall with attached purple storage unit and cool stripy rug, neatly pairing purple and orange together, are the final flourishes that take this room to the next level.
Although the purple and orange used are both bright colours, just the right amount of them has been cleverly designed into this interior design theme, creating a harmonious look. In addition to this, white walls form the majority of the backdrop to tone down the overall effect.
Purple and Orange in Nature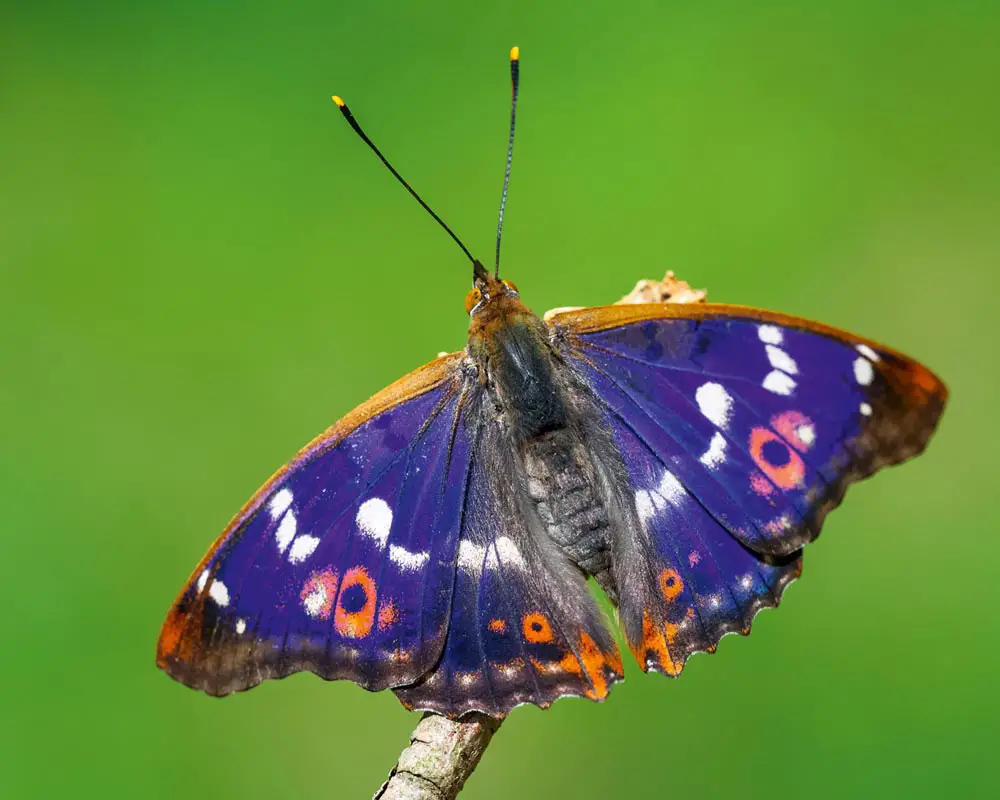 Image credit: countrylife.co.uk
These images of a beautiful butterfly and stunning purple and orange flowers show just how well, when paired together, these colour combinations work in nature as they do in home interiors.
The deep purples and lighter graduated shades of purple sit in perfect contrast against the beautiful bright oranges for an intimate peek at how awesome nature can be.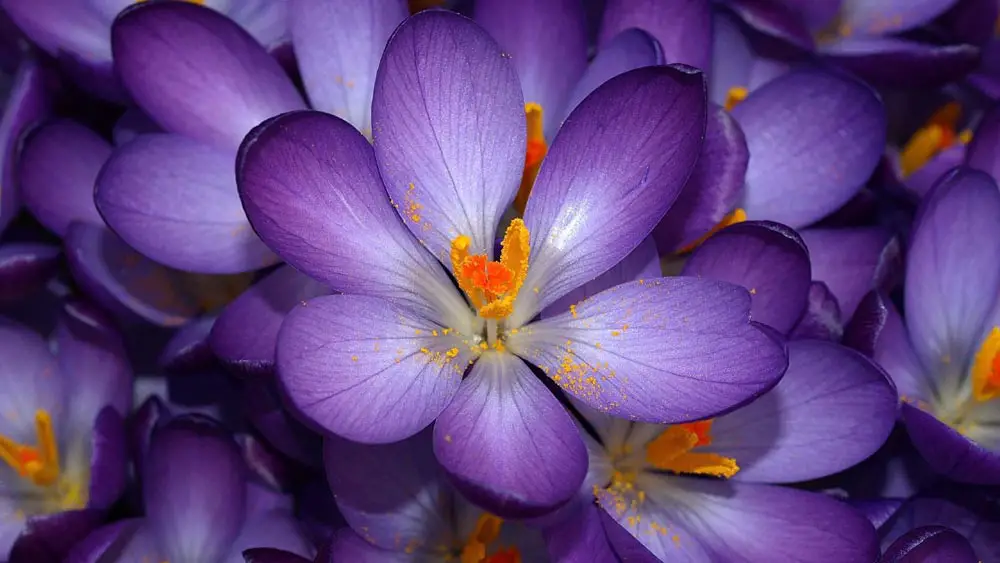 Image credit: pinterest.dk
Simplistic Purple Bedroom Decor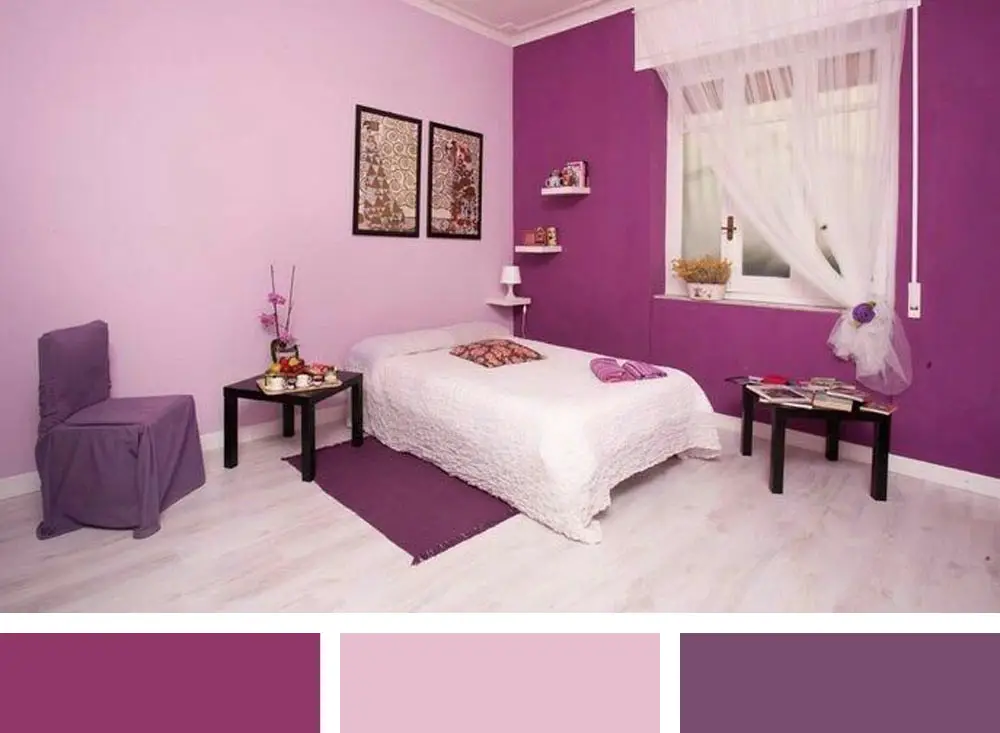 Image credit: pinterest.com
This space is a typical size and shape for many of us today and this example shows how you can add colour to create elegance and take your room to another level.
From a design point of view, there is more that can be done, but as far as colours are concerned, the lilac and plum combo on the walls works perfectly in combination with the lavender accents.
Carrying on this theme is the purple chair cover and rug which equalise the colour balance.
Stylish Mint and Purple Bathroom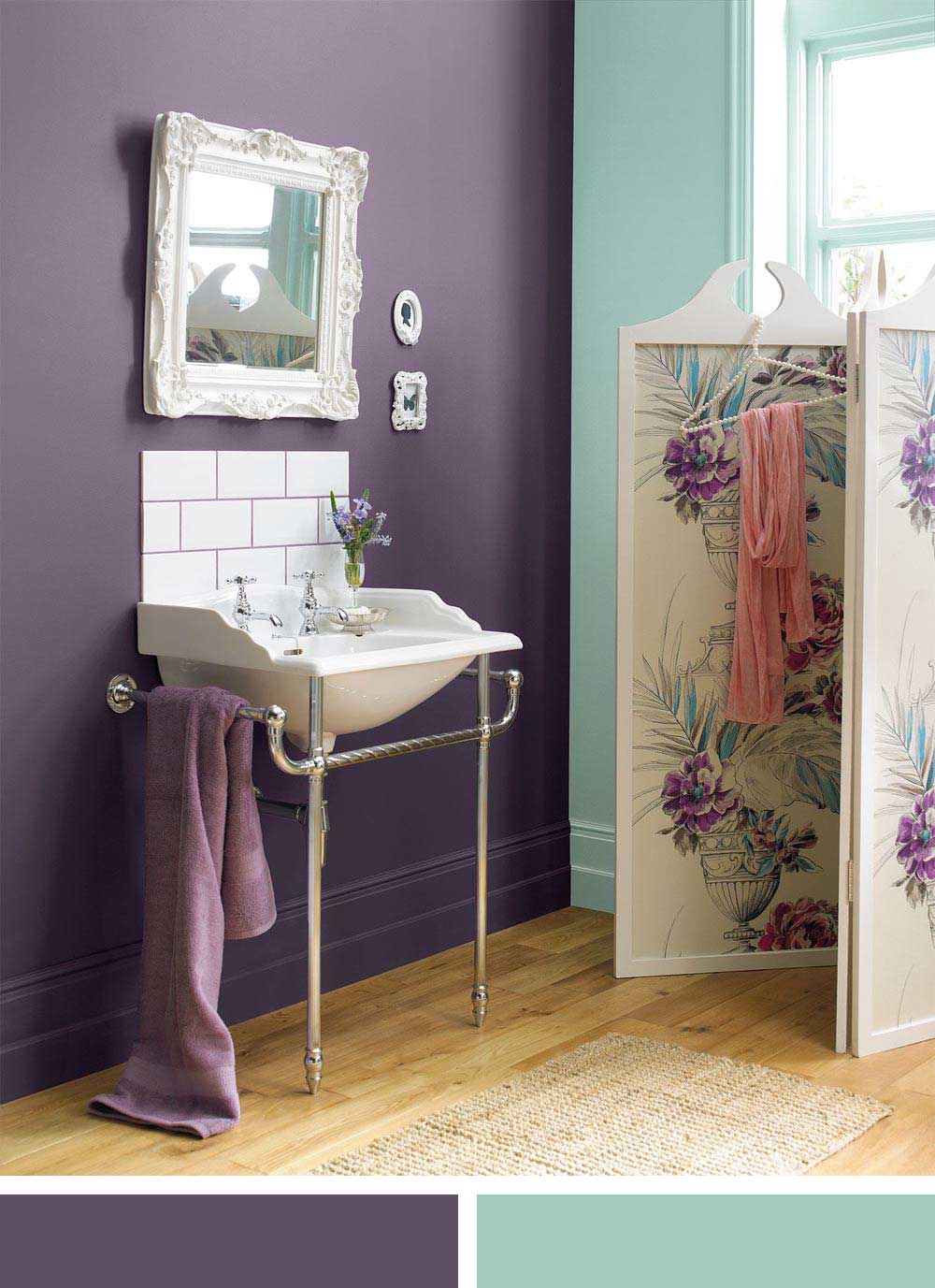 Image credit: pinterest.com
As colour combinations go, these mint and aubergine purple walls, side by side, is one of my favourite.
Mint is a cool, calming colour which works best in a bathroom setting as opposed to other rooms in the home.
The whole style of this bathroom space screams 1950s glamour. The deep purple walls are mirrored in the towel, while the purple and mint in the screen carry on the colour scheme and finish the look off exquisitely.
What Colour Goes With Purple Walls?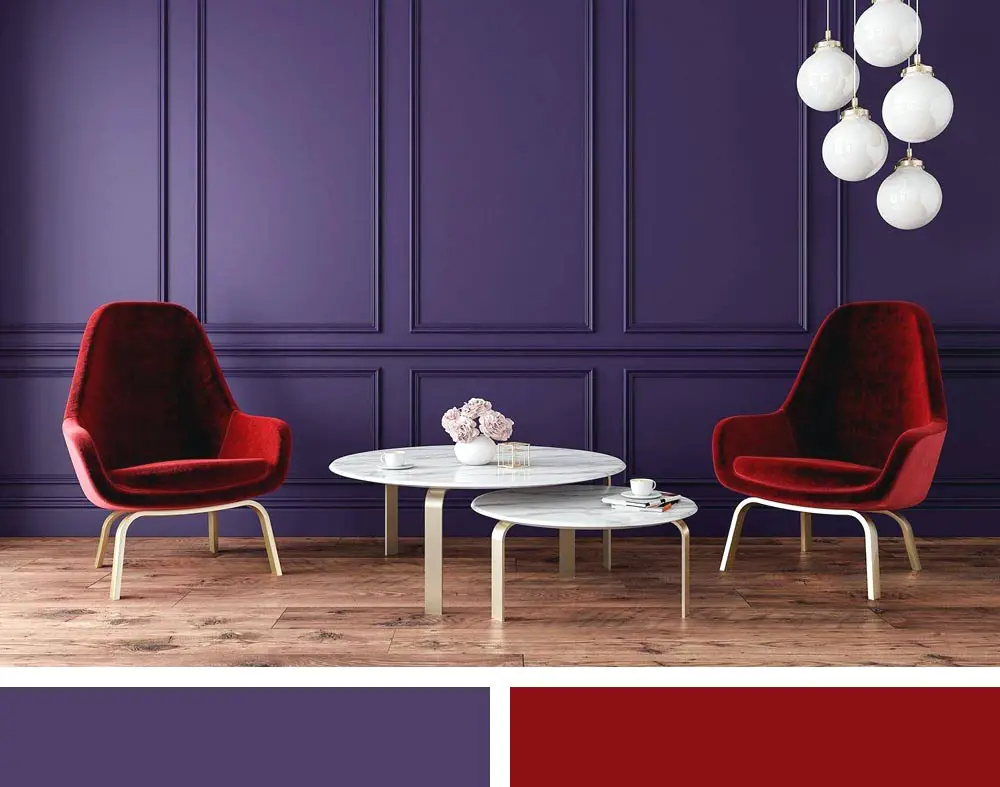 Image credit: lavskastory.com
So, let's get to the last question that I need to cover, 'What colour goes with purple walls ?' The simple answer is, that any colour will go with a purple wall. The colour you choose though depends on how brave you are feeling and whether you want to use different tones and shades of purple in a subtle way, or complimentary colours from opposite ends of the colour wheel like orange, yellow or green.
Whatever colour or colours you decide to put with purple, have fun with whatever you choose and try to push your ideas and designs outside of your comfort zone.
After all, you can always start again should it go wrong!
Frequently Asked Questions
Does purple go with blue ?
Yes, purple and blue will indeed complement each other and create an appealing colour combination. Both colours belong to the cool side of the colour spectrum and therefore work together harmoniously, especially when the particular tones are chosen carefully.
Purple and blue share similar undertones, with blue being a primary colour and purple being a secondary colour created by combining blue and red. This similarity in undertones is what allows them to blend well together. Depending on the specific shades and intensities chosen, the combination of purple and blue can evoke calmness and serenity.
Does grey go with purple ?
Yes, grey and purple can create a stylish colour pairing. Grey is a versatile neutral colour that can complement and enhance the richness of various shades of purple.
The key to successfully combining grey and purple is to consider the specific shades and tones of each colour. Lighter shades of grey, such as dove grey or silver, can create a soft and elegant backdrop for shades of purple.
On the other hand, darker shades of grey, like charcoal or slate grey, can provide a strong and dramatic contrast when paired with vibrant or deep shades of purple, such as royal purple or eggplant.
What colours go with purple furniture ?
When pairing colours with purple furniture, you have several options for creating a harmonious look. Colours such as white, grey, and beige, for instance, provide a neutral backdrop that allows the purple to stand.
Soft pastel colours such as light pink, mint green, and lavender create a gentle and more soothing atmosphere.
For a bold statement, consider contrasting colours like yellow, orange, or green. The blue shades which lay adjacent to purple on the colour wheel, such as royal blue or periwinkle, create a calming effect, whereas metallic accents like silver, gold, or copper add glamour and opulence.
What colour goes with dark purple ?
Dark purple can go with various other colours. Here are some possible options:
Light Grey: Light grey offers a sophisticated contrast, allowing the purple to stand out as the focal point while maintaining a contemporary look.
Cream or Beige: Cream or beige tones create a warm and inviting atmosphere, complementing the dark purple and adding balance and softness to the space.
Gold or Brass: Metallic accents in gold or brass add luxury and opulence to dusky purple, creating a regal ambience that complements its richness.
Teal or Turquoise: Pairing dark purple with teal or turquoise creates a bold and vibrant contrast, infusing the space with energy and depth.
Pale Pink: Light or pale pink creates a delicate and feminine look when combined with deep purple, striking a balance between richness and softness, resulting in an elegant and romantic aesthetic.
Is purple a good colour for a living room ?
Purple can certainly be a good colour choice for a living room, depending on your preferences and desired atmosphere. It is associated with luxury, creativity, and spirituality, so will bring a unique and bold element to the space.
Consider the following factors when deciding if purple is suitable for your living room:
Tonal Variations: Purple comes in various shades, from deep and rich to lighter and more serene tones, allowing you to create different moods within the space.
Complementary Colours: Pair purple with neutrals like white or grey for balance, metallic accents for glamour, or contrasting colours like yellow or green for vibrancy.
Lighting: Natural and artificial lighting can influence how purple appears, so test different lighting conditions to achieve the desired effect.