It's often asked, 'What is the best way to decorate a small bedroom?'. Do you keep the room decor minimal, to make the most of the small space, or get creative and use clever design tricks to make the room feel as large as possible? Well, I am here to help!
When it comes to decorating ideas for a small bedroom, it can sometimes be difficult to get all the elements right. I have therefore collated some of the best small bedroom ideas that you can use for inspiration and tips, whether it be for a toddlers bedroom, teens room or a little used guest room.
Disclaimer: As an Amazon, Awin and Wayfair associate, we do receive a small commission from qualifying purchases made via links within this article.
Basic Tips for Decorating a Small Bedroom
These are my top tips to follow when it comes to decorating small bedrooms.
1. Paint the Walls a Different Colour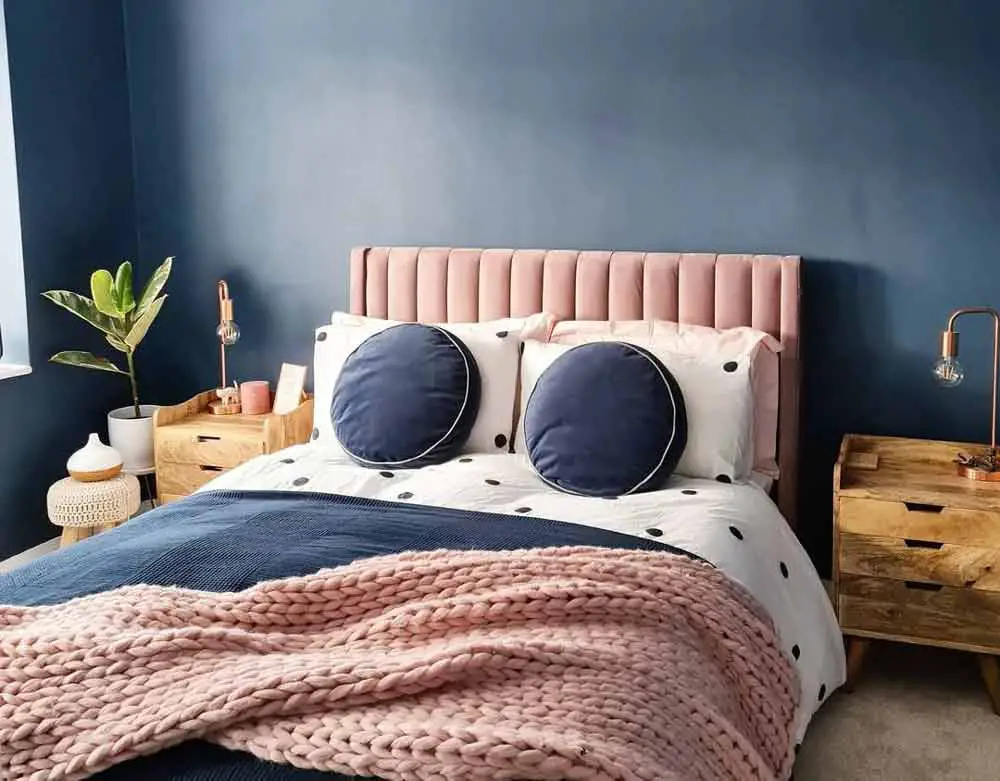 Image credit: extraspace.com
One of the easiest and most dramatic small bedroom decorating ideas to add colour and change the overall look is to paint the walls.
When choosing a wall colour for a small space, opt for something light and bright if you want to make the room feel larger, or you could go dark to create a cosy and more enveloping space.
If you're not sure where to start, try looking through our best small bedroom ideas for inspiration. Once you have an idea of what you want, head to your local hardware store to pick up some paint samples.
Make sure that you test out a few colours on your wall space before making your final decision. You certainly don't want to repaint the whole room if you don't like the finished result!
We have written another article on bedroom wall ideas that you may find useful.
2. Use Light Colours Throughout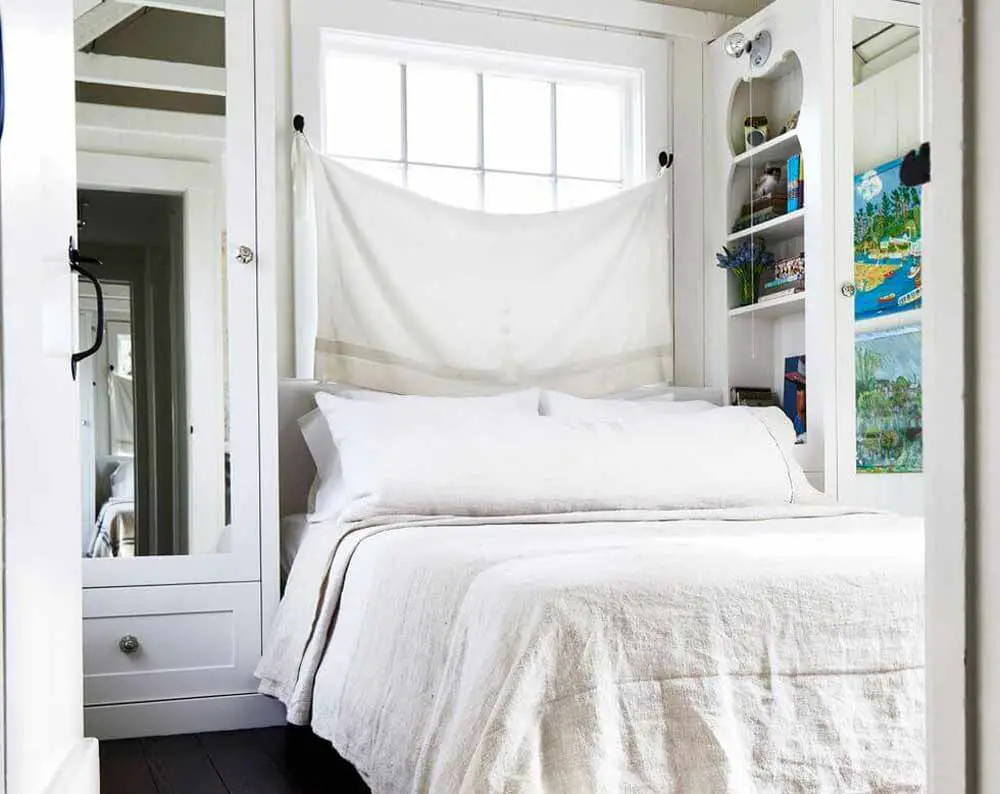 Image credit: donpedrobrooklyn.com
When it comes to small bedroom ideas, light colours are your best friend. White, creams and beige are great if you like a more neutral palette, or maybe pale shades of blue, green, or lavender, if you want more colour. All of these can make a room look and feel larger and more airy.
If you're set on using a darker colour within the decor scheme, try using just one of the walls as an accent wall or introduce dark furniture or accessories. This will break up the dark areas of decor and make the room feel less oppressive.
You may also like...
3. Add Mirrors to your Small Bedroom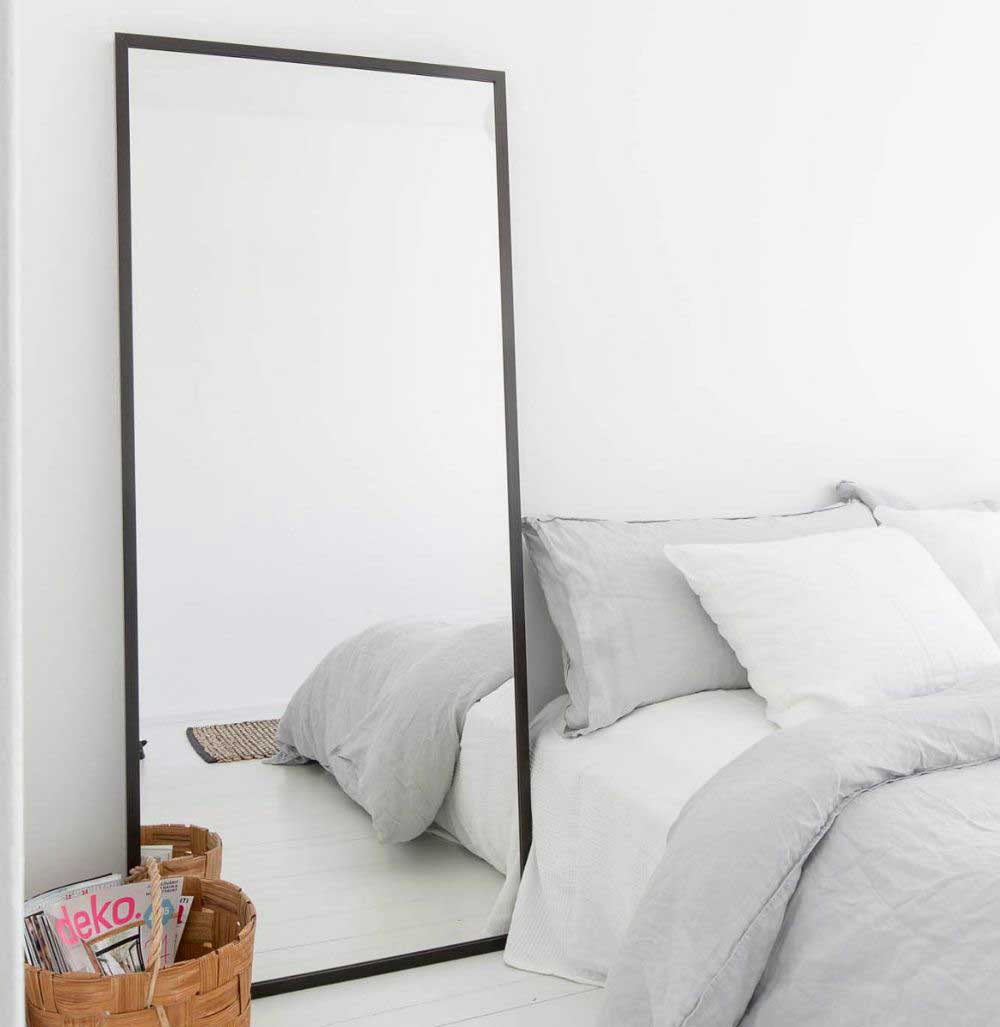 Image credit: pinterest.com
If you wish to make a small bedroom appear larger, simply add a few mirrors. Mirrors reflect the existing light around the limited space and make the room appear visually brighter and more open.
Place a mirror on the wall opposite a window to reflect the most amount of natural light back into the room. Or, try hanging a large mirror on one wall to create an even greater illusion space.
In addition to making the room appear larger, mirrors also add visual interest. Try hanging a group of small mirrors with different shapes and differing sizes for a truly unique look. Or, use a decorative mirror as part of your wall art display.
We have written a guide to hanging wall mirrors that may be of interest to you.
4. Be Strategic with Furniture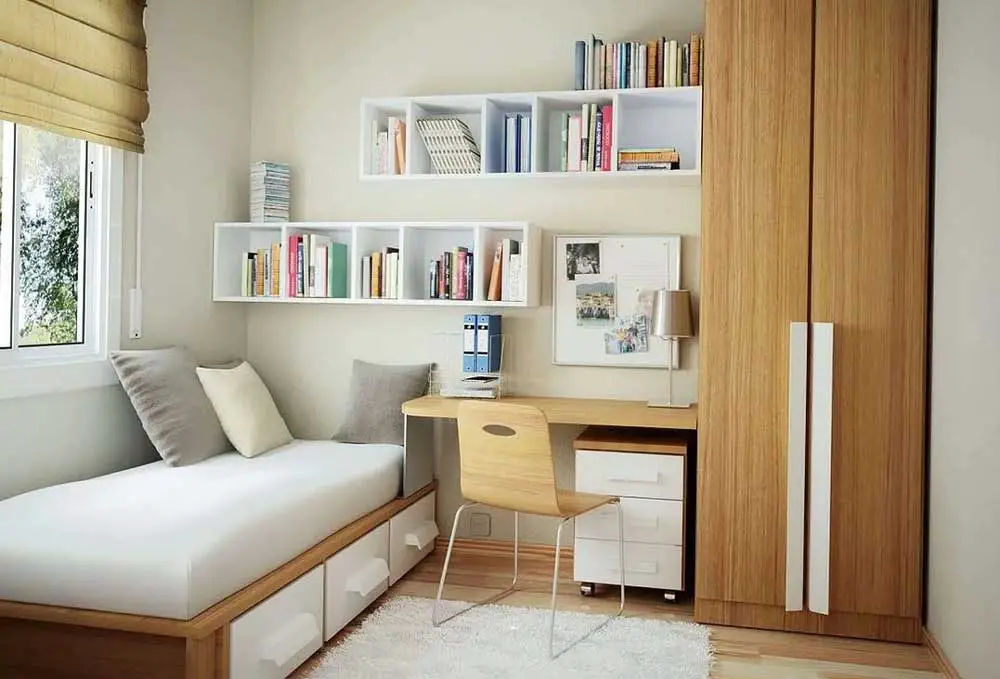 Image credit: indonesiadesign.com
When thinking about small bedroom ideas, being strategic in the way you utilise the floor space with furniture is key to maximise space. Every piece of furniture should serve a purpose and be functional in some way.
Multi-purpose furniture is another ideal solution for small bedrooms, as it not only serves multiple purposes but also helps save space. For example, a daybed can be used as both a sofa and a bed, while an ottoman can provide extra seating or even double as a coffee table.
Affiliate Link
Bed frame drawers, shelving, wardrobe space, ottoman beds and other wall-mounted storage solutions are all good ways to create adequate storage, as far as small bedroom ideas are concerned.
It's also important to choose the right scale of furniture for your space. Small spaces can feel cramped and cluttered if you either have too much of it, or the furniture pieces are too large in comparison to the bedroom.
You may also be interested in...
Medium and Small Bedroom Dressing Table Ideas
Affiliate Link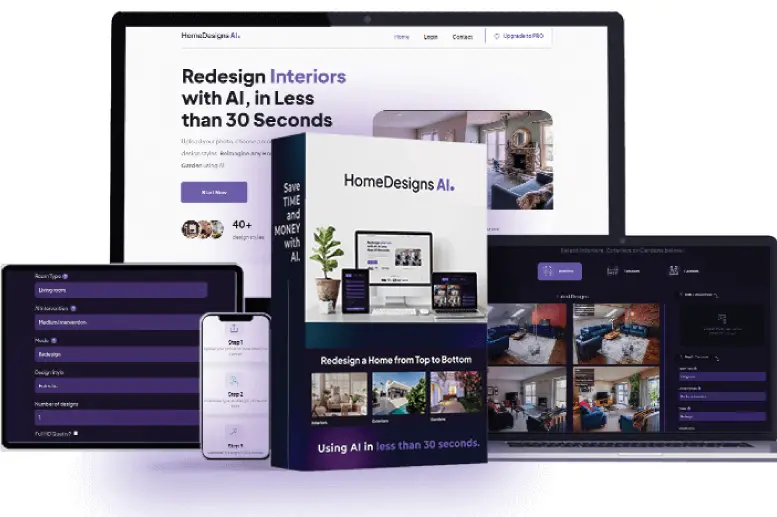 5. Make Use of Dead Space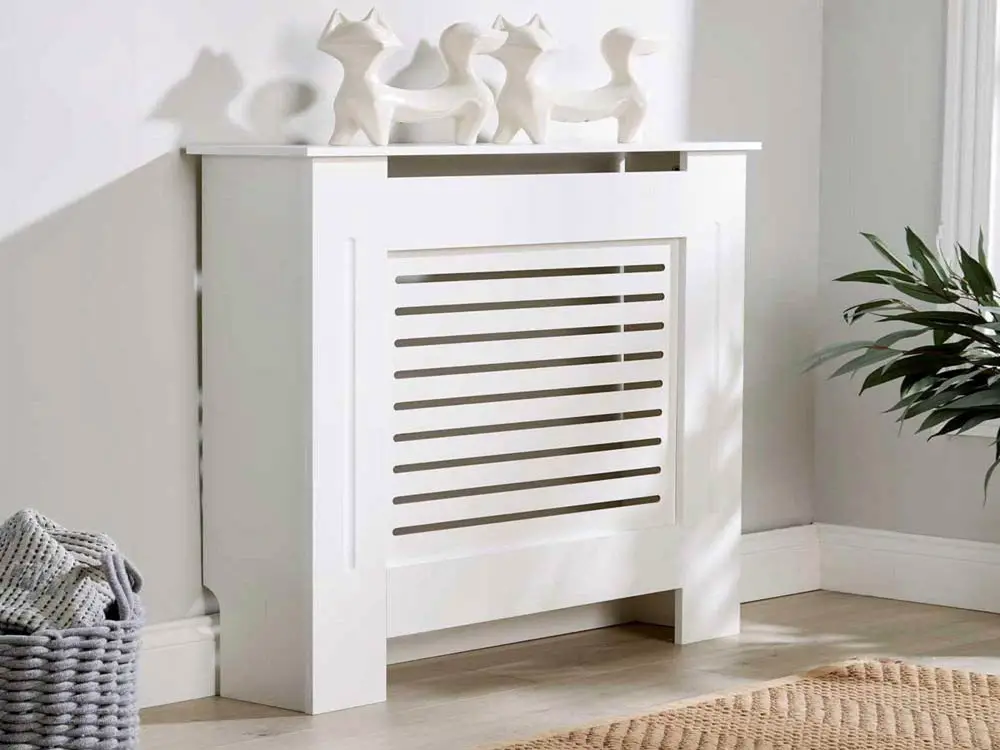 Image credit: bigfurniturewarehouse.com
Most small bedrooms have a radiator situated somewhere in the room, usually under the window. The problem is that it is a completely dead space which realistically nothing else can be done with.
One option, however, is to add a radiator cover. Although it takes up slightly more space than just the radiator itself, it then becomes a useable and practical space to display decorative objects, photos or artwork. You could even add a larger surface on top and use it as a study area.
We have compiled some great ideas for covering radiators that you may find useful.
6. Add Wall Storage Solutions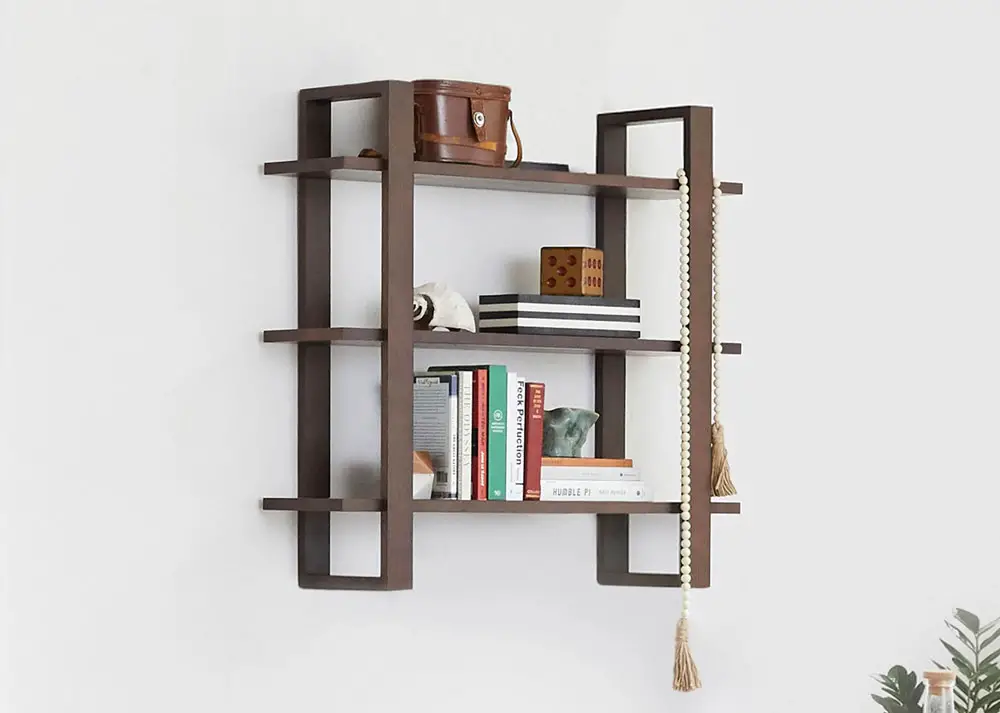 Image credit: burrow.com
As with any small room or small bedroom ideas, it's important to make use of all the available space you have, whether that be furniture surfaces, cupboards and drawers, or on the floor or walls.
One place that is often under-utilised is wall space, so a good way to make use of it is by adding some form of wall storage solutions to maximise space elsewhere.
There are a few different ways to add wall storage to your small bedroom. Shelves are a great option for storing books, magazines, and other decorative items, whereas hooks can be used to hang jackets, coats, and scarves. Baskets are another possibility and can be used to store items such as laundry, clothes or shoes.
These practical and attractive wall shelves are great for organising any small items that you need nearby. They also double up as a decorative feature, adding further decoration and design to your room.
You may also like...
7. Consider a Raised Bed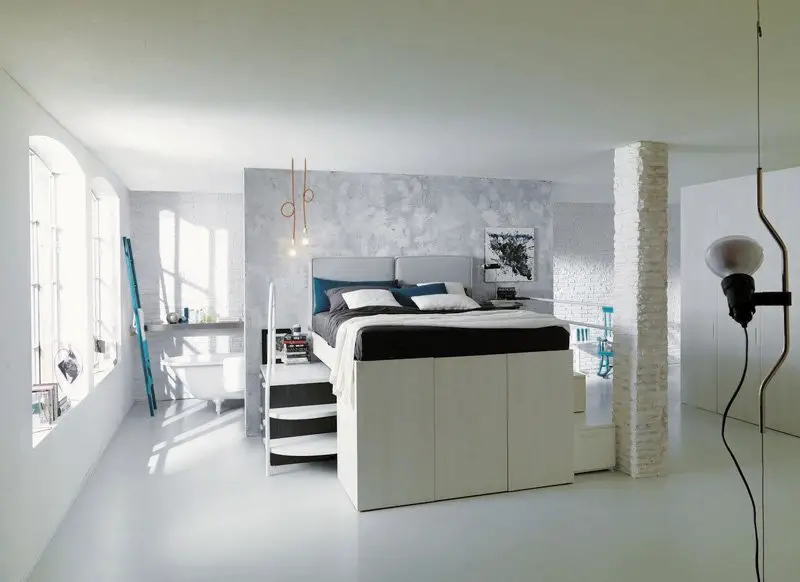 Image credit: humble-homes.com
If you don't have enough space in your bedroom for both a bed and wardrobe or drawers, why not store everything under the bed?!
A container bed or other raised bed solution is a great way to make the most of space that is normally lost, where a standard-height bed would otherwise sit. Not only will you have extra room for things like blankets and pillows, but you'll also be able to keep the rest of your bedroom floor clear of clutter.
Just imagine how much extra floor space will be created by having so much of your stuff hidden underneath your bed. Definitely food for thought when coming up with your own small bedroom ideas.
8. Make the Most of Vertical Space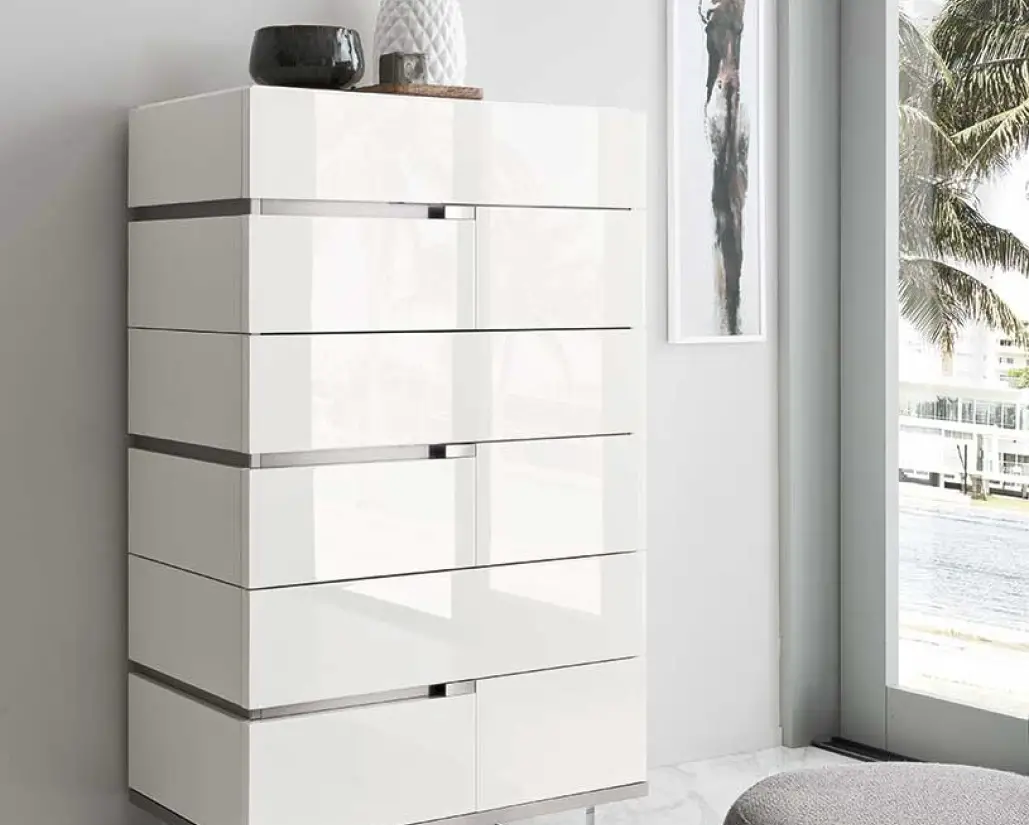 Image credit: denelli.co.uk
Adding wider bedroom furniture into a small sleep space, to create extra storage is often not possible. This means that the only other logical option is to go vertical.
Utilising tall bedroom furniture is a great way to take advantage of those precious square feet and make small bedrooms feel bigger and less cramped.
Instead of choosing low-level double-width drawers or cabinets, for example, go with tall and narrow furniture like tallboys or built-in floor-to-ceiling cupboards. And instead of a 3-shelf high bookcase, choose one that is 6 shelves high.
If you're concerned that taller furniture pieces will look too large and bulky in your small bedroom, don't worry. Fewer tall pieces will actually make the room look more open and less cluttered than many low-level pieces will, as the overall footprint of the furniture will be less.
9. Utilise Hanging Lighting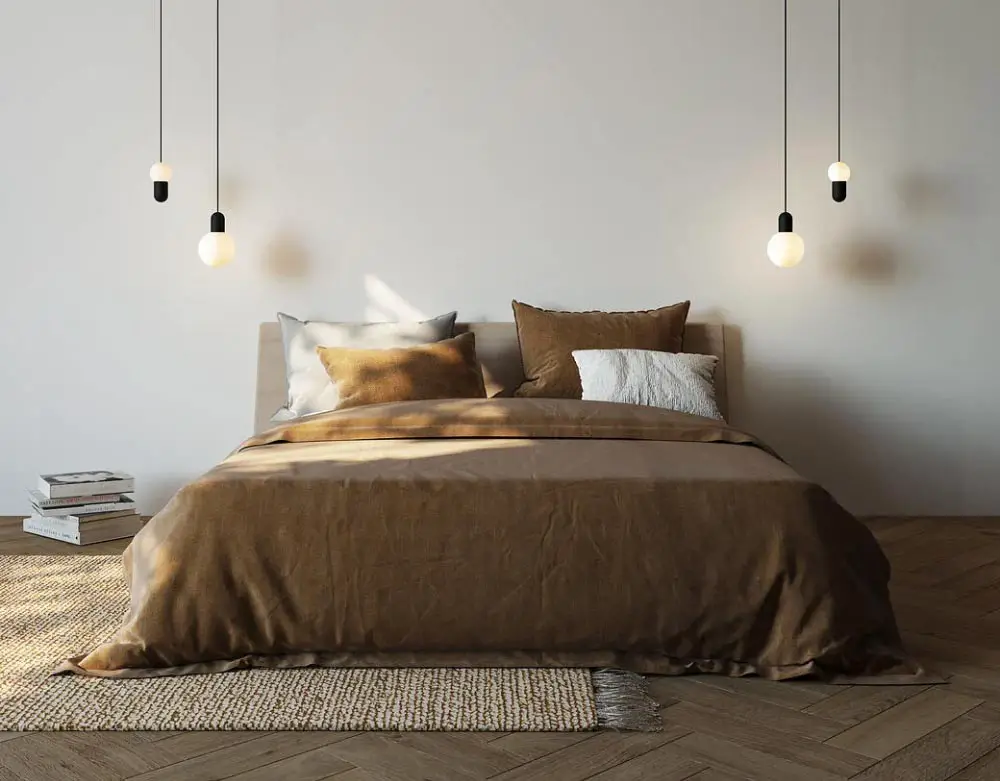 Image credit: pinterest.com
Hanging pendant lights are especially well-suited for use in small bedrooms because they negate the need for table lamps and floor lamps and free up valuable floor or bedside table space. That means you can use that extra space for other things, like more storage or seating.
Pendant lights will still illuminate the room in the same way as bedside table lamps, and be perfect for night-time reading, but can also be used to create a variety of looks and styles, from romantic to modern or rustic.
So if you're looking for a way to add more light with your small bedroom ideas, whilst also taking up less space and not sacrificing style or design, hanging pendant lights is a great option.
Best Examples of Small Bedroom Ideas
Here are some hand-picked real-world examples of small bedroom decorating ideas for your inspiration.
10. Pastel Bedroom Ideas for a Small Space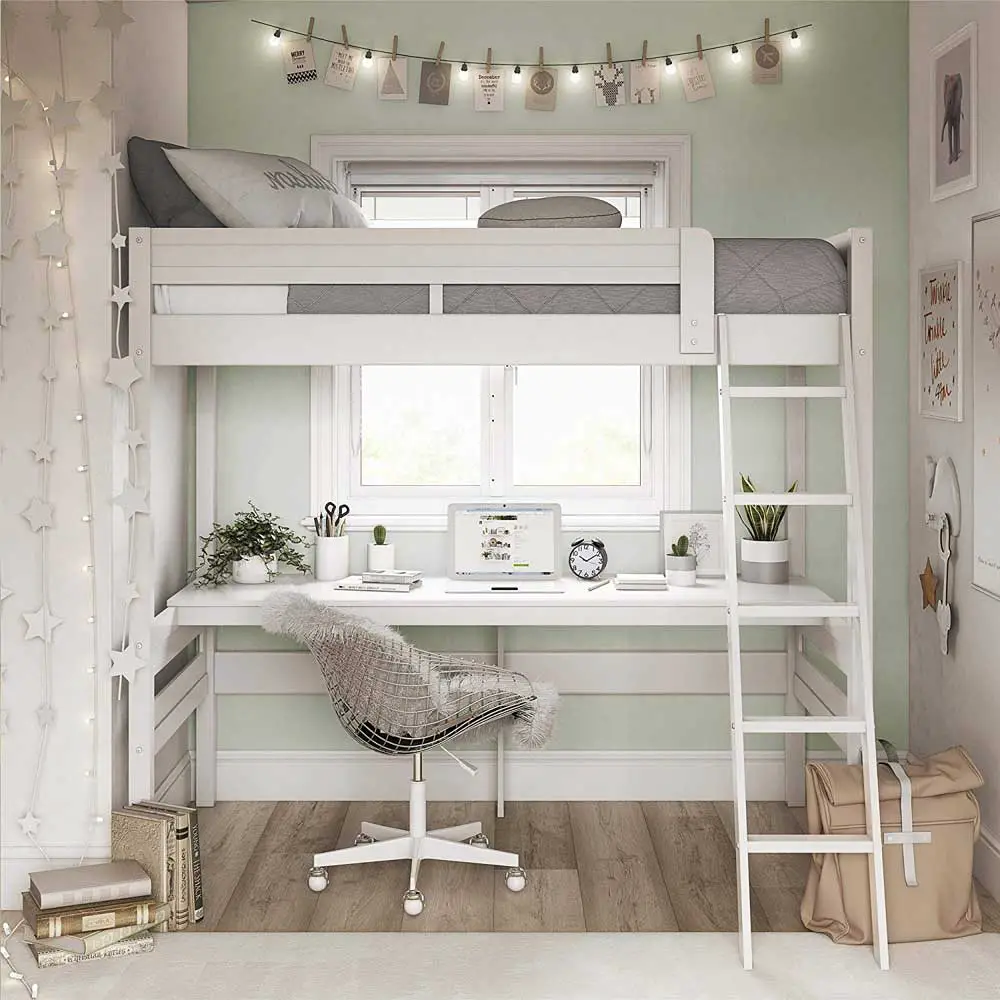 Image credit: our sleep guide
Create a similar look....
This wooden high sleeper bed is a great use of the available vertical space. Many people wouldn't like the idea of blocking a bedroom window, but the natural light from this window is not only essential for working at the desk below, but natural light is also great at aiding restful sleep. Besides it is only partially covered!
The pastel green on the back wall and complementary colours elsewhere, create a bright and calming small bedroom that any young girl would be proud to have. There is even enough space for an art wall and sparkling hanging lights, for that extra bit of bling!
Definitely one of my favourite small bedroom ideas for decorating small spaces. Classy, calming and practical all in one.
Further reading...
How to Make Small Rooms Look Bigger
11. Stylish Girls Small Bedroom Decoration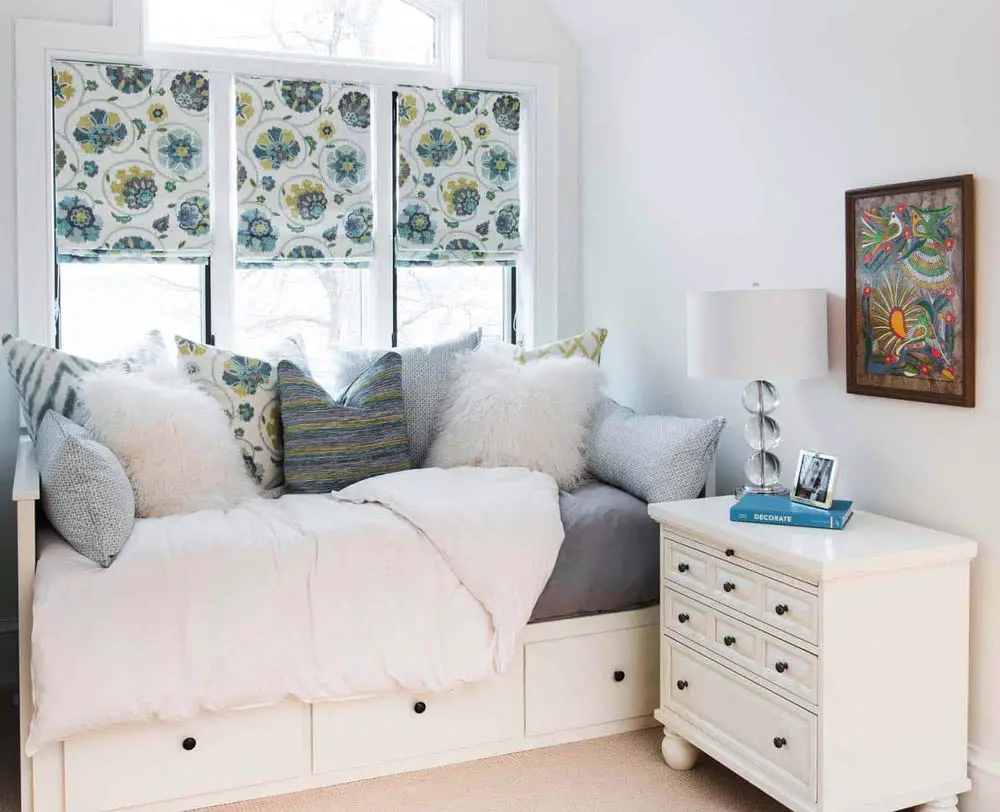 Image credit: onekindesign.com
Similar items we love...
This small bedroom is straight out of a luxury interior design magazine. The walls and furniture have all been kept a crisp white to fully show off the modern cushions and stylish, trendy Roman blinds fabric.
Although a particularly small space, there is still enough room for a set of drawers and a matching raised bed with deep bed storage beneath. With soft and textured cushions galore, the bed acts perfectly as seating during the day, a perfect place for reading or chilling to some music. Reverting to a snug, warm bed in the evening.
Another of my favourite small bedroom ideas, this is a space that any teen girl would love to have, or could maybe be used as a spare room for guests.
12. Minimalist White and Grey Bedroom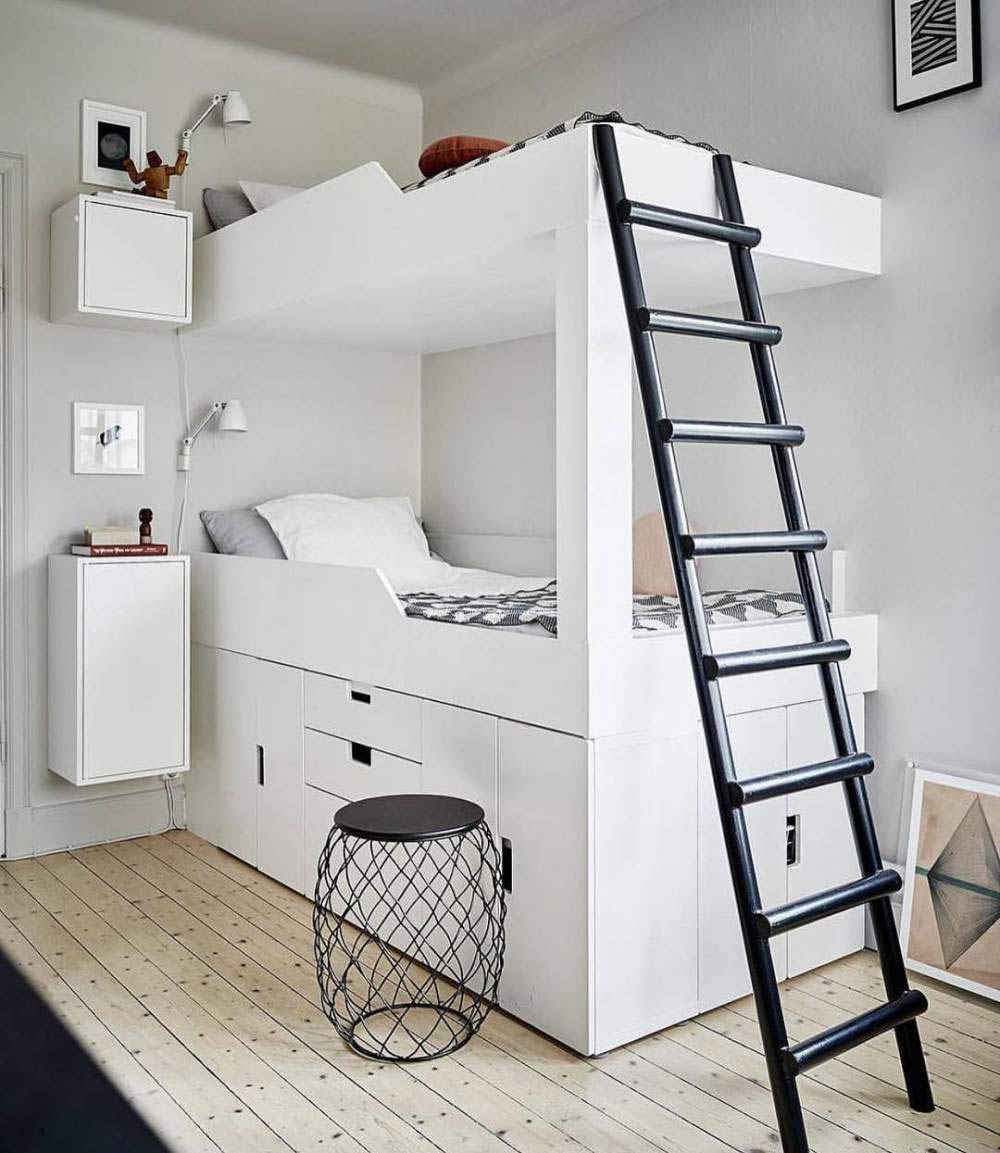 Image credit: extra space storage
Alternative products we love...
This minimalist white and grey bedroom uses the walls to great effect, whilst keeping the valuable floor space as clutter-free as possible. This serves to create the illusion of more space in this tiny bedroom than there actually is.
Clever use of wall-mounted floating bedside tables and storage boxes, not only adds to the minimalist theme but creates the perfect bedside table for each bunk.
Overall, small bedroom ideas such as this make the most use of all available space and have a multitude of extra storage options for such a small space.
13. Neutral Small Bedroom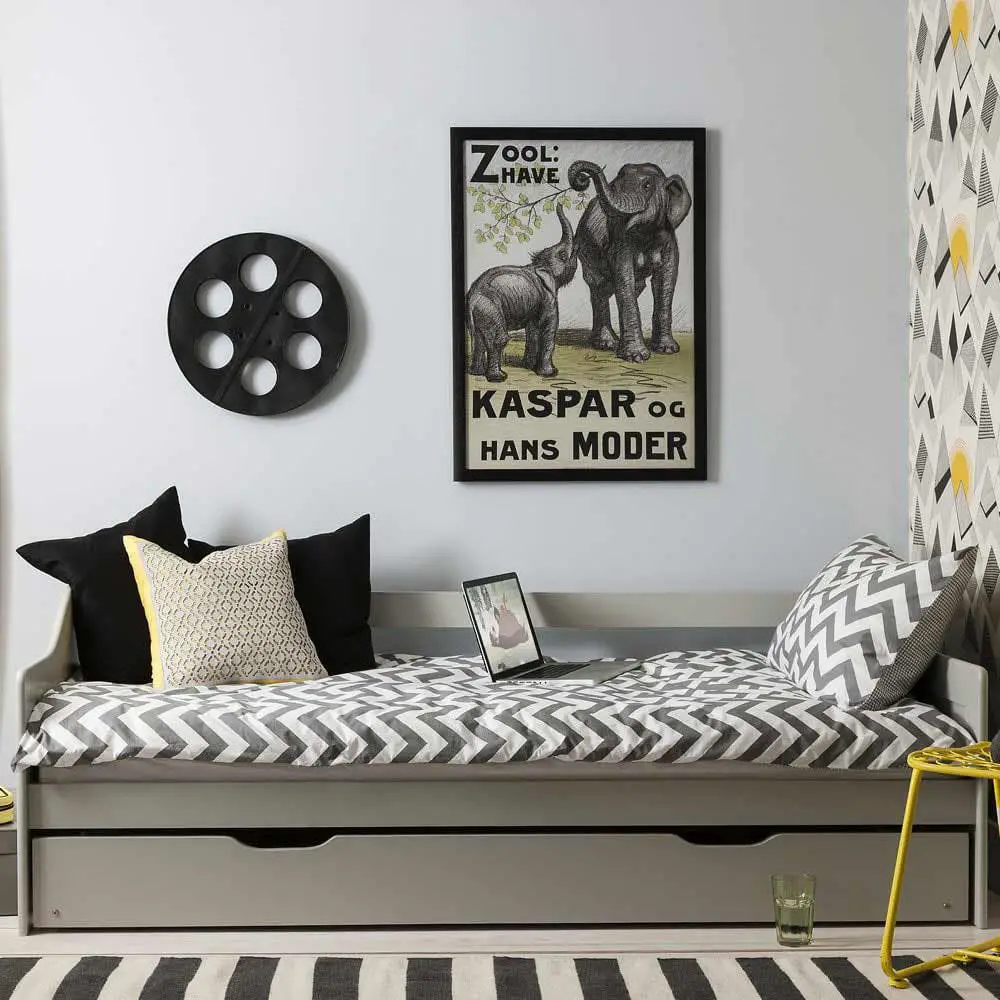 Image credit: noa & nani
Get the look now...
When it comes to decorating a small bedroom, a multifunctional approach is often the best way to go. This room has done exactly that, making the absolute most of the limited small space available.
Utilising the storage bed, as just that at night and in the daytime as a sofa and chillout space. The perfect way to make the space work for you at all times of the day and night.
From a design point of view for your small bedroom ideas, keeping the colours neutral and limited to grey & white with yellow accents creates a stylish, light and calming room that any child would love.
14. Scandinavian White Small Bedroom Design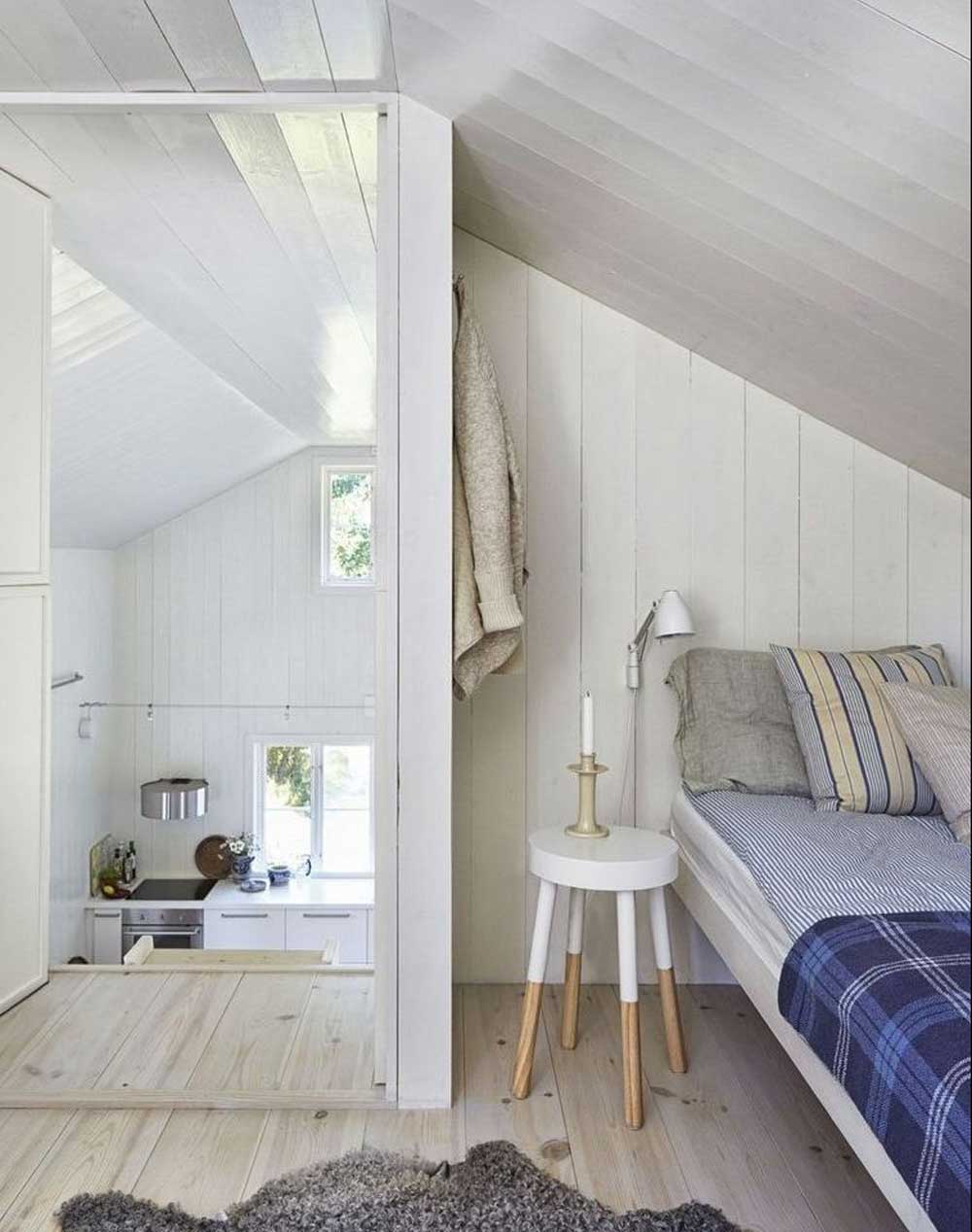 Image credit: omysa
The beauty of this small space comes from its simplicity and calming nature. It's fair to say that nothing groundbreaking has been done here, but that isn't to say that clever design elements haven't been considered.
Firstly, the white-washed wooden panels across the walls and ceiling, create a very light and bright space. My article on bedroom wall panelling ideas has some great options and inspiration for panelling your bedroom walls, giving you some extra bedroom ideas to enhance your decor.
The white paint of the panelling has been mirrored on the stool, but only halfway down the legs. This is a neat trick to draw the eye away from the stripped-back wooden flooring, thus creating the feeling of more floor space. The bed has been raised off the floor for the same reason, the further the eye can see, the greater the compact space feels.
Last, but by no means least, is the floor-to-ceiling mirror that has been erected next to the sleeping area. Not only ideal for use when deciding what to wear but also a great way to reflect light back into the room. More importantly though, for a small space, is that it creates the illusion of the small bedroom being larger and more roomy than reality.
15. Space-Saving Bedroom Design
Image credit: decoman.com
This is a masterpiece of space-saving bedroom design and layout! Every inch of available floor space has been utilised to make the best use of this small bedroom.
A comfy seating area and work surface that can double up as a desk. A double bed with copious amounts of extra storage underneath and all this after waking up next to the beautiful natural light outside.
This small bedroom idea has it all, style, functionality, built-in storage and design. What more could you want in such a tiny space?
16. Small, Bold and Proud!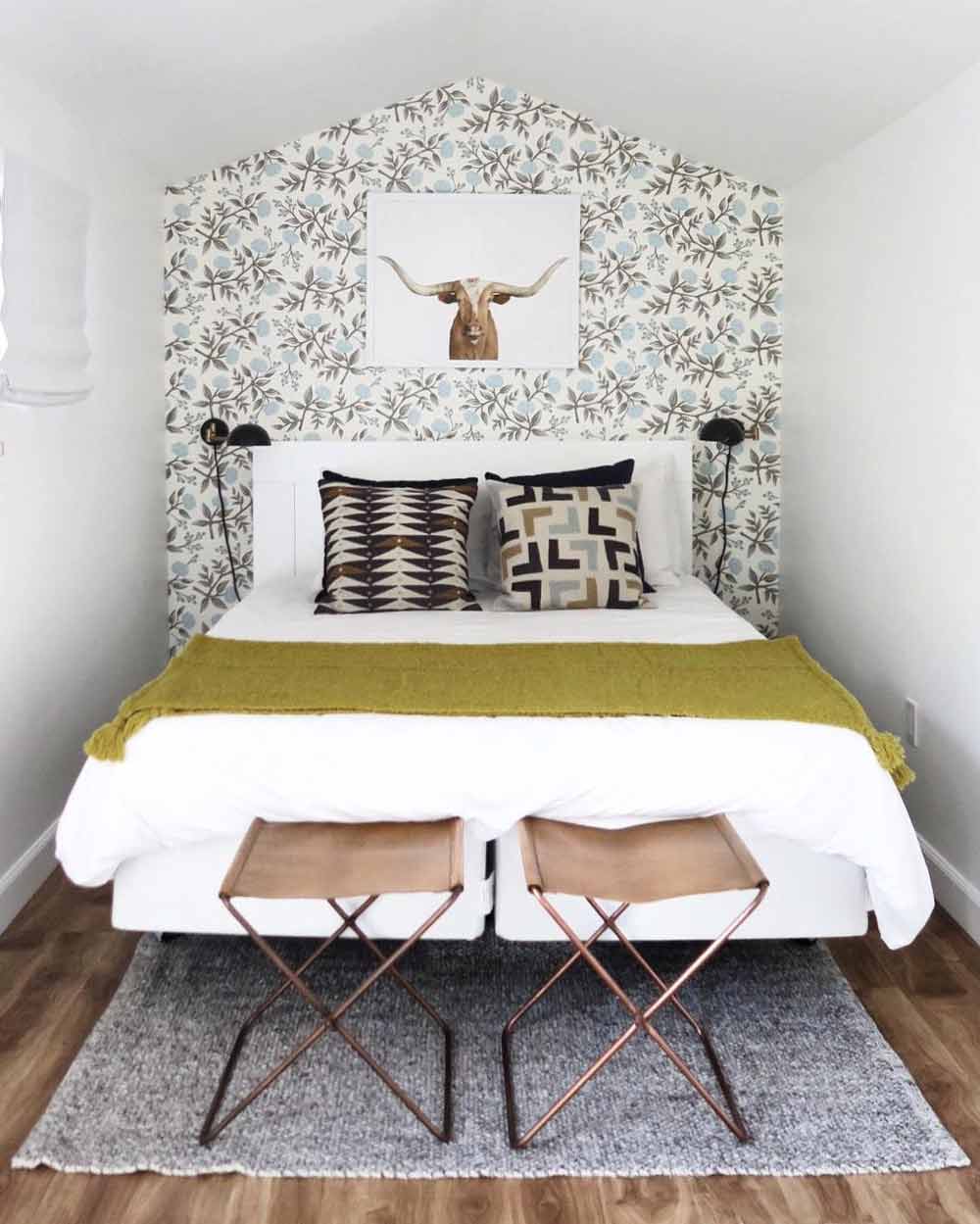 Image credit: pinterest
This unashamedly tiny bedroom certainly doesn't pull any punches. As the saying goes, go bold, or go home (or at least I think that's what it is !)
The busy floral feature wall fights for attention over the geometric patterned cushions and grey fleck rug. But there is a certain cohesion between the colours and tones, that somehow makes this design work.
Other than raising the bed off the floor, there is no pretence in making the small room seem bigger than it is, and I for one applaud that. Not all small bedroom ideas have to reinvent the wheel or be the next great design innovation.
17. Contemporary Small Cosy Bedroom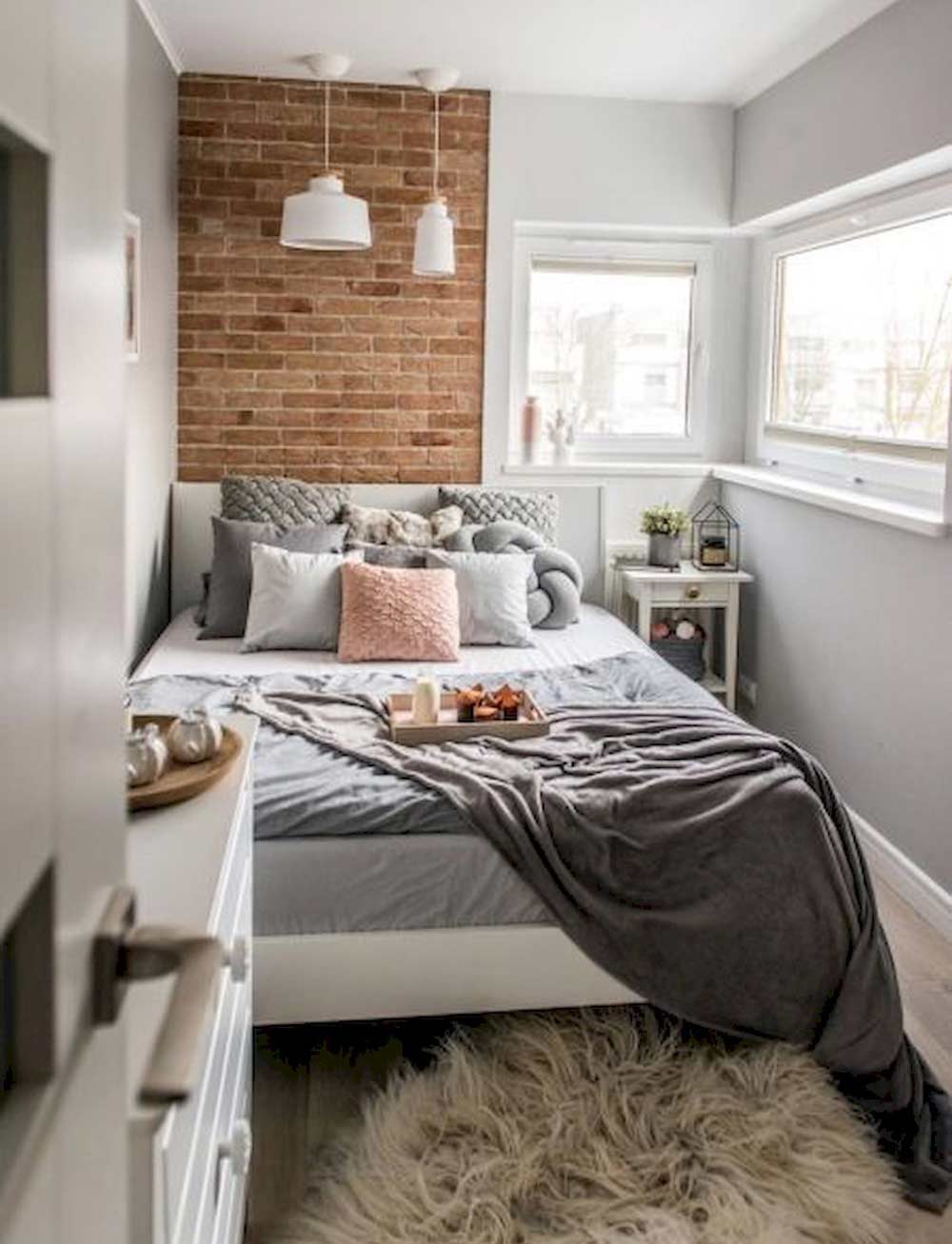 Image credit: pinterest
Not all small bedroom ideas have to take too much time and effort. Sometimes all you need is a rug and a throw and you are on your way to make the room a comfy and cosy bedroom space.
The brick wall and neutral tones both add to the warming element, whilst the double-aspect windows add a light and airy feeling.
This room shows that decorating small bedrooms doesn't always have to be about tricks and illusions, at least not if you just want cosiness and comfort.
You may also like...
Grey and White bedroom ideas for a modern space
Grey and Pink Bedroom Decor Ideas
18. Superhero Bedroom Decor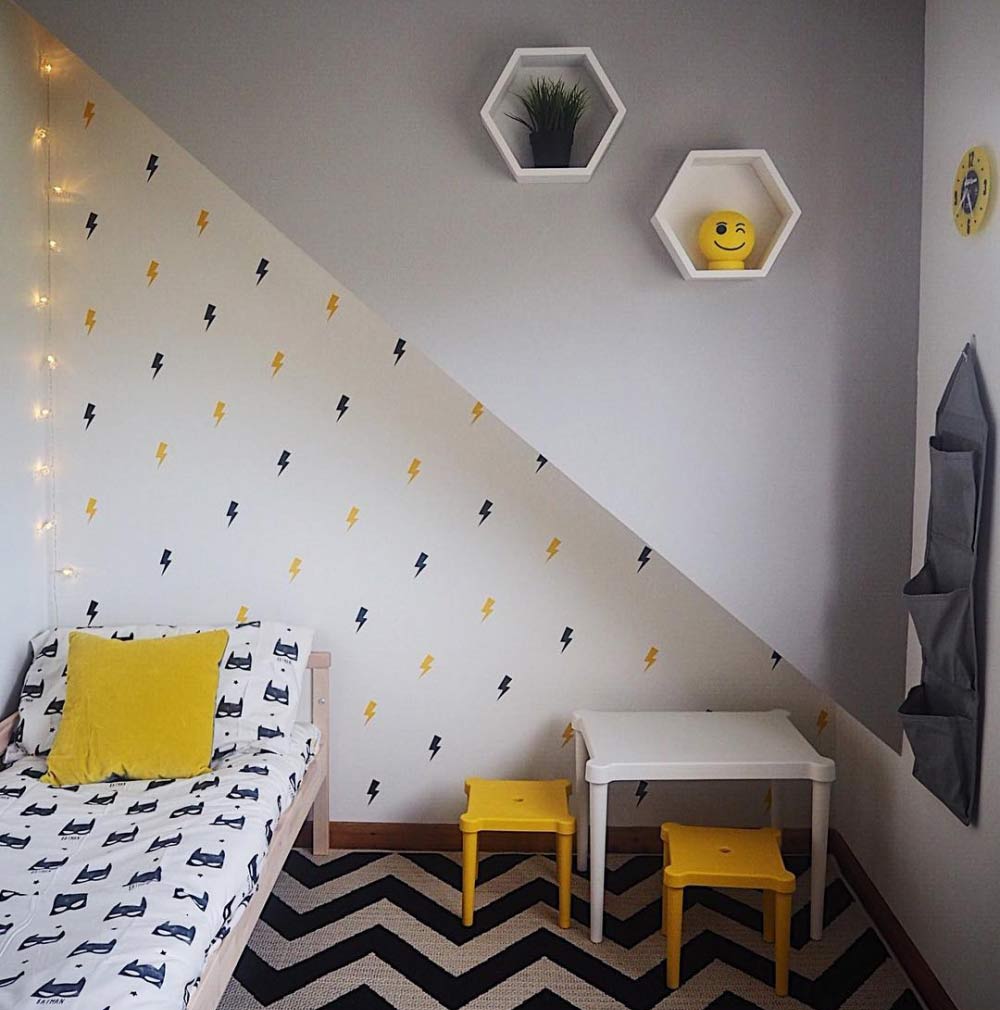 Image credit: extra space storage
The designer of this small bedroom has opted for minimal objects and surrounding furniture, choosing to concentrate more on the decor design elements of the room. Simple hanging storage, colour-matching furniture and a geometric theme runs through the light shade, flooring and hexagonal shelving units.
Clearly a small space for a little superhero, with the Batman bedspread and lightning bolt wall stickers prominently displayed on the feature wall.
As far as small bedroom ideas are concerned, the tiny footprint of this space does everything it needs to in a simple and fun way. There is ample room to sleep, play, draw and write, with the addition of handy storage a display solutions.
19. Beach Themed Bedroom Design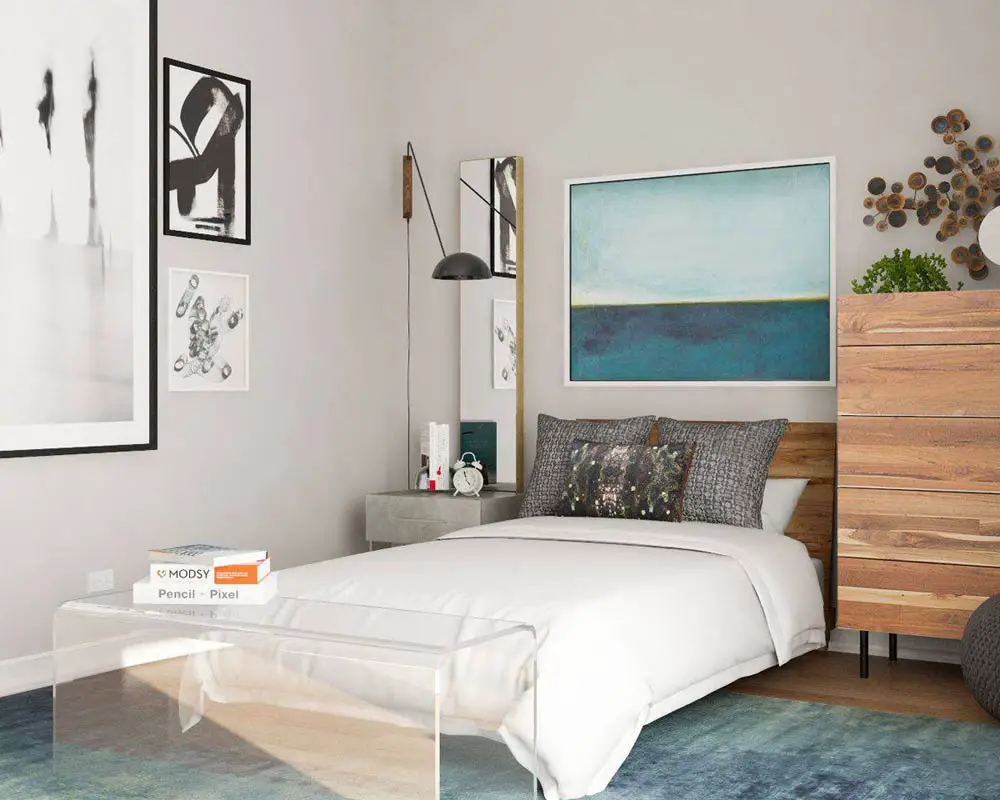 Image credit: modsy blog
Although not a very small bedroom, at least compared to the previous examples, this larger room has certain design elements that could be utilised in other small bedroom ideas, to make them seem and feel larger. For instance, the clear acrylic table at the end of the bed is a great way to show more of the floor beneath and create the illusion of more square footage.
As previously stated, the more open space the eyes see, the larger the room seems. For the same reason, the floating bed and raised drawers showing the skirting boards, have been used to good effect.
20. Elegant White Bedroom Decoration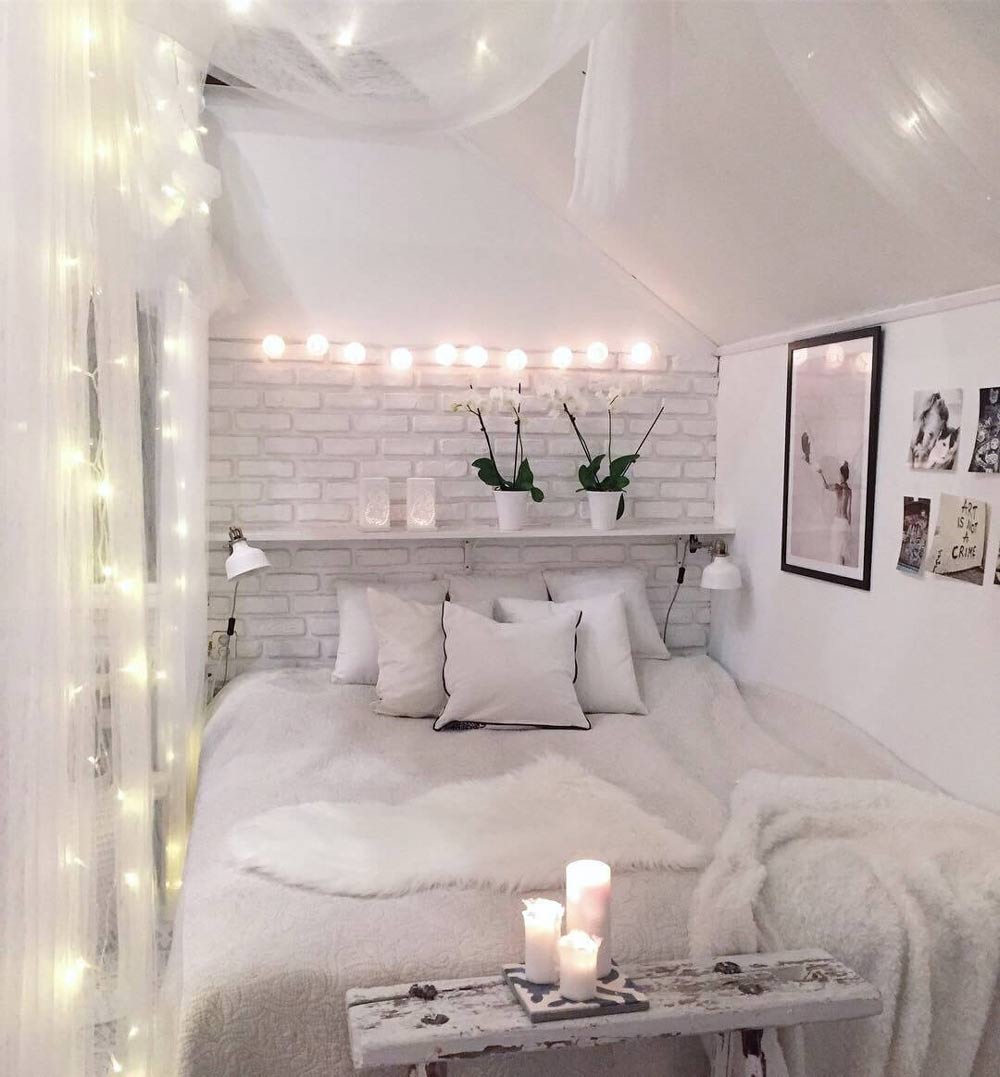 Image credit: homebnc
This cute hideaway bedroom is the perfect retreat for any little girl looking for a fairy tale space to escape. Although all white, with the softness and texture in the throw, rug and duvet cover, this cramped bedroom feels very warm and inviting.
The LED lights scattered throughout the voile and lighting above the bed all add to the magical effect. The bedroom is finished off perfectly with battery-operated candles at the end of the bed and only the most special personal pictures in pride of place on the wall.
21. Black and White Bedroom Decor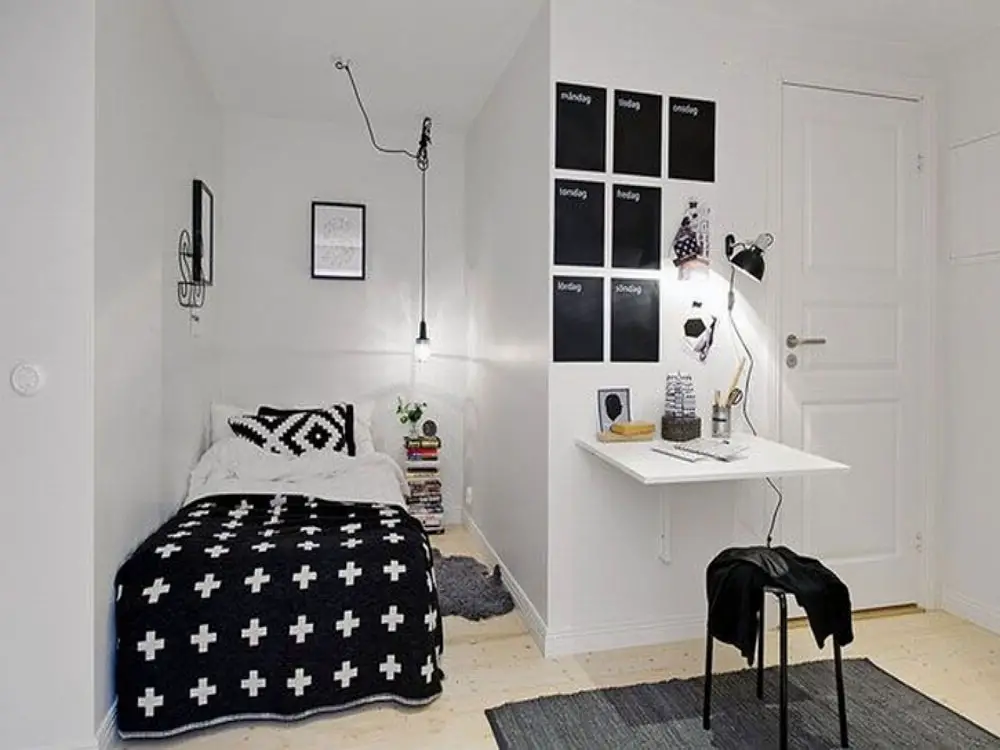 Image credit: trendecors
You can never go wrong choosing to stick with black and white when decorating your small bedroom. A true classic interior design combination.
Often small bedroom ideas are born of necessity, this certainly seems to be the case here. An awkward L-shaped room is not always the easiest to overcome when organising the layout of any room. However, the designer of this room has used the spaces available to good effect.
In this small bedroom layout, the bed neatly fits into the alcove, creating a cosy little bedroom within the room. Lighting has been used conservatively but in all the right places, creating a reading light by the bed, and a well-lit working area, using a space-saving fold-away table.
Although, unlike some of the small bedroom ideas we have previously shown, this space is not cosy, nor warm. Instead, it is a super practical space for the modern student of today.
If love the style and design of this room you may also be interested in our black and white living room ideas.
22. Children's Bedroom Decor for Small Spaces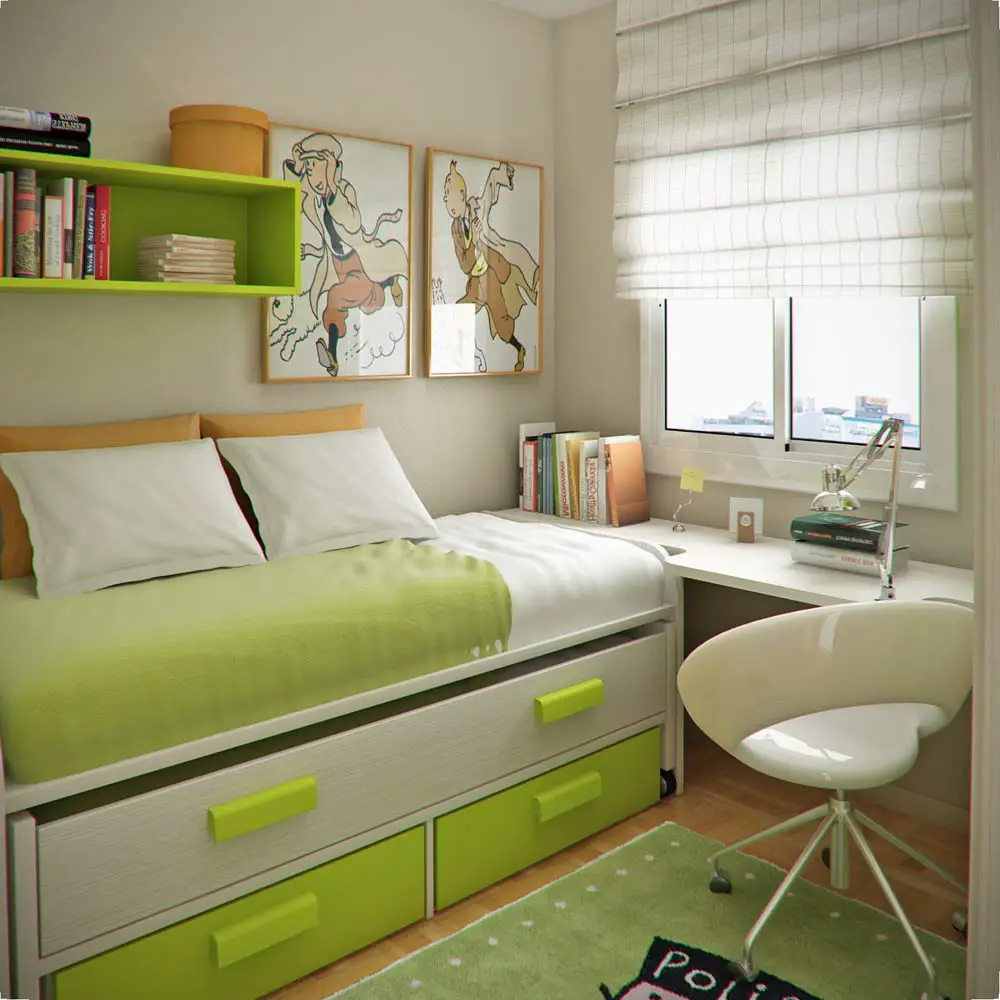 Image credit: housendecor
Lime green isn't everyone's first choice of colour when it comes to interior design in a bedroom. However, with children's bedrooms, sometimes the theory of 'the brighter, the better' is the correct one.
The white and green combination in this small bedroom space works well together and gives a bedroom that may otherwise be bland and boring a real lift.
Clutter is kept to a minimum, helped by the good amount of storage space under the bed and the wall-mounted bookshelf above it. For school work, writing or drawing, a narrow desk has been neatly fitted at the end of the bed, doubling up as a bedside table when the need arises.
Overall, as far as small bedroom ideas go, this is a neat and tidy bedroom space for any child of primary school age to enjoy and grow.
23. Grey, White and Copper Girls Bedroom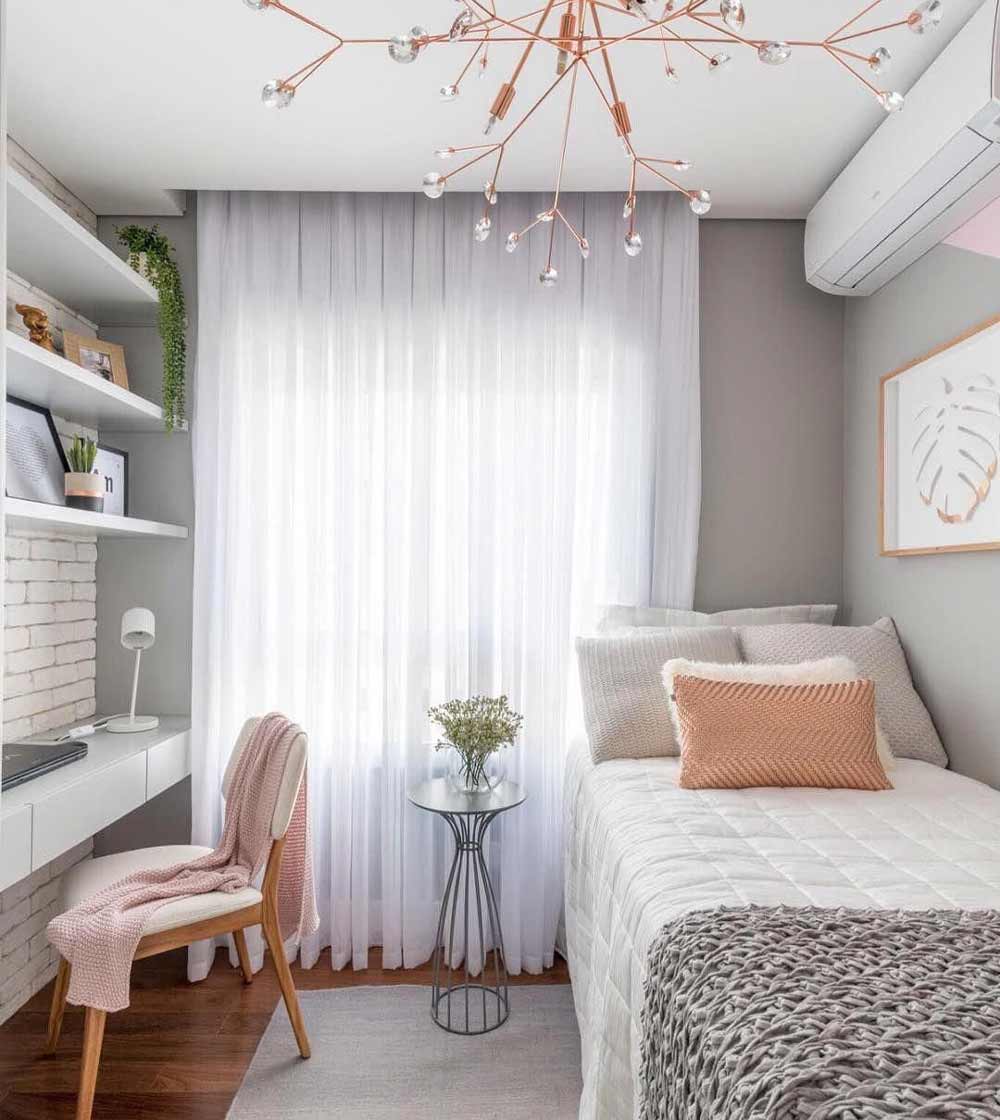 Image credit: pinterest
Simplicity and style are the overriding small bedroom ideas here, with only grey, white and copper used in the muted colour scheme.
Every part of this small bedroom has been carefully thought out, even the art on the wall, whose colours cleverly tie in with the copper that runs through the ceiling light and cushion on the bed.
A narrow floating desk and shelving have been neatly incorporated into this small bedroom, but remain inobtrusive and again tie into the overall theme of the room. Finally, the soft floor-to-ceiling voiles on the window create an illusion of height and grandeur, which is another creative way to make a small room seem larger.
24. Make Use of a Small Bedrooms Height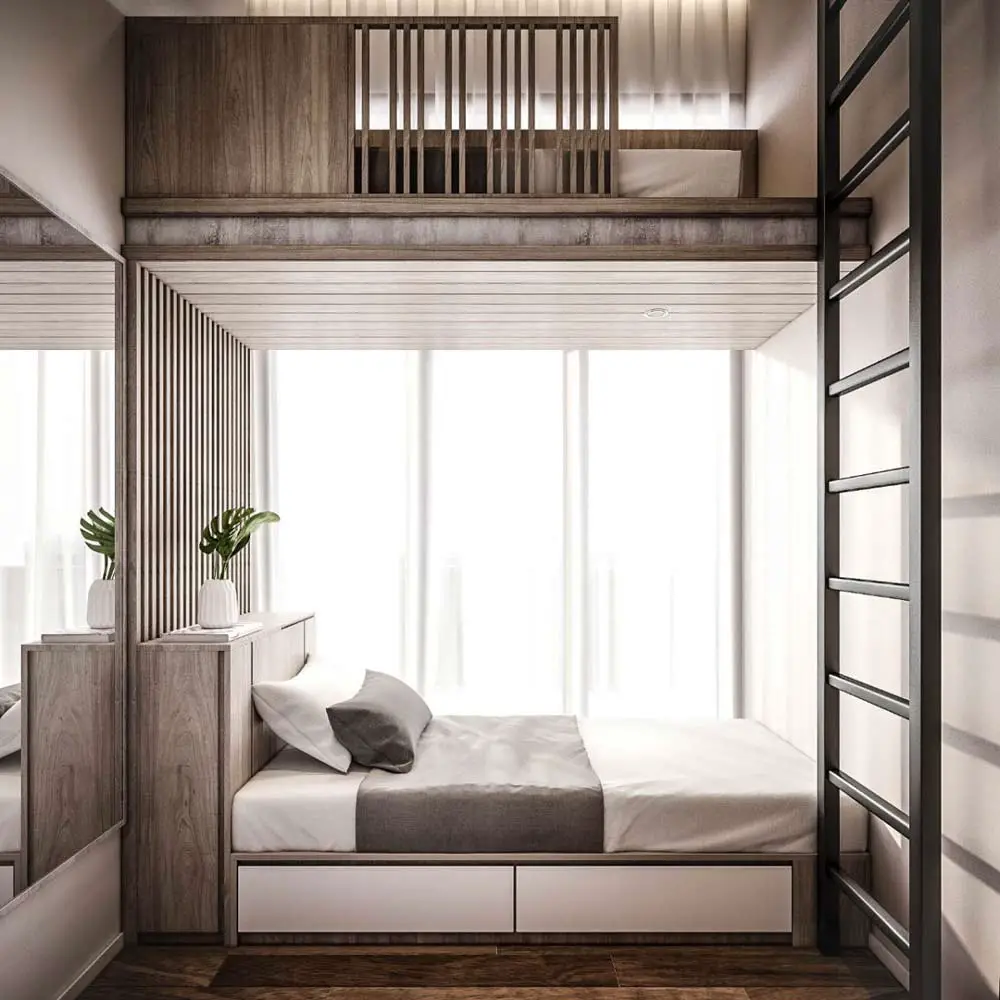 Image credit: weiken.com
This contemporary small bedroom space shows just what can be achieved in a room that benefits from extra ceiling height. The addition of a mezzanine platform turns a minimal area of square footage into a great useable space that can be utilised for extra sleeping space, a reading den or potentially a study area.
The under-bed storage and shelf of the integrated bedhead, negate the need for bedside tables and too many other storage solutions which again save on space elsewhere in the bedroom.
Finally, the large mirror visually expands the feeling of space, by doubling what can be seen as you walk in.
25. Children's Space Saving Bed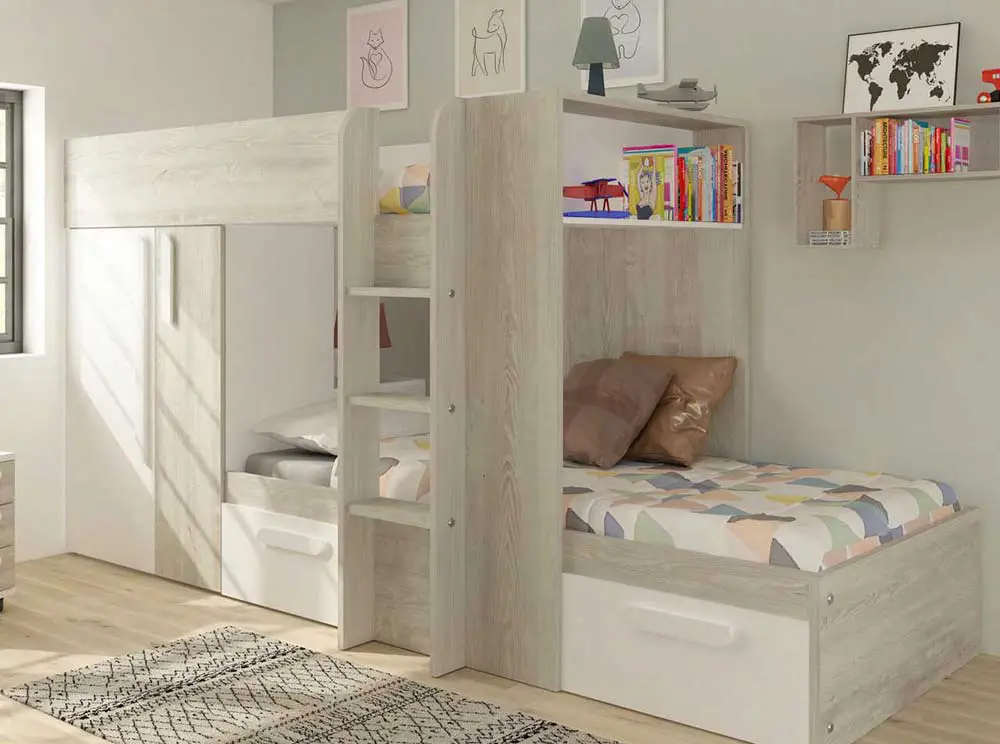 Image credit: roomtogrow.co.uk
This space-saving bunk bed design is perfect for children who share a bedroom. Not only does it incorporate two single mattresses, but also houses an adequate wardrobe and drawers.
The bed layout is a nice move away from a typical bunk bed, due to its clever tiered design, and therefore is a perfect more modern and stylish alternative for any small bedroom ideas.
Adding height, rather than width, to any bedroom layout is always going to be preferable for a small space because you are saving on valuable floor space. The built-in storage is an obvious welcome bonus.
The neutral pastel colours of both the wall and bedspread, along with the light ash and white of the furniture, give a soft and airy feel to the bedroom that any child would be happy to play and rest in.
26. Small Bedroom for Plant Lover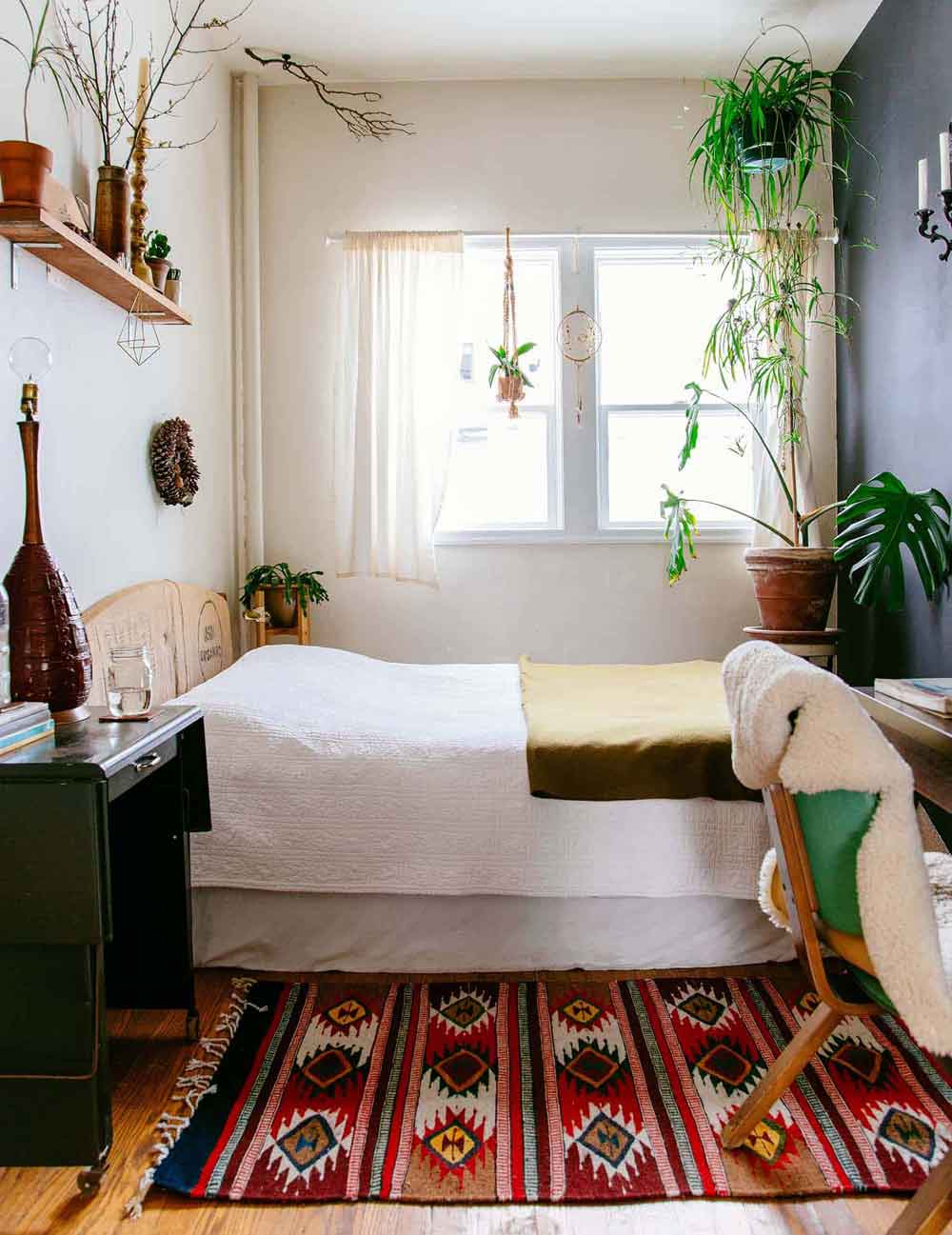 Image credit: onekindesign.com
Turning the bed so that it crosses the smaller width of the bedroom may seem like a strange decision, but in this case, it makes better use of the tight space.
Adding a colourful rug not only adds an obvious splash of colour but also gives the room a cosiness and warmth that it may otherwise lack.
Wall decorations and the greenery of the plants are a big theme in this small bedroom, bringing the beauty of nature into the space. However, they haven't just plonked things here there and everywhere, but have kept the wall decor uniform, while also hanging plants from the ceiling to make full use of the room's height.
27. Boho Themed Small Bedroom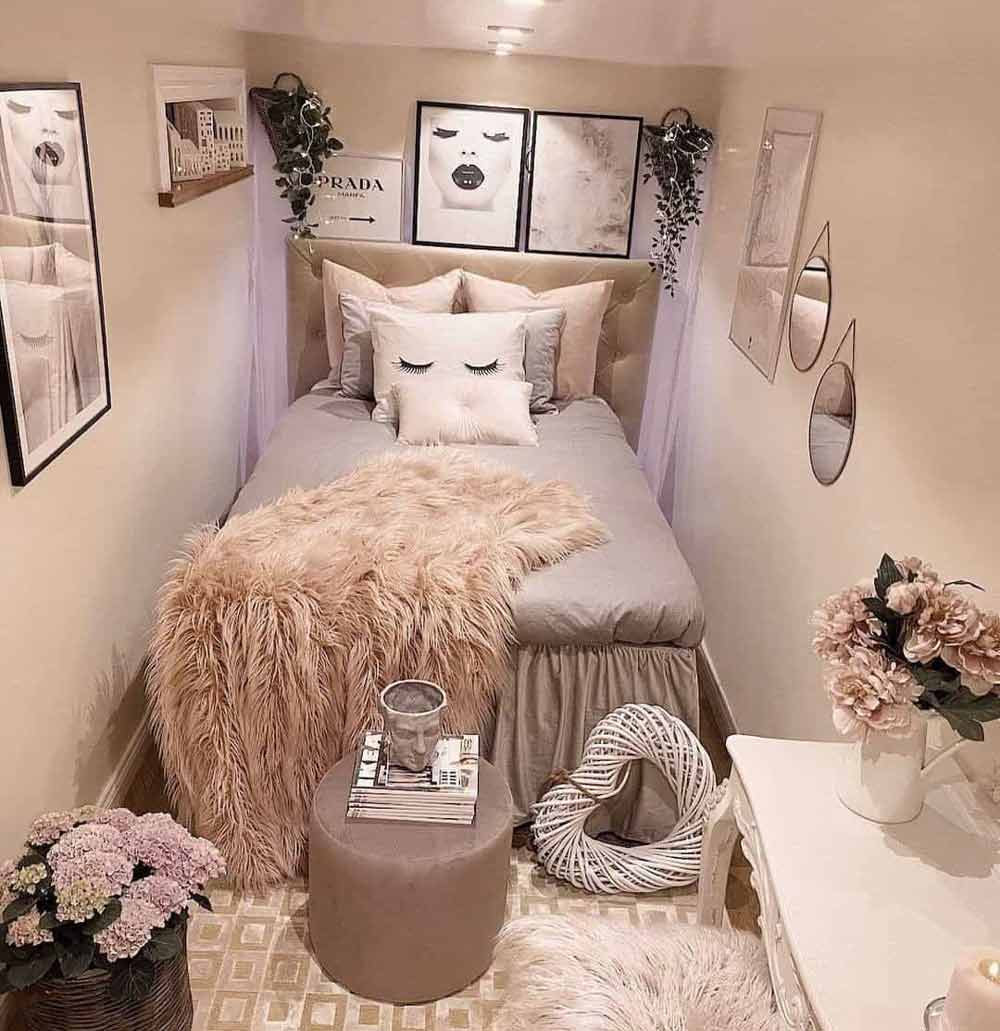 Image credit: terrycralle.com
Although not a full-on Bohemian bedroom theme, certain elements would not look out of place in one, like the fairy lights and hanging vines, string-hung wall mirrors and the soft textured rugs and throws.
Although this small bedroom is without a doubt a cute and comfortable space for any young child, practical storage solutions will most likely be an issue.
One way around this would be to swap the bed out for an ottoman so that clothes and other items could be stored in the space underneath. Floating shelves fitted high up, on all three walls, is another possible solution to not having a bedside table.
28. Small White French Chic Bedroom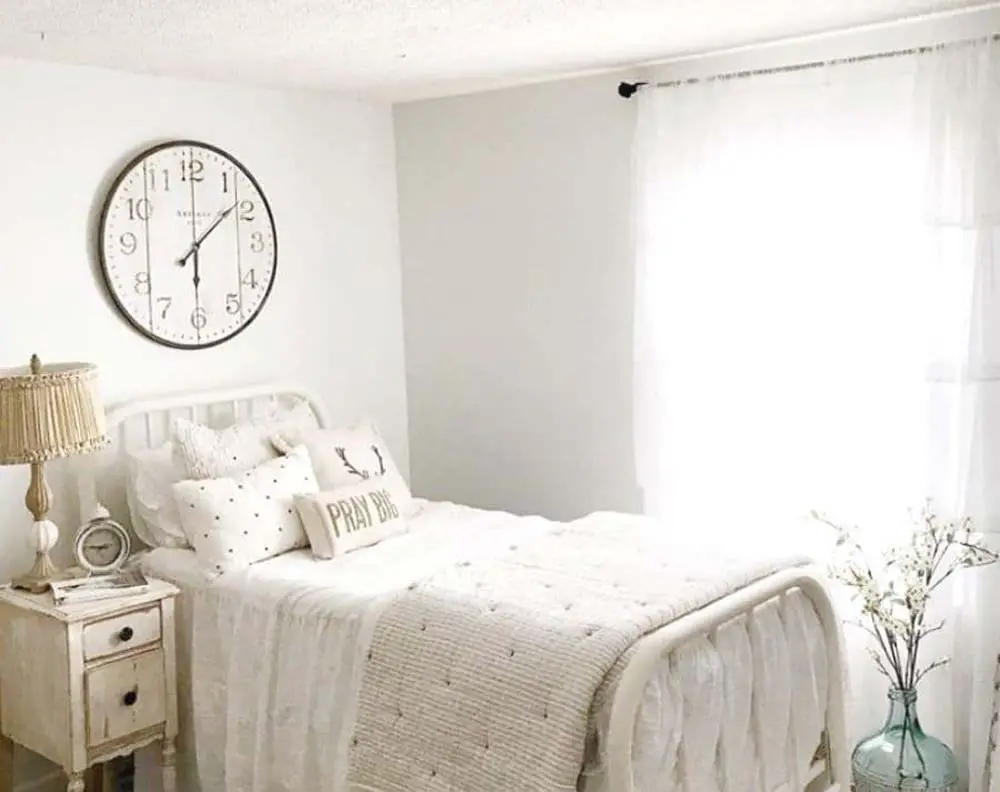 Image credit: lifeonsummerhill.com
The rustic French chic of this small bedroom design, particularly the quaint bedside table, shows that you don't have to have a large space to create beautiful small bedroom ideas and a stunning interior design theme.
Using white throughout this compact bedroom decor, both on the walls, furniture and bedding has made this room feel open and airy and stopped it from looking small and cramped.
In addition, a higher-than-normal single bed has been used in this small space to gain valuable hidden storage beneath.
29. Modern Small Bedroom with Workspace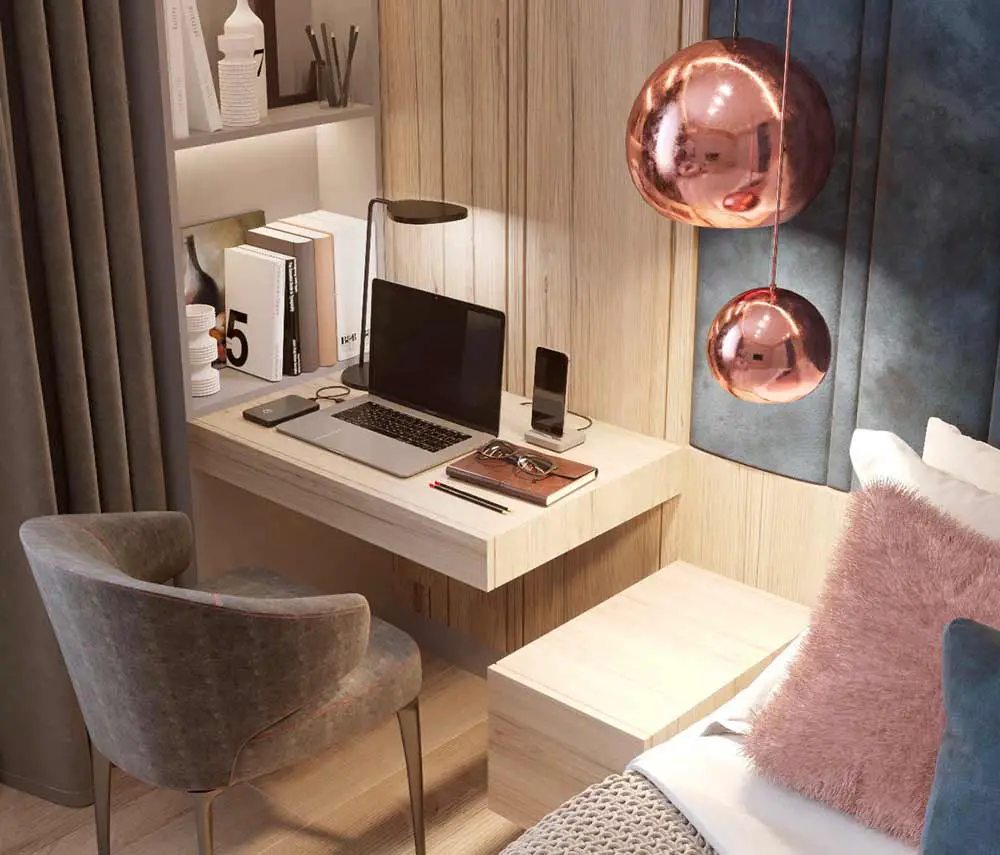 Image credit: homeofficebits.com
This sleek modern and cosy bedroom, with its panelled walls that match the wooden floor below and round copper pendant lights, contrasts perfectly with the plush desk chair, curtains and pink and blue accents of the bed cushions.
The small space at the side of the bed is cleverly being used as both a bedside table for laying books, drinks and glasses in the evening, but can also be used as a side table for food and drinks whilst working at the floating workstation, come built-in shelving unit.
A practical, functional and clever way to maximise space with this type of bedroom layout or any small room, making the very best use of all valuable space.
30. How to Make the Most of a Small Bedroom Space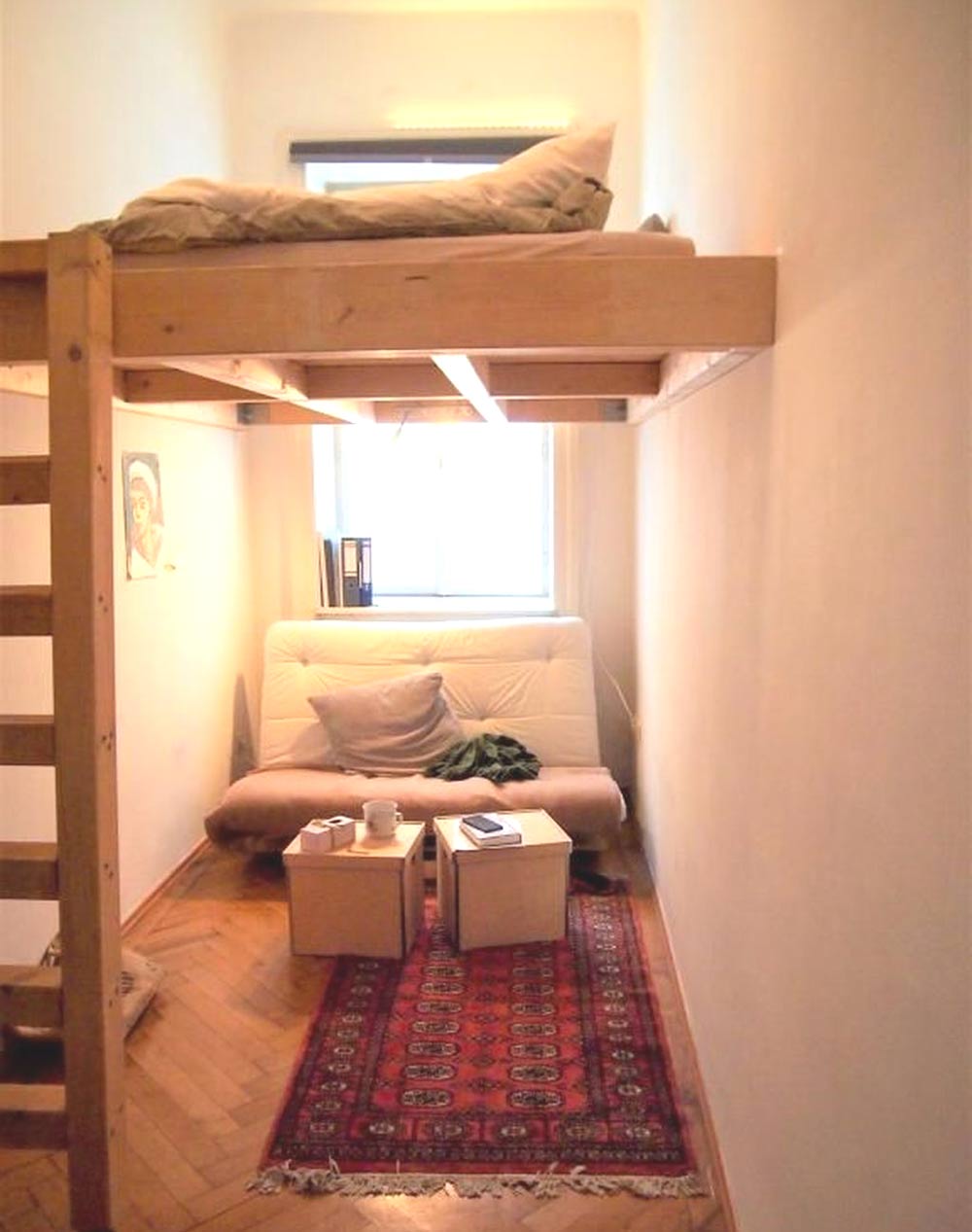 Image credit: pinterest
The last of our small bedroom ideas is probably the most creative. Although simple in its design, the layout of the furniture helps to create one of the most open small spaces for such a tiny room we have seen, making the room feel much bigger than it is.
Erecting a wall-to-wall floating bed on a raised platform has completely opened up the floor area below leaving room for, in this case, a sofa which can double as a bed for guests to stay over. This could also be used for more storage space, a desk or any other furniture you may need.
Just bear in mind that to achieve a similar extra bedroom sleeping area in your own compact space, an important factor to consider is whether you have adequate ceiling height. It's crucial not to make the room feel too cramped, avoiding unnecessary tight spaces.
It just goes to show that decorating doesn't always have to be about interior design. Sometimes the obvious small bedroom ideas to maximise space, like this simple mezzanine incorporating a wall bed are the best ones, and the most effective in making small bedrooms shine.
In conclusion
So, going back to the question, 'What is the best way to decorate a small bedroom?' There is no definitive answer. As you can see from our chosen small bedroom ideas, it depends on the shape of the room, the space that you have to play with and ultimately what functions the room needs to carry out.
Colours and patterns are very much a personal taste and are more dictated by the person who is going to be inhabiting the space. We hope that these small bedroom examples we have pulled together give you plenty of inspiration and ideas for decorating a small space of your own!