---
It's often asked, 'What is the best way to decorate a small bedroom?'. Do you keep the room décor minimal, to make the most of the small space, or get creative and use clever design tricks to make the room feel as large as possible ? Well, we are here to help !
Decorating ideas for a small bedroom can be difficult to get right. We have therefore collated some small bedroom ideas that you can use for inspiration and tips, whether it be for a toddlers bedroom, teens room or a little used guest room.
Disclaimer: As an Amazon and Wayfair associate, we do receive a small commission from qualifying purchases made via links within this article.
---
---
1.Pastel bedroom ideas for a small space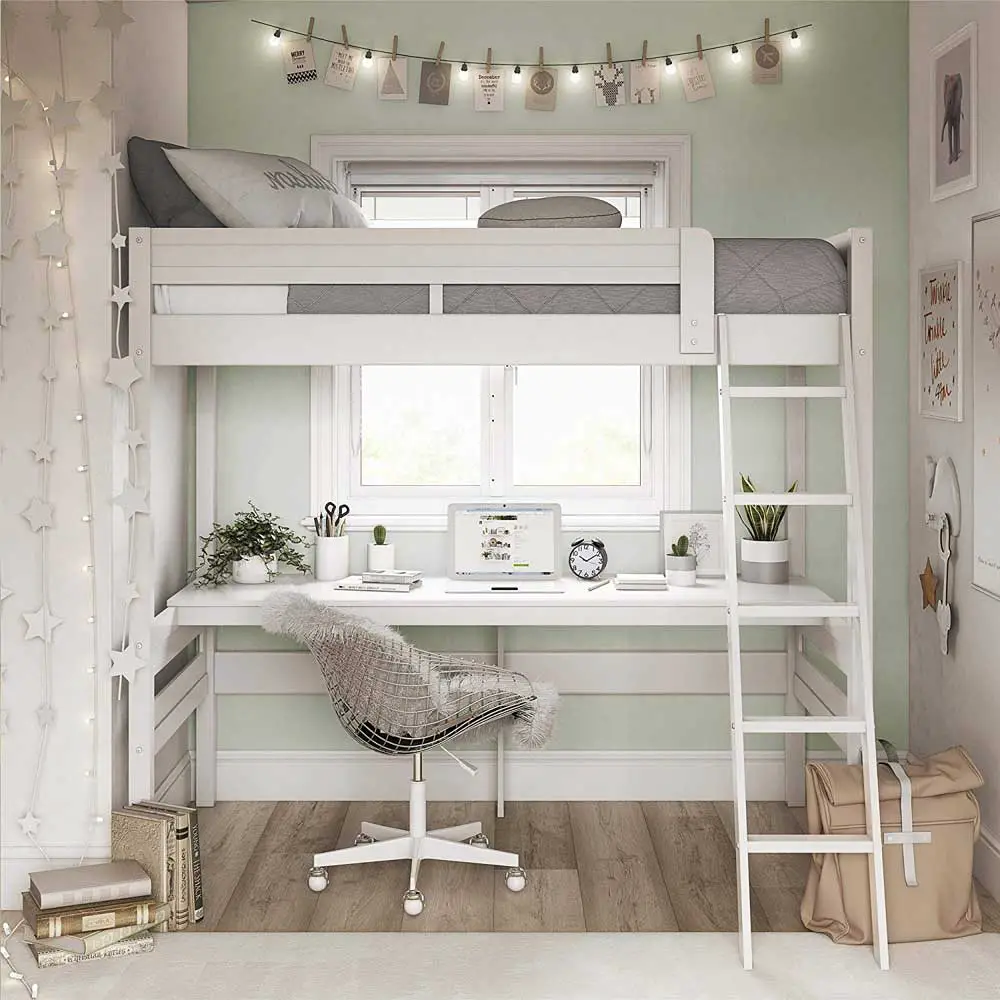 Image credit : our sleep guide
This wooden high sleeper bed is a great use of the available space. There are many people that wouldn't like the idea of blocking a bedroom window, but the natural light from this window is not only essential for working at the desk below, but natural light is also great at aiding restful sleep. Besides it is only partially covered !
The pastel green on the back wall and complementary colours elsewhere, create a bright and calming small bedroom that any young girl would be proud to have. There is even enough space for an art wall and sparkling hanging lights, for that extra bit of bling !
Definitely one of my favourite ideas for decorating a small space. Classy, calming and practical all in one.
---
Create a similar look....
---
---
2.Stylish girls small bedroom decoration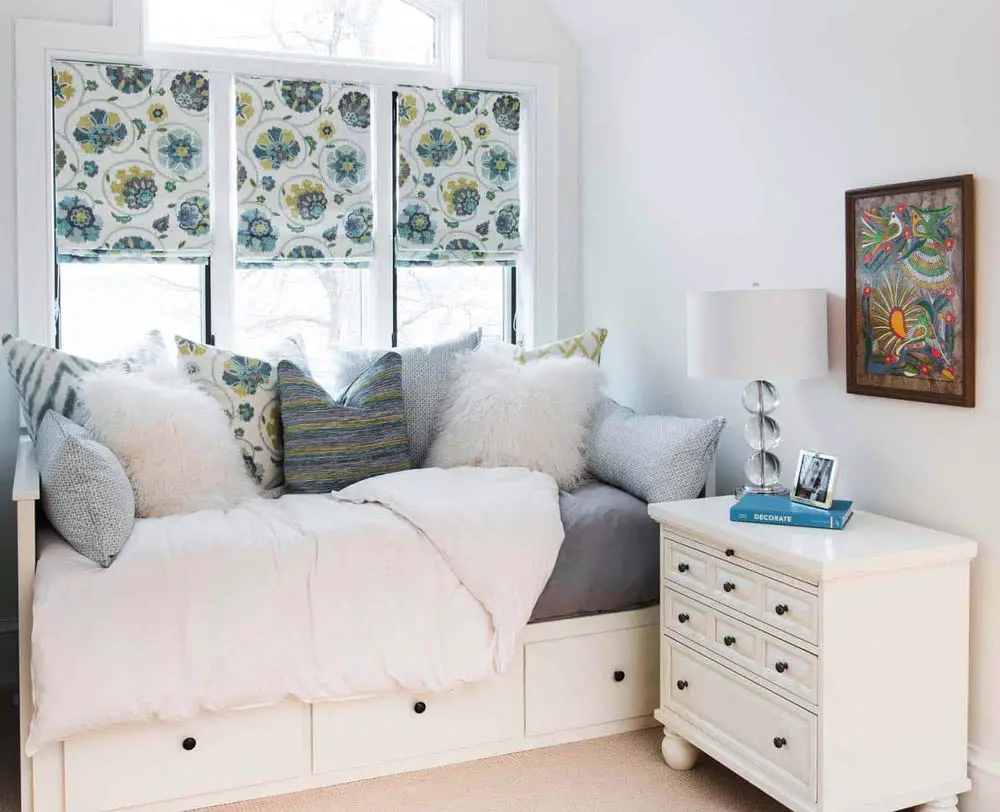 Image credit : onekindesign.com
This small bedroom is straight out of a luxury interior design magazine. The walls and furniture have all been kept a crisp white to show off the modern cushions and stylish, trendy roman blinds fabric.
Although a particularly small space, there is still enough room for a set of drawers and matching raised bed with deep storage beneath. With soft and textured cushions galore, the bed acts perfectly as seating during the day, a perfect place for reading or chilling to some music. Reverting back to a snug, warm bed in the evening.
---
Similar items we love....
---
---
3.Minimalist white and grey bedroom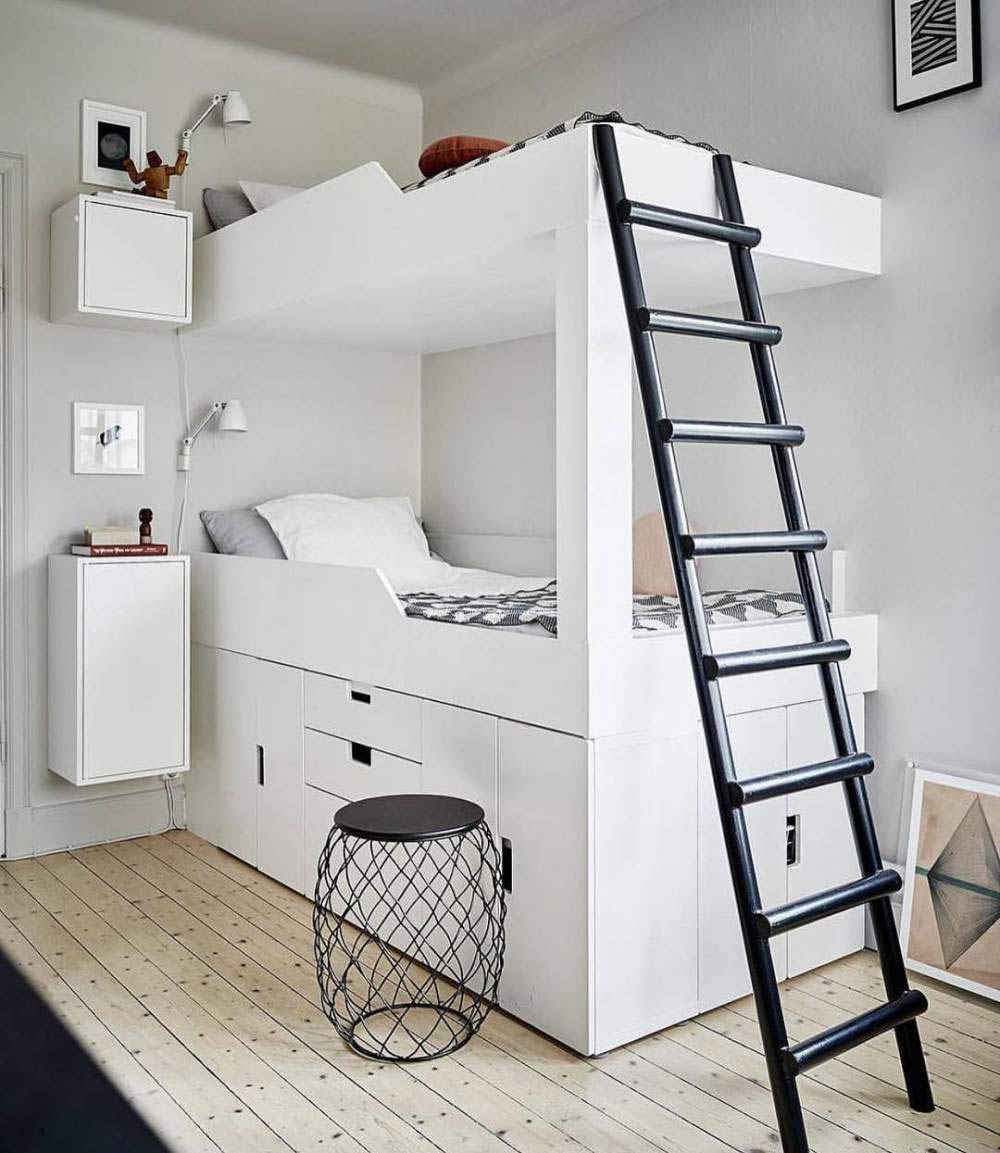 Image credit : extra space storage
This minimalist white and grey bedroom uses the walls to great effect, whilst keeping the floor space as clutter free as possible. This serves to create the illusion of more space in this tiny bedroom than there actually is. Clever use of a wall mounted floating bedside tables and storage unit, not only adds to the minimalist theme, but creates the perfect bed side table for each bunk ! Overall, this small bedroom uses the most of the available space and has a multitude of storage options for such a small room.
---
Alternative products we love....
---
---
4.Neutral small bedroom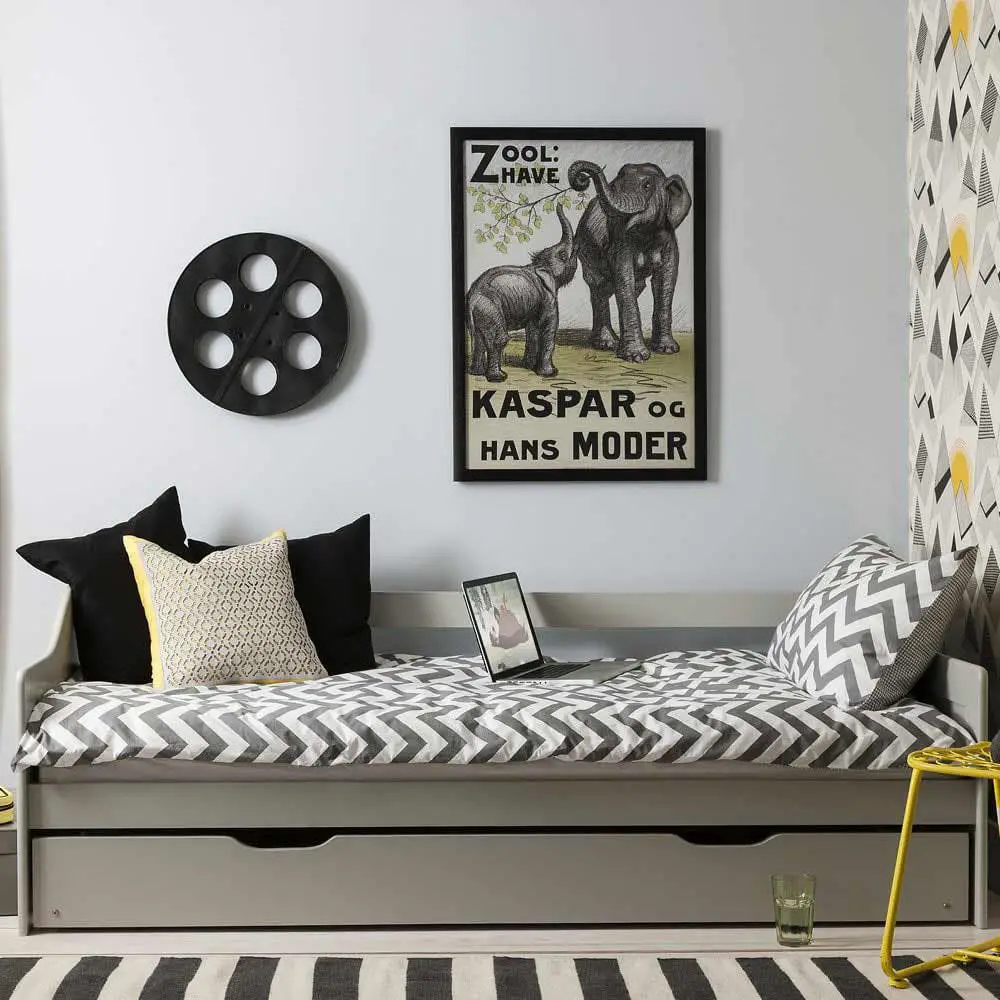 Image credit : noa & nani
When it comes to decorating a small bedroom, a multifunctional approach is often the best way to go. This room has done exactly that, making the absolute most of the limited small space available. Utilising the bed, as just that at night and in the daytime as a sofa and chillout space. The perfect way to make the space work for you at all times of the day and night. From an design point of view, keeping the colours neutral and limited to grey & white with yellow accents creates a stylish, light and calming room that any child would love.
---
Get the look now....
---
---
5.Scandinavian white small bedroom design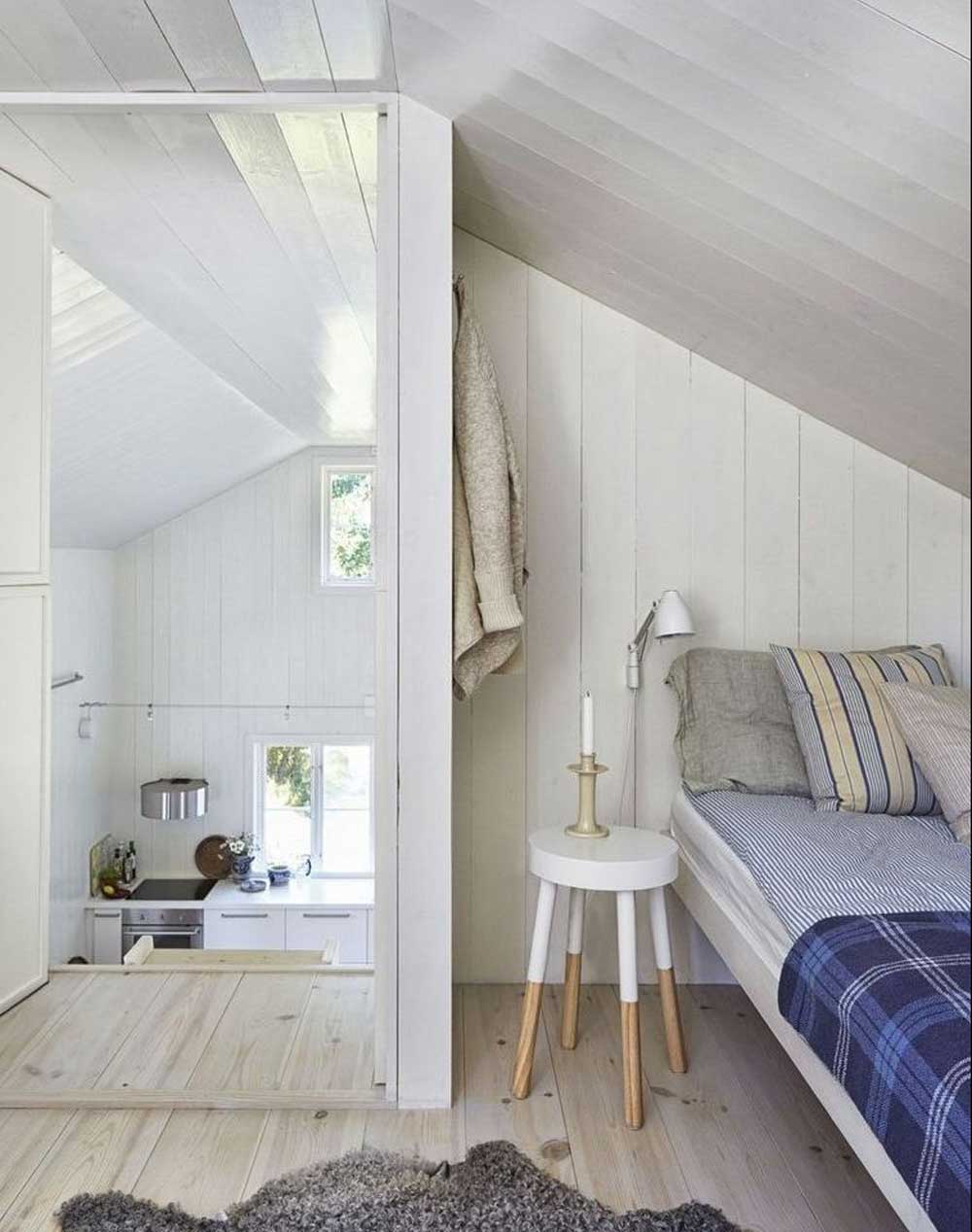 Image credit : omysa
The beauty of this small space comes from its simplicity and calming nature. It's fair to say that nothing ground breaking has been done here, but that isn't to say that clever design elements haven't been considered.
Firstly, the white-washed wooden panels across the walls and ceiling, create a very light and bright space. The white paint has also been mirrored on the stool, but only half way. This is a neat trick to draw the eye away from the stripped back wooden flooring, thus creating the feeling of more floor space. The bed has been raised off the floor for the same reason, the further the eye can see, the greater the space feels.
Last, but by no means least, is the floor to ceiling mirror that has been erected next to the sleeping area. Not only ideal for use when deciding what to wear, but a great way to reflect light back into the room. More importantly though, for a small space, is that it creates the illusion of the small bedroom being greater than it is.
---
---
6.Space saving bedroom design
Image credit : decoman.com
This really is a masterpiece of space saving bedroom design and layout ! Every inch of available floor space has been utilised to make the best use of this small bedroom. A comfy seating area and work surface that can double up as a desk. A double bed with copious amounts of storage underneath and all this after waking up next to the beautiful natural light outside. It has it all, style, functionality and design. What more could you want !
---
---
7.Small, bold and proud !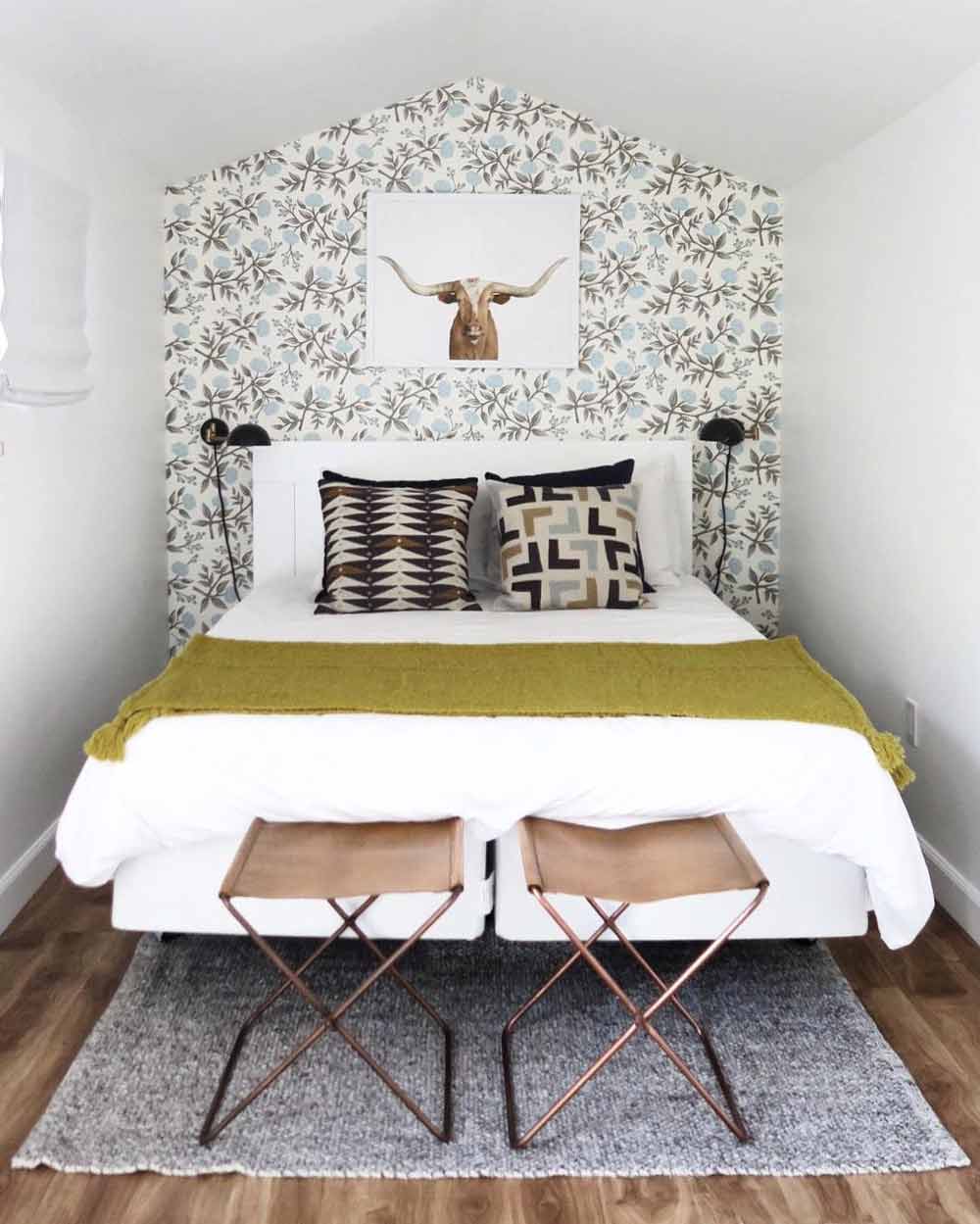 Image credit : pinterest
This unashamedly tiny bedroom certainly doesn't pull any punches. As the saying goes, go bold, or go home (or at least I think that's what it is !)
The busy floral feature wall fights for attention over the geometric patterned cushions and grey fleck rug. But there is a certain cohesion between the colours and tones, that somehow makes this design work.
Other than raising the bed off the floor, there really is no pretence in making the small room seem bigger than it is, and I for one applaud that.
---
---
8.Contemporary small cosy bedroom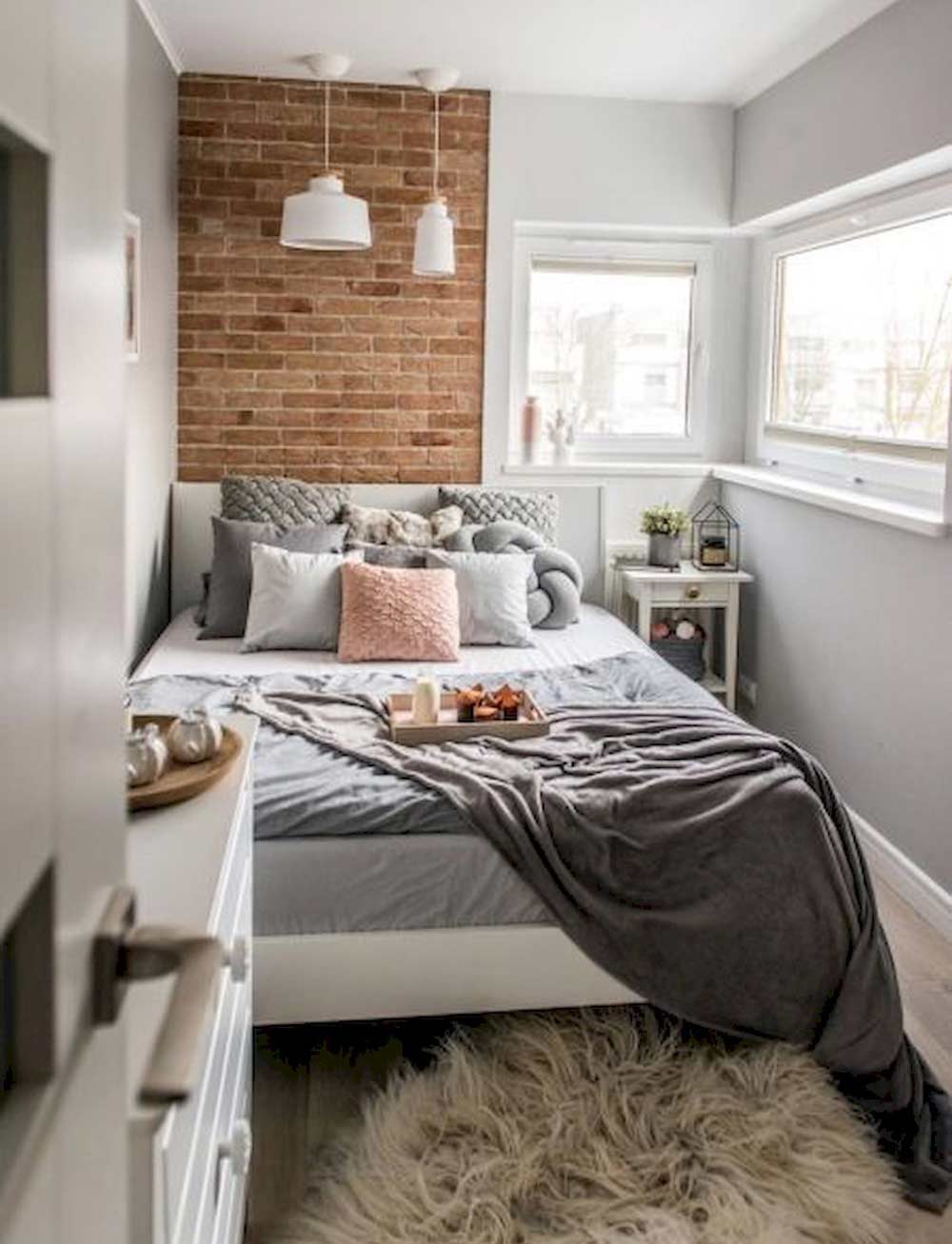 Image credit : pinterest
All you need is a rug and a throw and you are on your way to make the room a comfy and cosy small bedroom design. The brick wall and neutral tones both add to the warming element, whilst the double aspect windows add a light and airy feeling. This room shows that decorating small bedrooms doesn't always have to be about tricks and illusions, at least not if you just want cosiness and comfort.
---
---
9.Superhero bedroom décor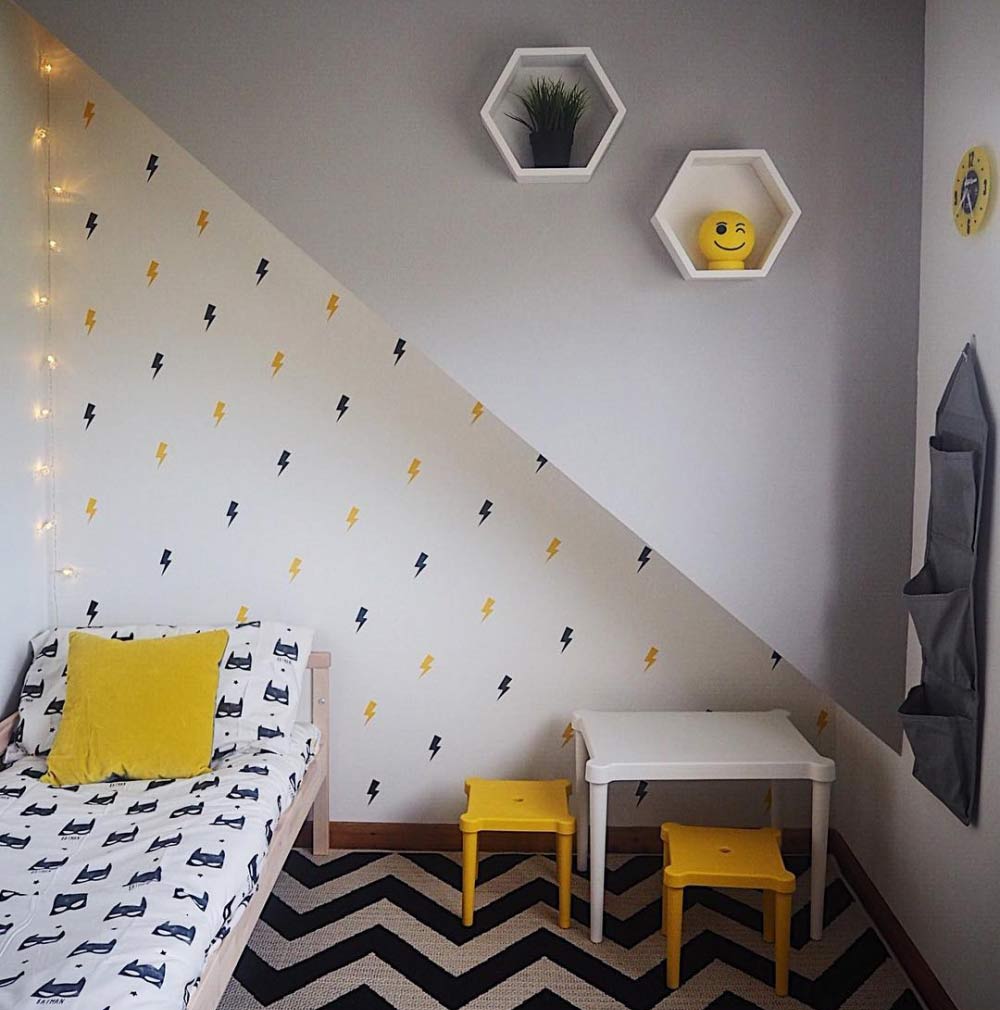 Image credit : extra space storage
The designer of this small bedroom has opted for minimal objects and furniture, choosing to concentrate more on the decor design elements of the room. Simple hanging storage, colour matching furniture and a geometric theme runs through the light shade, flooring and hexagonal shelfing units.
Clearly a small room for a little superhero, with the Batman bed spread and lightning bolt wall stickers prominently displayed on the feature wall.
---
---
10.Beach themed bedroom design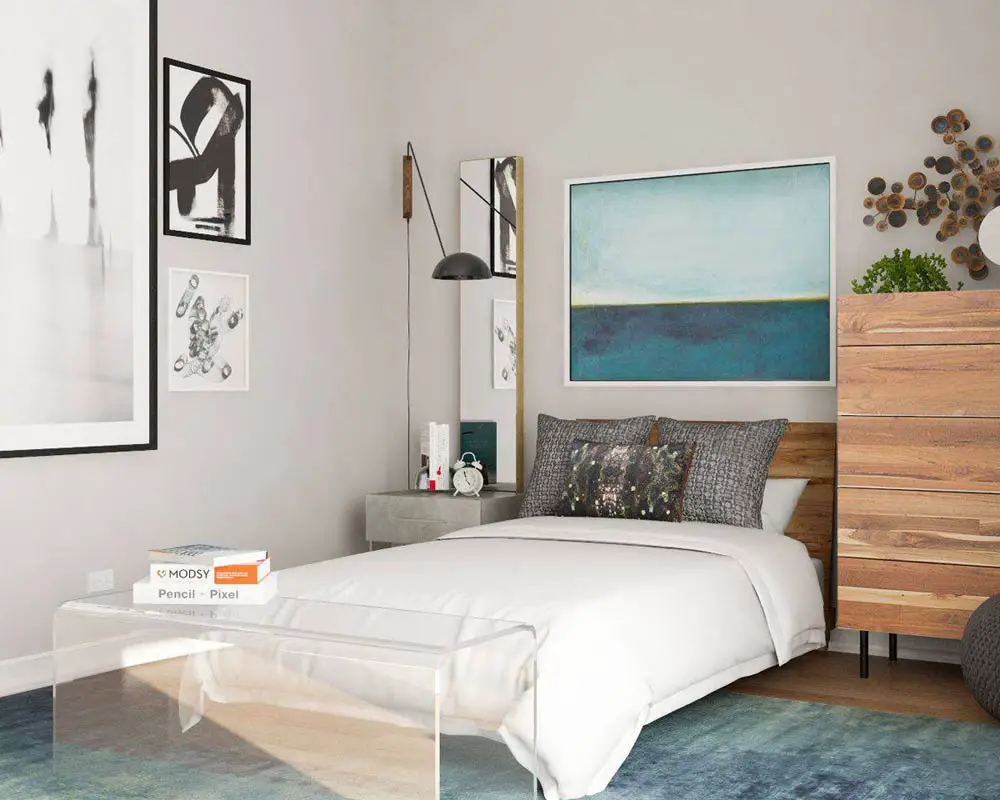 Image credit : modsy blog
Although not a very small bedroom, at least compared to the previous examples, this room has certain design ideas that could be utilised in small spaces, to make a small bedroom seem larger. For instance, the clear plastic table at the end of the bed is a great way to show more of the floor beneath.
As previously stated, the more open space the eyes see, the larger the room seems. For the same reason, the floating bed and raised drawers showing the skirting boards, have been used to good effect.
---
---
11.Elegant white bedroom decoration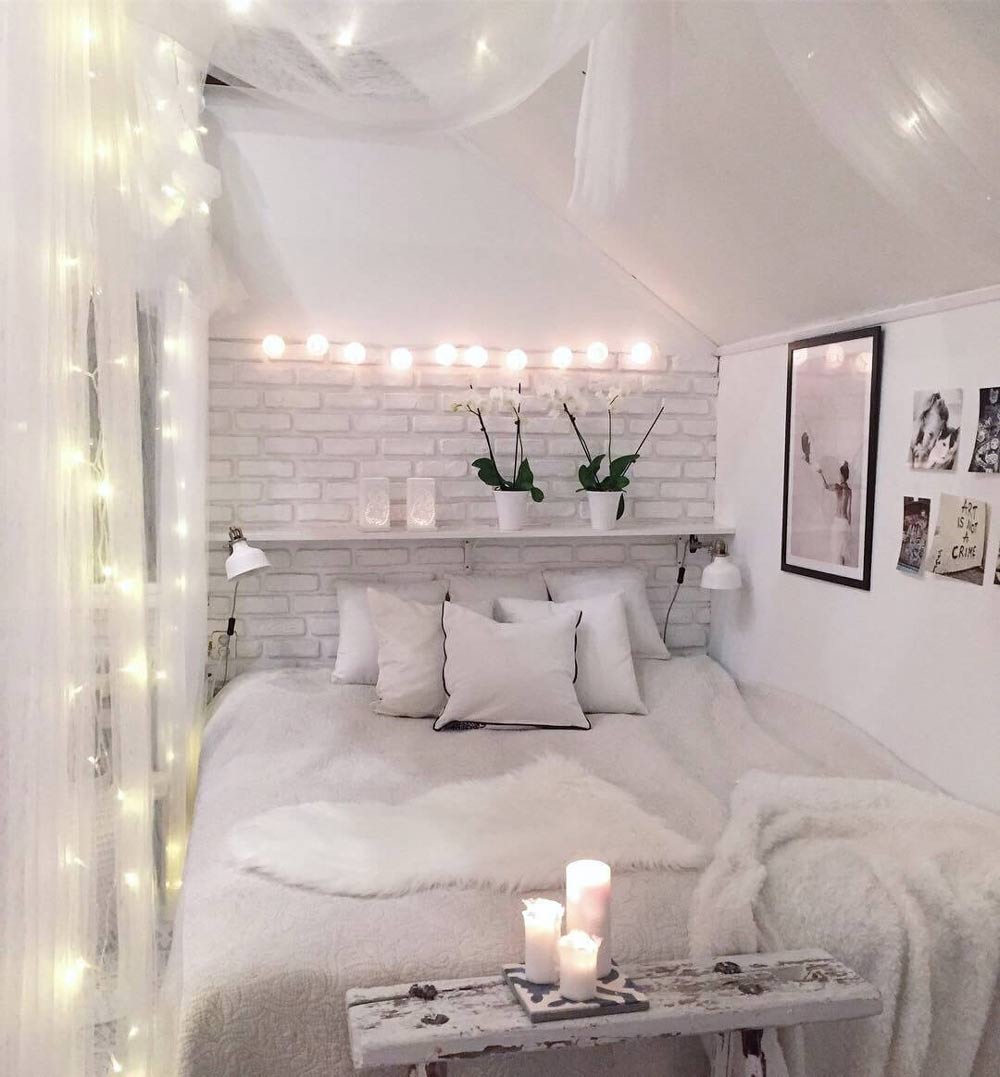 Image credit : homebnc
This cute hide away bedroom is the perfect retreat for any little girl looking for a fairy tale space to escape. Although all white, with the softness and texture in the throw, rug and duvet cover, this small bedroom feels very warm and inviting.
The LED lights scattered throughout the voile and lighting above the bed all add to the magical effect. The bedroom is finished off perfectly with battery operated candles at the end of the bed and only the most special personal pictures in pride of place on the wall.
---
---
12.Black and white bedroom decor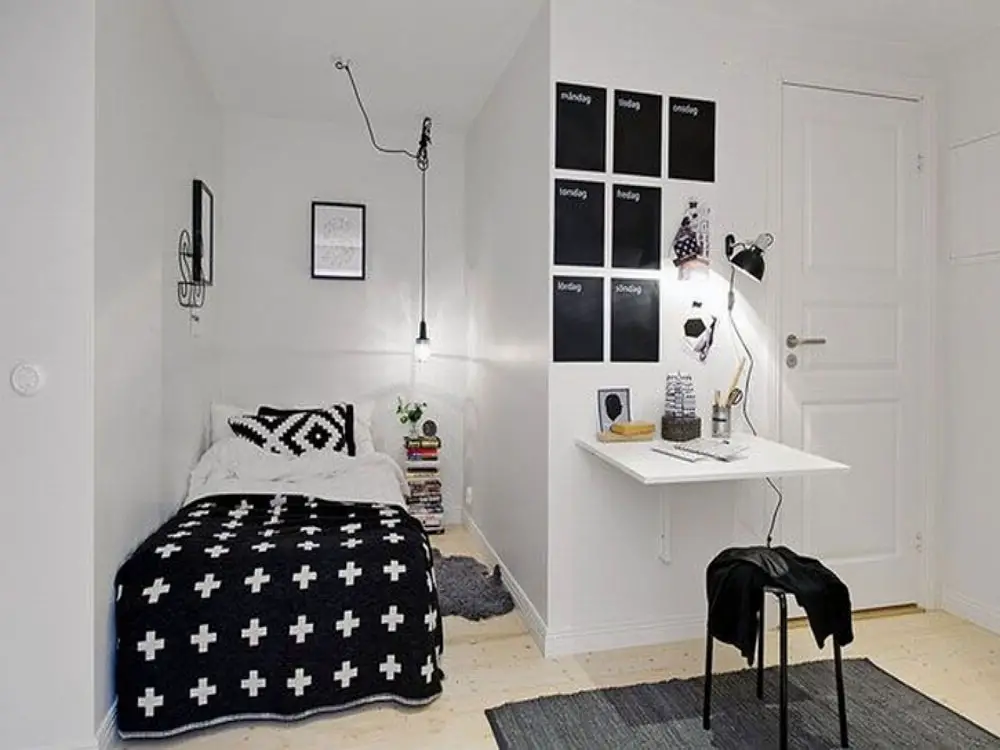 Image credit : trendecors
You can never go wrong choosing to stick with black and white when decorating your small bedroom. A true classic interior design combination.
Often bedroom ideas are born of necessity, this certainly seems to be the case here. An awkward L-shaped room is not always the easiest to overcome when organising the layout of any room. However, the designer of this room has used the spaces available to good effect.
The bed neatly fits into the alcove, creating a cosy little bedroom within a room. Lighting has been used conservatively but in all the right places, creating a reading light by the bed, and a well lit working area, using a space saving fold away table.
Although, unlike some of the small bedroom ideas we have previously shown, this space is not cosy, nor warm. Instead it is a super practical space for the modern student of today.
If love the style and design of this room you may also be interested in our black and white living room ideas.
---
---
13.Children's bedroom decor for small spaces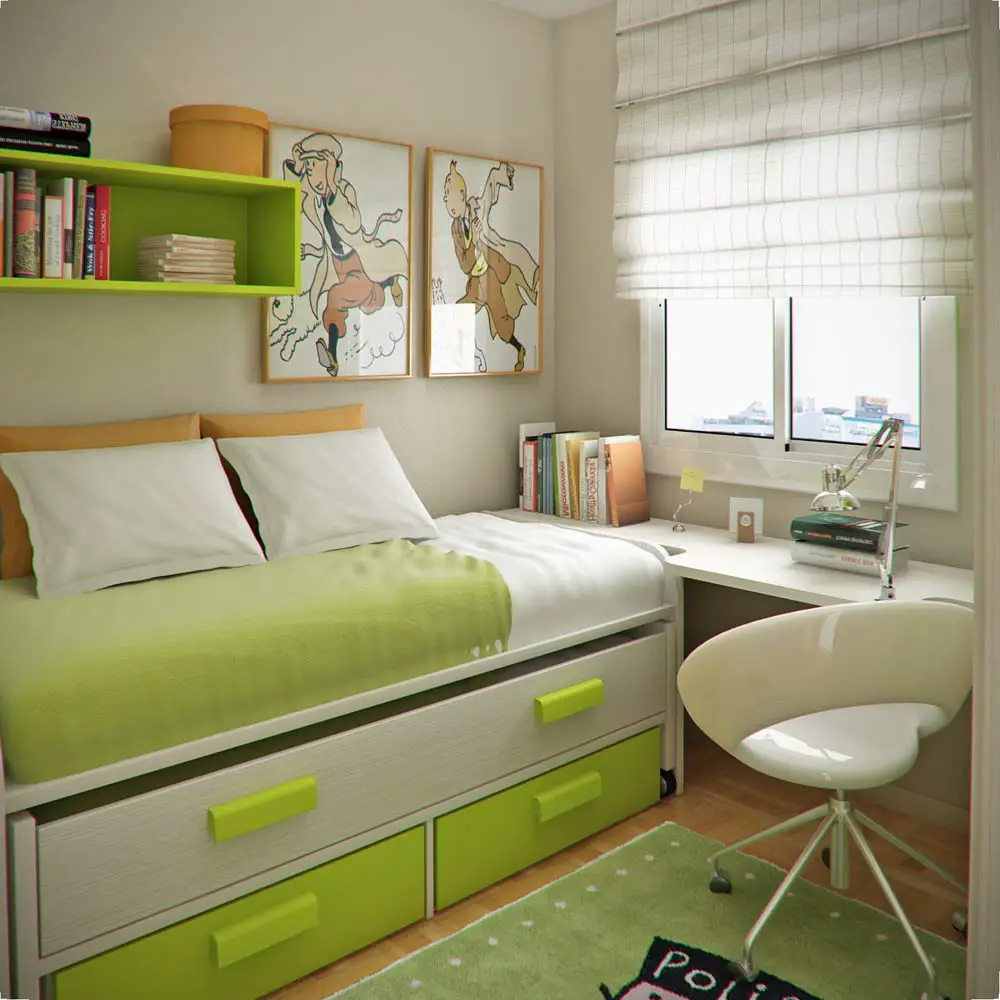 Image credit : housendecor
Lime green isn't everyone's first choice of colour when it comes to interior design in a bedroom. However, with children's bedrooms, sometimes the theory of 'the brighter, the better' is the correct one.
The white and green combination in this small bedroom space work well together and give a bedroom that may otherwise be bland and boring a real lift.
Clutter is clearly kept to a minimum, helped by the good amount of storage space under the bed and the wall mounted book shelf above it. For school work, writing or drawing, a narrow desk has been neatly fitted at the end of the bed, doubling up as a bedside table when need arises.
Overall, this is a neat and tidy bedroom space for any child of primary school age to enjoy and grow.
---
---
14.Grey, white and copper girls bedroom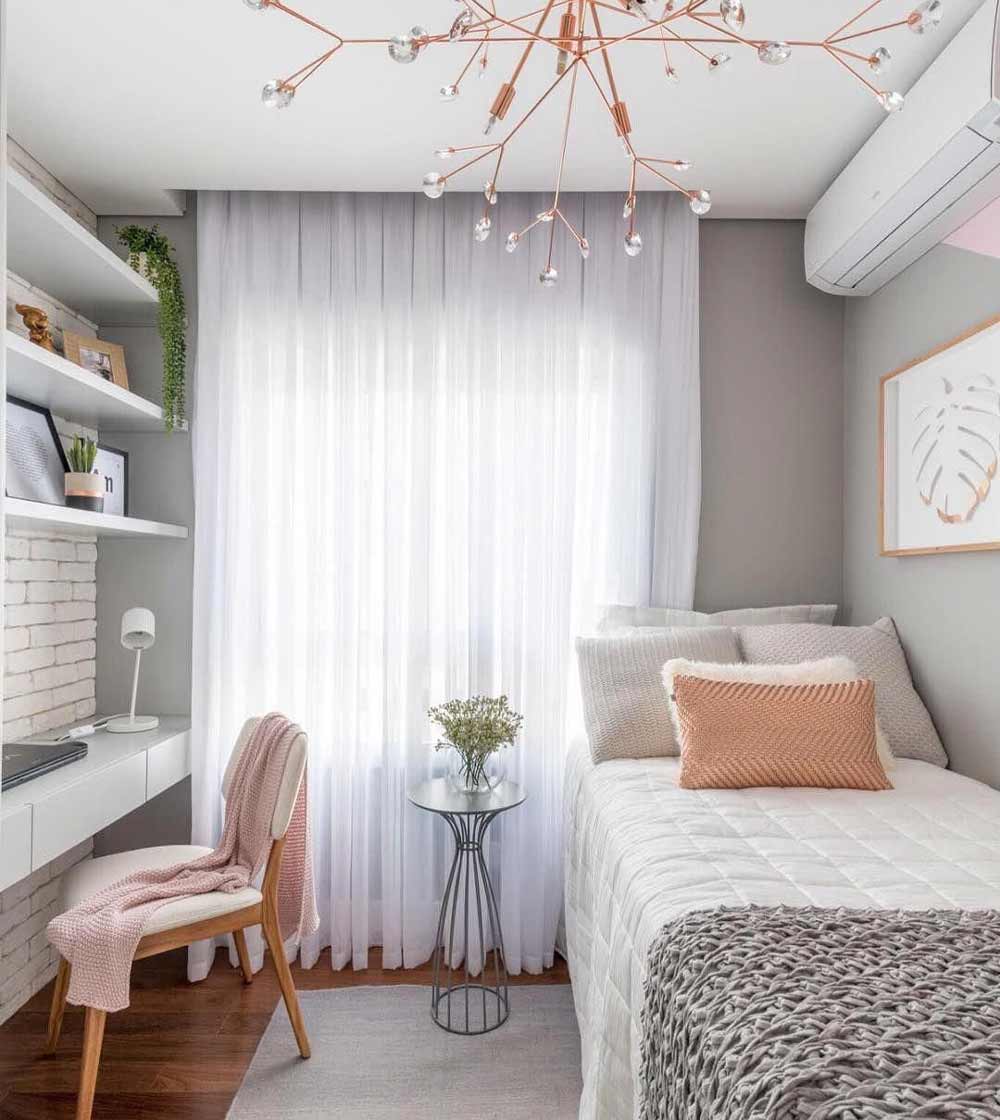 Image credit : pinterest
Simplicity and style are the overriding design ideas here, with only grey, white and copper used in the muted colour scheme.
Every part of this small bedroom has been carefully thought out, even the art on the wall, which colours cleverly tie in with the copper that runs through the ceiling light and cushion on the bed.
A narrow floating desk and shelving have been neatly incorporated into this small bedroom, but remain inobtrusive and again tie into the overall theme of the room. Finally, the soft floor to ceiling voiles on the window create an illusion of height and grandeur, which is another creative way to make a small room seem larger.
---
---
15.How to make the most of a small bedroom space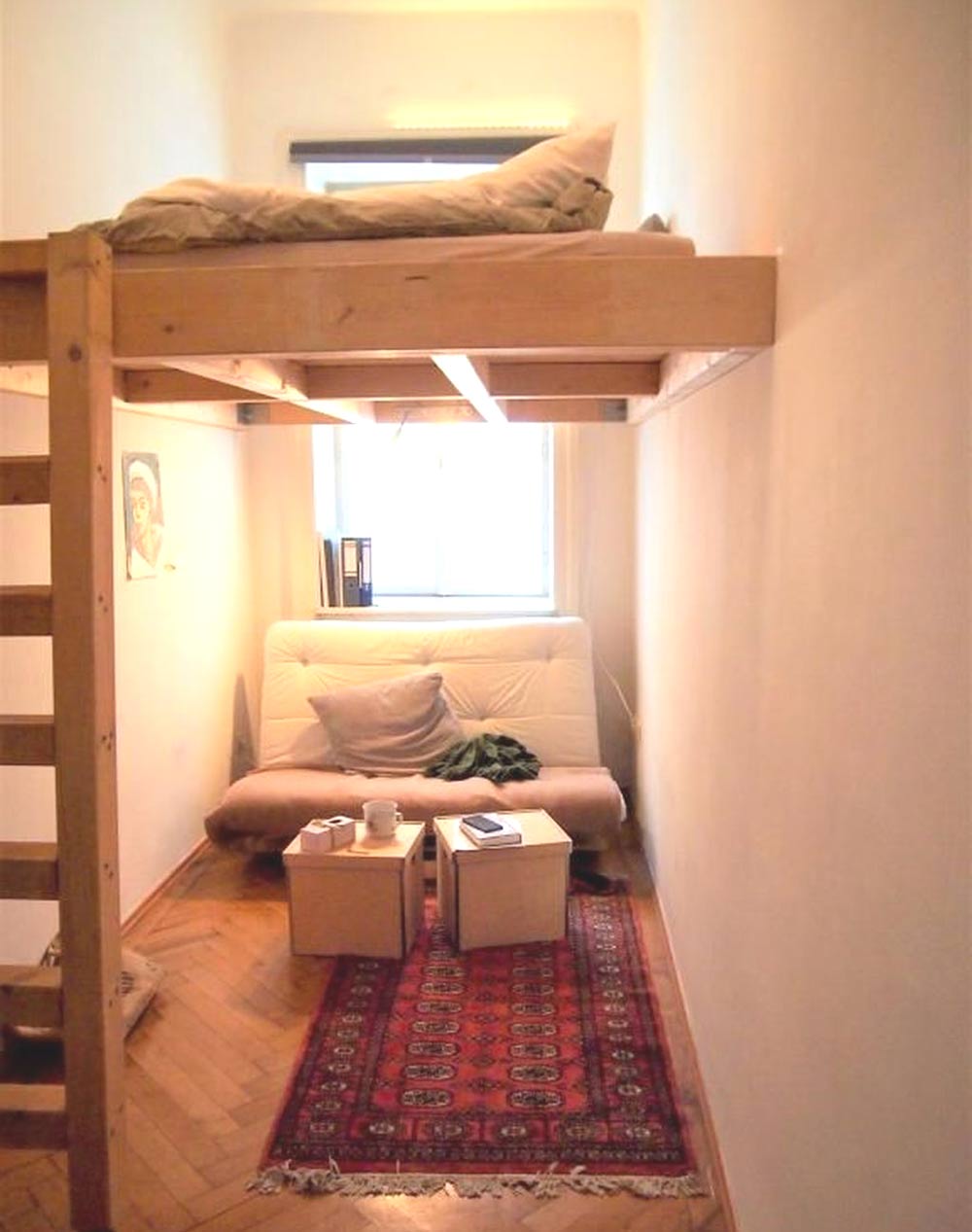 Image credit : pinterest
The last of our small bedroom ideas is probably the most creative. Although simple in its design, the layout of the furniture helps to create one of the most open small spaces for such a tiny room we have seen, making the room feel much bigger than it is.
Erecting a wall to wall floating bed has completely opened up the floor area below leaving room for, in this case, a sofa which can double as a bed for guests to stay over. This space could also be used for storage, a desk or any other furniture you may need.
It just goes to show that decorating doesn't always have to be about interior design, sometimes the best ideas are the simple ones. The most effective in making small bedrooms shine.
---
---
In conclusion
So, going back to the question, 'What is the best way to decorate a small bedroom?' There really is no definitive answer. As you can see from our chosen small bedroom ideas, it depends on the shape of room, the space that you have to play with and ultimately what functions the room needs to carry out.
Colours and patterns are very much a personal taste and are more dictated by the person who is going to be inhabiting the space. We hope that these small bedroom examples we have pulled together give you plenty of inspiration and ideas for decorating a small space of your own !