---
Your bedroom is a sanctuary, the place where you can relax and truly be yourself, so it makes sense to decorate it in a way that suits your style. Of course, if you're stuck for bedroom ideas there are many interior design styles, layouts, and colour schemes to choose from.
Traditionally speaking, cool colour schemes are employed in 'shared' spaces in a home; the bathroom, kitchen, and living room tend to make use of cool, neutral colour themes while any warm or vibrant colour theme is employed in bedrooms to make them feel cosy and inviting.
Despite this, grey and silver colour schemes are incredibly popular right now because of the casual, clean sophistication and open feeling that they offer. This is especially helpful in decorating a small bedroom space.
Disclaimer: As an Amazon and Wayfair associate, we do receive a small commission from qualifying purchases made via links within this article.
---
---
Silver and Grey Bedroom Ideas for Your Home
Each of these silver and grey bedroom ideas are stunning in their own right and you can use many different design ideas to suit rooms of varying sizes and layouts.
You could even mix and match elements from different silver and grey bedroom ideas to create a stunning grey bedroom that perfectly suit your own personal style !
---
---
1. Chic Grey White and Silver Bedroom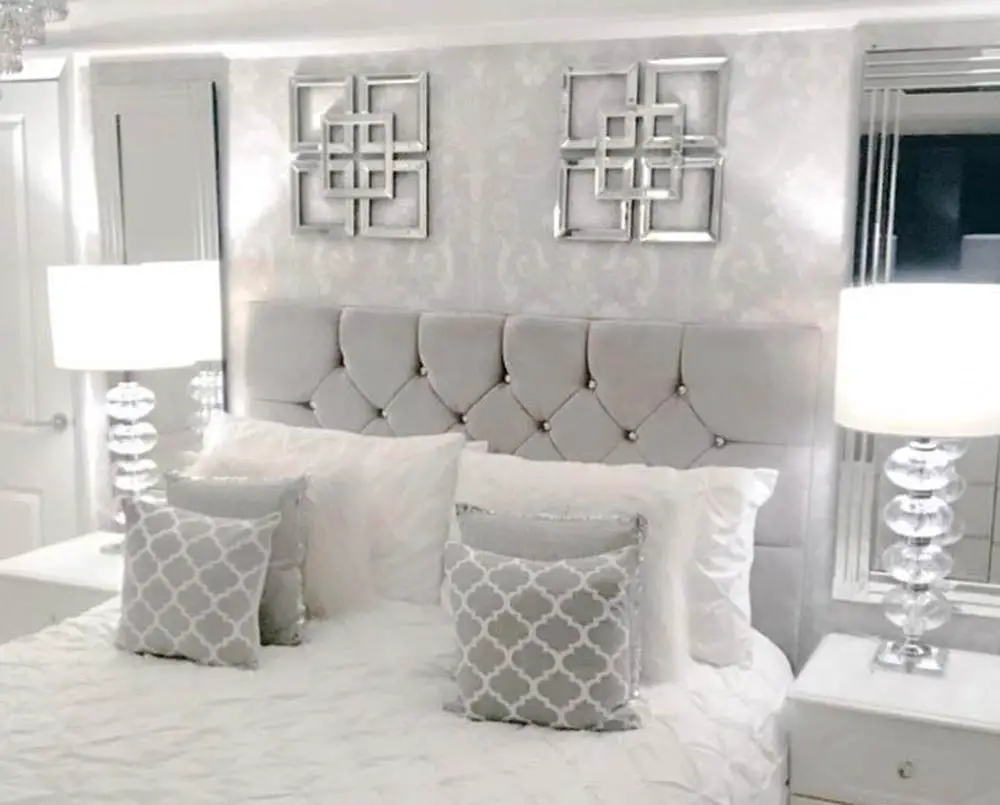 Image credit : pinterest.co.uk
Get The Look....
While contrasting dark grey and light grey looks stunning in large spaces, small spaces can be best serviced by favouring a light palette of soft greys and/or silvers.
This silver, white and grey bedroom is a perfect example of how a soft grey and silver can be used to give depth and warmth to a classic white colour theme.
The padded, soft grey headboard and almost matching pillows complement the pale grey wallpaper and prevent the otherwise uniformly white decor from becoming clinical or overwhelmingly cold.
At the same time, the clear lamp bases and large all glass frameless wall mirrors reflect light giving the illusion of size, while the metal wall decorations above the bed draw the eye upwards and give the illusion of height.
You may like...
30 of our Favourite Bedroom Wall Ideas
---
---
2. Artistic Bedroom Styling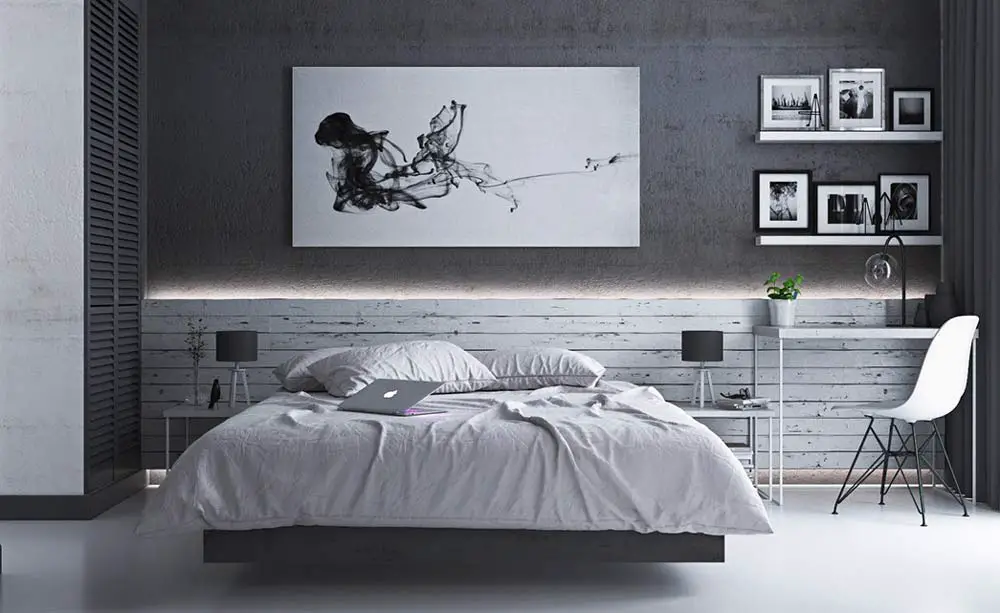 Image credit : home-designing.com
Get The Look now....
This modern apartments grey bedroom uses furnishings which give the illusion of floating, this is a great way to make any room seem more spacious than it actually is.
When these types of bedroom furniture are paired with a grey or silver colour scheme it creates a hazy, almost ethereal feel.
The horizon effect, which is created by having a pale floor and lower panelled wall beneath a darker upper wall space, only add to this.
The dark grey accents, cabinet doors, and skirting boards all serve to ground the feel of the overall room. A few extra flairs like the modern canvas and carefully placed framed prints, show why wall art is so important to the final touches of a rooms design.
The artwork alone has the power to make the space feel artistic and creative rather than plain or bland.
You may be interested in....
22 White and Grey Bedroom Ideas
---
---
3. Polished Shiny Bedroom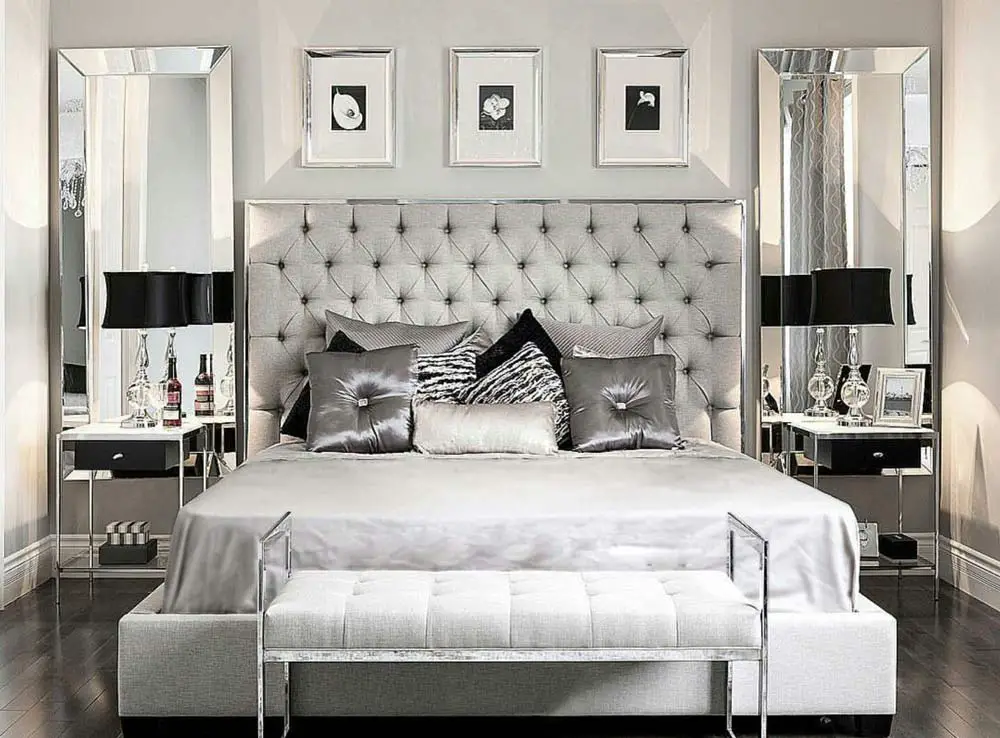 Image credit : cherrycherrybeauty.com
Get The Look....
Combining soft grey, silver, and frameless mirrors is a popular move for many designers right now. Not only is the look in vogue, it's a modern twist on the light and airy feel that many people are after. Some, however, contrast this with dark flooring and accents to give a rather more dramatic and polished look as seen here.
The dark wood flooring, black drawers, black pillows, and black lampshades stand out in stark contrast amongst the light grey walls and shining silver metal. This is a perfect solution for those rooms which have limited natural light, as the large rectangular wall mirrors will gather up the light and reflect it around the room.
Those who like flashes of colour could simply replace black accents with deep blue or red to achieve a similar look.
---
---
4. Geometric Bedroom Design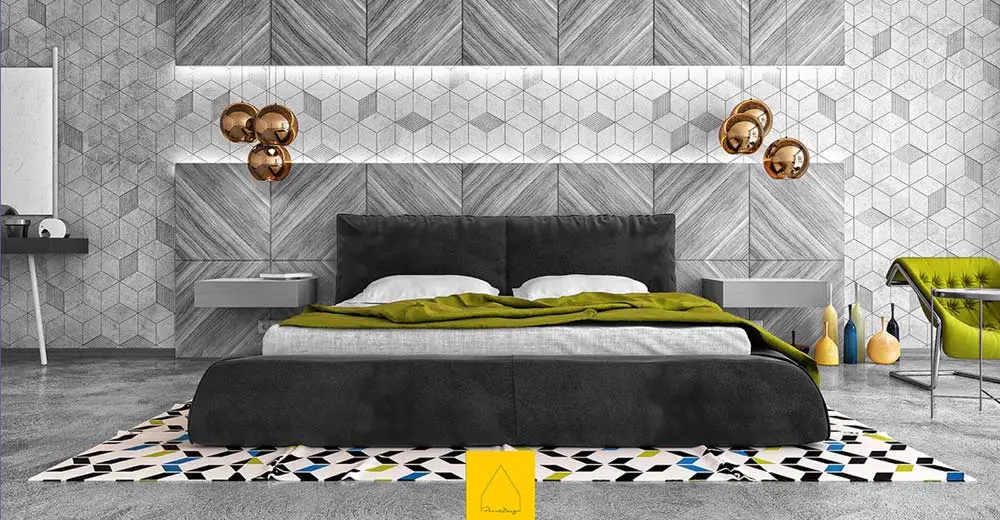 Image credit : home-designing.com
Get The Look....
This modern grey bedroom decor mixes different tones and shades and is common in rooms which use grey and silver, but this unique design mixes different shades and tones in single mediums.
Grey tones of the geometric wallpaper mixes light and dark shades of grey to give it a sense of movement and depth.
The panelled structure behind the bed has a white with tonal greys wood-grain effect, whilst the flooring almost looks like weathered concrete.
The dark greys of the suede headboard and bed base stand out in contrast to all of the other design elements, as do the touches of colour in the soft furnishings and rug, adding visual interest.
These flashes of colour also serve to emphasis the muted sophistication of the grey bedroom scheme, rather than draw attention away from it.
You may also like...
---
---
5. Seamlessly Sophisticated Bedroom Design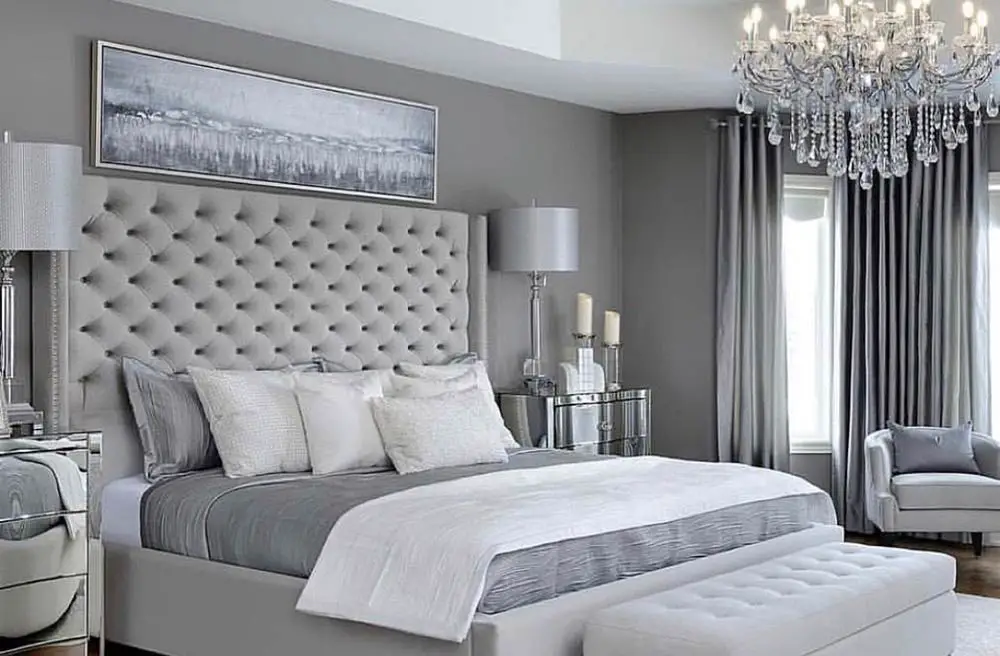 Image credit : pinterest.co.uk
Get The Look....
When it comes to grey bedroom ideas, sometimes the classic look really is the best. This room does nothing surprising or unique, but the whole scheme of warm greys, harmonious look and beautiful design undeniably create an elegant and sophisticated space.
The use of the large padded headboard as a centrepiece complements, but stands out from, the darker grey walls and is a perfect way to create depth
At the same time the warm grey tones of the curtains and bedding give the room a warm and welcoming feel whilst the pale, almost white rug, stands in stark contrast to the classic wooden floors.
Ultimately, the simplicity of this grey bedroom is its strength, but it is hard to replicate in a smaller room. If you don't have too much space, opt for a smaller headboard and consider putting a mirror above it to draw the eye up. This will give the illusion of height and extra space.
---
---
6. Breezy and Bright Bedroom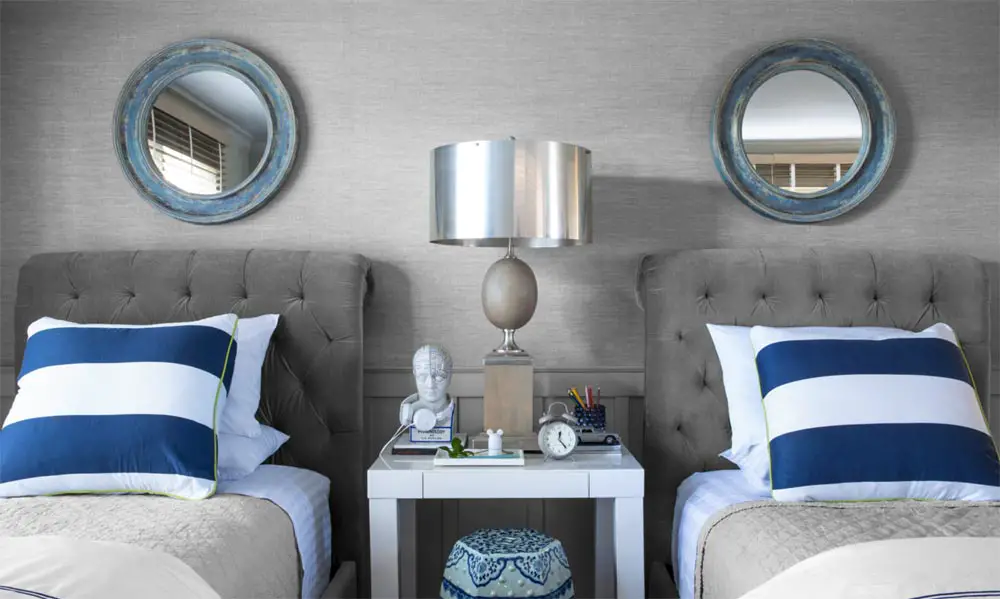 Image credit : Amazon
Get The Look....
People always wonder what colour goes with silver, and the honest answer is that any colour can pair well with silver. It all depends on matching the shade of silver or grey with an appropriate partner.
In this case, the textured, light silver wallpaper is paired with navy blue. The result is stunning; weathered blue and silver mirrors keep the grey bedroom light and airy, while the darker grey padded headboards add depth and texture to the room.
Splashes of deep blue in the bedding and decorations, along with the porthole like mirrors, conjure up a seaside feel and make this a cool refreshing room. Grey and navy blue complement each other so well in many situations, this can be seen to great effect in these grey and navy living room ideas.
---
---
7. Fabulously Flocked Silver Bedroom Décor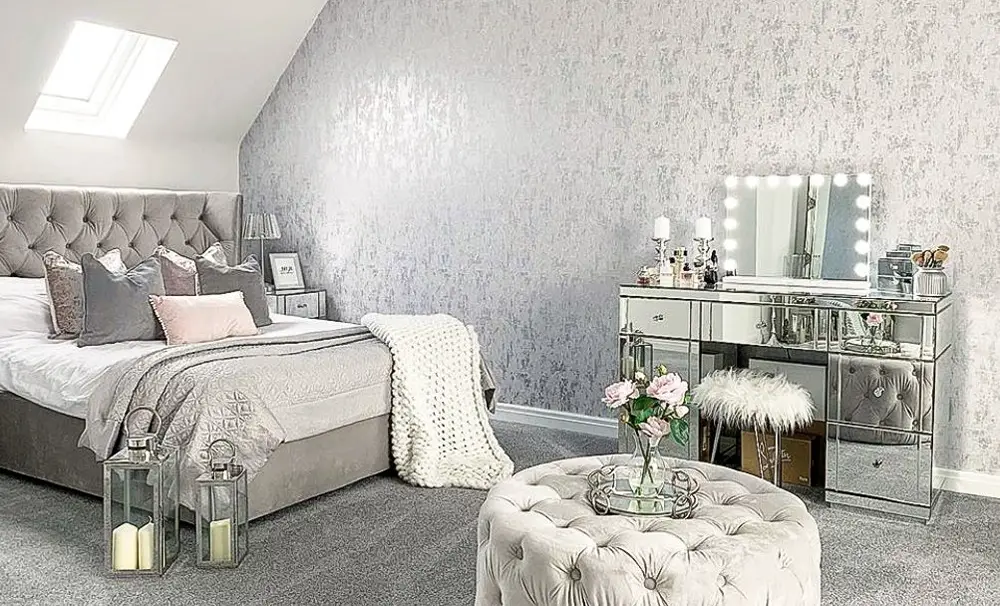 Image credit : ilovewallpaper.co.uk
Get The Look....
If you are thinking of purely silver bedroom ideas, this design is certainly very much along those lines. Silver and cool greys are often of the best colours to choose when you want to make the most of textures in a room.
The mixture of flocked fabrics on the bed, patterned silver wallpaper, and a padded grey headboard makes the room look and feel sumptuous and inviting.
The silver carpeting is pale enough to ensure that the silver, white and grey bedroom feels spacious despite being small, and the addition of mirrored dressing table helps by reflecting light and adding a little glitter to the room (this also lights up the designs on the wallpaper.
The overall effect is of mature glamour and style.
---
---
8. 50 Shades of Grey Bedroom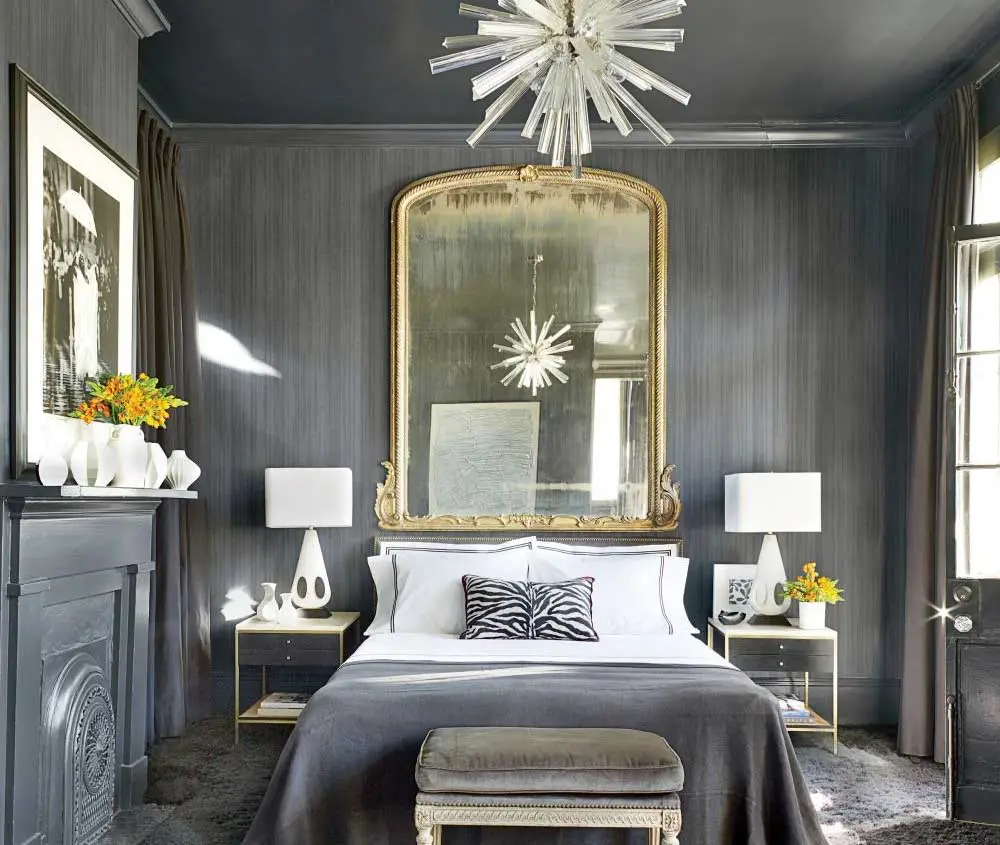 Image credit : cherrycherrybeauty.com
Get The Look....
Using every shade of grey and silver available to you is a great way to make a room appear metallic in the truest sense of the word. The wallpaper and coving in this room almost look like brushed metal and invite touch, despite being perfectly smooth.
The deep pile grey carpet is sumptuous and decadent while looking a little faded and well-loved, and the silver fireplace catches the light from the window perfectly. The addition of a grand antique gold wall mirror above the bed lifts the whole look and prevents grey overload, which is often a mistake with some grey bedroom ideas.
This is a key lesson; while a coherent colour themes are important, a flash of contrasting but complementary colour is often the final touch it needs to make it truly special.
---
---
9. Art Deco Bedroom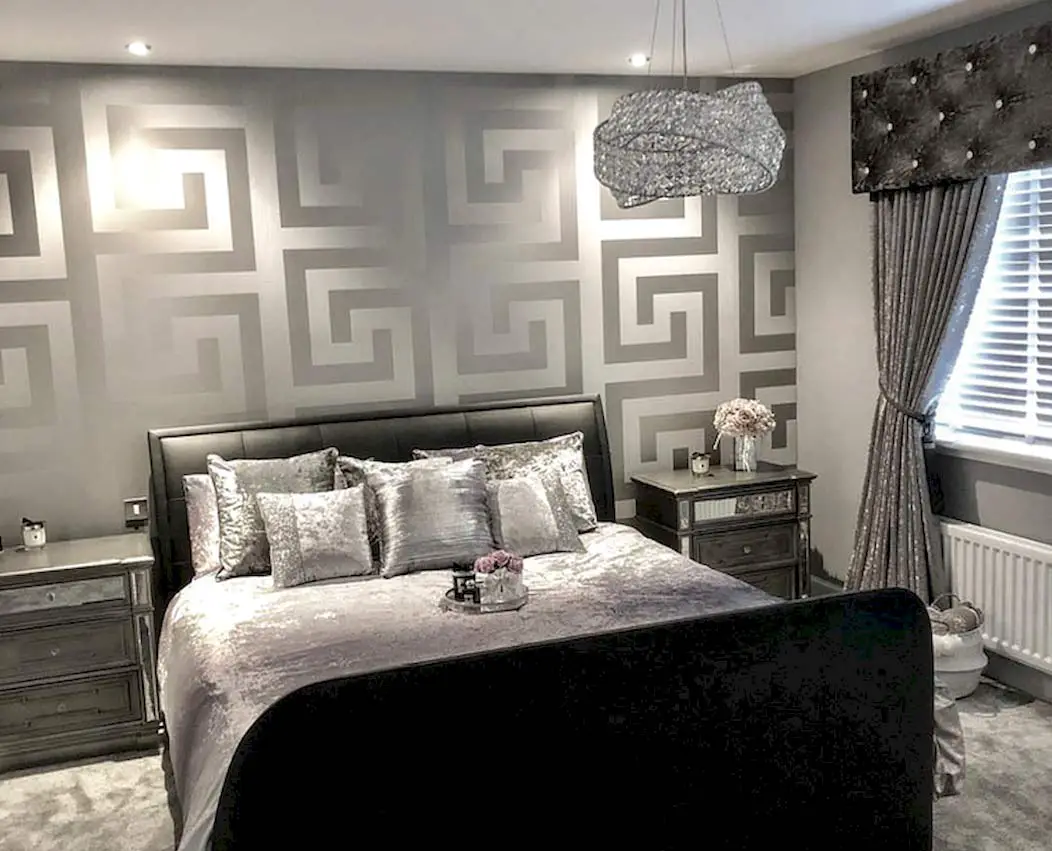 Image credit : pinterest.co.uk
Get The Look....
When we think of Art Deco in terms of decoration, it is common to envision gold, green and other such vibrant colours. However, Deco is really about structure, repetitive motifs, and sumptuous glamour. This can be clearly seen in these beautiful Art Deco bathrooms.
This silver and grey space, with its clashing textures and clean lines, is a perfect example of a new approach to classic Art Deco design. The grey and silver geometric maze wallpaper catches the light from the intricate light shade and spotlights, giving the illusion of texture on the wall which then ties into the carpet.
The deep fibres of the carpet mean that it takes on an ever changing colour depending on how the fibres are brushed. The darker grey curtains and padded velvet pelmet above have been chosen to match the lighter, velvety pillows and bedding.
Finally, the mirrored side tables are reminiscent of the old-world glamour that birthed the Art Deco style way back in the 1920's.
---
---
10. Stately Bedroom Beauty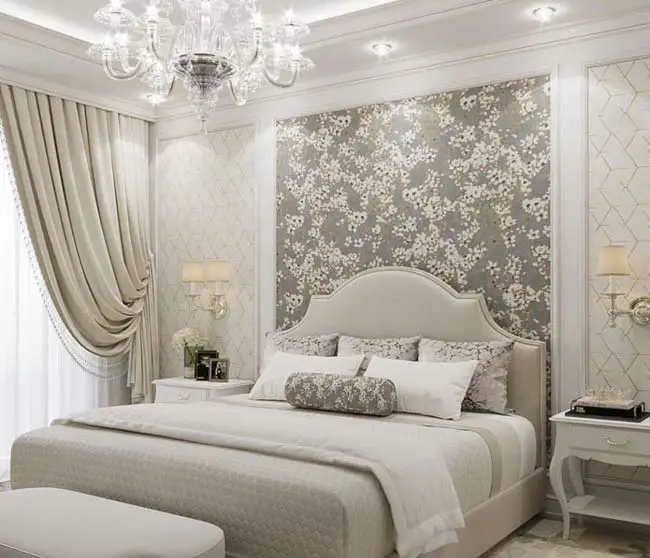 Image credit : pinterest.co.uk
Get The Look....
Large rooms with high ceilings may be the most compatible with bold or dark colours, but the current trend is for bright colours and dramatic shades. These generally feature neutral tones like cool toned greys and silver as well as reflective surfaces and decorations.
This approach to such spaces enhances their size and height, giving a sense of grandeur, but if you have a smaller room it can give a feeling of space that would otherwise not be there.
The panel of darker greys and white on the patterned wallpaper creates a sophisticated backdrop and focal point, to which the rest of the room can connect.
A dark throw pillow on the bed, the shape of the chandelier and the light grey curtains all tie into some aspect of the floral panel, bringing the bedroom design elements of this sleeping space together.
As a result, the room has a cohesive look, feels bigger, and gives the impression of being mostly grey when in fact the actual use of grey is strategic and limited.
This is a beautiful bedroom scheme that has resulted in a restful space with a refined look.
---
---
11. Industrial Chic Bedroom
Image credit : http://www.home-designing.com/
Get The Look....
Rooms which are small in width and length, but which have tall ceilings, can really shine with a grey colour palette. Industrial chic, as it is sometimes called, is becoming increasingly popular because of the way in which it mixes grungy, gritty aesthetics with polished modernity.
This room is a perfect example of how faded, concrete grey can be perfectly paired with high-shine glass. The low-sitting bed, with its grey blankets and bedspread, increases the sense of height in the room, while the broad, battered grey wall panel is reminiscent of concrete factory flooring. This works really well with the slim, long dangling led lights.
Meanwhile, the dark grey curtains and rugs complement the dark, tinted glass that makes up the front of the sliding wardrobe.
Grungy but clean-cut, this room feels fashionable and captures the industrial look perfectly. If this is a look that resonates with you, and you may want to carry it into other rooms, feel free to check out our ideas for an industrial living room for more inspiration.
---
---
12. Natural Light Control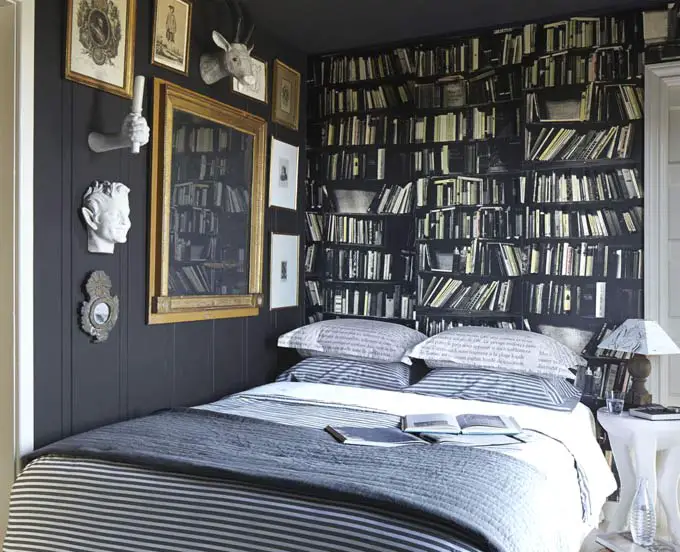 Image credit : Amazon
Get The Look....
When a bedroom has large, east-facing windows it can be hard to control how bright the room is without keeping curtains or blinds closed. Using dark colours on your walls, ceiling, and flooring is usually not recommended, but this design shows it can be truly beautiful.
The dark grey wall decor and ceiling, perilously close to black, soak up the light from the large windows while the pale floorboards and bedspread provide balance.
The faux bookcase wallpaper at the head of the bed also adds clear depth to the room. This serves to make a room of this relatively small size seem larger than it actually is.
Adding a mirror in a contrasting, warm colour (gold) adds texture and warmth to the room, while ornaments, accents, and furnishings bring the whole look together in a cohesive way.
---
---
13. Twilight Chic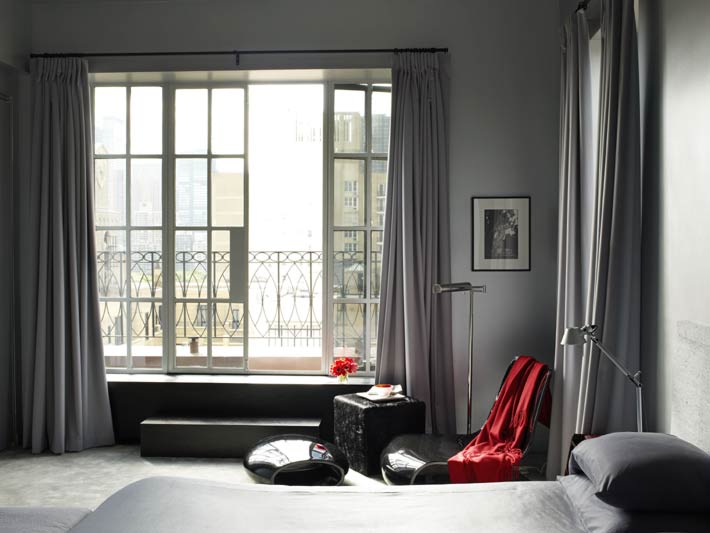 Image credit : Amazon
While a room decorated entirely in white can feel clinical and bland (and is definitely difficult to keep looking its best), bedroom designs done in shades of grey feel clean and sophisticated.
This master bedroom design is classy and modern, making the most of varying grey shades and tones, to prevent the room from becoming bland and boring.
You may want to know what colour curtains go with grey walls, the answer to this is that you can ultimately pick any colour, as long as you tie it in with an overall theme.
In the case of this look, grey curtains have been chosen which are slightly darker than the silver walls. They have then been paired with dark grey accents, furniture, flooring, and bedding (as well as a few splashes of red).
The result of this grey bedroom idea is a clean and modern room which looks effortlessly classy.
---
---
14. Earthy Bedroom Tones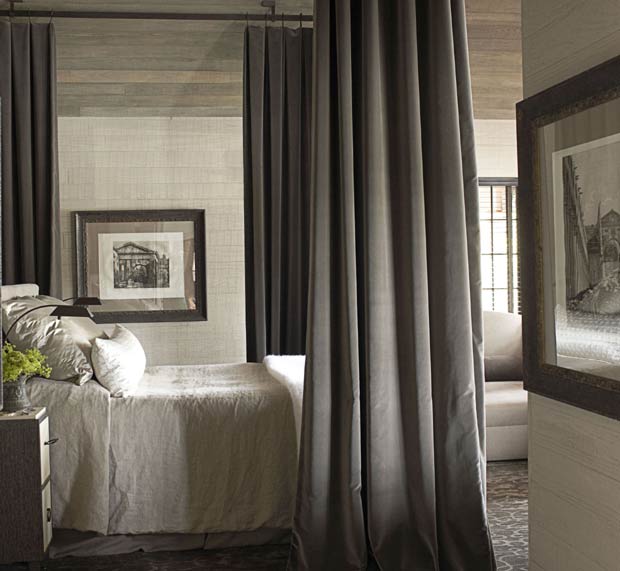 Image credit : Amazon
Grey as a colour is very versatile and can have either cool or warm undertones. The designer of this grey bedroom idea has made grey warmer by using an iteration with brown undertones and pairing it with dark wooden flooring.
The warm grey ceiling and bed hangings, pale grey bedding, and greyish white walls all add to the overall colour palette perfectly.
By also adding touches of pale brown on the side of furnishings, in the rug, and darker brown in picture frames; this design manages to make a grey bedroom which is warm as well as light and inviting. This is no easy task!
---
---
15. Light Airy Bedroom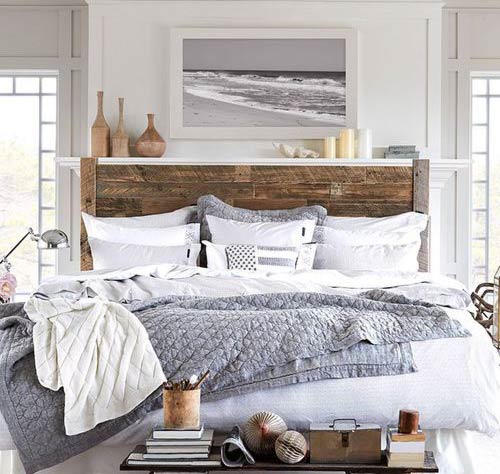 Image credit : cherrycherrybeauty.com
Many people would avoid light grey bedroom ideas because they fear it will look slightly 'washed out', but this look can work to your advantage if you like a natural, coastal kind of feel. Think driftwood and pale stones on a sandy shoreline, and the shifting grey sea; that's the aesthetic that this room has gone for (very successfully).
The pale grey walls are almost white, but lack the brilliance of true white. This is contrasted with grey-toned decorations, paintings, and soft furnishings. The slightly cool-toned wooden headboard brings the whole room together making it light and airy, with a natural cosy feel.
---
---
16. Penthouse Bedroom Chic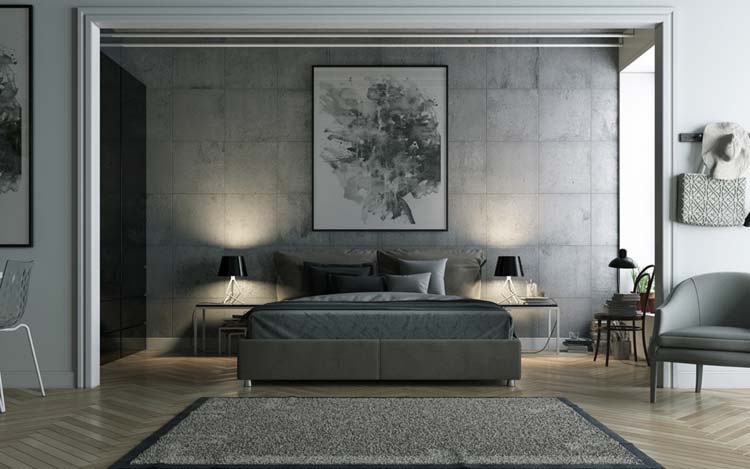 Image credit : home-designing.com
Open-plan flats and houses are excellent at making the best of small living spaces, but finding a colour theme versatile enough to clearly transition from space to space can be tough. That's why grey and silver are perfect choices; using a gradient which darkens in more private areas of an open plan space can bring atmosphere to even the smallest studio apartment.
As grey bedroom ideas go this is a perfect example; the indented space used to house the bed features a darker, more weathered grey than is seen on the outer walls, and the black wardrobe and lampshades make it feel cosier, closer.
The room gradually brightens the further you get from the bed, making these spaces feel less intimate and more open while maintaining some cohesion.
---
---
17. Elevated Comfort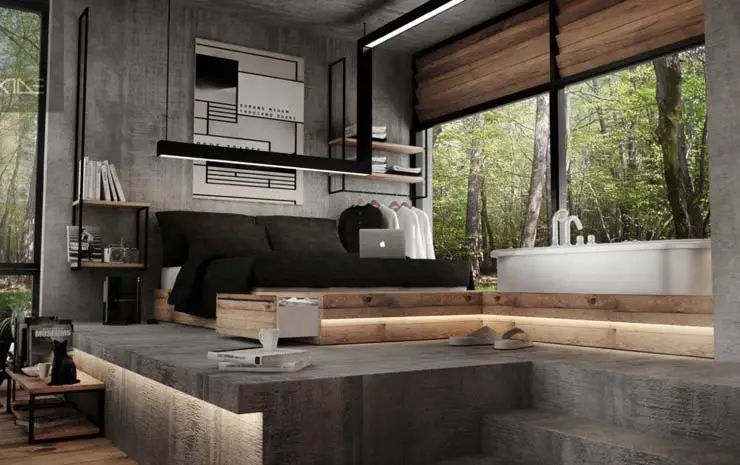 Image credit : home-designing.com
When researching grey bedroom ideas we discovered that grey is also a great colour to deploy in carving out a space, which is intended to stand in relief to the rest of a room.
This room contrasts natural wood with a raised area of textured grey, made to look like brushed concrete.
The large windows let in copious amounts of light and show a beautiful view of nature. The wood almost seems to invite the forest in and seamlessly blends the outside with the inside.
The raised grey platform however, carves out a 'man-made' space as the ultimate refuge.
Using grey as an accent rather than as the whole theme is less common right now, but can be hugely effective in any grey bedroom design. The addition of charcoal grey bedding and black detailing adds a little more depth and cosiness to this inner sanctum.
---
---
18. Rough and Rustic Style Bedroom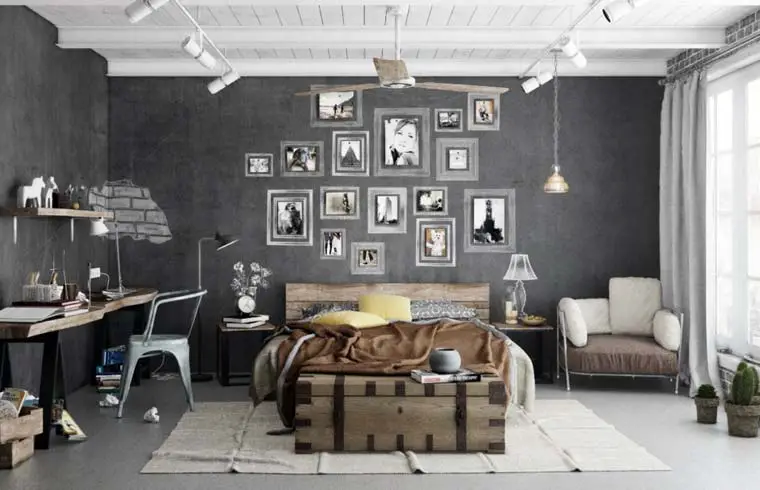 Image credit : home-designing.com
Dark colours, especially cool dark colours, are often seen as masculine and while this is not always the case they certainly do lend themselves to a rustic, functional, and traditionally masculine look.
This grey bedroom idea shows this to great effect; the dark grey, brushed wallpaper is a strong contrast to the white ceiling and pale grey floor.
Despite being plain, the textured walls have a sense of depth and movement that is complemented by the light grey curtains and the brick effect trim above the window.
The use of mostly natural wood furniture ties the room together, despite not actually matching the colour-scheme, showing the power of contrast in interior decoration.
This would be a good starting point for anyone searching for dark grey bedroom ideas.
19. Hotel Room Décor Style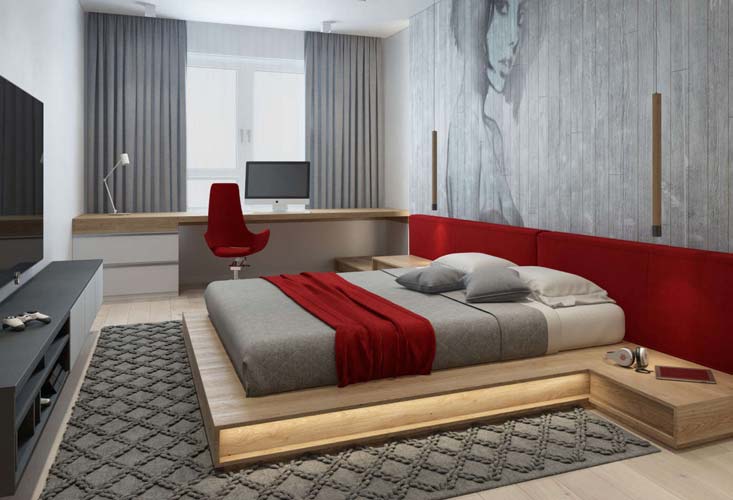 Image credit : home-designing.com
One of the main criticisms levelled at grey colour schemes and many grey bedroom ideas, is that they feel non-personal, plain, or even that they are reminiscent of hotel rooms.
Of course, the best hotel rooms are designed to be neutral, calming, and aesthetically pleasing, so there's no reason to avoid mimicking them, if that's what you want to do.
This silver grey bedroom design is a great example of just how this can be done well; the plain, functional furniture and sparse decoration makes it feel spartan but welcoming.
Light pastel grey wood panelling on the wall blends into the grey of the curtains, but is broken up by the image of a pretty woman above the headboard.
The grey textured rug and simple TV stand complete the look. It is the jutting, red headboard which is the star of the show here and create the extra wow factor.
Matched by the red chair and throw, it draws the eye to the bed and the desk; the two areas where you will really 'live' in this room, and so allows you to dictate the feel of the space at any given time.
20. Period Bedrooms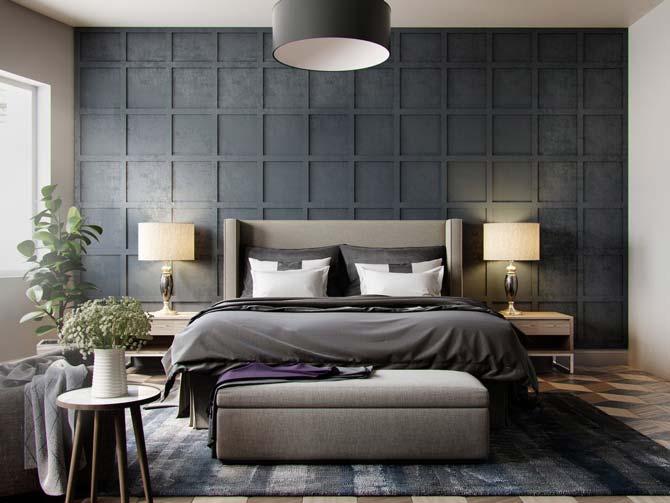 Image credit : home-designing.com
Wood panelling fell out of fashion a while ago; hardly suited to the smaller homes of today. This period holdover is most often seen in large, heritage homes where they have large expanses of walls to work with. Despite this, it is making a comeback of sorts.
Small amounts of panelling, as seen in this room, are increasingly being used as feature walls, and the results can be truly stunning.
By using a dark grey with blue undertones and employing a slight speckling of lighter grey at the edges, the panelling draws you towards the bed, whilst the contrasting white walls and ceiling almost act as a funnel.
The padded light grey headboard and chest, at the foot of the bed, act as a focal point for the lower half of the room while the cream, black, and brown floor adds a splash of warmth and colour.
The result of this grey bedroom idea feels rather stately, despite being staged in a small room.
21. Simple and Plain Bedroom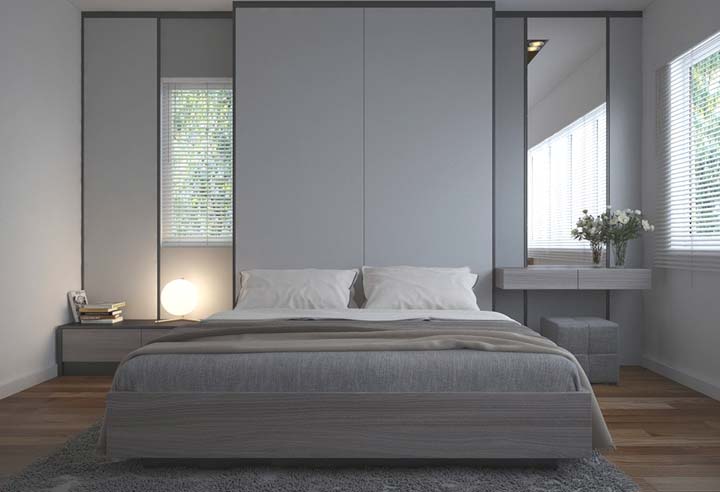 Image credit : home-designing.com
Some people love to put all of their personality into their bedroom, while others want a blank space which is neutral, relaxing, and devoid of the complications. For those, the use of plain furnishings and a soft grey colour scheme can be truly revolutionary.
Grey bedroom ideas are warmer and kinder than white; less prone to staining, less sterile in the light and it has the same calming properties as pale blue. The almost ascetic simplicity of this room means that it certainly isn't for everyone, but the mixture of textures prevents the deep grey rug, bed frame, bedding, and light grey bedroom walls from blending into one another.
Likewise, the brown wooden flooring enhances the simple beauty of the room and the large mirrors gather up the natural light from the windows, casting it across the room. The keyword for this bedroom is definitely 'calm'.
22. Silver Glitter Bedroom
Image credit : pinterest.co.uk
While light greys and silvers can be incredibly calming, they are also the purest example of opulent glamour.
This elegant room is just about as close to a pure white colour scheme as greys and silvers can get, and the result is beautiful.
Perfect for making small rooms feel bigger, the mix of off light grey carpeting and a padded grey bed frame, matching chair, silver accent pillows, and sparkling chandelier brings to mind opulent gemstones and jewellery.
This is the perfect grey bedroom style for any self confessed glamour puss.
23. Touches of Pastel Bedroom Décor
Image credit : home-designing.com
This use of pale, patterned grey feature wall wallpaper is unusual to say the least; the lack of boldness almost makes it fade into the background. However, the grey headboard and contrasting dark panels which surround it, tie in and anchor it perfectly.
Likewise, the grey, fluffy rug draws the feature wall down again to give the illusion of a cohesive silvery grey block where, in fact, there are only disparate blocks.
The dark bed base, dresser, and side tables connect with the panels around the bed to seamlessly tie them together. It is the purple chair and curtains, however, which set the tone of the grey bedroom by coaxing out and enhancing the undertones in the grey.
24. Glamorous Silver Bedroom Decor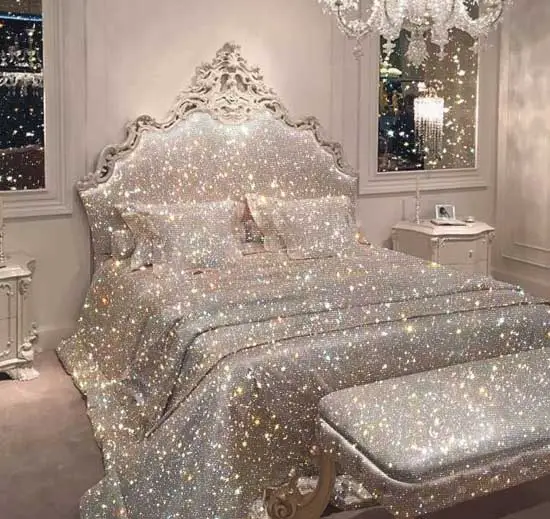 Image credit : pinterest.co.uk
Another sparkling silver bedroom idea; if you want to go for a silver or grey colour scheme, embrace its potential for over-the-top opulence with glitz and glamour.
By keeping the walls and carpet plain, this room makes the sparkly bed, footstool, and chandelier the true stars of the show.
The matching bedspread really completes the look of course, but plain silver or white bedding would still complement this glamorous look while offering a slightly more understated iteration. Though the sparkly duvet cover really cements the Essex Glamour look.
25. Simple Bedroom Design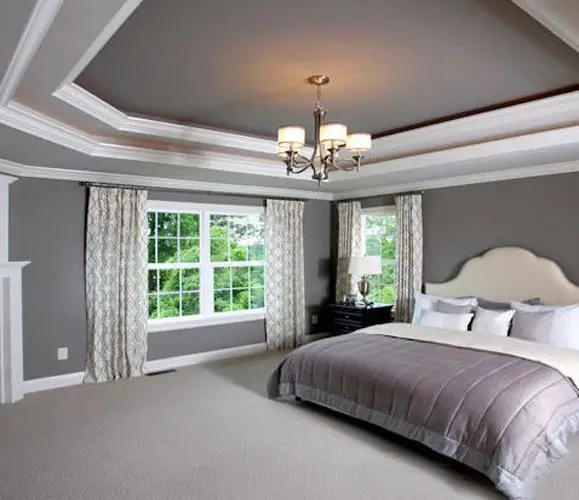 Image credit : pinterest.co.uk
Applying colour to a bedroom ceiling, in this case grey paint, is a sadly underutilised design technique; as this room shows. However, having a panel of colour on the ceiling can really tie a room together.
As this example shows, keeping your grey colour scheme simple can pay off, no matter if you have a large or small space.
By matching the walls and ceiling colours, offsetting them with a slightly paler floor, and contrasting them with a flash of colour in the bedding this room creates a sense of warmth, depth, and intimacy.
For those who want a slightly showier version of this style, grey floorboards are the way to go; exposed wood is always in fashion, and the grain will make the grey flooring sparkle when in direct sunlight!


Each of these stunning grey and silver bedroom ideas can act as a template when you are designing your own silver or grey bedroom; don't be afraid to experiment until you find a look that really works for you!