It is an exciting moment when one's new home is ready to move into, or if you already own a home, you have decided to overhaul one or more of your existing rooms by updating the wall decor.
Interior design is a delightful undertaking, but most homeowners forget that the walls are the most abundant space available for decoration!
Disclaimer: As an Amazon and Wayfair associate, we do receive a small commission from qualifying purchases made via links within this article.
Here are some great wall decorating ideas to add finesse, creativity, and aesthetic appeal to the walls of your new or old home.
A Classic Gallery Wall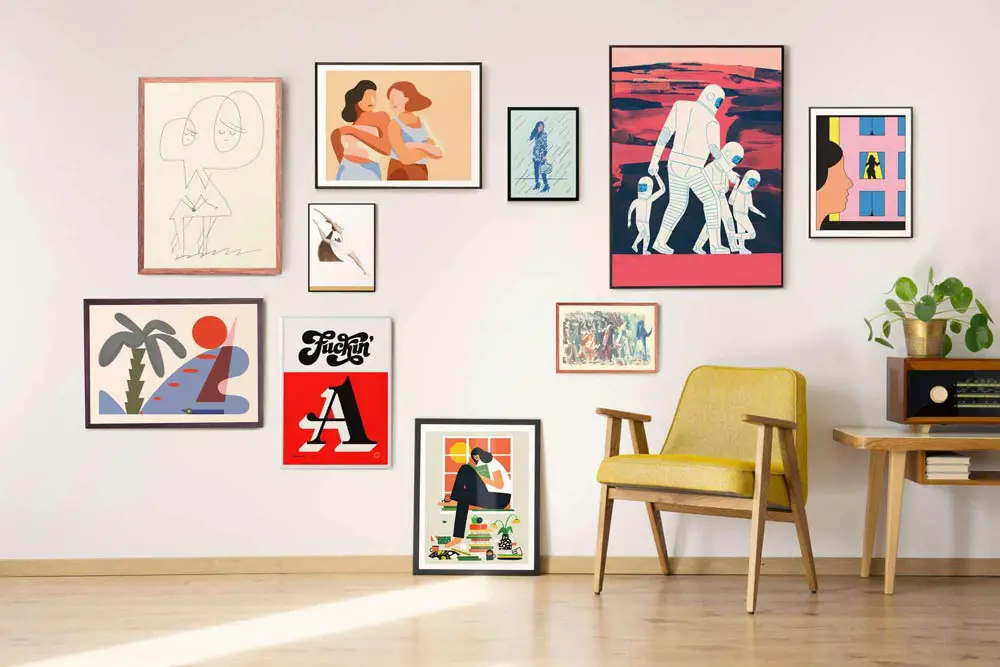 Image credit: blog.singulart.com
When it comes to wall decor ideas, gallery walls have been in fashion for quite a few decades because they perform a variety of functions and can enhance any blank wall to create visual interest in a living space.
Firstly, they are aesthetically pleasing, especially if a monochromatic theme is followed with mostly black and white photographs and wall art.
Secondly, gallery walls offer a glimpse into the life and passions of the homeowner, in a varied and comprehensive fashion, such as with a photo wall.
A must read...
Eye-Catching Gallery Wall Ideas
Viewers will get a rush of stimuli having so many beautiful personal pictures, professional photography, and gorgeous framed wall art to look at and ponder. It has also been said that a gallery wall is an excellent conversation starter and ice-breaker for when guests come over.
If you do not favour monochrome as a design aesthetic, don't be afraid to go big on colours, patterns or large scale wall art ideas for your own home wall display.
An art gallery wall or photo gallery is the perfect opportunity to express yourself and your interests for all to see, especially suited to living room or kitchen wall decor ideas.
You may also be interested in...
How to Choose the Perfect Wall Art for Your Home
A Wall-Hung Console Or Table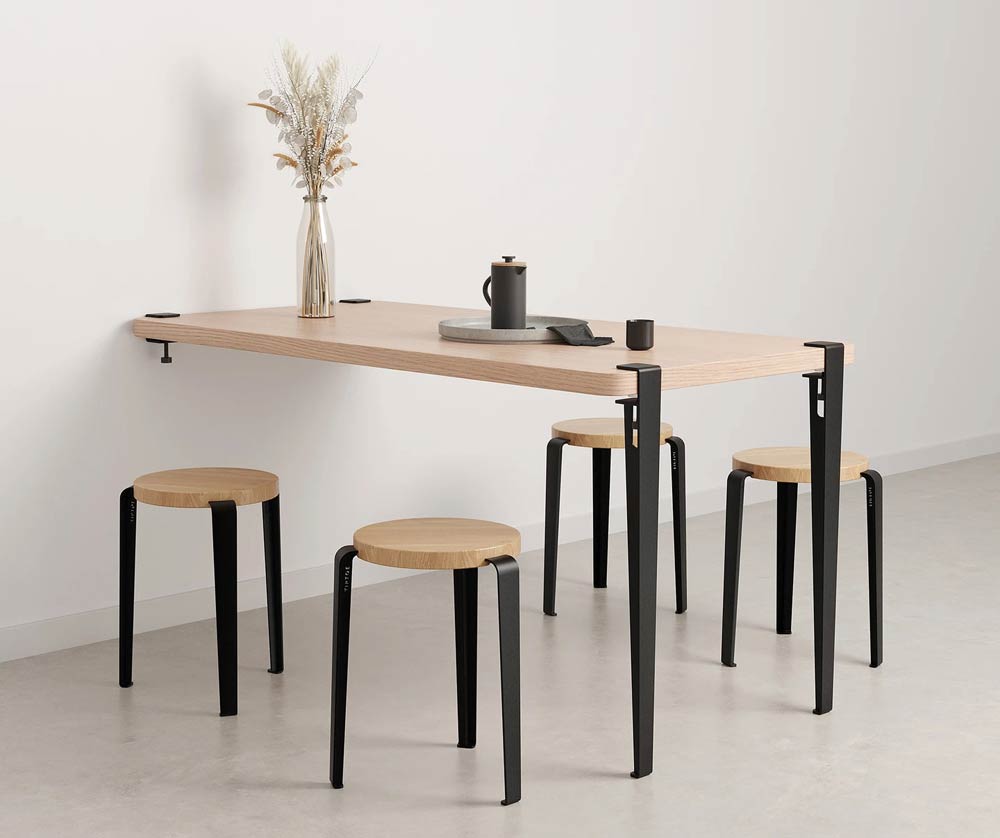 Image credit: tiptoe.fr
Wall decor ideas need not be limited to what is actually on the wall but also apply to furniture pieces that are installed onto the wall or up against it.
Modern console designs used either for creating small workspaces or even at the entrance of a home to hang coats or keys can be effortless decor pieces that show continuity in the flow of the room.
If you are short of storage or want somewhere to display glass figurines or items of immense sentimental or monetary value, consider wall-mounted shelving or floating shelves. These can come in many different designs from oak wood to glass or metal.
With furniture additions like this, the entire wall can look more functional and modern.
Bohemian Wall Decor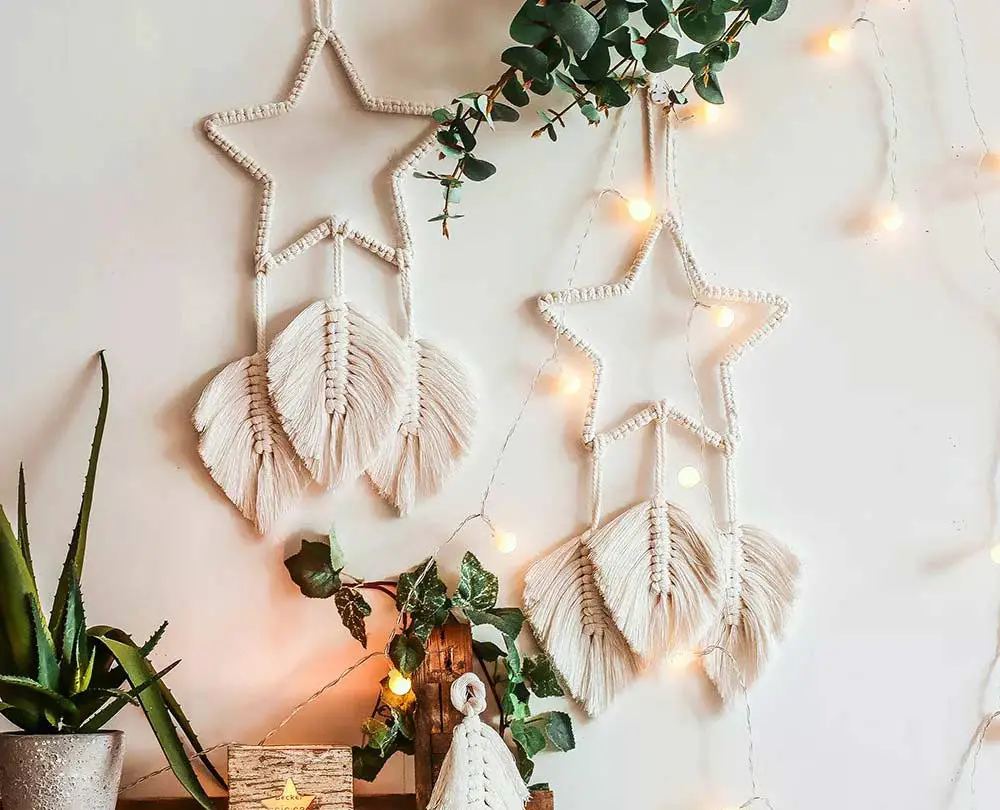 Image credit: aliexpress.com
The Boho aesthetic is all about using natural textures like wood, jute, wicker, and fabric for decor. For your living room or bedroom wall decor consider a wall hanging, such as a hand-made or painted tapestry, woven mat, or even knotted rugs.
Smoother, silkier rugs with natural earthy tones can also have the same effect.
While you are playing around with the colours and textures found readily in the great outdoors, you can include personal touches like commissioned pet portraits. These show the onlooker the great loves of your life, whether they are still living or have sadly passed away.
Where Can I Find Bohemian Wall Decor ?
Bohemian wall decor ideas are easy to find and can also be commissioned on websites like Etsy to independent artists. Not to mention boho decor art pieces can be great DIY projects to do with friends and family, such as weaving a tasselled blanket or making an embroidered hanging art patchwork.
You may also like...
Add a thoughtful quote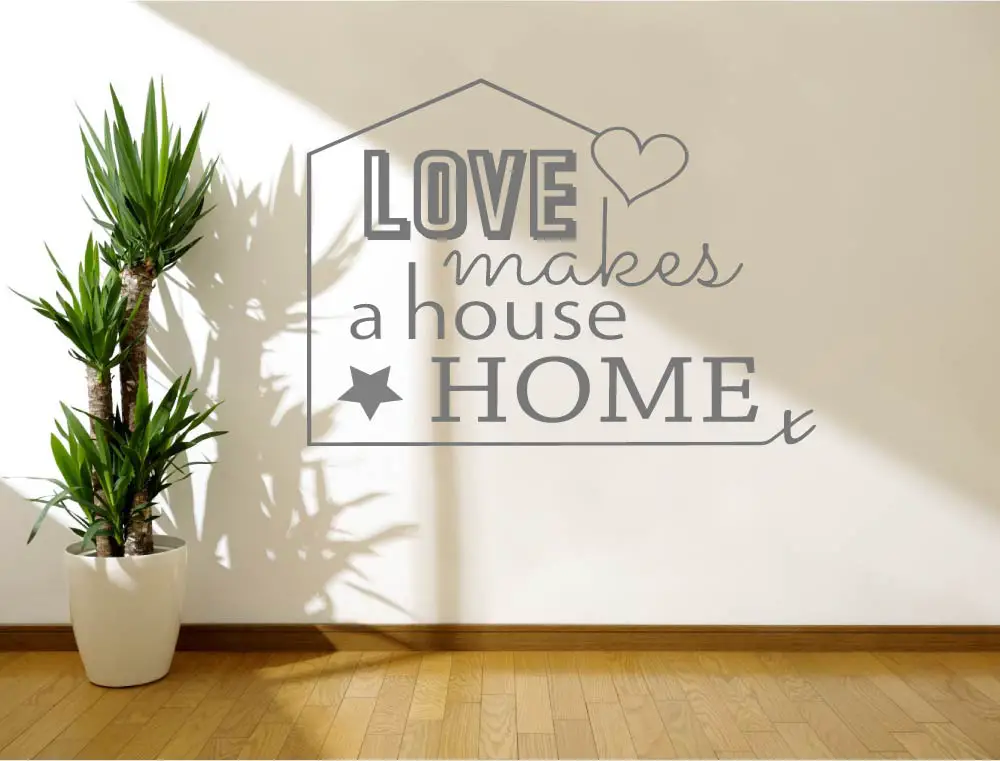 Image credit: Aspectwalart.com
Adding a thoughtful or meaningful quote to your walls can stamp your personality and beliefs onto your blank wall space, turning a blank wall into a more interesting and meaningful space.
One of the simplest and most cost-effective wall decor ideas to do this is with wall stickers. They are easy to apply, available in a wide range of colours and sizes and most sellers offer a custom design service for bespoke wall quotes and personalised artwork.
If you are new to wall decals or stickers and require more information, check out our ultimate guide to wall stickers.
Bring Nature Inside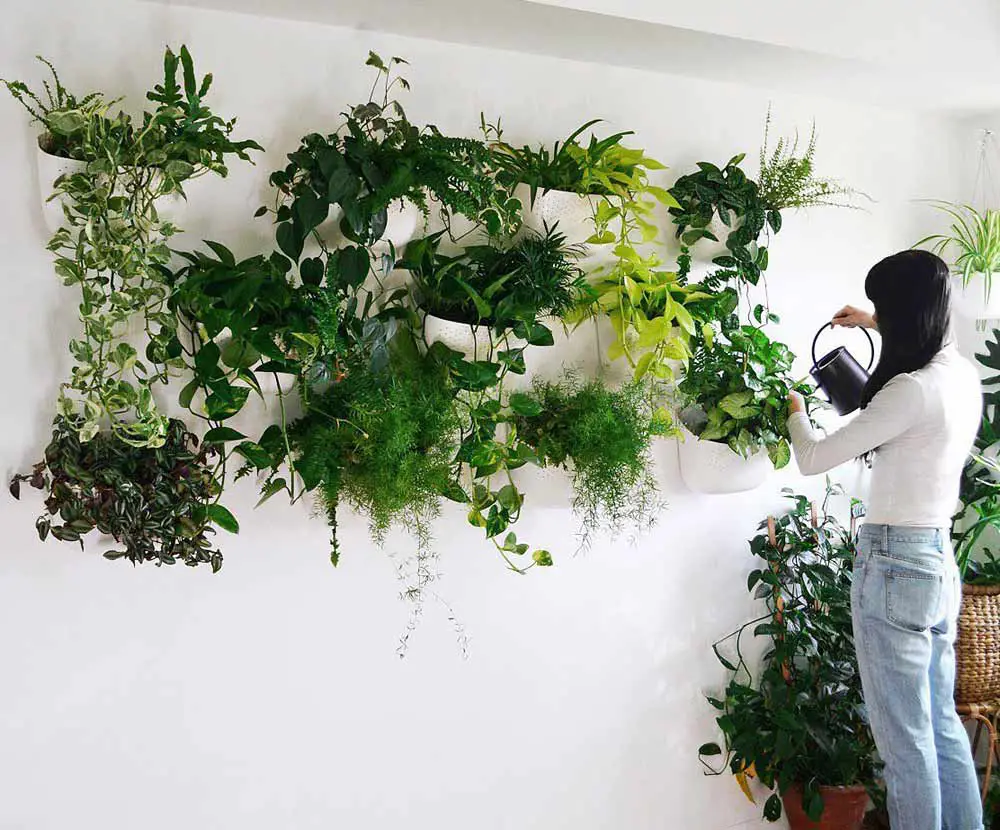 Image credit: pinterest.com
In the last few years, there has been a resurgence of interest in incorporating foliage (real or faux) into wall decor ideas, simply due to the effect it has on our senses.
Foliage in any form can promote feelings of relaxation and refreshment which is ideal for unwinding after a busy day.
Consider creating a green wall from scratch by planting climber plants in a pot or trough at the bottom of your chosen bare walls. With time they will cover the empty wall in a beautiful, ethereal, fairy-tale manner with a cover of lush green.
Of course, there is always the faux route with stick-on foliage varieties for the same effect and less effort.
Murals & One-Piece Statement Art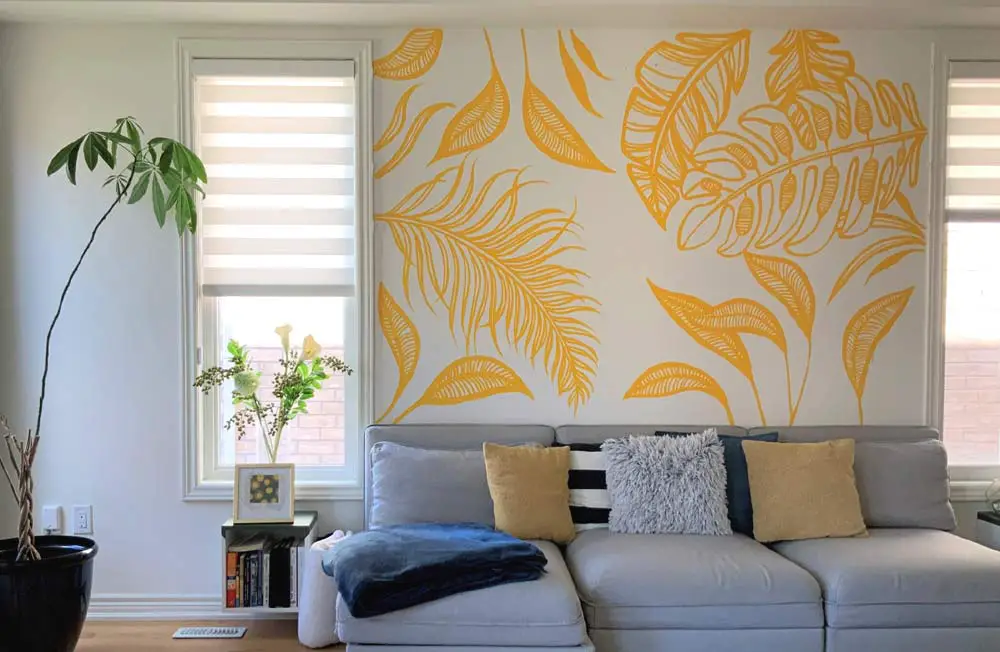 Image credit: jasminpannu.com
For enthusiasts of a more minimalist and effortless vibe, less is more. There is no need for a bare wall to be covered from top to bottom to be impactful and stunning.
Commission a mural or paint one yourself if you are inclined and artsy. Murals can also be bought ready-made and framed if time is of the essence.
Murals create a focal point and draw the eye immediately as someone enters the space, they can depict your personality and sense of style in a single glance. This is why it is worthwhile to include them in your interior design and list of potential wall decor ideas. All you need is one!
Use Statement Art Pieces to Create a Story
The same goes for statement art pieces and wall art. It rarely needs to be multitudinous to have a significant effect on the viewer. Three-dimensional wall decor ideas, in particular, tell a narrative that can tie in with your existing decor or can tell a new story altogether.
Statement wall art can be anything sentimental that appeals to the homeowner such as a custom house painting made with watercolour or charcoal or a large photograph taken by a local photographer that captures something that speaks to the soul.
An Accent Wall To Break The Monotony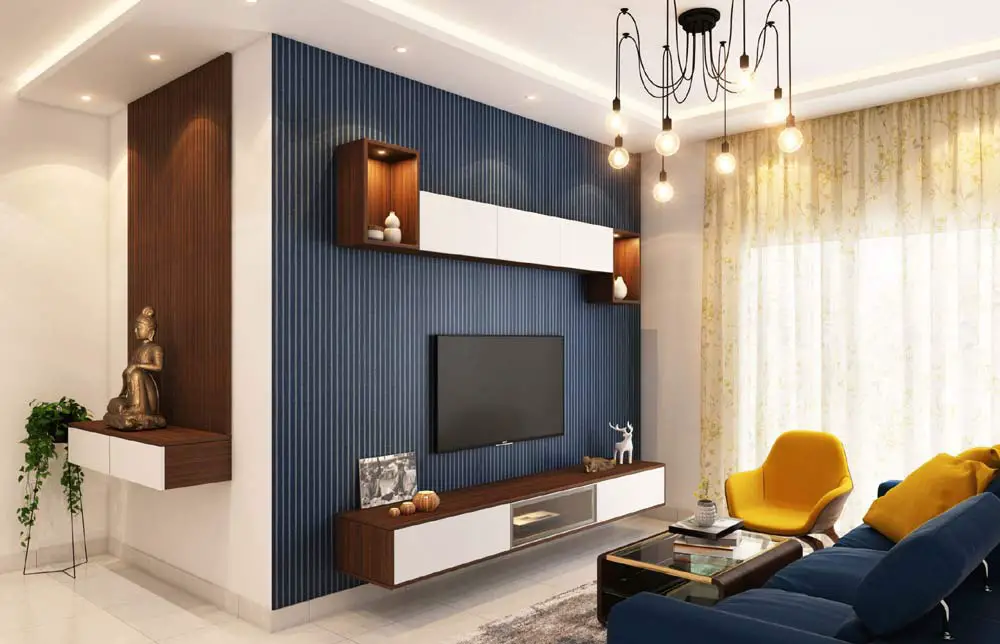 Image credit: innovatusdesign.com
Bare walls can sometimes look bland and lifeless with nothing on them, especially in larger rooms or spaces which are multi-functional, such as kitchen diners or open plan kitchen living rooms.
Adding an accent wall to your living room, like the panelled blue accent wall shown here, can break the monotony of space without uprooting the whole decor concept. Accent walls can also accentuate the wall's height making your ceilings look taller and more grandiose.
This optical illusion however does not apply when interior designers paint the ceiling itself in a darker colour. This is because doing so can have the opposite effect, and make the wall space and entire room look smaller.
If your empty walls are cream or off-white, you can throw in a soft grey accent wall so that it creates a subtle contrast.
Use Lighting to Highlight Accent Walls
Accent wall decor ideas can also be paired with light fixtures like pendant lights and a painting for added glamour. Interior designers may also suggest that a central accent wall is a perfect place to style an Ottoman or low sofa.
If this stunning TV wall has caught your eye, we have written a whole article on modern TV wall ideas that is definitely worth a read.
Moldings & Trim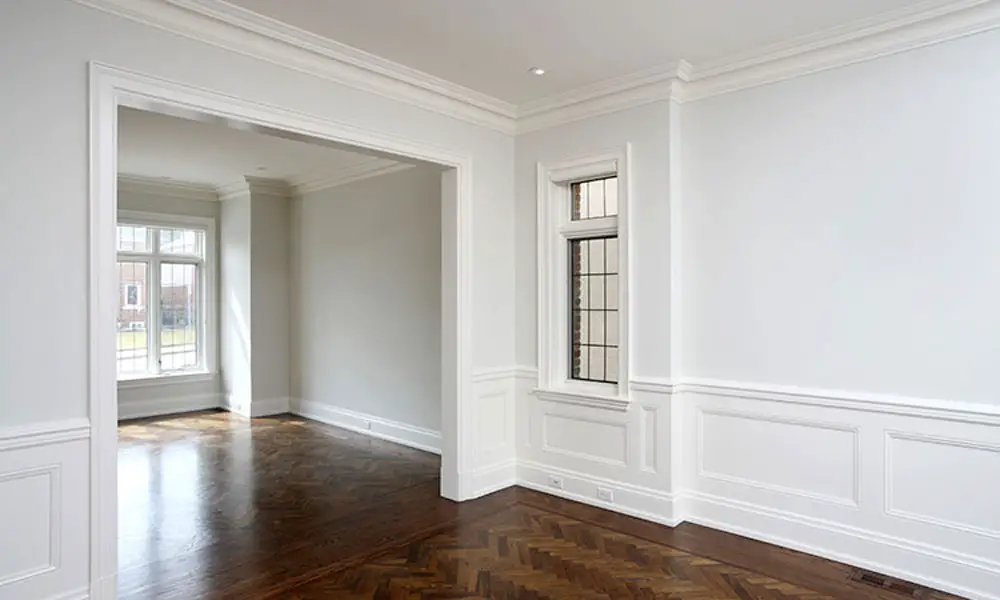 Image credit: knowlesbuilding.ca
While plaster and wood mouldings are very reminiscent of the Victorian era, as well as more traditionally French styles, they have made a comeback into modern decor like no other.
Moldings, regardless of the material used (in many new homes they are commonly made with plaster or even specialized plastic) impart a beautiful and luxurious touch to ordinary walls.
Wall mouldings can make any room look deluxe and they are especially a great idea for master bedrooms where wall art can be used in conjunction with them.
Mirror, Mirror on the Wall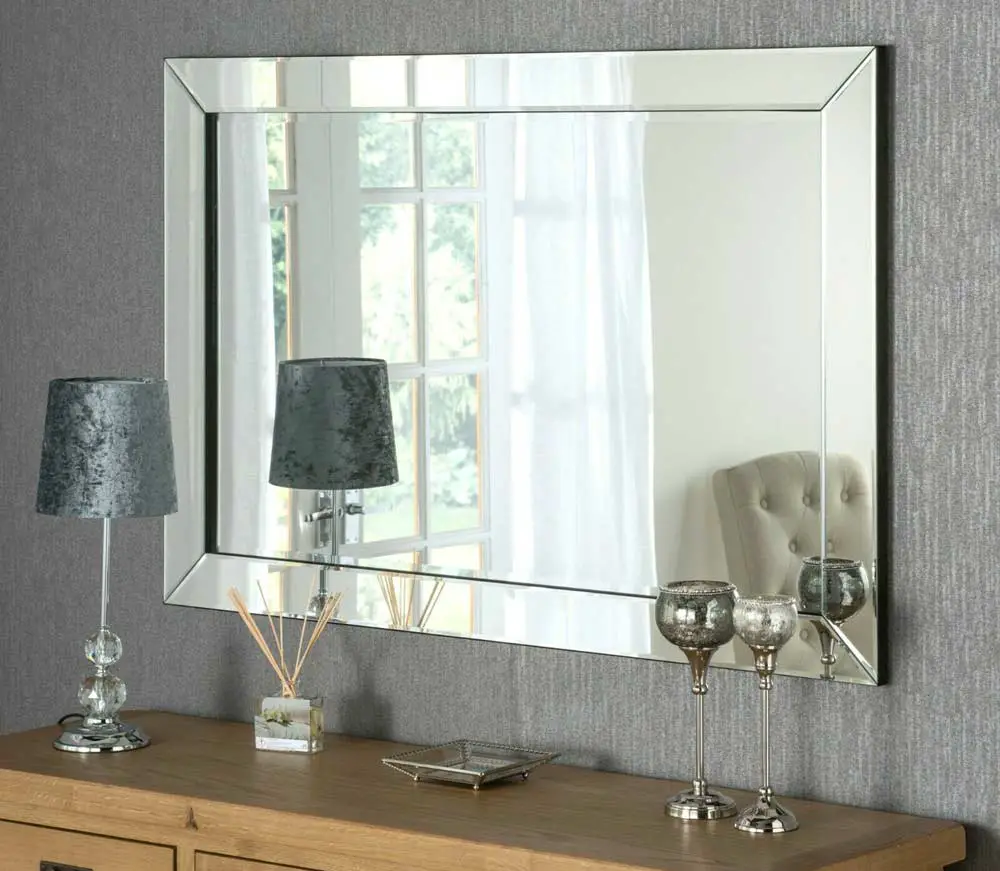 Image credit: pinterest.com
Mirrors are a much-loved wall decor concept globally, in every culture and walk of life, as they enhance the feeling of space and are a statement piece in their own right! Mirrors can be hung up in a variety of sizes with different frames corresponding with the dominant decor style being used in the home.
For spaces that are designed in a more vintage style, antique or gilded mirrors can be used, especially tall ones that touch the ceiling. For more modern homes plain framed or frameless wall mirrors may compliment the design better.
In the main rooms, such as the living room or a smaller bedroom, hanging a wall mirror horizontally can look more purposeful and aesthetically pleasing.
Lacquered Walls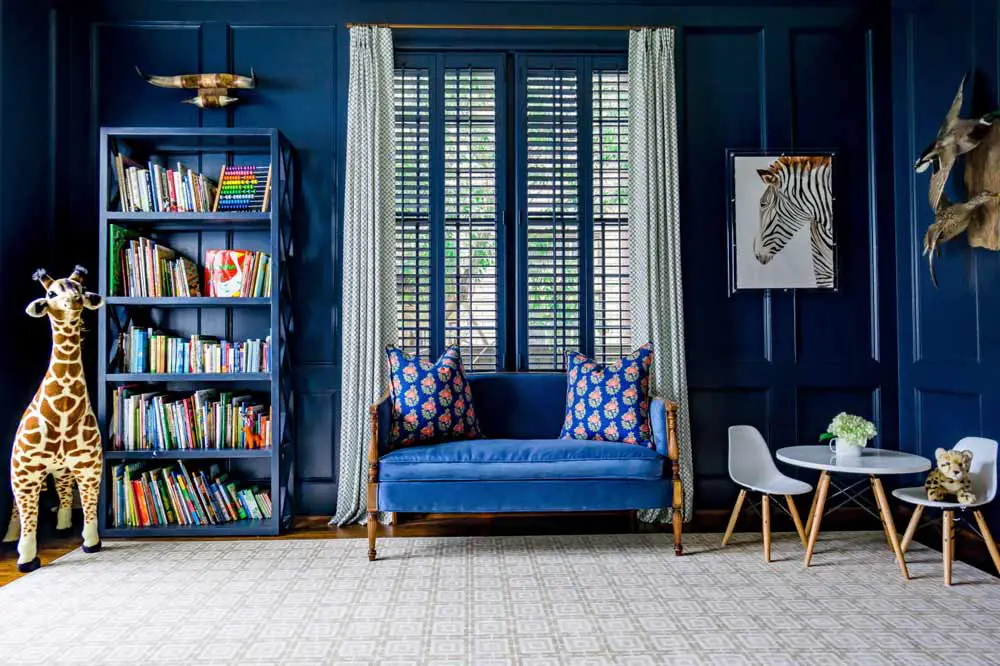 Image credit: theglampad.com
Using lacquer on the walls can seem very luxurious and super expensive, but it is in fact not pricey to purchase lacquered paint. Go for rich colours like burgundy, moss green, and deep purple.
Many homeowners prefer to employ this lacquered effect in rooms that are especially dear to them like a home library, home office, or the master bedroom.
Lacquered walls give a regal feel and an old European vibe and they can be wonderfully glossy to the eye particularly when they reflect warm light or sunlight. The richer the colour used the more glamorous the result!
Wallpaper It Up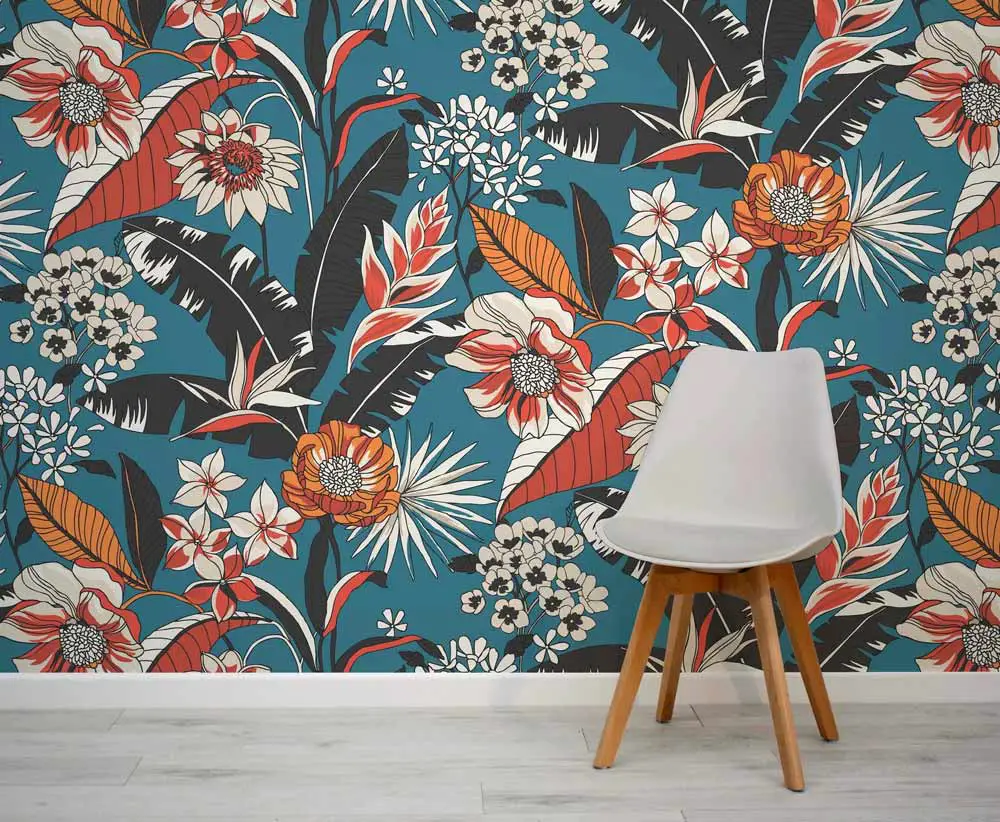 Image credit: wallpapermural.com
For new homeowners who want to spice up the colour of their living room walls, but are tired of bland, single-colour wall paint, wallpaper can be a stylish and visually stimulating solution.
Wallpaper can also be used to add contrast to adjacent painted walls, or by being applied only to one, as an accent wall.
Alternatively, it can be used in smaller spaces like a dressing room, for a touch of sophistication, setting it apart from the rest of the house.
As far as wall decor ideas are concerned, wallpapers offer a great deal of choice to the homeowner, as any colour or pattern can be used. Any interior designer will tell you though to choose patterns that comfort you or bring you joy.
Contemporary Back-less Bookshelves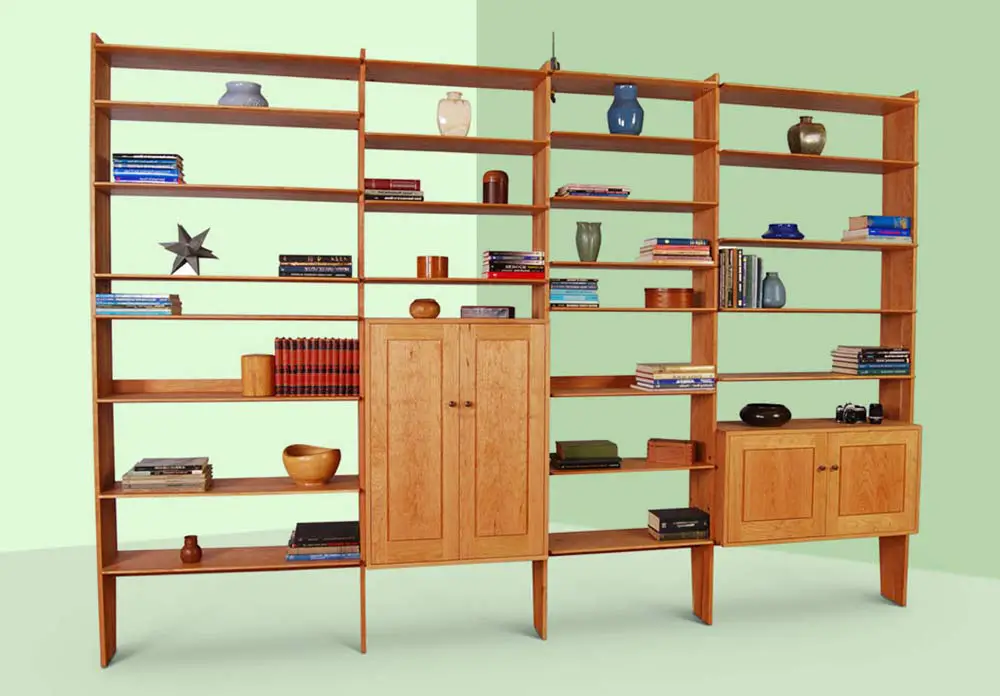 Image credit: scottjordan.com
Books are the ultimate conversation starter and they display the homeowner's knowledge, intelligence, and interests. Use a contemporary style of back-less shelves that are elevated and installed on the wall for a refined and pleasing look.
Built-in shelving on the wall with a sliding ladder is a more vintage design, but very practical and stunning at the same time. Shelves can also be painted with lacquer paint as mentioned above, in shades of dark green or blue or any other bright colour.
The rest of the room can be styled with comfortable, reclining chairs or even an indoor hammock for some quality reading time.
Create a TV Feature Wall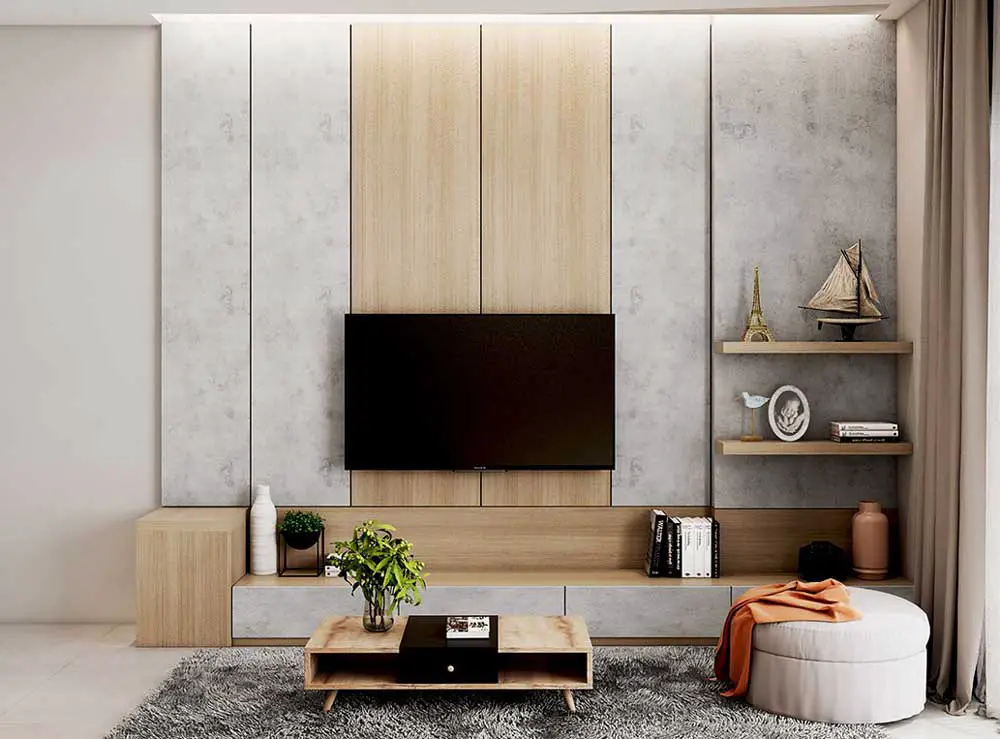 Image credit: treehouse.co
A TV feature wall is a great way to add visual interest to your living room. You can create a focal point by hanging a large television on the wall and surrounding it with smaller pieces of mixed artwork.
You can also use the blank walls around your TV and create a personalised family display, by mounting shelves on the wall to show off family photos or mementoes.
Make the Most of Your Ceiling Height
If you want to go all out, build a modern TV wall design by creating a full floor-to-ceiling height storage solution with cabinets, shelves and trendy 3d wall finishes. For an extra on-trend touch, add LED light strips.
Creating a TV feature wall cannot only make your living room more personal to you and your family but also more inviting and stylish.
Put Decorative Items on Display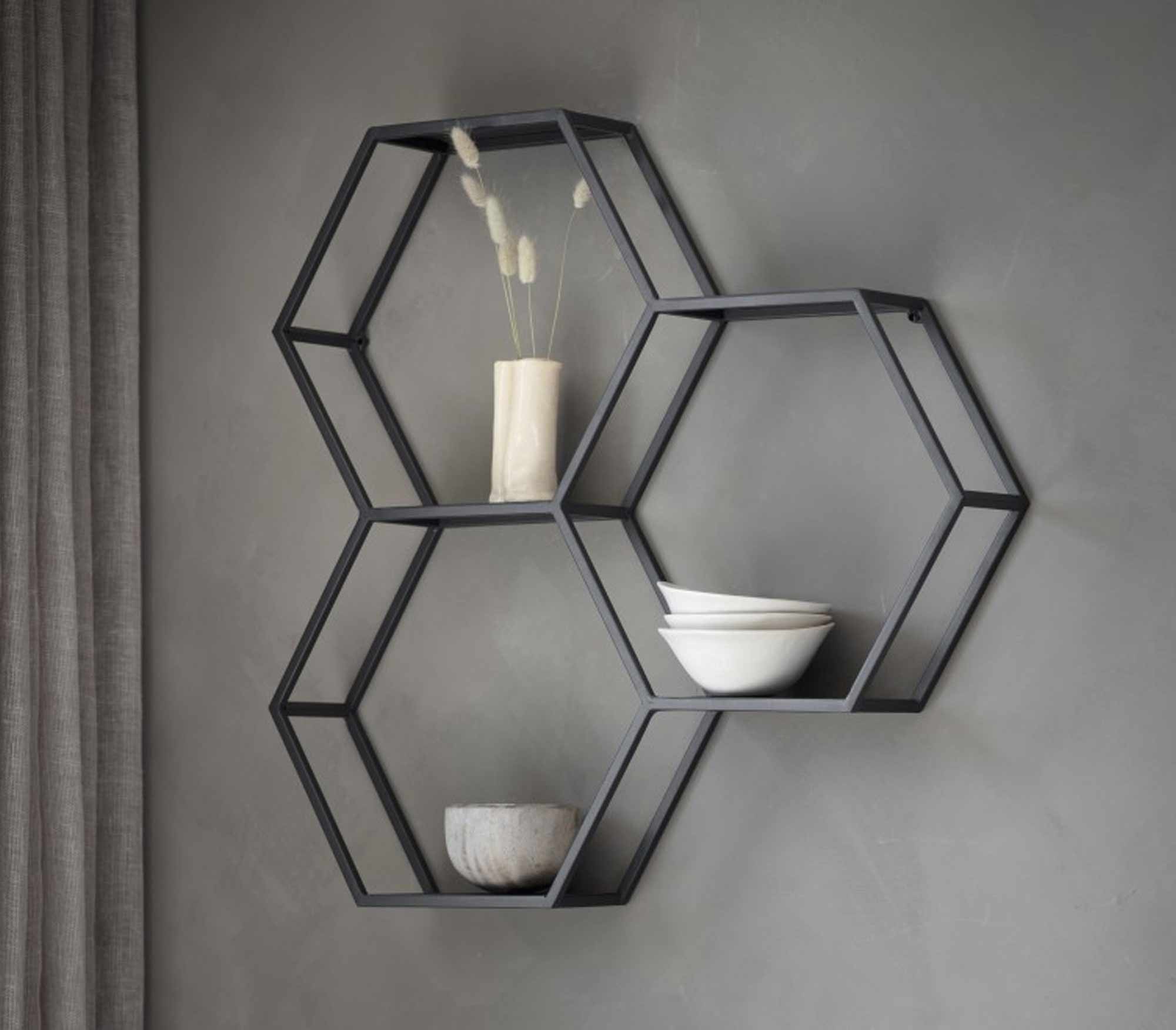 Image credit: pinterest.co.uk
There are various wall decor ideas for displaying your valuable, interesting and decorative items, such as shelving, wall cabinets and attaching them directly to the wall.
There are a few things to keep in mind when choosing items for your wall display. First, consider the size of the items you want to use. You don't want your display to look cluttered, so be sure to choose items that are the right size for the space you have available.
Consider Which Colours Compliment Your Decor
Second, think about the colours of the items you select. You want your display to be cohesive, so choose colours that complement each other or contrast well.
Finally, don't be afraid to mix things up! Try using a variety of textures and materials to add more interest to your display.
You may also like...
Wall Storage Ideas For The Home
Go Rustic With Your Wall Art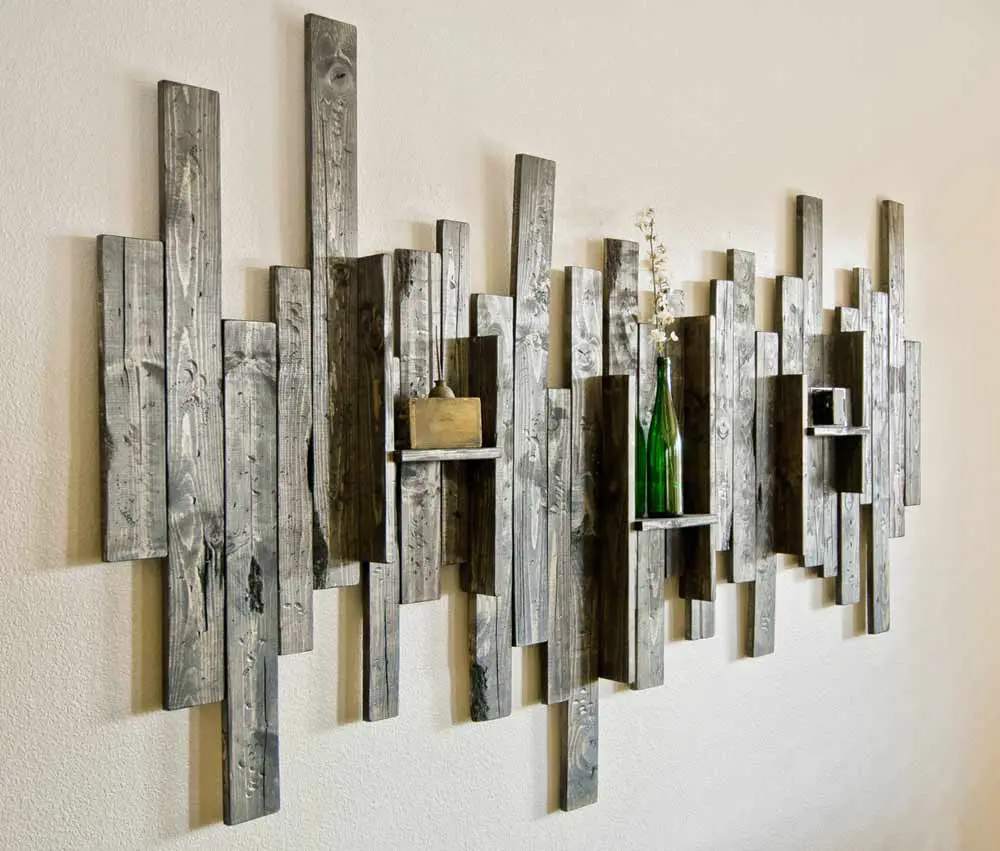 Image credit: homebnc.com
Rustic decor is currently a hot topic, with many interior designers choosing to use rustic furniture and decor within their design schemes.
Not only can find stunning one-off rustic art pieces, but are also helping the planet, due to most of the items being upcycled or made from reclaimed wood.
The rustic wall art shown above is not only a piece of art in its own right but is also a useful display space for little nick-nacks.
Add a Faux Brick Wall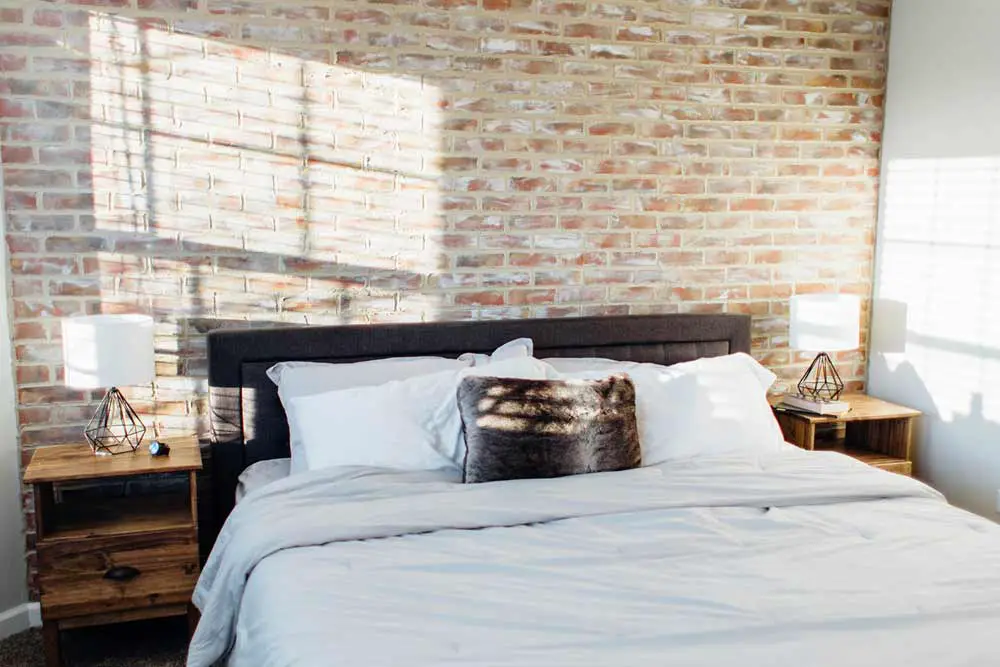 Image credit: sammyonstate.com
Real stone or brick walls, although very nice to look at, are well known for how hard they are to keep dust-free and clean. For obvious reasons, you simply don't get this from faux brick wall coverings.
There are so many different brick and stone wall designs to choose from, that there should be no problem finding the perfect one that you require.
You also have the option of permanent or removable faux brick wall coverings, so even if you are renting, you can still use this one of our wall decor ideas.
Add a Bit of Bling with Fairy Lights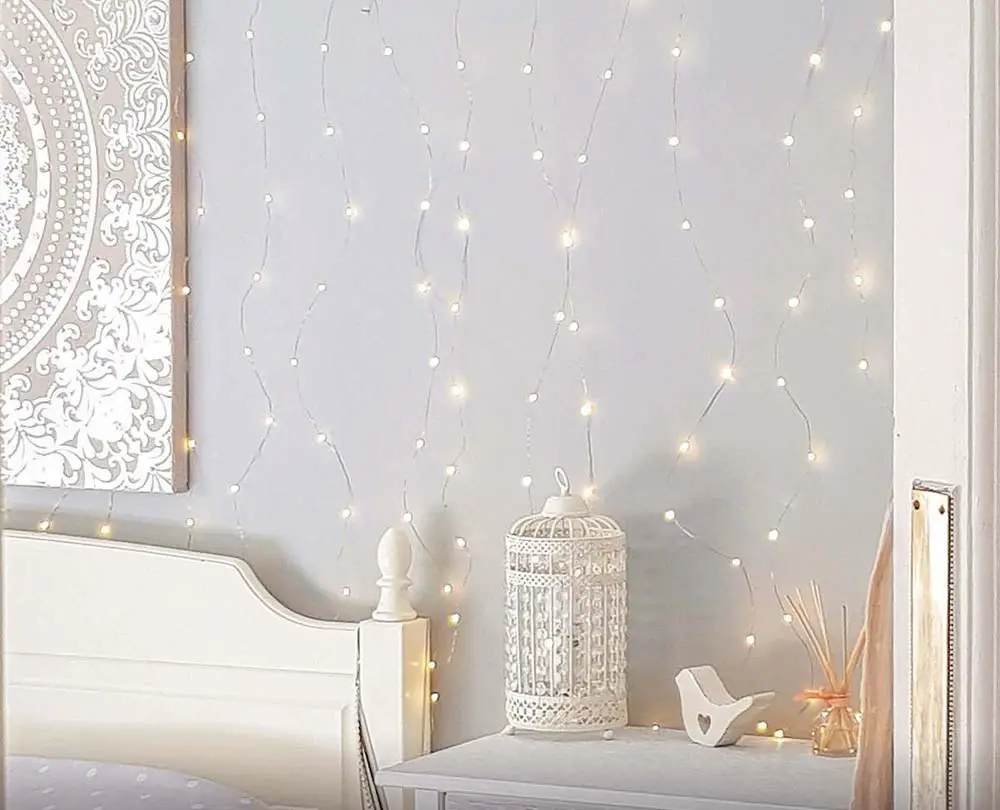 Image credit: festive-lights.com
There are many reasons to use fairy lights on your wall decor, and why they are a popular decoration for many homes.
They can add a touch of whimsy and soft elegance to any space and are a great way to accentuate other features within the room, such as paintings, photos or shelving.
Fairy lights are inexpensive and very easy to lay out or hang exactly in a way that suits what you are trying to highlight. This makes them the perfect wall decoration for those looking to add a bit of personality and softness to their wall space.
Create a Retro Metal Sign Wall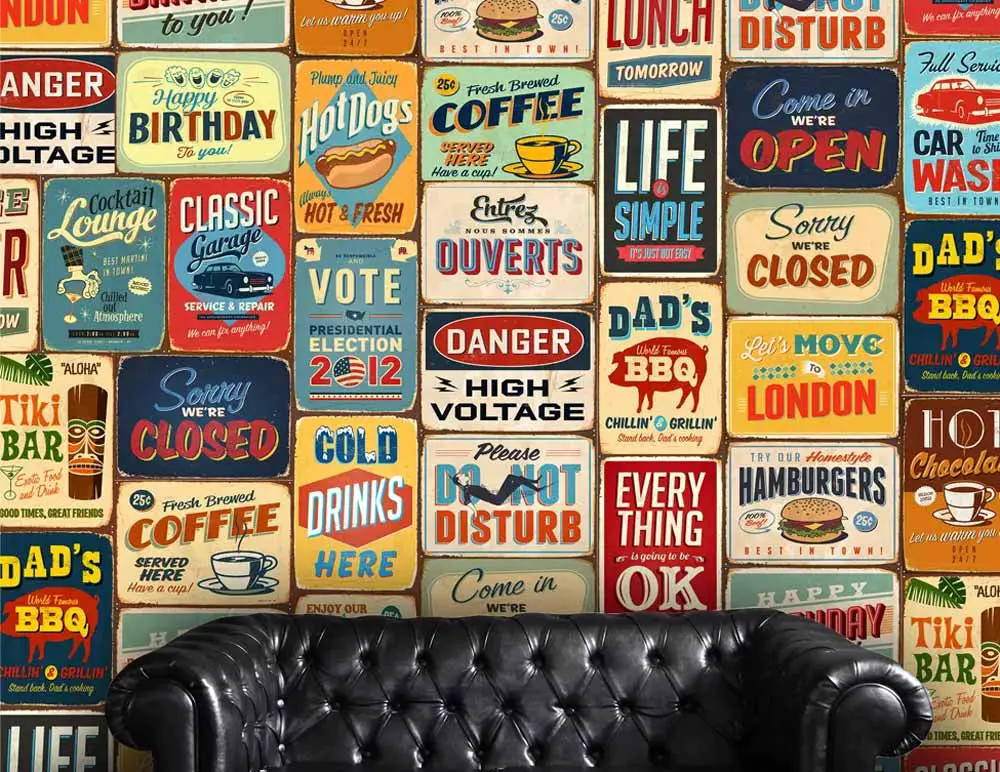 Image credit: pinterest.com
Metal wall signs are a great way to add personal style, colour and visual interest to your family home, and are a fun way to add unique artwork to your walls or personalise your wall decor.
You can display your collection in a variety of ways, whether via random placement, edge to edge (as shown in the example above), or if you only have a small space to fill, maybe frame each one and hang them as you would standard framed art or other wall hanging.
We have our very own selection of retro metal signs, so feel free to take a look if it is something that interests you.
Apply a Fresh Coat of Paint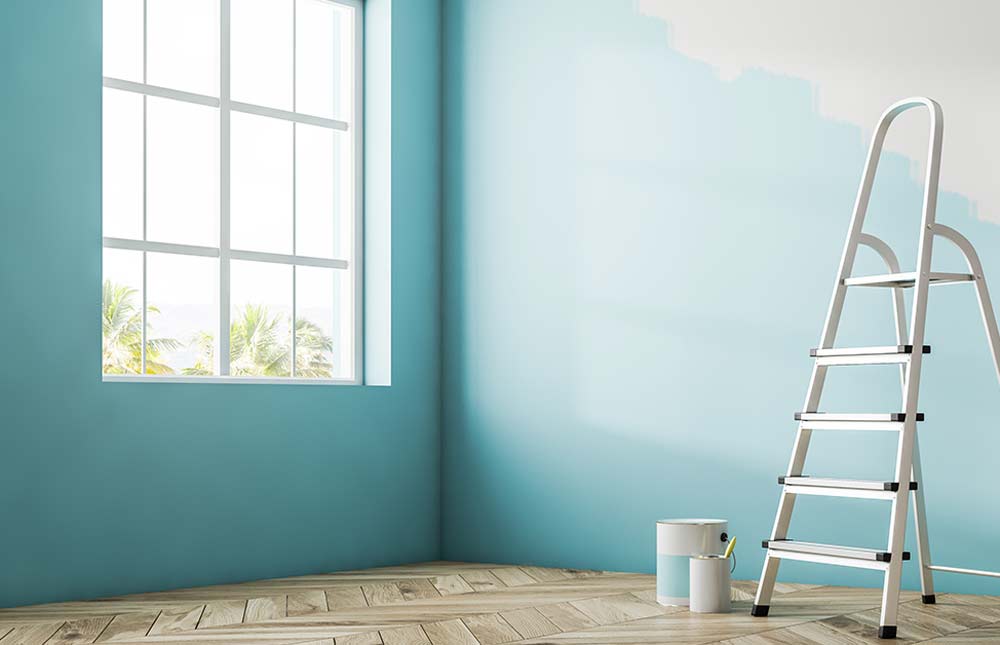 Image credit: bergerpaints.com
Sometimes surprisingly overlooked for use in wall decor ideas, simply adding a fresh coat of paint to your walls can make such a huge difference to, not only the look but also the feel of a room.
There are many different ways to update your walls with paint, such as creating a feature wall, painting in horizontal panels or using masking tape to create a geometric wall design. So there are many different options to investigate further.
If you are considering painting your walls, we have written a great article on painting for beginners.
Create a 3D Wall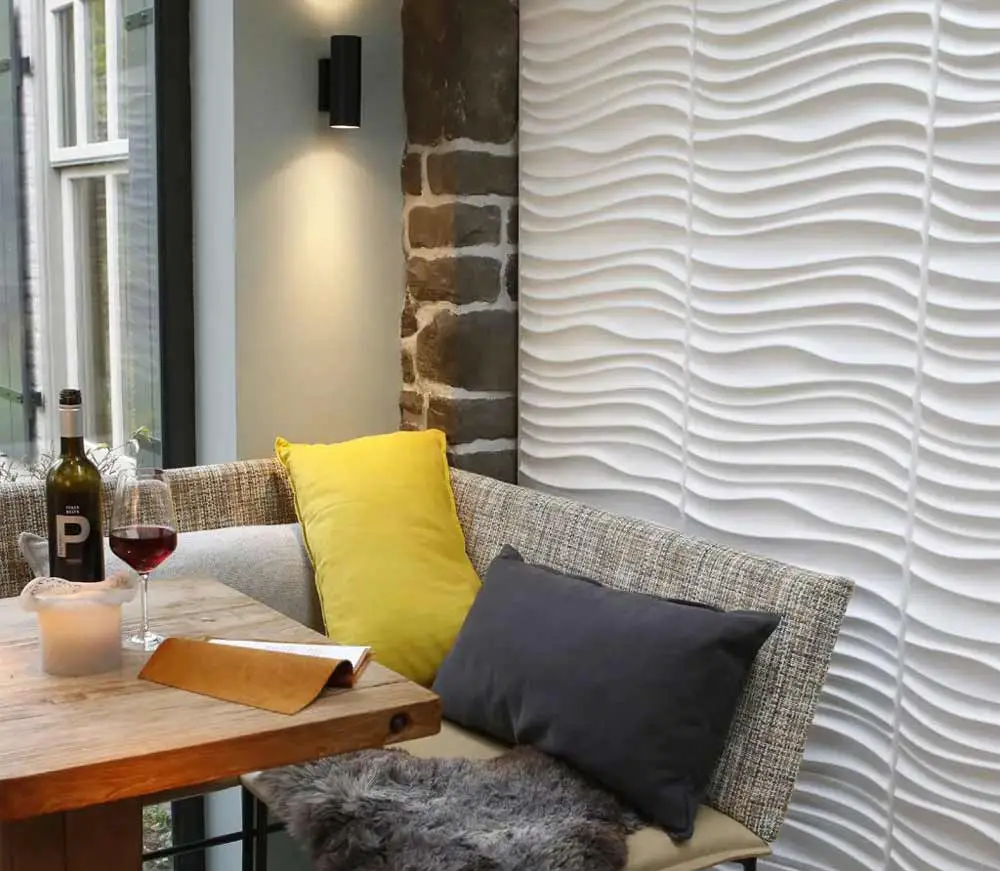 Image credit: wooddecors.co.uk
3D textured wall panels can also be used to add dimension and depth to your decor. They come in a variety of styles, colours and materials and can be used to create several different looks.
You can apply textured panels to a whole wall, half wall, or simply highlight certain sections or spaces, like an alcove for example.
Choose 3D panels that have a bold texture or pattern and use them to create an eye-catching accent wall or try fitting them behind a piece of furniture or artwork, or even on the ceiling!
Conclusion
There are many ways to turn a blank wall into something far more interesting and stylish. So make the most of the wall decor ideas that I have listed and feel free to use these as a base and then add your design elements on top.
If the idea that you wish to follow is too difficult for you to attempt by yourself, don't be afraid to get friends, family or even the professionals involved.